Maintaining a pool can be tedious. From cleaning the water to monitoring the temperature, maintenance can be a pretty hands-on experience. That's why people implement pool automation tools to help make things a bit simpler. With the assistance of a floating pool thermometer, you can spend a lot less time micromanaging your pool.
Picking the Best Wireless Floating Pool Thermometer
But finding a thermometer that keeps conditions consistent isn't always easy. The right thermometer will depend on some of the unique environment circumstances surrounding your pool. But you can generally focus on only a few categories of importance:
Pool Location & Quality of Construction
Are you using your floating pool thermometer in an indoor pool, or an outdoor area? This is especially pertinent when it comes to finding UV-protection for the device. Because devices without UV protection will get cooked by the sun within one or two summers.
For an indoor pool, you can generally worry a bit less about quality of construction. But you'll still want to carefully consider the levels of waterproofing offered by the device. You might think that anything made to be used in a pool would be totally immune to water. But water resistance ratings are actually widely varied, even on floating pool thermometers.
Temperatures & Consistency
How accurate do you need the thermometer to be? In most cases, you'll find accuracy within at least a couple of degrees. But if accuracy to a higher degree matters, it's possible to get your hands on pool thermometers with amazingly accurate sensors. Since these are thermometers, you may also need to consider if it's necessary to calibrate them occasionally. Typically, pool thermometer calibration is not necessary. But it's something you can find on some of the nicer floating thermometers out there.
Connection Options
Some people are happy to just be able to look at their pool, and get a reading from the thermometer directly. Others want the thermometer information to be sent to a more conveniently placed display, or even broadcast into a Wi-Fi network. Depending on how many pools you're monitoring, those can be pretty cool features. It's sometimes possible to get smart-home integration as well, including smooth integration with devices like Amazon's Echo.
Ambient Weather TX-3107
The TX-3107 is a seven channel pool and spa thermometer. True to form, it's intended to help people monitor when their spa or pool is running outside of intended temperature ranges. This sensor sends off data to a separate console, which is separately sold. So if you want to use this independently, the TX-3107 displays the water temperature on the unit's display. But this unit is really intended to be combined with other devices to form a larger network of temperature detection.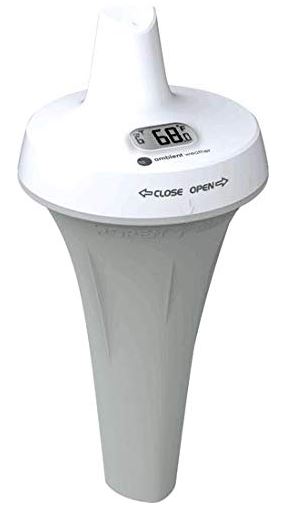 Design & Layout
The TX-3107 measures 3.94 x 3.94 x 8.17 inches. The LCD display on the front side is water resistant. It's a pretty small display though, intended to be read only at close distances. And the white chassis generally waterproof and was so designed to be in pool or spa environments. For opening the unit up, you just twist the top. That screw-on mechanism is in order to prevent leaks.
However, the floating mechanism was intended to float. If it's forced to submerge, there will be a premature gasket failure, and the sensor compartment will be flooded. In other words, don't intentionally submerge the unit. Going underwater for a couple of seconds is fine, but keeping it there will cause problems. And while between freezing and 104°F, you can expect the accuracy to be within 1.8°F. Not bad.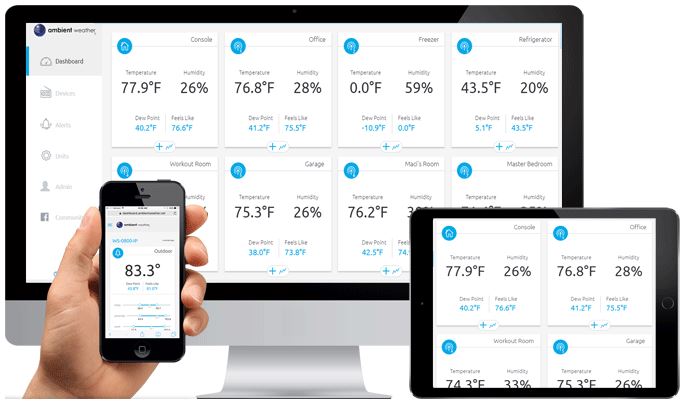 Since this kit doesn't include its own receiver, the TX-3107 will require a separate receiver in order to operate from a distance. But that also means can be used with half a dozen other devices apart from a standard receiver. That includes Ambient's weather station, wireless thermo-hygrometer, and a soil moisture thermometer. With the right receiver, it's possible to start measuring humidity, outdoor temperatures, or even sensors from multiple pools or multiple areas!
Pretty fancy for such a seemingly simple pool thermometer. Once connected through wireless, the TX-3107 also allows you to receive text and email alerts as needed. Those emails and texts include their own alert parameters, and include timestamps, allowing you to put together a timeline of events. Plus, the app support give you charts and graphs, to let you track the data you've collected over time.
Other Considerations
To top it all off, you can connect with IFTTT or Alexa. So for voice commands, you could ask for the current temperature of the pool. Or using your connecting with IFTTT, you might do something far more applied and interesting. For instance, if your pool dips below a certain threshold, it might automatically initiate a heating mechanism. This unit also works with Weather Underground, Weather Display, HomeSeer, and several dozen other third party weather apps.
CALI-HOME Wireless Floating Thermometer
The Cali-Home Wireless Floating Thermometer is a two-piece set. It consists of both a vertical LCD display, as well as a floating thermometer. Combined, the two are pretty effective at helping you keep an eye on the temperature in your pool area. But how well they work in practice will always depend on your own unique circumstances. Here you'll find the total transmission distance between the transmitter and receiver is about 100-feet. Not particularly restrictive.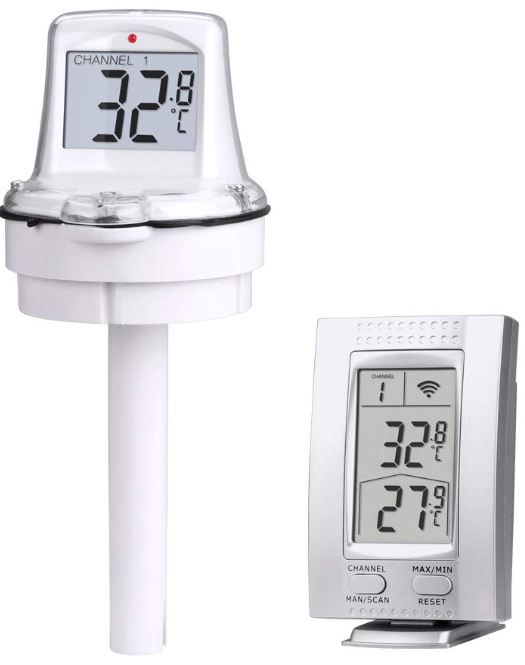 Design & Layout
The Cali-Home Wireless Floating Thermometer measures 9.1" in length, and it has a diameter of about 4". The topside has a very large display that takes up basically the entire front portion of the unit. It reads out the temperature, rounded to the closest tenth of a degree. The topside of the display also indicates whether you're looking at the first channel, or another channel in a series.
The separate display unit measures 4.7 x 2.4 inches. Fairly small for a display, but that also makes placement simpler. The backside hides away a battery compartment for a pair of AA batteries, and a space where you can mount the screen on a nail or screw. Likewise, the Celsius/Fahrenheit conversion button is hidden away inside the unit, so you have to screw the top of the probe off in order to access it.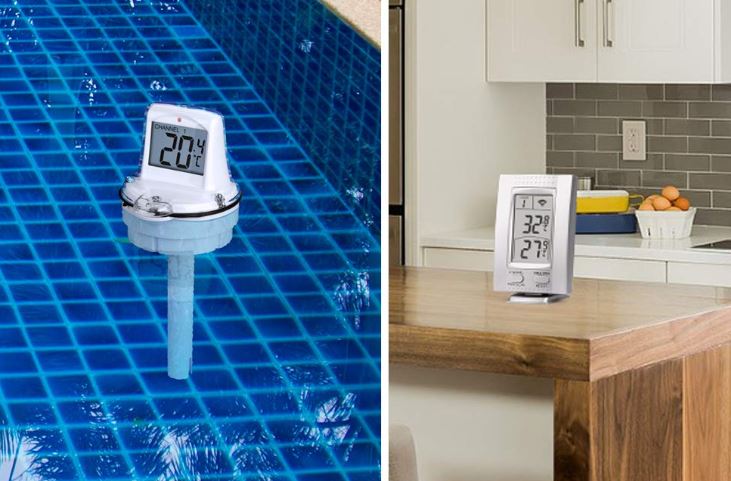 There's also a reset button just above it, and a channel selection switch. Sadly, none of these are very well labeled, so you need to read the user guide, and then remember their positioning. Additionally, there are a total of 3 channels supported by this thermometer, which can be used by moving through the selectable switch. Those switches let you monitor water temperature from a total of three locations.
The thermometer itself uses a pretty high quality sensor, which makes direct contact with water, allowing for a more accurate measurement. Especially after you've accounted for the included tether line, that allows you to restrict the flotation area where the unit is allowed to move. Just place the station near a window ledge or wall, allowing for ling of sight between the base station and the floating thermometer. Or at much line of sight as is possible. One thin wall can usually be overcome by the signal, but it may slightly shorten battery outcomes.
Other Considerations
The temperature is updated continually every three minutes. Once you first plug in the unit, it can take about ten minutes to warm up the device to the ambient temperature of the liquid. So you typically have to wait for three or four temperature cycles to pass before you get an accurate temperature reading. The supported temperature range is -10 ~ 60 °C. Which basically means frozen enough for the liquid to be ice, and hot enough that nobody would want to touch it. That's about 14 to 140 in Fahrenheit, which is accurate within about 1.8°F.
Both the transmitter and the receiver are powered by a pair of AA batteries, which are not included. You'll want to make sure the batteries you get are alkaline because those are the only kind that have the appropriate weight for this unit. With other kinds of batteries, the device will have a tendency to float horizontally instead of vertically. So you'll need to get your hands on four batteries to get started.
Meashinee Wireless Swimming Pool Thermometer
Apart from its functionality, what makes the Meashinee thermometer unique is partially the aesthetics. A lot of pool equipment can have a sort of industrial look to it. That's fine if you're using the thermometer to measure the water in a swamp, but it makes a little less sense if you have any interest in maintaining décor. Here you'll find a bright display, a pleasantly colored sun-shield, and a generally well-made pool thermometer inside.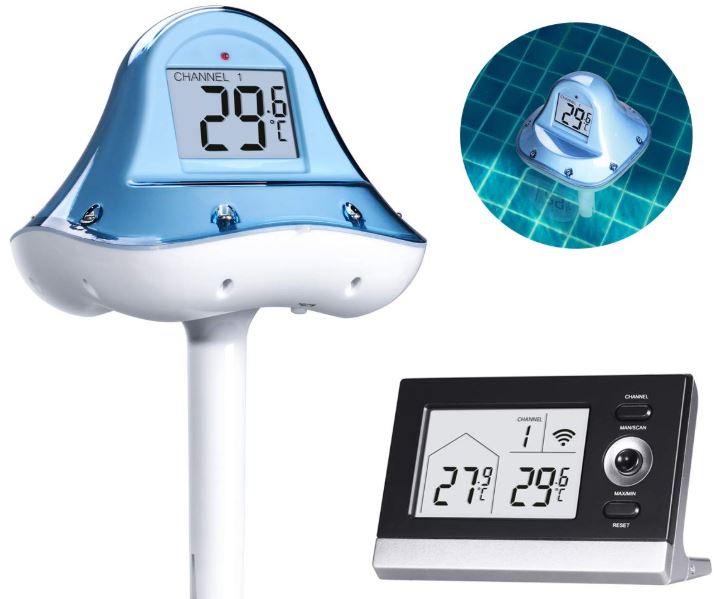 Design & Layout
The probe measures 8.3" in length, and 5.5" in diameter. The Meashinee Wireless Swimming Pool Thermometer has a vertical LCD display, which makes it easy to read data. The display positioned on the temperature probe isn't as large as with the previous member of this list, but it's very close.
Atop the unit, an anti-UV cover is intended to maximize the lifespan of this machine while exposed to the sun. And the IPX8 waterproof rating is one of the highest you'll find, ensuring this device is equipped for submersion underwater. As long as you don't go far beyond three feet deep, you don't have to think twice about it.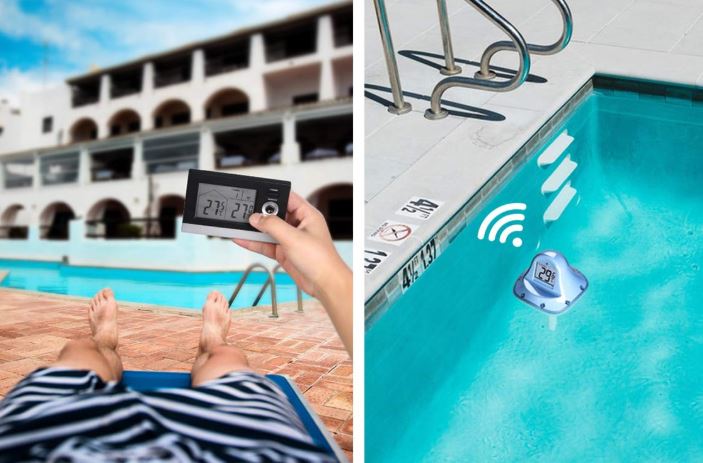 And then there's the receiver. It measures 3 x 4.5 x 1.1 inches. The display is pretty small and compact, but it allows you to move between the three channels and get up to date temperature readings on each. There's also a min/max temperature readout, as well as a reset button for that readout. Nothing overwhelming or special, but it gets the job done.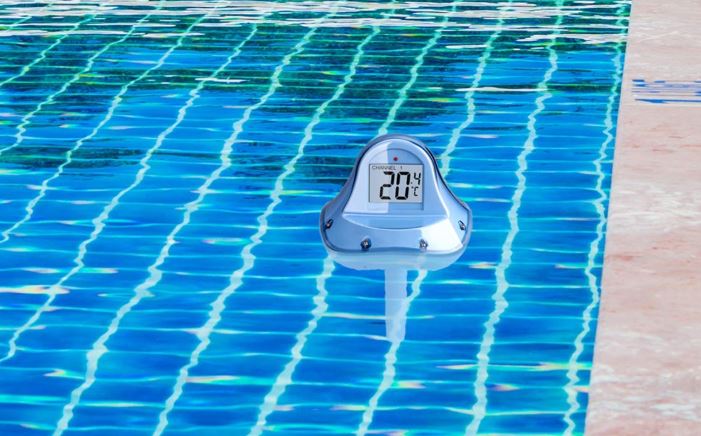 Other Considerations
The Meashinee thermometer has the same 14 ~ 140°F temperature range as the previous pool thermometer in this list. It also has the same range of accuracy, and an identical display resolution. It's also powered by a pair of AA batteries, which are not included. What is included? The waterproof floating thermometer, the desktop base station, and a short user manual which helps you figure out how to connect the two.
Choosing Between 3 of the Best Wireless Floating Pool Thermometers
The Ambient Weather TX-3107 has a wireless capacity, but it doesn't actually include a separate receiver unit. If you want to make use of its wireless features, you need to get a separate receiver in addition to the pool thermometer. For people who are looking for something cheap and simple, even without a receiver, this device should get the job done. The quality of its construction is solid, even though the device isn't UV-resistant. It also has the best expandability options for people who want to integrate their pool thermometer into a smart-home network or weather station.
The Cali-Home Wireless Floating Thermometer is closer to being an all-in-one style unit. It includes a separate receiver with a display on it, so you don't have to stand a few feet from the thermometer to get a reading. Though there's also a large display on the pool thermometer itself, so getting physical readings is also possible. This kit is basically like the TX-3017, except it comes with a receiver rather than having a bunch of fancy expansion options.
Finally, the Meashinee Wireless Swimming Pool Thermometer also includes a receiver, but it's really the thermometer that makes this kit so special. It's got an extra-strong waterproof rating that ensures it's better protected against submersion. And it's got a display that's nearly as large as the Cali-Home unit, along with an anti-UV cover that's both stylish and protective. For people who are using the thermometer in an outdoor area, this is probably your best choice.