As the winter snow melts, we're swiftly being thrown into the heat of summer. There are very few indulgences in life as sweet as finishing up your daily chores, and heading out for a dip in the pool.
For us, there is always a moment of hesitation until we finally have a chance to dip our toe in. Is the water too warm? Too cold? Until you get your bathing suit on, you're not going to know.
Anyone who's owned a pool knows that it's not always easy to get the temperature just right. Sometimes, it seems like the smallest adjustment of the heater jacks up your power bill, and makes the water uncomfortably hot. Alternately, if you keep it too cold then you're in for an unpleasant surprise when you do finally decide to go for a dunk.
A wireless pool thermometer is the perfect solution to an age old problem. When you can just pull out your phone and see the exact temperature, there is no need to wonder. You'll be able to set you pool temperature more accurately, and know exactly when the time is right for a dunk.
In this guide, we'll be taking a look at the three best floating pool thermometers on the market. We'll show you the differences between them, and help you understand which one is right for you.
Ambient Weather WS-25
This brand is best known for their outdoor thermometers and barometers, but their high tech temperature sensors work perfectly for this application.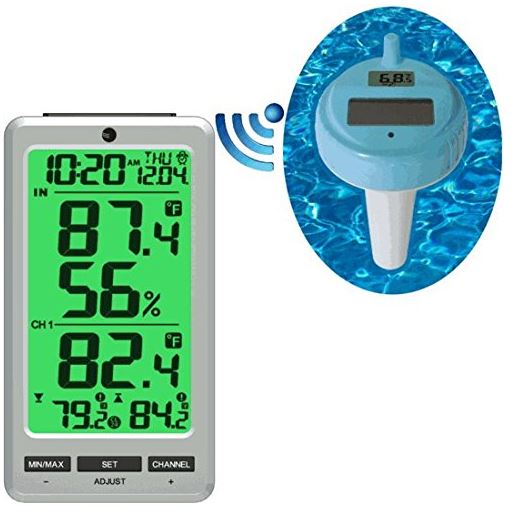 Design
Although the Ambient Weather WS-25 is shaped just like a regular pool thermometer, it's high tech hardware is obvious from the minute you pick it up. There is a large LCD display on the top that tells you the exact pool temperature, and a solar panel below that keeps it running as long as the suns out.
We found that this top mounted display is much easier to use than the older style. Typically, you'd have to pull the thermometer out of the water to read it, and the measurement would never be that exact. Analog thermometers change slowly over time, so your measurement is always a little off. But this digital model responds instantly, so you'll always know exactly what's going on in your pool.
Another nice thing about the design of this thermometer is the coloring. Many of those white model stick out like a sore thumb. But the upper housing is colored blue, just like most pools on the market. You'll always be able to find it when you want it, but it's not going to capture any unwanted attention.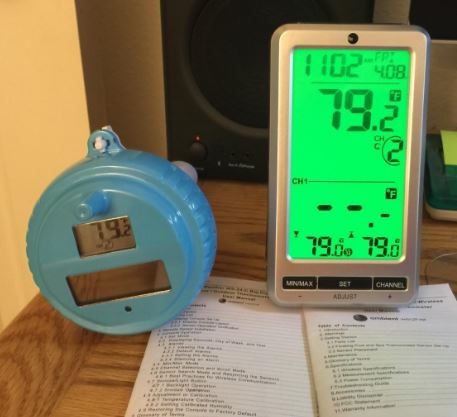 Functionality
This particular wireless thermometer doesn't run on Bluetooth, but rather an ultra low frequency communication channel that is commonly used by outdoor thermometers and hygrometers. It includes a display that you can mount inside your house, and always be able to tell the temperature of your pool with a quick glance.
The thermometer itself has a large float on the top of it, which keeps it at the surface of the water. This is the part of your pool where the temperature can vary the most, so by keeping it just below the surface you're able to get the most accurate reading.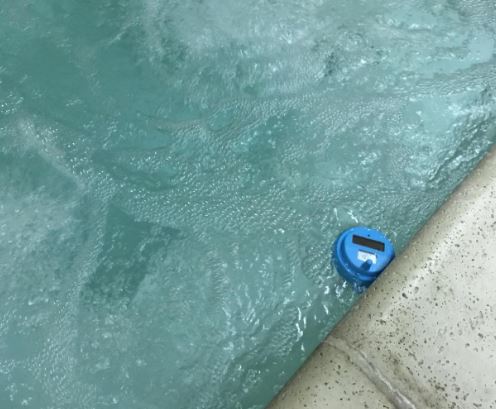 The one problem with digital thermometers is that they can drift over time. We checked the accuracy against another thermometer, and found it to be dead accurate. However, if you do find that the numbers are off a few years down the line, the calibration process is easy. Just put the thermometer in water of any temperature along with a thermometer that you know is good. You can then enter the actual temperature, and the measurements will automatically be adjusted to reflect the new changes.
Additional Features
You definitely get some bang for your buck with this thermometer. The console, when mounted in your house, has a few additional sensors that help you better measure your environment. You'll get an indoor thermometer, which has the same accuracy as the pool sensor. You also get a hygrometer, which tells you the current indoor humidity.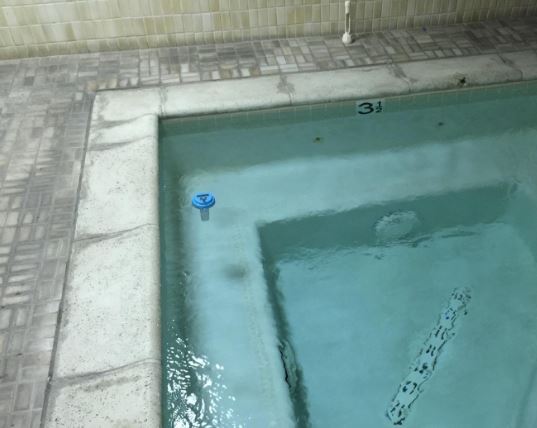 Another nice feature of the remote display is the fact that it supports ten different channels. If you buy an outdoor hygrometer, many of them will be compatible with the same panel. This allows you to view data from multiple sources with the touch of a button, making this a truly universal model.
Ivation Bluetooth Water Thermometer
Ivation is a brand that doesn't stick exclusively to pool hardware, but they're very well known for giving commonly used hardware the smart treatment. This model isn't your average pool thermometer, but a tool that can help you better maintain the family pool.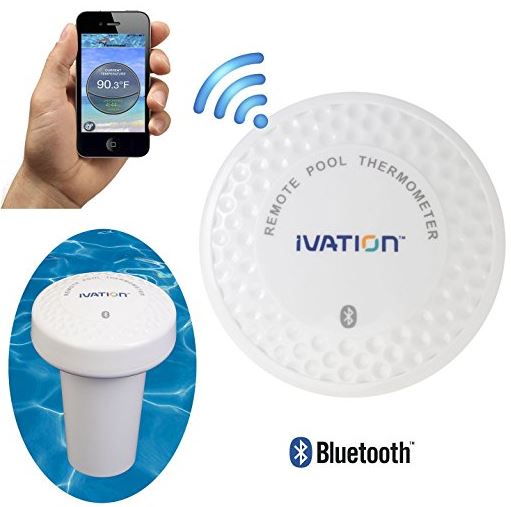 Design
The Ivation Bluetooth Water Thermometer is a little shorter, but also a little wider than the average thermometer. It's made from a very solid plastic housing, which looks fairly unassuming from the outside. Other than a golf-ball texture on the top face, a logo, and a Bluetooth icon, this thermometer looks a lot more like a Bromine dispenser than a thermometer. But the increased size is due to all the powerful hardware contained inside.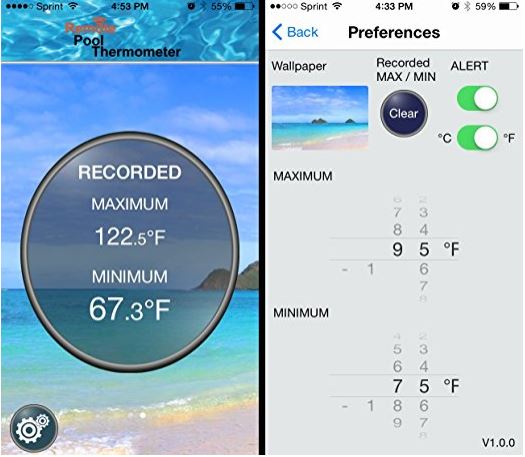 Functionality
In order to use this thermometer, you need to have an iPhone or Android device with Bluetooth. At the core is a highly accurate temperature sensor which can be configured to measure in both Celsius and Fahrenheit. But this isn't just a tool to help you check the current temperature at a specific point in time. All of the temperature is logged internally, allowing you to see how the temperature has changed over time.
This is extremely handy for many reasons. First, we found that it was nice to be able to see how the weather and pool usage affects the temperature over time. Second, we found it helpful to see the change in temperature as you're just starting your pool up for the first time in the season.
This thermometer uses two AAA batteries, which are included with the thermometer. Thanks to an internal ultra-low-power Bluetooth chipset, you'll only have to replace these batteries every 3 months, which makes it easy to schedule as part of your regular pool maintenance.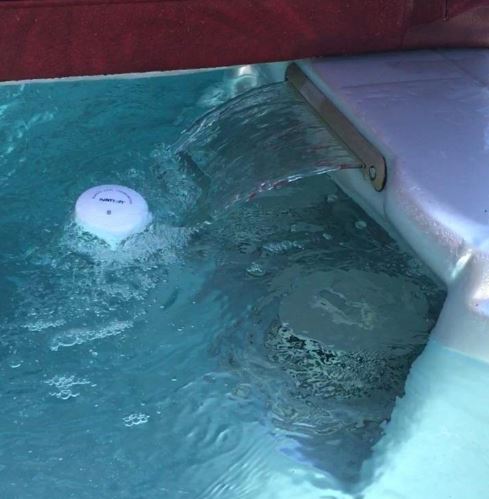 Additional Features
Aside from simply tracking the pool temperature over time, there is a handy notification feature that lets you know when it's time to change the settings on your pool heater. You can set a helpful minimum and maximum temperature, and get notifications on your phone anytime your preset range has been exceeded.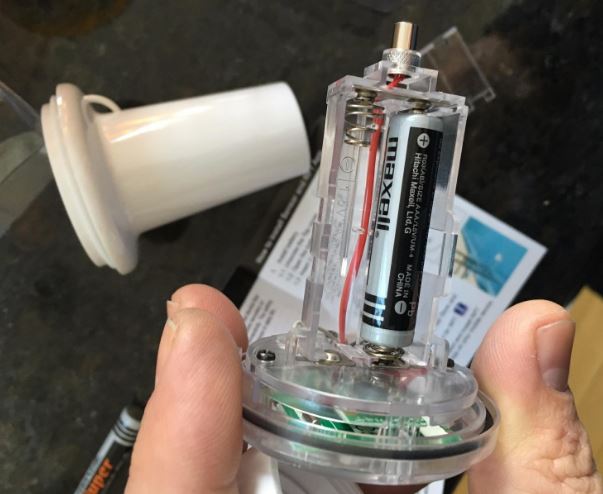 Ivation has also included a handy string, which allows you to secure the thermometer is a specific spot of your pool. This is very handy if you've got a problem area where the water tends to get too hot or too cold, or if you simply want to measure a specific part of your pool. For some users, it's idea to hook it up in the shallow end so you can see your water temperature quickly change. Alternately, placing it in the deep end will give you a better idea of when the entire pool has met a certain minimum temperature.
Yowosmart Professional Wireless Pool Thermometer
As a popular importer of electronics made overseas, Yowosmart is a fantastic choice for anyone looking to save a few dollars on a piece of common hardware. Their wireless pool thermometer keeps things simple, which helps keep the price low.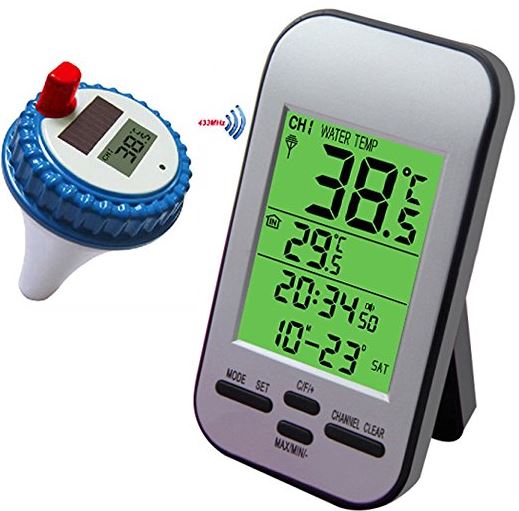 Design
The two-piece plastic enclosure is easy to spot, and even easier to use. With the Yowosmart Professional Wireless Pool Thermometer, there's a built in display so you can check the current temperature while you're in the pool, and a compact solar panel that helps keep the battery recharged. The batteries are removable, which can be done by twisting the blue part of the cap. We were concerned that this posed the risk of leaks, but there is a large rubber gasket that keeps everything nicely sealed.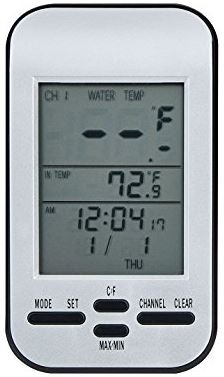 Functionality
Instead of using Bluetooth to communicate with your cellphone, this thermometer has its own remote display that shows the current temperature. It can transmit over a distance of 300 feet, so you can confidently place it anywhere in your home without worrying about signal issues.
The sensor itself is highly buoyant, which allows it to float on the surface of the water. It's weighted down a little more than some models, which ensures that the sensor stays fully submerged even in turbulent water conditions. This means that your reading won't be inaccurate just because the kids are splashing around on a sunny day.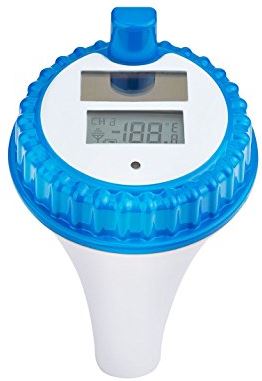 Additional Features
In order to keep things affordable, Yowosmart didn't put in a ton of additional features. But what set this model apart from competitively priced devices was the remote display. There is a small computer inside uses its internal memory to store historical temperature data, so you get to see the highest and lowest temperature that your pool has been.
Which Wireless Floating Pool Thermometer is Right for Me?
Depending on your objectives, there are plenty of great options for pool thermometers on the market. In order to determine which one best suits your needs, you should first consider what you're trying to accomplish.
Are you just looking for a simple, affordable way to check your current pool temperature without leaving your house? If so, consider the Yowosmart Professional Wireless Pool Thermometer. This is one of the most affordable options on the market, and its functionality is simple. Place the thermometer in your pool, the remote display on your wall, and always know when the water is perfect. With the addition of tracking both the hottest and coolest measured temperatures, this is one of the best values on the market.
Looking to get a little more bang for your buck? If you're going to measure the temperature of your pool, you might as well know the indoor temperature as well. Not only does the Ambient Weather WS-25 tell you the pool temperature, but the remote display tells you the indoor temperature as well as the humidity. If you want to add more sensors, this display is compatible with a few of the models we talked about in our roundup of the best indoor/outdoor hygrometers, so you can place additional sensors outside.
If you're selecting a pool thermometer for convenience and comfort, the above two options are a great choice. But if you're looking for something that will make maintenance easier, we'd highly recommend checking out the Ivation Bluetooth Water Thermometer. This unit uses Bluetooth to sync up to your phone and provides long term, historical data that includes time stamps. This is one of the only options that allows you to see how your pool temperature changes over time. In our use, we learned to predict how the weather could affect our pool temperature, and what the most power efficient setting was for our heater.
No matter which option you choose, we're confident that a wireless pool thermometer will be a great purchase for any pool owner. Not only does it make your life a lot easier, but it can save you money too. Considering how expensive it is to heat your pool, knowing when you can turn down the temperature will more than pay for the cost of one of these handy little gadgets.