When it comes to keeping your pool or hot tub at the perfect temperature, you need a reliable thermometer. And why settle for something ordinary when you can get something extraordinary? Enter the wireless floating thermometer. These nifty devices give you accurate temperature readings while adding a fun and unique look to any pool or hot tub.
We've rounded up the best wireless floating thermometers for pools and hot tubs, so take a look to find one that will suit your needs. Whether you're looking for something basic or more feature-filled, there's an option for everyone on our list.
We've included popular picks such as the INKBIRD IBS-P02R Floating Pool Thermometer and the La Crosse Technology Wireless Pool Thermometer, plus budget-friendly options like Metoluar's Wireless Floating Pool Thermometer.
No matter what you choose, these thermometers will make sure your pool or hot tub stays at just the right temperature! So let's dive into the best wireless floating thermometers for pools and hot tubs!
Best Overall: INKBIRD IBS-P02R Floating Pool Thermometer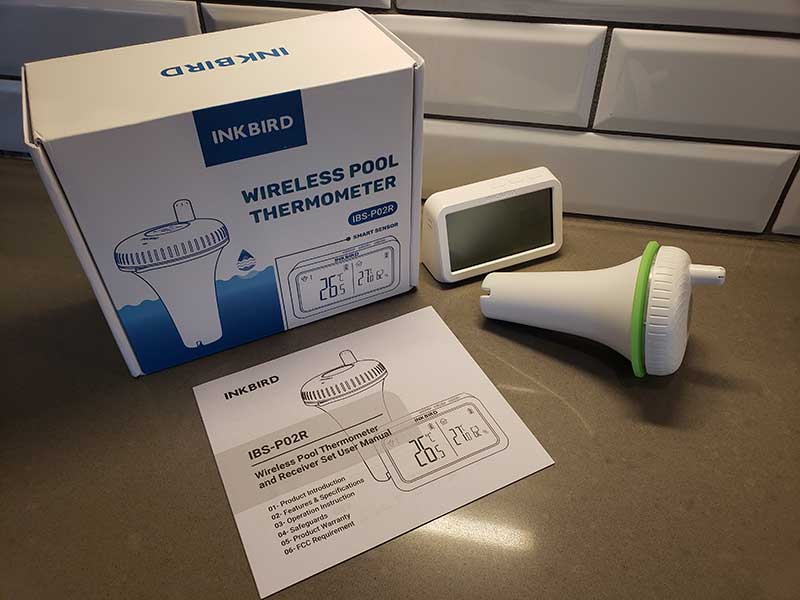 Key features:
IPX7 waterproof and impact-resistant design
Indoor temperature and humidity monitor
Stable 300-foot wireless connection
Accurate sensor with frequent updates
The Inkbird IBS-P02R Floating Pool Thermometer Set is a game changer for those who own swimming pools, hot tubs, small ponds, or aquariums. This innovative device combines a wireless pool thermometer with an indoor temperature and humidity monitor, making it easy for you to keep track of your pool's temperature without having to leave the comfort of your home. The following review will delve into the features and benefits of this fantastic product.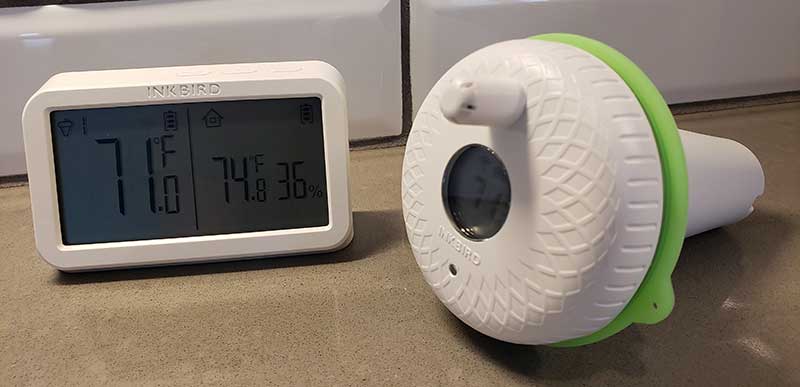 The IBS-P02R stands out from the competition with its IPX7 waterproof design. This ensures that the device can withstand being submerged in water without any risk of damage. And thanks to the durable silicone ring seal, there's an extra layer of protection, further enhancing its water resistance and impact resistance.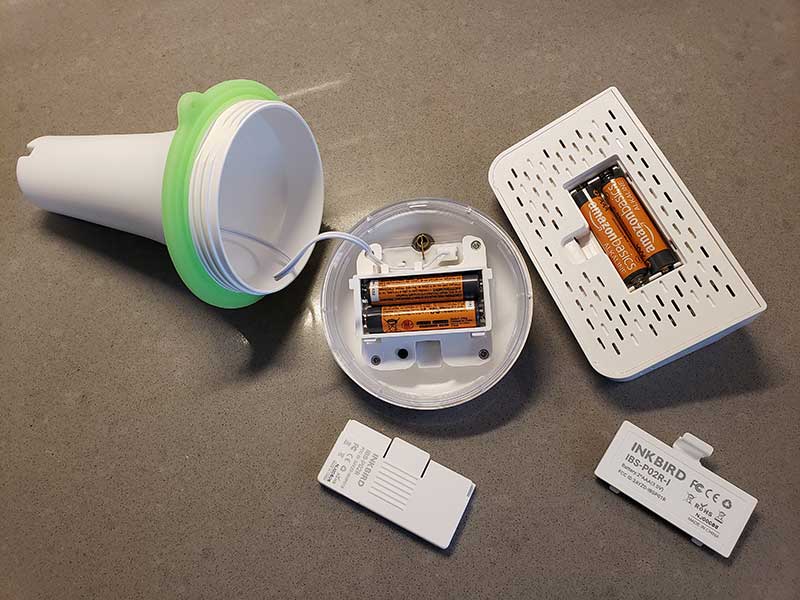 The indoor monitor included in the package boasts a large screen that simultaneously displays the indoor temperature as well as the humidity and outdoor pool temp. This feature helps you maintain a comfortable environment inside your home while ensuring the water in your pool is at the perfect temperature. The monitor also allows you to check the battery life, view maximum and minimum values, and switch between Celsius and Fahrenheit.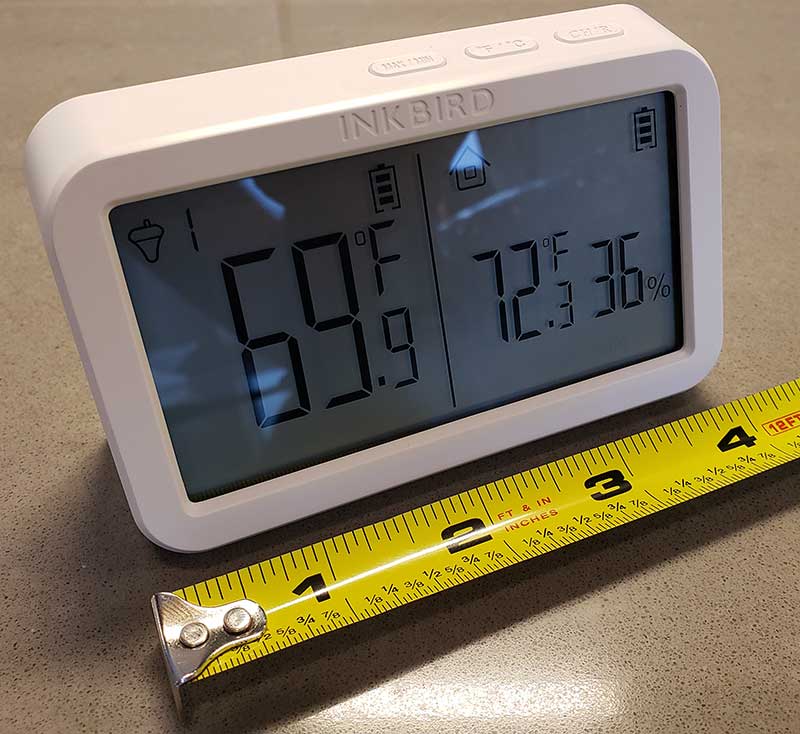 One of the most impressive features is its stable long-distance connection capability. The wireless thermometer set can transmit data as far as 300 feet away, ensuring a reliable connection. Moreover, you can connect the indoor monitor to three different pool thermometers simultaneously, allowing you to monitor multiple locations at once.
It comes equipped with a super-accurate sensor, which guarantees precision temperature readings within ±1°C (±1.8°F). The device updates its data every 10 seconds, ensuring that you're always aware of the current water temperature.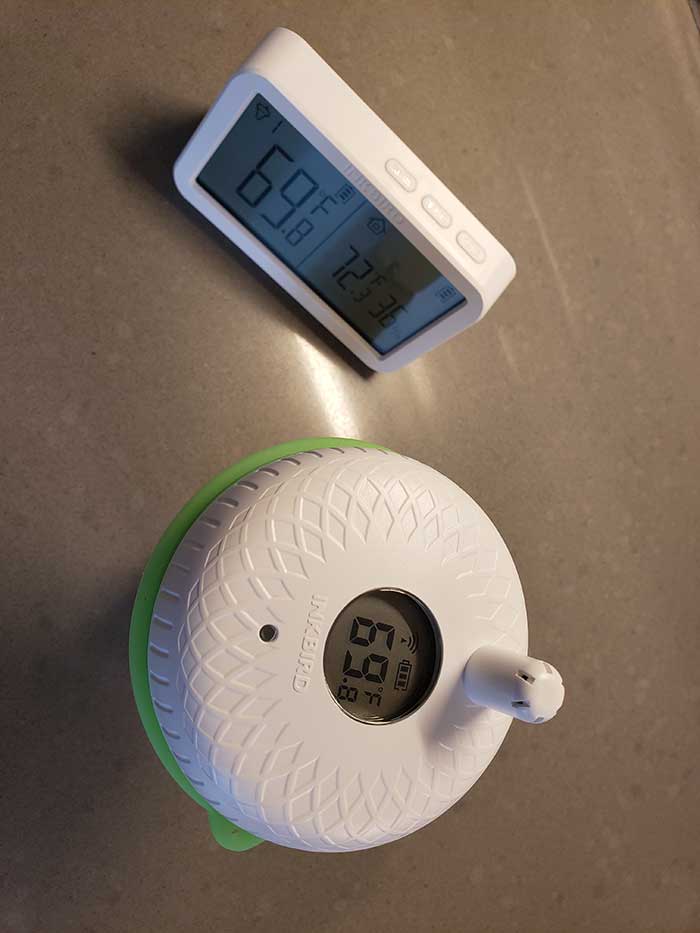 The Inkbird IBS-P02R is also incredibly versatile, making it suitable for everything from swimming pools to aquariums. Its user-friendly design ensures that installation is a breeze. To top it off, Inkbird offers a 1-year warranty on the product, demonstrating their confidence in its quality and durability.
What we liked:
Durable and waterproof construction
Comprehensive indoor monitoring
Reliable long-distance connection
Precise temperature readings
What we didn't like:
Limited to three simultaneous connections
Possible signal interference
Best Runner-Up: La Crosse Technology Wireless Pool Thermometer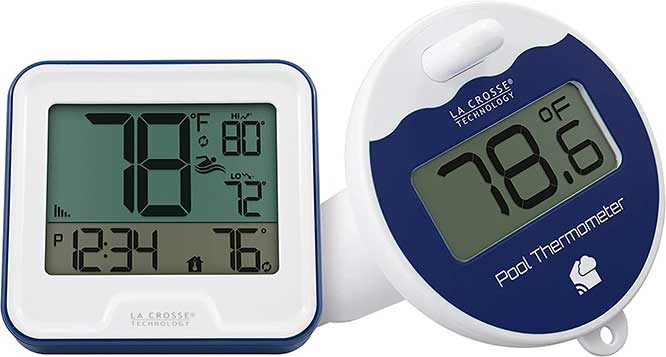 Key features:
Sleek design with large LCD display
Accurate temperature and humidity monitoring
Easy installation and user-friendly interface
App-compatible with optional sensor support
Swimming pool owners understand the importance of maintaining the right water temperature, especially during the changing seasons. The La Crosse Technology offers an efficient solution, allowing users to monitor pool temperature effortlessly. This review will provide an in-depth analysis of the thermometer's features, performance, and usability.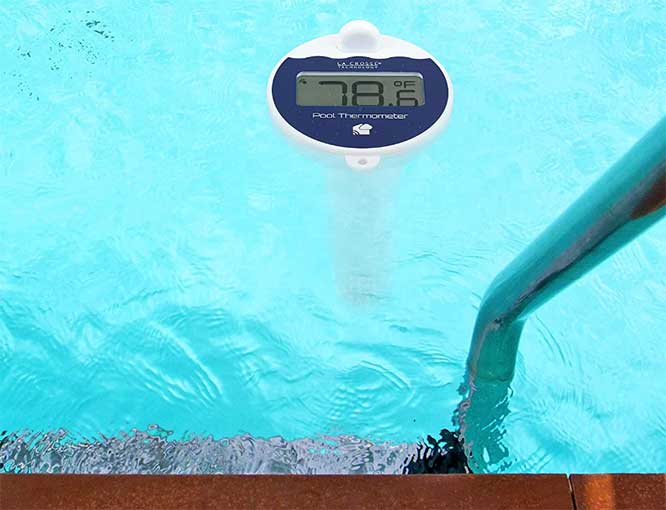 The La Crosse Technology is a sleek and modern device featuring a white color that complements any poolside or indoor setting. The package includes a floating pool sensor and a base station, both powered by four AA batteries (these aren't included, so you'll need to provide your own). The thermometer's design incorporates a large LCD display with easily readable digits, making it convenient for users to monitor the pool temperature from afar.
The underwater sensor is designed to be leak-proof and has a convenient twist-off battery cover that ensures a tight seal. The sensor has an operating temperature range of 50°F to 122°F and transmits readings to the base station every 60 seconds. With a transmission range of over 330 feet (100 meters), the device can effectively monitor pool temperatures in different locations, such as outdoor ponds or spas.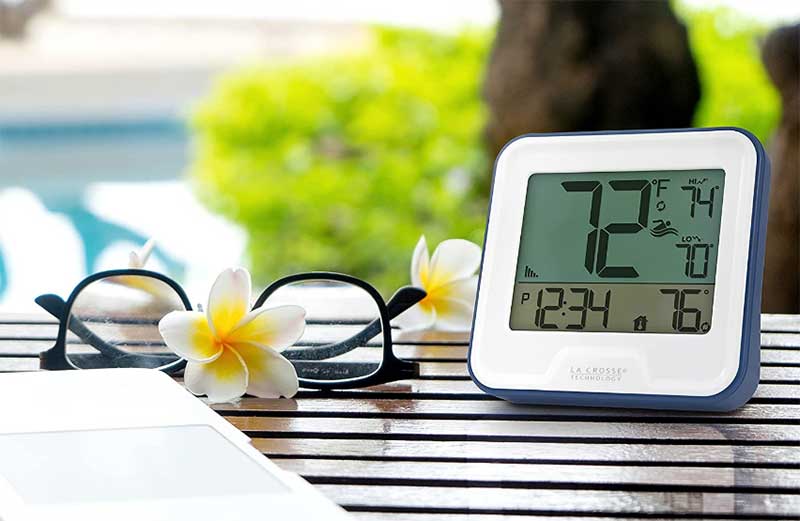 The base station displays temperature readings in both F° and C°, offering a high level of flexibility for users. It also records high and low temperatures and humidity, allowing for accurate monitoring of the pool's environment. The auto-scroll option for indoor temperature and humidity readings is an added convenience.
Setting up the La Crosse thermometer is a breeze. The underwater sensor features a keyhole loop for secure attachment to a separate tether string (not included). Once the sensor is placed in the pool, the base station can be set up indoors to receive temperature readings. The thermometer's easy-to-read LCD display provides clear temperature and humidity readings, making monitoring a hassle-free experience.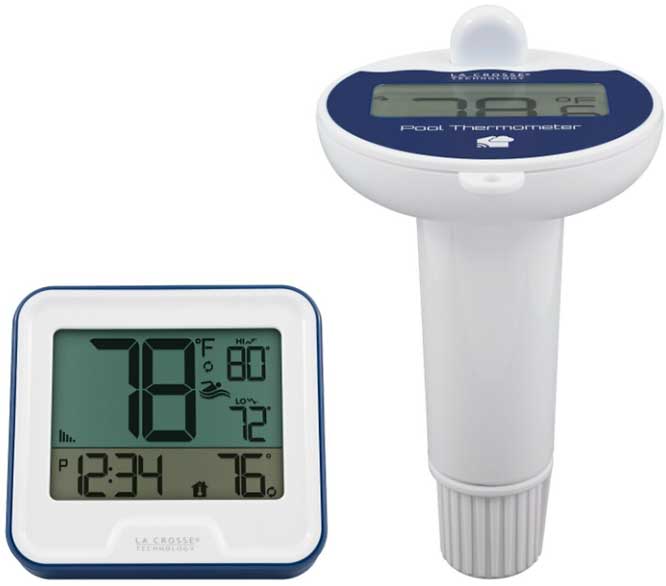 The thermometer is app-compatible, which means users can conveniently monitor pool temperatures through their smartphones. The La Crosse also supports the addition of an optional temperature/humidity sensor (LTV-TH2) for enhanced monitoring capabilities.
The base station and underwater sensor both require two AA batteries for operation (not included). The device features a low battery indicator for both the sensor and the base station, ensuring users are informed when it's time to replace the batteries.
What we liked:
Sleek and modern design
Accurate temperature readings
App compatibility for convenient monitoring
Easy to use and install
What we didn't like:
Batteries not included
Optional sensor requires additional purchase
Best 2nd Alternative: Ambient Weather WS-14 Floating Pool & Spa Thermometer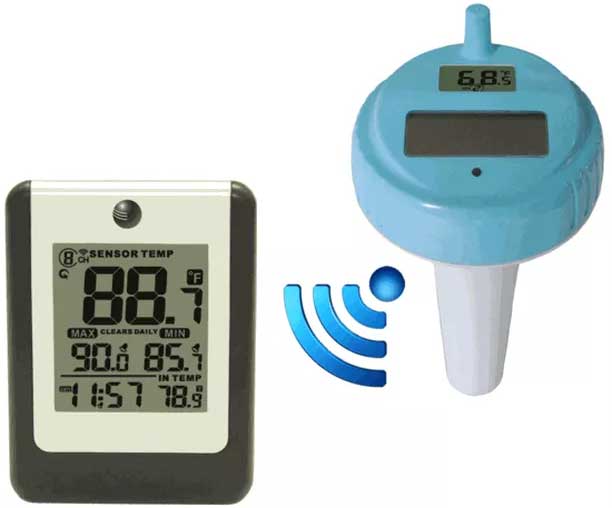 Key features:
Waterproof and floats on water's surface
LCD display shows water and air temperature
Supports up to 8 remote sensors
Rapid response time of 60 seconds
Ambient Weather's WS-14 is an innovative and efficient device for monitoring water temperature. It is designed to cater to the needs of pool and spa owners, providing accurate and real-time temperature readings. In this review, we will discuss the key features, benefits, and potential drawbacks of this floating thermometer.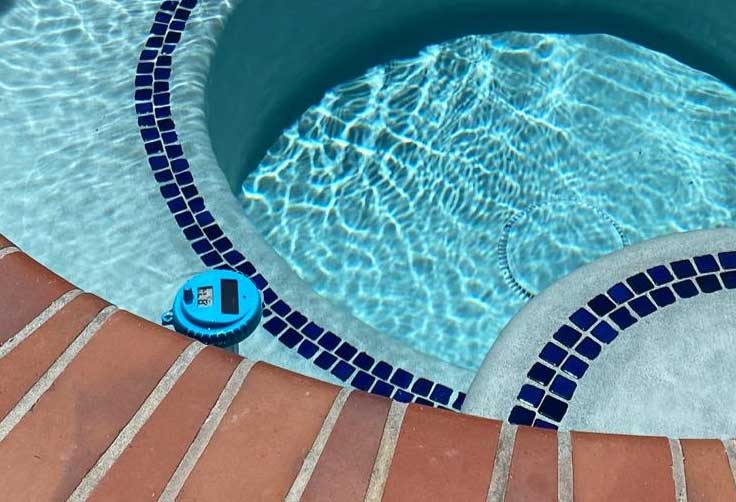 This one has a sleek silver-gray design, with dimensions measuring 8.5 inches x 4.2 inches x 3.7 inches. It's both waterproof and floats on the water's surface, ensuring durability and ease of use. The screw-on lid design with an internal gasket ensures a leak-free, water-resistant construction. It is powered by four AAA batteries (not included) and features a solar-powered option with battery backup.
It's also equipped with an easy-to-read LCD display that showcases both the water temperature and indoor air temperature. This console includes an eight-channel selectable switch, enabling users to monitor temperatures from up to eight different locations simultaneously. The sensor search mode offers the convenience of re-syncing sensors without the hassle of removing and re-inserting batteries.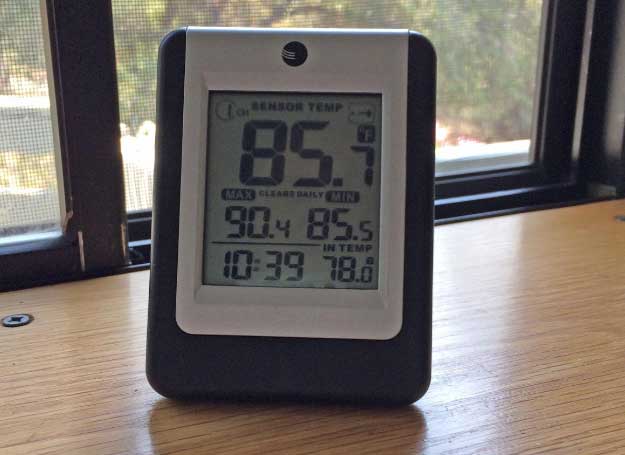 The WS-14 offers a rapid response time, updating temperature readings every 60 seconds. It can transmit data wirelessly up to 300 feet in open air under ideal conditions or 100 feet under most conditions. The device operates at a frequency of 433 MHz, ensuring seamless data transmission between the sensor and console.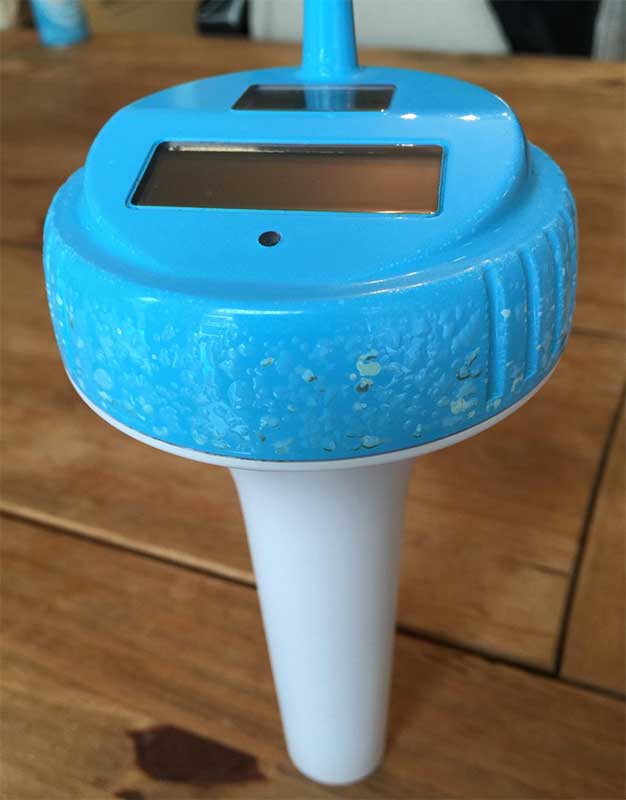 The Ambient Weather WS-14 is designed to work well with or without a pool cover. However, if you use a spa or pool cover, you may want to opt for the F007TP sensor instead, as this will prevent gasket failure from submersion.
One of the standout features here is the ability to support up to eight wireless remote sensors. Users can mix and match sensors for even better monitoring. Each remote sensor comes with dip switches for easy channel selection and units of measure (degrees Fahrenheit vs degrees Celsius).
What we liked:
Suitable for pools, spas, and other water bodies
Supports up to eight sensors for better monitoring
Wireless transmission up to 300 feet in open air
Solar-powered option with battery backup
What we didn't like:
Gasket failure may occur with pool covers
May not transmit data as far under most conditions
Best Budget: Metoluar Wireless Floating Pool Thermometer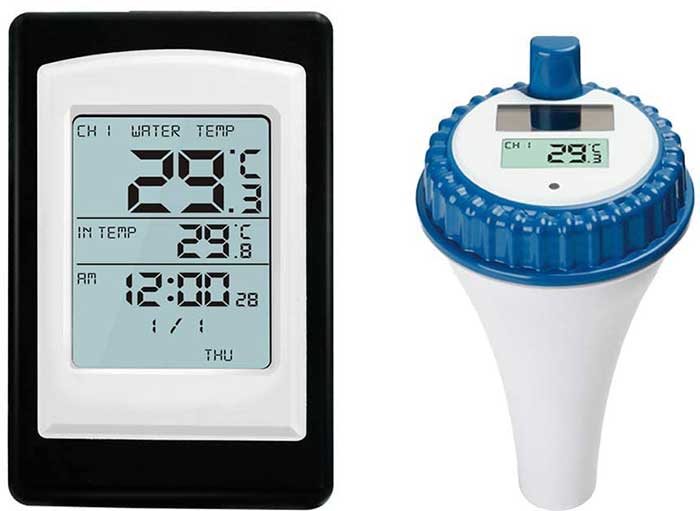 Key features:
Tough and durable ABS construction
Solar-powered for sustainable use
Easy-to-use and user-friendly design
Affordable and effective temperature monitoring
As a pool owner or a hot tub enthusiast, keeping track of water temperature is essential for ensuring a comfortable and safe swimming experience. The Metoluar Wireless Floating Pool Thermometer is an affordable and convenient solution for monitoring water temperature in your swimming pool, hot tub, or bath. With its easy-to-use design, this floating thermometer offers accurate readings and adds value to your pool maintenance routine.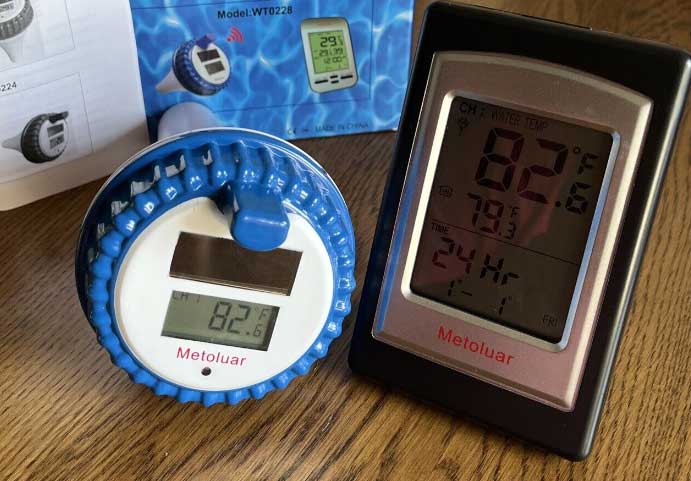 Available in three color options – blue, purple, and red – the thermometer is both functional and visually appealing. The thermometer is made of high-quality ABS material, making it durable, anti-oxidant, and suitable for both indoor and outdoor use. Its solar-powered feature is an added bonus, ensuring that the device functions efficiently and sustainably.
It's incredibly easy to use, too. Just place the device directly into the water, wait for 1 to 2 minutes, and the temperature reading will be displayed. The thermometer offers readings in both Fahrenheit and Celsius, with a high-precision temperature sensor that ensures accuracy. It has a temperature range of approximately 0 to 50 degrees Celsius (32 to 122 degrees Fahrenheit), making it ideal for a variety of water temperature monitoring needs.
This floating thermometer is an excellent addition to any swimming pool, hot tub, or bath, and its versatile design also makes it suitable for aquariums and fish ponds. With its waterproof feature, it is designed to withstand water exposure, providing reliable temperature readings over time.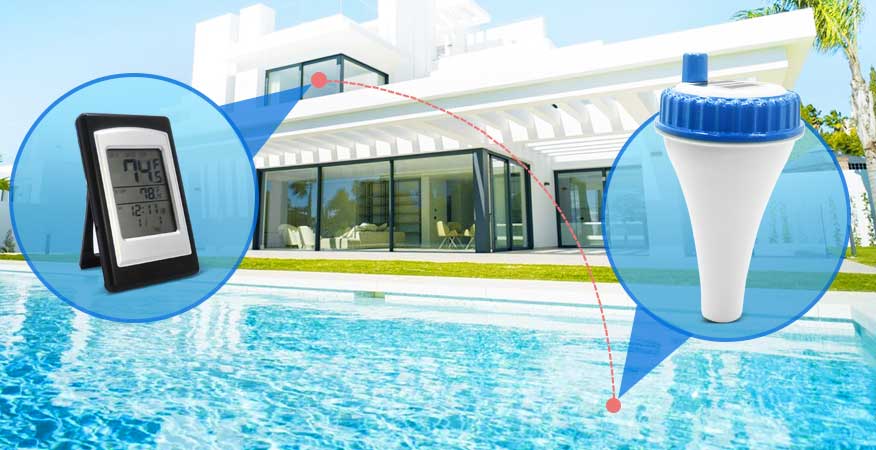 The product comes with clear care instructions—simply wipe it clean as needed. Powered by two AAA batteries, the thermometer is energy-efficient and low-maintenance. The 0.1°C resolution ensures that you receive precise temperature readings for optimal water comfort.
Metoluar's wireless thermometer is a valuable addition to any pool or hot tub. With its accurate temperature readings, user-friendly design, and affordable price, this floating thermometer is an excellent choice for maintaining water comfort and safety.
What we liked:
Provides accurate temperature readings
Versatile use for pools, hot tubs, aquariums, and fish ponds
Energy-efficient with low-maintenance
Adds value to pool maintenance routine
What we didn't like:
Not suitable for use in saltwater pools
Limited temperature range of 0 to 50 degrees Celsius
Wireless Floating Thermometer FAQs
How do wireless floating thermometers work?
Wireless floating thermometers use sensors to detect the temperature of the water, which is then transmitted wirelessly to a receiver. You can easily see precise temps in all your pools or hot tubs.
Are these thermometers accurate?
Absolutely! All four of these models are highly rated for accuracy, so you can be sure that your readings are spot-on every time. Plus, they're easy to install and maintain, making them a great option if you're looking for hassle-free temperature monitoring.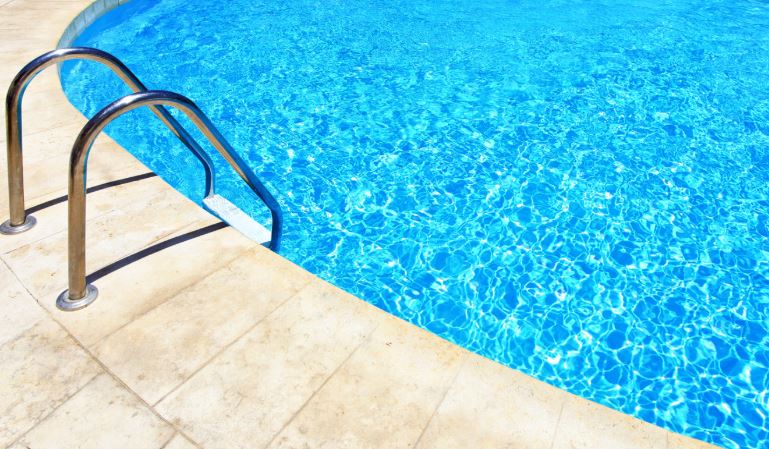 Are these thermometers easy to install and set up?
Yes, they typically have user-friendly designs that allow for easy installation and setup. But always double-check the instructions that come with the thermometer to make sure you're completing installation correctly.
What type of battery do they use?
You will need AA or AAA batteries, depending on the model you choose. Most wireless floating thermometers come with a battery life of up to two years, so you won't have to worry about constantly replacing them.
Are these thermometers suitable for both pools and hot tubs?
Yes! All four of these models are perfect for use in either pools or hot tubs. So no matter what your setup is, you'll be able to keep an eye on the temperature without any hassle!
Are these thermometers waterproof?
Yes. Each one comes with up to IPX7-rated waterproof housing for added protection against water damage. So you can rest easy knowing that your thermometer will stand up to whatever Mother Nature throws its way.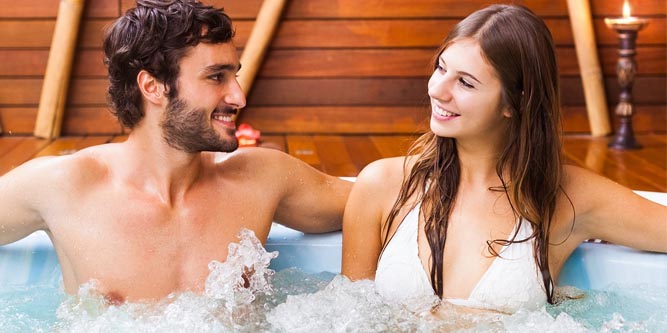 Final Thoughts
Wireless floating thermometers are a convenient and reliable solution for monitoring the temperature of your pool or hot tub. They offer accurate readings, easy installation, and are designed to withstand water exposure.
Our top picks, including the INKBIRD IBS-P02R, La Crosse Technology, Ambient Weather WS-14, and Metoluar Wireless Floating Pool Thermometer, cater to a variety of needs and budgets.
The Inkbird IBS-P02R stands out with its IPX7 waterproof design, indoor monitor, and long-distance connection capability.
La Crosse Technology offers a sleek design, app compatibility, and the option to add an additional sensor.
The Ambient Weather WS-14 is known for its solar-powered option, rapid response time, and compatibility with multiple sensors.
Finally, the Metoluar Wireless Floating Pool Thermometer is an affordable choice with a durable design, solar-powered feature, and a high-precision temperature sensor.
Ultimately, the best wireless floating thermometer for your needs will depend on your preferences and requirements. Whichever model you choose, you can be confident that it will provide accurate temperature readings, ensuring a comfortable and enjoyable swimming experience.
Meet Derek, "TechGuru," a 34-year-old technology enthusiast with a deep passion for tech innovations. With extensive experience, he specializes in gaming hardware and software, and has expertise in gadgets, custom PCs, and audio.
Besides writing about tech and reviewing new products, Derek enjoys traveling, hiking, and photography. Committed to keeping up with the latest industry trends, he aims to guide readers in making informed tech decisions.