So, you've got a swimming pool to maintain. Even under the best of circumstances, it isn't easy. You need to maintain the right chlorine level, manage the PH, and keep the filters clean. Moreover, you need to maintain a comfortable temperature. If the pool gets too warm, it won't be a good place to relax. If it's too cold, you'll start shivering and turning blue as soon as you get in the water. Thankfully, we can now automate the process of temperature monitoring. With a wireless pool thermometer, you can keep tabs on the water temperature without manually measuring it.
Today, we're going to review three of the best wireless floating pool thermometers on the market. First up, we'll look at the Ambient Weather WS-50-F007PF WiFi Smart Floating Thermometer. This is a highly connectable device that can support up to 10 thermometers with a single central unit. Next, we'll look at the Ambient Weather WS-14. This is a more slimmed-down unit that's designed primarily for home use. Finally, we'll look at the Fnoko Wireless Pool Thermometer. This unit is also designed for home use, but has a wider range to allow for other uses.
How to Choose a Wireless Floating Pool Thermometer
So, how do you choose a worthwhile wireless floating pool thermometer? There are a few things you'll want to consider before you click that "buy" button. Here are some factors that can affect which thermometer is going to be best for your needs.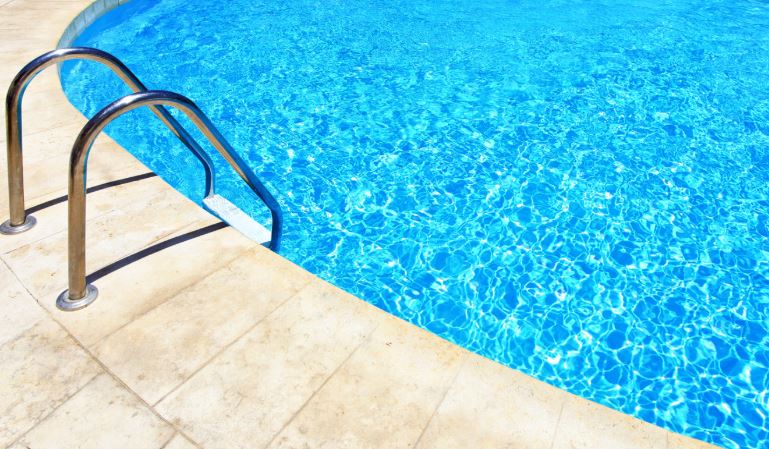 What Type of Pool do You Have?
An indoor pool is fundamentally different from an outdoor pool. With an indoor pool, you don't need to worry about UV protection. Your thermometer is safe from the sun, and the plastic won't degrade due to exposure. All of the wireless thermometers we've chosen are UV-resistant, so you won't have any issues there.
Another thing to consider is water resistance. Not all pool thermometers are fully waterproof. Needless to say, this is an issue when you're choosing an electronic device. The main issue here is if you have a pool cover. Leaving your thermometer inside when you cover it will result in the thermometer getting fully submerged. This can destroy otherwise perfectly good thermometers. Always take your wireless thermometer out when you cover your outdoor pool.
Temperature Range and Accuracy
A thermometer's temperature range dictates what kind of pools it can be used for. If your thermometer cuts off at 100 degrees, it's not going to be useful for a hot tub. That said, many thermometers advertise their lower range as if it's somehow relevant. If the temperature drops below freezing, the water is frozen. So a thermometer that goes down to -30 degrees Fahrenheit, it's not really relevant.
Accuracy can also be a concern for some people. Normally, it's sufficient to have a thermometer that's accurate within a couple of degrees. Keep in mind that these are not lab-grade scientific instruments. If you need accuracy to the tenth of a degree, you're going to need to spend significantly more money.
Connection Range
We're looking at wireless devices here, so range is an obvious concern. If your thermometer is too far from the receiver, you're not going to get a reading. Instead, you'll have to carry the receiver nearer to the pool. This is still easier than using a manual thermometer, but it can be inconvenient. Consider this when you make your decision, and when you decide where to keep your receiver.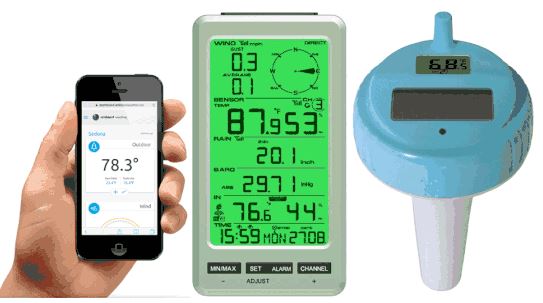 Ambient Weather WS-50-F007PF WiFi Smart Floating Thermometer
The Ambient Weather WS-50-F007PF is easy to use. It even includes a pair of plastic wrenches for easy maintenance. If you need to change the gaskets, just open up the unit, swap them out, and close it up. It's that easy. Like most wireless thermometers, this thermometer is designed to float. As a result, you'll want to avoid using it under a pool cover. One nice feature of the F007PF is that it's solar powered. This means there's no need to worry about changing your batteries. There is, however, a battery backup. This ensures that it will keep working at night, and can last through several cloudy days.
The receiver is a simple, handheld device that provides all the readings gathered by the thermometer. It can connect to up to 10 different thermometers, so it's great for hotels or apartment complexes with multiple pools. Moreover, all of this data becomes available on AmbientWeather.net. This depends on your receiver having WiFi access, so it won't work for everybody. But provided you can connect the receiver to the internet, you'll have more monitoring options. You can view your water temperature from a centralized location. Even better, you can set the F007PF to send email or text alerts for low or high temperatures. This means you don't have to check the unit at all. Just assume everything is working until it tells you otherwise.
In addition, the F007PF is compatible with Alexa, Google Home, SmartThings, and other home voice assistants. If you're a homeowner, you can even check the temperature just by talking to your Alexa unit. This makes the F007PF a solid choice both for commercial and home users.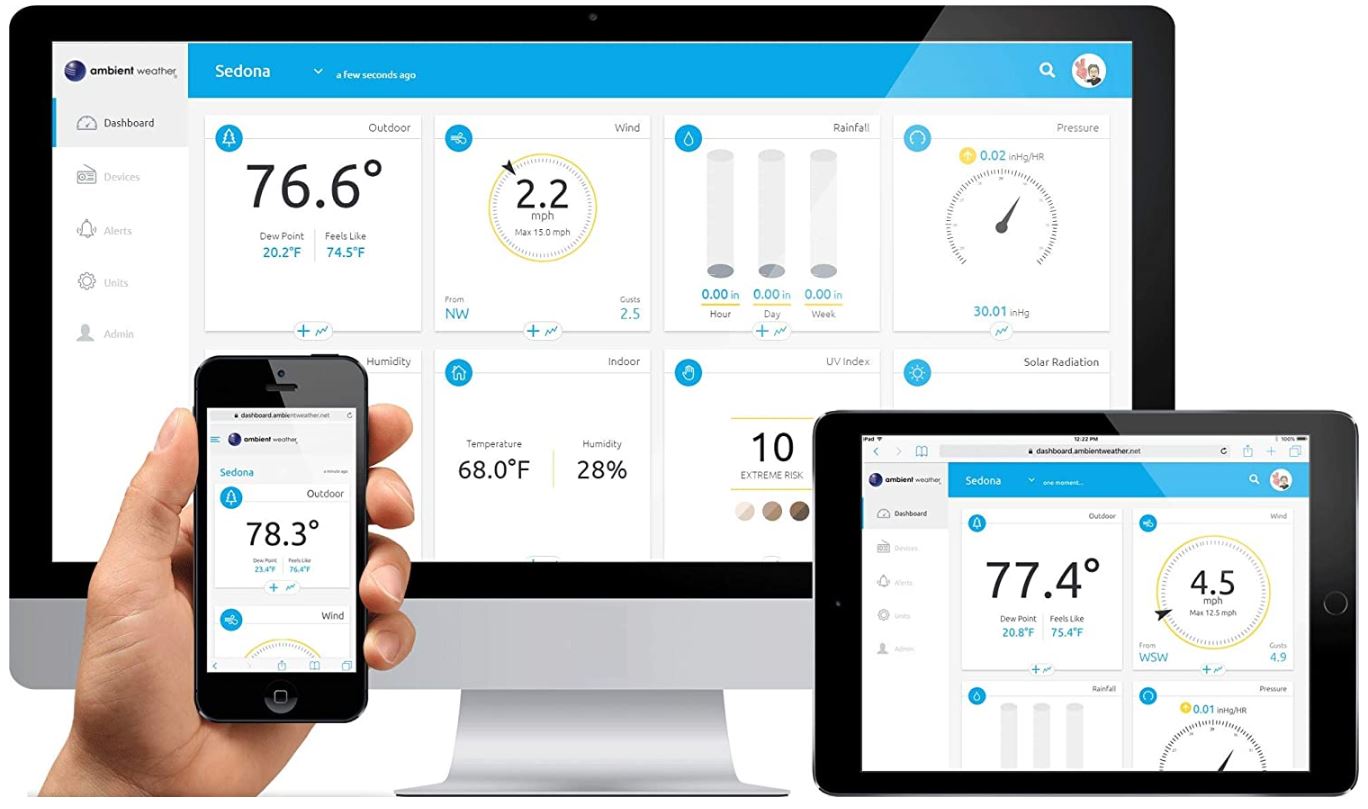 Range and Accuracy
The F007PF thermometer has a range of 32 to 140 degrees Fahrenheit. This provides every conceivable measurement you could ask for, without going overboard. In addition, it also measures other conditions as well. You can monitor the humidity, from 10 to 99 percent. Admittedly, this is useless for outdoor pools. But if you're monitoring an indoor pool, it's a very useful feature. Moreover, you can measure the barometric pressure, from 8.85 to 33.2 inches of Mercury. For pool monitoring purposes, this really doesn't do much. But if you want a barometer, you've got one.
The thermometer updates every 60 seconds. This ensures a constant, accurate reading at any time of the day or night. The receiver has a range of 80 feet. As long as it's within 80 feet of a wireless router, you can take advantage of all the online features.
Ambient Weather WS-14
The Ambient Weather WS-14 is similar in many ways to the WS-50-F007PF. As a matter of fact, the thermometer itself is nearly identical. It has a conical design, measuring 8.5 inches in height and 4.2 inches in diameter at the widest point. On the top of the thermometer, there's a convenient LCD screen for on-site reading. It's solar powered, so you don't need to worry about the batteries running dry. There's also a battery backup. The batteries are not included in the kit. But four AAA rechargeable Alkaline or Lithium batteries will get the job done.
As before, make sure not to use it in a covered pool. Use common sense and take it out before you cover the pool for the year. Under normal circumstances, water infiltration shouldn't be an issue. Make sure to replace the gaskets regularly to ensure this remains the case. If you do experience water infiltration, changing the gaskets is easy, thanks to the wrenches included with the kit.
The control unit is similarly easy to use. It has a simple, black and white LCD display that's easy to read. It also has an eight-channel selection switch. This allows you to connect to up to eight different thermometers. It's not quite as impressive as the F007PF's ten channels, but it's good enough for most purposes.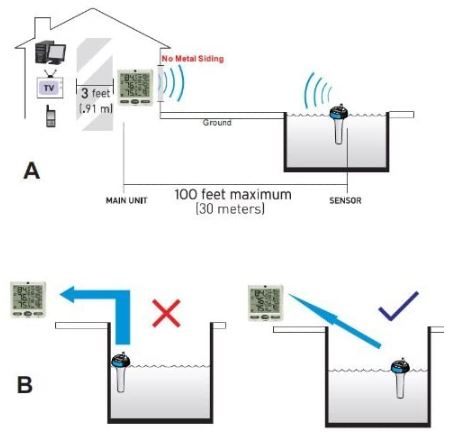 Range and Accuracy
The WS-14 isn't quite as fully featured as the F007PF. It doesn't measure the barometric pressure or humidity. However, these are secondary features, and they're not necessary for most pool thermometers. Not only that, but you only pay half as much, so you get plenty of bang for your buck. Moreover, the thermometer itself works very well. It measures the temperature from 32 to 140 degrees, which is good enough for any pool or hot tub. The temperature is updated every 60 seconds, so you know you're getting a current, accurate reading. No need to worry about any unpleasant surprises.
The control unit actually has a longer range than the F007PF, at up to 100 feet. This makes it somewhat easier to deal with positioning issues. With the control unit, you can set a minimum and maximum temperature. This will send alerts to your smartphone if the limits are exceeded. Keep in mind that this will require an active WiFi connection. That said, the WS-14 doesn't have the same web-based interface as the F007PF. You won't be able to monitor all your thermometers from a PC workstation. Then again, you're saving a lot of money here, so it might be a worthwhile trade-off.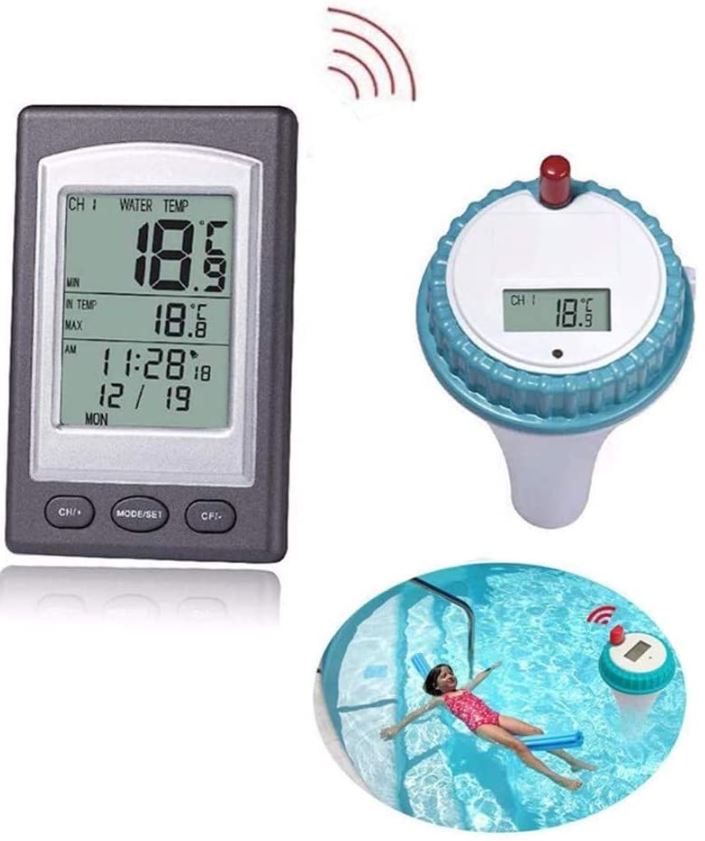 Fnoko Wireless Pool Thermometer
The Fnoko Wireless Pool Thermometer is a more affordable option, designed primarily for home use. If you're just trying to manage a single backyard pool, it's probably your best choice. That said, the control unit can still connect to up to three different thermometers. And the thermometer range is 100 meters (333 feet), so the pools don't all need to be nearby. For a neighborhood pool or small apartment complex, this gives you plenty of performance.
The thermometer itself measures 4.72 inches tall and 2.91 inches in diameter. It's relatively compact, with a conical design that should be familiar by now. On top, there's a convenient LCD display that can change between Fahrenheit and Centigrade. No matter which system you use, you're going to be just fine. It takes 2 AA batteries. There's no built-in solar panel, but you shouldn't really expect one at this price point. Just keep an eye on your battery status, and change them when needed.
The control unit is designed for handheld use, measuring 4.64 inches long, 2.91 inches wide, and 0.78 inches thick. This makes it smaller than most TV remotes, and the three rubber buttons are easy to operate with your thumb. The LCD display is bold and easy to read, and is powered by a pair of AAA batteries. It even displays the time, in addition to the water temperature.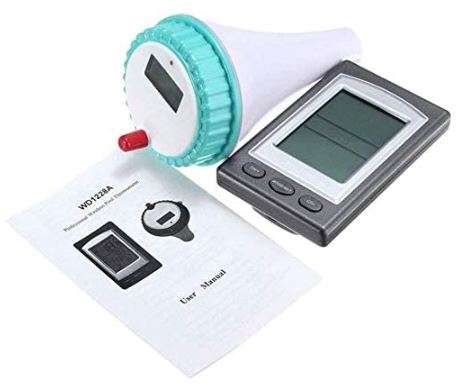 Range and Accuracy
The Fnoko thermometer has a temperature range of -40 to 140 degrees Fahrenheit. As we said at the beginning, this is way more than you'll need for a pool thermometer. That said, it does have its uses. For example, you can use it as a simple outdoor thermometer during the winter. The temperature updates every 90 seconds, so it's not too different from the other thermometers we looked at. If you're worried about your temperature reading being out of date, that's not an issue here.
The wireless range of the control unit is 100 feet. So as long as you're reasonably close to a WiFi router, you'll be able to take advantage of smartphone features. With your smartphone, you can set alerts, which will let you know when there's a temperature issue. You can also view the temperature remotely, from anywhere in the world. Without a WiFi connection, you can still set an alert on the control unit itself. This will start beeping when your water gets too warm or too cold.
Final Verdict
So where does this leave us? Which of these wireless floating pool thermometers is best? To begin with, the Ambient Weather WS-50-F007PF WiFi Smart Floating Thermometer is best if you have many pools. The ability to connect to 10 different thermometers is impressive. And the web-based monitoring is a great feature for larger organizations. The Ambient Weather WS-14 is an excellent choice if you want a more slimmed-down version. You won't get quite the same monitoring capabilities, but you can still connect to eight thermometers. Finally, the Fnoko Wireless Pool Thermometer is the best choice for homeowners. It has plenty of range, and the smart alerts will help you keep tabs on your pool. Not only that, but you can use it as an outdoor thermometer.