Whether you live in a warm climate or you're trying to avoid the dry air that comes with winter, a hygrometer can be one of your best friends when you're trying to manage your equipment or keep track of the weather outside. Hygrometers are especially popular for people who are keeping instruments. Common practice has been to keep a small amount of rice or silica gel inside of wood instruments to help absorb any excess moisture to prevent warping and cracking. But these solutions are only so effective. A much better system would be to install a digital sensor that can notify you of issues before they cause damage.
Although hygrometers have been on the market for several years, only recently have they got to the point where the technology is affordable for most consumers. But can an inexpensive meter really compete with the $500+ units that were commonly only a few years ago? We decided to find out for ourselves. We'll be looking at the three best hygrometers we found. We'll go in depth and explore the features, then help you find the one that's right for you.
SensorPush Wireless Thermometer/Hygrometer for iOS and Android
This Wireless Hygrometer is one of the first products that SensorPush has released to the open market. But it's more than just a hygrometer, it's an all in one climate monitoring system with some advanced analytical features that put it in a class of its own.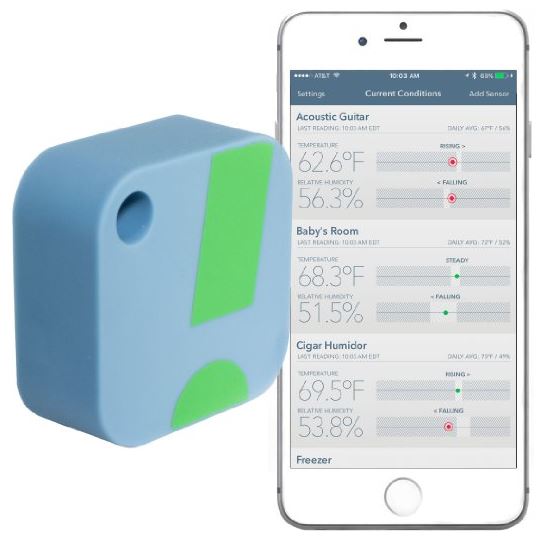 Design
The one thing you can't tell from the photos is that the SensorPush Wireless Thermometer/Hygrometer is extremely compact. It measures only 1.6" x 1.6" x 0.7" and weighs 1.4 ounces. The size makes it easy set it and forget it. It includes a small pad of highly adhesive 3M sticky-backed tape, so you could easily attach it to the inside of your fridge, a guitar, or the wall of your basement to track and measure humidity. But you're not required to stick it to anything. The small hole in the upper right allows you to attach it to a key ring, or use a small piece of string to tie it up somewhere.
Even though it's easy to tuck away, many users will find that they're leaving it out in the open. Fortunately, it's design is attractive enough that it won't be an eyesore. It's got a vibrant baby blue color scheme with a small green exclamation point for decoration.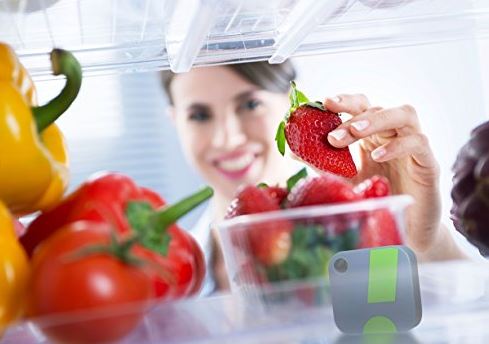 Connectivity
The SensorPush uses a high-end Bluetooth chipset that provides you with an impressive range of 325 feet. This range is important since it doesn't connect to Wi-Fi. Up to 30 days of data is stored internally in the device, so it's important that you make sure that your phone gets within range of it at least once per day. It's long storage time means that occasionally being away from the device for a while isn't going to negatively impact the functionality, but alerts are only transmitted to your phone when within range. If you set an alarm or warning meter, you're not going to have it pushed to your phone until a few seconds after you get within range of the SensorPush.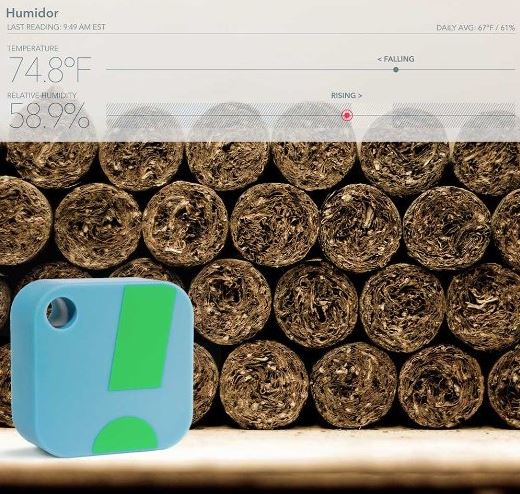 Software
Once you open the freely available application, the true power of the SensorPush is available to you. The interface acts as a hub for all the devices you've got installed in your home. Each sensor tracks the temperature and the relative humidity down to one decimal point. When you first open the app, you're given a list of all the SensorPush devices in your home, and the current measured variables for each one. You're also given an indication as to whether the values are rising or falling. With the touch of a single button, you can switch to historical mode. This gives you a graph showing the temperature over 24 hours, 3 days, 7 days, or 30 days.
On the top right, you've got an "add sensor" button. This is the first thing you'll need to do when you're getting the sensor running. They've made the process surprisingly easy. Once you hit the add sensor button, and image shows up on the screen displaying the device, and you're asked to hold the sensor against the phone screen. At this point, the typical Bluetooth pairing procedure takes place. Unlike most products on the market, there are no prompts or actions required on your part. The software automatically connects to the device with the highest signal strength, and only takes a few moments to complete. From this moment on, you'll have access to all the data this device collects.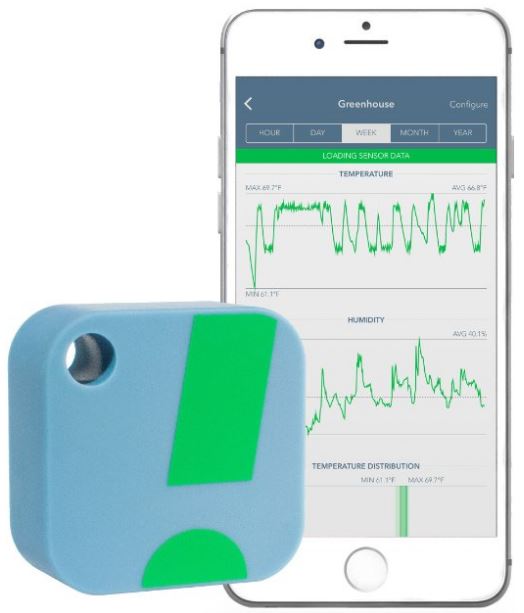 Hardware
The main thing you'll be concerned about is the battery life. The SensorPush uses a high capacity button cell battery that has a life of 10 to 12 months. You can change it by removing the back of the sensor. You'll need a small flat-head screwdriver to do so. Once you pry it open, you'll be surprised to see that the battery actually takes up 80% of the space inside the petite case. Part of this is because almost the entire system runs on just two simple chips – a sensor and a processor. This simplicity is what allows it to have such a long battery life.
Ambient Weather WS-23
If you're looking to keep track of what's going on outside the walls of your house, Ambient Weather is the company you want to turn to. They've got a number of high end products designed to keep you in touch with your environment on a level that the Weather Network can't compete with.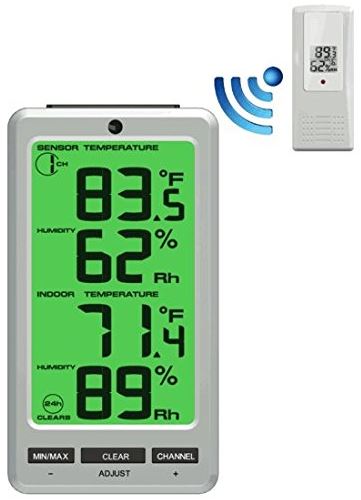 Design
Despite being a smart device, the Ambient Weather WS-23 is one of the few units that doesn't need to be connected to a smartphone in order for you to realize all of its powerful functionality. When you open the box, you'll find two separate components. You'll spend most of your time interacting with the remote. The remote is a phone shaped device that features a full-size LCD display which indicates the temperature and humidity for both the inside and the outside of your house.
There are three buttons along the bottom that allow you to change the communication channel, clear the historical data, or show you the minimum and maximum values. The display is very easy to read thanks to the bright green LED back light. Other than the green light, the remote has a very basic, unassuming look to it. The white case and gray buttons are somewhat minimalist, ensuring that they'll look right at home in any household.
The same design styling is applied to the sensor itself. The difference between the two is that the sensor is a little larger. It still, however, gives you an LCD readout so you can see the data at a glance.
Connectivity
Because these sensors only need to communicate with each other, they use a proprietary communication protocol. Very little bandwidth is needed for this type of application, so they can get away with using a low bandwidth standard in order to improve the range. Over the 433 MHz spectrum, the WS-23 is able to achieve total distance of about 300 feet under ideal conditions, although users should expect to see an absolute minimum transmission distance of 100 feet.
How do you know what kind of range you'll be getting? It all depends on how many obstacles are in your way. If you live in an apartment building and the signal is going through multiple concrete walls, you'll be on the lower end of that range. But if you have a direct line of site from the remote and the main unit, you'll be able to achieve the full 300 feet.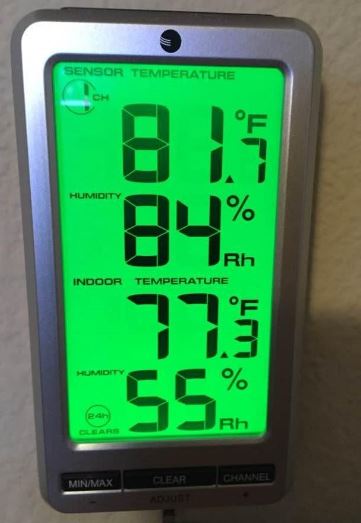 Hardware
Because this device isn't inter-operable with your standard cellphone technology, there is no software specific features. All of your interaction takes place through the hardware interface. Even though they're labeled as being a "remote" and a "sensor." They're actually both sensors. The remote is your main control interface for the entire system. It shows both the indoor and outdoor temperature. The other unit is more of a sensor only. The LCD screen on the display shows the values that that specific sensor is picking up, and the data is transmitted back to the main unit. This one should be placed outside. If you are outdoors, you'll be able get a quick glance at the current weather. But no additional functionality is provided.
That being said, you're not restricted to an "indoor / outdoor" system. There is nothing stopping you from adding several more sensors as needed. This is what the "channel" button is for on the bottom of the remote. By pressing it, you can scroll through up to seven different sensors place around your home. You can put one in each room of the house, or even the fridge if you like! It would be nice to be able to see all of the sensors on the display at the same time, or have the ability to label them. But in exchange for the simplicity of this device, you're given a large range and a huge level of reliability.
Meade Instruments TM005X
If you want to keep an eye on the environment around you, Meade instruments has a large variety of products that can help you accomplish that. Their focus is primarily on astronomy related gear. Because stargazing is effected so heavily by the weather, Meade's Hygrometers are highly accurate. If this is something you're interested in, this might be the one for you.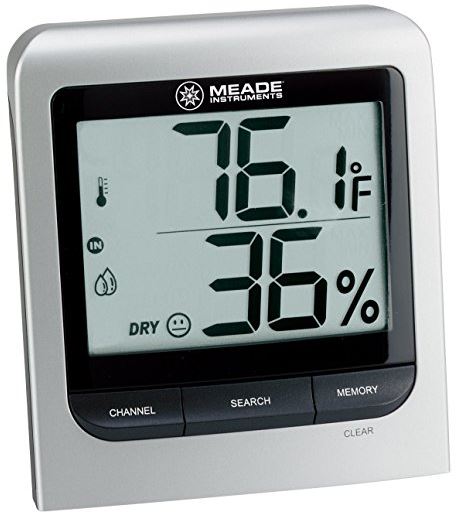 Design
As a one-piece device, the Meade Instruments TM005X is extremely easy to use. The unit has a sleek, modern appearance featuring a silver frame with a black center cap. Both the temperature and humidity readings are large and clear, using a high-quality contrast-heavy LCD display.
The three buttons along the bottom are gently beveled, making them feel good on the fingers. The motion of pressing them isn't as much of an inward motion as much as it's a downward one. This is great for something that you might have sitting on a tabletop. It's very lightweight, so pushing the buttons in would just push the instrument back. This design is much better.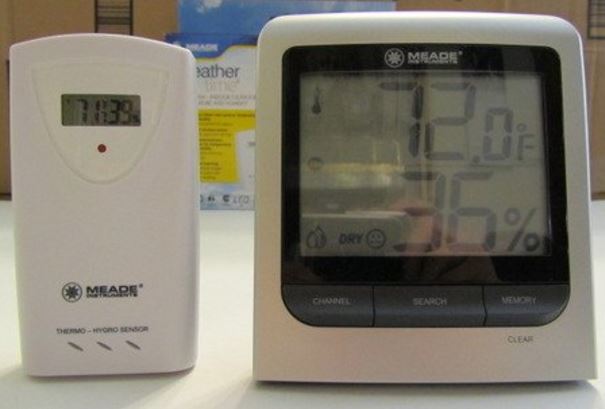 Connectivity
This is another hygrometer that includes a single remote mounted sensor, but thanks to the proprietary communication system can have up to 3 separate, additional sensors mounted wherever you want. This particular model has a 200-foot range. It goes through walls a little better, but you're not going to see much of an improvement just by improving line of site.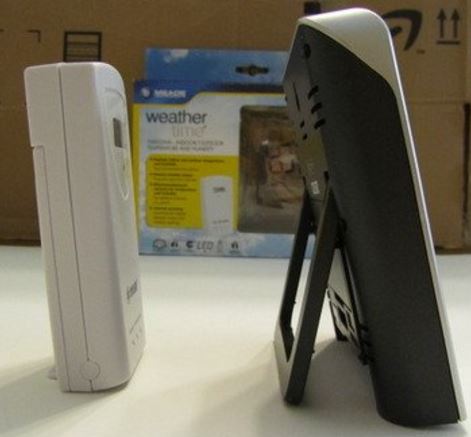 Hardware
There are two separate components of this hygrometer, although they took a bit of a different approach than some. The sensor itself is a small, nondescript device that can be easily hidden anywhere you like. All of the computational tasks are done by the display, which acts as the hub for the entire unit. This makes the device simple to both setup and use, making it an excellent choice provided you're not particularly interested in using multiple sensors.
Which Hygrometer is Right for Me?
Having trouble deciding? If you're looking for a way to keep track of the weather both inside and outside of your home, you've got two options. The Meade Instruments TM005X-M is ideal for those who just want to use a single sensor. It does support additional sensors, so you're not going to be restricted to one for the entire life cycle of the device. But the display only shows the input from one unit, making it ideal for those who appreciate simplicity.
Alternately, the Ambient Weather WS-23 is the model you'll want to choose to get multiple readings. It includes both an indoors and an outdoors one, but there is nothing stopping you from adding up to 7. You can have one in every room of the house if you like!
Some users aren't looking to track the weather, but environmental conditions in different parts of their homes. If you're trying to keep instruments safe, track the condition of your refrigerator, or keep an eye on that humid basement then the SensorPush Wireless Hygrometer is the choice for you. It's got an advanced data collection and review system that can be installed onto any Android or iOS device, putting more power in the palm of your hand than any other model on our list.
Although all three of these hygrometers are fantastic for keeping track of weather related issues, they're not suitable for use detecting leaks. For that purpose, you'll want to check out our list of the best smart water leak sensor. Between these two technologies, you'll have everything you need to keep your home comfortable and protected from humidity related problems.