Nowadays, when people think about wireless earbuds, they think about high-quality audio. Apple's AirPods, for instance, are some of the best earbuds around, and they're just the tip of the iceberg. But it didn't always used to be that way. In fact, when Apple first released the AirPods and ditched the iPhone's audio jack, many people laughed. They weren't laughing a few months later, when the AirPods became the world's best-selling earbuds. The iPhone 7, the first wireless-only iPhone, also broke sales records.
This isn't to say that every pair of wireless earbuds is a guaranteed winner. The popularity of wireless buds has led to an explosion of small manufacturers, and not all are equally good. But there are plenty of good brands available if you know what you're looking for. SoundPEATS is one of those brands.
Today, we'll be reviewing two pairs of SoundPEATS wireless earbuds. First, we'll be reviewing the SoundPEATS TrueAir2 Wireless Earbuds. These ultra-compact earbuds use TWS Plus, a more advanced wireless technology that allows for lower latency. Second, we'll be looking at the SoundPEATS Q True Wireless Earbuds. These are mid-sized, silicone-tipped earbuds that allow for both mono and stereo pairing. Which pair is right for you? Let's take a closer look at both, and see what we discover!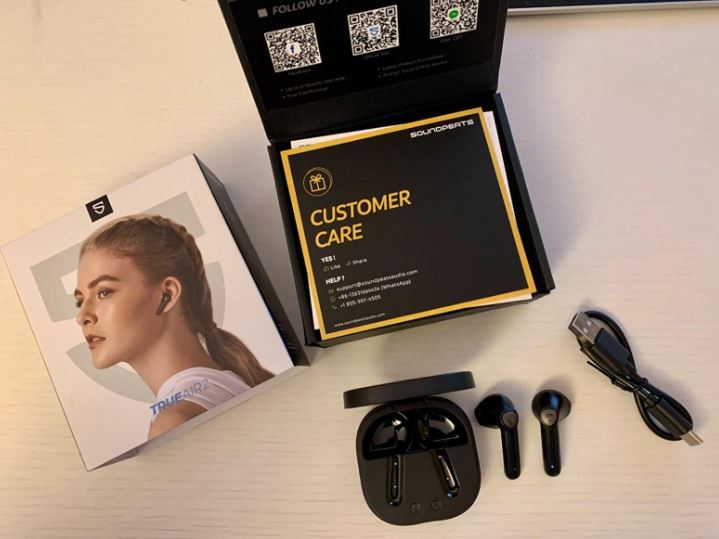 SoundPEATS TrueAir2 Wireless Earbuds
The SoundPEATS TrueAir2 Wireless Earbuds look, in many ways, like the original Apple AirPods. They have a similar, vertical design, and the ABS plastic shells have a sleek, black or white finish. That said, a closer look reveals several differences. The battery posts on the TrueAir2 buds, for instance, are flatter than those on the AirPods. This gives them a more forward-looking, flush appearance. The tips themselves are made of molded plastic. There are no extra silicone or gel ear tips. This is a great feature if you have sensitive ear canals and don't want to irritate them. On the other hand, it means the buds don't stay in quite as well as earbuds with flexible tips.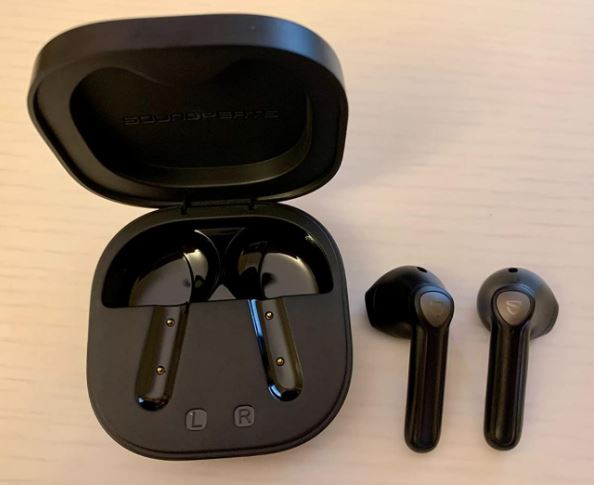 The backs of the TrueAir2 earbuds boast a set of soft touch controls, which can be used to operate many functions. You can adjust the volume, skip tracks, or answer and end phone calls with a tap or a double-tap. The buds are also IPX4-rated for water resistance. This means they're splash-resistant, enough to withstand sweat or rain. You don't want to take them in the shower or immerse them in water.
If you want to take your earbuds in the shower, you'll want one with better water resistance. In that case, consider the SoundPEATS TrueFree 2. They have a water resistance rating of IPX7, so they can withstand full immersion. On the other hand, the battery life is a bit short, and the controls need to be pressed down to operate them.
The TrueAir2 earbuds come with a clamshell-style charging case, where they lay horizontally. The most impressive aspect of the case is its size. It measures less than two inches on each side, and less than an inch in thickness. It also weighs less than 1.25 ounces, including both earbuds. This makes it absurdly easy to carry in your pocket. It can come with you anywhere, without the need for a bulky case. The downside is that the case is fairly spartan. Most notably, there's no LED indicator to keep you informed of the battery status.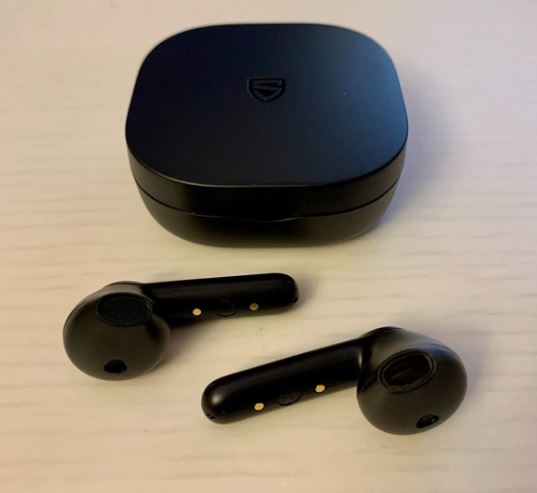 Battery & Connectivity
The TrueAir2's will run for up to five hours on a full charge. As with most pairs of earbuds, this manufacturer rating assumes playback at medium volume. So if you play your music at higher volumes, your performance may suffer. At full blast, you can still expect about four hours, which is on the low end, but still acceptable. It's also understandable, given the very compact design of the buds and the case. Similarly, the case provides an additional four charges, for a total playtime of about 20 to 25 hours. This is on the low end of what you'll see on today's market, but one again still acceptable.
The case is easy to charge via USB Type-C. It will fully charge in about 90 minutes, as will the batteries themselves. For most people under most circumstances, battery life is simply not going to be a concern.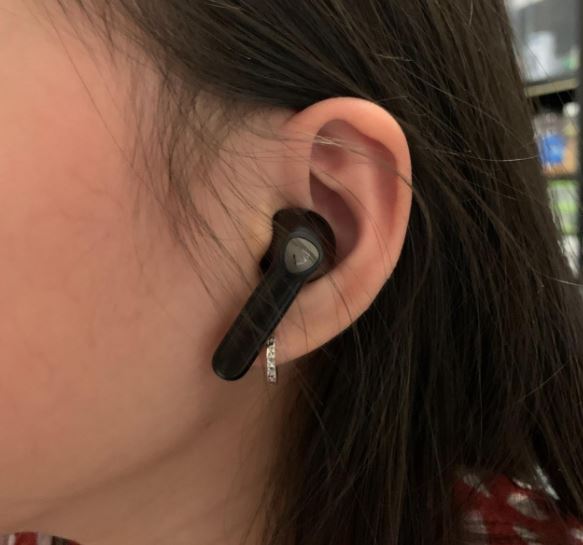 The TrueAir2 buds utilize Bluetooth 5.2 technology, which is an upgraded version of Bluetooth 5.0. It's still within the same general specification, so you get the same benefits. You get low latency, as well as support for higher bitrates. However, Bluetooth 5.2 is even more stable than ordinary Bluetooth 5.0. It also supports TWS Plus, which means each earbud receives its own channel individually. This means you get better latency than ordinary TWS, where both channels are sent to one earbud.
In addition to their Bluetooth 5.2 features, they can also be paired with two devices simultaneously. Keep in mind that only one device will be active at once. So if you answer a call on your work phone, your personal phone will pause. However, it's a useful feature if you're juggling more than one smartphone.
If you want similar Bluetooth 5.2 features and longer battery life, take a look at the SoundPEATS Sonic earbuds. They provide an impressive 12 to 15 hours per charge, or 36 to 45 hours with the charging case. On the downside, they're pricier than the TrueAir 2 earbuds, and the soft touch controls can be twitchy.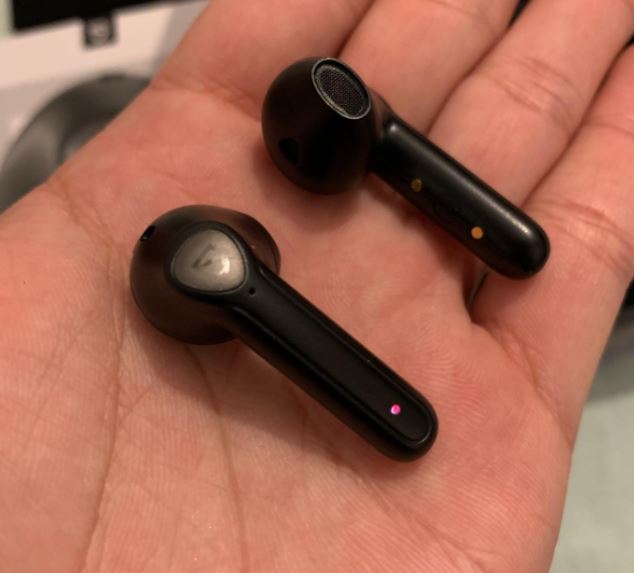 Audio Quality
The TrueAir2 Wireless Earbuds have 14.2mm diaphragms. This is a necessity, because of the small form factor of the earbuds themselves. That said, it does not come without its downsides. For one thing, the bass is somewhat muddy. The drivers just can't seem to move enough air to provide any kind of texture. Everything below a certain frequency and above a certain volume is just a thump. The middle and high frequencies perform a bit better, although they too lack some texture and sparkle. That said, these are affordable headphones, and they're exceptionally tiny. You can't have everything.
For hands-free calling, the TrueAir2 earbuds perform surprisingly well. The quad mics do a good job of isolating your voice from the background noise. If that's not enough, they utilize CVC 8.0 technology to cut extraneous noise even further. They're great for Zoom calls, and are even effective while taking calls in a noisy environment.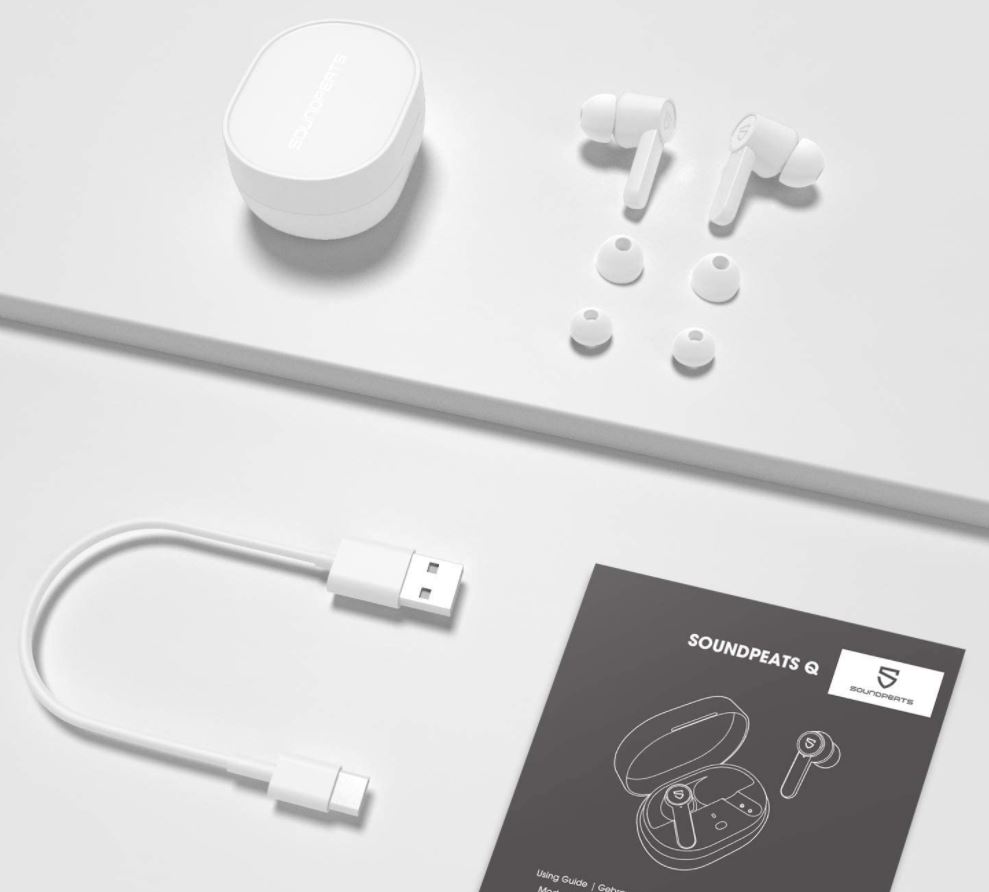 SoundPEATS Q True Wireless Earbuds
The SoundPEATS Q True Wireless Earbuds have a somewhat different design. They still have a vertical build, but the molded tips have been replaced with silicone tips. These provide better noise isolation, as well as a secure fit. That said, to get a fit that's both secure and comfortable, you need the right size. SoundPEATS includes three sets of tips in the package, in three different sizes. If the standard medium tips aren't comfortable, try a bigger or smaller school as needed.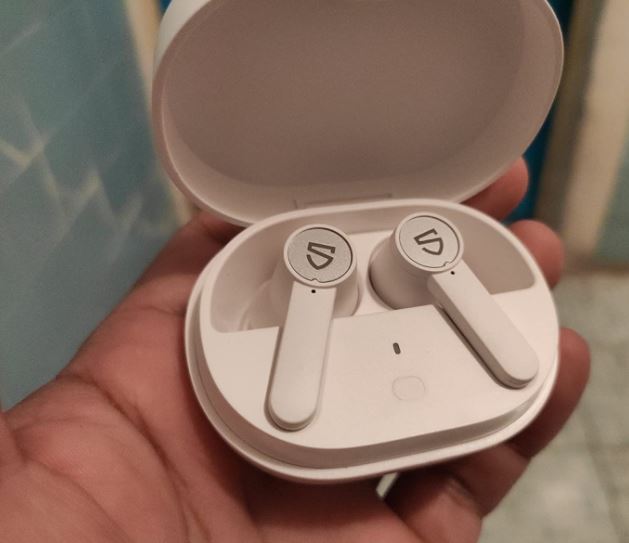 If you want an even more comfortable fit, check out the SoundPEATS H1 Hybrid TWS Earbuds. They have silicone ear fins which hold them in place gently, as well as a super low-latency gaming mode. However, they also have limited bass, and no stated IP rating.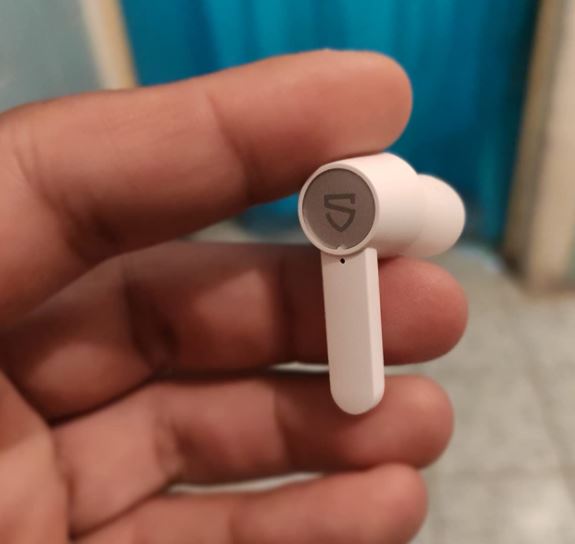 The Q True Wireless Earbuds have soft touch controls, similar to the TrueAir2 buds. There's not much difference in that regard. On the other hand, they have an improved IPX5 water-resistance rating. This means they can safely be exposed to light streams of water. We still wouldn't wear them in the shower, but there are edge cases where they perform better than IPX4.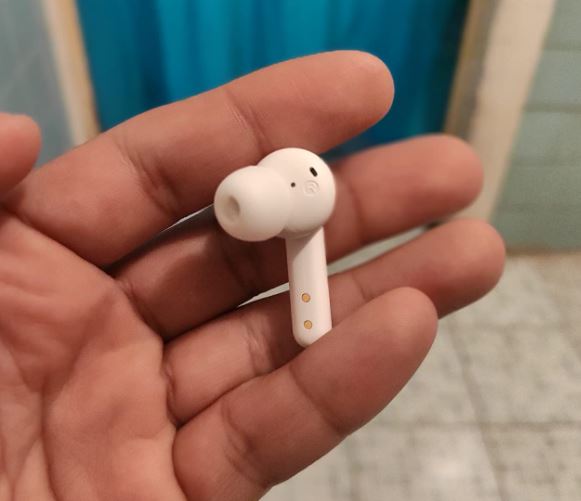 The Q earbuds' case has a similar clamshell-style design to the TrueAir2's. However, it's a tad larger, if still small enough to fit in a mid-sized front pocket. One advantage of this larger size is that there's now room for an LED indicator. The single light will glow green at 100 to 50 percent battery, and yellow at 10 to 49 percent. At less than 10 percent, it will turn red, so you know it's time to plug in.
Battery & Connectivity
The batteries in the Q earbuds will last for up to seven hours per charge. At full volume, this works out to about 5 ½ hours, which still isn't bad. The case provides an additional two full charges, for a total of about 16 ½ to 21 hours. You can charge the case in about two hours via USB Type-C. Alternatively, you can use a Qi wireless charger. This is a bit slower, but many people find it more convenient.
The SoundPEATS Q earbuds utilize ordinary Bluetooth 5.0, not Bluetooth 5.2. Still, it's the current standard, and is on par with most modern earbuds. Moreover, the Q buds can be paired in either single or twin mode. This means you can use just one earbud for hands-free calling.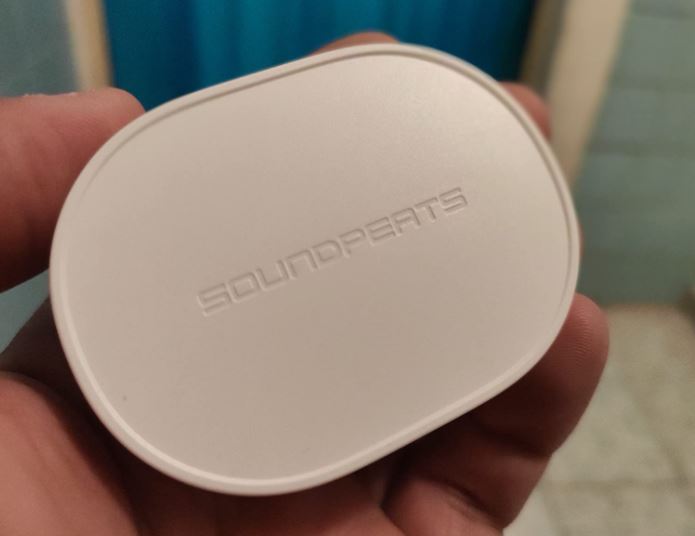 Audio Quality
The Q True Wireless Earbuds have 10mm drivers but seem to produce more sound than the TrueAir2's. This allows for a more even EQ, with richer sound across the spectrum. These are still affordable earbuds, not studio cans. But there's an undeniable improvement in audio quality. For hands-free calling, you get the same quad mics and CVC 8.0 voice isolation. The other person will still be able to hear you just fine.
Final Verdict
As you can see, each of these pairs of earbuds has its own purpose. Let's quickly recap what we've learned. We started out by going over the SoundPEATS TrueAir2 Wireless Earbuds. These buds are exceptionally compact, and are easy to carry anywhere. They also offer very low latency, suitable for gaming or watching movies. They also follow this up with good call quality and voice isolation. That said, the battery life is somewhat limited, and the small drivers struggle with bass.
The SoundPEATS Q True Wireless Earbuds have a completely different design. With their silicone tips, they have a more secure fit, albeit less ideal for the most sensitive ears. The battery life is a bit longer, although with a proportionately larger size.