Leisure 410W
Pros
Very bright, high-contrast display.
Useful for very small or very large display sizes.
Compatible with almost any device.
Includes projector screen.
Cons
Not actually 1080p.
Screen is not as big as it looks in the advertising.
Projectors, like vinyl records, are one of those old-school technologies that's becoming popular again. Back in the dark, dark days before home video, the only way to watch a movie or home was with a projector. Of course, these old-school projectors were big and clunky, they ran hot, and they required bulky film reels. They simply weren't practical unless you were a serious enthusiast with a lot of extra cash. So when video tapes were invented in the 1980s, people gladly jumped on board. Even most film enthusiasts were willing to suffer through low-res video just to watch a movie in their living room.
VHS tapes were soon squeezed out by DVDs, which gave way to BluRay and streaming media. Nowadays, BluRay will provide the best, most consistent quality for most people. Streaming media, on the other hand, provides affordability and a wider variety of content. And with a modern projector, you can enjoy both of these video sources, along with others.
Note: At no extra cost to you, we may earn a commission for purchases using our links. Learn more.
Today, we're going to review the VANKYO Leisure 410W Mini WiFi Projector. This is a compact, portable projector that's designed to provide big-time video quality. But anyone can advertise top-tier performance. The real question is how well the Leisure 410W projector performs when you turn it on. We're about to take a dive into all the features and benefits of this mini projector. We'll also make note of its weaker points, so you know what to look out for. After that, we'll be ready to render our final verdict. Now, let's see how well this projector stacks up to the competition!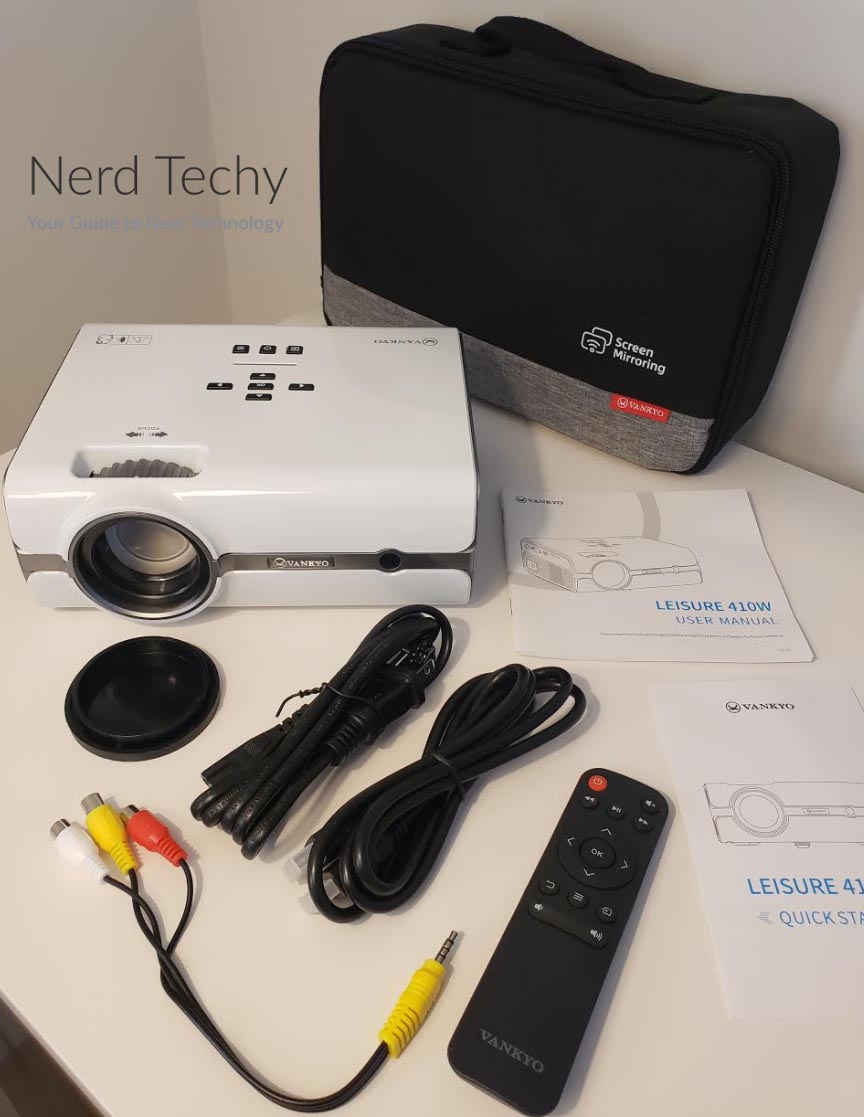 Design & Controls
The first thing you'll notice about the VANKYO Leisure 410W is its compact size. It measures only 12 inches wide, 8.5 inches deep, and 5.5 inches thick. Moreover, it weighs only 2.6 pounds, so it's easy to carry around for presentations or outdoor movie nights. The housing is mostly glossy white plastic, with a grey stripe across the center. This stripe extends around the sides, which are totally grey, with plenty of venting. This venting allows for large quantities of airflow, which keeps the unit impressively cool. You don't want to put your hand directly on the lens housing, but you can safely move an operating projector. There's some additional venting in the back, which allows even more air to enter.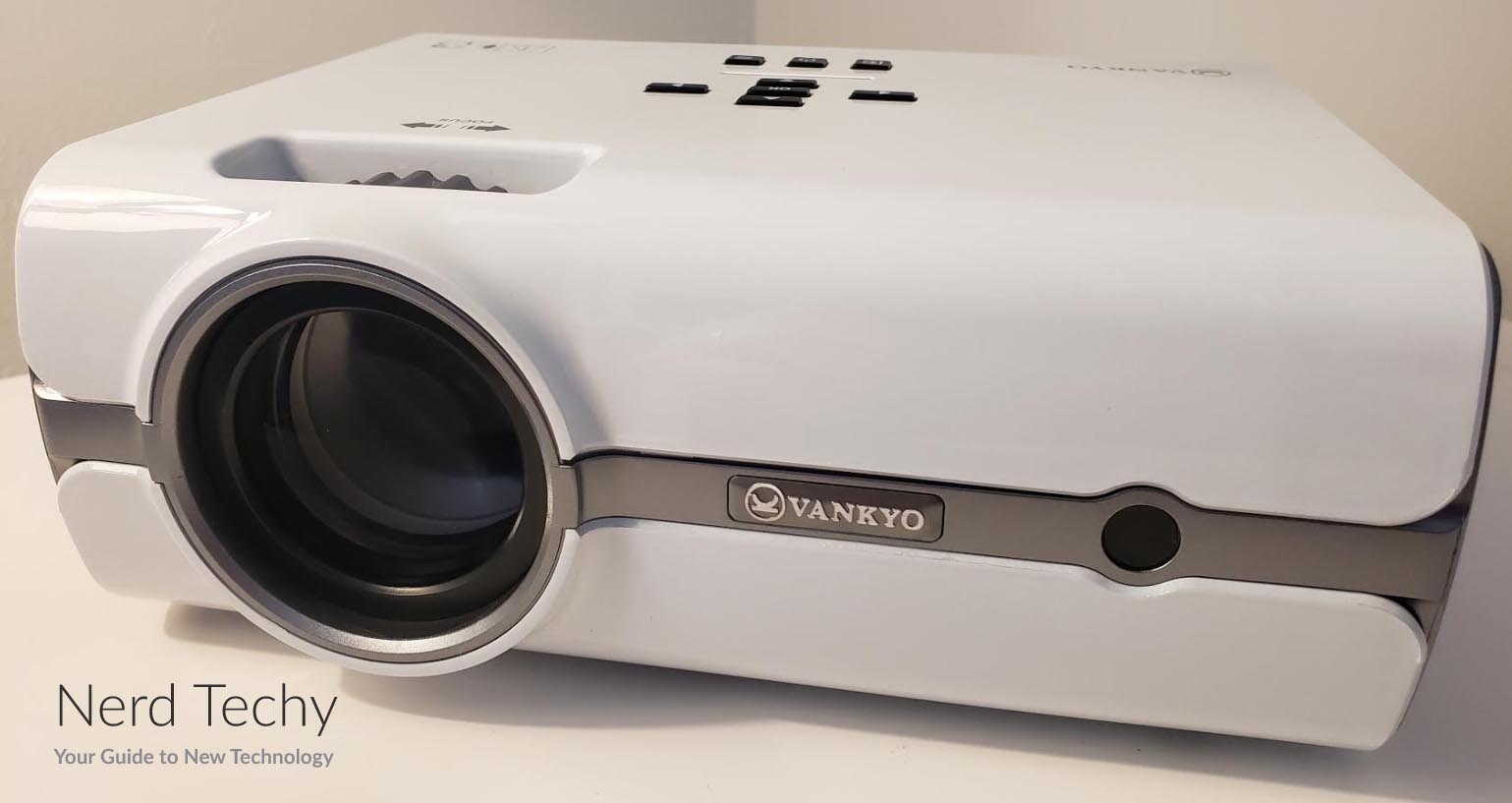 The lens housing itself protrudes from the front left of the case, with a molded case extension around it. This gives the entire projector a sleek appearance, as well as providing extra protection to the lens. The controls are located on the top, and consist of some large, grey buttons that match the case. They're easy to operate, but perform only a few basic functions. Most functions need to be found in the menu, which requires several button presses to navigate. Alternatively, you can just use the remote.
The front top of the housing holds a keystone adjustment wheel, which can change the screen angle by 15 degrees. This can be done on both the horizontal and vertical access, so positioning the projector is easy. There's also a focus wheel on the bottom left, which helps keep the image sharper at different distances. Placement is further made easy by a set of rubber skids on the bottom of the projector. These elevate it slightly above whatever surface it's sitting on, facilitating better cooling. They also keep it from scratching wood, tile, or glass.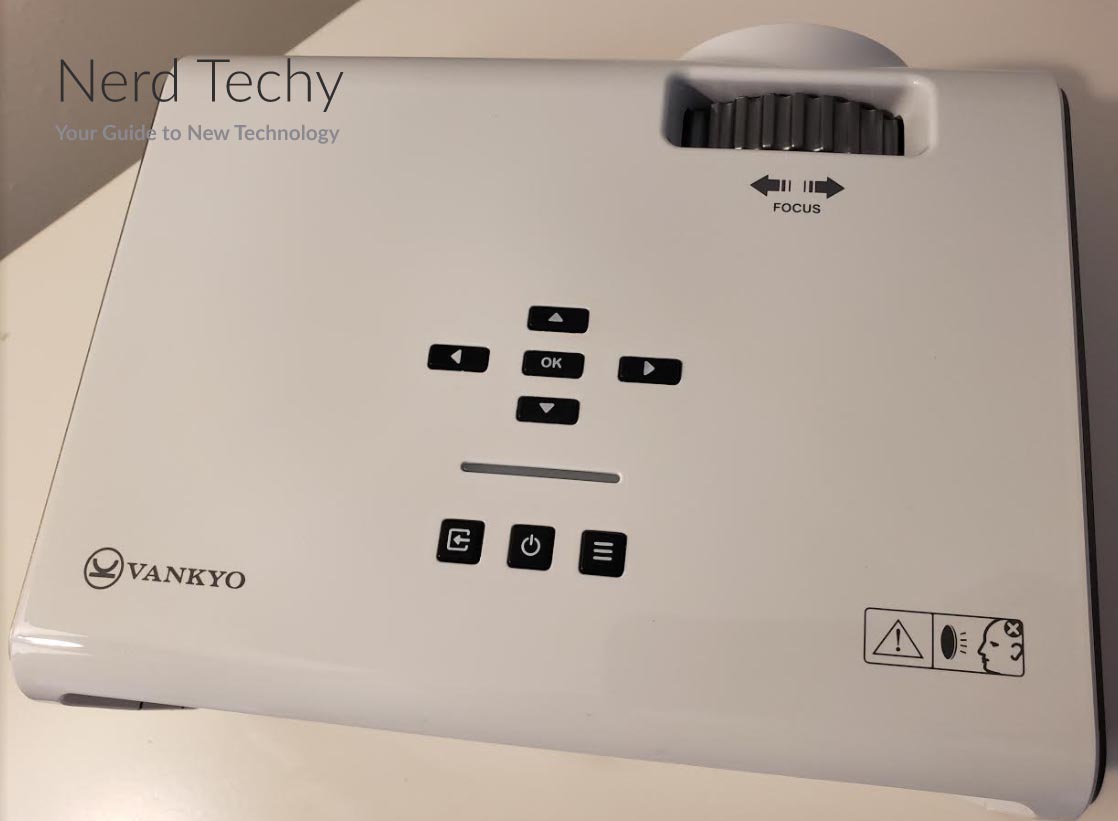 Along the left side of the projector, you'll find the VGA, HDMI, and SD card inputs. You'll also see the input for the AC power cord. The AV and USB inputs are on the back of the unit. This makes it easy to attach and detach a variety of devices, regardless of what interface they use.
With all of that being said, build quality can be a concern for some applications. This is particularly true for offices, or if you plan on traveling a lot with your projector. If you need a more heavy-duty unit, consider the GooDee YG600 LED Projector. It has similar features to the VANKYO Leisure 410W Mini, but it has a beefier design. It also comes with a three-year warranty to protect you from any damage, albeit at a higher price.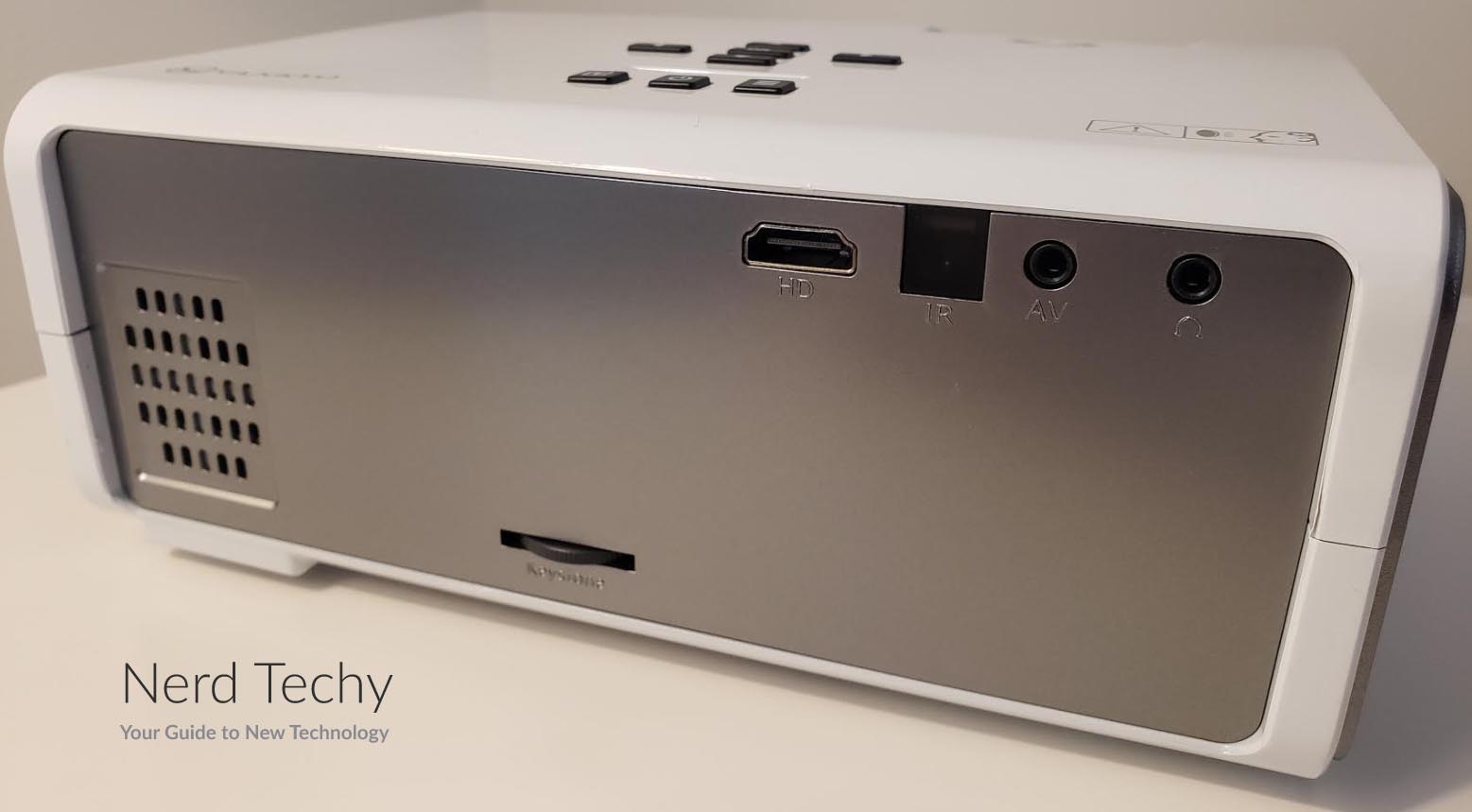 In addition to the projector itself, you get a display screen that can be easily hung on any wall. It has a highly-reflective white surface, which is just what you want for any projector. The border is black, with reinforced stitching and metal grommets that make it easy to hang. It measures 41 inches high and 75 inches wide, or just over 85 inches on the diagonal. The advertising makes it look like a full 200 inches, so we were mildly disappointed. Still, 85 inches is big enough for most people's applications, and there are always larger screen options. Considering the high quality and the fact that it's basically free, we're big fans of the VANKYO projector screen.
There are also a number of additional extras in the kit, to help you get started. To begin with, there's a single HDMI cable for connecting your primary display. There's also an AV cable for connecting devices that use an old-school RCA connection. You'll find a remote, which allows for easy, line-of-sight control from across the room. It allows you to navigate the Leisure 410's menu without using the buttons on the projector itself. There's even a carrying bag. It's just a simple nylon bag, but it prevents scratching, and keeps you from losing your accessories. A simple AC power cable rounds out the package.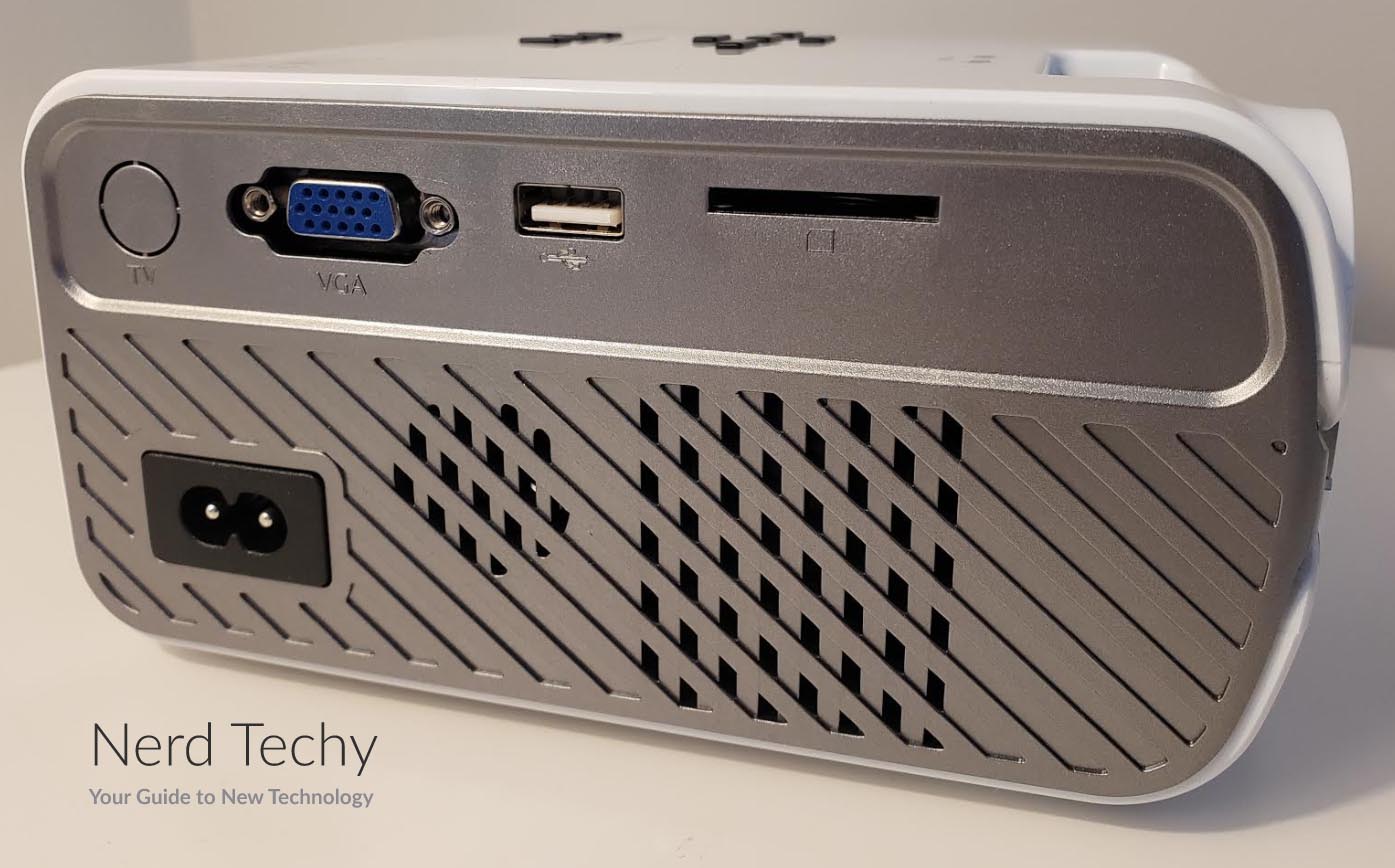 Many people buy a mini projector for the size and low price. If you want to save even more money, there are even more affordable options. For instance, look at the VANKYO Leisure 420. It's more affordable, but the native resolution is only 480p, and the contrast ratio is "only" 2,000:1.
Video Quality
The VANKYO Leisure 410W Mini supports up to 1080p video, but has a native resolution of only 720p. What this means is that it will play any video of 720p or lower in the video's resolution. So if you play a 480p video, it will project in 480p. If you play a 720p video, it will project in 720p. However, if you play a 1080p video, it will downscale to 720p. It will still play, but there will be some loss of crispness. This is common with most projectors, and a true 1080p projector is unusual.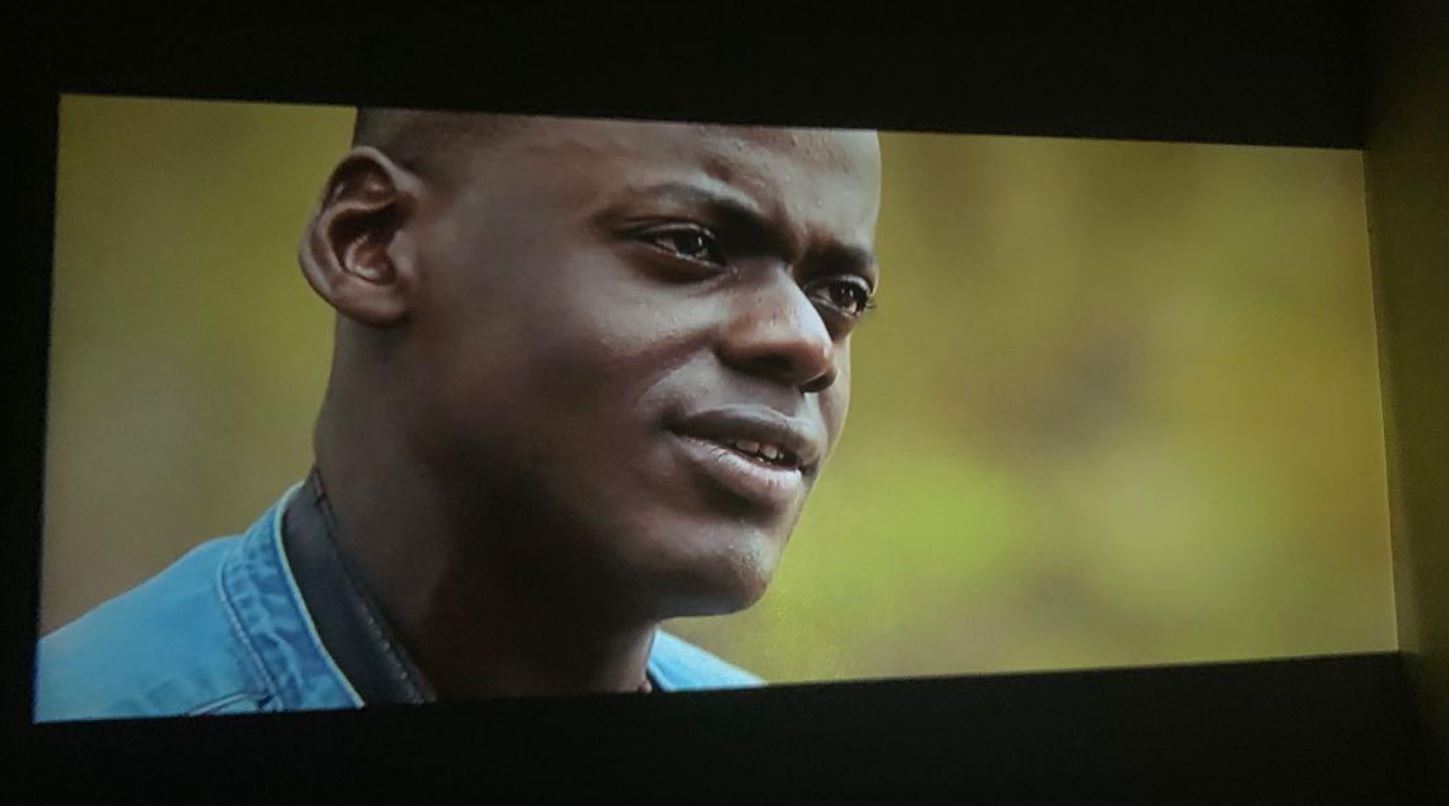 If you do need a full 1080p projector, the VANKYO Performance V630 is an excellent choice. Not only does it have a native resolution of 1080p, but it can project a screen size of up to 300 inches. It also comes with a three-year warranty to protect you from any damage. Of course, all this comes with an extra cost.
With all of that being said, the Leisure 410W Mini has a lot to offer. For one thing, the light is very bright. We weren't able to get a LUX rating, but it's brighter than most. You won't have any issues in a bright environment. A conference room with fluorescent lighting is simply no obstacle. Even so, the bulb is rated for 40,000 hours. That's enough for over a decade of heavy, everyday use.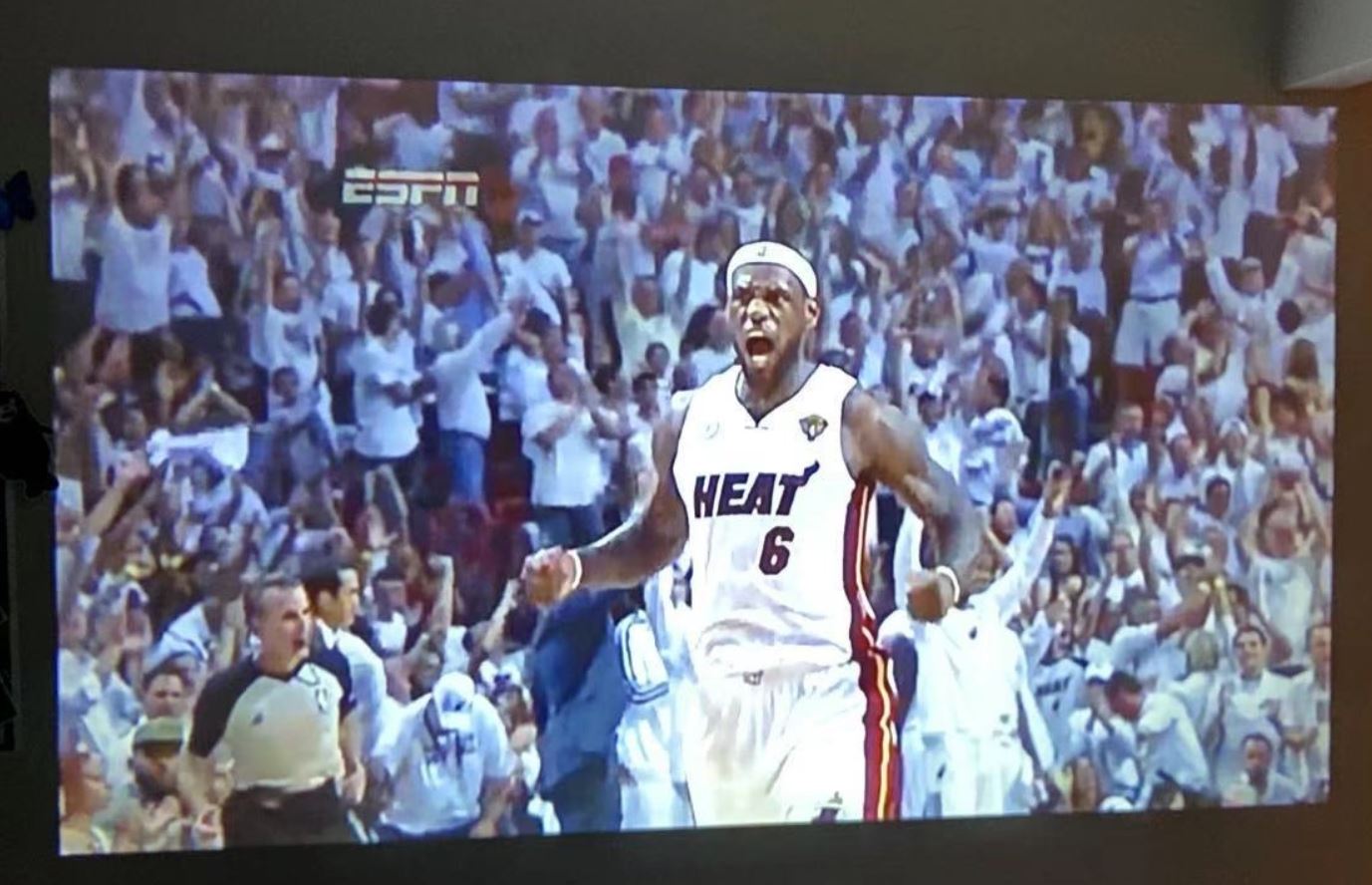 The contrast ratio of the bulb and lens is also very good, at 3,000:1. This is the measure of the difference between the brightest and darkest colors on the screen. The higher the ratio, the easier it is to see what's happening in darker scenes. Not coincidentally, 3,000:1 is also the highest ratio the average person can perceive. Some screens advertise absurd ratios like 5,000:1 or even 10,000:1, but those ratios aren't very useful. Your eyes literally can't tell the difference!
Depending on how far the projector is from the screen, your image will be larger or smaller. At the closest distance of 3.6 feet, the screen will be 33 inches on the diagonal. Conversely, at the maximum distance of 21.65 feet, it will be 200 inches. Regardless of screen size, it can support most video aspect ratios. In fact, it will automatically switch back and forth between 4:3 and 16:9 as needed.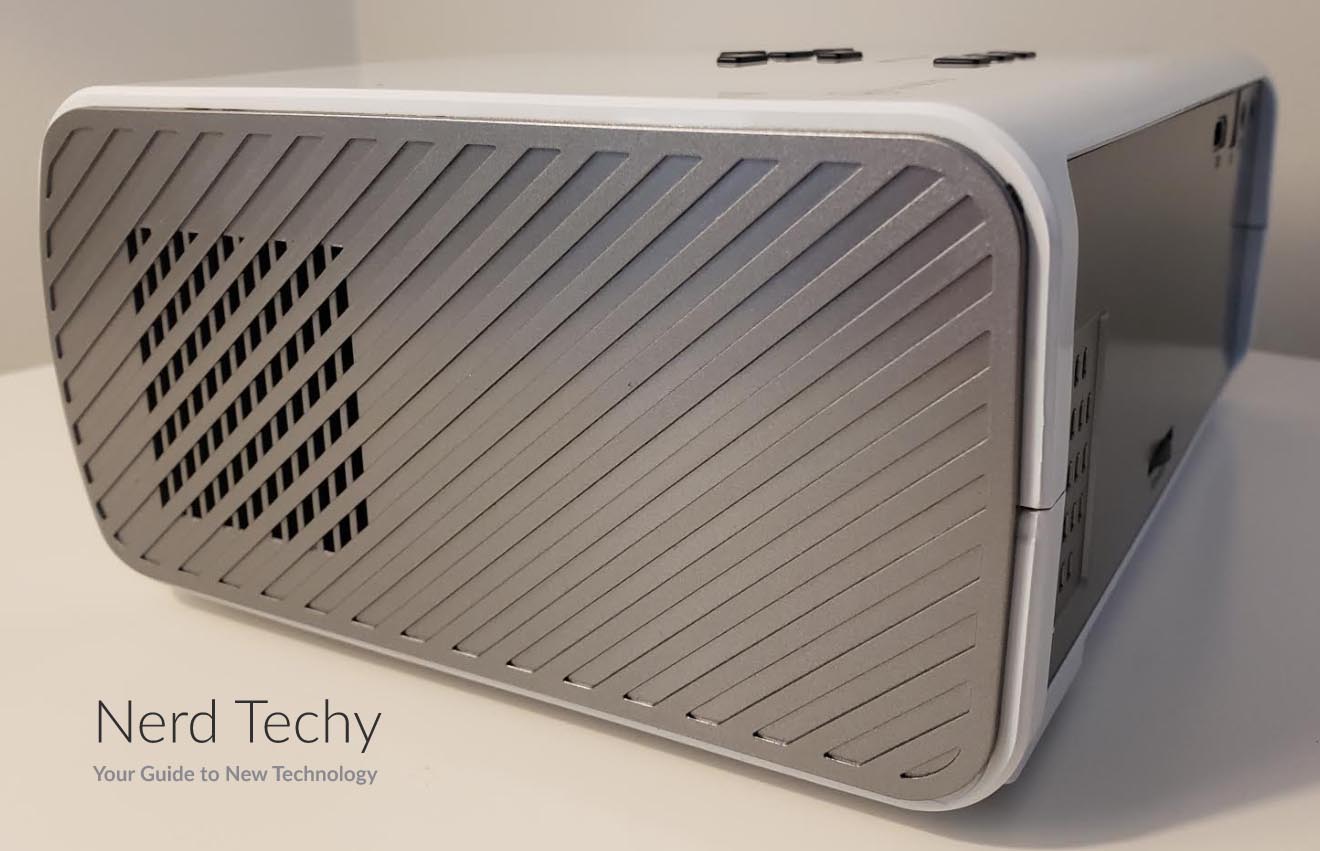 Like most home projectors, it has a pair of built-in low-wattage speakers. The audio quality is good, but the volume is limited. If you're watching a movie by yourself or with your family, you'll be fine. If you need to fill a larger room or a backyard, you'll want some larger external speakers.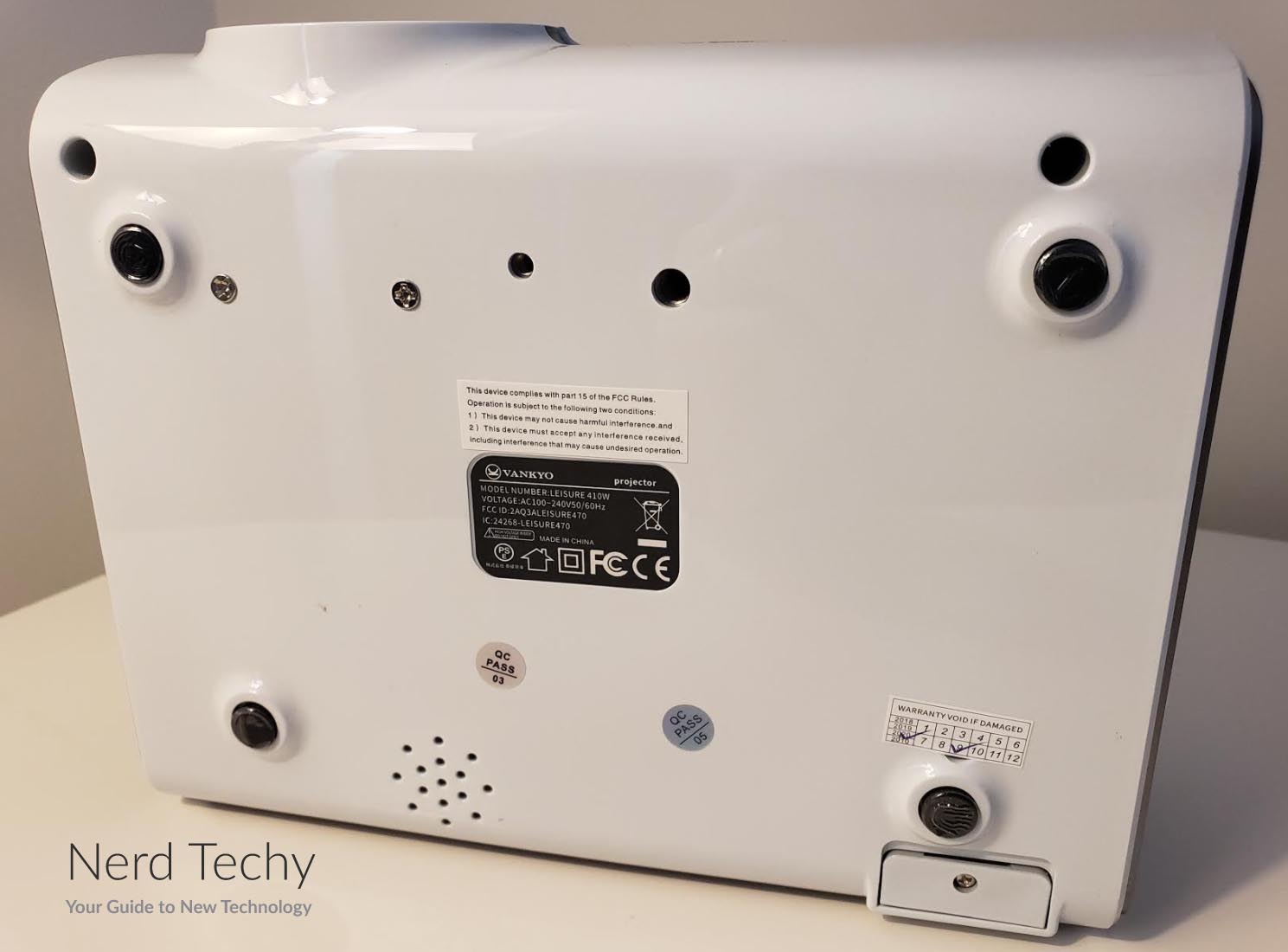 Compatibility
The VANKYO Leisure 410W is compatible with most types of devices. As we already mentioned, there are enough inputs to connect BluRay players, game consoles, PCs, and more. You can even use a Lightning to USB cable to connect your Mac devices into the USB port.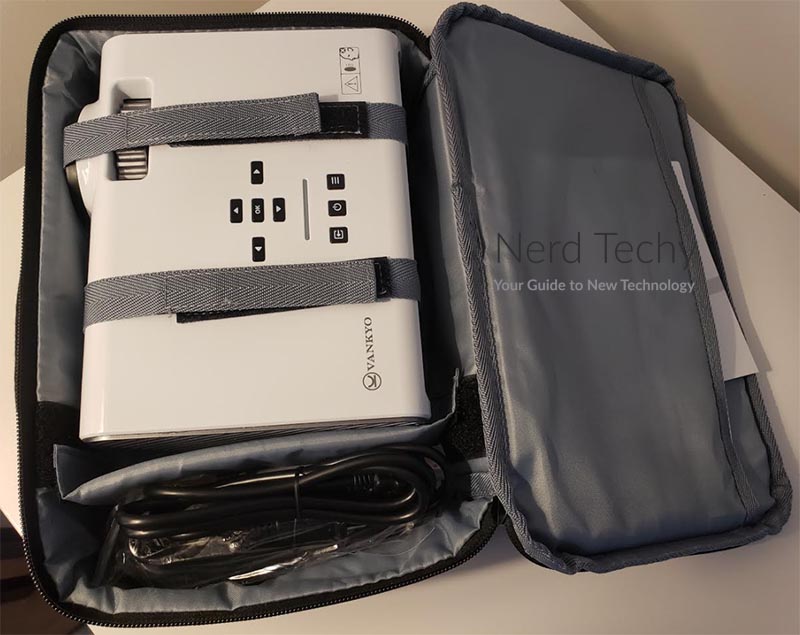 In addition, as its name implies, the Leisure 410W Mini WiFi Projector can connect to your home's WiFi network. When this is done, you can use it to mirror your smartphone or tablet screen. This works with both iOS and Android systems, so you don't need to worry about compatibility. If your phone or tablet can mirror its screen, you're ready to go.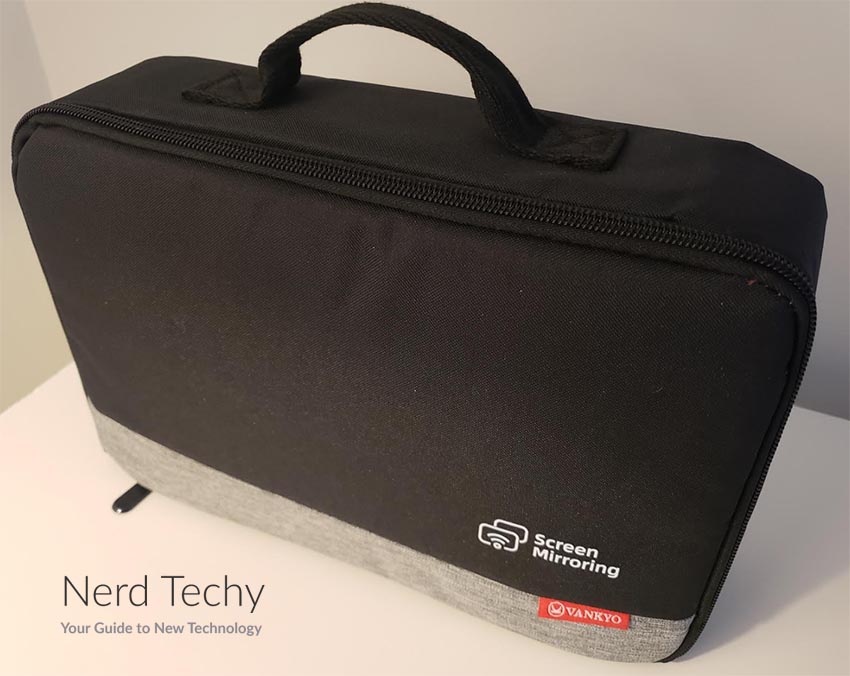 Final Verdict
If you're looking for a quality, affordable home projector, the VANKYO Leisure 410W Mini WiFi Projector is tough to beat. It's small, it's easy to move around, and it's compatible with most video sources. And despite its small size, it still runs reasonably cool and provides reasonably good video quality. There are beefier, more powerful projectors out there. But none of them in this small of a package, or at this price point.
Note: At no extra cost to you, we may earn a commission for purchases using our links. Learn more.