Home projector systems are one of those retro-cool technologies, like a turntable. Like turntables, they used to be the only way to enjoy a type of media at home. With turntables, the media was music. With projectors, the media was video. Then, just like vinyl, projectors became obsolete. Instead, they were replaced by the VCR, and later, the DVD player. Unless you were an enthusiast with a ton of money to spend on movie nights, there was no point. But nowadays, with technology getting cheaper, projectors are making a comeback. Just like vinyl.
Of course, not all projectors are equally good. When you're shopping for one, there are a lot of features you need to look out for. Much like with any display, you need to consider the resolution. But you also need to look at brightness and contrast ratio. And depending on what your purpose is, mounting may even be a consideration.
Note: At no extra cost to you, we may earn a commission for purchases using our links. Learn more.
Today, we're going to review the GooDee YG600 LED Projector. GooDee is an established manufacturer that produces several different projectors. As a result, we were excited to see what the YG600 has to offer. We'll look at the physical construction first, to see how well it's built. Next, we'll look at the video quality, to get a sense for how the picture will look. Finally, we'll talk about compatibility, so you know what devices you wan use it with. Once all that is done, we'll have a complete picture of how the YG600 performs. At that point, all that remains is rendering a final verdict. Let's begin!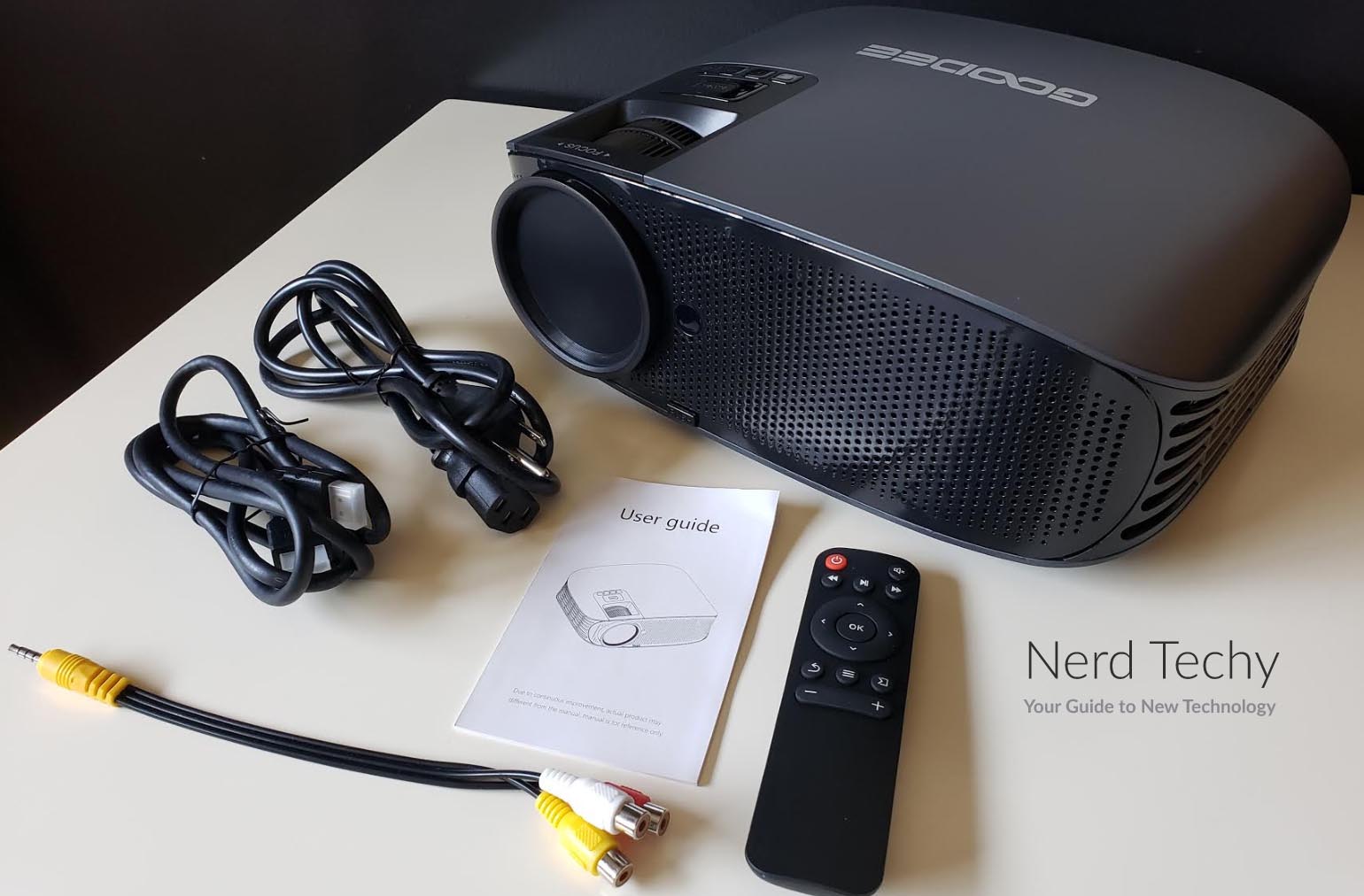 Design & Controls
The GooDee YG600 LED Projector is a mid-sized unit. It measures 12 inches wide, 9.36 inches deep, and 4.68 inches thick. This makes it well sized for home use, while still small enough to put in a bag for transport. So if you want to take it to your friend's house for movie night, you're ready to go. At five pounds, it's fairly lightweight for the size. Again, transport is a non-issue.
Use code "Nerd600" for $50 discount when you purchase from GooDee's Website
That said, you might want a projector with a compact design. In fact, GooDee manufactures one. The GooDee G500 HD Video Projector measures 9.64 x 6.53 x 3.2 inches, and weighs less than three pounds. It's not as bright as the YG600, but it's a great option if you want to travel with your projector.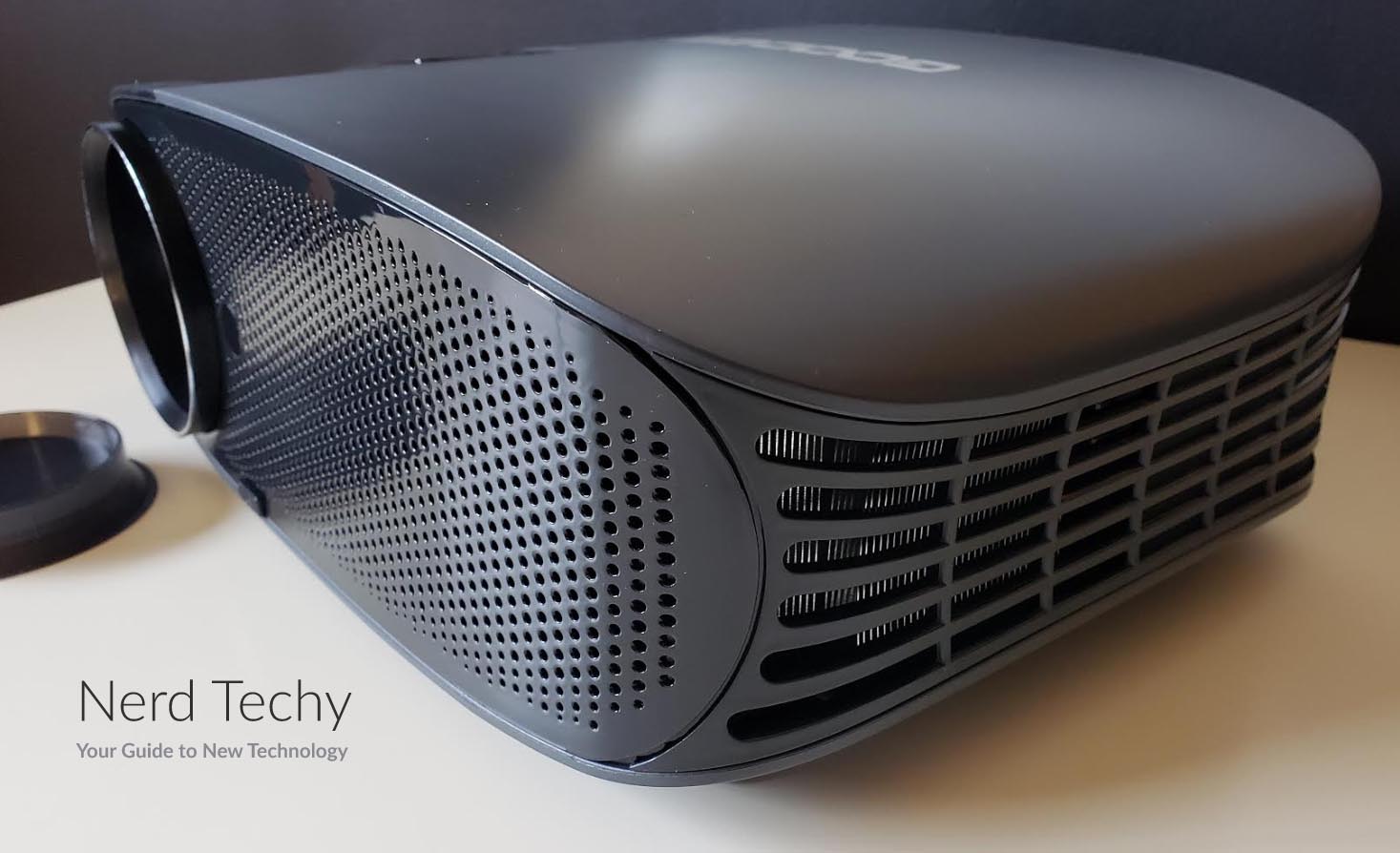 The case is constructed from a satin black plastic, which is both easy to clean and resists fingerprints. The top of the unit is smooth and arched, with a grey GooDee logo towards the back. At the front left, you'll find the control panel, as well as the keystone adjustment dials for the lens. The control panel has a power button, a rewind button, a button to select sources, and a menu button. Four additional buttons allow you to navigate through the menu. There's no remote, so you'll want to familiarize yourself with the control panel as soon as you can.
The front and sides of the YG600 are vented, which allows for plenty of air flow. This keeps the entire unit cool, even at full brightness in a hot space. The fan is powerful enough to produce a noticeable breeze, without producing too much noise. You don't have to worry about the fan getting so loud that it distracts you from your movie.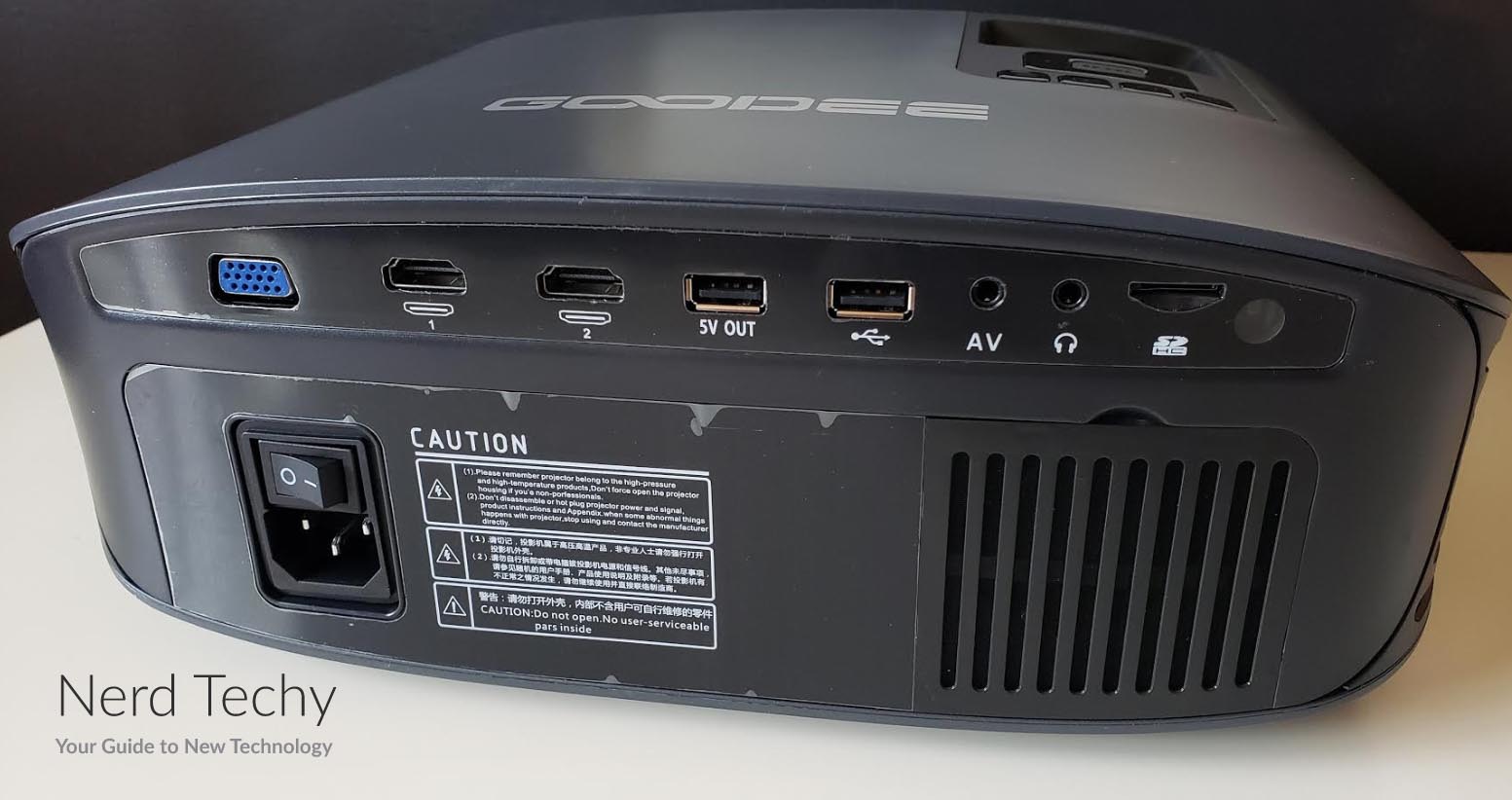 On the back of the projector, you'll find all the video inputs. From left to right, there's a VGA input and a pair of HDMI inputs. There's a pair of USB ports, an AV port, a headphone jack, and even an SD card slot. Underneath, you'll find the YG600's power input, as well as an on/off switch.
On the bottom of the unit, there are four threaded M3 holes for mounting screws. By default, they're covered by screw caps, which can be adjusted to level the projector on a table. However, if you remove the caps, you can easily flip the YG601 over and install it on a ceiling mount. By mounting it upside-down, you'll be able to access the controls with ease. Just use the menu to invert the image, and you won't have any issues.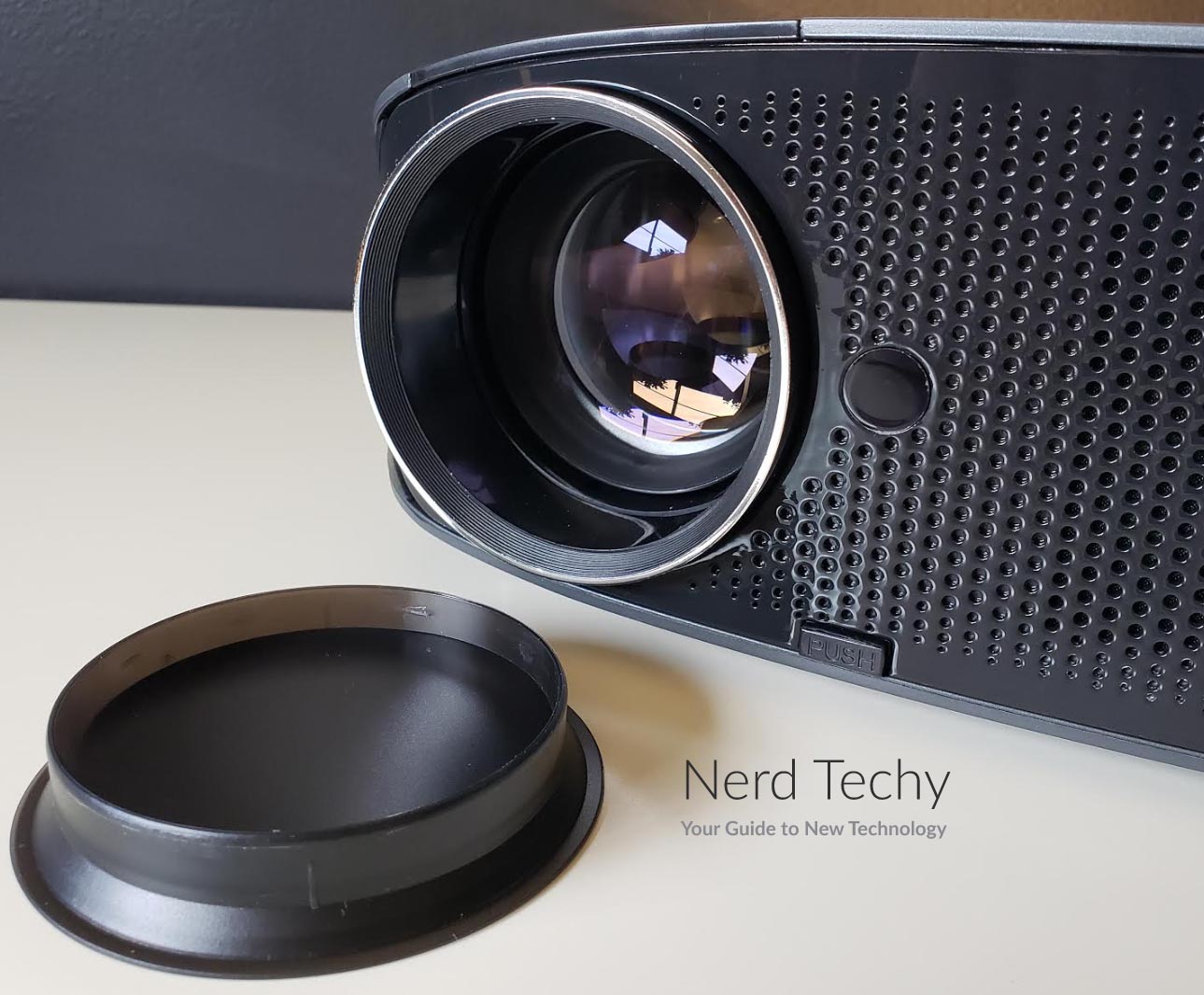 The powerful projector lamp is rated for 50,000 hours of use. This is about average for a home projector, and works out to nearly six years of continuous use. You could even watch literally everything on Netflix if you were so inclined. To compliment this longevity, GooDee provides a 3-year manufacturer's warranty. If anything fails, you get a repair or replacement at their option. Better yet, they also offer a 2-month initial return window. During this time period, you can return the projector for any reason. If you don't like it, just send it back for a full refund.
Video Quality
So, the GooDee YG600 is a well-constructed unit. But is the video as good as the construction? Let's start with the basics. The YG600 supports video inputs of up to 1080p. However, it has a native resolution of 1280 x 768 pixels. This is slightly better than 720p, and much better than your typical 480p projector. That said, keep in mind that 1080p videos will be downscaled to fit the smaller resolution. That said, GooDee does produce a true 1080p projector. The GooDee BL98 Native 1080P HD Video Projector has one of the highest-resolution outputs on the market. However, it won't support Mac inputs without a little tinkering.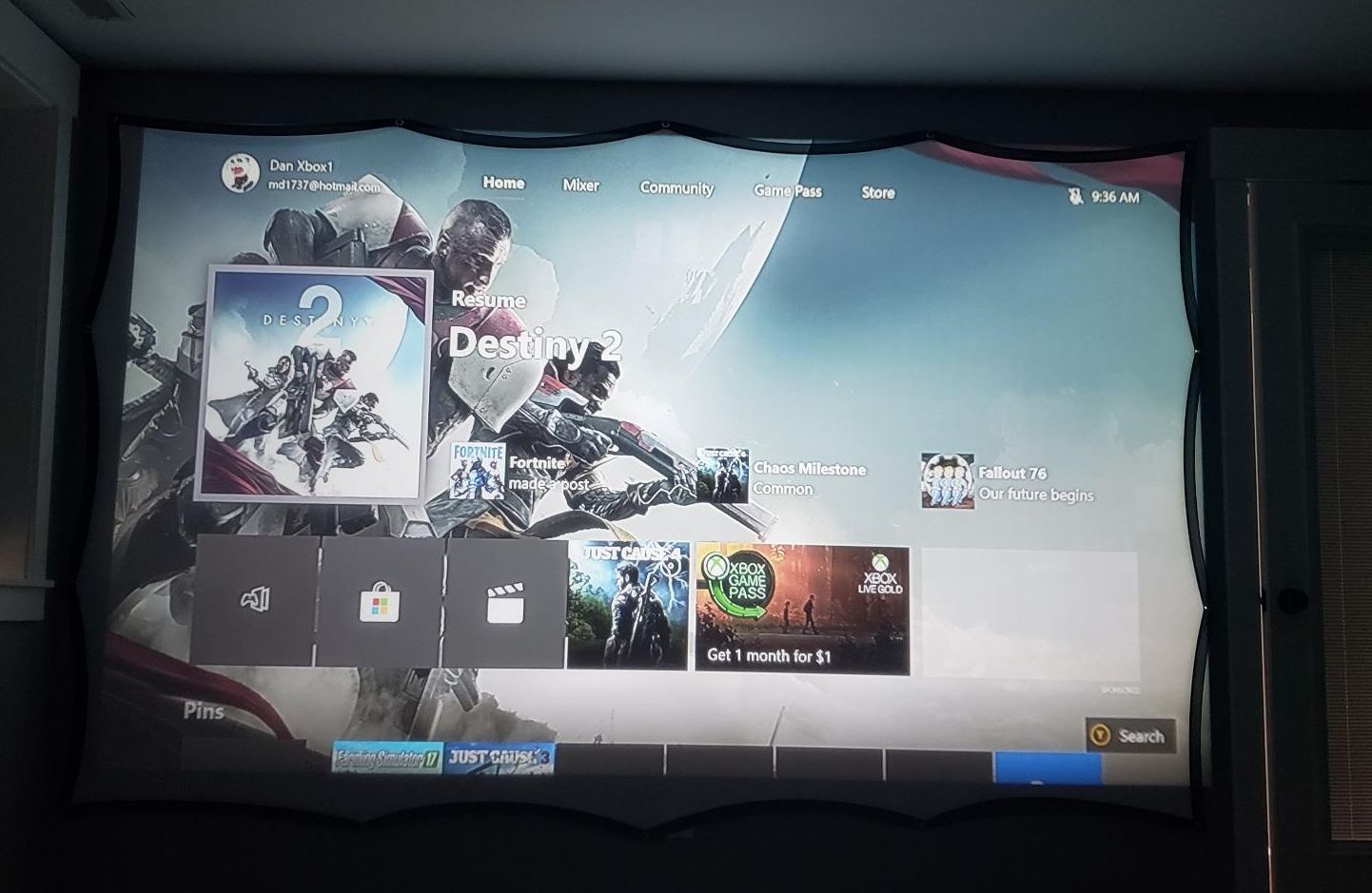 As with any projector, the image size from the YG601 depends on the distance from the projector to the screen. That said, there's a limited range of distances where the image will remain in focus. In this case, the projector can be as close as 4.9 feet, or as far as 18 feet from the screen or wall. At 4.9 feet, the image will measure 44 inches on the diagonal. At 18 feet, it will be a massive 230 inches, or more than 19 feet on the diagonal. GooDee recommends a distance of 10 feet in order to get optimal focus. The further you are in either direction, the fuzzier the picture will be. But even at the extreme ends of the range, your image will be more than good enough.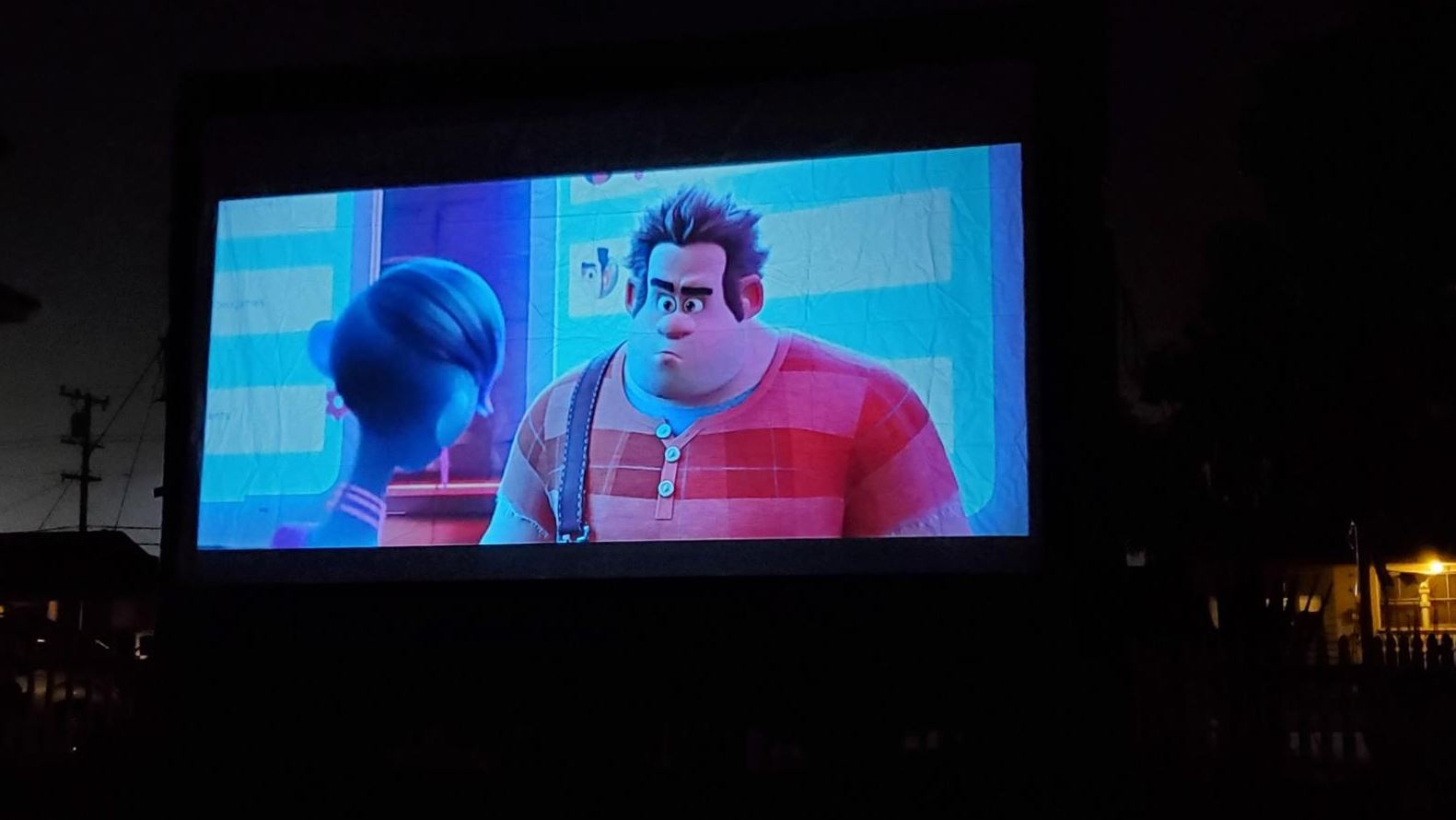 For positioning, you can set the projector off to the side, towards the top, or on the ground. You can make keystone adjustments of 15 degrees in any direction. Using the wheels on top of the lens, it's easy enough to get a perfectly square image.
The bulb has a brightness of 4,000 lumens, which is about average for a home projector. It's good enough for a fully-lit room, or even for outdoor use. The only time you'll see a problem with brightness is if you're working in broad daylight. In that case, the sun will overpower the brightness of the YG600's bulb. The contrast ratio is 3000:1, which is very good. Contrast ratio is a measure of the difference between the brightest and darkest tones on the display. The higher the ratio, the larger the difference. At 3000:1, you're at the limit of human perception. Dark scenes will be very well distinguishable.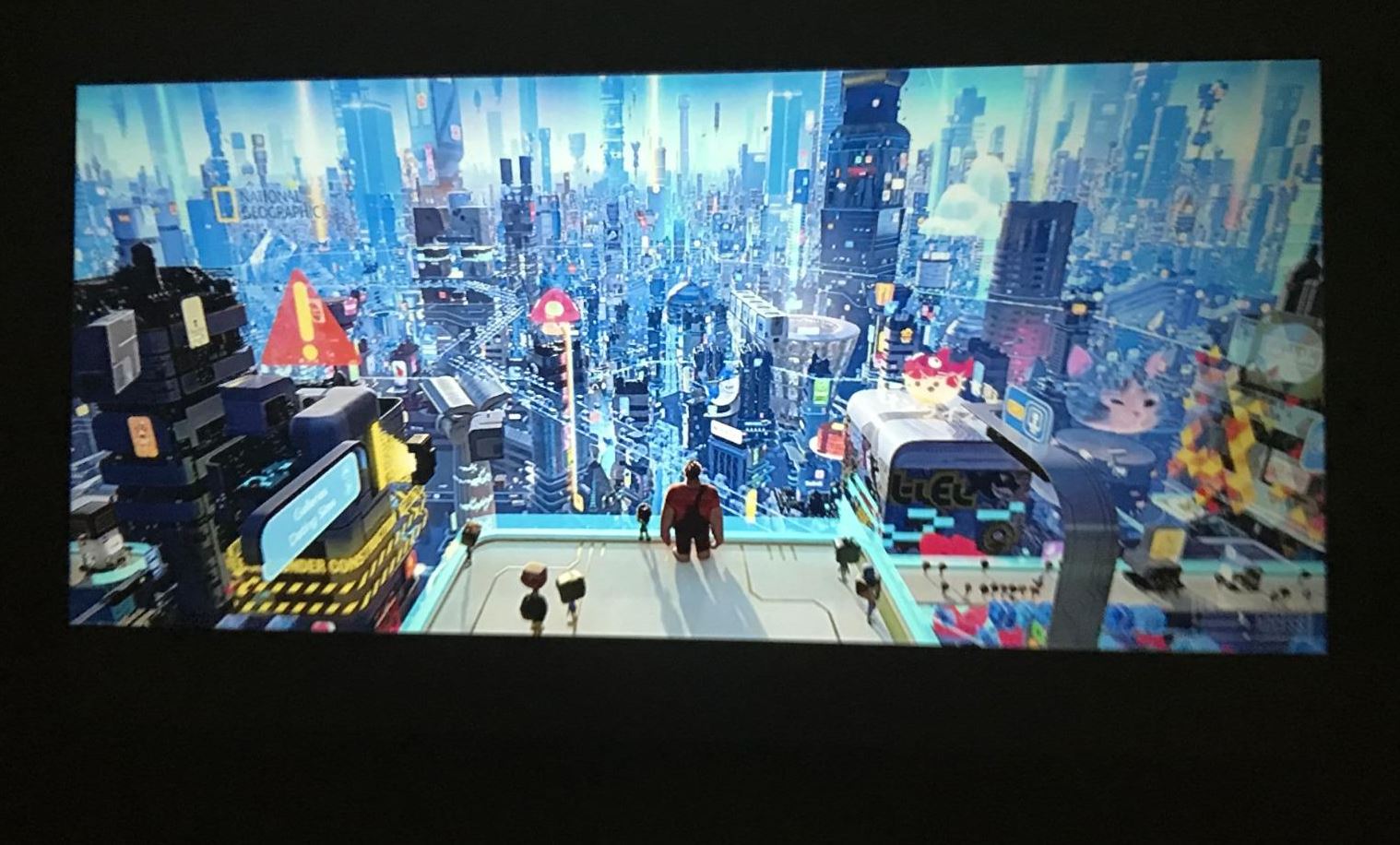 For sound, you get a pair of built-in 3-watt speakers. The quality is quite good, with plenty of response across the spectrum. That said, three watts isn't very much power for a speaker set. The volume is relatively limited, and may not be as much as you need. One good solution is simply to use a larger set of external speakers. Another option is to buy a beefier projector. The GooDee YG620 sports powerful 5-watt speakers and a 100,000-hour bulb, but it's correspondingly pricier than the YG600.
Compatibility
There are two different ways to watch movies or videos on the GooDee YG600 projector. The most basic is simply to use a basic video output. With the HDMI connection, you can watch cable TV, DVDs, or even play video games. You can also use a streaming stick like a Roku or Firestick. Keep in mind that regardless of your source, you need 1080p or lower resolution. If your source is feeding you 4K video, it's not going to downscale properly.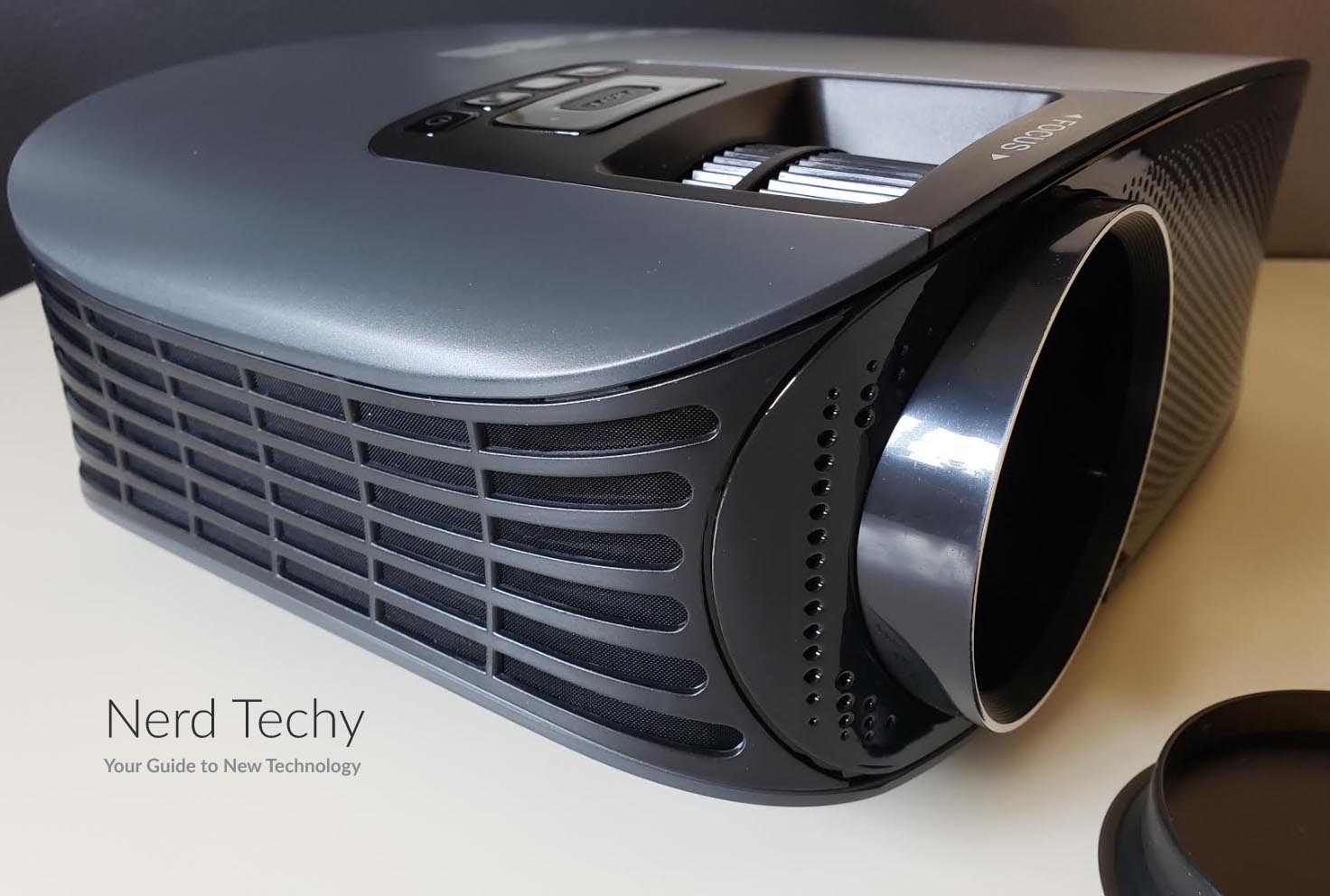 GooDee also advertises "mirroring", which means simultaneously displaying the same thing on your device and the projector. This is essentially the same as a standard input, and depends on your device to make it work. For instance, if you're using a laptop, you'll need to make sure your system is configured for a dual display.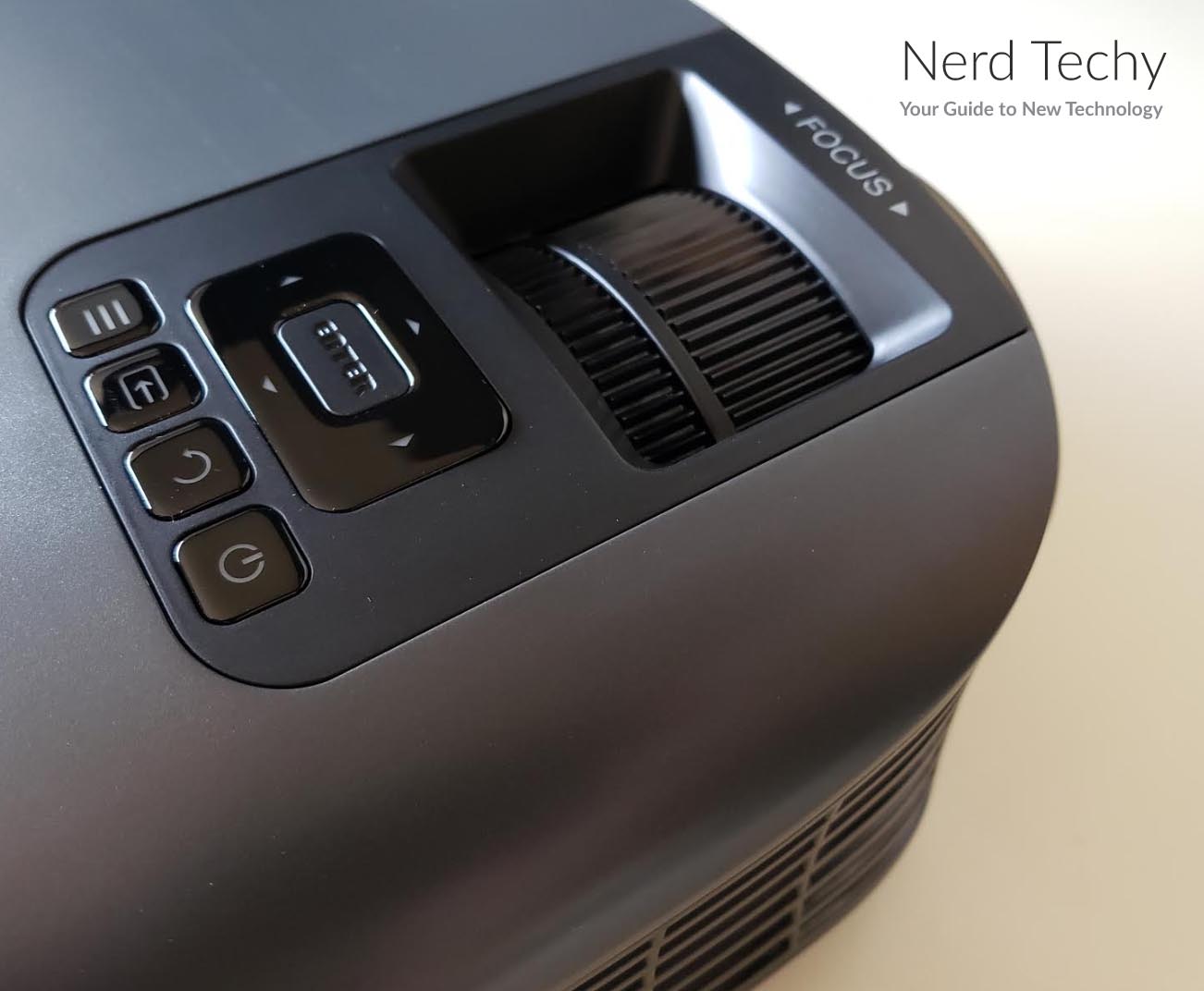 The second way of using the YG600 is to use the menu to play something from storage. You can plug a flash drive into one of the USB ports, or play video directly from an SD card. You can even attach an external hard drive via USB, and enjoy your entire video library.
Use code "Nerd600" for $50 discount when you purchase from GooDee's Website
Final Verdict
As you can see, the GooDee YG600 LED Projector is a very well designed machine. It's a mid-sized projector that punches well above its weight. To begin with, the 4,000-lumen bulb is bright enough to get the job done under most circumstances. It's also rated for 50,000 hours, which is long enough that you won't need a new projector for a decade or more. The contrast ratio is top notch, so you can make out even very dark scenes. The 1280 x 768 resolution is a bit disappointing, but it's still better than your average projector. And with support for 1080p inputs, you won't have any issues with compatibility.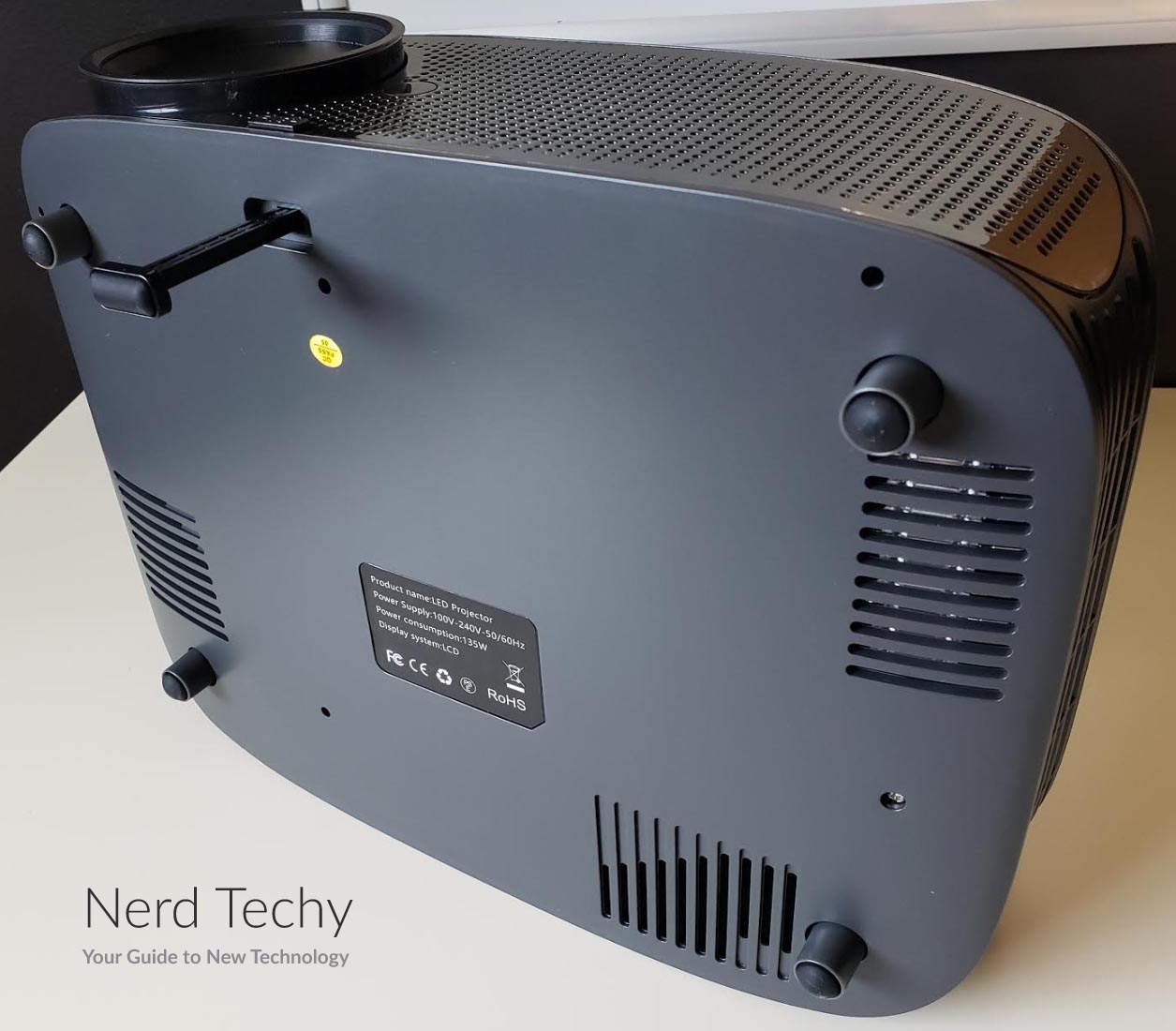 Speaking of compatibility, you can take advantage of just about any type of input. You can watch a DVD at home, or give a presentation at the office. And for office use or permanent installation, you can mount your projector on a simple ceiling mount. You can even hook up your favorite game system or watch video from an external hard drive. The quiet fans are also an excellent feature. Even if you're watching at relatively low volume, there won't be a loud whooshing noise disturbing the experience.
Please consider sharing:
Note: At no extra cost to you, we may earn a commission for purchases using our links. Learn more.