Keeping your home clean can feel like a never-ending battle. You wipe down the counters, you sweep the floor, you vacuum the carpet. Then, a few days later you're back at it again. Like the Greek story of Sisyphus, cursed to roll a boulder uphill for all eternity, it's a never-ending task. As yet, no-one has invented an automatic kitchen counter cleaner or self-cleaning toilet. But with a robotic vacuum, you can keep your floor and your carpet clean with virtually zero work.
iRobot first launch the Roomba in 2002. The original unit was relatively dumb, with not a lot of extra features. It randomly roamed around your floor without any kind of pattern, and automatically returned for a charge as needed. Since then, the market has exploded, and there are many companies making robot vacuums. Some of these offer a wide variety of smart features, while others are as simple as the original Roomba.
Today, we're going to review the Robit V7S Pro Robotic Vacuum Cleaner. This is a more basic vacuum, hearkening back to the original Roomba. But that isn't to say it's not worth buying. For one thing, it's reasonably priced. For another thing, it's one of the more powerful robot vacuums that money can buy. But is it worth forking over your hard-earned money? Or would you be better off looking somewhere else? We're going to take a close look at the V7S, from the design and durability to the motor power. We'll also talk about how to use it and how it works. Let's get started!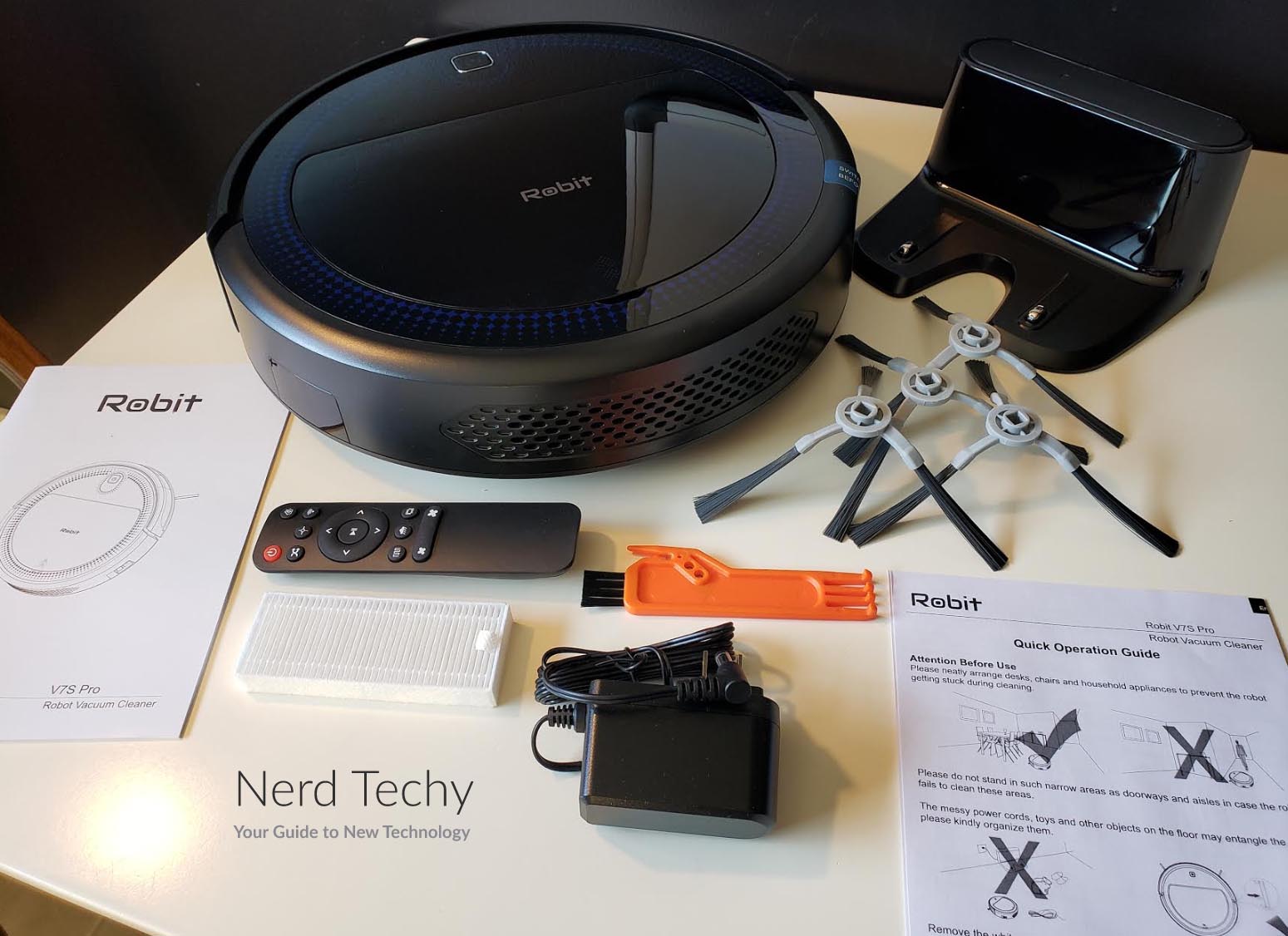 Overall Design
The Robit V7S Pro Robotic Vacuum Cleaner is constructed primarily from black ABS plastic. That said, it's tougher than you might imagine. The outer edges are surrounded by a fat bumper, which keeps it from getting damaged when it runs into furniture. And because the bumper is all-plastic, it won't damage your furniture, either. Your wooden chair legs will be safe from dings or dents. On one side, there's a small recess with an on/off switch and a DC power port. These allow for easy, basic operation, even without the charging base or remote.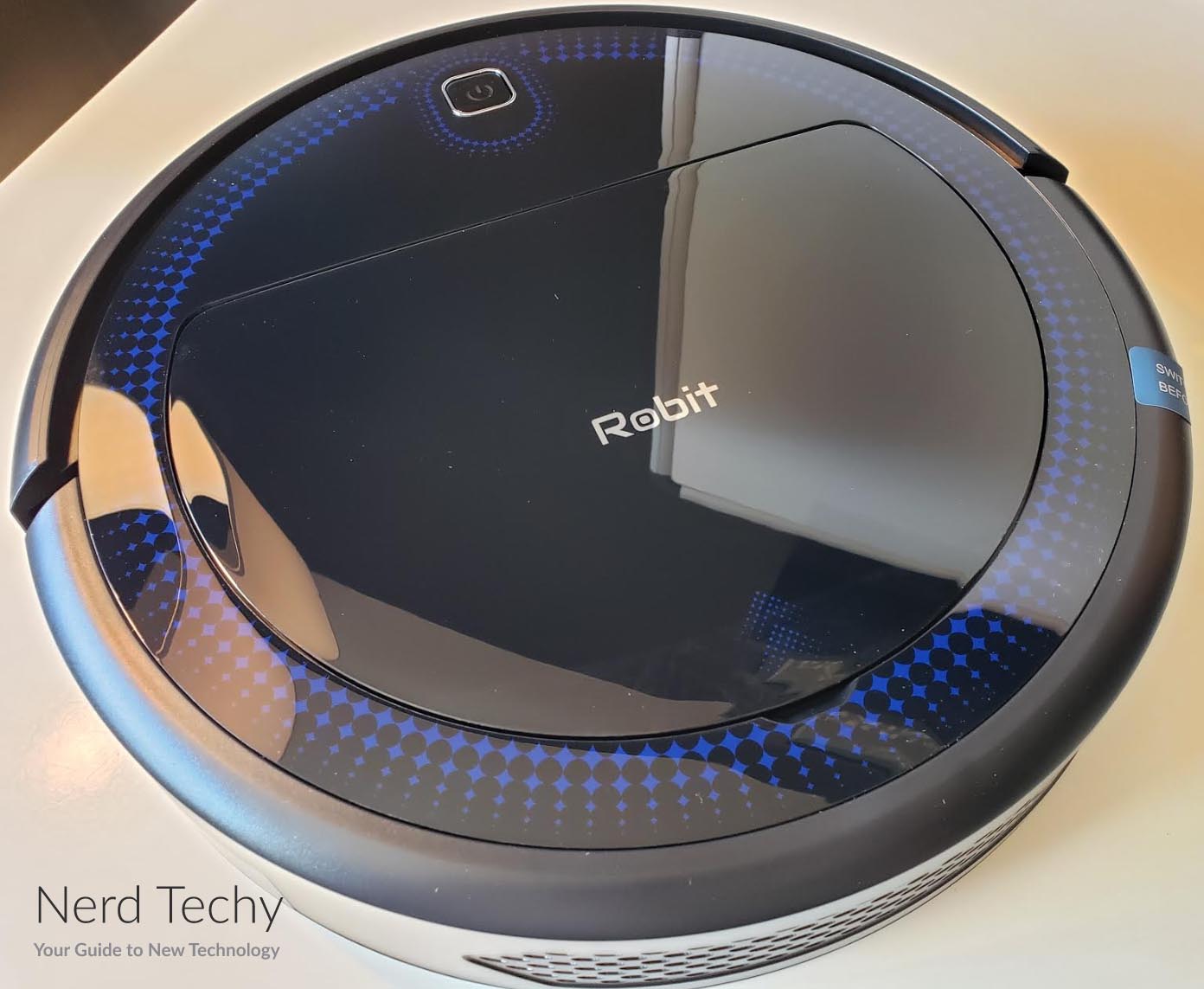 The top of the unit is slightly recessed, with a satin black plastic finish. This finish is easy to keep clean, and won't easily show fingerprints. It's mostly black, matching the case. However, there's an attractive blue diamond pattern around the edges. The pattern doesn't serve any functional purpose. But it does make the vacuum a little bit more attractive as it's running around your home. At the front, there's a power button, with an LED indicator that lets you know when it's active. There's also a white Robit logo imprinted in the center.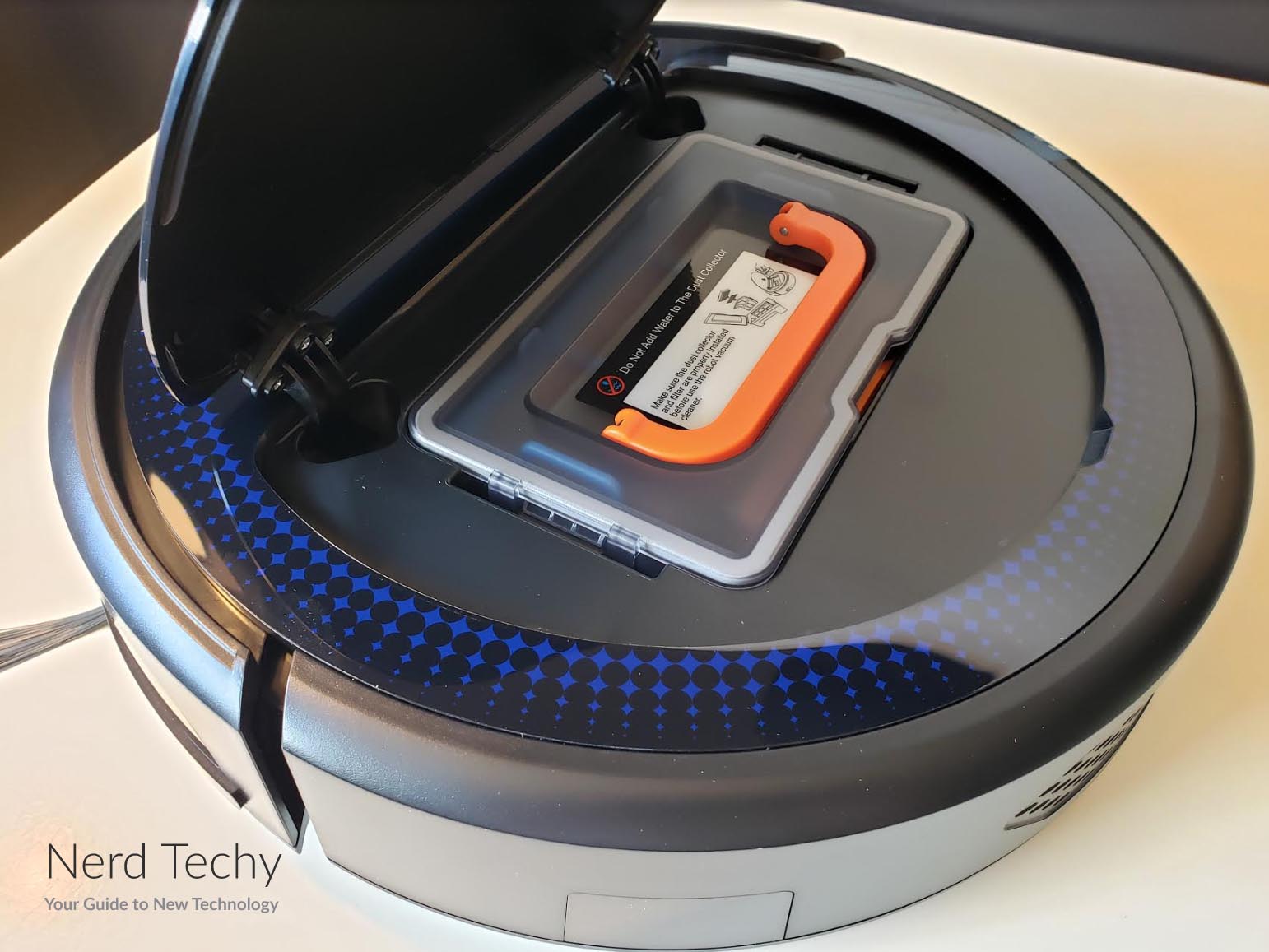 All in all, the V7S vacuum measures 12.59 inches in diameter, and 3.07 inches in thickness. As a result, it can fit under a lot of furniture. Many dressers and couches sit taller than this height, so your vacuum can go just about anywhere. This mobility isn't just limited to furniture height, either. It also extends to changes in floor surfaces. A pair of big, beefy wheels propel the unit. In all, they can navigate height changes of 0.59 inches. This means they can transition from a hardwood floor to a medium-pile carpet without any trouble. They can also cross other transitions, such as a metal lip between tile and hardwood.
The brush system consists of two main parts. There's a pair of wide, flat brushes that extend from the front "corners". These brushes rotate towards the center, sweeping debris directly under the unit. There, a barrel-style brush will sweep debris into the unit. There, it gets sucked up and deposited into an 0.6-liter dust hopper. This hopper is somewhat larger than most other robot vacuum hoppers, which generally gather 0.5-liters of dust or debris. It will get you through at least one cleaning session, and possibly more depending how often you run your vacuum.
Along with the vacuum itself, you get a remote control for easy operation. Change your vacuum's settings, or run a one-off cleaning cycle with the push of a button. You also get a set of extra brushes. This is a great feature not offered by many robot vacuums. The brushes shouldn't wear out any time soon, but it's nice to have them when you need them.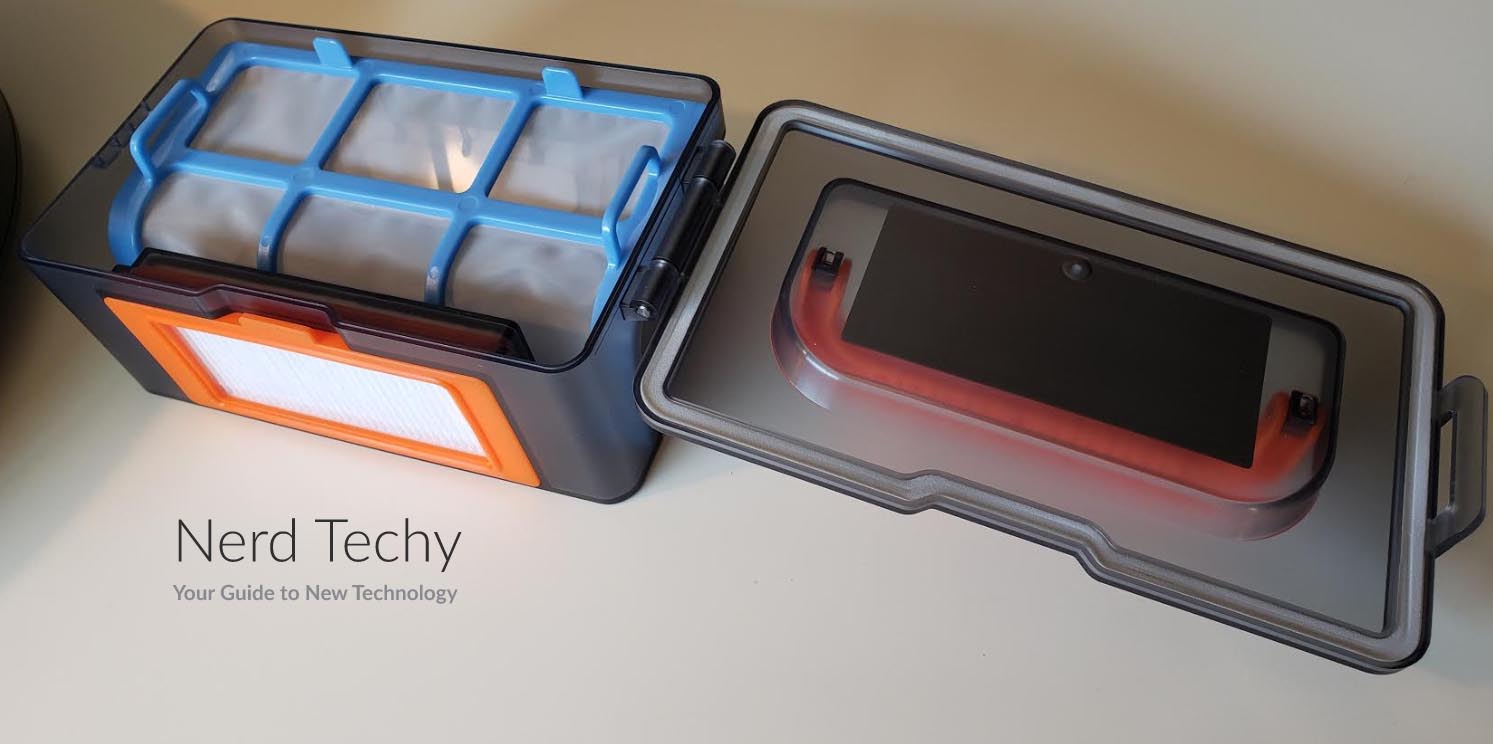 You also get a charging station. The charging station sits low and tight to the wall, so the risk of kicking it is minimal. It's constructed from a glossy black ABS plastic that's a bit shinier than the vacuum. On the top, there are a pair of LED lights. The one on the left indicates that the charging station is plugged in. The one on the right lets you know when the vacuum itself is charging. All of this is covered by a 12-month manufacturer's warranty. Make sure to send in the warranty card, though. Otherwise, Robit will not have your vacuum on file.
Vacuum Performance
The Robit V7S vacuum has a total suction force of 2,000 Pascals. This isn't as powerful as most upright vacuums. However, it's more powerful than the vast majority of robot vacs, which usually pull at 1,400 Pascals. Because of this, you can clean up big, tough messes that other vacuums would leave behind. Even if you spill a bag of skittles, you'll be able to clean them up without the need for a broom. On a more mundane note, you can clean dense, tightly-packed carpets that tend to trap dust and dirt. Pretty much whatever you're trying to clean, the V7S has you covered.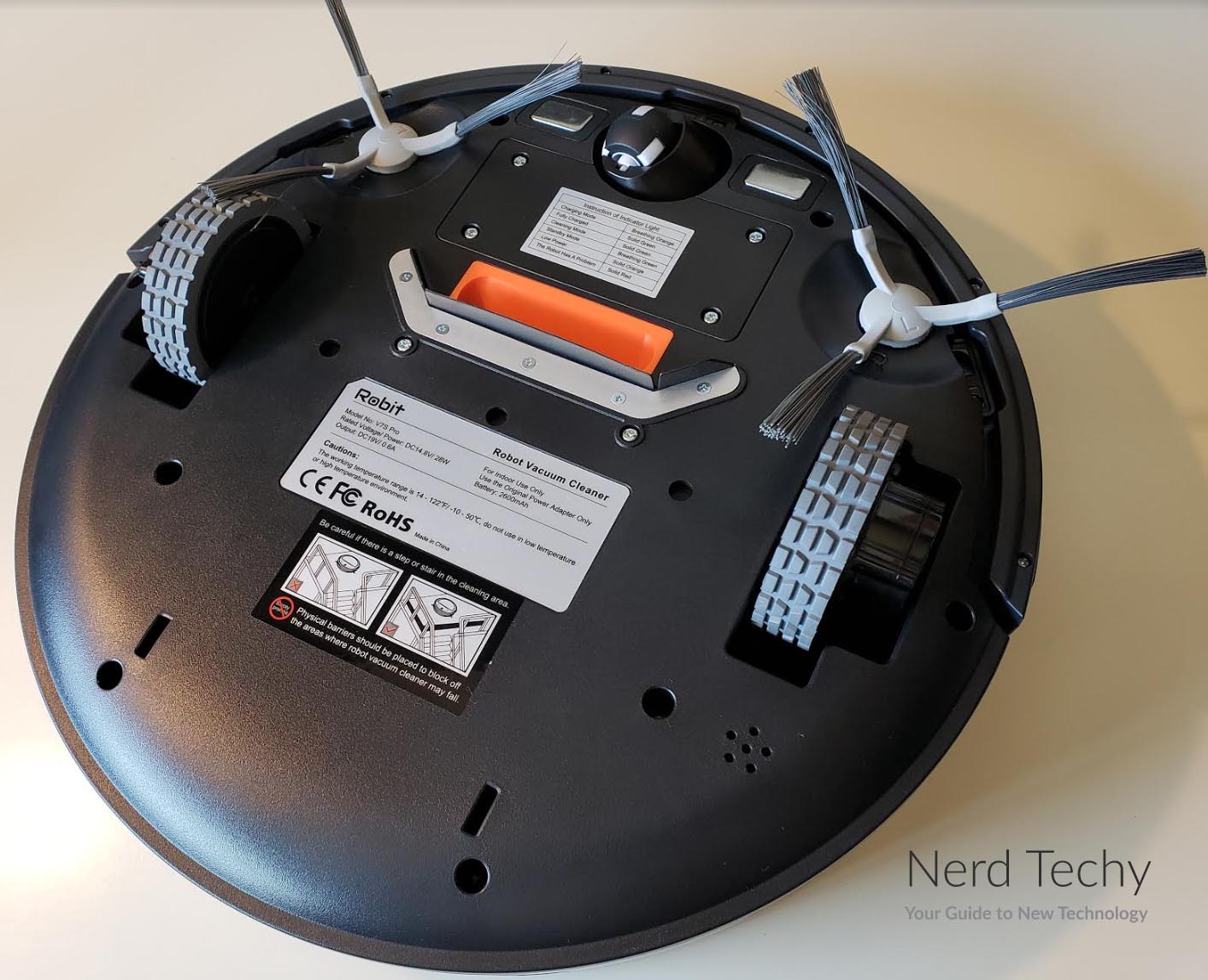 The 2,600mAh battery is also very powerful. It supplies enough juice to run the vacuum for an hour and 40 minutes before requiring a recharge. This is enough for the majority of homes. If it's not, you don't need to worry. The vacuum will automatically return to the charging station when the battery starts to get low. It recharges in about 90 minutes, so you can run it several times a day if you need to. Of course, if space is limited, you're not obligated to use the charging base. You can also plug the vacuum into the charging station's DC charger. In this case, you'll need to manually take care of charging yourself.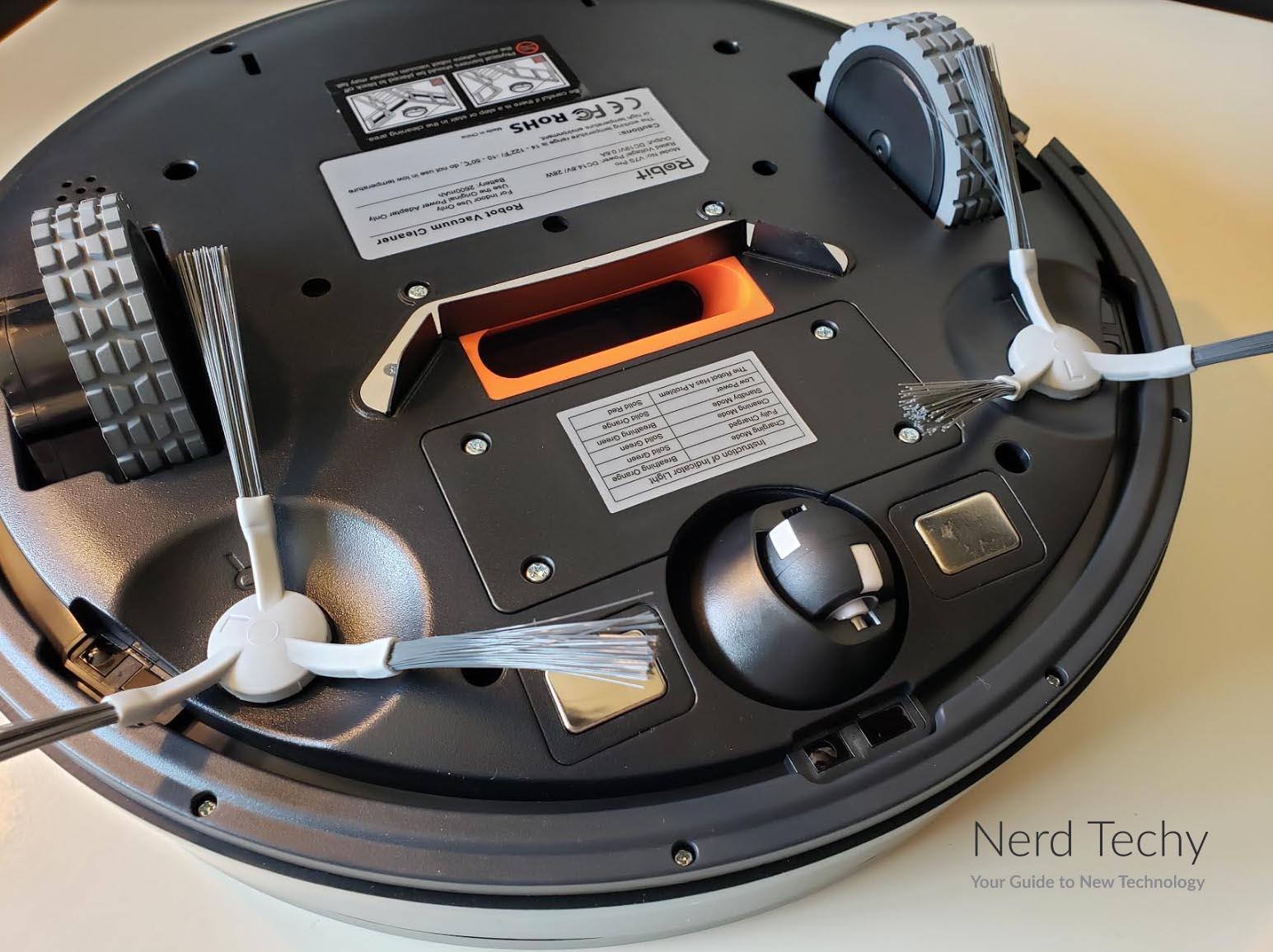 The V7S vacuum sports a built-in filter. This filter is very well designed for a vacuum filter, and removes the majority of dust from the air. It won't recirculate dust like many affordable vacuums on the market. Moreover the filter is washable and reusable. Pop it out of its enclosure, run some cold water through it backwards, and leave it out to dry. In a few hours, it will be dry and ready to use again. That said, there are other vacuums on the market that offer even more powerful filtration. For instance, the Yeedi K600 Robot Vacuum offers top-tier filter performance. It's not as powerful as the V7S, but it's still good enough to get the job done under most circumstances.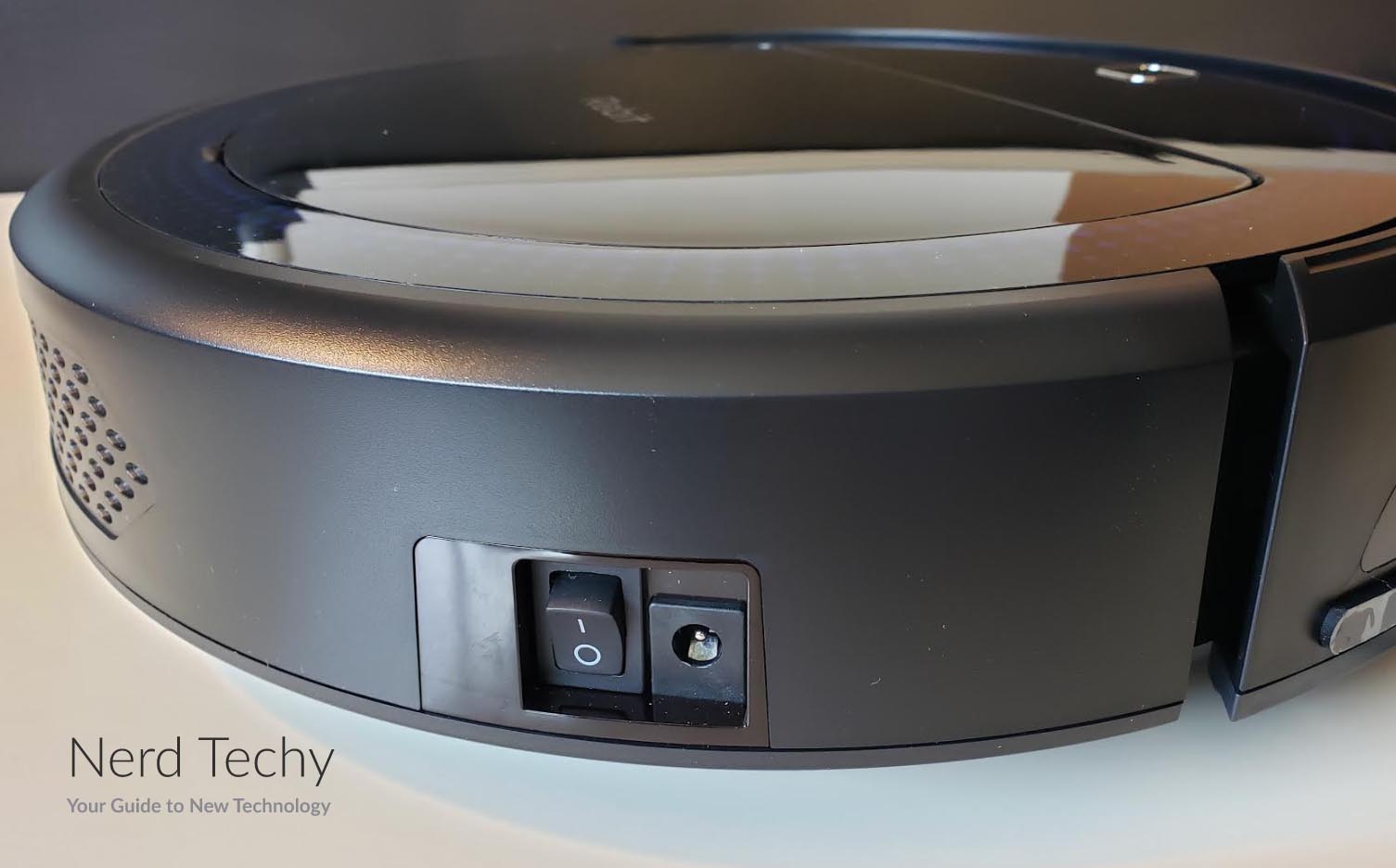 Setup and Everyday Use
As we mentioned at the outset, the Robit V7S operates in a random pattern. It will cover your floor well enough, and should cover open areas more than others. For most purposes, this will be good enough to get the job done. But with the remote, you can operate a few other functions.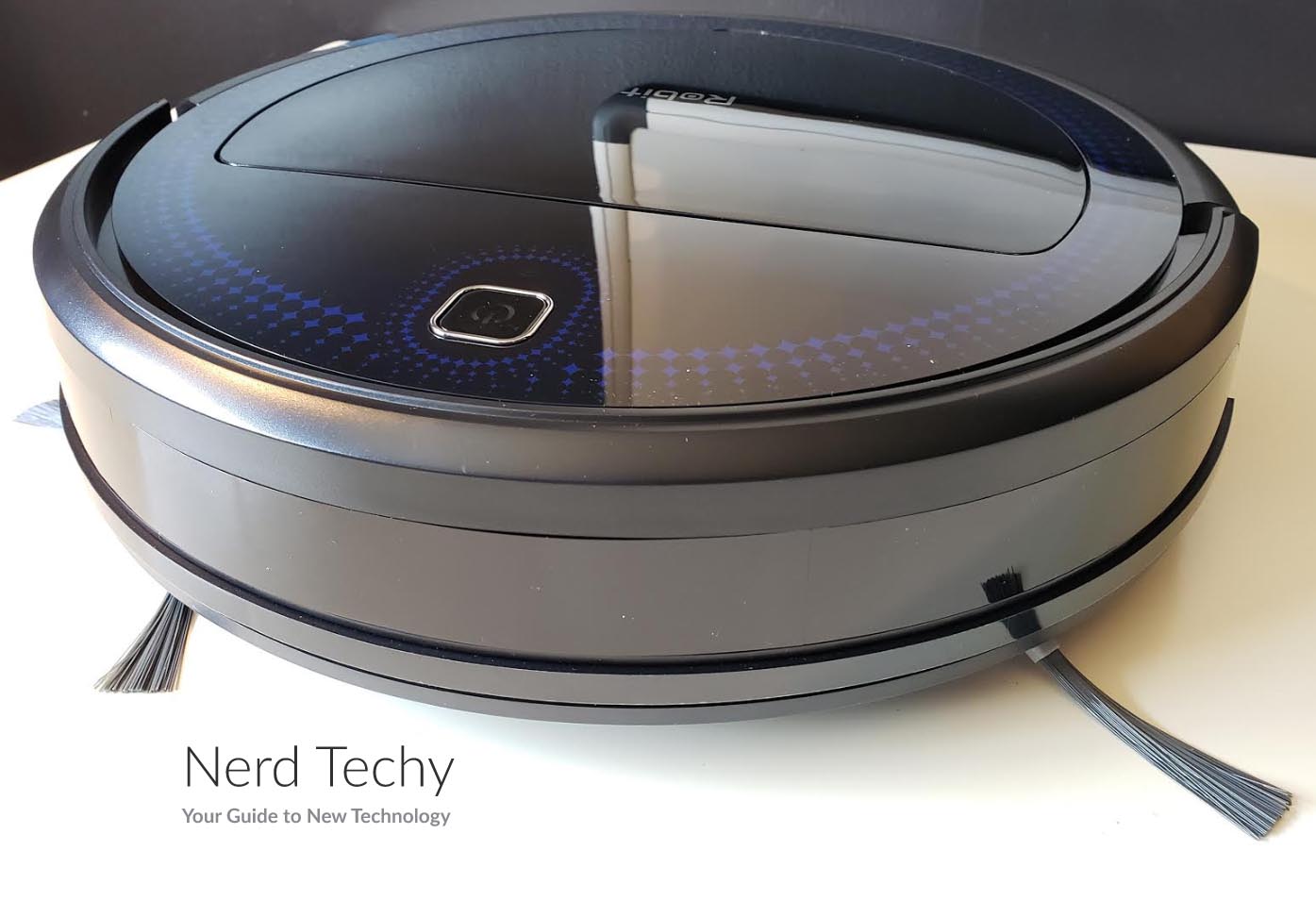 First, you can engage the auto cleaning mode. In this mode, the vacuum will simply run back and forth in a serpentine motion. This is good for wide, open spaces. However, it won't wander around behind furniture or other isolated spots. You can activate edge cleaning. In this mode, the vacuum will run around the circumference of the room. This is useful for cleaning areas that may not otherwise get hit as often. Finally, you can use the spot cleaning mode. In this mode, the vacuum will operate in a small area. To use spot cleaning mode effectively, you'll need to manually put the vacuum in the center of the target area.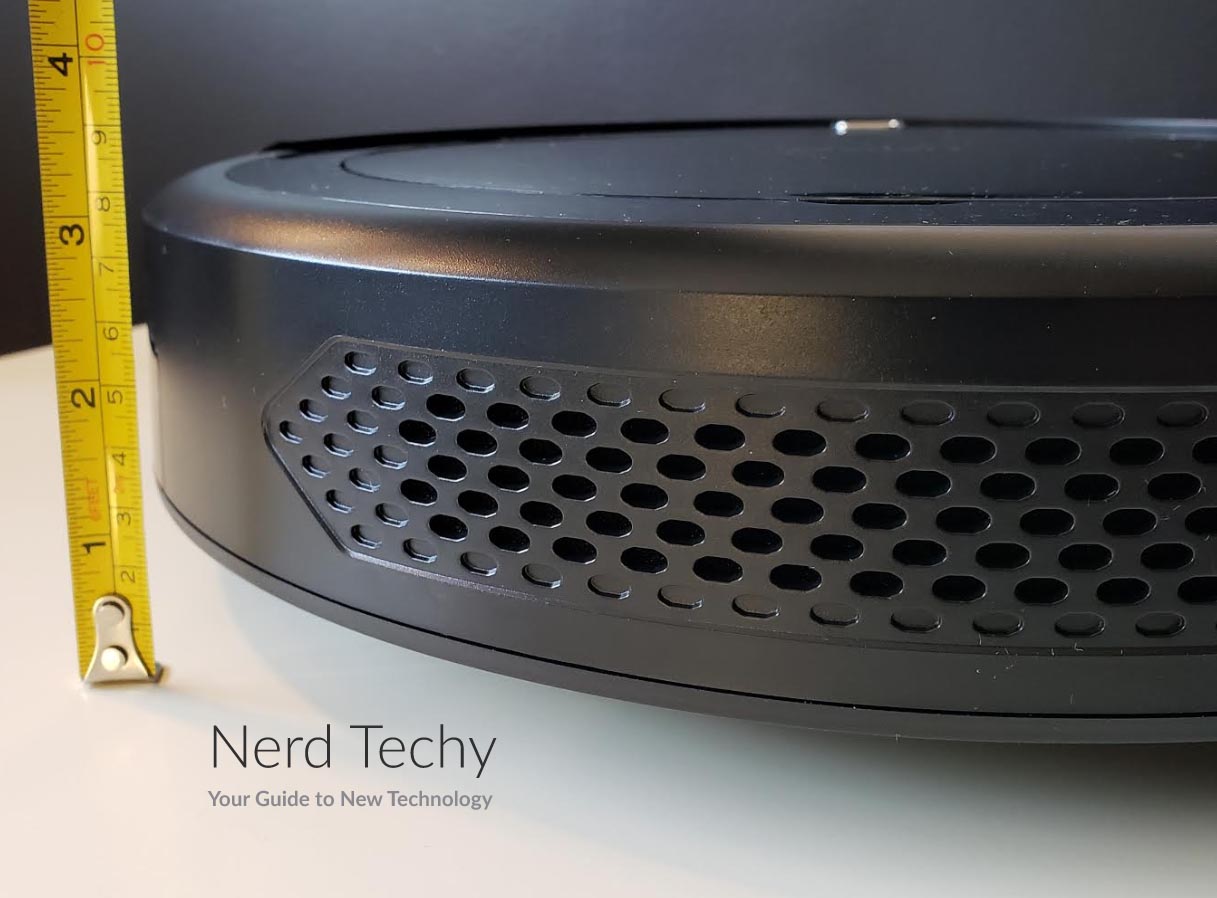 The V7S has drop and bump detectors that will protect it from most types of damage. For instance, it won't try to roll of a ledge or down a flight of stairs. And when it runs into your furniture, it will automatically redirect. That said, there's no magnetic tape or laser sensor to keep your vacuum contained. It will clean the entire floor of your house as long as it keeps running. In addition, there are no smart features. You don't get a smartphone app or other advanced controls. If you're looking for a smarter vacuum, check out the Amarey A900. It's pricier than the V7S, but the smartphone app is highly advanced. It even creates a map of your floor, where you can set specialized cleaning zones.
Another good smart vacuum is the Dser RoboGeek 21T. It comes with a basic app, as well as magnetic strips. It's not as powerful as the V7S, though.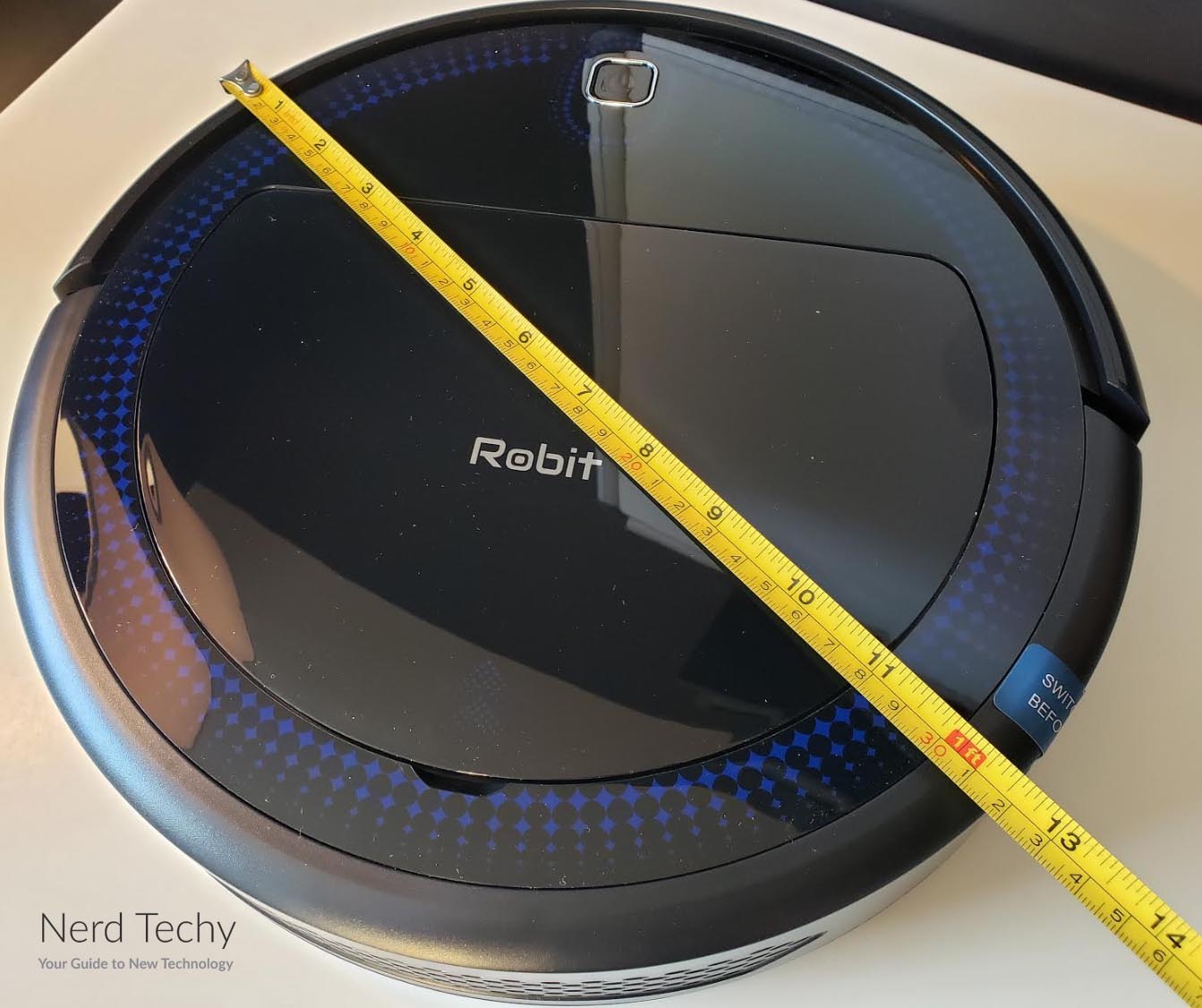 Final Verdict
The Robit V7S Pro Robotic Vacuum Cleaner is one of the more powerful robotic vacuums on the market. It provides an impressive 2,000 Pascals of suction, which will clean up just about any mess. Not only that, but the brushes are also well-engineered. And with extra sets of brushes, you can always replace them when they start to wear out. The dust hopper is also well-engineered. With a capacity of 0.6 liters, you won't have to worry about changing out your dust bin.
The only disappointing features were the lack of an app or any kind of zone control. These might pose an issue if you have a larger home, since the vacuum won't work as efficiently. Then again, considering the low price and powerful suction, you're still getting a solid value. Not only that, but the battery is powerful, and the unit itself is nice and durable. Unless you need a bunch of smart features, you're looking at a great vacuum.
Meet Derek, "TechGuru," a 34-year-old technology enthusiast with a deep passion for tech innovations. With extensive experience, he specializes in gaming hardware and software, and has expertise in gadgets, custom PCs, and audio.
Besides writing about tech and reviewing new products, Derek enjoys traveling, hiking, and photography. Committed to keeping up with the latest industry trends, he aims to guide readers in making informed tech decisions.