For many years, wireless earbuds were relegated to the technological backwater. The sound quality was downright awful. You listened to tinny, low-bitrate music, and you didn't even get stereo. For anything other than spoken word media, they were more or less useless. All of this changed when True Wireless Stereo (TWS) hit the scene. TWS allowed for high-quality stereo audio that's just as good as a pair of wired buds. Only a year later, Apple capitalized on this trend, and released their iPhone 7 as a wireless-only phone. They complimented this with the release of the AirPods.
Unfortunately, the AirPods were overpriced. As a result, a large number of third-party manufacturers started to fill the wireless earbud market. This created another conundrum for consumers. Did you overspend on Apple AirPods and know that you're getting top quality? Or did you roll the dice on some aftermarket buds and save a bundle of cash? Thankfully, after all this time, the technology has become easier to produce. Many aftermarket earbuds are quite good, indistinguishable from AirPods or even better.
Today, we'll be reviewing the Bomaker SiFi II Wireless Earbuds. Bomaker is relatively new to the wireless earbud market. However, they're already well-known for producing other electronics, such as quality HD projectors. But how well did they do when they made their wireless earbuds? We're about to find out. We'll look at the design quality, the ergonomics, and the battery life. We'll also talk about the connection quality and, of course, the sound quality. Once we've done that, we'll know everything we need to know to render a final verdict.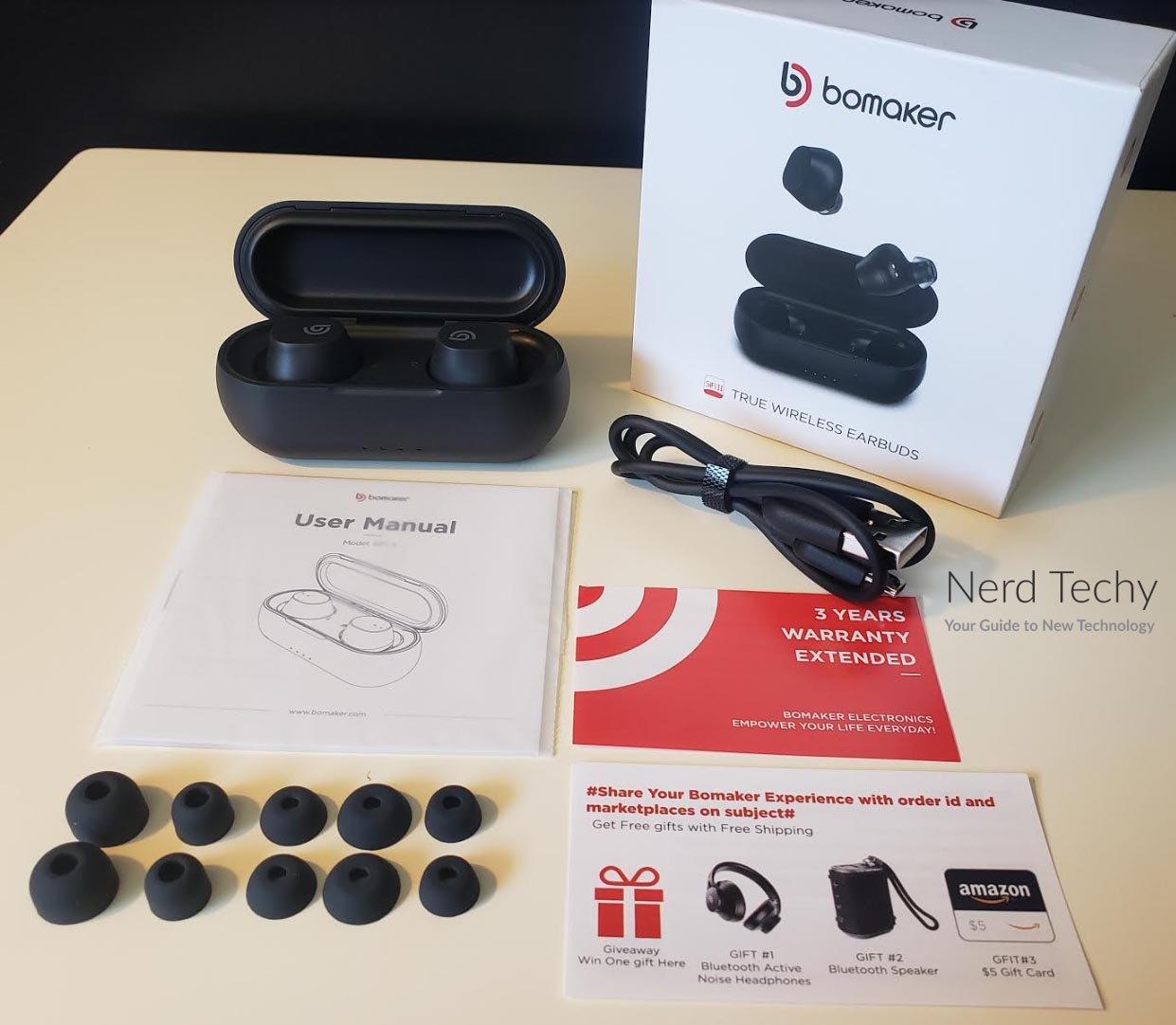 Overall Design
The Bomaker SiFi II Wireless Earbuds have a compact design. They're true "buds", with no hanging studs or other encumbrances. As a result, they're very comfortable to wear, since they won't add extra weight to your ear canals. They also fit more securely, with silicone ear tips that seat firmly in your ears. As with any wireless earbuds, this depends on the quality of the fit. Thankfully, the box includes three extra sets of ear tips in different sizes. If you're not happy with the default medium tips, try a large or small tip as befits your needs.
The earbud shells are constructed from black ABS plastic, with an attractive glossy finish. On the one hand, the gloss finish can tend to show fingerprints. On the other hand, they're earbuds. Wipe them with a damp cloth every once in awhile if you're a stickler for keeping them fingerprint-free. On the back of each bud, you'll see a light grey Bomaker logo. These logos double as touch controls. You can tap or double-tap them to answer calls, skip tracks, adjust the volume, and perform other functions. Moreover, they're soft touch controls, so you don't have to press hard and irritate your ear canal. Next to the buttons, there are tiny LED lights that let you know when the buds are connected.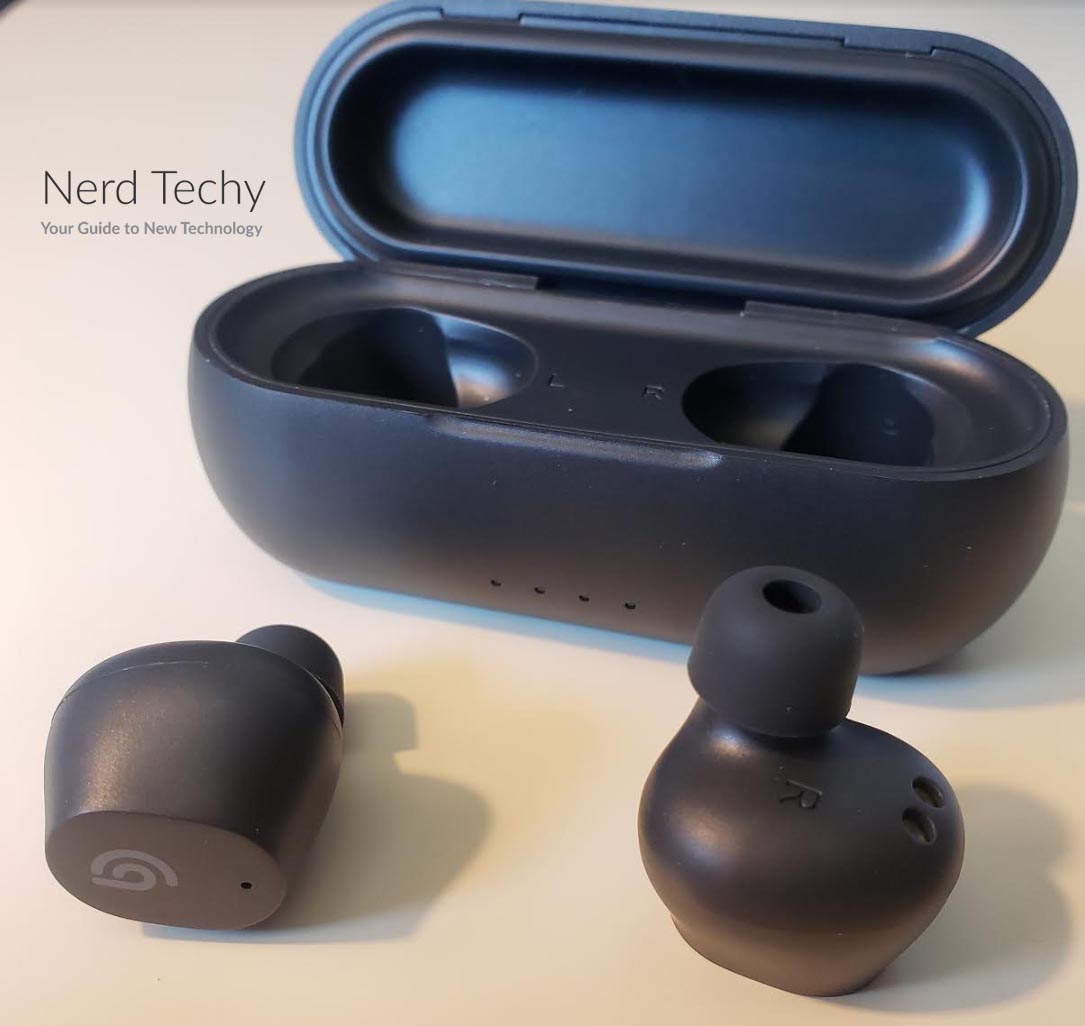 The SiFi II earbuds are IPX7-rated for water resistance. This is the second-highest water resistance rating electronics can receive, and the highest standardized rating. It means they can withstand immersion in one meter of water for up to 30 minutes. As a result, these buds are exceptionally versatile. You can work out with them and not worry about sweat. You can wear them in the rain, and they won't get wrecked by the moisture. You can even wear them in the shower or take them for a swim. If you're one of those people who wants to wear their earbuds 24/7, they're an excellent choice.
Like most wireless earbuds, the SiFi II earbuds come with a carrying case that doubles as a charger. The case is more attractive than most, since it's available in two different colors. In addition to the standard black, you can also order it in a deep cobalt blue. Regardless of which color you choose, a satin finish makes it easy to keep clean. It's long and slim, with an oval design that makes it easy to slip in and out of your pocket. And it's relatively lightweight, so portability is a non-issue. You can carry it anywhere, either in your pocket or in a bag.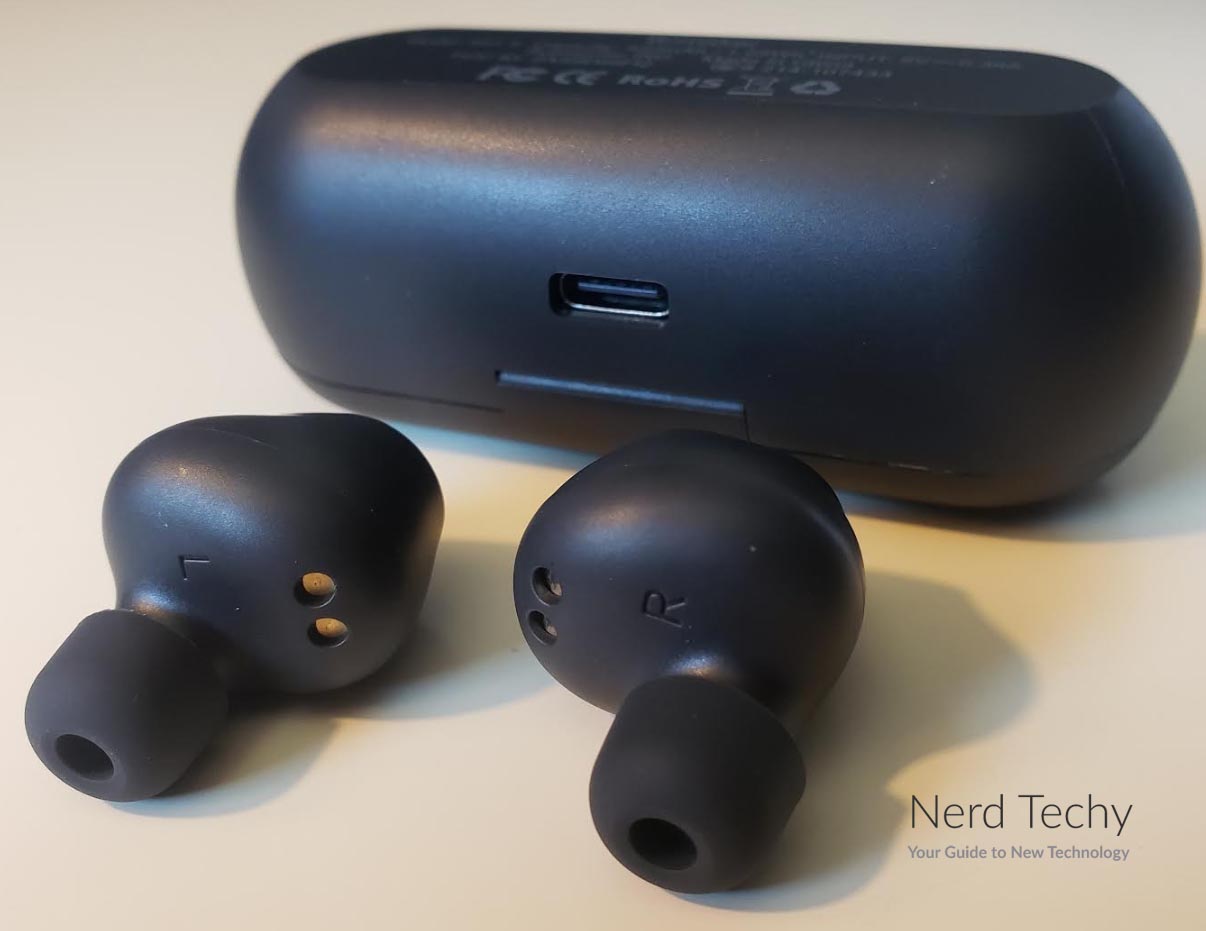 The case has a clamshell-style design, which makes it easy to open, close, and transport. The spring-loaded lid stays shut when you're carrying it, so you don't lose your buds. When you have to open it, a slot under the front of the lid makes it easy to snap open with your thumb. Just beneath this slot, there's a row of four LED lights that indicate the current battery level. They light up when you first insert your buds, but for the most part they stay off to save batteries. On the back of the case, there's a USB Type-C slot beneath the lid hinge. This allows you to easily charge the case, using the USB Type-C cable that's included in the box.
The SiFi II Wireless Earbuds and case are covered by a three-year warranty. This is one of the best warranties in the business, so Bomaker is really going above and beyond here. Return and exchange are both free, so you're fully covered for any manufacturer's defects.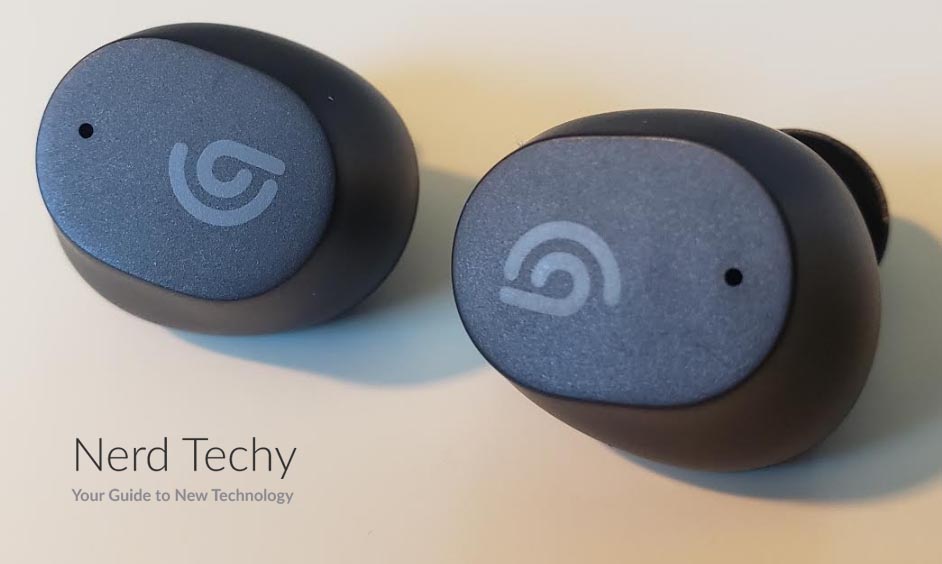 Battery & Connectivity
The Bomaker SiFi II Wireless Earbuds provide up to 7 hours on a single charge. This is some of the best performance you'll see from a wireless earbud. You can listen during your morning workout, keep listening through your commute, and still have hours left. Depending on your needs, you won't even need to use the charging case for 2 or 3 days. Of course, this is based on manufacturer ratings, which assume medium-high volume. If you've got the volume maxed out, you'll get a little bit less performance. But that's standard for wireless earbuds, so you're still looking at an industry leader in this regard.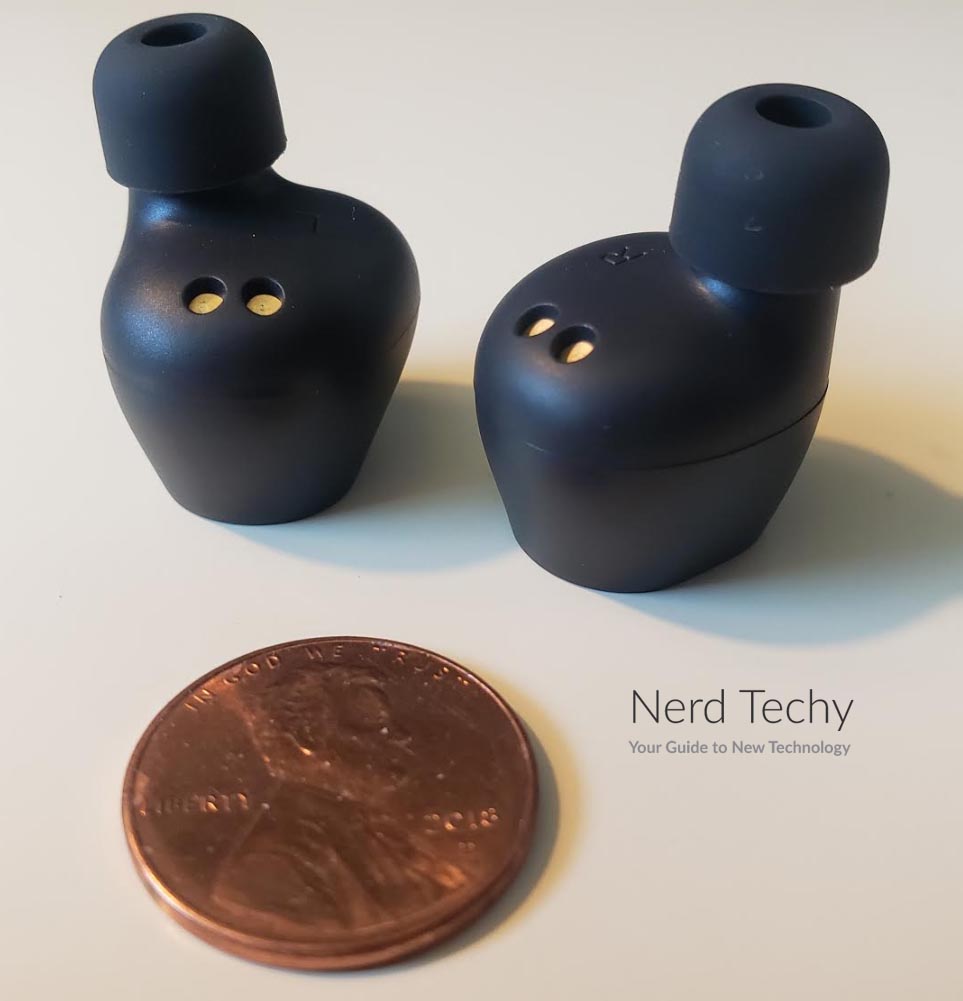 Moreover, the charging case provides about 23 hours of additional charge. This allows you to listen for a total of 30 hours without the need to plug in. Enjoy your music all weekend when you're on the road, and plug in when you get home. Not only that, but the charging case supports rapid charging. If the earbuds are totally dead, you'll get an hour's worth of charge in only 10 minutes. The earbuds will fully charge in about 90 minutes, and the case will charge in 2 hours via USB Type-C.
The SiFi II Wireless Earbuds use the Bluetooth 5.0 protocol to connect to your phone or MP3 player. This is the latest version of the Bluetooth protocol, and offers some major benefits. The most significant of these is very low latency. You can watch a movie or video without the audio being out of sync. You also get a more stable connection. You don't have to worry about dropped calls or stuttering music. Finally, Bluetooth 5.0 supports very high audio bitrates. If you like a bit more than the standard 128K audio, you're going to be very pleased with the connection.

One useful feature of these earbuds is that you can connect them individually. Admittedly, this isn't a huge benefit if you're just listening to music. But it's great for hands-free calling when you're driving or trying to maintain situational awareness. Once the buds have been paired, they will pair immediately upon being removed from the case. Take out one or take out both, and you'll have a near-instantaneous connection. To switch from mono mode back to stereo mode, just put the bud back in the case and remove both.
Sound Quality
The Bomaker SiFi II Wireless Earbuds utilize a pair of 6mm graphene drivers. These are standard-sized drivers for wireless earbuds, and they perform about as well as you'd expect. Sound quality in the high frequencies is excellent. Whether you like classical or country music, strings have plenty of shimmer and clarity. Moving down to the middle range, vocals are equally clear. They don't get muddied up by the bass or distorted by the treble. The bass is also nice and clear. However, the punchiness is limited by the size of the drivers. Depending on your tastes, you might not get as much bass as you like. But it's definitely present.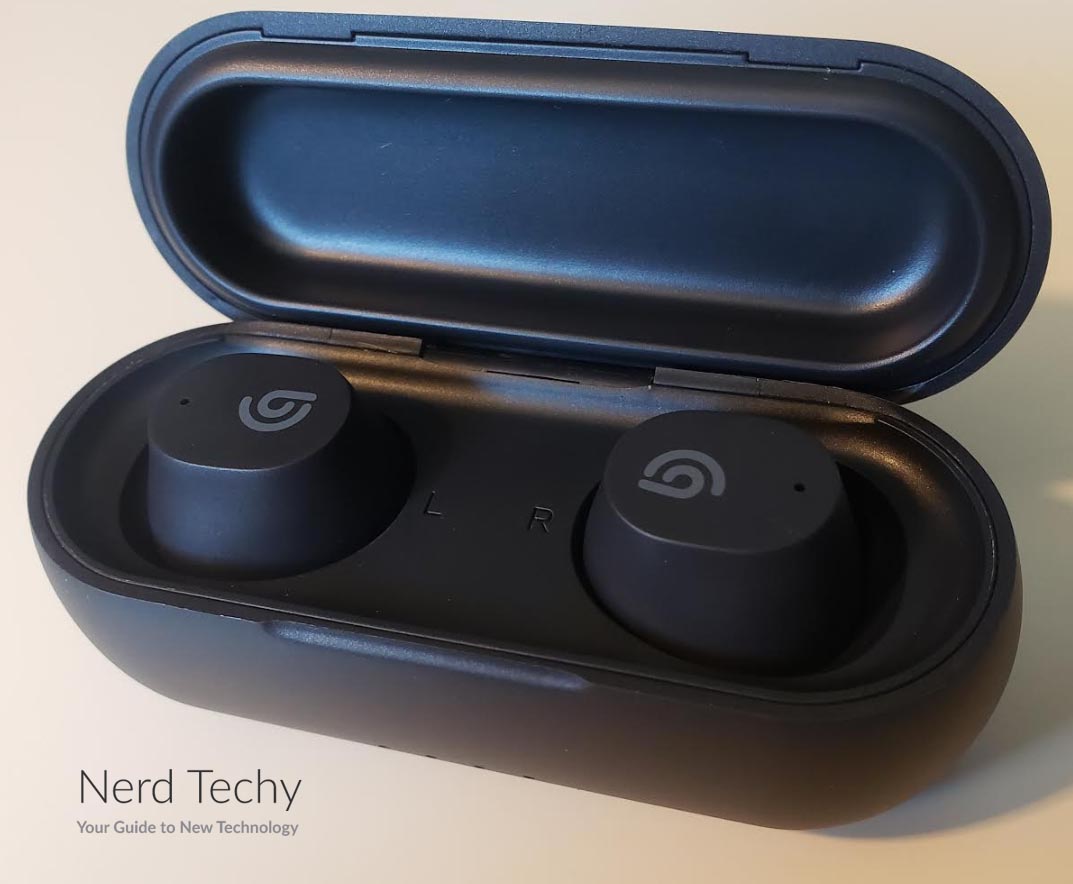 One aspect where the SiFi II excels is when it comes to the soundstage. A lot of smaller earbuds have a cramped, compressed sound, without a lot of separation between instruments. With the SiFi II buds, you get excellent separation and a sense of space. In this regard, it's an excellent choice for audiophiles who want a good bargain.
In addition, the SiFi II buds are excellent for hands-free calling. There are two dedicated mics on each earbud, and they offer DSP noise cancellation. This effectively eliminates background noise from your conversations, so the other person can hear you clearly. As with any hands-free calling system, how well you hear the other person will depend on their mic and technology.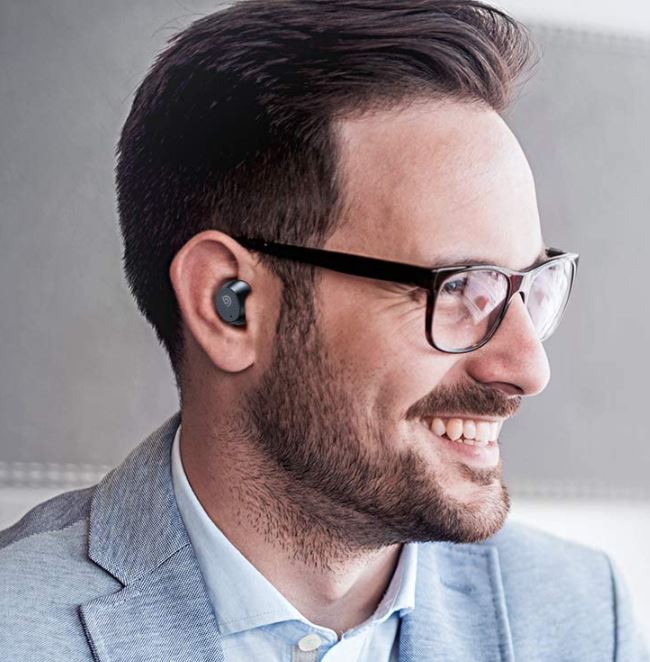 Final Verdict
So, should you use the Bomaker SiFi II Wireless Earbuds? Let's start with the physical design. You're looking at some compact buds that sport a comfortable fit. They're a great choice for most people, whether or not you have sensitive ear canals. Not only that, but the case is stylish and portable. Even though it's only a cosmetic feature, we appreciated the cobalt blue case option. And the IPX7 water resistance means you can wear these buds anywhere.
When it comes to battery life, the SiFi II buds also perform remarkably well. 7 hours per charge is very long, and you won't do much better regardless of your manufacturer. The total charge of 30 hours, including the case, is right in line with industry standards. No issues there. Sound quality is a bit of a mixed bag. The bass is a bit underwhelming. But if you don't need powerful bass, you'll love the wide soundstage and crisp clarity of other frequencies. For hands-free calling, you get very good performance. This is a quality pair of buds.