What kind of differences are there between a pair of 1080p projectors? Well, there can actually be a pretty big difference. Because when it comes to projecting images, far more matters to your experience than resolution alone. You've got to think about brightness, contrast, and far more.
Since running a projector instead of a TV tends to be more complicated, picking a good projector a little more challenging as well. So how does the Vivibright f30 stack up against versus the Bomaker HD? It actually depends on exactly what you're looking for from your projector, and how much you're willing to spend for a better image.
VIVIBRIGHT f30
The Vivibright f30 is a full step above entry-level projectors. You could think of it as belonging to the bottom of the mid-shelf. That makes it a great target for people who are out for quality, but are still looking for a higher degree of value from their projector.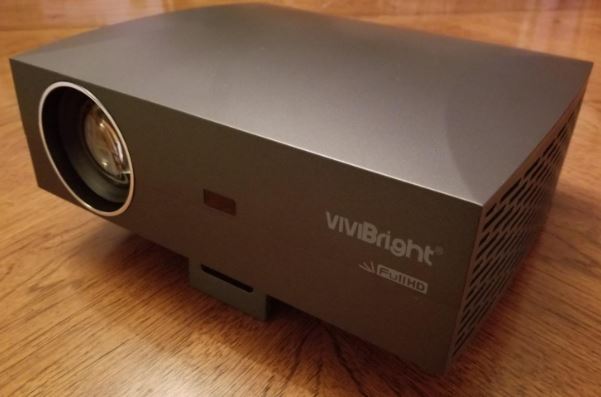 Because even though a million different projectors claim to deliver 1080p resolution, the f30 actually does it. It's not merely capable of playing 1080p content, the native resolution is 1080p, which is actually quite impressive for a machine around this price.
Since this is an entertainment projector, there are real reasons why you wouldn't want to use it for some kind of business environment. And you wouldn't want to use it for an environment where you expected the projector to have to remain online 24-hours per day. But outside of those kinds of extremes, the f30 will certainly have a lot of fans.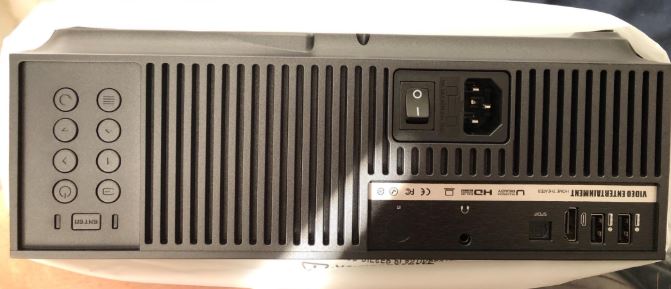 Design & Layout
Projectors all tend to look pretty similar. They're a bit like television in that regard. On the outside of the f30's chassis, you'll find some punctuated air holes designed to create better airflow across the guts of the device. The outer edge hides away two separate scroll wheels, one that can be used to manually adjust the focus, and one that can be used for keystone correction. And when you're using the keystone correction, you can move around +/-15 degrees.
The f30 measures 11.6 x 9.6 x 3.5 inches, which is about normal for a full sized projector like this one. The weight of about 6lbs is also pretty ordinary, allowing it to be lightweight enough to be mounted for ceiling projection without running into any issues. And if it comes to moving the projector around by hand, it's actually pretty portable.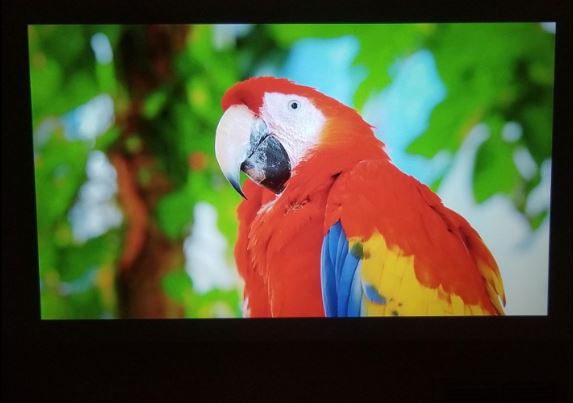 Visual Presentation
The VIVIBRIGHT f30 1080p projector operates with a native resolution of 1920×1080, more commonly known as full HD. It's intended to be a consumer-class video presentation, largely aimed at presenting movies. As such, the brightness of the LED bulb reaches a peak of 4200 lumens. You could use it for a home theater environment, sure. But you could also use it on smaller commercial environments.
On the backside of the f30, you'll find an HDMI input, two USB ports, and an SPDIF interface for audio. Between all those inputs, you'll have no trouble connecting this thing up alongside laptops, game consoles, Roku, Apple TV, Blu-ray players, cable boxes, digital cameras, Amazon Fire, Chromecast, and so forth. Virtually anything you might want to connect is possible to connect, even your smartphone or tablet.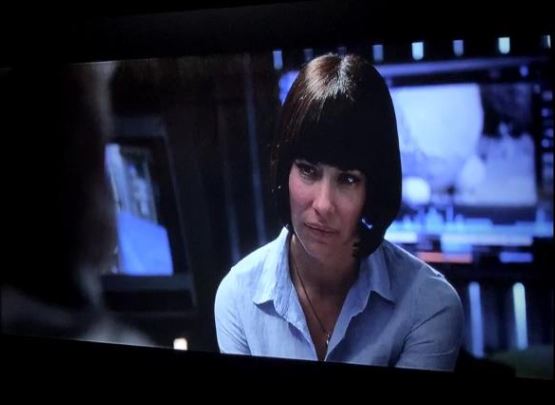 Adjacent to the power input, you'll find a power switch. Along the backside, you'll find a total of eight analogue buttons that can be used to navigate the projectors options. These buttons are reasonably well labeled. For instance, you won't struggle to identify the power button, and you won't have a hard time trying to figure out what the arrow keys are there to help you do.
But it may be worth noting these buttons aren't illuminated, and in the dark it can actually be pretty tough to make-out what each button is. Because you don't actually touch the projector that often, this means you probably won't get super-familiar with the layout of the controls that quickly, and if you tried to operate it in a darker environment, you're going to encounter a tough time.
With respect to maximum presentation size, the screen can be stretched to a maximum size of 180 inches. Far larger than virtually every television out there. Of course, since this is as native 1080p projector, you're not actually going to get the best image quality from your display when you're running the screen at the maximum size.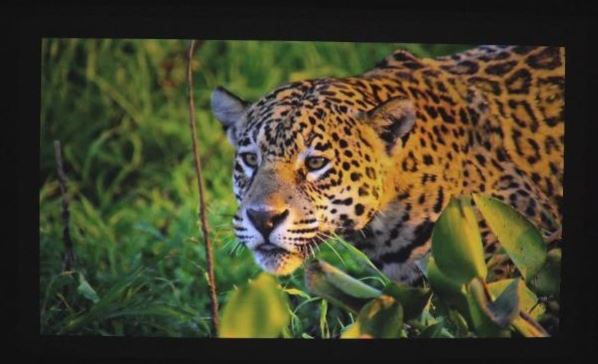 You're really going to end up with the best visual performance if you're trying to project a screen that's a bit more TV-sized. Sure, you can take your screen out towards 180", but in doing so, you're effectively lowering the viewing resolution down to something closer to 480p.
Other Considerations
The f30 includes the projector, a remote control, power cable, and a user manual. Basically, all you need to get started. And with the aid of high-powered and high-efficiency LEDs, you're able to get around 50,000 hours of total lifespan from the f30. That's about twice as long as you'll find from most LEDs, with respect to their longevity.
BOMAKER HD Projector
Some people really do anticipate playing their content outdoors on giant 200" screens. Other people are just trying to setup a smaller scale presentation on the wall in their home, replacing a large television. If you belong to the latter group, then you probably won't need a projector that's quite as powerful as the f30. But you might, depending on your performance expectations.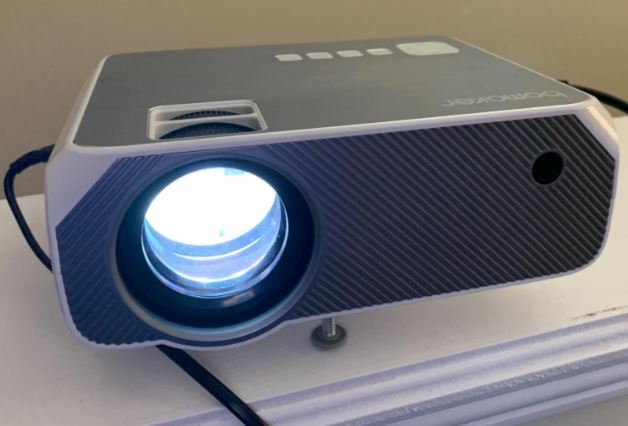 Design & Layout
Quite similar to the f30, Bomaker's projector measures 8.66 x 6.69 x 3.54 inches, and it weighs around five pounds. That's a little bit smaller and lighter than average full-sized projectors, but not by much. The onboard audio is also quite passable, at least relative to projectors. But you'd really need to round-out this thing with a soundbar if you wanted to create a true home theater experience.
Turning to the backside, you'll find inputs for HDMI, VGA, USB, AV, and Micro SD ports. There's also a headphone port. That's basically everything you might look for from a projector like this, though it would've been nice if they had included a redundant USB port for people who will end up having the included port permanently occupied by a Fire TV stick or similar device. But when you're working with projectors that are closer to entry-level equipment, that's the kind of sacrifice that you have to make to save a couple of bucks.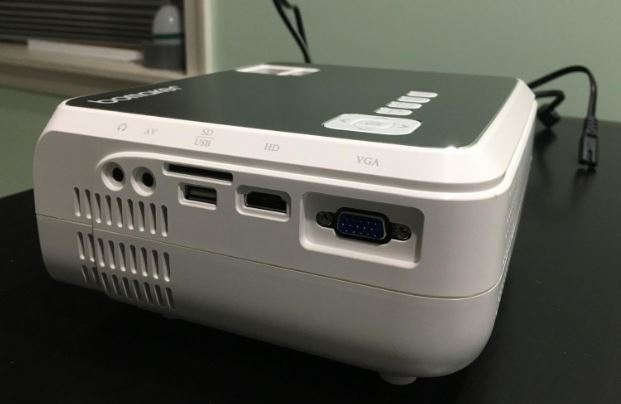 At least aesthetically, the Bomaker actually looks much nicer than the f30. The top is covered with a brushed aluminum plate that feels smooth, is fairly protective, and serves as an excellent highlight for the buttons which are onboard the top side of the projector. Those buttons include a standard set of control arrows, a menu button, a power button, some power management settings, and so forth. You won't need an instruction manual to get started.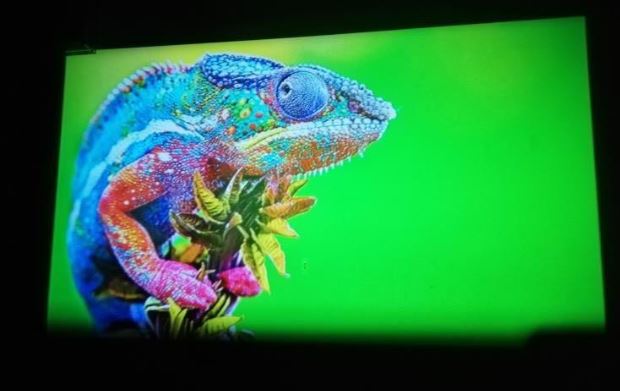 Visual Presentation
Visually speaking, the native resolution for the BOMAKER HD Projector is actually 720p. By now, people have a general idea of the difference between 1080p and 720p televisions. The difference is essentially the same when it comes to projectors. However, when you're working with larger screen sizes, it's actually much more difficult to appreciate the difference between the two.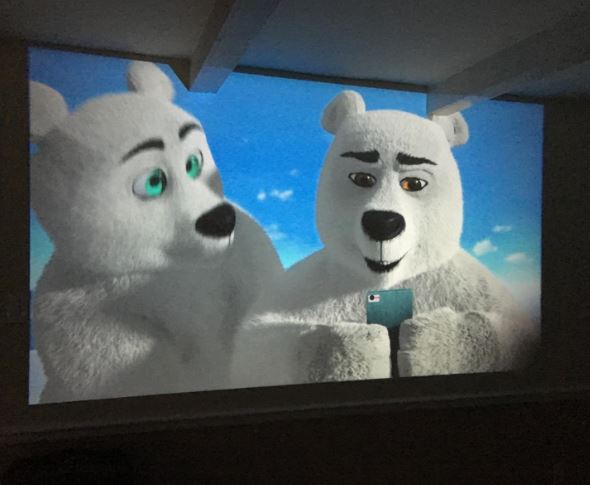 Speaking of larger screen sizes, the maximum display size stretches out to a fairly astounding 250". That's largely possibly because this projector is also pretty bright, operating at 3600 lux when running at highest output settings. That brightness is what allows it to deliver a 2000:1 contrast ratio. That's basically one solid step ahead of your typical entry-level projector.
The recommended throw distance is around six feet for a 70" display. But as you start to reach the upper limits of that 250" range, you need to need darker and darker rooms to really facilitate the presentation. Consequently, you'd really be better off keeping this screen down towards the 150" range to really make the most of what this projector can do.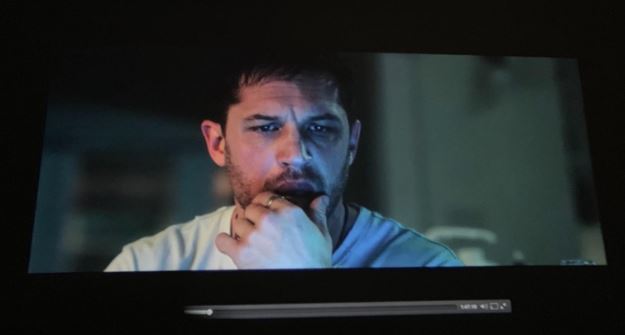 Other Considerations
The Bomaker HD is capable of connecting with game consoles, Chromecast, Amazon Fire, and so forth. Basically all of the same sort of things which you can connect to the Vivibright f30. But in addition to the projector, the Bomaker includes a carrying bag, and a 3-year warranty.
Choosing Between the VIVIBRIGHT f30 vs Bomaker HD Projector
These two projectors are aimed at slightly different audiences. That's pretty clear in a number of different aspects of their design. For instance, the Bomaker makes wider use of legacy ports, including a VGA port and headphone port. By contrast, the f30 is only using modern ports, like its dual USB connectivity. Both can end up connecting with essentially the same types of devices, but small differences can make a big difference down the road.
In both cases, you'll be better off supplementing the onboard sound of these projectors. But the Vivibright f30 provides you with more options for doing that due to its optical audio inputs. By contrast, the Bomaker really only gives you the bare essentials for audio expandability options. Bomaker's onboard audio is also marginally worse than the f30's.
How about their visual presentation? Well, Bomaker can support larger screen sizes. When you're using smaller screens, you'll end up with a higher contrast ratio. For people who really want their screen to reach out towards 250", it's a great choice. However, the images you're going to end up with aren't quite as crisp and clear as with the Vivibright f30. That's because the f30 is a proper 1080p projector, and the Bomaker HD is only running 720p. Still, with respect to their brightness, both projectors are pretty close. The f30 is only marginally ahead.
Finally, when it comes to their portability, both projectors are actually pretty comparable. They're nearly the same size and weight, and both allow you to get a good grip along the edges while carrying them. However, only the Bomaker includes its own nylon carrying case. And with its slightly smaller size, it's pretty clear Bomaker is the more portable of the two.
That makes the Bomaker a good choice for someone looking for an inexpensive HD projector that's a step above the 480p that's so common at this price range, or a person who's looking for decent portability from their unit. Conversely, the f30 would be a better choice for someone who's looking for higher visual quality, especially at higher screen sizes.
Meet Derek, "TechGuru," a 34-year-old technology enthusiast with a deep passion for tech innovations. With extensive experience, he specializes in gaming hardware and software, and has expertise in gadgets, custom PCs, and audio.
Besides writing about tech and reviewing new products, Derek enjoys traveling, hiking, and photography. Committed to keeping up with the latest industry trends, he aims to guide readers in making informed tech decisions.