Picking a monitor that has an expanded color space can be tricky. Because not everybody needs to work in the exact same color spaces, not everybody needs to run the same color gamut. Different developers have different needs – and nobody wants to pay for features they don't actually use. Especially when those features can be so expensive, as is so often the case with monitors aimed at artists.
ASUS ProArt PA34VC 34″ Curved Monitor
For a variety of creative developers and content creators, managing screen real estate is an essential aspect of maintaining smooth workflow. You could be working on multiple monitors, or you could be using one large display. But in either case, you need your windows and programs efficiently placed to keep things running optimally, which can be trickier for certain types of work.
If the ProArt branding didn't give it away, the PA34VC was very clearly designed with professionals and creative types in mind. It was given a range of technical specs which make it optimal for CAD, video editing, and professional photographers. Even coders could find a couple of things to like, though the ProArt PA34VC may have too many color features to be a pragmatic choice for someone who was strictly interested in workspace advantages.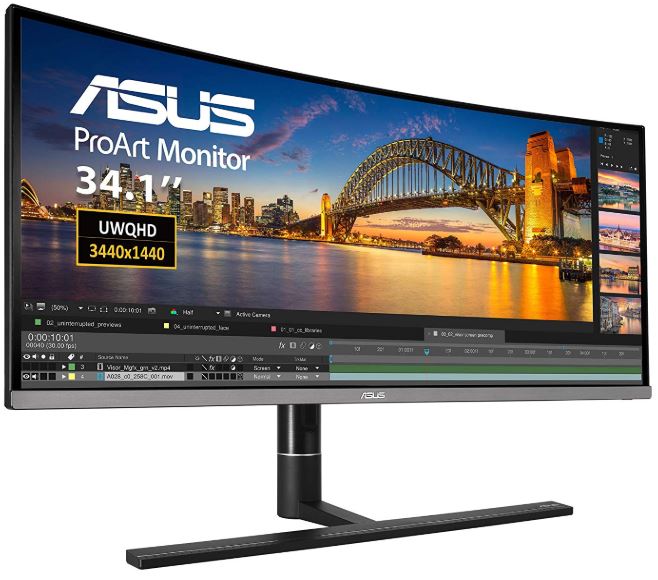 One more thing this monitor offers is curvature. Typically, these types of art-oriented panels aren't made with curvature. Rather, curves are usually given to entertainment monitors, in the interests of maintaining on-screen immersion. But a lot of people are becoming accustomed to how pleasant and engaging curvature looks, so it's not too surprising to see it work its way onto these types of panels.
Design & Layout
The PA34VC measures roughly 38.6 x 23.1 inches, and weighs just shy of 40lbs with the stand attached. The panel itself is also quite thin, not extending much beyond the 2" mark. Like most ASUS monitors these days, it has a razor thin bezel.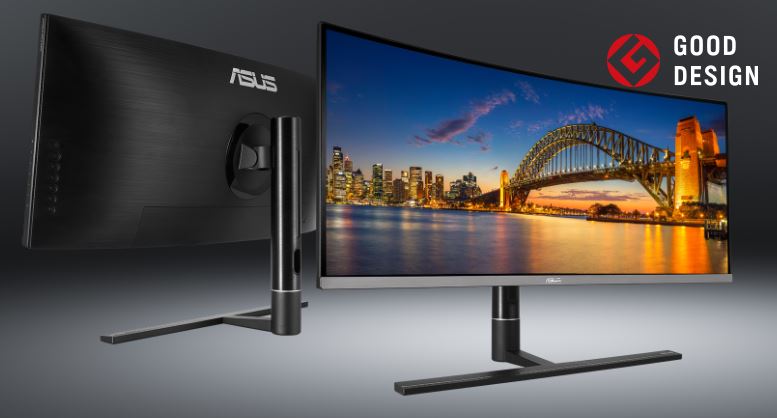 Actually, the PA34VC uses two separate kinds of bezels on the display. The first is the physical plastic bezel, which is terribly small. The second is a small glass bezel that's nearly invisibly seated behind the plastic. It's not distracting, but it's something that you can notice while running an application in full screen. At least, if you're looking for it.
Even when it's turned off, the PA34VC itself is actually pretty impressive looking. The display rests atop a T-shaped monitor stand, which allows you to adjust the visibility of your screen in a number of different ways. For starters, there's a pretty good range of height adjustment. There's also full tilting and swiveling to accommodate better viewing angles. That includes tilting between -5 degrees and 23 degrees, and swiveling 30 degrees in either direction.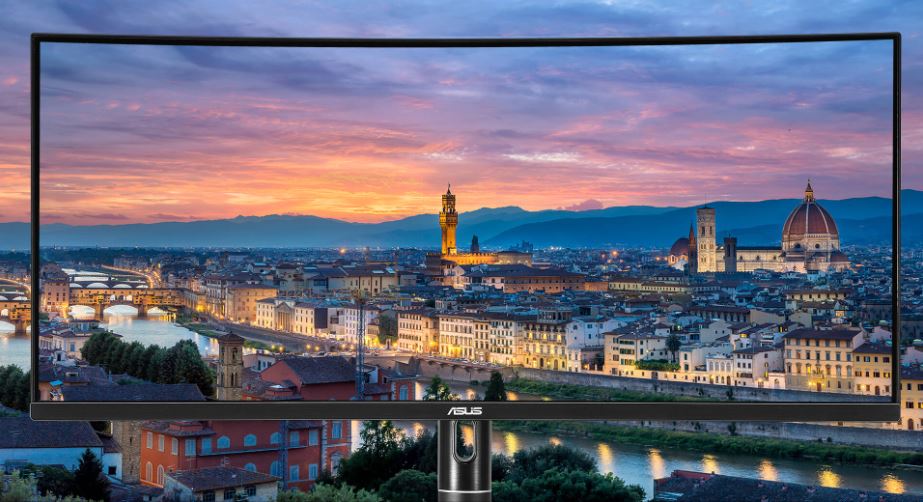 Notably, the height adjustment is only 4.5 inches, which is a little narrow. But that's not totally unexpected for a widescreen like this – if you wanted to have a greater degree of height adjustment, you'd need to start thinking about using an independently mounted monitor arm.
One noteworthy limitation is that you cannot rotate the screen at all – so portrait orientations are off the table, so to speak. That limit exists because of the curvature of the display. If you were to invert it into a portrait mode, the curvature would be modestly counterproductive. So the lack of full rotation isn't something to be concerned over.
Though there is one small thing to be concerned over. One problem with the stand is that the display is prone to slightly wobbling. The monitor isn't really at any risk of being knocked over, but the wobble could be annoying to some users, depending on the stability of their desk. Again, the included stand can be detached, so if you want to move the monitor to a monitor arm, that's possible.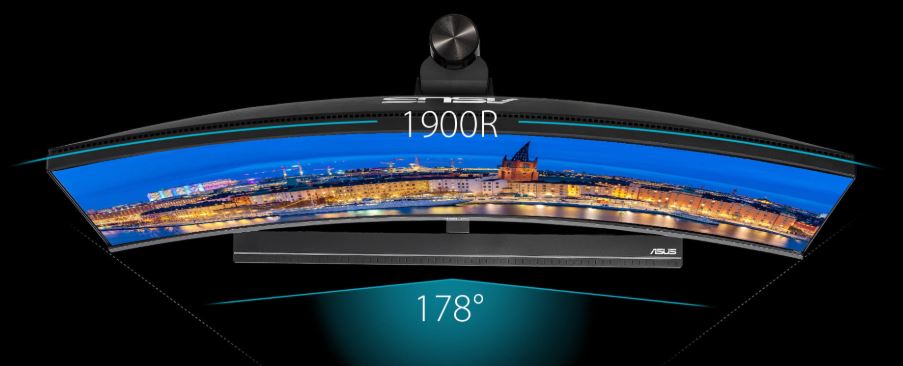 Visual Performance
The PA34VC features a 3340 x 1440 resolution, along with a standard aspect ratio running at 21:9. Joined with 34" of physical space, that's more than enough screen real estate to shove multiple programs and windows onto your screen.
The PA34VC is an ultrawide monitor. For someone who hasn't used one before, it can take a moment to get used to using it. The curvature measures 1900R, which is a nice gentle curve intended to offers a wide 178 degree viewing angle. The curvature looks great, and should be easiest to appreciate when the viewer is sitting within four feet of the panel.
Apart from the basics, this monitor was also made with HDR support, alongside 100% sRGB color gamut. For people who need professional color accuracy on their monitor, that's a big step in the right direction. You'll find Delta E color accuracy measured at less than 2.0, making this display quite optimal for people who need true to life color representation.
Technically speaking, some kinds of photo editors and video editors might want to get their hands on a color gamut that is wider than what this screen can offer. Some developers need to be able to access color gamut settings outside of the standard sRGB spectrum. For example, another panel I recently reviewed, the BenQ PD3220U, has support for virtually all types of color gamut. And it allows developers to freely move between them, or even use an alternating color gamut on different portions of your screen.
But not everybody needs those kinds of options. For touching up content, doing work in CAD, and other jobs that don't require insane attention to detail for color, panels like the PA34VC are more than adequate. They don't have the fullest possible range of color settings, but the onscreen display can still give you some wiggle room for adjustment.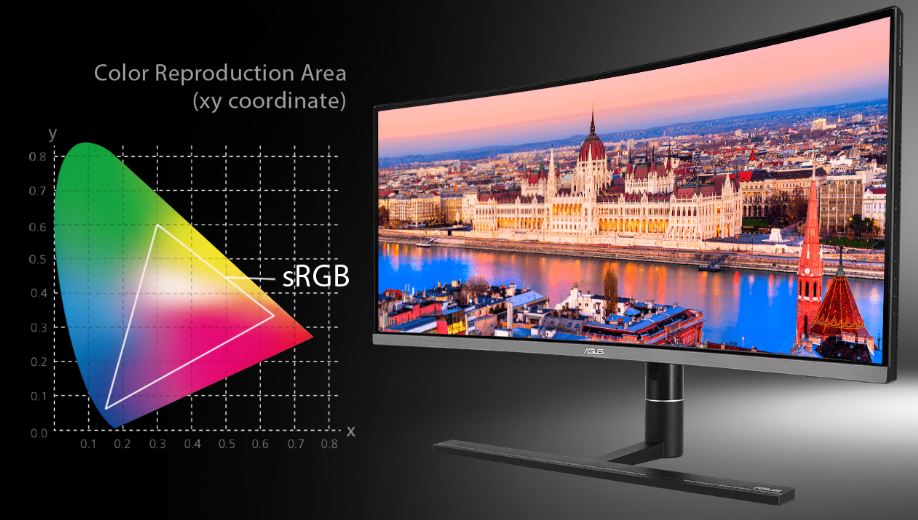 Port Options
For input options, the PA34VC allows you to make use of a pair of two HDMI 2.0b ports, a single DisplayPort, and a pair of two Thunderbolt 3 ports. Though only one of those Thunderbolt ports is for input, and one is for output, that's still everything you might need from a ProArt panel like this one.
That layout allows you to use two input sources at the same time. Similar to changing the input source on a television, you can either move between those inputs with a keyboard macro, or you can run both inputs simultaneously using a picture in picture mode. If you decide to split the screen down the middle, it's further possible to apply a variety of picture settings to the separate sources while viewing both at the same time.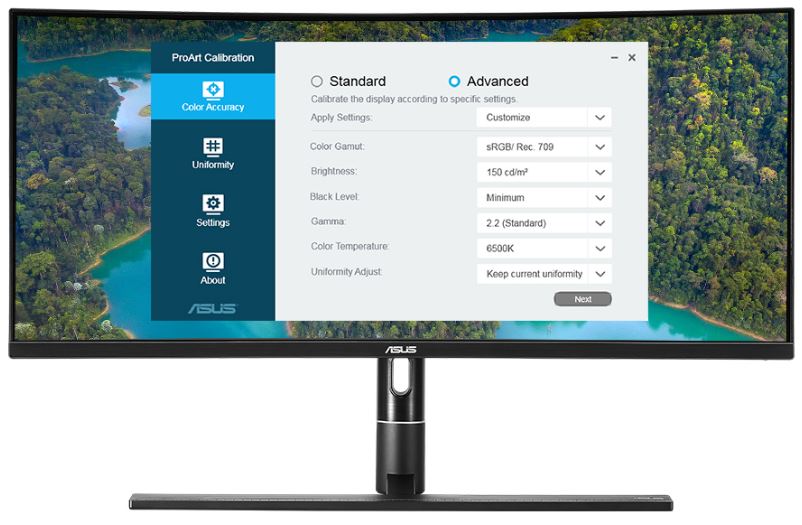 That way, the two halves of your screens can be running on different settings. For example, suppose you were a game streamer. You could have one computer dedicated to handling the stream, and a separate computer dedicated to handling the game you were playing. And then you could run all of your streaming and gaming applications through a single screen, even though you had a separate machine to split the workload. That's part of what makes the ProArt PA34VC a great alternative to having two separate monitors.
You'll also find three USB 3.0 Type-A ports to connect with your other devices, as well as a 3.5mm headset port. These ports given a downward position, such that cables running away from the screen aren't required to bend or dangle awkwardly. And towards the backside of the panel, you'll find analogue buttons along with a tiny joystick. These can be used to manage the onscreen display… but it can take trial and error to learn how to press the right buttons and navigate the menus.
Other Considerations
Like many screens have these days, ASUS has included a blue light filter mode that can be used to help accommodate reductions in eye strain related to blue light. That's much more convenient than having to wear a pair of blue light blocking glasses, though it will affect the color and presentation of your screen.
Technically, this isn't a gaming monitor. But seeing as how it might be used for the occasional game, it would be worth noting a couple of things. First off, you'll find the PA34VC supports adaptive sync. But it also supports refresh rates out to 100Hz. That means even though this isn't billed as a gaming monitor, it comes quite close to performing as well as one.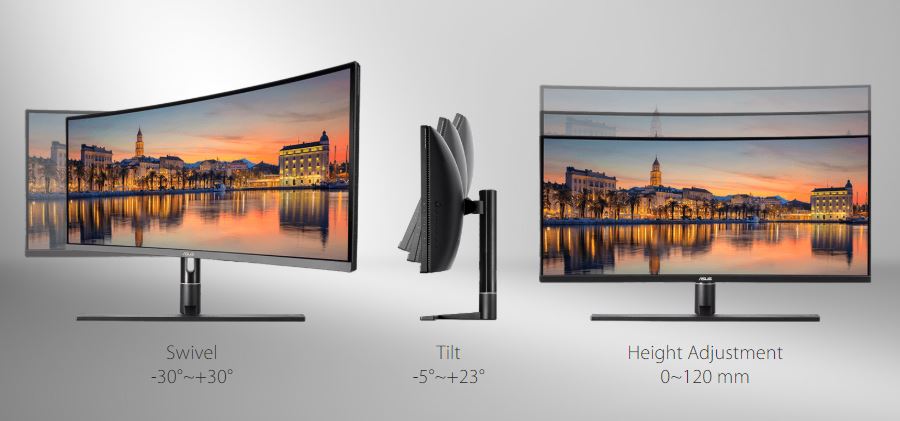 Conversely, some older games do not have support for widescreen aspect ratios. That means that they may end up looking odd when stretched out, or it means you'll get black bars on the ends of your screen to accommodate the difference. It's often possible to find mods to help make old games work better on widescreen displays, but not always. For people who play a lot of older games, that's something to keep in mind. But keep in mind, that's a problem with the widescreen format, rather than being a problem with the PA34VC more specifically.
Who Should Choose the ASUS ProArt PA34VC 34″ Monitor?
The PA34VC could be a decently strong selection for a variety of different professional users who require a large screen that's adaptable to a wide variety of different programs. For video editing or working in CAD, the PA34VC will be great. The attention to color accuracy is respectable, and should be able to accommodate many people who require a wider color gamut for their work.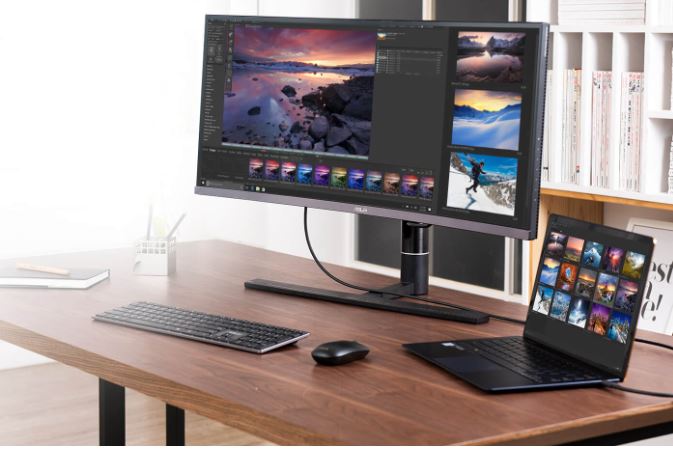 However, the supported color gamut may not be up to snuff for people who need the largest possible color space they can get their hands on. Assuming you don't need to operate in the Adobe color space, that shouldn't be a big issue.
The ASUS ProArt PA34VC provides a pretty good degree of flexibility, too. You can use picture in picture modes, and you can adjust the different sides of your screen to different settings as needed. Even turning away from its professional capacities, this screen can effectively double as a solid gaming monitor.
Though if gaming were your only interest, you could find a screen more suitable for you and end up spending far less. Because this screen was really designed for professionals first and foremost. For people who plan on using their screen for a professional capacity, the PA34VC is likely worth giving a shot.
Meet Derek, "TechGuru," a 34-year-old technology enthusiast with a deep passion for tech innovations. With extensive experience, he specializes in gaming hardware and software, and has expertise in gadgets, custom PCs, and audio.
Besides writing about tech and reviewing new products, Derek enjoys traveling, hiking, and photography. Committed to keeping up with the latest industry trends, he aims to guide readers in making informed tech decisions.