Choosing a business-grade printer is slightly tougher than picking a printer for your home. Apart from general performance capabilities, you also need concern yourself with security issues, throughput, and possibly even the approachability of the machine to multiple users. Thankfully, as you start to fill in those blanks with a better understanding of what you need from a printer, it can get much easier to choose.
Rather recently, Canon released a new pair of Color imageCLASS printers: the MF644Cdw and the MF743Cdw. Though these machines look a bit like twins, there's actually a good bit of difference between them. And that difference is almost obvious in their naming scheme. The 743 series is going to have a little bit more power and oomph, and the 644 series is a similar machine with just a little bit less muscle.
Canon Color imageCLASS MF644Cdw & MF743Cdw
The Canon Color imageCLASS MF644Cdw & MF743Cdw are pretty high throughput machines. But like there are differences in strength between two bodybuilders, there are differences in strength between powerful print devices like the MF644Cdw and the MF743Cdw. Appearances aside, there's actually a considerable range of difference in their general capacity and speed.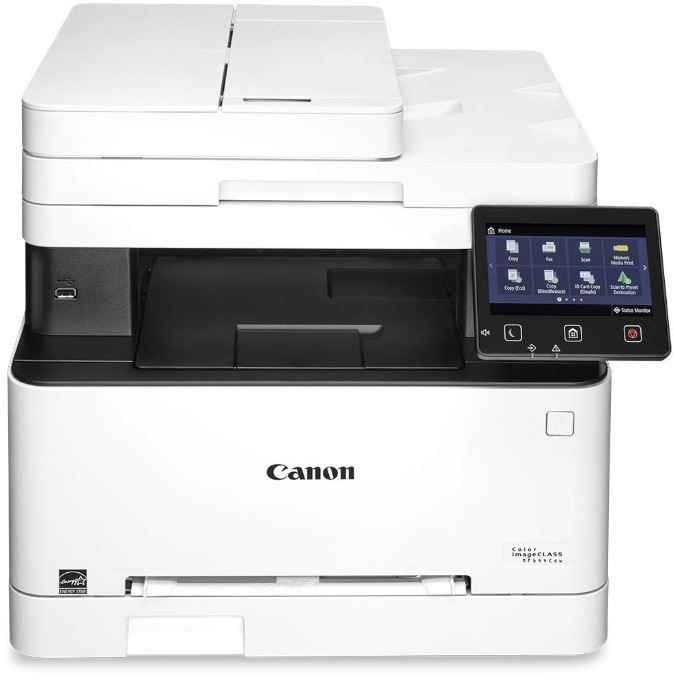 Design & Layout
Of course, sharing a similar appearance also tells you a great deal about how much these devices share in common. You actually have to look pretty carefully to find there are more than a couple of minute differences. For instance, the MF644Cdw measures 16.6 x 17 x 16.6 inches, while the MF743Cdw measures a slightly larger 18.5 x 17.2 x 18.1 inches. The slight physical difference is mostly due to both machines having different carrying capacity for paper.
Consequently, there's actually a significant difference between these two when it comes to their weight. The MF743Cdw is the heavier of the two, weighing nearly 70lbs. That's about 10lbs more than its counterpart, though in either case it's clear that you need a sturdy and accessible area to place these devices. Because anytime you're working with a printer that's more than 50lbs, you've got to be a lot more careful with choosing a good place for the machine.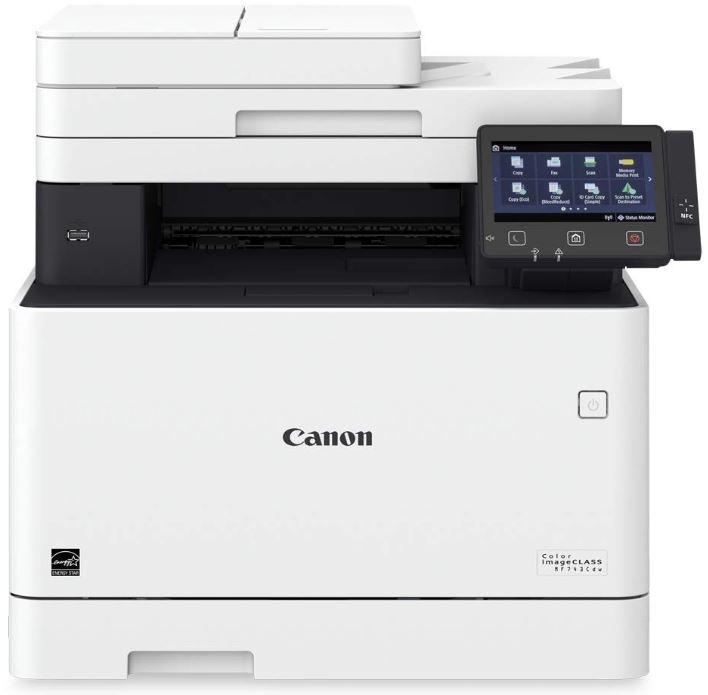 If you're not printing hundreds of consecutive pages, and you're not concerned with size, then you'll probably find that in more ways than not, the MF644Cdw and MF743Cdw are pretty similar. They've got a very similar design, very similar set of core features, and a similar purpose behind their set of features. For instance, both have wireless connectivity and one pass duplex scanning.
Ease of Use
In both cases, these machines make use of navigation is handed with a unique 5" color touchscreen. Plenty of printers are using touchscreens these days, but most of them are cramped around 2" or sometimes less. This screen is actually much closer to the size of a smartphone, which makes it possible to fit far more information onto the panel. Bigger screens can make for more productive users, but more than that, they're more of a pleasure to interact with.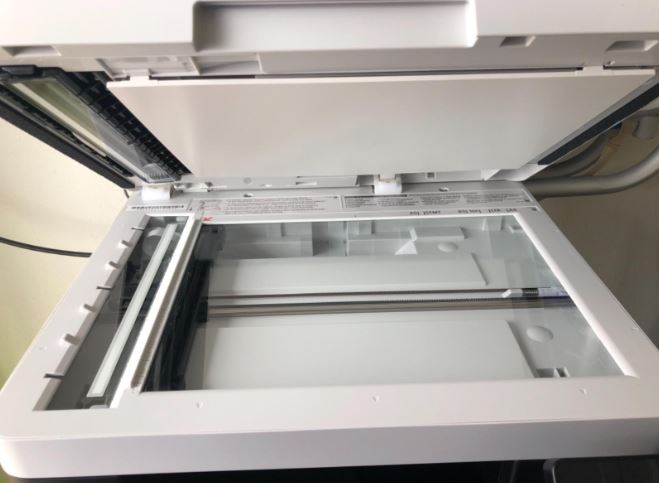 In terms of usability, the interface is very streamlined. The most common options are up towards the front, while more detailed and obscure options are hidden away behind more menus. Depending on what kind of features you use most often from your machine, these menus can be slightly reordered to better accommodate your organization. Even novices should be able to find their way through these menus, which really makes both of these devices approachable for multi-user interactions.
Connectivity & Added Features
When it comes to connectivity, even entry-level printers have been pretty good at offering lots of options for the past couple of years. But there's still a big difference between good and great connectivity. In this instance, it's worth noticing how a Wi-Fi Direct hotspot connection can be used to connect the printer and your mobile devices. That allows for wireless access without the need to connect to the printer across a network.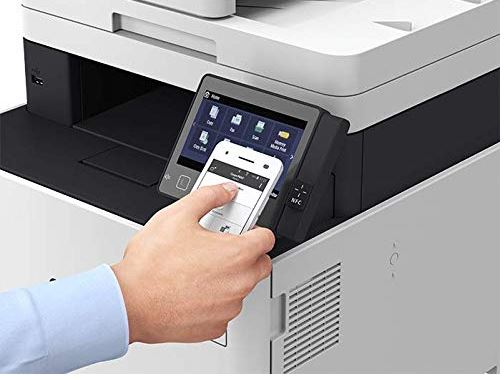 And there's a ton of different advantages to using Wi-Fi Direct. People who don't necessarily have strong connections, or any connections to wireless in the area where they want to print, Wi-Fi direct allows you to circumvent those issues. It means you don't actually need to get a router involved at all for your connection, which also has a number of implications for security.
Since these printers are actually closer to all-in-one style machines, they've also got some capabilities outside of printing. For instance, the scanner can convert documents into digital files, allowing you to go paperless or otherwise digitize your old data. That's pretty handy, and it's a feature you don't often see on consumer-grade machines.
Additionally, since there's a duplex document feeder, you can scan through documents at a higher rate than you could otherwise. That allows small print jobs to be completed within only a couple of seconds. And it means if you're undertaking a large project, like digitizing all your old hard data, then it means the project will have far more manageable time requirements.
In addition to being an effective scanner, these devices are capable of working as a copy machine and fax machine. There's not much to remark about the fax capacity, though it's worth noting that the copier is able to speed you along with the aid of automatic duplex copying. As a result, you should be able to get through many copy jobs with literally twice the speed of machines that lack duplex copying features.
Print Capacity
In a head to head comparison, you'll find the MF644Cdw has a slightly slower print speed than the 743. That's because it runs at 22ppm instead of the 28ppm of its rival. However, it's important to understand that these kinds of differences are tough to appreciate unless you're routinely seeing your printer go through dozens of pages every few minutes. That means you're printing not only many pages over the course of a day, but many print jobs are being done back to back, with great consistency.
However, the 743 series were designed to expect greater throughput than its counterpart. As a result, it has a maximum 850 sheet capacity that far exceeds the MF644Cdw's 250 sheet capacity. Of course, the difference there sounds much larger than it really is. Because when you're expecting to go through twice as much throughput, having twice as many pages really just means you're keeping pace.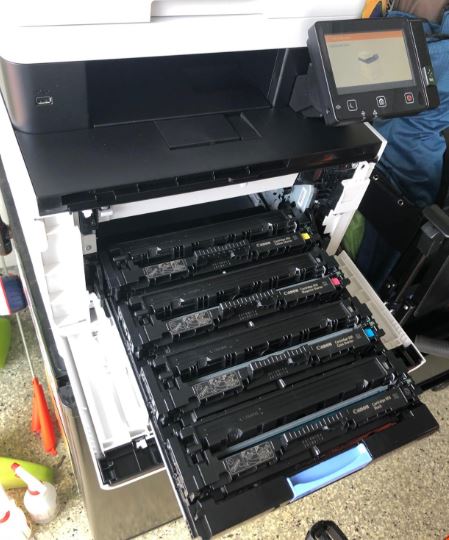 Speaking of throughput, it's worth noting that the MF743Cdw has nearly twice the print volume supported. While the MF64Cdw shouldn't exceed 2,500 pages per month, which is several times greater than you'll be able to pull from any home-printer device, the MF743Cdw ran safely run out to as many as 4,000 pages in the same period of time. In other words, you're looking at nearly twice the throughput. Considering the relative cost differences between these machines, that's actually very impressive.
With respect to their media handling, things also look pretty similar. Both of these machines support the same type of media, which includes common card stocks, business paper, and even most photo papers. It's only when you start trying to print super-massive sheets that you'll encounter some limitations, but those are pretty much common sense limits.
Other Considerations
Another thing that devices like the MF743Cdw are supposed to do for you is to help bring down the cost of printing in bulk. One of the ways they achieve that is with high capacity cartridges, designed specifically to help drop supply costs. Likewise, being able to print on both sides of a page can help drop paper consumption.
The more pages you can get from one cartridge, the less often you'll have to replace them. So the gains here aren't only with respect to money, but also with respect to the amount of time you have to micromanage your machines. Additionally, you can mitigate the risk of losing documents to theft because those documents are only stored inside the short term RAM on these devices. Security settings can also be adjusted behind the administrator login, if you require extra layers of security for your business data.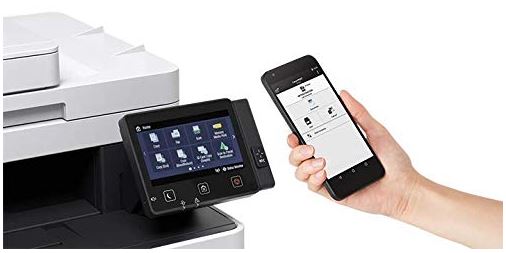 Even though HP probably has more name recognition in the printer space, Canon is actually one of the bigger printer manufacturers out there. Which means there's also an almost inherent degree of reliability behind their products, which is at least partially reflected in the included 3-year business warranty. It also means you have access to a range of robust Q&A information, including some pretty handy video tutorials that demonstrate how to change toner and so forth.
Picking Between the MF743Cdw or MF743Cdw
Both the MF644Cdw & MF743Cdw have an all-in-one nature that allows them to serve as more than a mere printer. Both are designed to help you save the amount of time you spend interacting with the printer. The similarities go on and on. Both are physically very similar in size and weight. Both make use of the same full sized touchscreen, and so are pretty much equally intuitive to use.
Inside and outside, you'll find these machines are almost the same thing. As such, both Canon Color imageCLASS printers really have a lot to offer. Their differences are only appreciable when you start to look deeper, especially at their throughput options. For people who need higher speed and higher throughput, the MF743Cdw is going to end up being a better choice. It's got the fastest print speeds, the highest paper capacity, and a generally more robust design.
But speed isn't everything. If you're not expecting to churn out hundreds of pages every few minutes, then you won't be able to take advantage of everything the 743 series can offer. For people who don't need their pages to come out 20% faster, and don't need a super massive paper tray, and don't need a higher throughput ceiling, the MF644Cdw will still deliver everything you do need.