Not long ago, wireless earbuds were a punchline to a bad joke. Audio quality was hollow and tinny, and you could only listen in mono. But then, True Wireless Stereo (TWS) technology came around and changed the game. Apple released their AirPods, and made the iPhone 7 wireless-only, and people loved it. Suddenly, TWS earbuds were popping up everywhere, from big manufacturers and small ones alike. Of course, this has created issues of its own. With all these (relatively) new brands, how do you know what's any good?
It helps if you stick with a well-known manufacturer. SoundPEATS, for instance, has a long-standing record, and we'll be reviewing their Sonic Wireless Earbuds today. It also helps to look for earbuds with newer and better technology. For instance, there are multiple versions of Bluetooth. Earbuds can have similar drivers, and come from the same manufacturer. But if they have different versions of Bluetooth, they're going to function differently. Newer versions will be easier to connect, and will provide a more stable signal, among other benefits.
But all of this can get confusing for the average person. You see a list of supported audio codecs and some Bluetooth specs, and your eyes start to go hazy. To make things easier, let's break things down in everyday terms. We'll start by examining the Sonic Wireless Earbuds' design, from the form factor to the ear tips. Next, we'll discuss the battery performance, and how the Bluetooth 5.2 connection works. Finally, we'll talk about the audio quality and hands-free calling performance. Let's take a closer look, and see how the SoundPEATS Sonic Wireless Earbuds perform!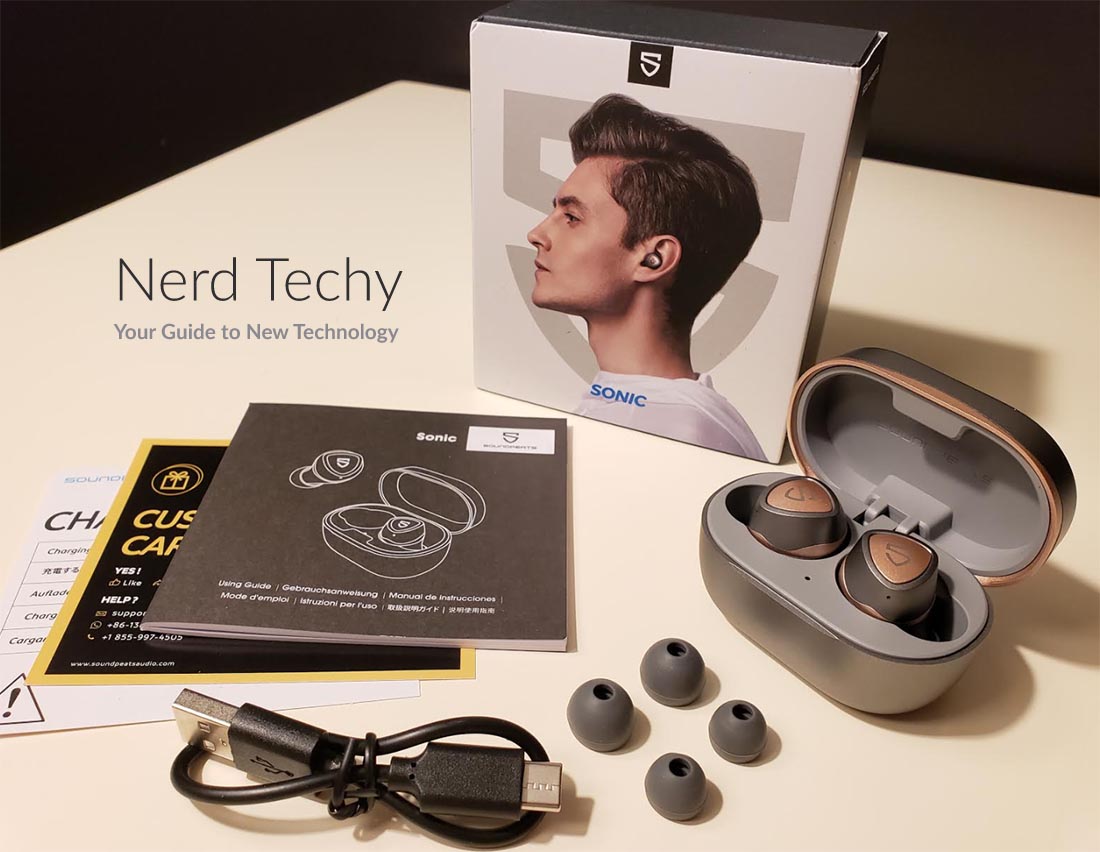 Overall Design
The SoundPEATS Sonic Wireless Earbuds have a compact, low-profile design that's to sit snugly inside your ears. This makes them very secure, so you don't have to worry about them falling out by accident. It also makes them smaller overall, allowing for a smaller carrying case. Of course, getting this snug fit depends on having a well-sealed set of ear tips. Thankfully, there are three additional sets of silicone tips included in the kit. They're all in different sizes, so there's a good fit for just about anybody. Find a pair that sits snugly in your ears and forms a good seal, without being uncomfortable.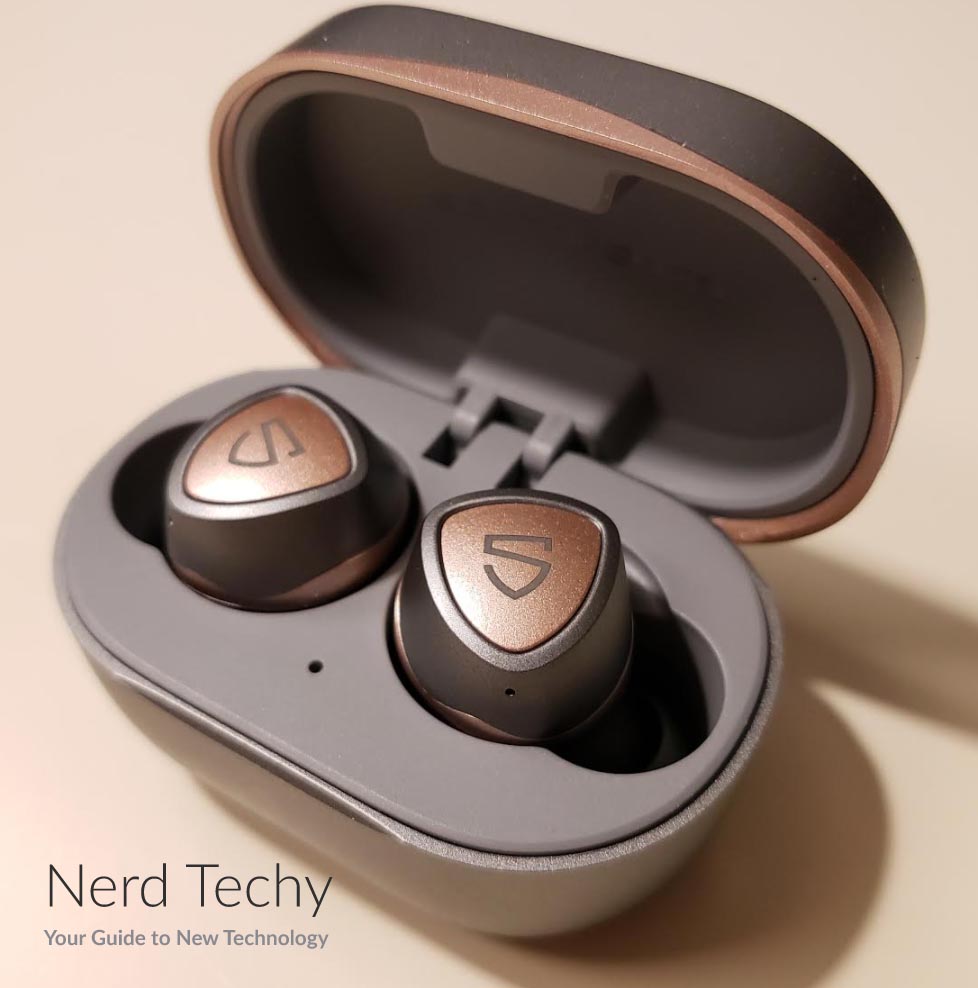 Another benefit of getting the right fit is that it provides some isolation from outside noise. This isn't quite as effective as active noise cancellation, but it works surprisingly well. On the other hand, some people find a flexible ear tip uncomfortable. In that case, an AirPod-style earbud with hard tips and a loose fit might be a better choice. For instance, consider the SoundPEATS Truebuds. These buds have a vertical design and solid tips, so they're very comfortable for most people. On the other hand, the battery life per charge is relatively limited.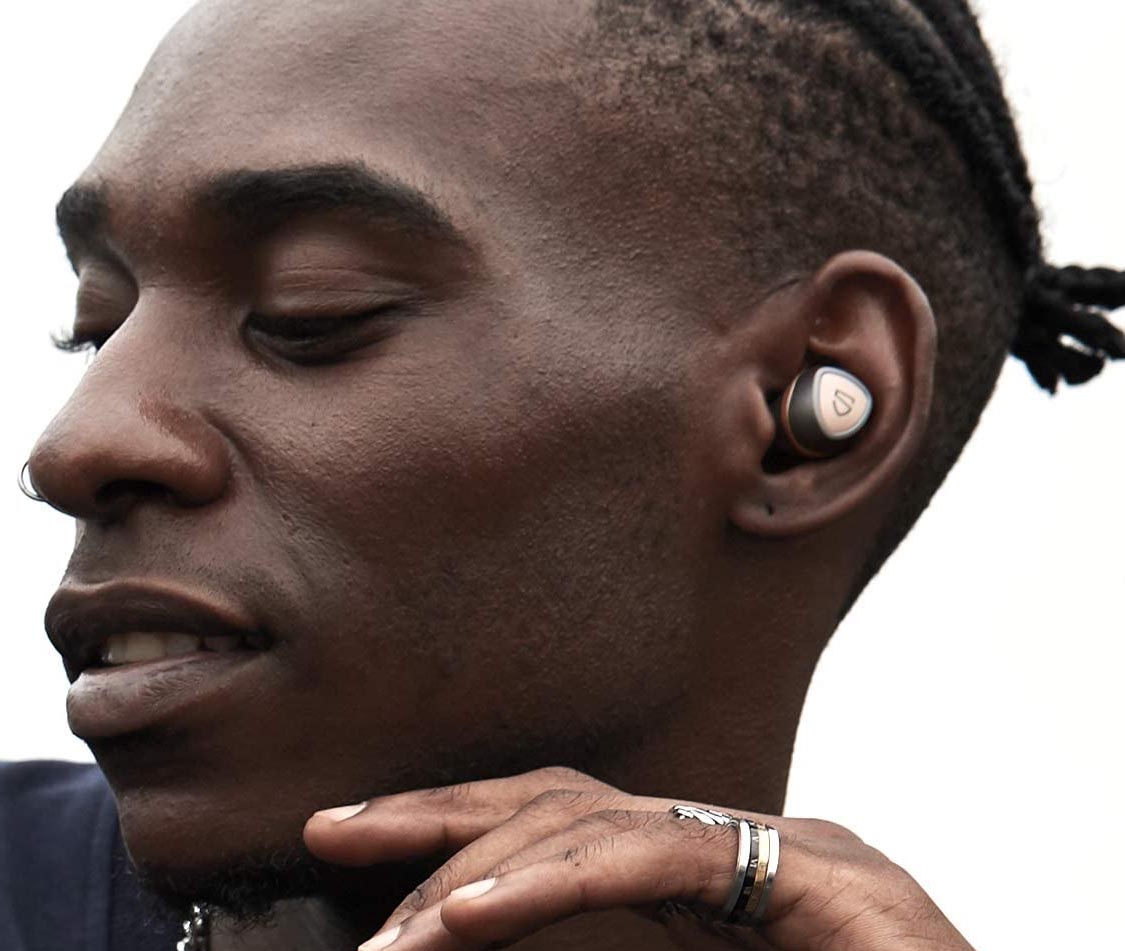 The earbud shells are constructed from charcoal-colored plastic, and taper to a narrow tip. At the back, there's a flat, rose silver panel that's shaped like a shield or a guitar pick. It sports an engraved SoundPEATS logo, and functions as a soft touch control. The soft touch design means the controls can easily be operated with comfort. You don't have to press hard; a soft push is enough. Using the controls, you can skip tracks, adjust the volume, play or pause your music, or take calls. You can even call up your phone's voice assistant.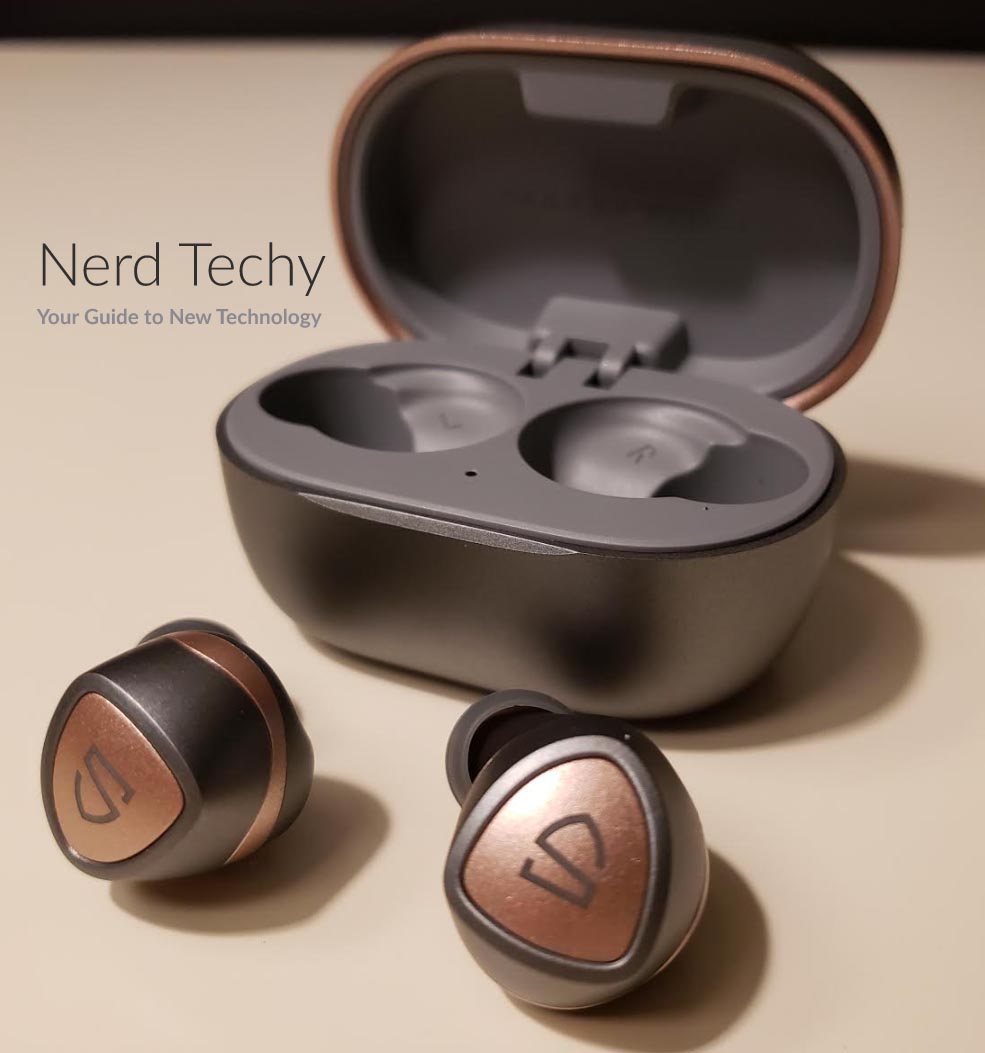 That said, a lot of these functions require double or triple-taps, which can get a bit twitchy. Sometimes, the buds will register a double tap as a single, for instance. If you're looking for better controls, read our review of the SoundPEATS Truengine 3 SE. They're very easy to operate, but the tips don't offer very good noise isolation.
The Sonic Wireless Earbuds have a water-resistance rating of IPX5. This means they're splash-resistant, and can even handle heavy rain. However, we wouldn't want to tempt fate by wearing them in the shower. Just set them aside to charge when you're cleaning off after your workout.
Like most wireless earbuds, the Sonic buds come with a carrying case that doubles as a charger. It has a grey housing that matches the earbud shells, with a silver interior that's molded to fit the earbuds. Under the lid, between the two earbud wells, there's an LED battery indicator that changes color. Depending on the battery level, it will light up green, yellow, or red when the case is opened.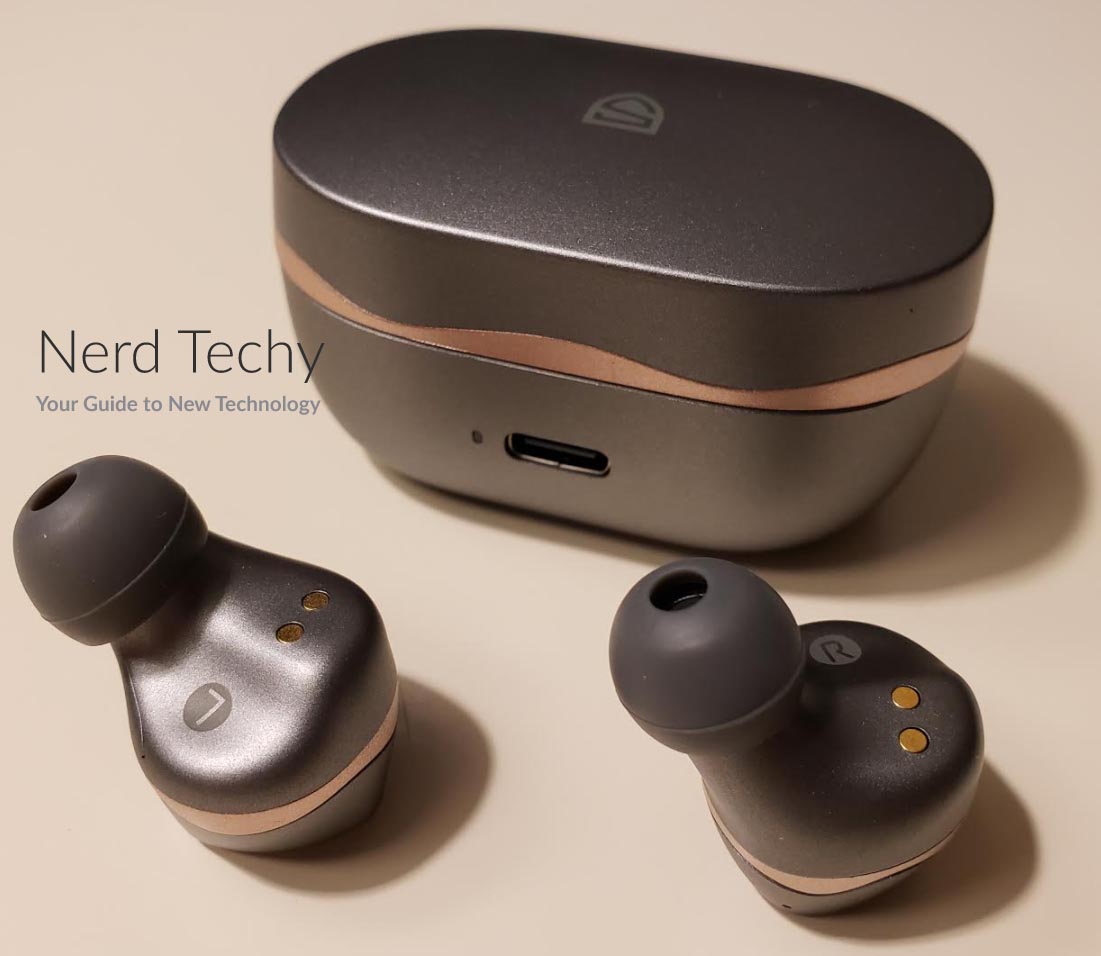 The clamshell-style lid is spring-loaded, so it won't pop open by accident. It's also rounded, just like the rest of the case, so it's comfortable to carry in your pocket. Beneath the hinge, on the back of the case, you'll find the USB Type-C charging port. There's a Type-C cable included in the package, so you've got everything you need to get started.
Battery and Connectivity
Each Sonic Wireless Earbud has enough battery life to last for up to 15 hours on a single charge. As with most such ratings, this is based on manufacturer testing, and testing is performed at medium volume. As a result, you won't get that kind of performance if you're listening at full blast. Anywhere from 10 to 12 hours is a more reasonable expectation. But even so, you're looking at the best wireless earbud batteries we've seen to date. Moreover, the charging case carries enough juice for two additional recharges, enough for 45 hours total. Recharging the earbuds takes only about 90 minutes, so it's quick and painless. Moreover, the case itself charges in about 90 minutes. You only have to plug in briefly every couple of weeks if you want to.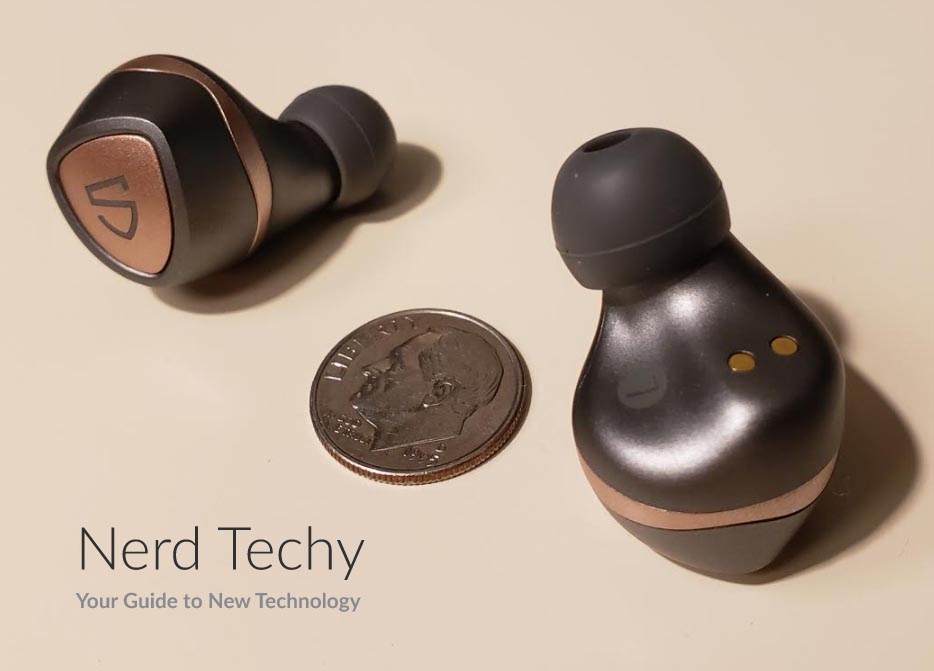 As they say, though, nothing is perfect. In the case of the Sonic Wireless Earbuds, they won't charge wirelessly. If you want a pair of buds with Qi wireless support, the SoundPEATS H1 are a solid choice. That said, they don't offer the same bass performance as the Sonic buds.
The Sonic Wireless Earbuds utilize the Bluetooth 5.2 wireless protocol. This is the latest upgrade to Bluetooth 5.0, and offers a couple of upgrades. First, it supports the LC3 codec. This is a new audio codec that provides higher audio quality than current codecs like SBC, even at lower bandwidths.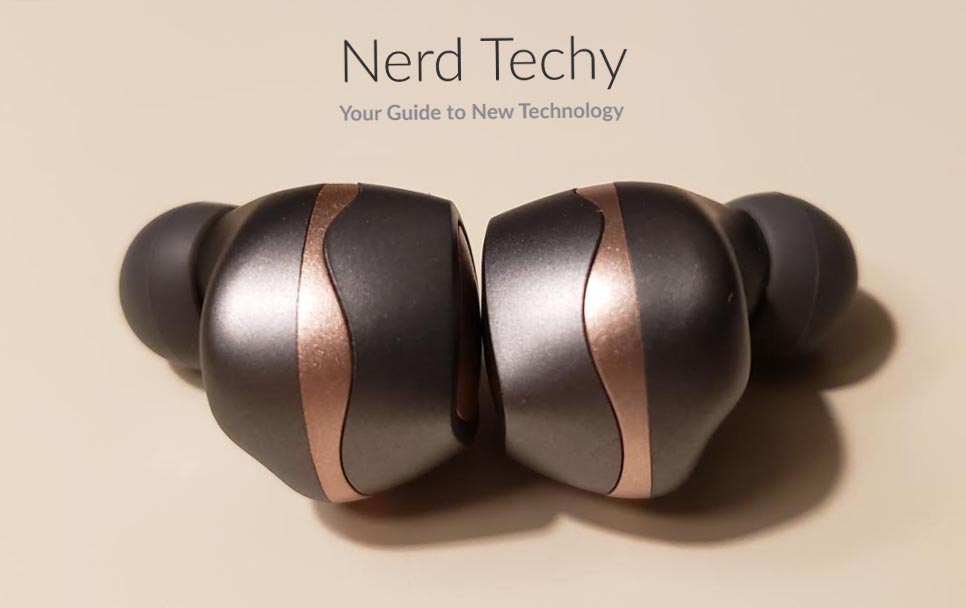 Bluetooth 5.2 also alters how TWS works. In an ordinary TWS system, both channels are sent to one earbud, which is the primary bud. The primary bud then forwards the second channel to the other earbud. The problem with this system is that it introduces some inevitable latency into the system. With Bluetooth 5.2, each earbud receives its own separate channel.
Keep in mind, though, that the Bluetooth 5.2 standard was only introduced this past May. This means that most devices don't support it yet, so you won't see the benefits right away. Not to worry. The Sonic Wireless Earbuds are compatible with all versions of Bluetooth back to 4.0. Pretty much any device that's still in service is going to work. And if you do have a brand new smartphone, you'll be able to take advantage of all the latest features.
Audio Quality
When most people ask how good a pair of earbuds is, they're talking about the sound quality. In this regard, the Sonic Wireless Earbuds do not disappoint. They offer rich audio across the sound spectrum, from the deepest bass to the lowest highs. They're not super heavy on the bass, but that's not what they're designed for. They're designed as a blank canvass for your own musical tastes. If your phone or MP3 player has an EQ setting, you can crank up the bass, and you'll hear the results. For fans of classical and other genres that rely on a more balanced EQ, you'll already have it.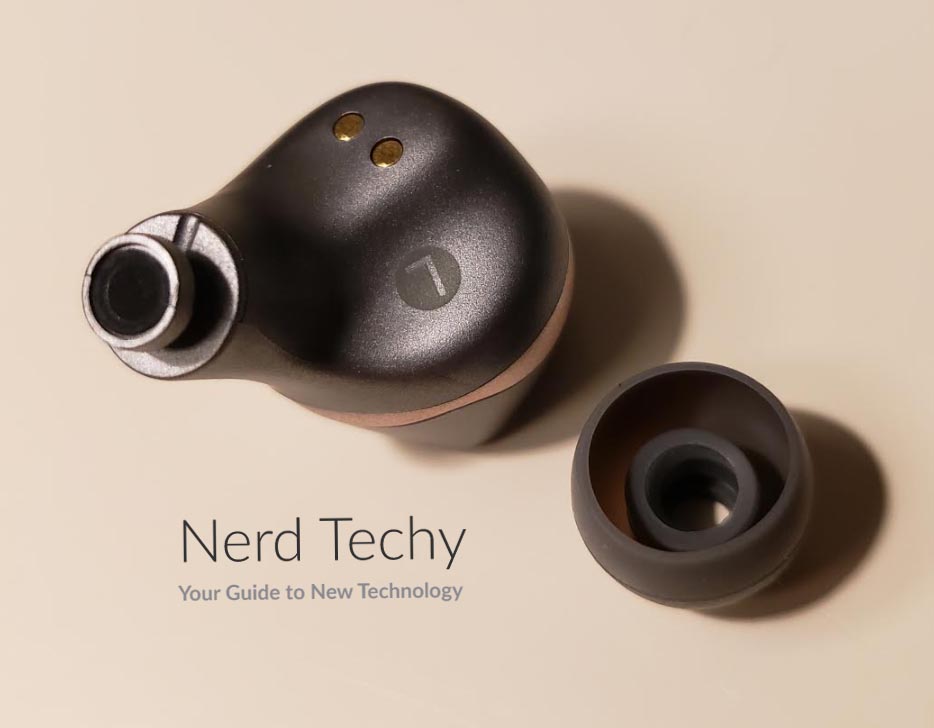 The soundstage of the Sonic earbuds is nice and wide. You get a real sense of space while you're listening, as if you're sitting in on a live performance. You'll also get very low latency, which means there's less delay in the audio signal. You won't notice this while you're listening to music. But for watching movies or gaming, the audio and video will be in better sync.
For normal use, the Sonic buds utilize the aptX adaptive protocol, which is already very fast. But they also have an optional gaming mode that can be turned on for even lower latency. In this mode, the audio quality may dip from time to time. Instead, the earbuds will prioritize speed at all costs. This gives you the best opportunity to react quickly to events in the game.
For hands-free calling, the Sonic Wireless Earbuds include CVC 8.0 technology. Using a proprietary Qualcomm chipset, the built-in mics hone in on your voice. They filter out background noise, so the person on the other end of the call can hear you clearly. How well you can hear them will depend more on their mics than on your own buds.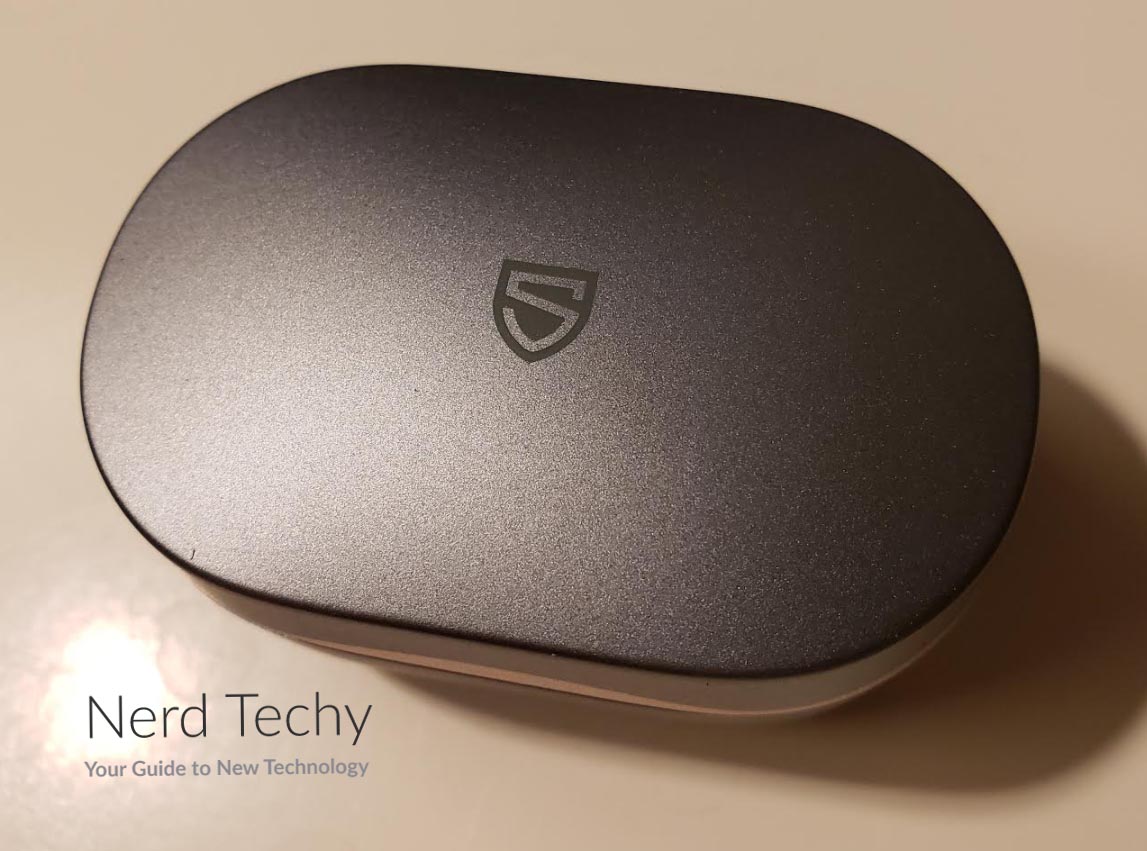 Final Verdict
As you can see, the SoundPEATS Sonic Wireless Earbuds provide a great value, especially for their moderate price. The audio quality is top notch, better than most comparably-priced buds. We most appreciated the richness of the bass. It isn't super-powerful, but it has plenty of texture and depth. Moreover, the low latency and the gaming mode offer excellent performance for more than just music. You can watch Netflix or play Call of Duty with the same buds you use for hands-free calling.
The downside here is the physical design itself. The buttons are a bit twitchy, and the IP rating is somewhat lacking. That said, you can't have everything, and SoundPEATS puts all your money into performance. In addition to top-tier sound, you also get the latest Bluetooth 5.2 wireless protocol. And the impressive battery life of up to 15 hours is quite literally the best in the industry.
Meet Derek, "TechGuru," a 34-year-old technology enthusiast with a deep passion for tech innovations. With extensive experience, he specializes in gaming hardware and software, and has expertise in gadgets, custom PCs, and audio.
Besides writing about tech and reviewing new products, Derek enjoys traveling, hiking, and photography. Committed to keeping up with the latest industry trends, he aims to guide readers in making informed tech decisions.