Quick Analysis
Pros
Supports 100w PD charging.
Supports up to triple 4K resolution depending on your computer.
Built-in Kensington lock slots.
Can prioritize different traffic types and devices.
Cons
Doesn't work with Mac or Android systems.
It used to be that USB connections were relatively straightforward. You plugged in a keyboard or mouse, and that was it. Maybe if you got really fancy, you plugged in an external hard drive. Nowadays, pretty much everything connects via USB. If your computer has external speakers, odds are pretty good they use a USB cable. Many people use two or three external hard drives. If you're a creative professional, you may have an SD card reader. And people from programmers to video editors use dual monitors to make their jobs easier.
For a desktop computer, this hasn't been much of an issue. Computers simply come with more USB ports, and you plug in all of your stuff. But if you prefer a laptop, having all those connections can be a pain. Every time you set up or leave for the day, you have to connect or disconnect a bunch of wires. A good docking station can make the process quick and painless.
But some docking stations are significantly better than others. You want one that's going to meet all your needs. If your favorite external hard drive won't work, or there's no HDMI port for your monitor, that's a problem. Today, we'll review one of the better docking stations on today's market, the Kensington SD4850P USB-C Dual-Video Docking Station. It's a heavy-duty Kensington device, and it's made for three-display setups. But how well does it perform for other applications? And does it transfer data as well as it prevents damage? We'll be taking a deep dive into all the SD4850P's features, benefits, and drawbacks. At that point, we'll sum up what we've learned, and render our final verdict. Let's get started!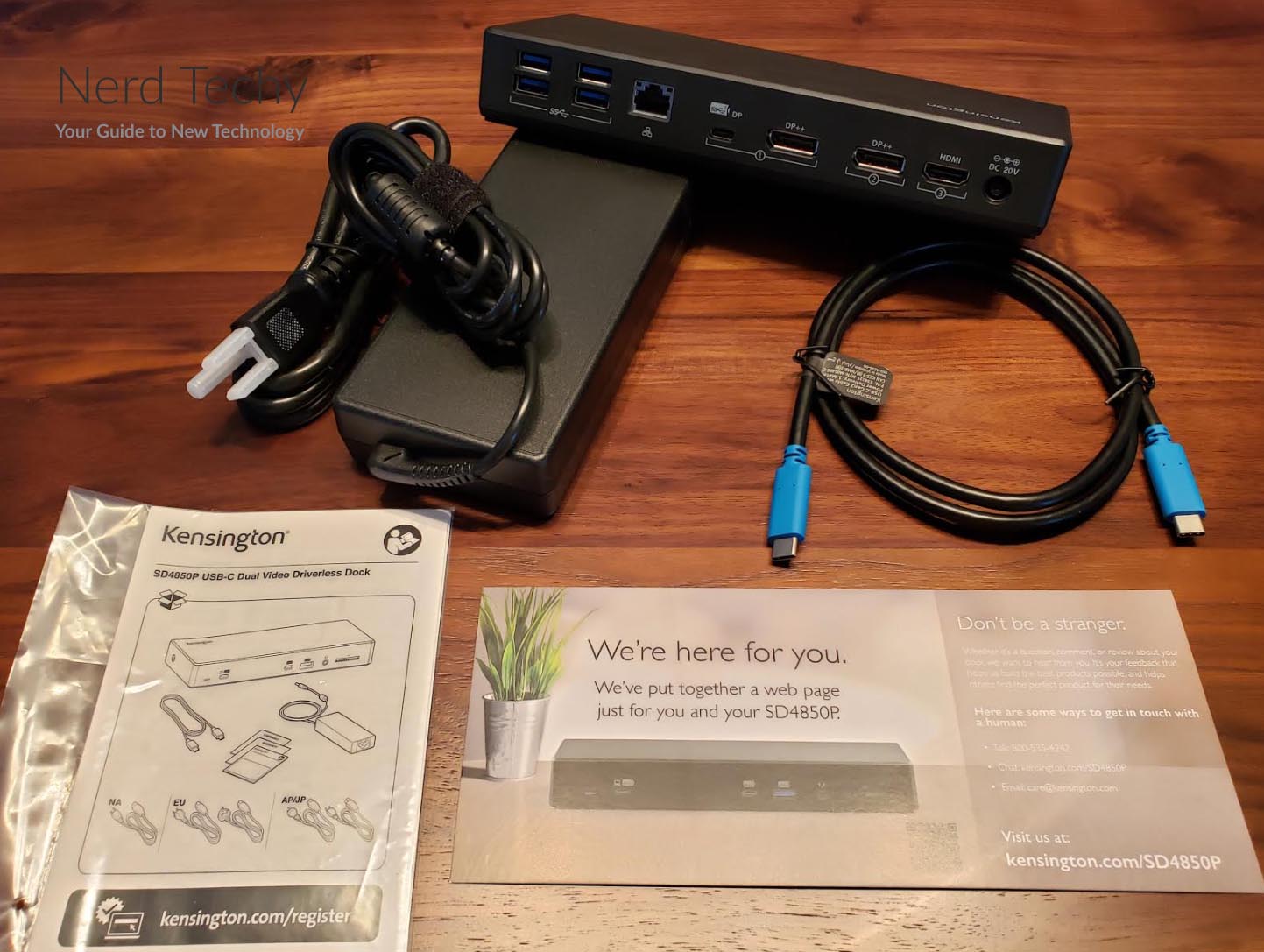 Overall Design
The first thing you'll notice about the SD4850P is that it's built like a brick. Depending on what you need, this can either be a good thing or a bad thing. On the one hand, the anodized aluminum housing is exceptionally durable. It can take much more of a beating than your average office equipment. It's built for frequent flyers, and for anyone else who regularly needs to take their gear on the go. Furthermore, a separate power supply helps to reduce the risk of overheating. By separating the heat-producing power unit from the rest of the casing, Kensington keeps things cool.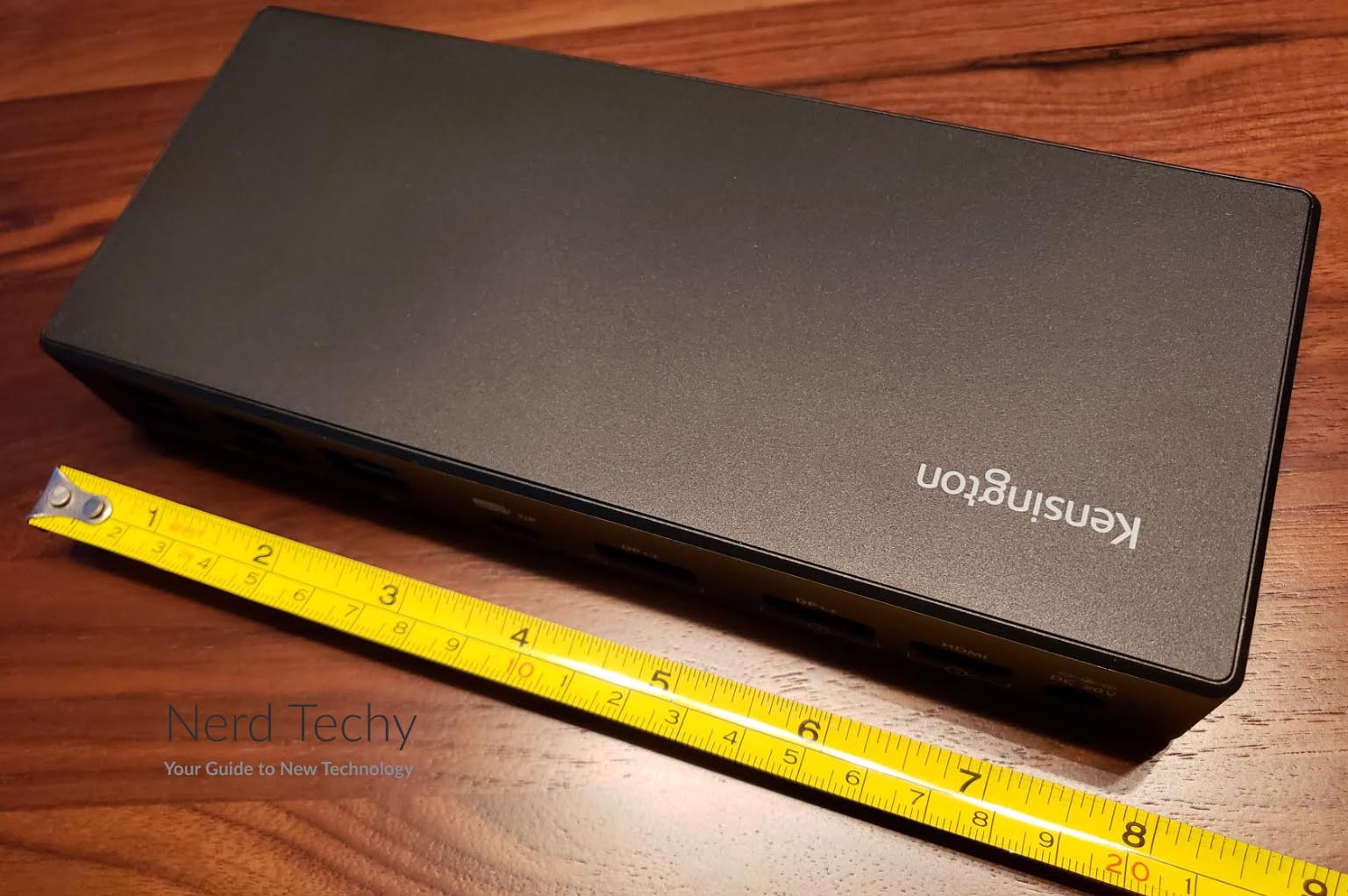 The downside here is that the power supply takes up more space as a separate unit. Both this and the docking station are small enough to hold in your hand and too big for pockets. In other words, you'll have to carry them in a bag regardless. Not only that, but the power unit is plastic, which cuts down weight by a tad. In addition to the power supply, there is also an AC cord and USB Type-C to Type-C cable in the kit.
The main unit itself has a sleek, attractive design, with a powder-coated matte finish. It has beveled edges and corners, which helps prevent jabbing or poking. On the top, there's a white Kensington imprint near one corner. Other than that, there are no decorations; the SD4850P is all business. The power button is found at one end, with the inputs and commonly-used ports on the front. Towards the left, there's the USB Type-C port. This is where you plug in your laptop, and there's an LED next door to let you know the port is active.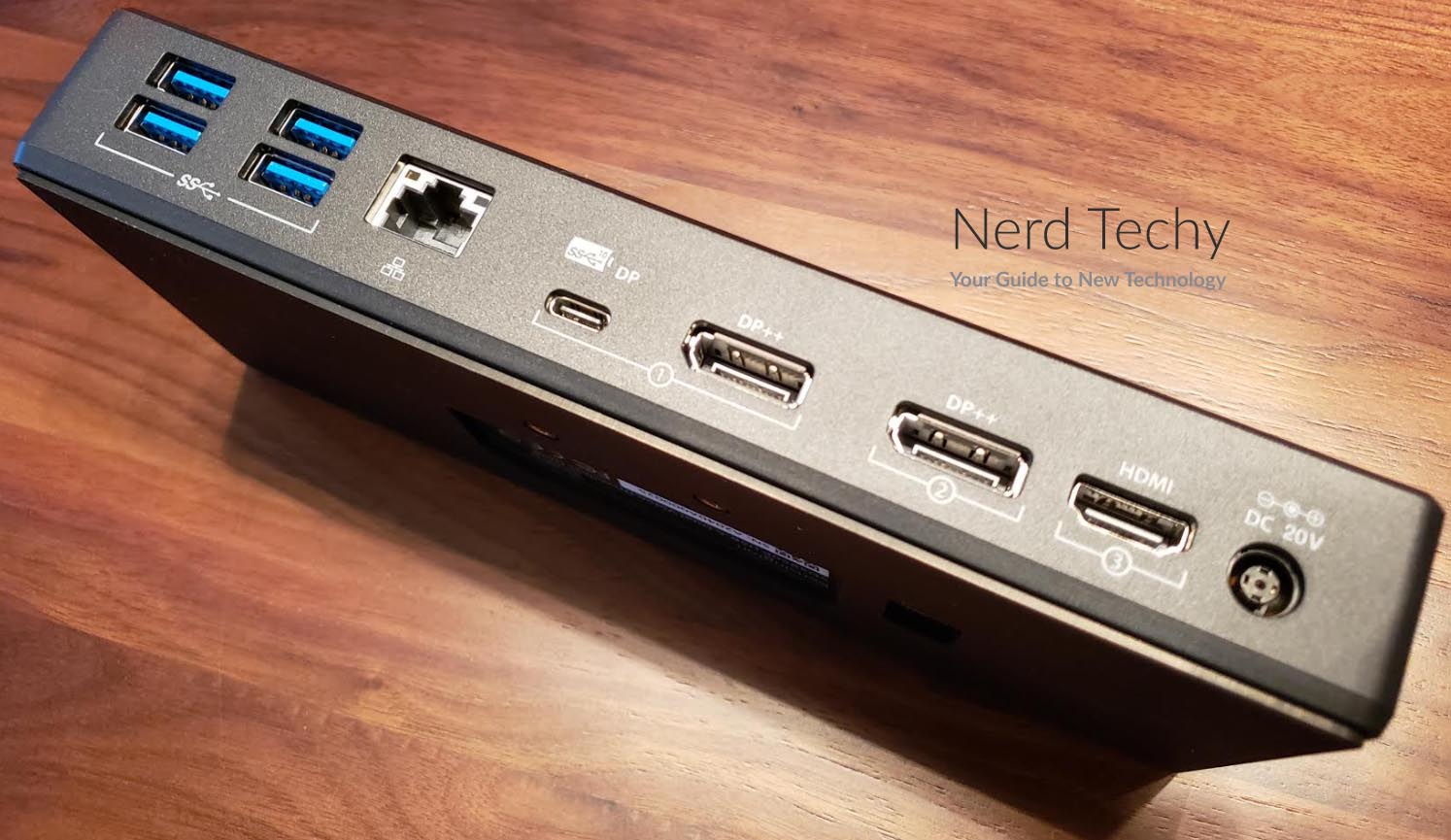 Next, there's a USB Type-C and Type-A QC port for connecting commonly-used devices. This makes it easy to plug in your thumb drives and other frequently-swapped peripherals. There's also an SD card slot for similar purposes. A 3.5mm aux port is also located on the front, so you can plug in headphones or external speakers.
On the back of the SD4850P, you'll find the rest of the ports for everyday use. There's the DC power input, which connects to the adapter. The rear location keeps it out of sight and out of mind if your docking station is staying put. Next, you'll see all the video ports. There's an HDMI port, a pair of Display Port ++ (DP++) ports, and a USB Type-C DisplayPort port. We'll discuss those in more detail in a minute. Next, there's an Ethernet port, which allows you to connect to the web. Finally, there's an array of four USB Type-A ports for attaching additional peripherals.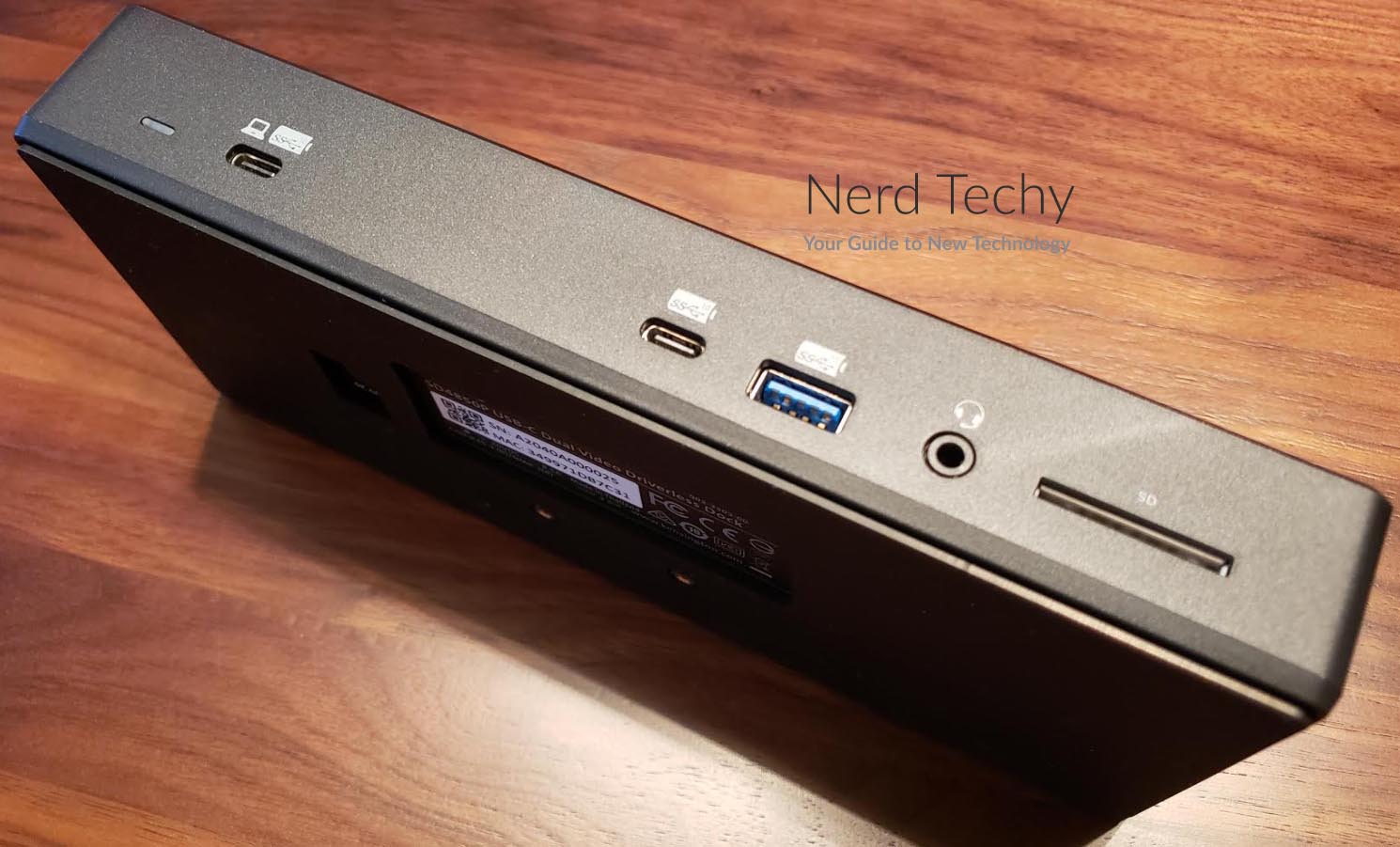 On the opposite end of the unit from the power button, you'll notice a pair of small slots. These are mounting points for the Kensington Security and Nano-Security lock sets. With one of those systems, you can attach a locking cable to your desk or even to your wall. That's probably overkill for a USB docking station, but it's worth considering if you work in a shared space. Similarly, the SD4850P can be mounted in a standard Kensington Docking Station Mounting Bracket. This can be clamped onto your desk for easy, discrete mounting underneath.
Of course, you might not want to mount your docking station. What if, instead, you want the docking station itself to be the mount for your tablet or laptop? In that case, the Kensington SD6000 is an excellent choice. It has an adjustable design, and the Microsoft Surface Go mounts inside. On the other hand, it's only really useful if you're using a Surface Go.
The SD4860P comes with a three-year manufacturer's warranty, among the best in the business. This will cover you from any defects in materials or workmanship. We should point out that Kensington's locking cables are also protected by the same warranty if you're locking up your SD4850P. However, you'll need to be careful to follow the manufacturer's installation instructions to the letter.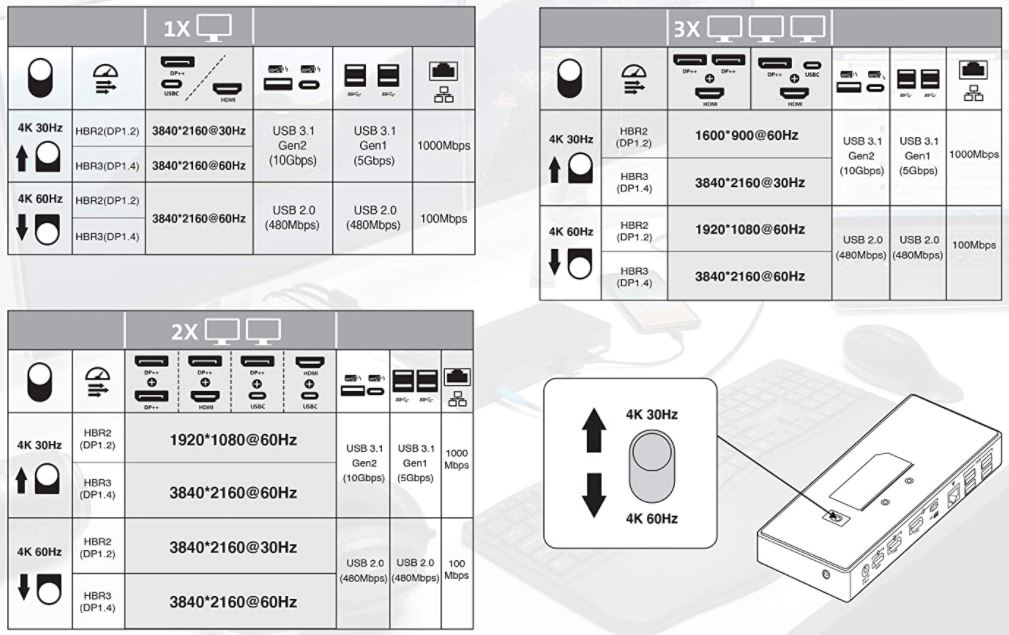 Setup and Ease of Use
The Kensington SD4850P is easy to install and set up. When plugging in your devices, the five USB Type-A ports supply up to 5V/3A of power. This is 15 watts, or the standard for USB Type-A 3.1. The USB Type-C port supplies the same wattage, and allows for the same speeds. The Type-C port for your PC is a 100-watt PD port, so it's sufficient for even the largest modern laptops. Data speeds on all the USB ports can be up to 10Gbps, the maximum for modern USB 3.1. You won't have any issues running modern external hard drives at maximum read/write speed.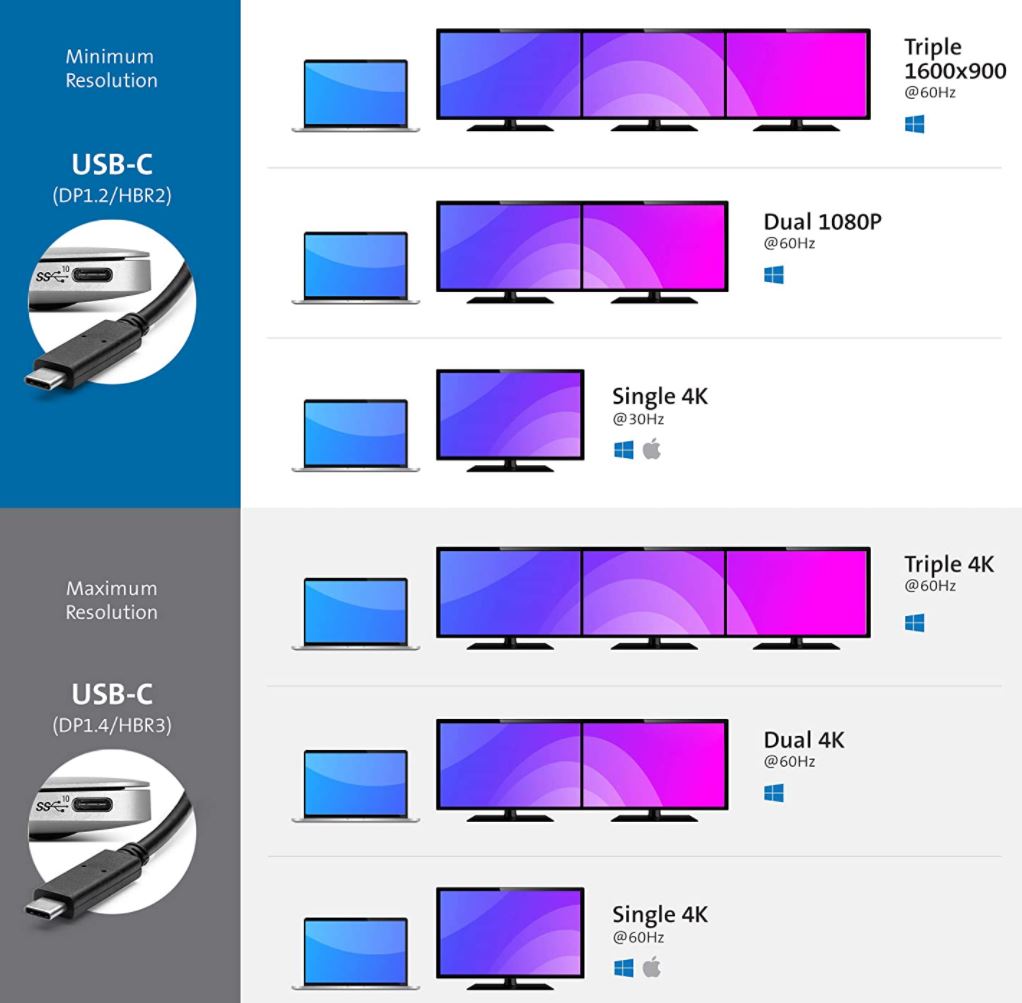 The DP++ ports and HDMI port are straightforward enough. Choose the option you need, and plug in. However, the third DP++ port (actually, the one labeled "1") shares its slot with a standard DisplayPort jack. This is an either-or choice. In other words, you're not looking at quad monitor support. You're looking at a maximum of three: one HDMI, one DP++, and a third either DP++ or DisplayPort. On the same note, despite being a USB Type-C jack, the DisplayPort plug doesn't function as a USB port. You can't use it for connecting external hard drives or any other peripherals. In the SD4850P, it's only wired to work for displays.
Exactly what resolution and refresh rate you get will depend on what your output device is. If your device uses the older HBR2 format, you'll get a triple display at 1600×900 and 60Hz. With a dual display, you'll get 1080p at 60Hz, and you'll get 4K and 30Hz with a single display. If your device is using a newer HBR2 chipset, you'll get triple 4K at 60Hz, full stop. Of course, you might not want that much performance. You might want to prioritize internet speed or external disc write speed instead. In that case, you can use a dynamic 4K switch to turn toggle 4K mode on and off.
If you want to use more standard HDMI connections, take a look at our review of the Kensington SD4900. It supports triple 4K connections via ordinary HDMI. However, it doesn't support ordinary DisplayPort connections.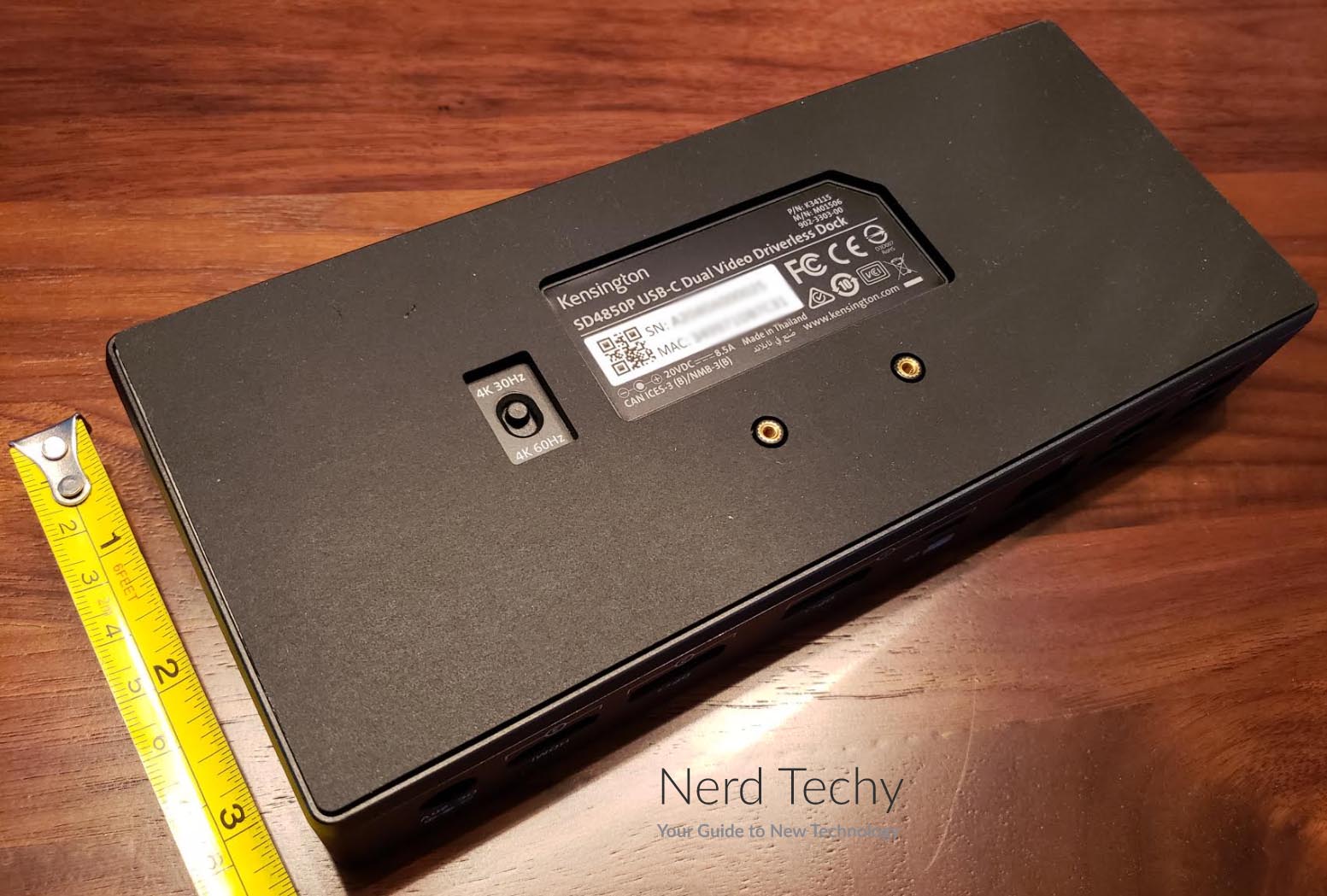 Compatibility and Security
The Kensington SD4850P's most attractive feature is that it's a truly plug-and-play accessory. No drivers are required, and it works with any Windows laptops running Windows 7 or later. The laptop must also have a USB Type-C port that supports Alt Mode and Power Delivery.There's also no official compatibility with Mac or Android. Android builds are so varied that, in practice, your results will vary. But the only official support is for newer Windows systems.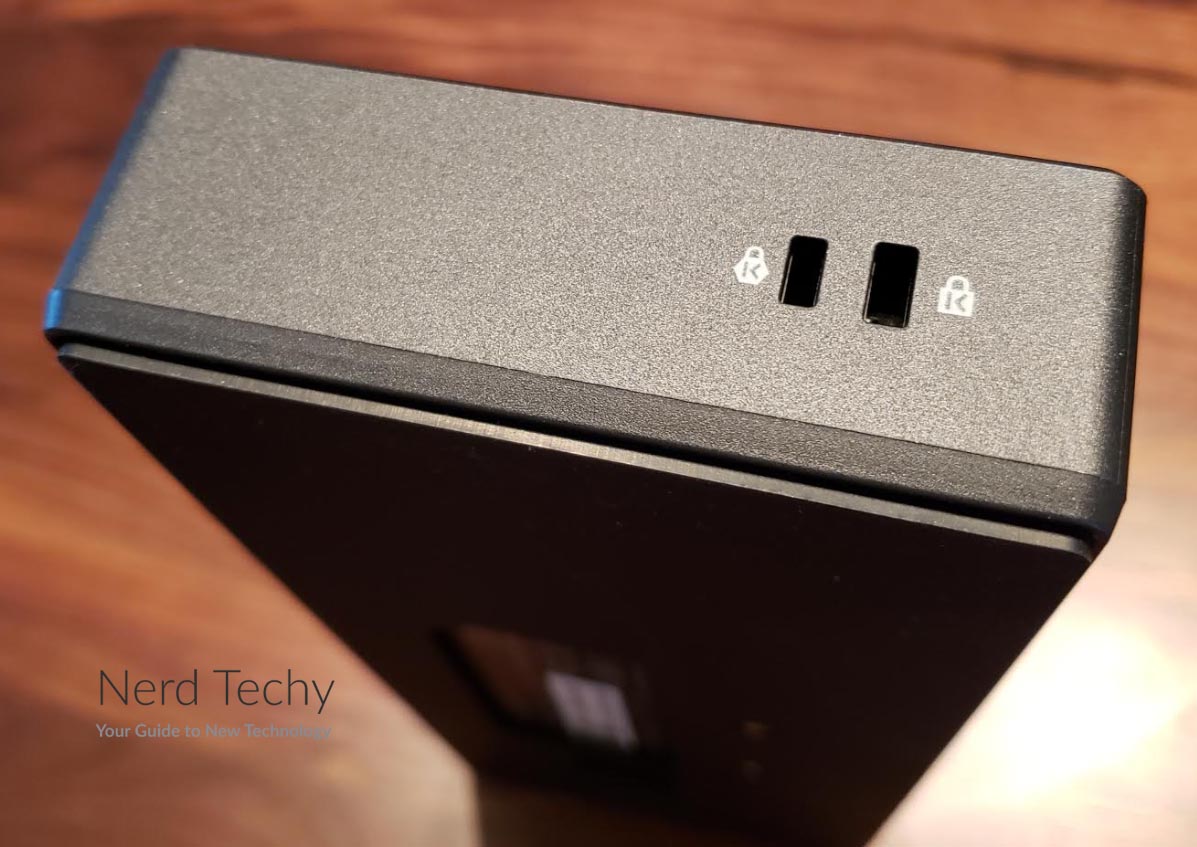 That said, do you really want to spend your money on a docking station that may or may not work? If you're a Mac or Android user, it's better to stick with hardware that's made for your system. The VAVA USB-C Docking Station offers universal compatibility with PC, Mac, Android, and Linux systems. However, it doesn't have as many ports as the more versatile SD4850P.
PC users may get plug-and-play operation, but you can unlock more features with Kensington DockWorks Software. This software comes for free with the docking station, and allows for integration with modern networks. For example, it enables MAC Address ID Pass-Through. This technology can determine which devices are and are not allowed to get online. If you work at a company with an IT manager, they can use it to beef up network security.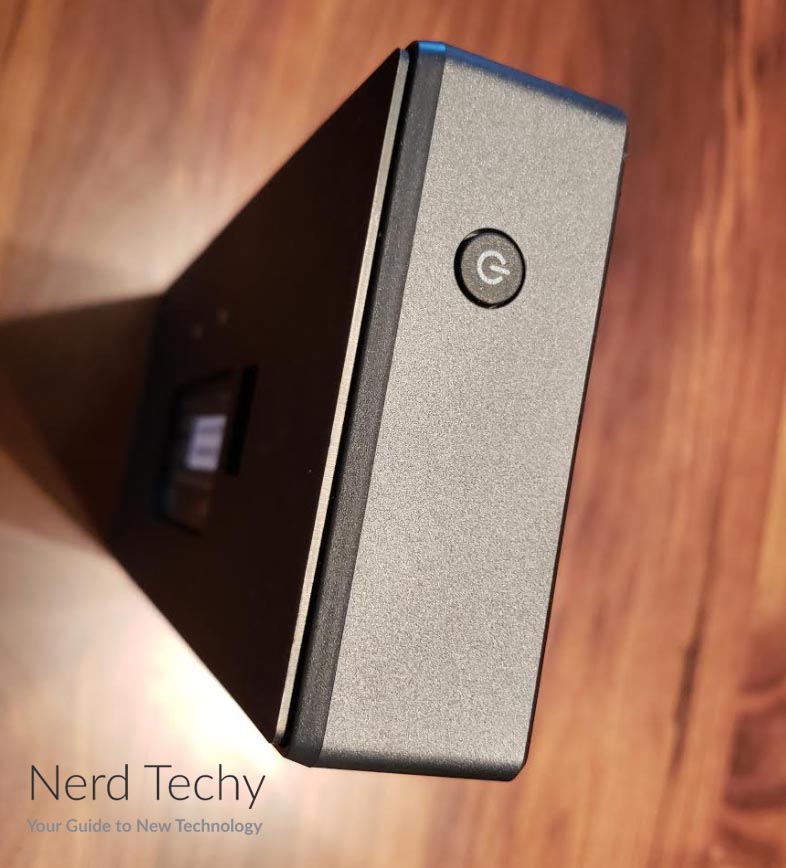 Final Verdict
The Kensington SD4850P USB-C Dual-Video Docking Station is a great choice for most PC users. To be fair, it doesn't work with Mac or Android, so those people will need to look elsewhere. But if you want a no-nonsense PC docking station, there's a lot to like.
For one thing, you get Kensington's trademark sturdy build and locking design. If you need plenty of security, this is an excellent feature. Furthermore, you get fast data transfer speeds and plenty of juice for all your devices. You also get compatibility with just about any type of display. Combine that with easy, plug-and-play use on most computers, and you're looking at a top performer.