In one sense, laptop docks have been with us almost as long as laptops themselves. Even back in the early 90s, you could buy a docking station specific for your machine. This allowed you to get the benefits of both a laptop and a desktop computer. You could travel with your laptop by itself. Then, when you were at your desk, you could click into your dock and instantly use all your peripherals. You didn't have to separately plug in your mouse, keyboard, monitor, and external storage. Everything just stayed plugged into the dock, waiting for you.
Nowadays, docking stations have become more versatile and convenient than ever. In the past, we've reviewed several USB Type-C docking stations, the latest version of this technology. A USB Type-C docking station takes advantage of the universal nature of USB to provide wide compatibility. Unlike an old-school docking station, you don't have to limit yourself to one or two proprietary options. You can plug into whatever USB Type-C docking station you want.
A Type-C docking station also provides more versatility. You don't have to just use one as a fixed desktop appliance. Instead, you can carry it with you. For example, suppose your laptop only has one USB port, and that one's used for power. If you want to use an external mouse, a USB Type-C docking station gives you a way to do both!
Today, we'll be looking at one of the most impressive new docking stations on the market. The VAVA USB C Docking Station comes highly-rated by users the world over. But does it live up to all the hype? Or should you choose a different option? We'll take a close look at all the VAVA docking station's features, benefits, and drawbacks. Once we know what we're looking at, we'll be ready to render a final verdict. Let's get started!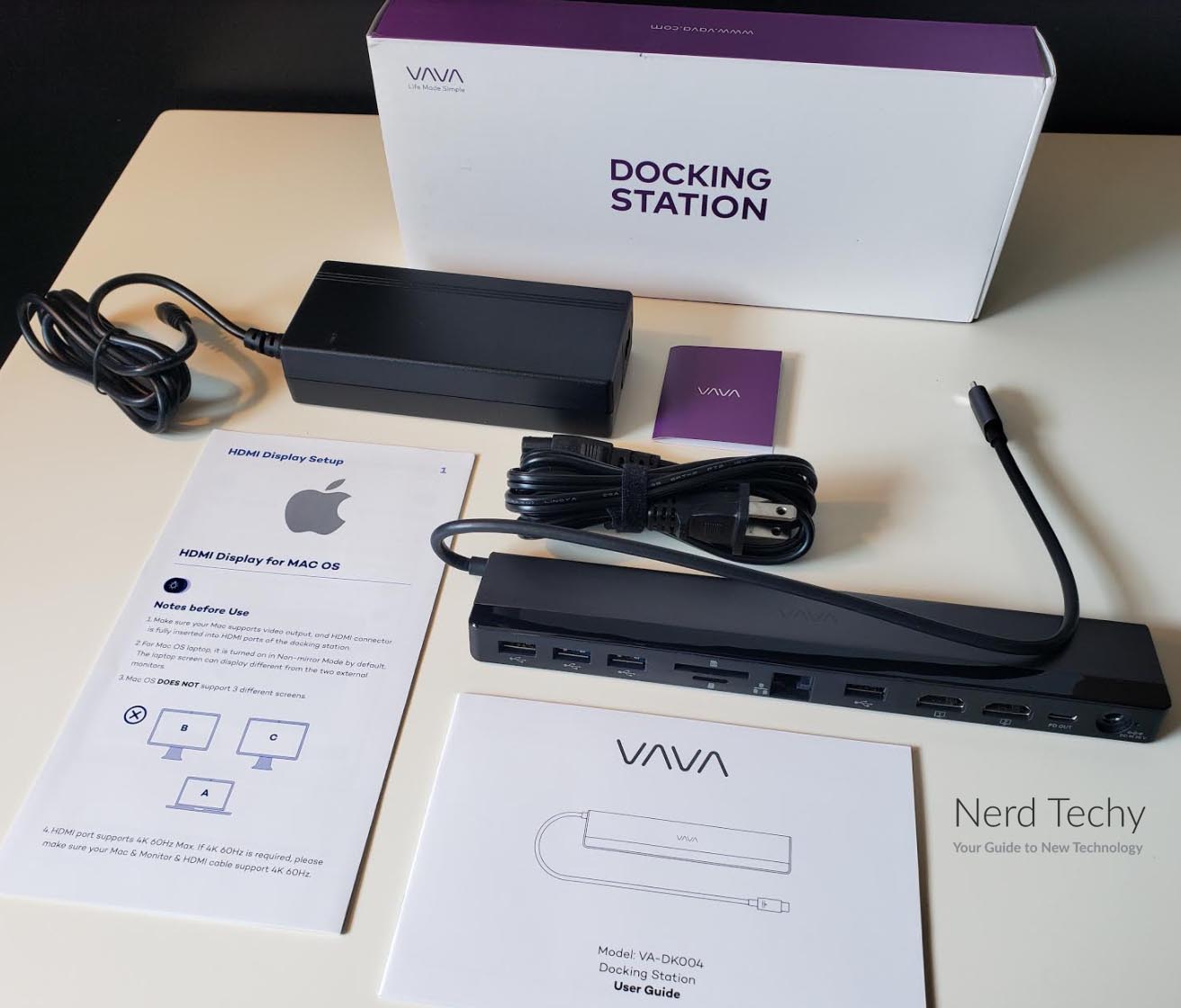 Overall Design
The first thing you'll notice about the VAVA USB C Docking Station is its travel-friendly design. It has a slim profile, measuring only 1.57 inches long and 0.73 inches thick. And at only 9.06 inches long, it's easy to throw in your carry on bag. This makes it a great choice for frequent flyers. Sadly, the power supply is fairly bulky. It's actually bigger than the docking station itself! On the one hand, this reduces the size of the docking station. On the other hand, it doesn't really fix the problem. Without a power supply, this is an unpowered dock, and you might run into some issues. This may or may not be a problem depending on your needs. We'll talk more about the power situation in the next section.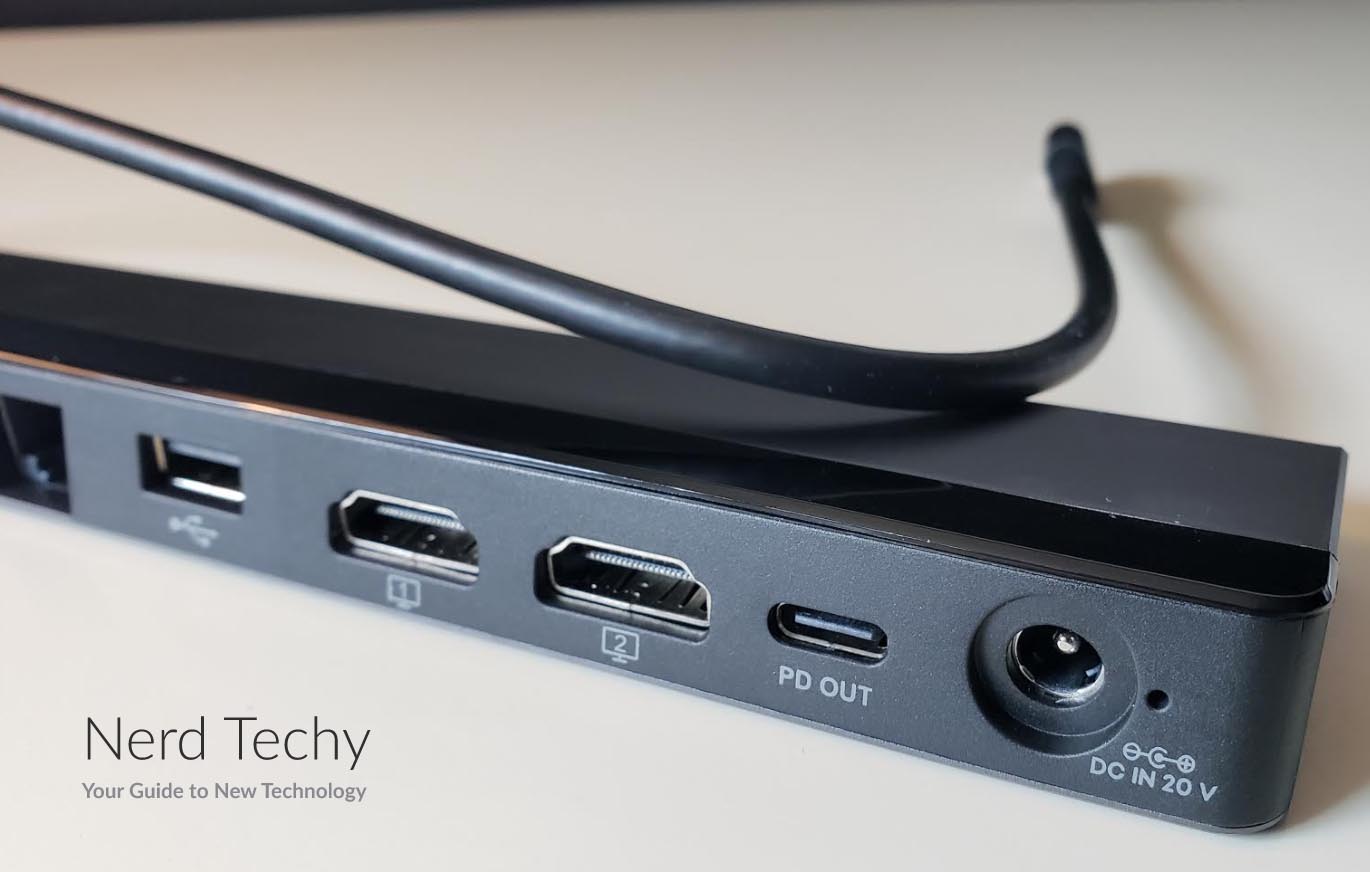 The docking station itself has a simple, grey and black appearance that will match most office décor. The back and bottom are black ABS plastic, while the front and top consist of a molded grey shell. The front edge is curved, which provides a more modern look than a sharp profile. All in all, you're looking at a modern-looking accessory that's nifty to carry around. There are no flashy colors or blinking lights to clutter up your desk. The only decoration is a staid black VAVA logo along the top side of the case.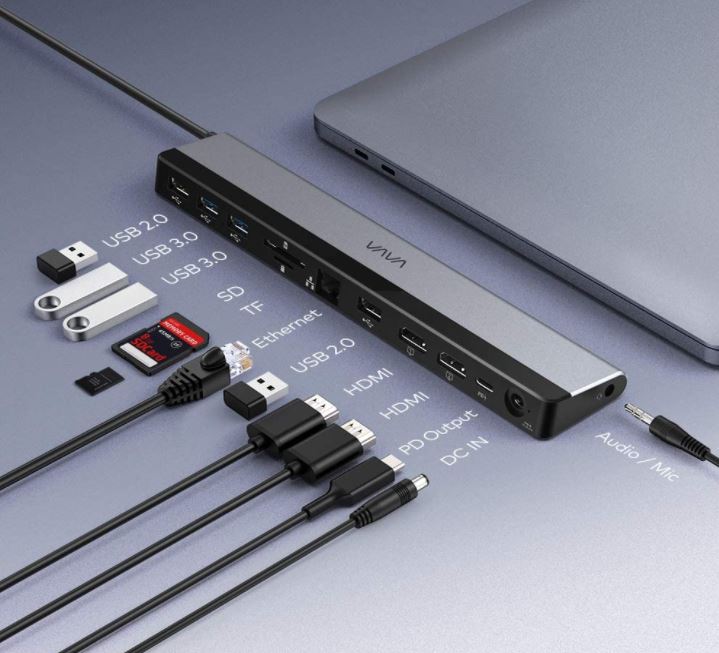 On the back side of the case, you'll find all the input and output ports. From left to right, the first is a row of one USB 2.0 port and two USB 3.0 ports. These are useful for connecting most everyday peripherals, and their location makes them easy to find. Next, there are an SD card and Micro SD card slot, stacked on top of one another for convenient storage.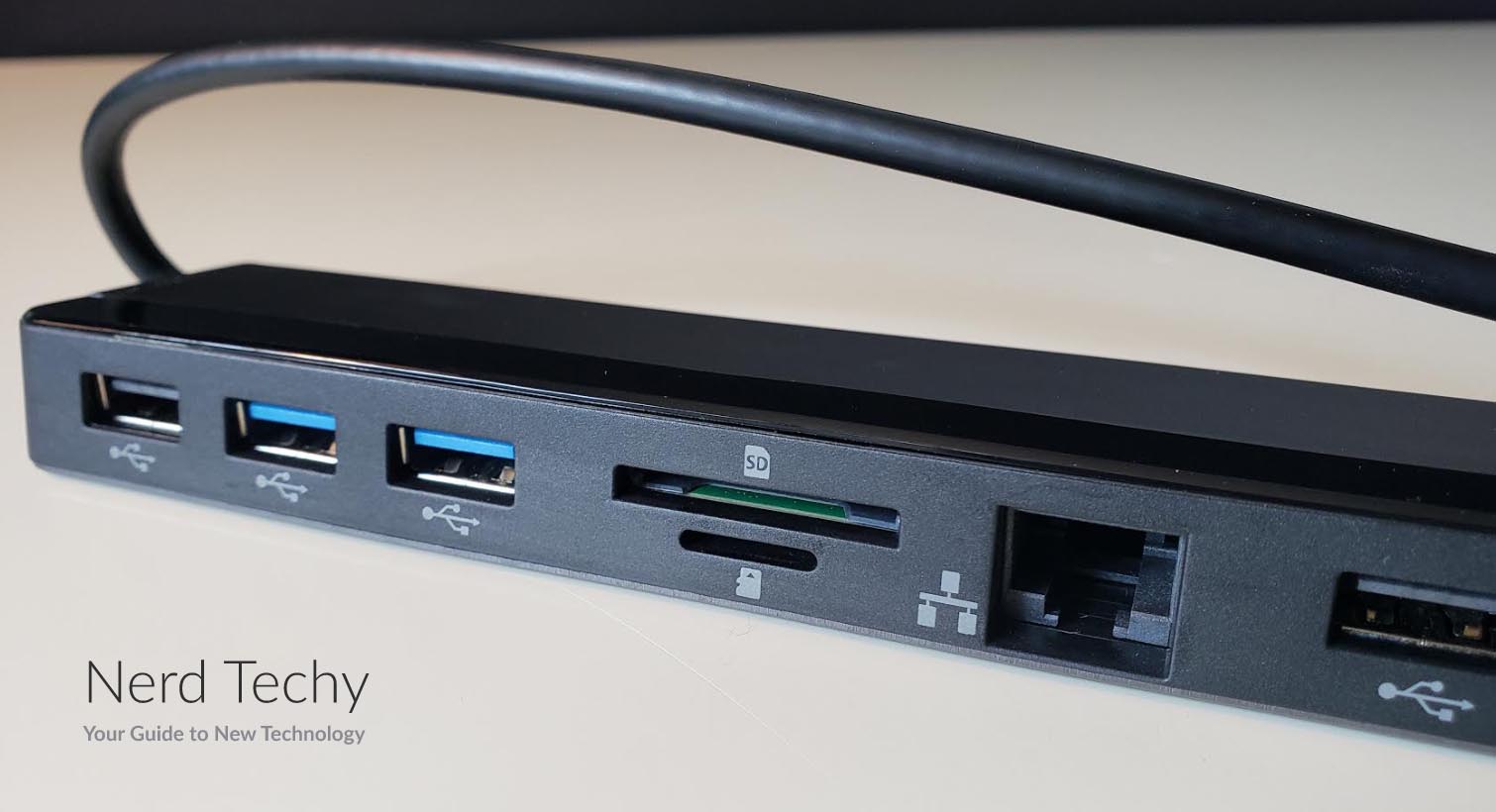 Smack in the middle of the back of the case, you'll see an Ethernet port, along with a second USB 2.0 port. We're not sure why VAVA opted to add another USB 2.0 port in this location. But it can be convenient if you want to leave one peripheral always connected. Finally, there are a pair of HDMI ports, a PD port, and a barrel-style DC input. The PD port is output only, for charging your devices, and the DC port is for your power supply.
The USB Type-C tether extends from the right side of the case. It's 17 inches long, so placement on your desk is easy. It's long enough for the job, but not so long as to be difficult to pack. The headphone jack is on the left side of the case, for similarly easy plug-and-play access. All in all, the design is sleek and functional, with a lot to recommend it.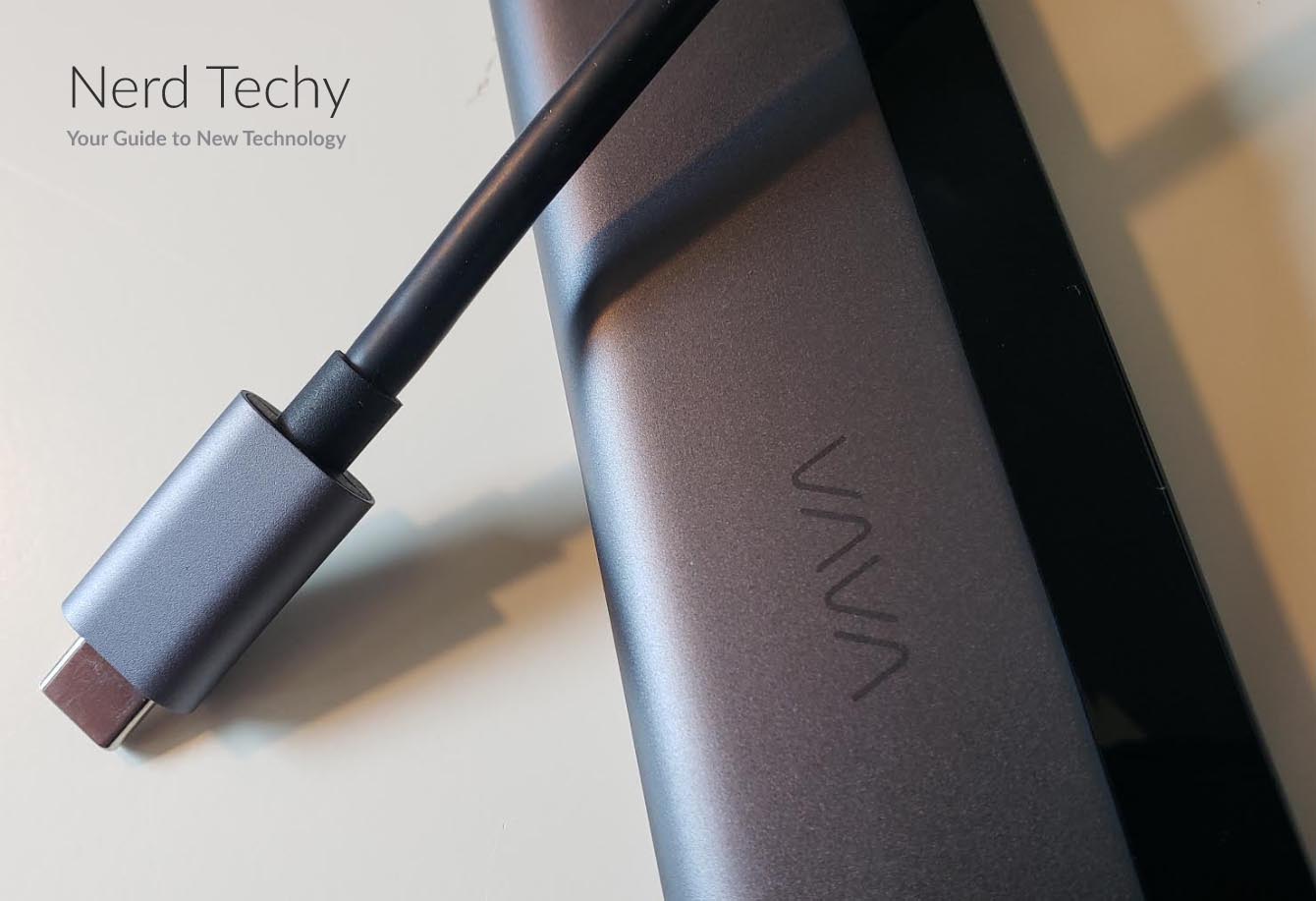 Setup and Ease of Use
As we already mentioned, there are two main ways to use the VAVA docking station. The first is in the standard powered mode. In this mode, the DC power supply will provide 96 watts of power. If your laptop is inactive, it will receive a steady 65 watts of charge. If your laptop is in use, it will still charge at about 45 watts, give or take a little depending on your machine. This mode lets you leave your laptop power supply at home. It also frees up a USB Type-C port on your machine. On the other hand, it also requires you to carry the VAVA's bulky power supply everywhere.
The other option is to forego the power supply. In this mode, the VAVA station will function as a simple "dumb" USB hub. You won't be able to use it as a charger or use it to run any powered devices. But if you just want to use your laptop's stock charger with a mouse and keyboard, that's all you need.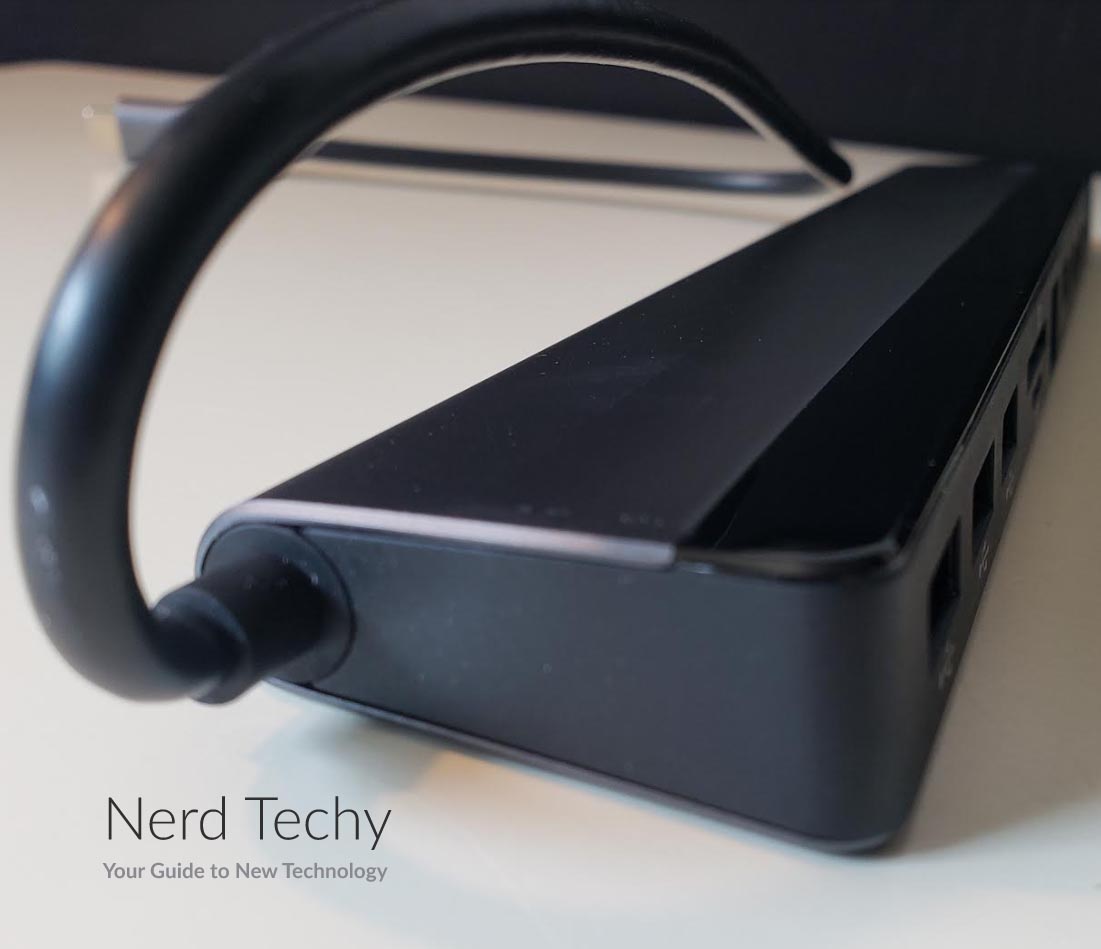 The single female Type-C charging port is similarly only useful when your power supply is plugged in. In powered mode, it provides a full 18 watts of power maximum. This is more than enough for charging your smartphone or tablet. Keep in mind, though, that this single port does not offer any data transfer capacity. In other words, it's only good for charging, not for connecting your peripherals.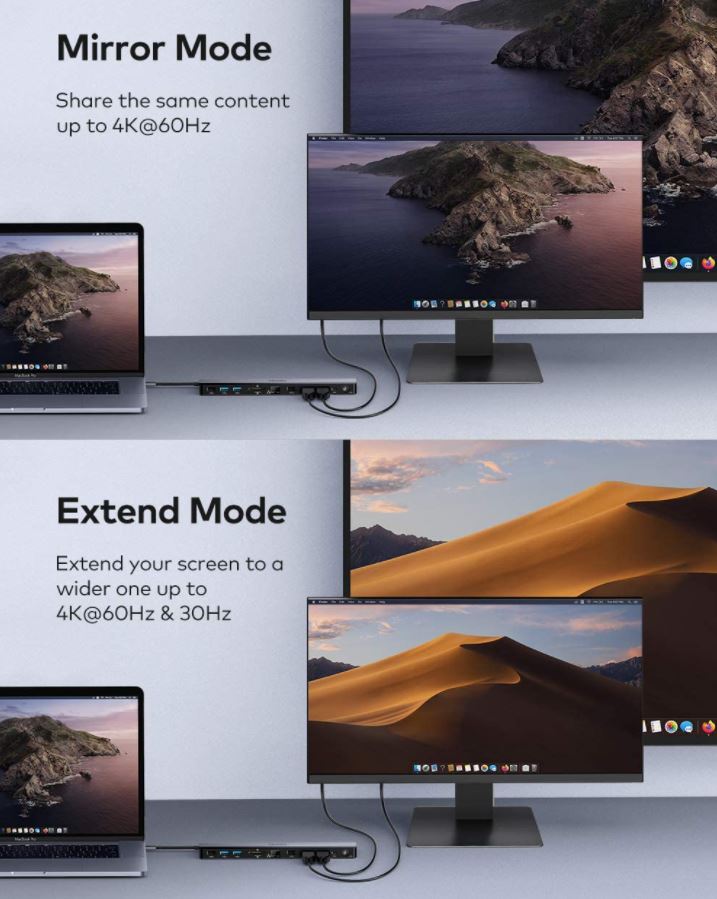 If you're connecting to a stationary monitor, you can plug into up to a 4K display at up to 60Hz. This makes the VAVA docking station suitable even for gamers on the go. Alternatively, you can even use both HDMI ports and go into dual display mode. In this mode, the VAVA docking station will support a pair of 4K displays at up to 30Hz. That's not quite gaming-level performance. But it's enough to get fantastic results if you're a content creator. In fact, you're not going to see dual-4K support at 60Hz on any single USB cable in the near future. If you really need that kind of performance, connect one monitor to your laptop and one to your docking station.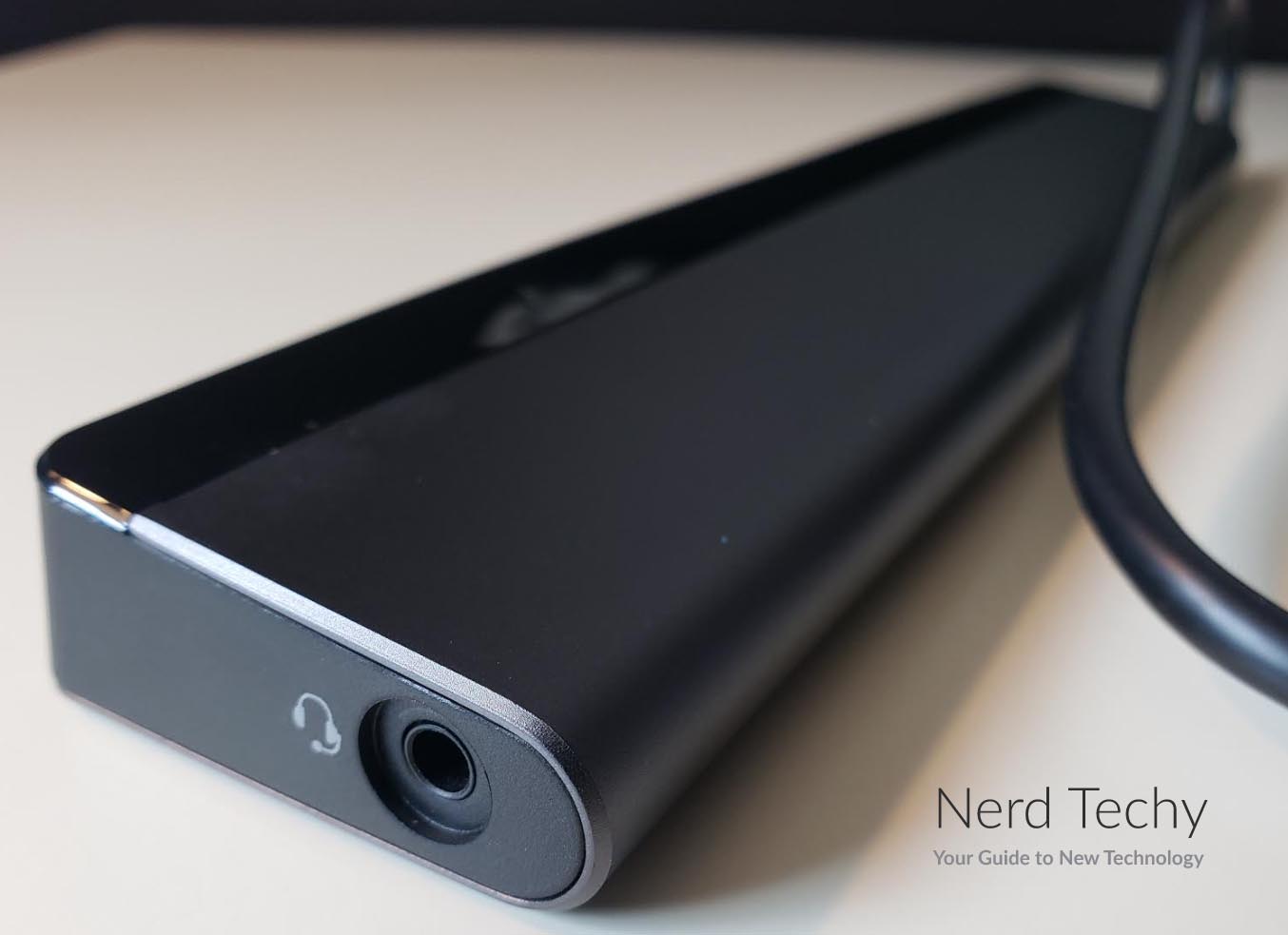 Compatibility
So, what can you use with your VAVA USB C Docking Station? In this regard, we have to play VAVA a compliment. A lot of times, we see manufacturers making exaggerated claims. But for once, someone is actually underselling their product. VAVA advertises that their docking station is compatible with the MacBook Air, MacBook Pro, iMac, and some Chromebooks.
Let's talk about what this means. VAVA offers special optimization software. It's a free app in the Google Play store and Apple Store, and adds a little bit of customization? That said, the VAVA USB C Docking Station will pair with any device with a USB C connection. You can even use it with most modern smartphones, although peripheral support may be limited.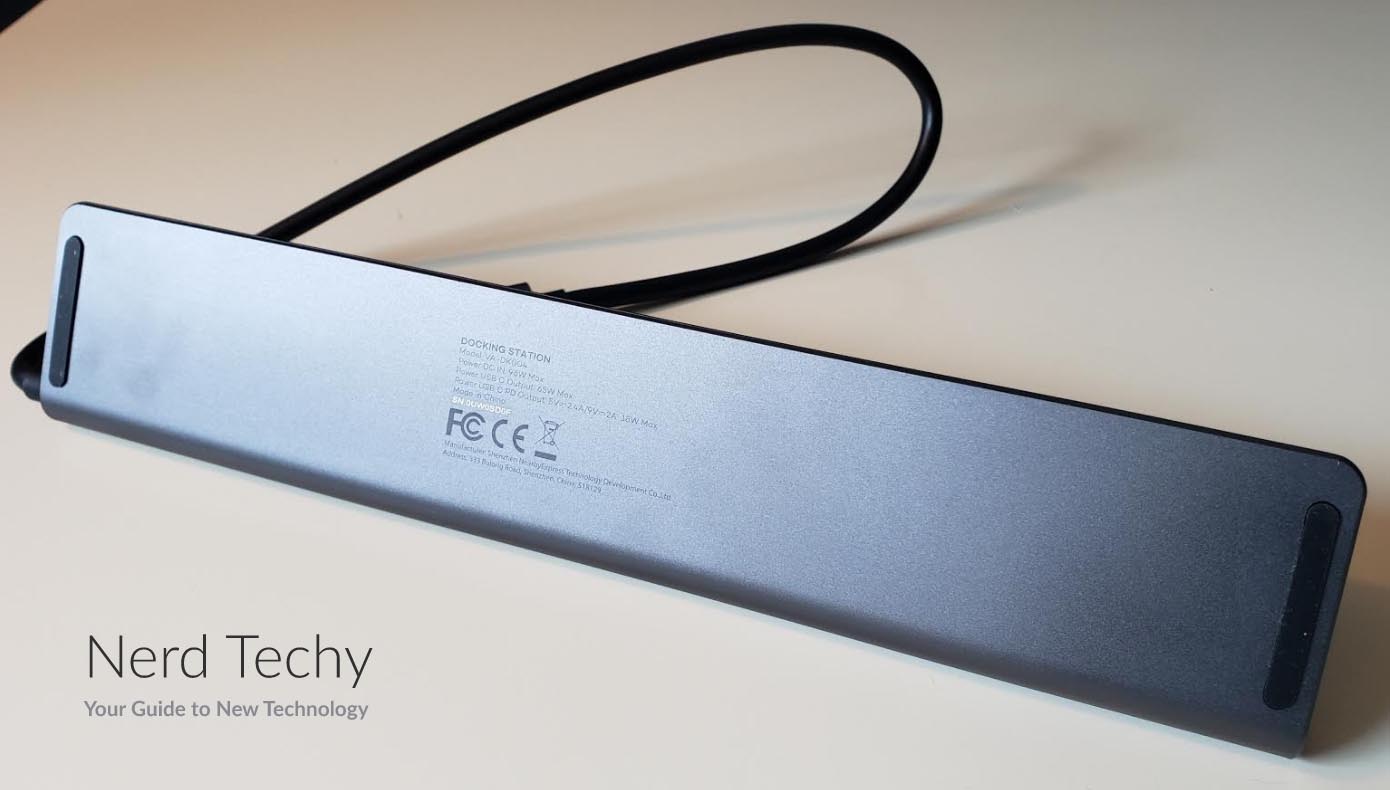 Similarly, charging performance will vary depending on your laptop. With 96 watts of total power delivery, you shouldn't have any serious issues. But if you're charging a high-wattage laptop and a PD-charging smartphone, you might have some trouble. Even so, the total of 96 watts is better than almost any charger on the market.
For the ordinary USB ports, the USB 2.0 and 3.0 ports will each provide up to 5 volts of power. The 3.0 ports offer higher data transfer rates, though, at 5Gbps instead of 480Mbps. As a result, they're a better choice for external hard drives, or other devices where data transfer is an issue. Save the USB 2.0 ports for your mouse and keyboard.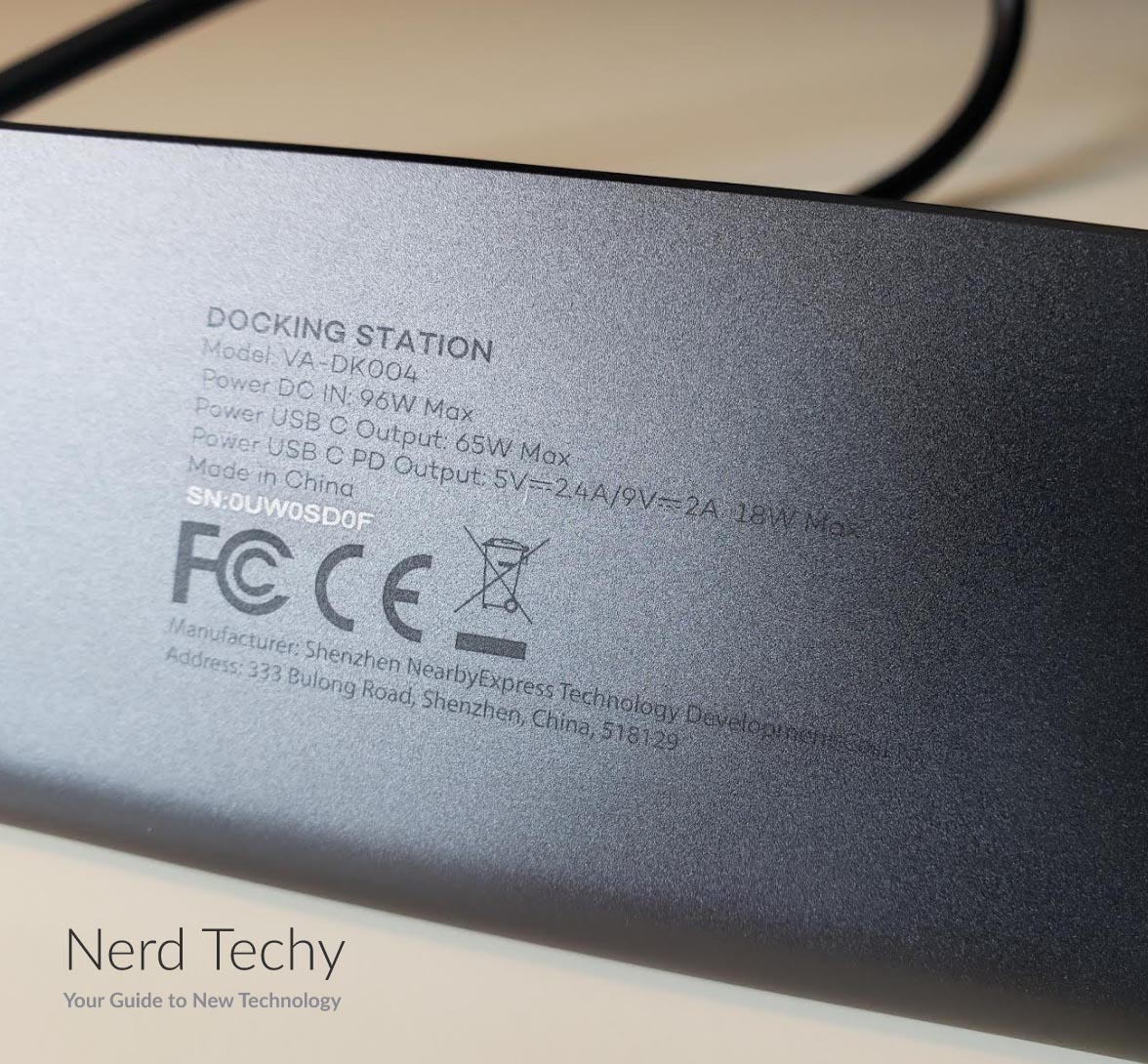 The SD card slots will both support a card with up to 2TB. This is more than all but the very highest-capacity cards on today's market. Except for the most demanding storage applications, you'll be just fine here. The Ethernet port is capable of up to Gigabit speeds. Whether or not it actually performs at this level will depend on the speed of your internet connection.
Finally, the 3.5mm aux jack is a 2-way audio port. You can use it for a mic, headphones, or a complete headset. There are no silly limitations here.
Final Verdict
As you can see, the VAVA USB C Docking Station brings a lot of value to the table. To begin with, you get a slim, compact design. Admittedly, this design is compromised somewhat by an enormous AC adapter. But depending on whether or not you need a hub with power delivery, this may not even be an issue.
In terms of connectivity, you get plenty of items. To begin with, you get to connect up to four USB peripherals. But you can also connect an Ethernet cable, a PD charging device, or some SD cards. You can even plug in dual monitors, for 4K support at a refresh rate of 30Hz. On a single monitor, your refresh rate rises to 60Hz, making this docking station suitable for gaming.
If you do use the AC charger, you'll get to take advantage of powerful charging capacity. Not only will the VAVA station charge your laptop at 65 watts, it also sports a PD charger. This can charge your smartphone or tablet at 18 watts, all while you work away at your laptop. Fast data transfer rates and an attractive profile round out a surprisingly complete package.
Meet Derek, "TechGuru," a 34-year-old technology enthusiast with a deep passion for tech innovations. With extensive experience, he specializes in gaming hardware and software, and has expertise in gadgets, custom PCs, and audio.
Besides writing about tech and reviewing new products, Derek enjoys traveling, hiking, and photography. Committed to keeping up with the latest industry trends, he aims to guide readers in making informed tech decisions.