These days, there are a never-ending array of wireless earbud options. Whatever style or price point you're looking for, chances are you can find it. Things weren't always this easy. A few years back, Apple's AirPods were just about your only good option. The reason for this is that Apple was one of the first companies to make a good pair of wireless buds. This wasn't by chance. Apple was one of few companies to recognize the potential of a new technology: true wireless stereo (TWS).
Before TWS, there wasn't any way to get good audio quality via a Bluetooth signal. Audio was thin and reedy, without the bitrate required to get good audio depth. Even worse, you could only listen in mono. The upshot was that wireless earbuds were really only useful for spoken word podcasts or hands-free calling. With TWS, that was no longer the case.
Of course, just because there are a ton of wireless earbud choices doesn't mean they're all good. For every pair that will rock your socks off, there's a pair that will do nothing but disappoint. One way to weed out the second kind of bud is to stick with manufacturers you know and trust. Mpow has an excellent track record, with wireless earbuds including the M20 and the Mpow Flame Pro. They even make gaming headsets and other audio accessories.
Today, we'll be reviewing the Mpow Flame Lite Wireless Earbuds. These are big, over-the-ear buds that are designed for workouts and other intense activity. But do they perform as well as you'd expect from a mid-priced pair of earbuds? Or should you look for a different option? Let's take a closer look, and find out!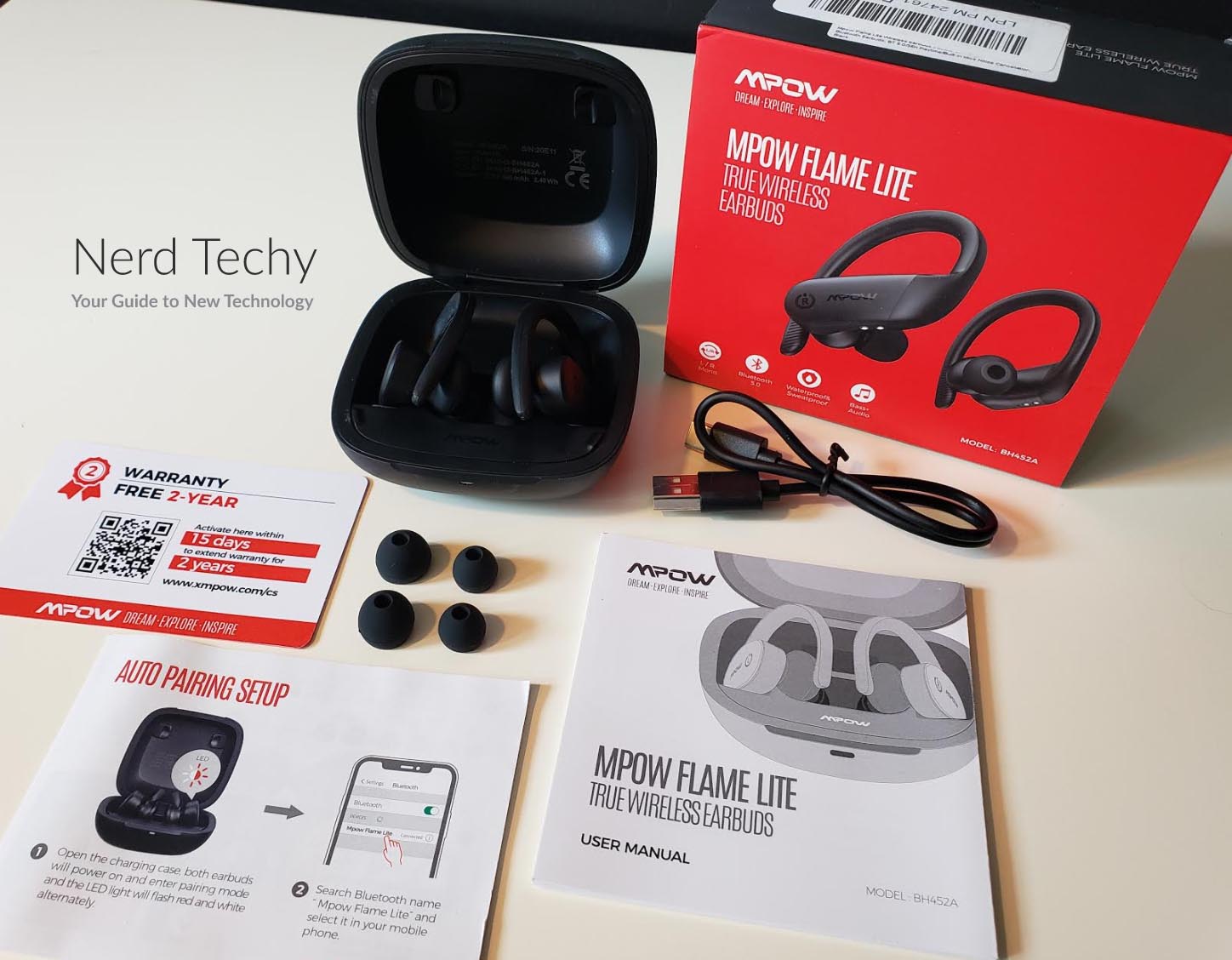 Overall Design
The Mpow Flame Lite Wireless Earbuds are designed to stay in place even when you're moving around a lot. They're held in place in two ways. First, like most wireless earbuds, they have a pair of silicone ear tips. These tips are designed to twist into your ears, and should fit securely yet comfortably. A good fit here is crucial. If your fit is too tight or too loose, try switching to the smaller or larger tips that come in the box. In addition to the ear tips, there are a pair of large silicone ear hooks to wrap over your ears. These will serve as a backup in case one of the ear tips pops out of your ear.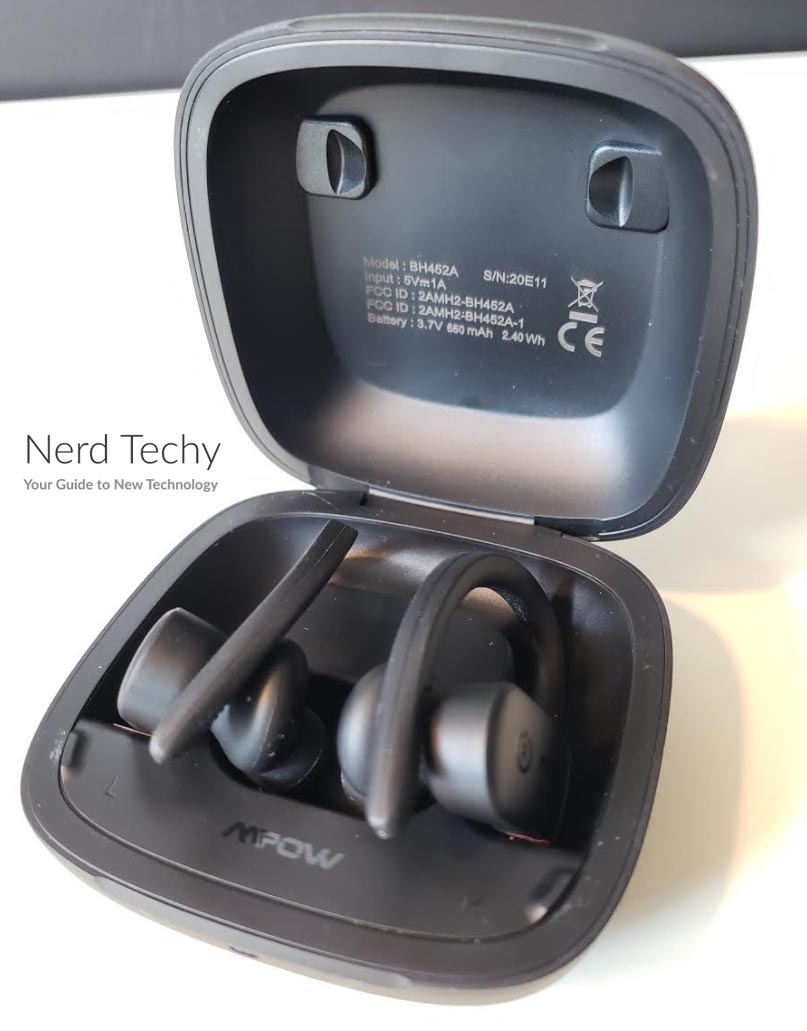 Each earbud has a matte black shell, which transitions almost seamlessly into the ear hooks. The shells are easy to keep clean, and won't attract fingerprints or dust. On the rear of the housing, there are a pair of soft touch buttons for simple control. By tapping the buttons, you can adjust the volume, skip tracks, answer or end calls, or activate your voice assistant. The soft touch design means you don't have to press hard, so button operation is comfortable.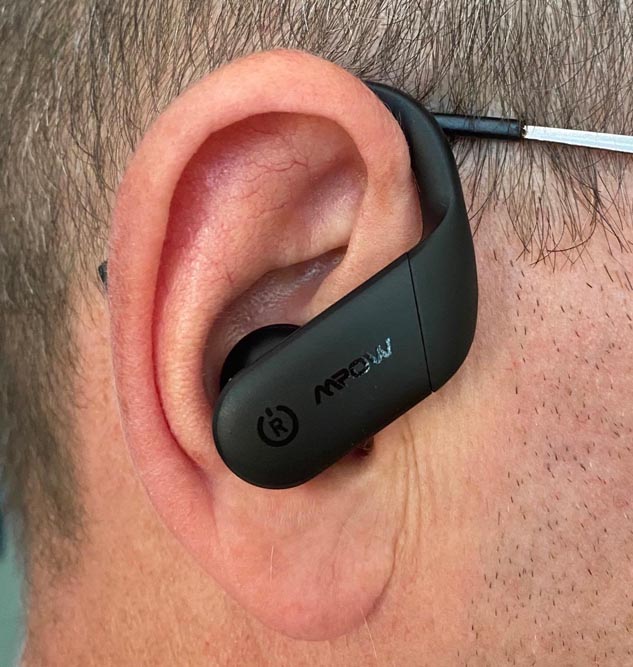 In addition to being designed to stay in place, the Flame Lite earbuds are also designed for serious sweat. They carry a water-resistance rating of IPX7, which means they can withstand full submersion for up to 30 minutes. We wouldn't recommend going swimming with them, but wearing the Flame Lite buds in the shower is perfectly viable.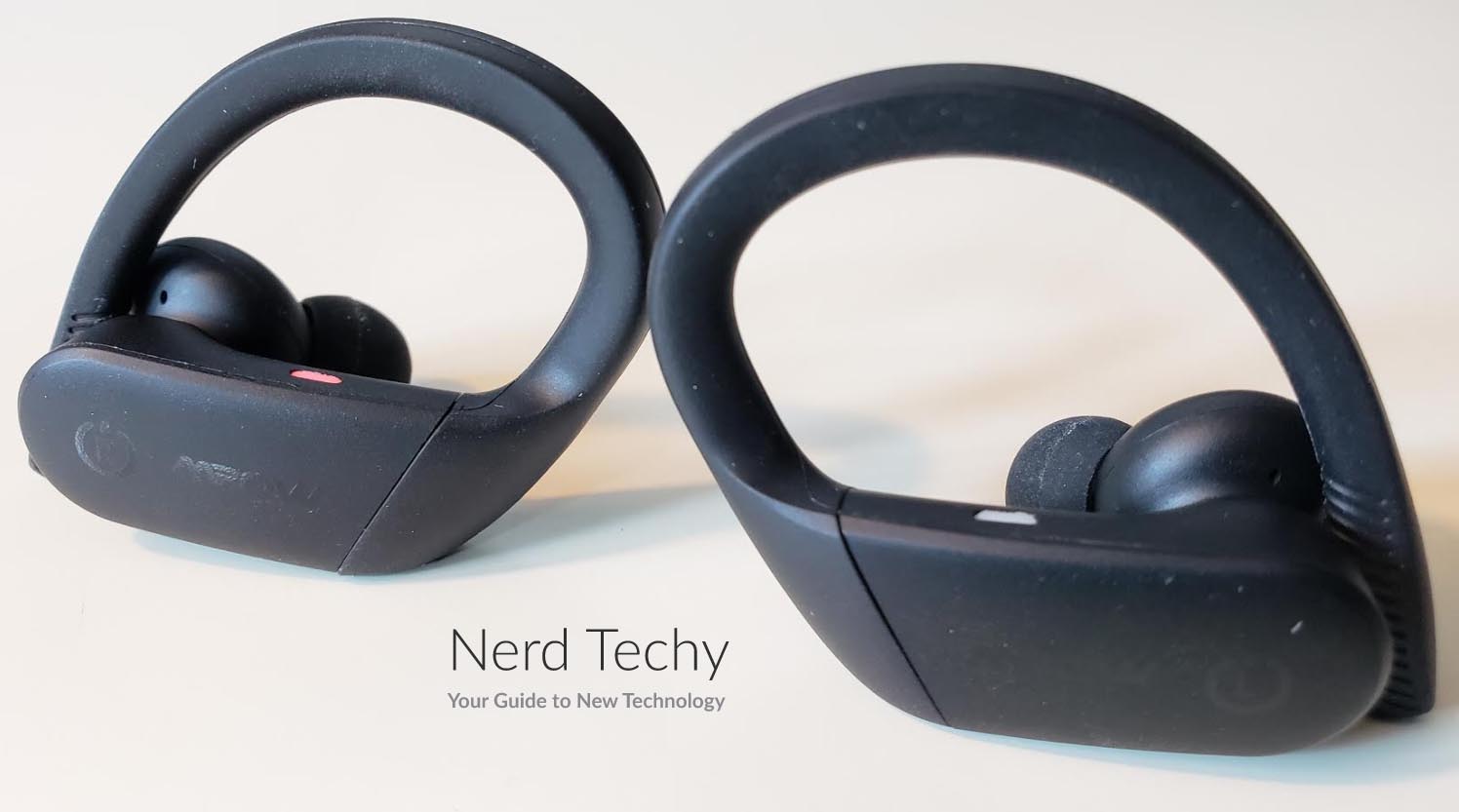 The Mpow Flame Lite earbuds come with a charging case that's also used for storage. It measures 4.13 inches wide, 4.53 inches deep, and 1.85 inches thick. This is on the large side, and it's a bit more than you'll probably want to carry in your pocket. That said, at only 1.6 ounces, the overall weight is very light. There's no reason you can't carry it in a larger pocket such as a coat pocket. You can also carry it in a purse or backpack without any issues. Besides which, the large profile is necessary to accommodate the ear hooks. Even so, the case is well designed for transport. The edges and corners of the case are all rounded, so it won't scratch or gouge any other objects.
The case has a clamshell-style design, with a hinge at the back and an opening at the front. The lid is spring-loaded, which means it won't easily pop open by accident. The front has a slight cutout in it just under the lid, so you can lift the lid easily with one hand. One neat thing about the design is the pair of rubber bumpers on the underside of the lid. These press down gently on your buds, ensuring the charging contacts remain in place during travel. A single LED under the opening indicates the current charging status.
Along with the earbuds and charging case, the box also includes a USB Type-C charging cable. Everything is covered by Mpow's 12-month manufacturer's warranty. Better yet, if you visit Mpow's website with your receipt info, you can register your buds. This will extend your warranty period to 24 months at no extra charge.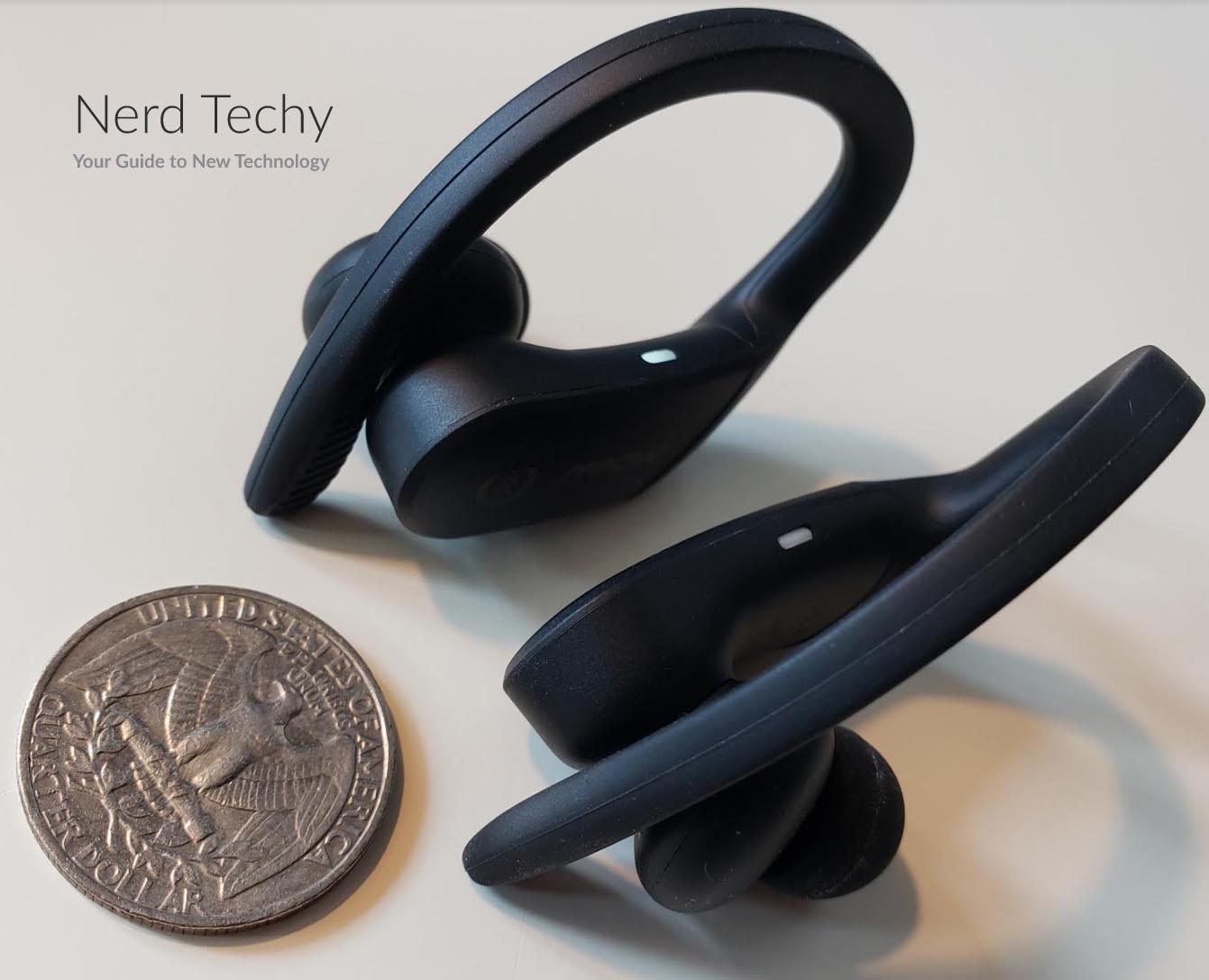 Battery & Connectivity
The Mpow Flame Lite Wireless Earbuds can operate for up to five hours on a single charge. As with most wireless earbuds, this is a manufacturer's rating. Manufacturers test at half volume, so your results will vary based on how loud you're listening. Regardless, even if the playtime is a shade shorter, it will still be plenty for your workout. If you do run out of juice, the charging case provides enough extra power for five recharges. This works out to a total playtime of up to 30 hours before you need to plug into your wall.
When it is time to recharge, it only takes about two hours. The USB Type-C charging cable will make quick work of even a totally dead battery. Alternatively, you can simply leave it plugged in on your nightstand and drop your buds in as needed. It all depends on what you need from your charging case.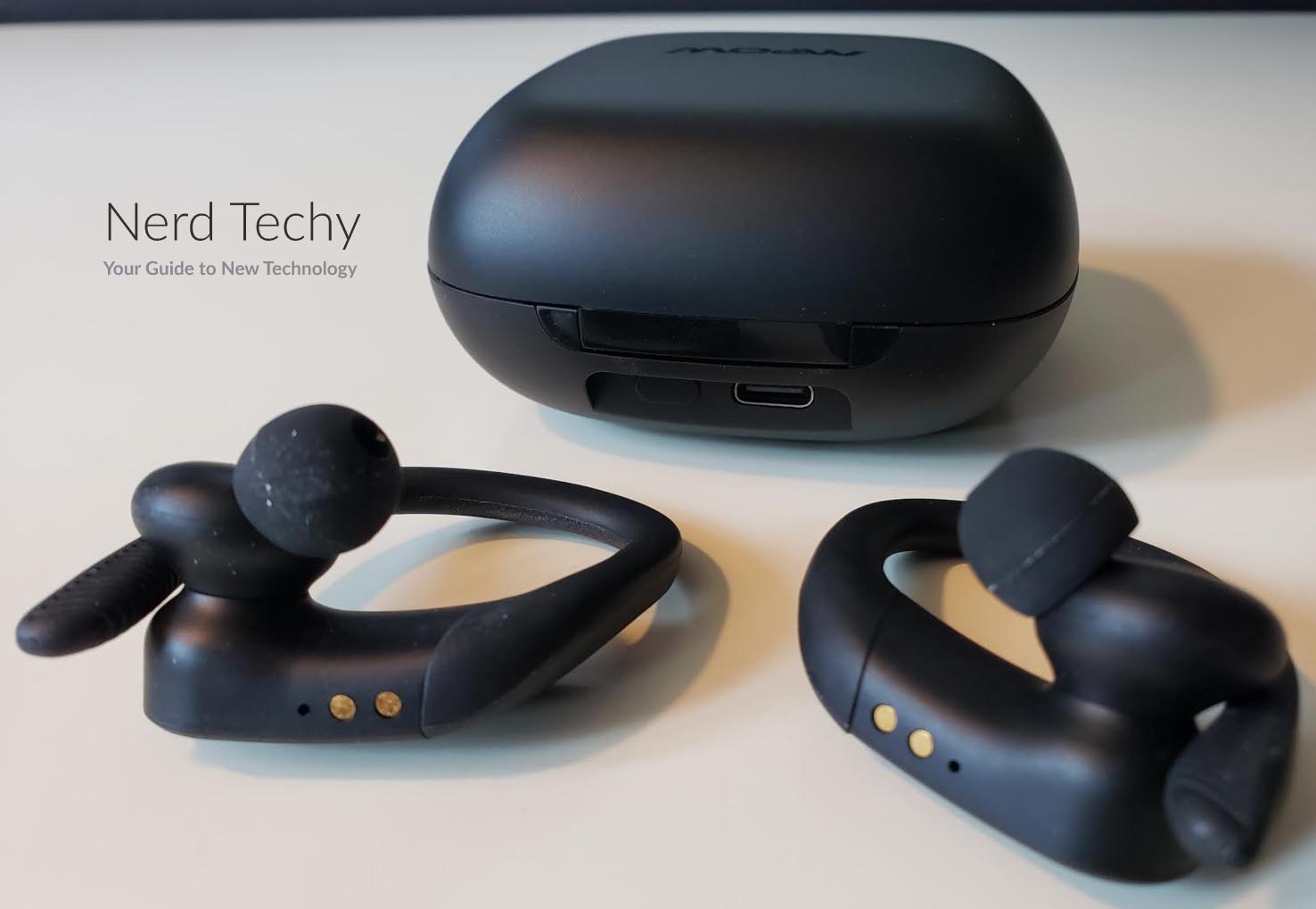 The Mpow Flame Lite earbuds utilize the latest Bluetooth 5.0 protocol to connect to your phone or MP3 player. This version of Bluetooth allows for even higher bitrates and more stability than Bluetooth 4.2. You can listen to rich, high-bitrate music without having to worry about an iffy connection. Bluetooth 5.0 also reduces latency to near zero. This won't make much of a difference when you're listening to music. But if you're gaming or watching videos, it means there won't be any lag between the audio and video.
In addition to standard Bluetooth 5.0 features, the Mpow Flame Lite buds can pair in either stereo or mono mode. Obviously, stereo mode is ideal for music, and it's the standard. That said, mono mode allows you to maintain situational awareness, or to safely drive a car. If you just want hands-free calling, it's a perfectly viable option. Not only that, but by using a single earbud at a time, you essentially double the battery life.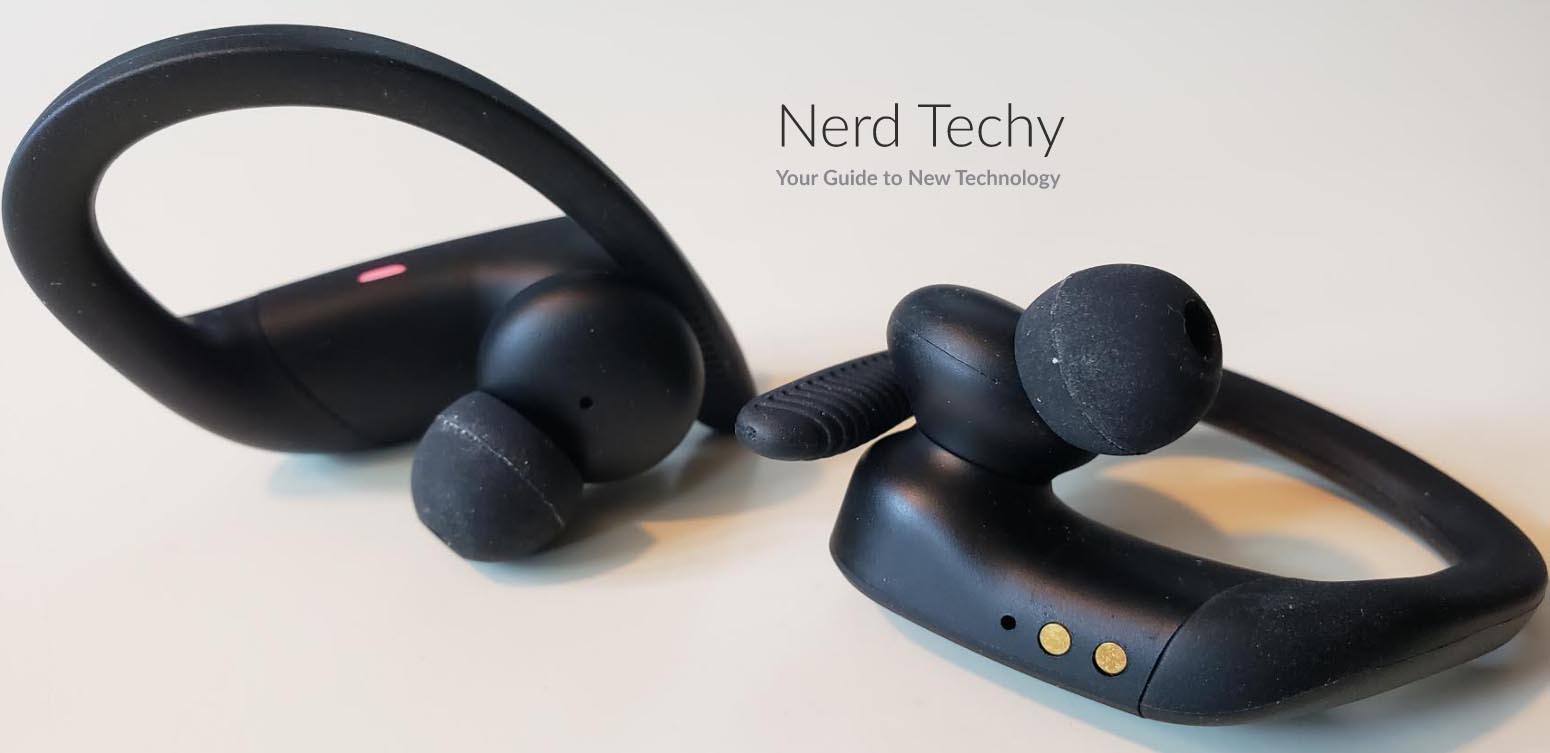 Sound Quality
Of course, no pair of earbuds is complete without good sound quality. After all, it's their primary purpose! In the case of the Mpow Flame Lite, you're looking at reasonably good audio for the price. The high and middle frequencies in particular really shine. There's plenty of shimmer on your strings, and vocals come through clean and clear. That said, the bass doesn't have a lot of punch. It's clear and sounds good, with no distortion, so there's no issue with quality. It's simply a problem of quantity. If you like to crank the bass up while you're listening, you'll definitely feel the loss.
That said, these are mid-priced buds, not Mpow's flagship line. In this price range, you don't generally expect to get powerful bass drivers. It's just not practical given the small size of earphone drivers. Even with the limited bass, the soundstage is still plenty wide. You'll hear clear separation between different instruments, giving your music a sense of space. This is an often under-appreciated aspect of music, but it's one the Flame Lite manages well. In other words, unless you're obsessed with powerful bass, you're going to be happy with the sound.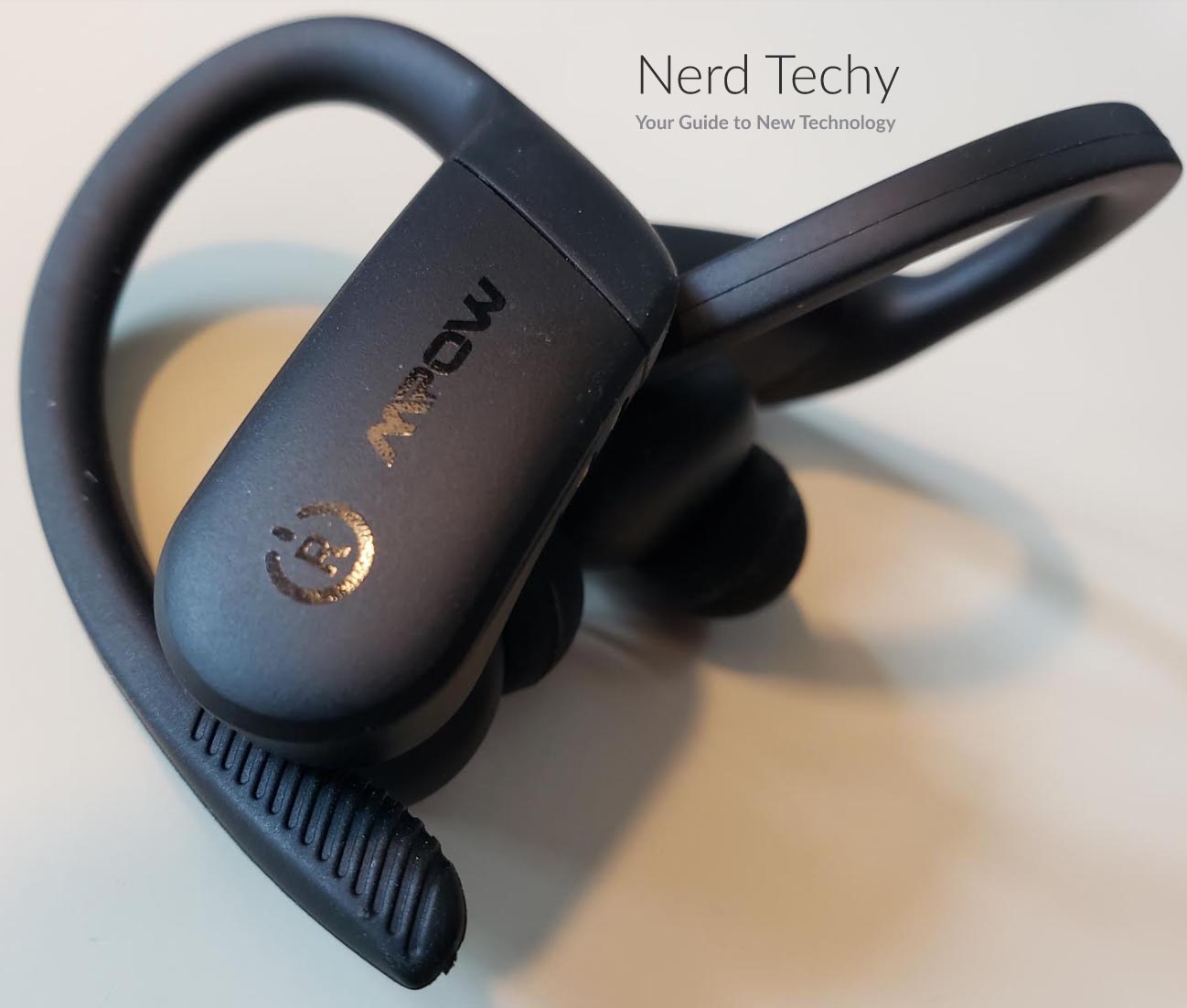 For phone calls, the Mpow Flame Lite sounds just fine. Your voice will come through clearly, and you won't often have to repeat yourself. There's no Qualcomm CVC 8.0 chip, so the built-in mics won't actively filter out louder noises. So you might have issues if you're talking in a crowded train terminal, for example. But under most ordinary circumstances, hands-free calling is as easy as you'd expect. How well you hear the other person will mostly depend on how good their mic is.
Final Verdict
As mid-ranged earbuds go, the Mpow Flame Lite Wireless Earbuds perform better than the competition. Needless to say, this depends on what you want. For instance, if you want nothing more than top sound quality, you might want a different set of buds. But for a reliable workhorse that will get you through your day, these are hard to beat.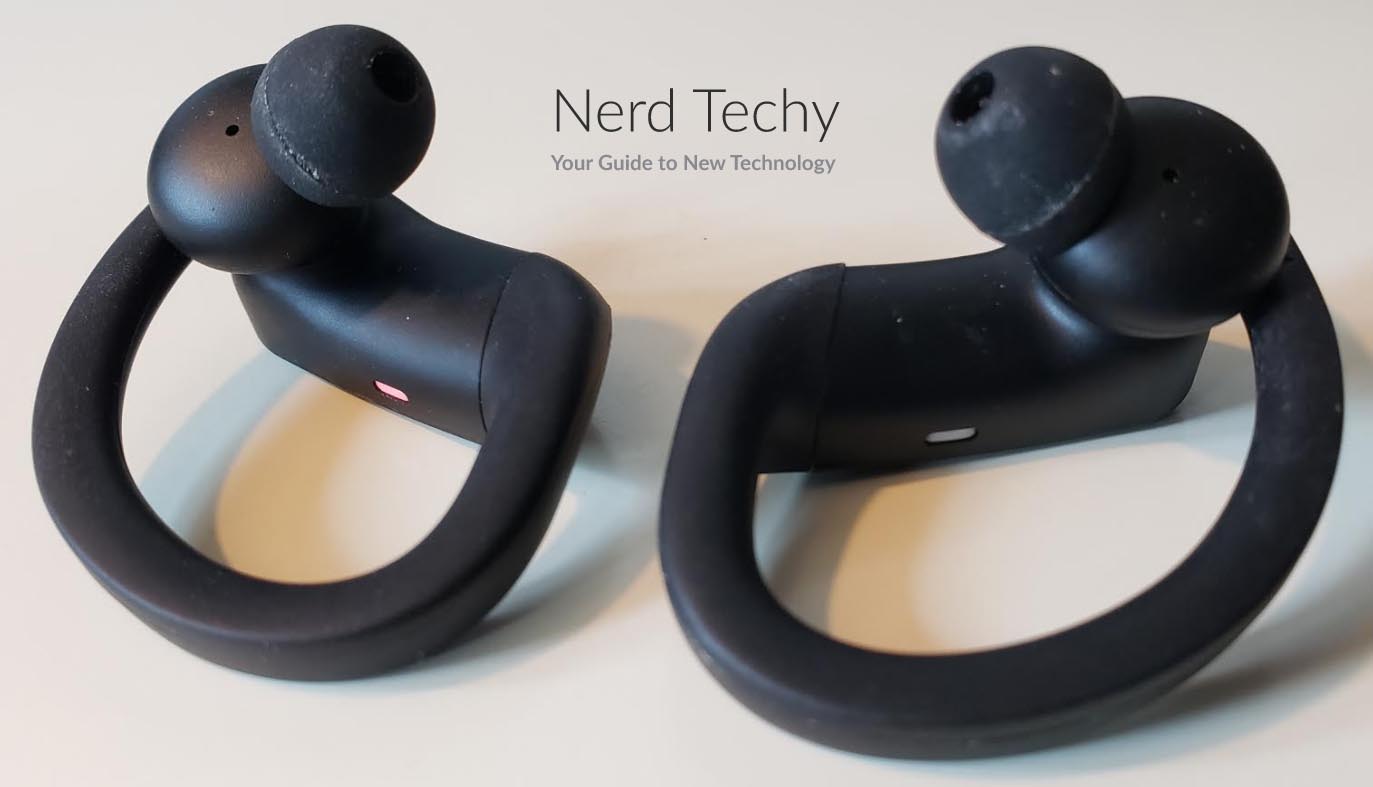 To begin with, it's tough to overstate just how well-engineered the Flame Lite buds are. They can clearly take a beating. And once you've gotten the right ear tip size figured out, they stay in place admirably well. Whether you're running, biking, or doing Cross-Fit, you don't have to worry about the Flame Lite buds popping out. And with a water-resistance rating of IPX7, you don't have to worry about sweat ruining your buds.
The battery life is more than serviceable, and the charging case provides plenty of extra juice. In a perfect world, we would have liked to see a more compact case. But a big case is essential to hold the large Flame Lite ear hooks. Not only that, but the case is well-engineered, with a sleek design that somewhat makes up for its bulk. Finally, you get the option to pair your buds in stereo mode or in mono mode. This isn't a huge deal, but it's a nice added value considering the price point.