Quick Analysis
Pros
Adjustable design.
Supports dual 4K displays.
Compatible with Kensington's locking system..
Comes with a 3-year warranty.
Cons
Not as adjustable as some other Surface Go docking stations.
Only compatible with the Surface Go.
When tablet computers were first released, many people responded with skepticism. What's wrong with your laptop or your smartphone? As it turns out, tablets fill an important niche. They're more compact and portable than a laptop, but more powerful and easier to read than a smartphone.
But sometimes, you want the look and feel of a stationary computer. You want a better view of the screen, and it's nice to be able to use your mouse and keyboard. A docking station allows you to fulfill this need. You can angle your tablet screen so it's easily readable, and you can plug in all of your accessories. Meanwhile, you don't have to sacrifice your tablet's portability. Just pop it out of the docking station, and you're ready to go on the road.
The Kensington SD6000 is one such tablet docking station. We're about to take a close look, and tell you about all the benefits and features. We'll also point out any areas where the SD6000 falls short. Now, let's take a closer look.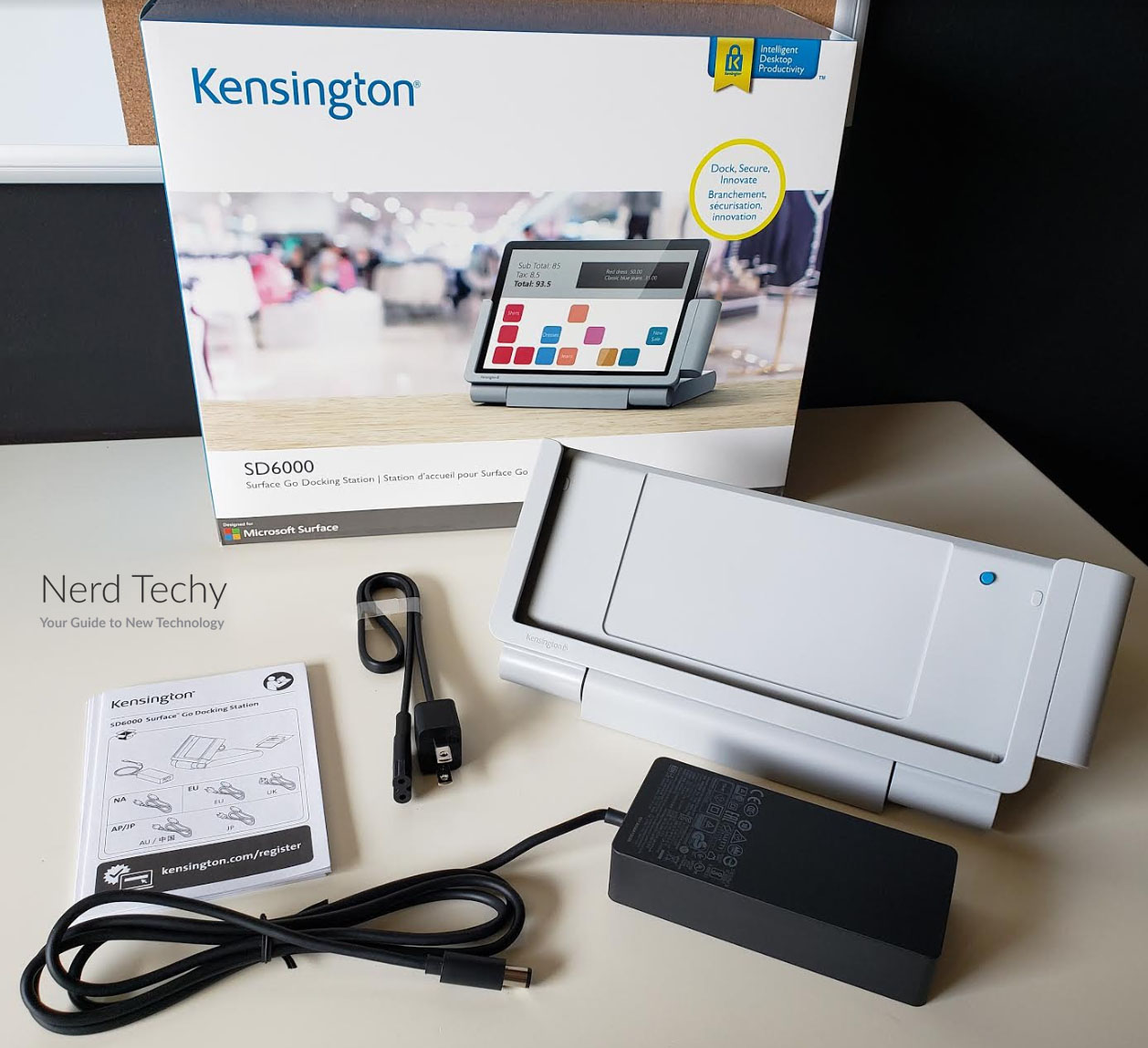 Design & Build
The SD6000 is constructed from light gray ABS plastic, with polycarbonate reinforcement at the hinge and other high-stress areas. The base measures 9.2 inches in width, 6 inches in depth, and 1 inch in height when it's folded up. The hinge at the base allows you to adjust your tablet to any angle. As a result, you can use it at a variety of heights. There are a pair of rubber-padded clamps on the front that hold your tablet securely without scratching the case. When your tablet is inserted, the clamps will extend to a width of 12 inches. On the left side, you'll find a small magnetic mount for your Surface Go pen.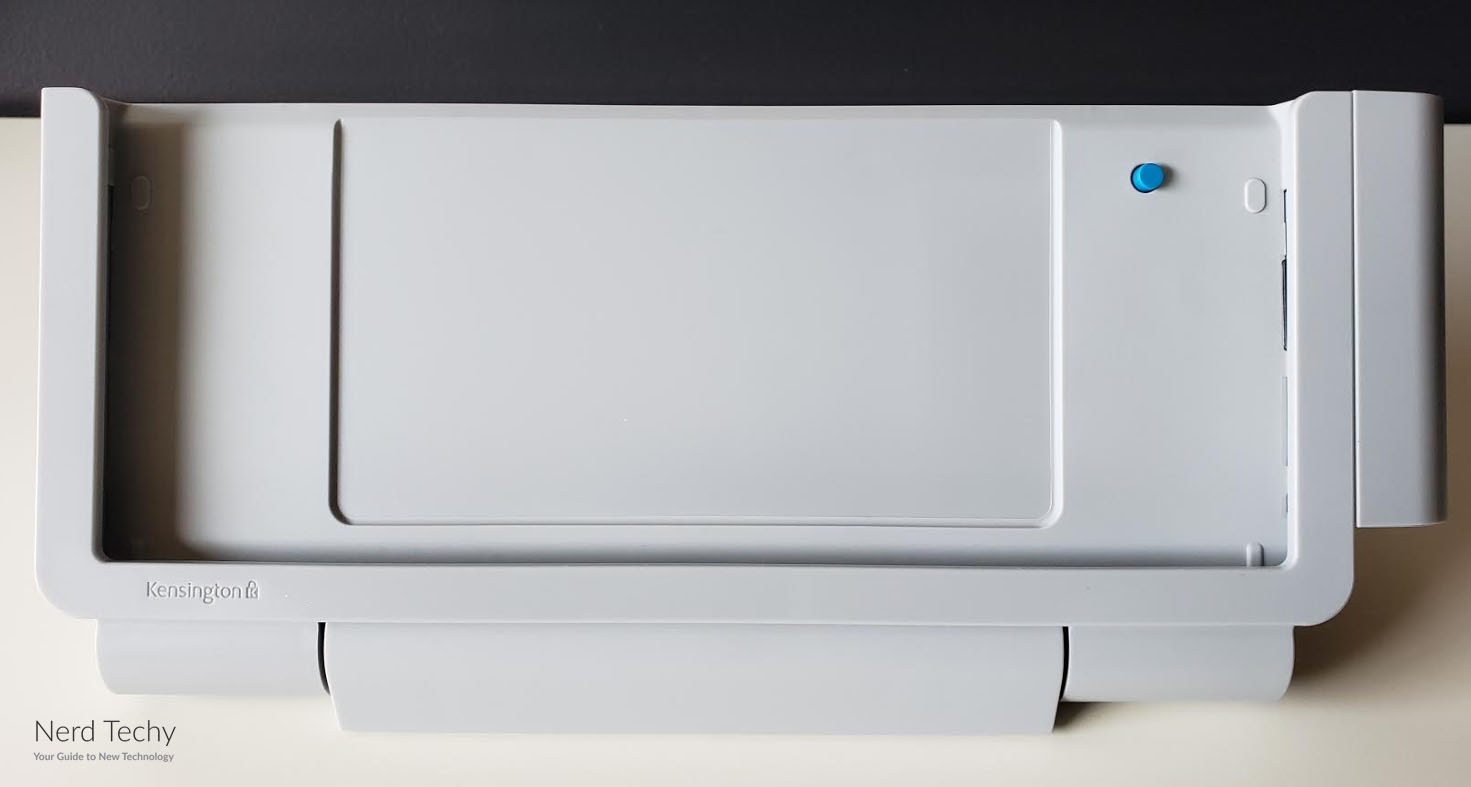 Speaking of the Surface Go, the SD6000 is only compatible with the Microsoft Surface Go. It uses the Surface Connect connection port, which is unique to the Surface line of products. This provides a lot of functionality. For instance, it allows you to work and charge simultaneously, so you'll never run out of juice. The connection is also plug and play, which means you won't have to install any drivers. The downside is that you'll need a different choice for Samsung or Mac devices. If that's the case, never fear. The Kensington LD5400T is a solid choice. It offers near-universal compatibility, so you can use it with almost any device.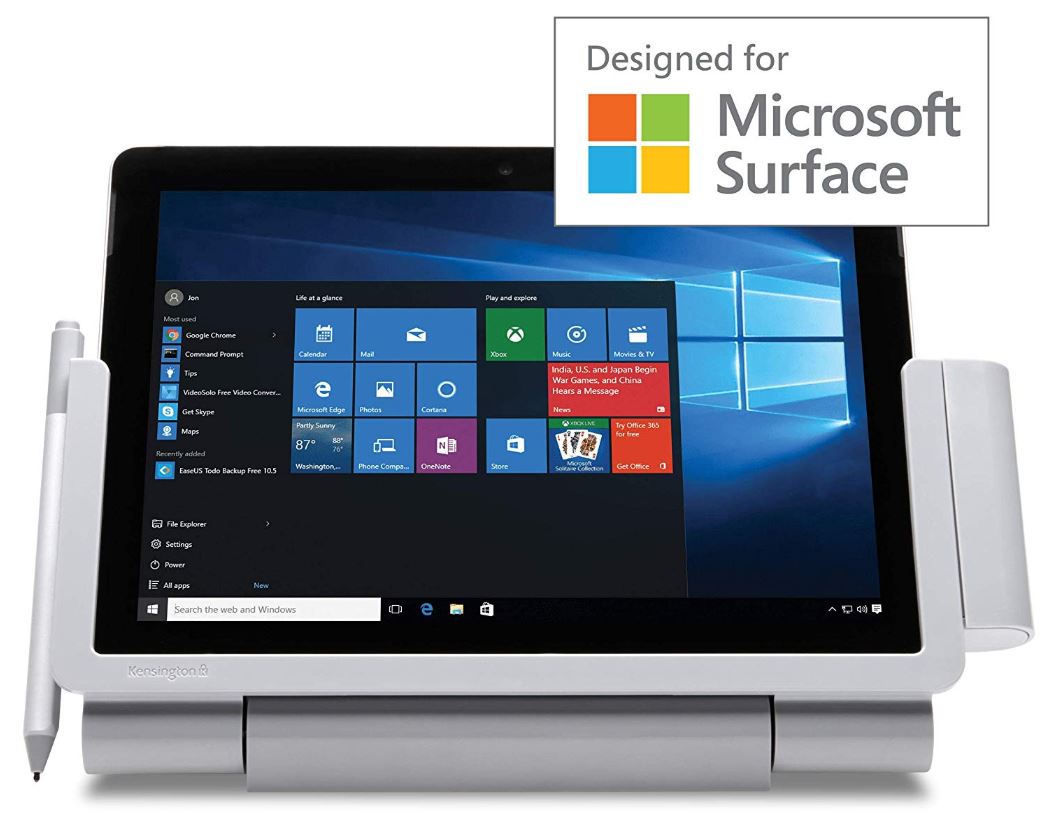 The SD6000 also keeps your Surface Go safe from overheating. The cradle has a wide, shallow air channel, which leaves the air vents fully exposed. In addition, there's a blue cradle pin, which protects your Surface Connect's cable from popping out and snagging. All of the ports are located on the back of the SD6000, which keeps your cables discreetly out of sight. The SD6000's overall weight is just under 6 pounds, which hits a good sweet spot. It's light enough for portability, but sturdy enough that it won't easily get knocked over. And small rubber feet on the bottom prevent it from sliding around on your desk.
The rated operating temperature is from 32 to 122 degrees Fahrenheit. Obviously, this won't be a concern in most office environments. However, this is something to keep in mind if you're working in a non climate-controlled environment like a three-season porch.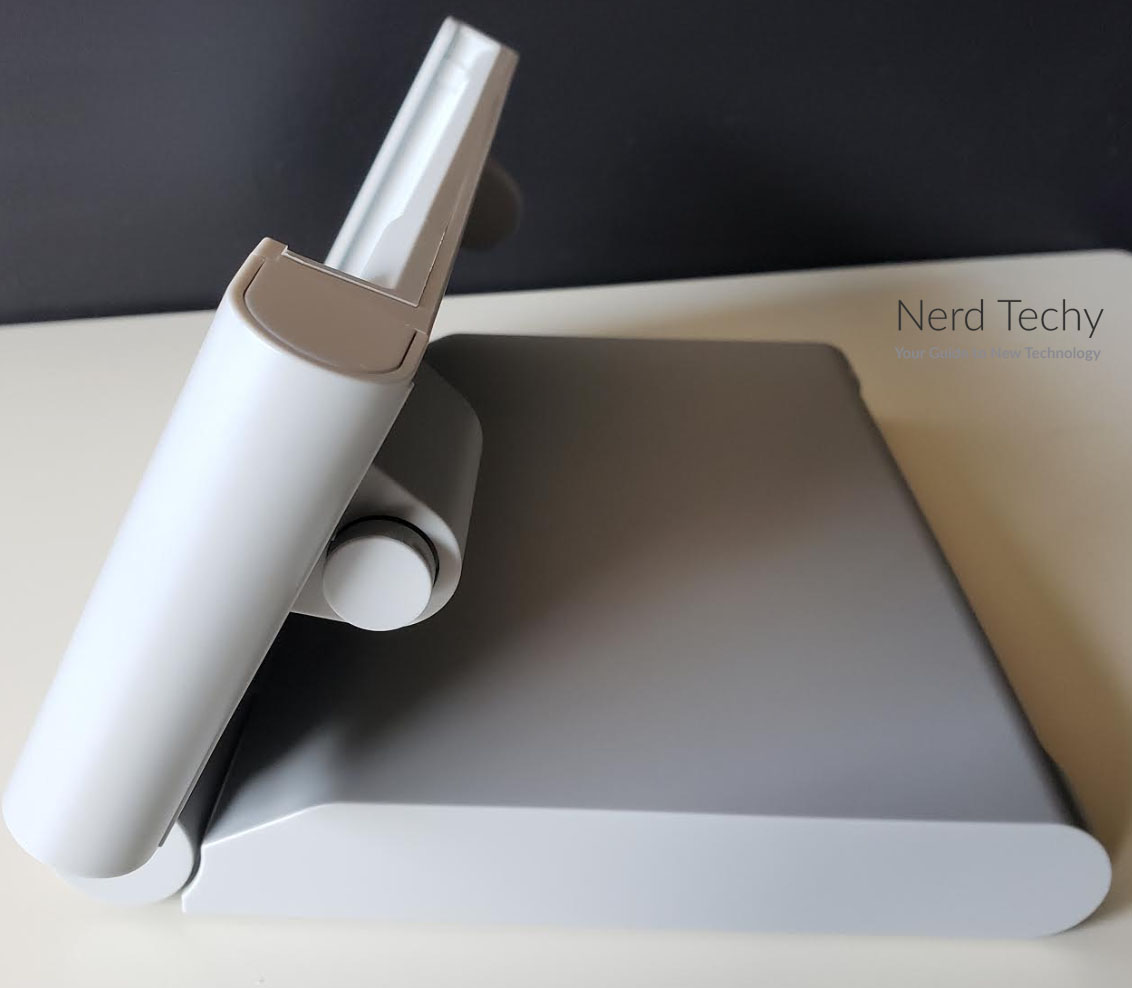 Advanced Security
One downside of a tablet PC, as opposed to a desktop, is that it can be easy to steal. With 30 seconds and a laptop bag, someone can walk away with your investment – and all your work. As a result, many tablet docking stations have built-in security features, which deter theft.
The SD6000 has a 2-part security system. First, there's a locking socket on the back, which can be cabled to your desk or to your wall. Secondly, there's a lock on the side of the clamp, which prevents the clamp from opening. Kensington sells an optional locking module, which provides both of these features. The web page lists it as an SD7000 locking module, but it can be used with the SD6000 as well. You can choose between the standard variant or, for a few dollars extra, you can get one that's custom keyed. There's also a privacy screen available, so you can keep your screen safe from prying eyes in public.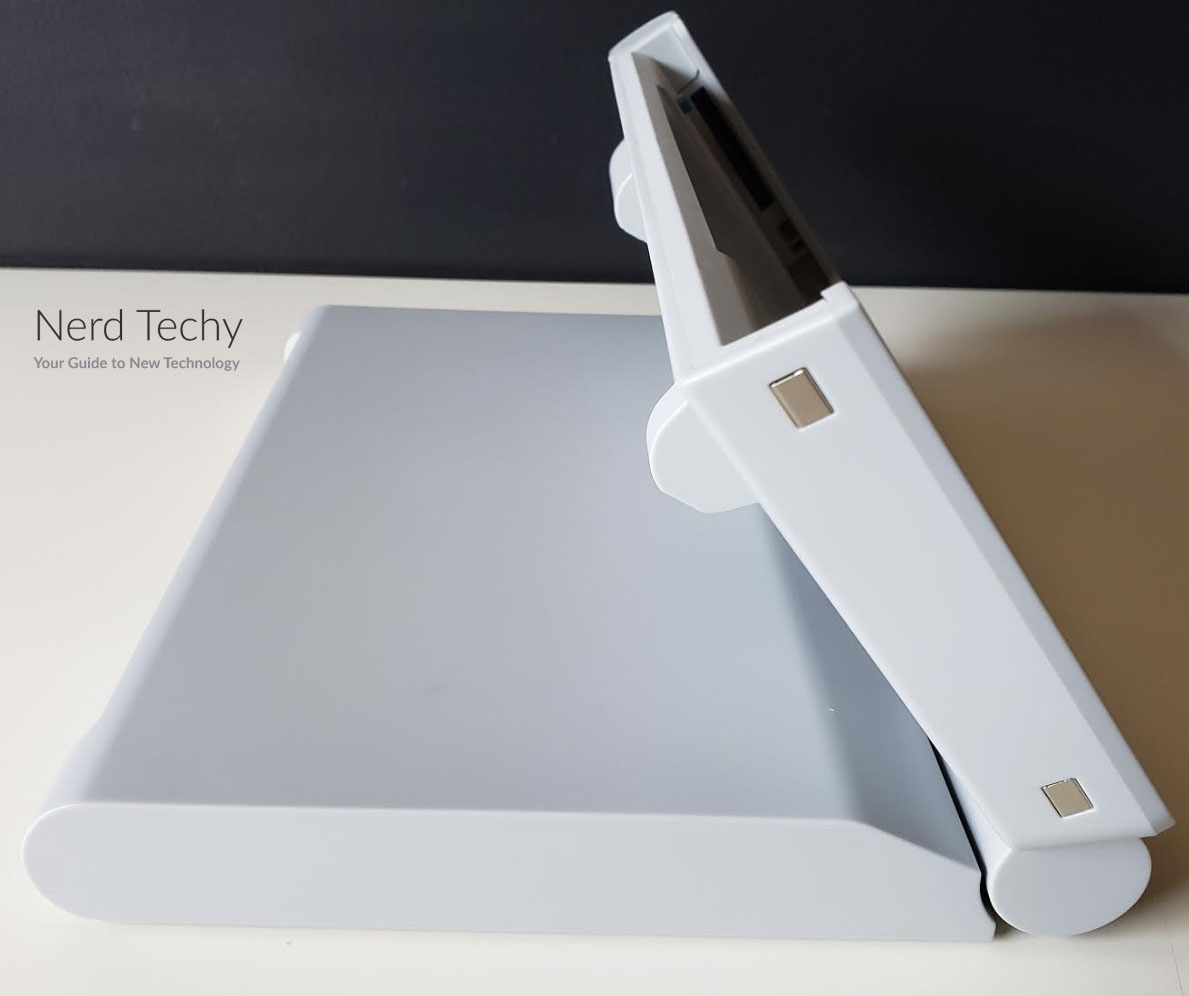 Kensington also provides continual software updates for the SD6000 itself. If you follow tech news at all, you'll already see the value. Simply put, no hardware, no matter well-engineered, is 100 percent hacking-proof. Eventually, somebody somewhere is going to write a virus or Trojan horse to infect your device. This is one reason why software developers are constantly putting out updates to perfectly functional software. With Kensington's DockWorks security updates, you get the same protection for your SD6000's firmware. The updates also include performance upgrades. And they're installed invisibly in the background whenever your dock is connected to the web.
If you have any further concerns about the quality, Kensington offers one of the best warranties in the business. The SD6000 is warrantied for 3 years, so you're fully protected from any unexpected failures.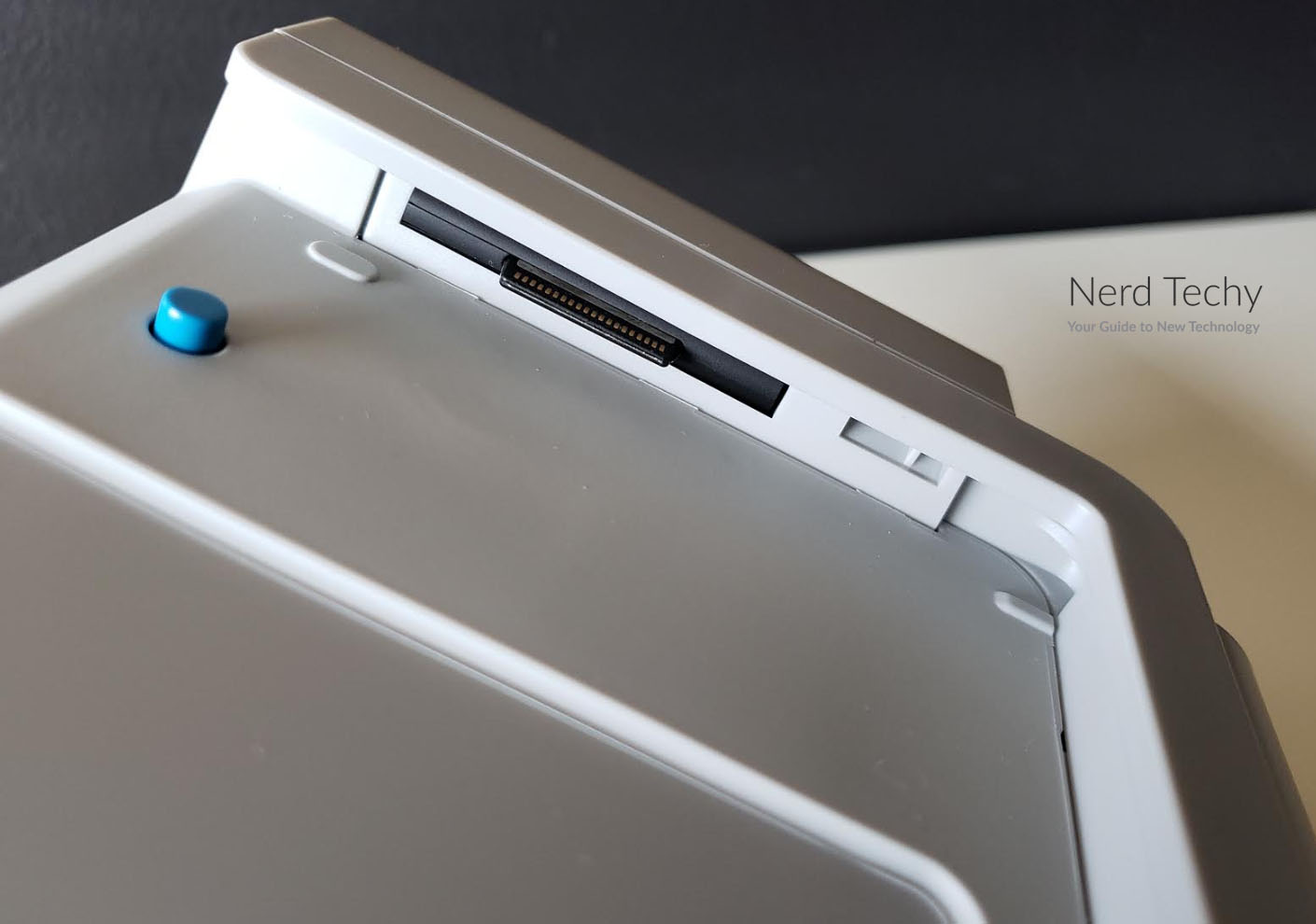 Connectivity
As we've mentioned, the SD6000 is plug and play with all Surface Go devices. An AC power adapter is included in the box, so you won't need to supply one on your own. Just plug your tablet into the docking station, and you're ready to go. But there are several extra ports on the back that actually improve your SD6000's connectivity.
To begin with, on the right side, there's a 15-volt power supply, which powers the station and charges your tablet. To the left of that, you'll find a pair of display ports. The first is a standard HDMI port, and the second is a DisplayPort++ connection. These can be used to set up a dual display, allowing you to use larger, more powerful monitors. If there's a single display connected, the SD6000 supports 4K graphics at a full 60Hz. In dual display mode, you still get 4K graphics, but the refresh rate drops to 30Hz. This should still be sufficient for almost any office use. However, if you're doing video editing, you might prefer the faster display rate.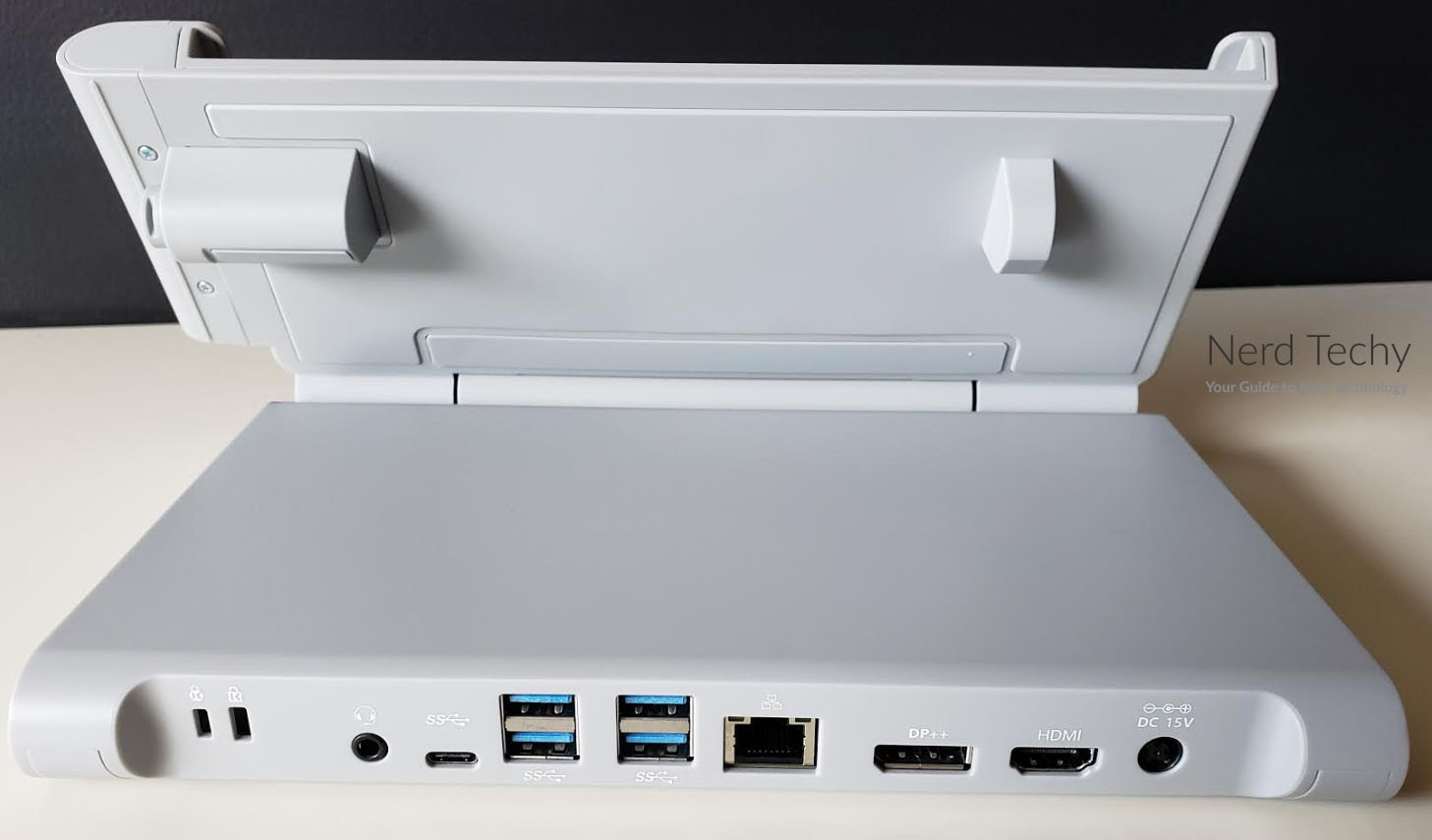 Moving along to the left, you'll find a Gigabit Ethernet port. This port is fairly self explanatory, and may not be necessary. After all, you could just use the Surface Go's native WiFi capability. But if you don't have a WiFi signal, it ensures that you'll still be able to get online. You'll also find four USB ports for connecting all of your peripherals. These are full-powered 5-volt jacks, so you can connect any device you'd use with a desktop PC. They only provide 0.9 amps of current, though, so you won't be able to use quick charge mode. There is, however, a USB Type-C jack that provides a 5-volt, 3-amp current. If you want to quick charge your smart phone, use this port, and your battery will be full in no time.
Finally, the SD6000 has a 3.5mm audio jack. True, you could always use your Surface Go's built-in speakers. But if you're working at a desk anyway, why not plug in some external speakers and get better sound? At the far left, you'll see a pair of slots that might be hard to identify. These slots aren't there for connectivity. They're the locking slots for Kensington's locking module.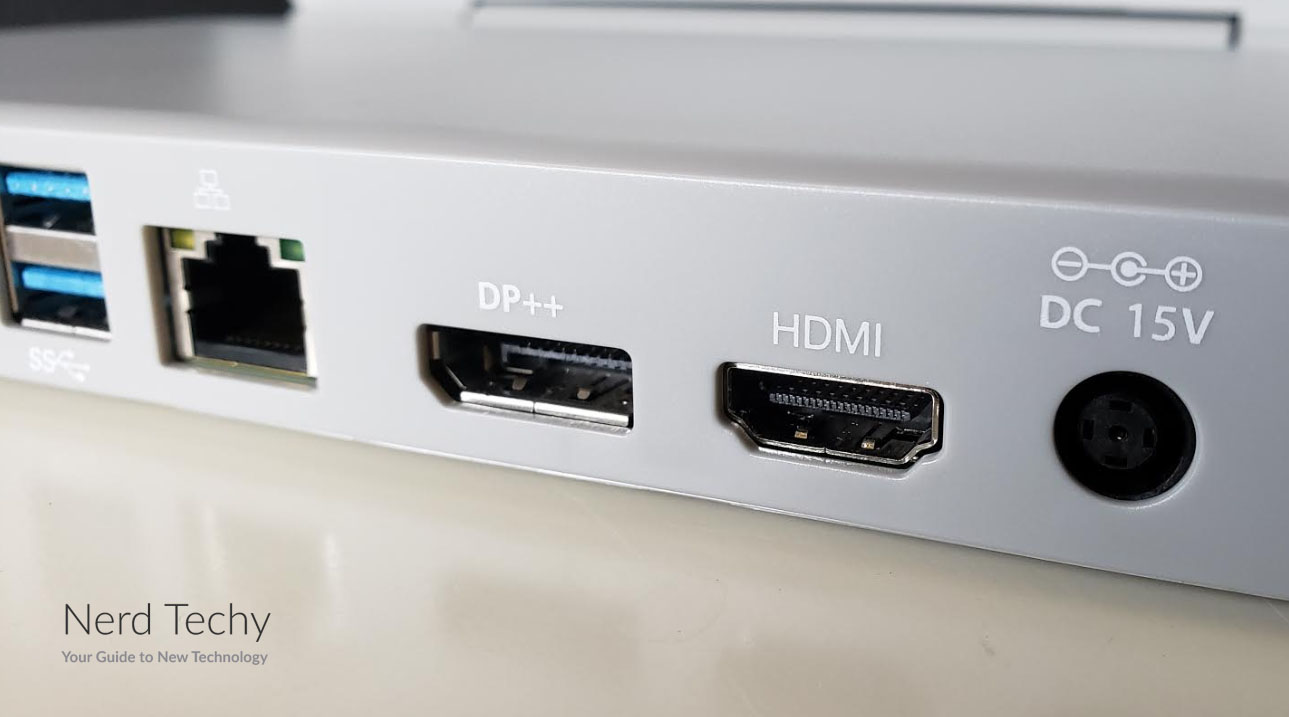 Kensington is known for manufacturing quality hardware, and the SD6000 is far from their only offering. They also produce the newer, upgraded SD7000, which we've already reviewed in the past. It has an extra USB port, as well as mounting arms that can adjust the height up and down.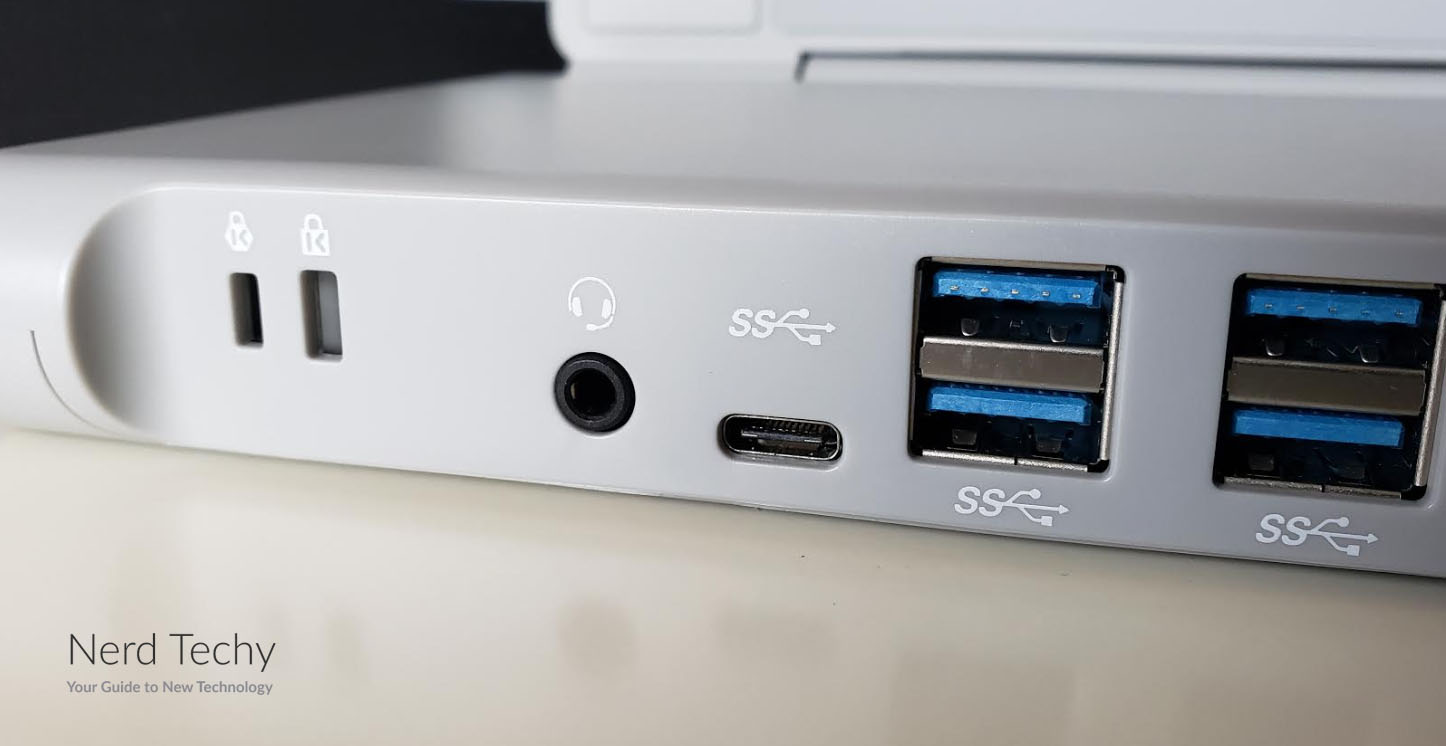 Final Verdict
So, how does the Kensington SD6000 compare to other, similar tablet docking stations? To begin with, it's very easy to use. Just plug your Surface Go in, and it's ready to work with all your peripherals and displays. That said, it's only compatible with the Surface Go, so you can't use it with your Mac or Samsung.
The overall construction is very good. To be sure, we would have liked to see some aluminum parts for enhanced durability. But all of the high stress parts are constructed from polycarbonate, which is more rugged than Abs. We also appreciated the air channel, which keeps your Surface Go from overheating under stress. And the security features are very good, both the physical locks and the constant software updates.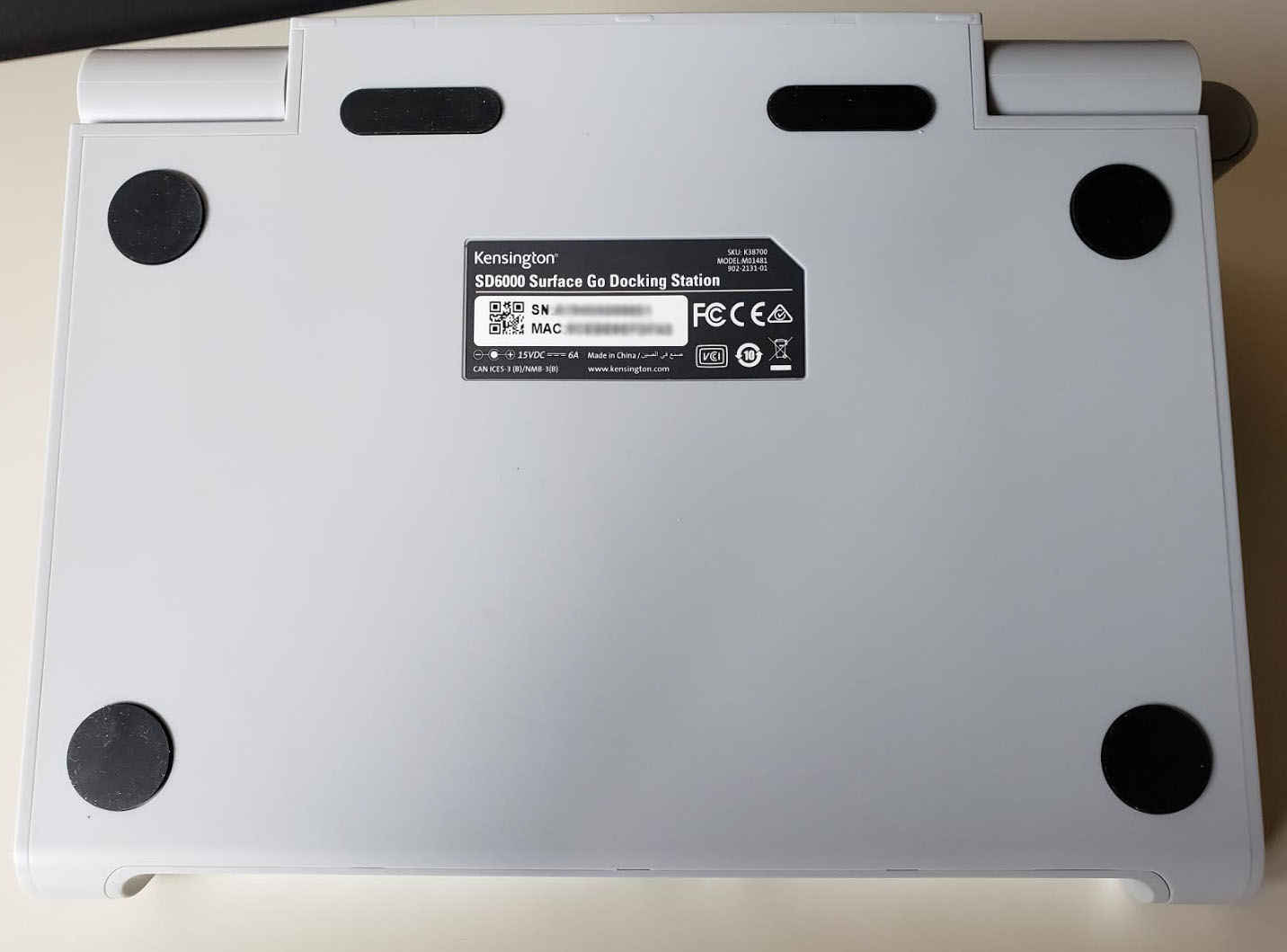 In terms of connectivity, the SD6000 performs as well as any top-tier docking station. It upgrades your base device with a total of five USB ports, so you can connect several devices. It also allows for a dual display, which was much appreciated.