Modern video projectors have many purposes. For one thing, they're often used in offices. In most cases, it's easier for a presenter to plug into a projector rather than anything else. The projector can sit on a conference table or be mounted from a ceiling, so you can keep your laptop close. However, video projectors are also popular for home use.
To many readers, this might come as a surprise. Aren't projectors old technology? Why not just use a BluRay player or set top box? The answer to the first question is "yes and no." Old-school projectors used film reels, which were big, bulky and inconvenient. Modern projectors use a digital video signal, the same as an ordinary TV or monitor. Not only can you use them with a BluRay player, but you can use them with a laptop or other device. No need to worry about bulky film reels. Moreover, a video projector can be used in any room, at any time, or even outdoors. A TV or monitor doesn't have that same versatility.
Today, we're going to review the GooDee W80 WiFi Video Projector. This projector is easy to install and accepts almost any source, so it ticks off all the basic boxes. But is it worth your hard-earned money? To meet that bar, it ought to be a bit more than basic. To find out how the W80 stacks up to the competition, we'll need to dig below the surface. If we take a deeper dive into all its benefits and features, we'll be able to form a more coherent opinion. Let's get started, and see what we discover!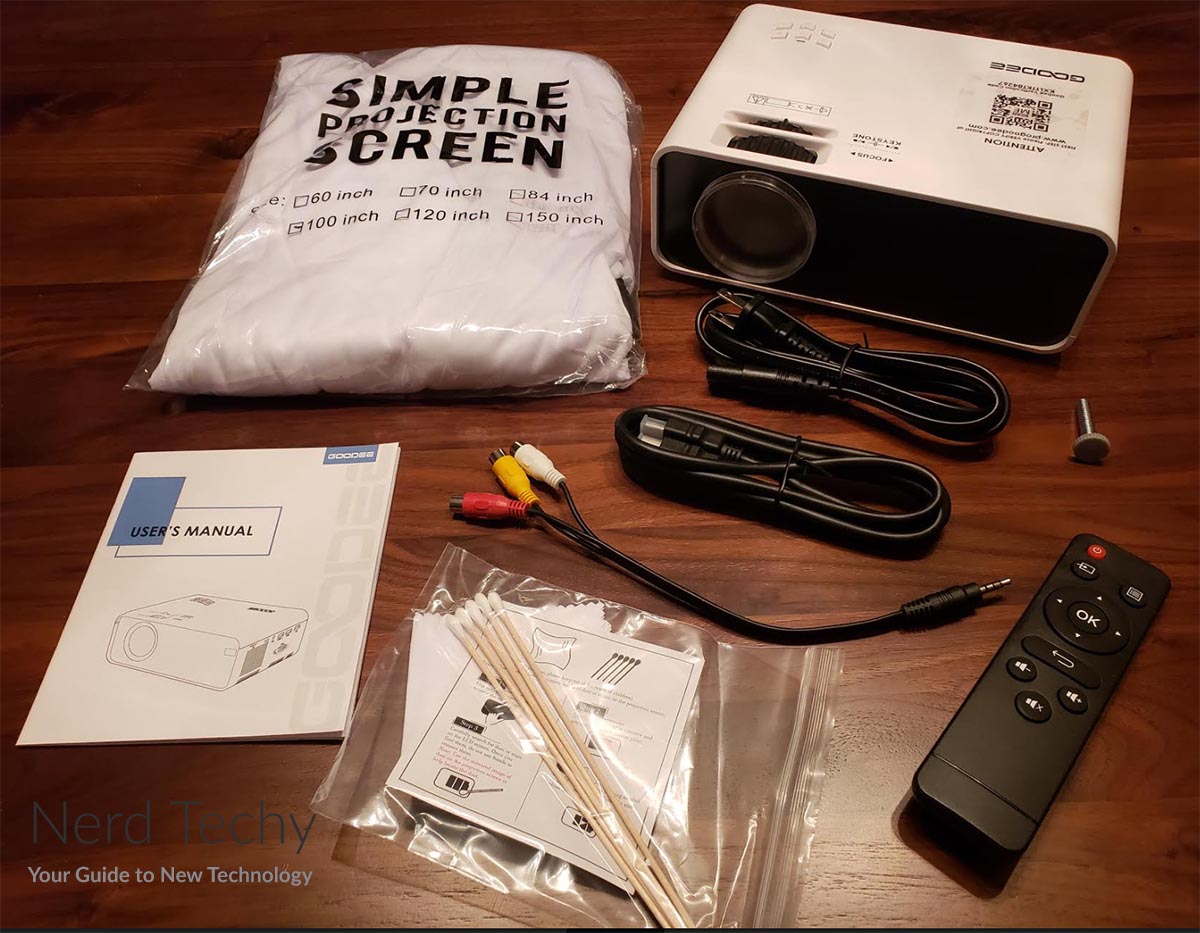 Design & Controls
The GooDee W80 WiFi Video Projector is a compact projector that's designed primarily for portability. Its overall size is 7.9 inches wide, 5.5 inches deep, and 2.7 inches thick. This makes it suitable for carrying just about anywhere. You can throw it in your backpack and hit the road. You can even take it in a carry-on bag if you've got to make a presentation far from home.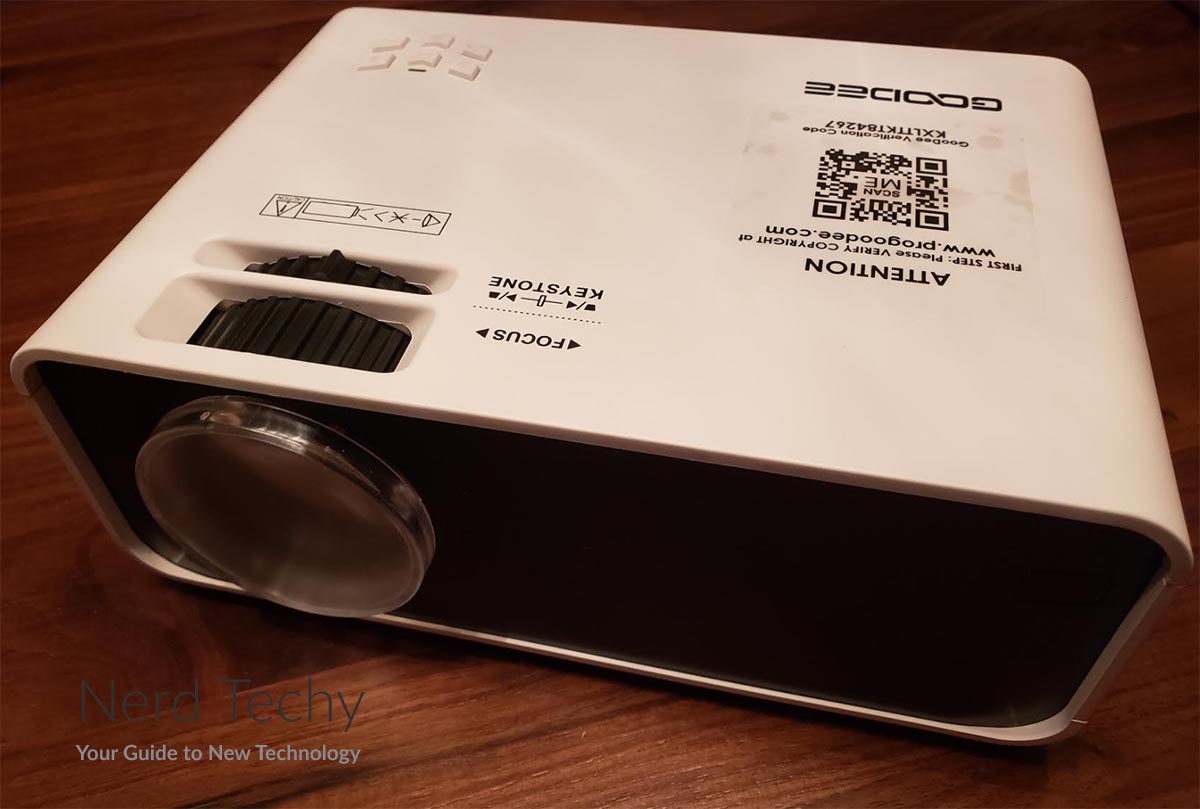 The housing is constructed from white ABS plastic, with rounded corners and a buffed satin finish. The front panel is slightly recessed, and is a high gloss black. This recessed design allows it to protect the lens housing, which is nowhere exposed to the outside. The only part of the housing you'll see is the lens itself. As long as you keep your fingers clear of that, you won't get burned. That's not to say that the W80 is a cool-running unit, though. As most micro projectors do, it runs very hot. There's just no way to get good ventilation through the unit. This doesn't mean it will heat up your room any more than most projectors. It means you'll want to let it cool for a minute after running it and before putting it in your bag.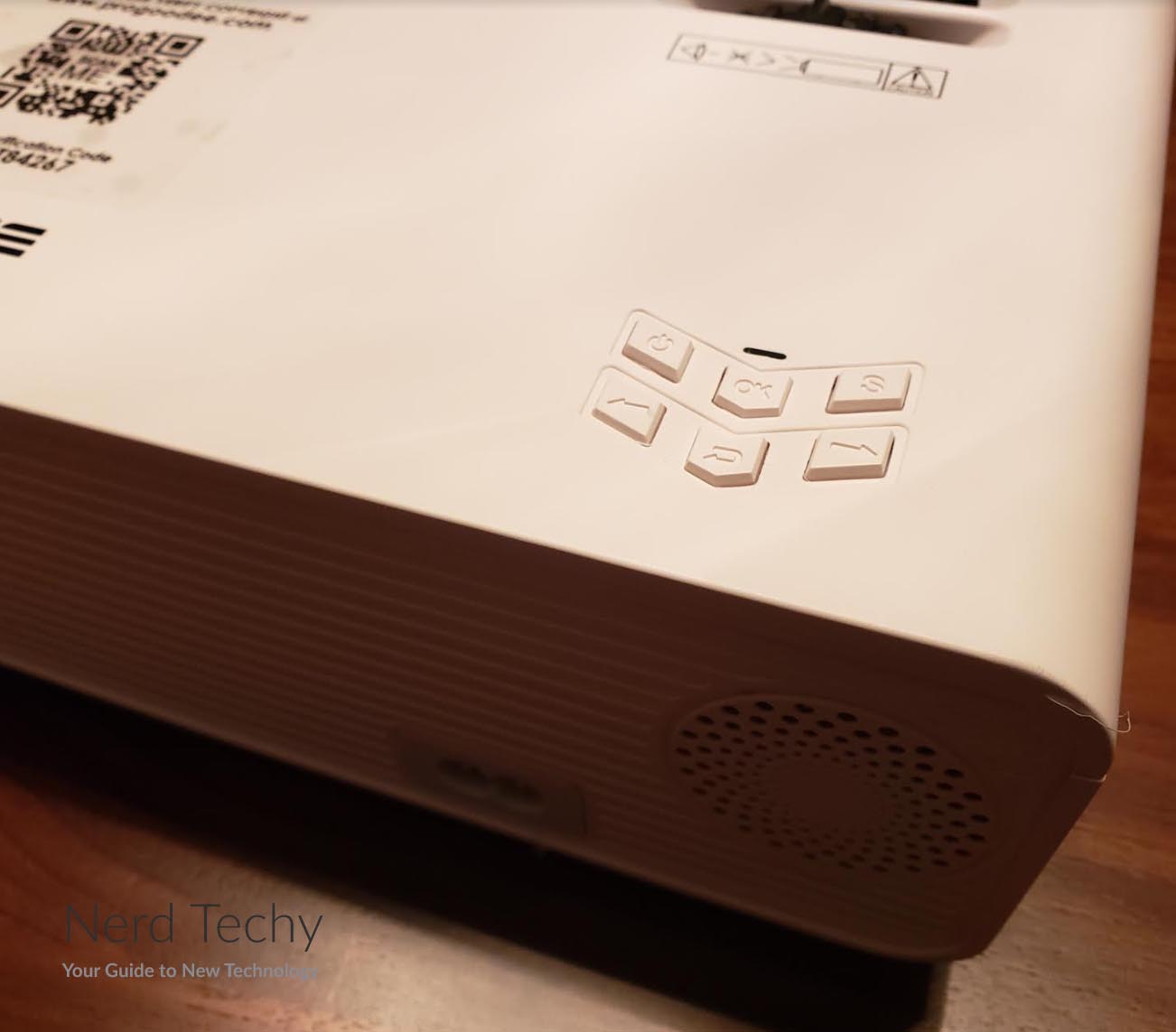 On top of the housing, just above the lens, you'll find the tops of two dials. The front dial adjusts the keystone both horizontally and vertically, by as much as 15 degrees. This helps make placement easy, since the projector doesn't have to face the screen dead-on. The rear dial adjusts the focus. This is helpful for viewing at different distances, so you'll always have a sharp picture. Towards the rear of the top, you'll find a set of rubbery buttons. These allow you to play and pause videos, and perform a few other basic functions. There are also buttons for navigating the menu to perform more advanced functions. You'll need to use these, since there's no remote control. Thankfully, the interface is simple, and takes just a few minutes to learn.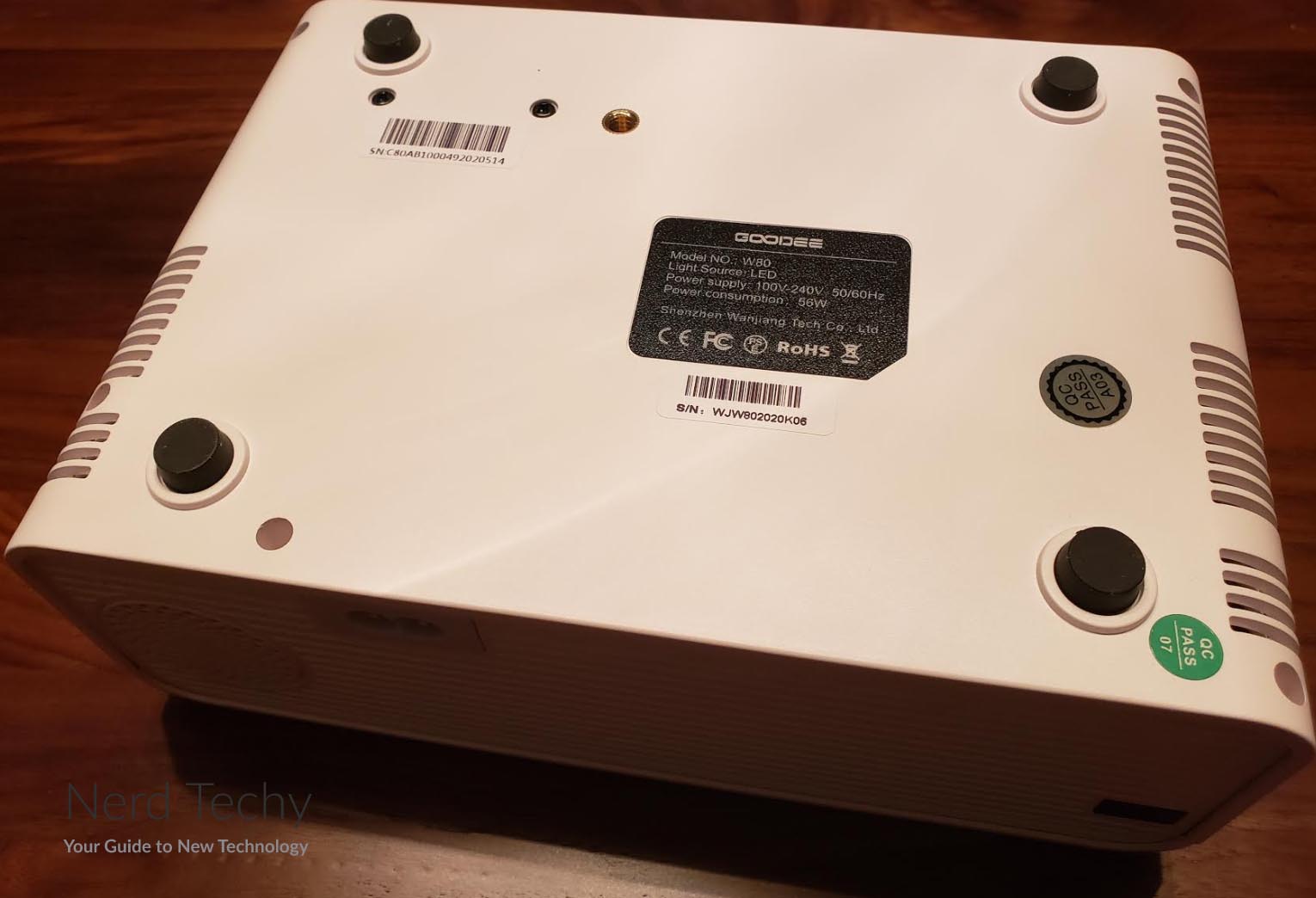 On the bottom of the W80, you'll notice a couple of extra features that add to the W80's appeal. First, there are sturdy anti-skid rubber bumpers. These keep it in place on smooth surfaces, and prevent it from damaging delicate ones. There's also a ¼-inch tripod mounting hole, as well as holes for a ceiling mount. These are self-explanatory. Basically, the W80 is good both for tabletop and mounted use.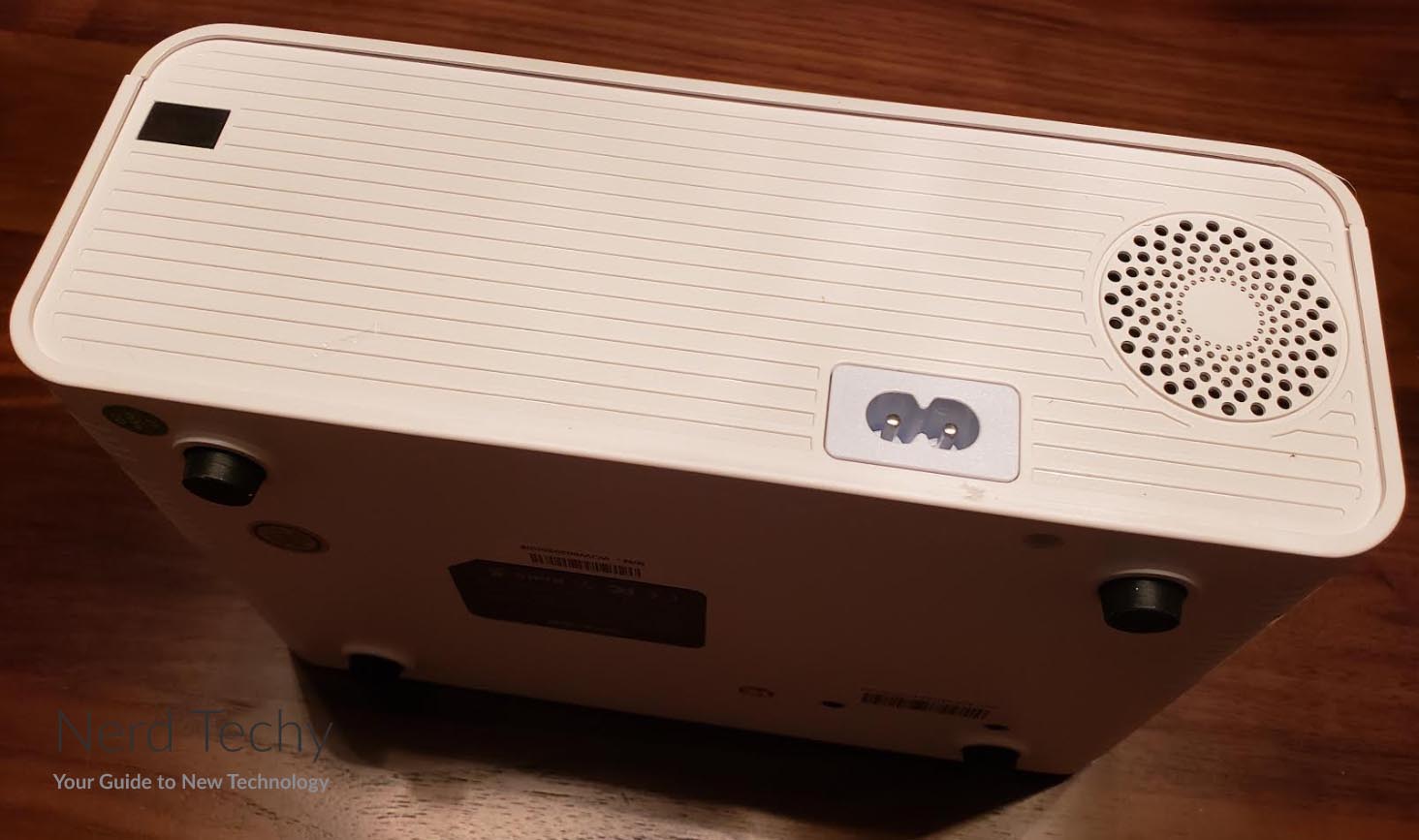 The W80's power supply connects to the rear of the unit, so it's out of sight and out of mind. The rest of the inputs are located on the opposite side of the housing from the lens. This keeps the surrounding area as cool as possible, and makes them easy to access. In all, there's an HDMI port, a VGA port, a USB port, a set of old-school AV ports, and an SD card slot. For such a small unit, that's an impressive number of inputs! Keep in mind that Apple and Android devices will need Lightning or USB Type-C to HDMi adapters respectively. Anything else should be plug and play.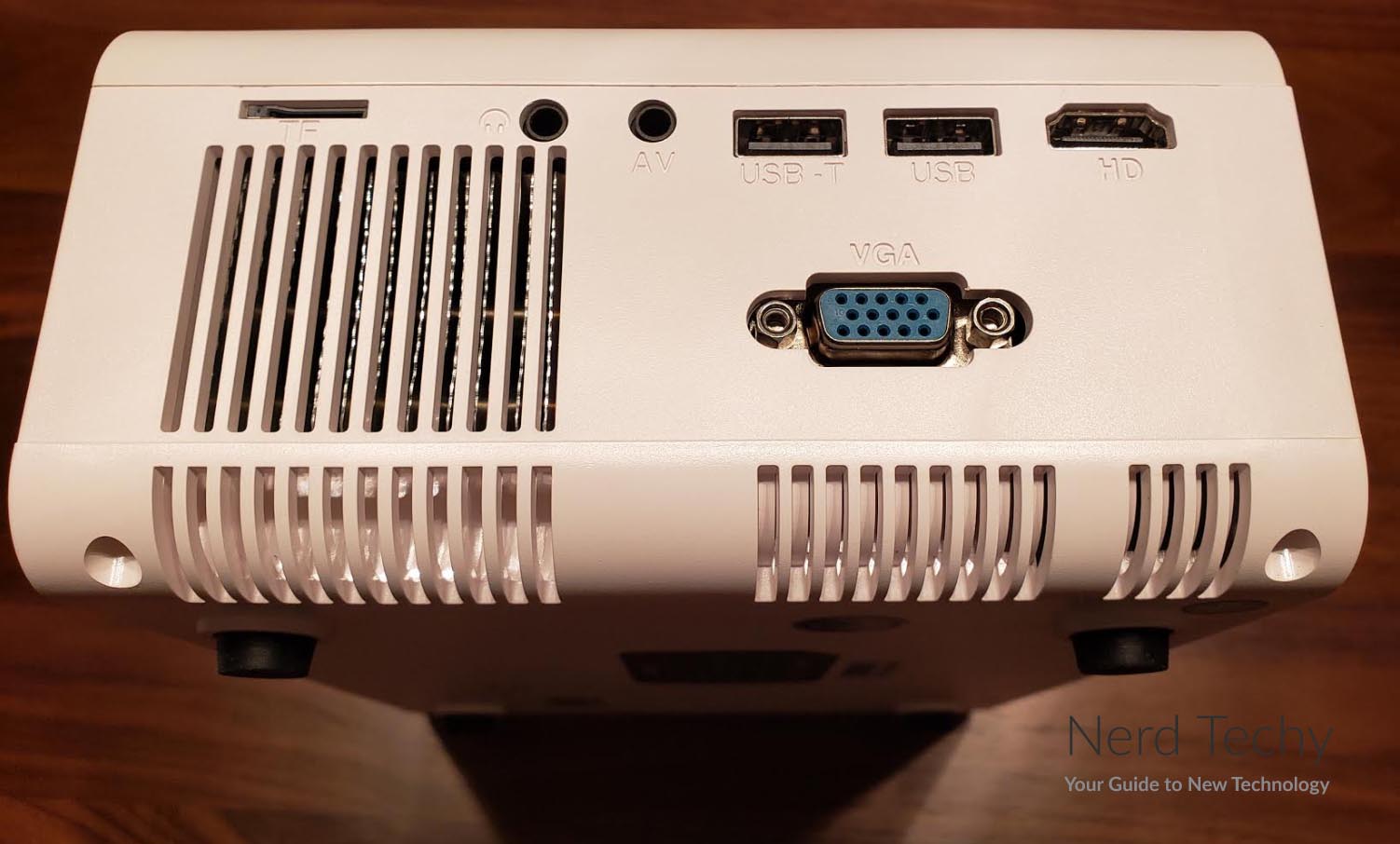 The GooDee W80 comes with a two-year manufacturer's warranty. This covers you for any defects in materials or workmanship, and should cover most problems. Even better, there's a two-month no-questions-asked return window. If you decide to return the W80 for any reason, you'll get a full refund. This is true even if you just decided you don't like it.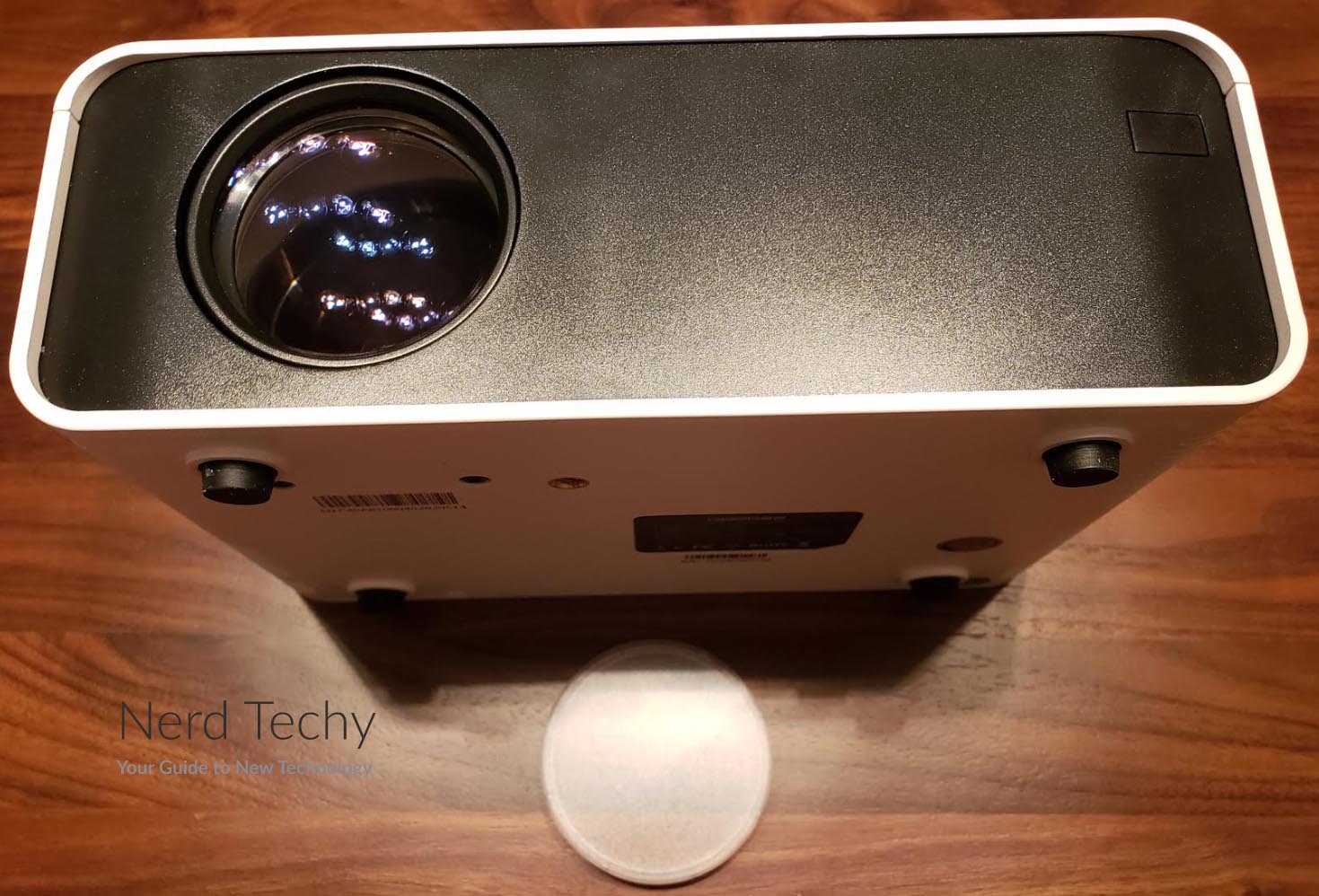 GooDee is well-known for their customer service. So well-known, in fact, that the W80's warranty isn't even the best one they offer. The GooDee YG600 takes that honor, with an impressive three-year warranty and the same two-month return window. However, it doesn't project in full 1080p.
Video Quality
The W80 has two different resolutions: the native resolution is the resolution of the projector itself. The supported resolution is the video resolution it can handle. The native resolution is 720p. This means that any video in 720p or lower will be played in its original quality. So if your video is 480p, you'll see it in 480p. If your video is 720p, you'll see it in 720p. However, the W80 will still play videos up to 1080p in resolution. It will simply downscale them to 720p, so the picture won't be quite as sharp as the original.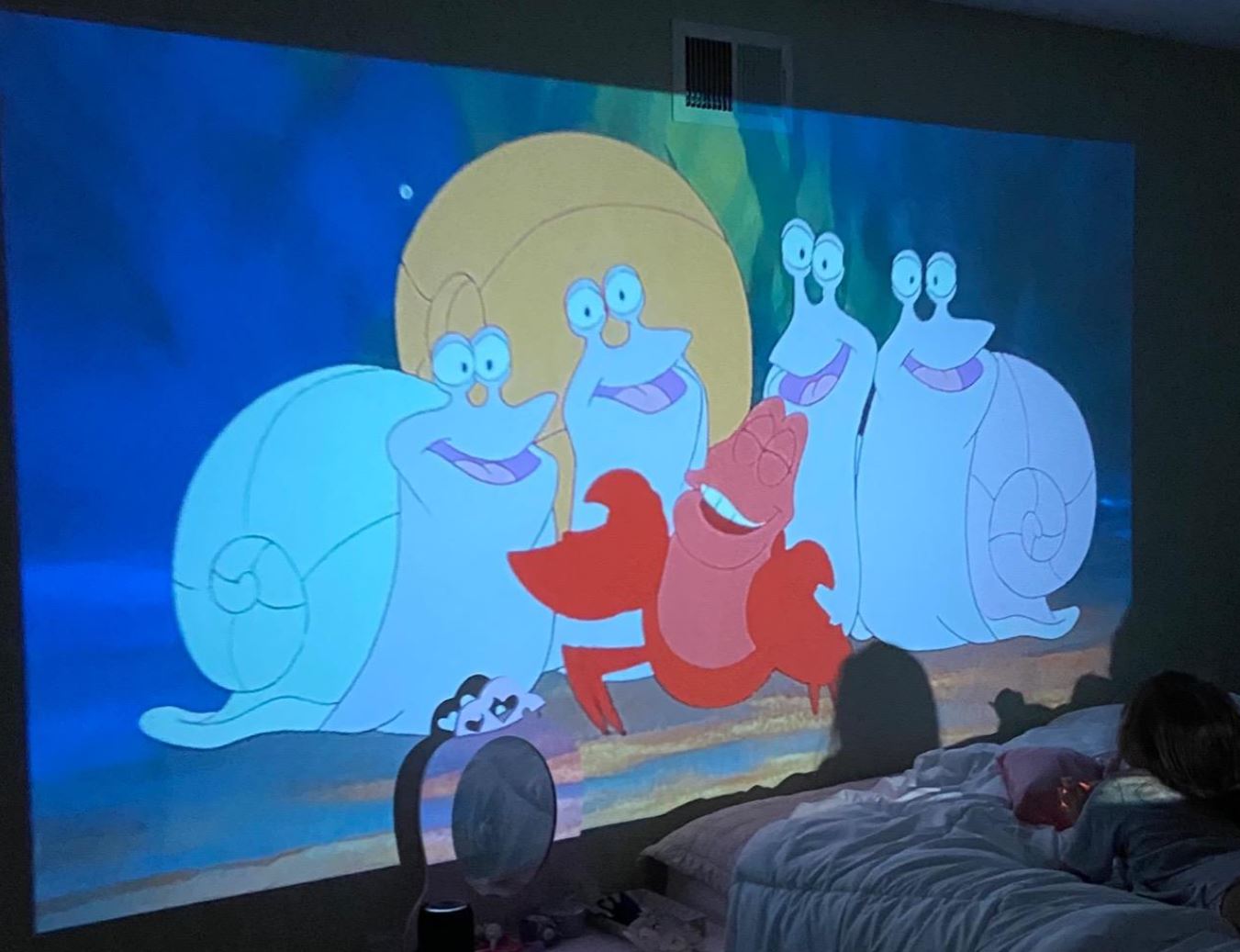 True 1080p projectors are pricey and hard to find, but they do exist. For instance, check out the GooDee YG620. It has a native resolution of 1080p for crisper, sharper video. On the other hand, it doesn't have any AV inputs. This can make it tough to use with older devices that don't have an HDMI output.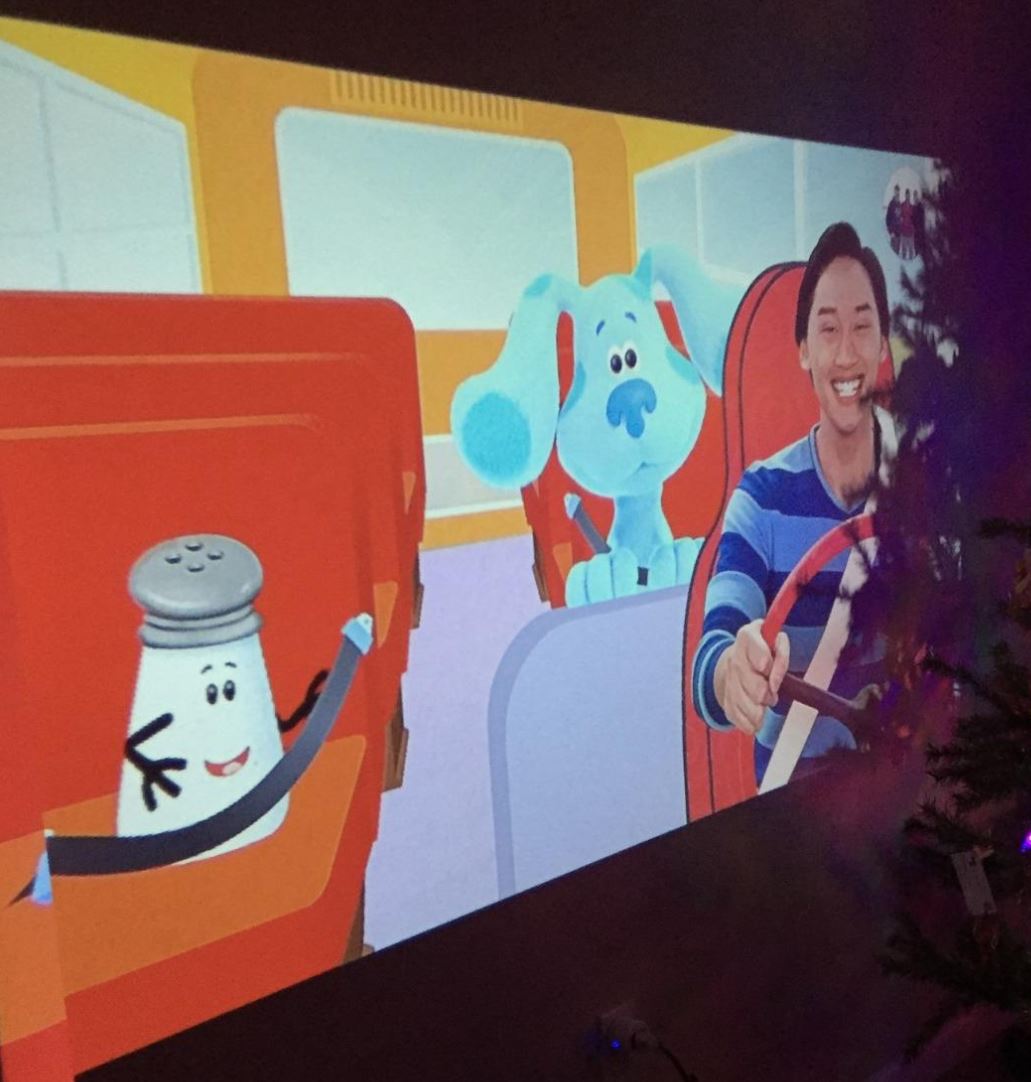 The display size will vary depending on how far the projector is from the screen. The further it is, the larger the picture will be, and vice-versa. In total, the focus can work with screen sizes between 30 and 200 inches, which is quite the range. You can project on a living room wall or the outside of a building with equal ease. The recommended distance for optimum clarity is 8.2 feet, which gives you a screen size of 80 inches.
To compliment this size, the W80 comes with an 80-inch screen. This is a simple sheet of fabric, without a stand. But it's totally free, and for what it is, it's not bad at all. The surface is bright white and highly reflective, perfect for reproducing bright colors. It's surrounded by a durable, double-thick black border that sports six heavy-duty metal grommets. These can be used for hanging the screen, or affixing it permanently to a wall. Alternatively, since it's just a piece of fabric, it can be rolled up for travel. It's nothing special, but it's a nice extra touch to an already-worthwhile package.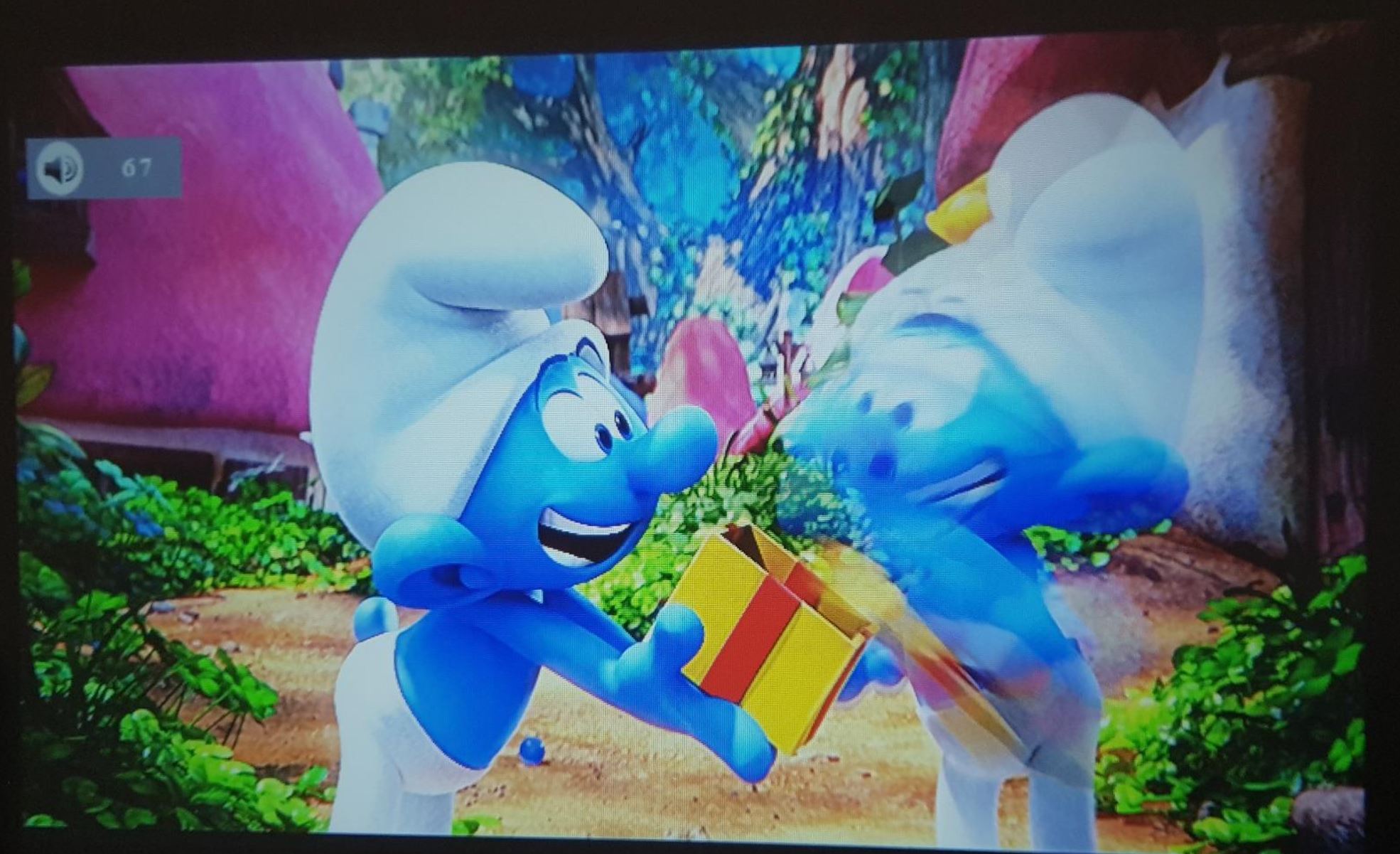 If the screen is too big or too small, you can also zoom the image in and out. In all, the W80 supports zoom settings between 25 and 100 percent. You probably won't be using this feature while watching the latest Hollywood blockbuster. But if you want to zoom in on a picture in a presentation, you can.
Inside the W80, there are a pair of small speakers. They're low-wattage, so the volume is only enough for listening at moderate volume. Moreover, the sound is a bit hollow. They're good enough for giving a presentation, but you'll probably want external speakers for watching movies. For better sound quality, consider the GooDee BL98. It has higher-quality internal speakers. They're still not Bose quality, but they're suitable for a movie night with friends.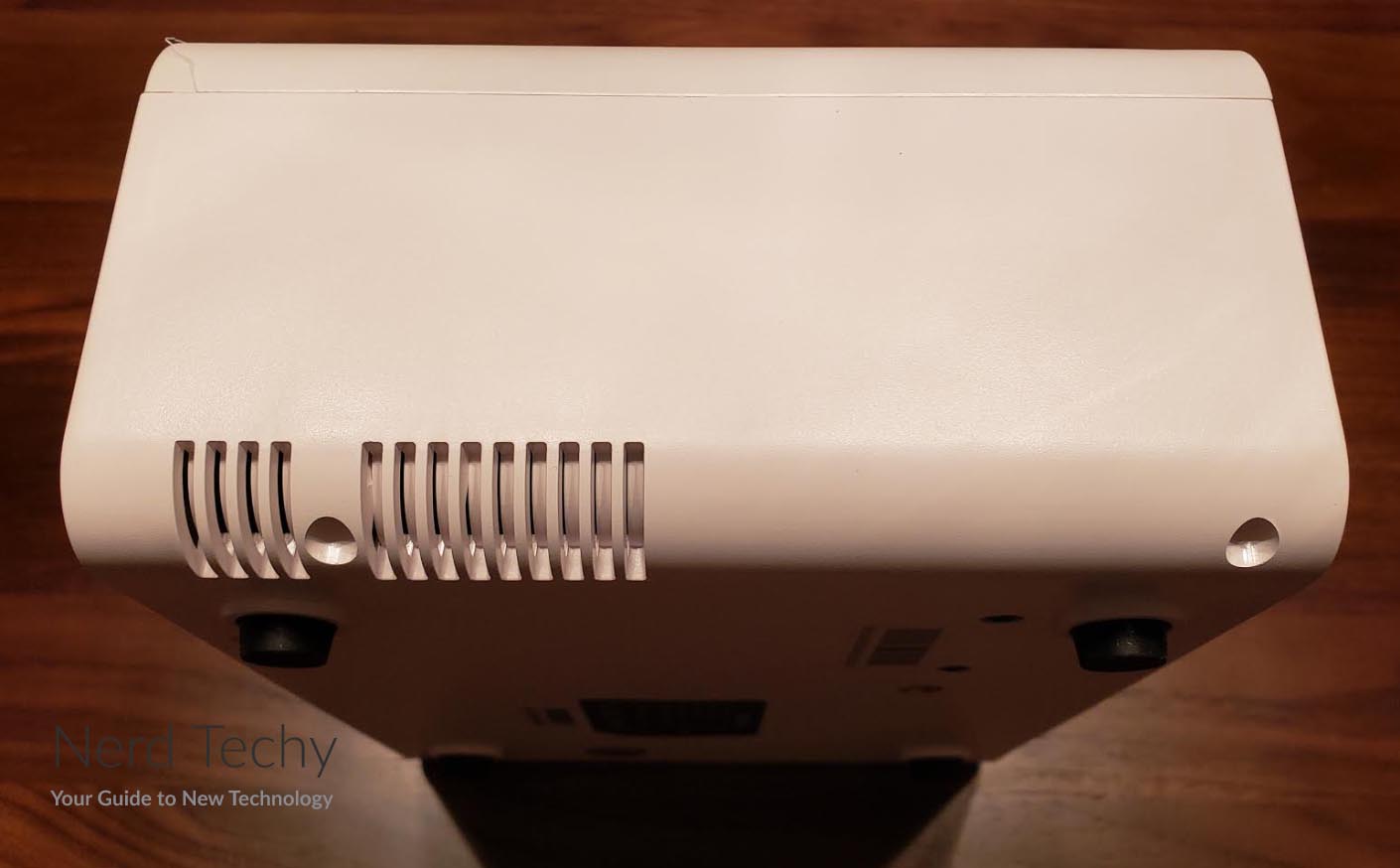 Compatibility & Extras
When it comes to compatibility, there isn't much you can't connect to the GooDee W80. The HDMI connection will support most modern devices, meeting most of your needs. For older devices like VCRs and old game consoles, you can use the AV connection. For older laptops, you can use the VGA input. You can also use the USB input for a Fire stick or other streaming stick. The W80 also supports playback of USB video for most common formats. You could potentially even connect an external hard drive and use it as a media server.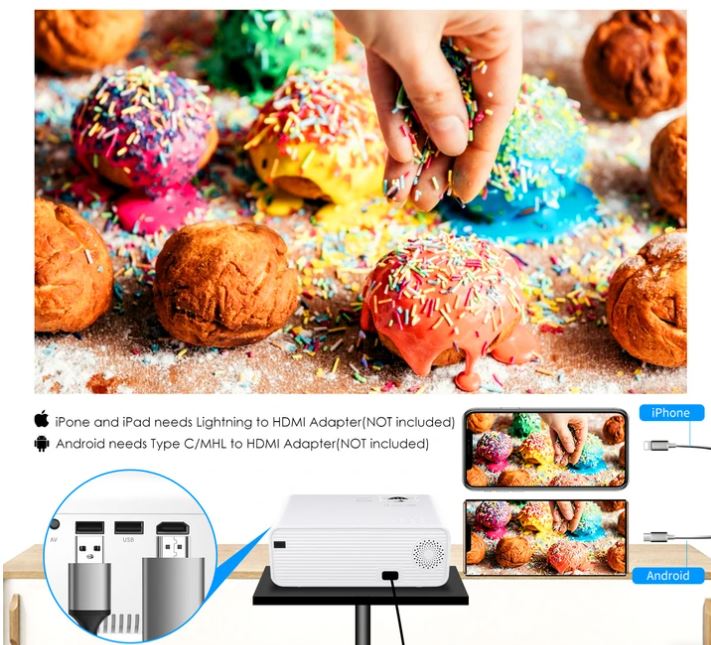 We already talked about how to jury rig a wired connection for your iPhone or Android. But there are other options besides wired. The W80 projector can connect to your home's WiFi network. Once it's connected, you can mirror your screen just as you'd mirror it to a smart TV. This feature works with any iOS or Android device that supports screen mirroring.
Final Verdict
So, is the GooDee W80 WiFi Video Projector worth your time and money? In most respects, the answer is yes. It runs a bit hot, but that happens with pretty much any mini projector. The video looks great, which is the main thing you're looking for. Not to mention, the small size makes for a very travel-friendly design. You can use pretty much any kind of input, including screen mirroring for mobile devices. The other nice feature is that the W80 comes with a free screen. It's a small extra touch, but those small features add up over time. All in all, the GooDee W80 is one of the better projectors we've seen.
Meet Derek, "TechGuru," a 34-year-old technology enthusiast with a deep passion for tech innovations. With extensive experience, he specializes in gaming hardware and software, and has expertise in gadgets, custom PCs, and audio.
Besides writing about tech and reviewing new products, Derek enjoys traveling, hiking, and photography. Committed to keeping up with the latest industry trends, he aims to guide readers in making informed tech decisions.