These days, our TVs keep getting bigger and bigger. A lot of this is due to the ubiquity of HD and even 2K content. A 70-inch CRT TV looked like garbage unless you were far away. But a crisp LCD display looks beautiful even at a distance of just a few feet. Another reason our TVs are getting bigger is that LCD technology itself is getting more affordable. Previously, an enormous TV would be out of most people's price range. But nowadays, anybody can own a 50, 60, or even 70-inch TV.
The problem with these TVs is that they often don't come equipped with good table stands. Particularly with larger screens, many people prefer to wall mount their TVs. As a result, the legs are often an afterthought, and can be short and stubby. This can leave you in a precarious situation. For one thing, a TV is expensive, and you don't want to break one for no reason. For another thing, big TVs can get heavy. The last thing you want is for a child to tip a 100-pound TV over on themselves.
We're about to review three of the best table top LED TV stand legs that money can buy. These legs are designed to support medium to large-sized TVs, and to keep the more stable than the factory legs. We'll begin by reviewing the Perlesmith Universal Table Top TV Stand. This is a heavy duty stand, which supports up to a 110-pound TV. Next, we'll look at the TAVR Universal Table Top TV Stand. This is a complete kit that includes six sets of screws, including small ones for ultra-slim TVs. Finally, we'll examine the TechOrbits Universal TV Stand. This is an oversized stand that supports up to 70-inch TVs, and offers stepless height adjustment. Once we've gone over all three, we'll be able to sum up what we've learned, and provide some final thoughts. Let's look closer, and see how these TV stands stack up!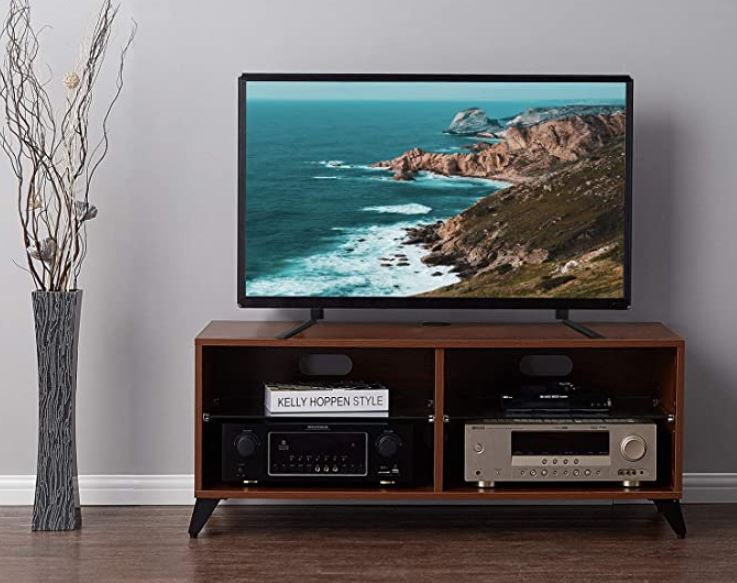 What to Look For in a TV Stand
So, what makes one TV stand better than another? There are four things to consider. First, think about the VESA compatibility and the screen size. Simply put, will the stand fit? Next, think about the height you want your screen to sit at. Weight capacity is another concern, and the most important concern for safety. Finally, you want a stand that meshes with your room's overall aesthetic.
VESA Compatibility and Screen Size
The Video Electronics Standards Association, or VESA, is a group of over 300 screen manufacturers. VESA sets standards for display technology, including the size and spacing of mounting bracket holes. This standard is almost universal, and it's how stand manufacturers will express their compatibility.
VESA measurements consist of two numbers, which are the horizontal and vertical screw spacing in millimeters. For example, a 200 x 200 VESA mount has four holes arranged in a 200mm x 200mm square. The most common VESA sizes are 200 x 200, 400 x 400, and 600 x 400. However, other sizes are also used from time to time. If you're not sure, just measure the horizontal and vertical spacing between the holes on the back of your TV. Those numbers, in millimeters, will be your VESA size.
Height Adjustment
Depending on the location of your TV, you might want a taller or shorter stand. To help you get the ideal height, many TV stands are height-adjustable. Keep in mind that the numbers they give are the height to the top VESA holes. That's the distance you'll want to measure when determining the ideal height.
Weight Capacity
Weight capacity is a significant concern for safety reasons. If your stand isn't strong enough, it might fail, damaging your TV or even injuring somebody. Thankfully, weight limitations will rarely be a concern. If anything, aftermarket TV stands tend to be over-engineered. That said, some larger screens can get pretty heavy. This is especially true if you've got other accessories, such as a soundbar mounted on the top.
Aesthetic
Now, you shouldn't just buy a stand because it looks nice. But aesthetics are a legitimate concern when you're choosing anything for your home. If your stand is too modern or too old-fashioned for your décor scheme, it's going to stick out. This is a relatively minor concern, since it's not like you spend a lot of time looking at your TV stand. But if a stand strikes you as particularly ugly, give it a hard pass. There are plenty of other options.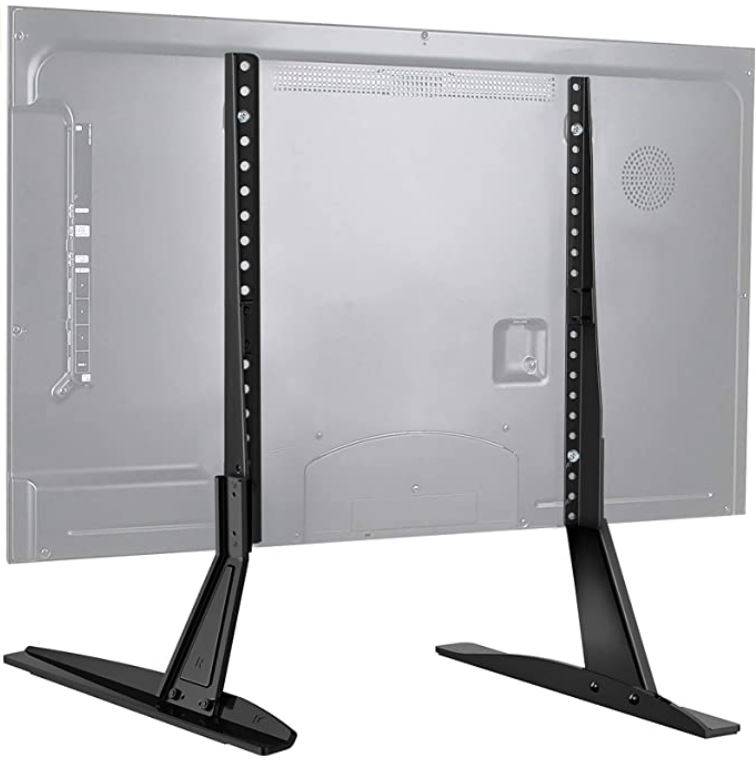 Perlesmith Universal Table Top TV Stand
Perlesmith is a longstanding manufacturer of TV mounts and stands. Not long ago, they impressed us with their lockable RV TV wall mount. The Perlesmith Universal Table Top TV Stand is built to a similar standard. The steel feet are 14 inches long, providing a nice, stable base for even very large TVs. There are padded feet on the bottom, which prevent slipping and protect your furniture. At the midpoint of these feet, there are a pair of wide legs, which taper off towards the top.
These legs attach to L-shaped back rails, with holes for attaching to your TV. At the bottom of the back rails, there are two sets of holes, so you can choose two mounting heights. Your screen can be mounted at 25 or 27.5 inches, depending on your needs. In all, the Perlesmith stand can fit VESA attachment points from 75 x 75 to 800 x 500. That's a wide variety of sizes. However, it will not accommodate 800 x 600 mounting points, which are used for the largest TVs. In total, you can expect to mount most TVs from 22 to 65 inches in size. That's quite a wide range. Not only that, but the weight capacity is 110 pounds. That's enough to support virtually any TV on the market, even the beefiest models.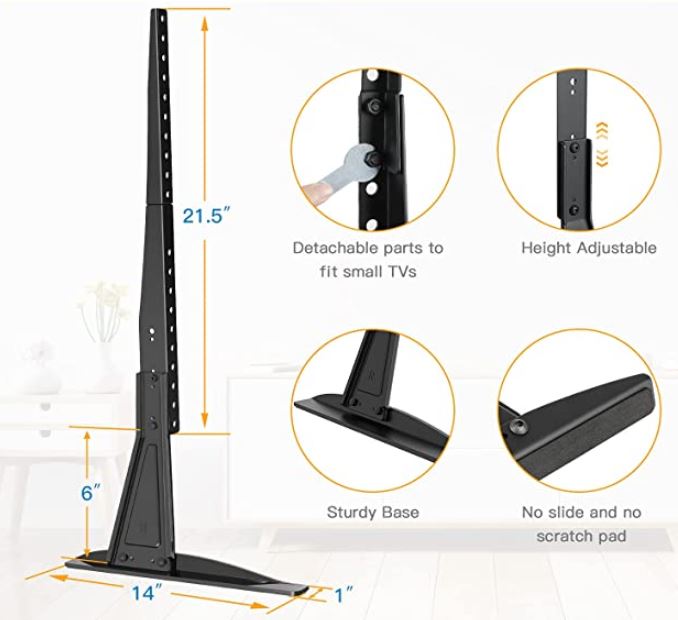 Along with the stand itself, you also get a handful of extras to help you with the installation. To begin with, there are screws in a handful of sizes, so you won't have to provide your own. There are also some rubber spacers. These are designed to be used when the screws are too long, or for irregularly-shaped TVs. They can also be used to provide adequate spacing on the sides of curved TVs. That said, for curved TVs, it's often better to use a purpose-built curved TV mounting bracket.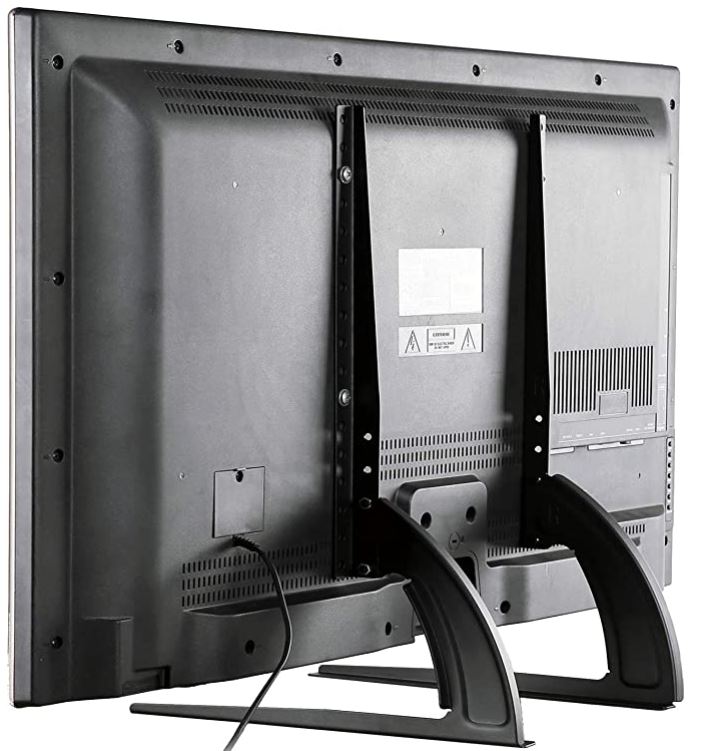 TAVR Universal Table Top TV Stand
The TAVR Universal Table Top TV Stand has a somewhat different design. Instead of the legs meeting the feet in the middle, the feet and the bottoms of the legs are all one piece. The feet are tapered, narrow at the front and wider at the back, with a total length of 13.7 inches. At the back, the metal curves upward and forward, arching back towards the center of the feet. There, they attach to the vertical mounting arms, which screw into them from the sides.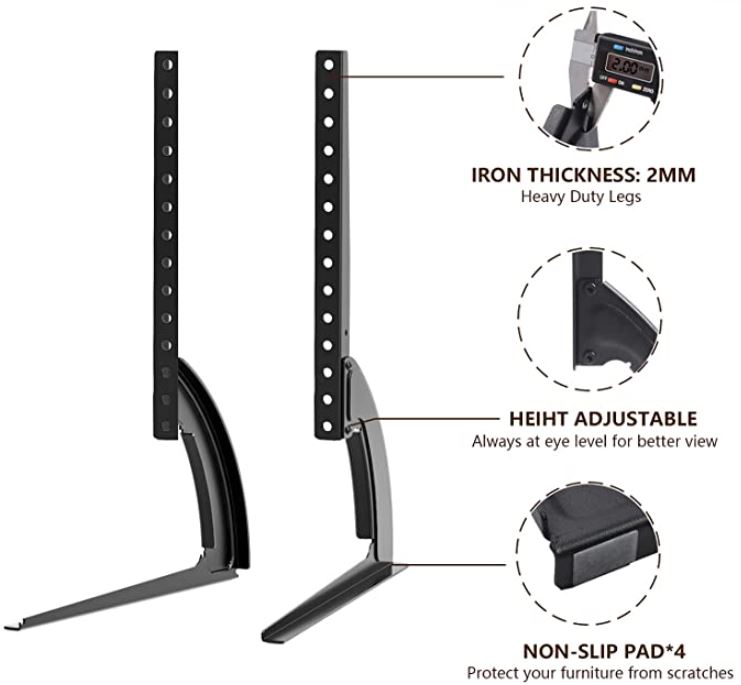 Like the Perlesmith stand, the TAVR stand is adjustable. The arms can be attached in two different spots, with heights of 20.2 or 22.5 inches respectively. They're L-shaped, with rows of holes along the vertical faces that touch the back of the TV. Because of all these holes, the stand can be used to fit a wide variety of TVs. In all, you can fit any VESA standard spacing from 200 x 100 to 800 x 400. While you can't fit 800 x 600 spacing, that's not much of a concern. The maximum TV size is only 55 inches, so you won't see any holes in that format. That said, be careful about TVs with 200 x 200 spacing. If they're larger than 42 inches, the legs will be too close together, and the TV won't be stable. The weight capacity is 800 pounds, so you'll be able to support any TV that's compatible with the stand.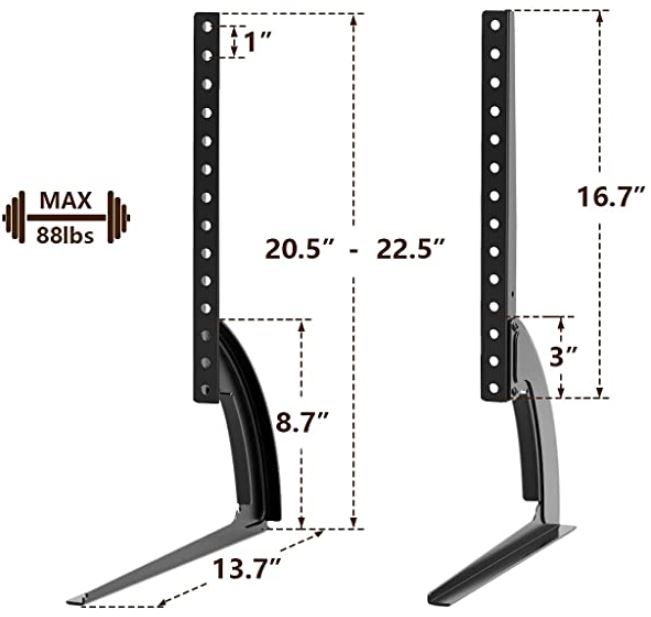 This stand comes with a lot of extras. It includes six sets of screws, two metal spacers, and three sets of rubber spacers in different lengths. It even includes very short screws, which can safely secure ultra-slim flatscreens.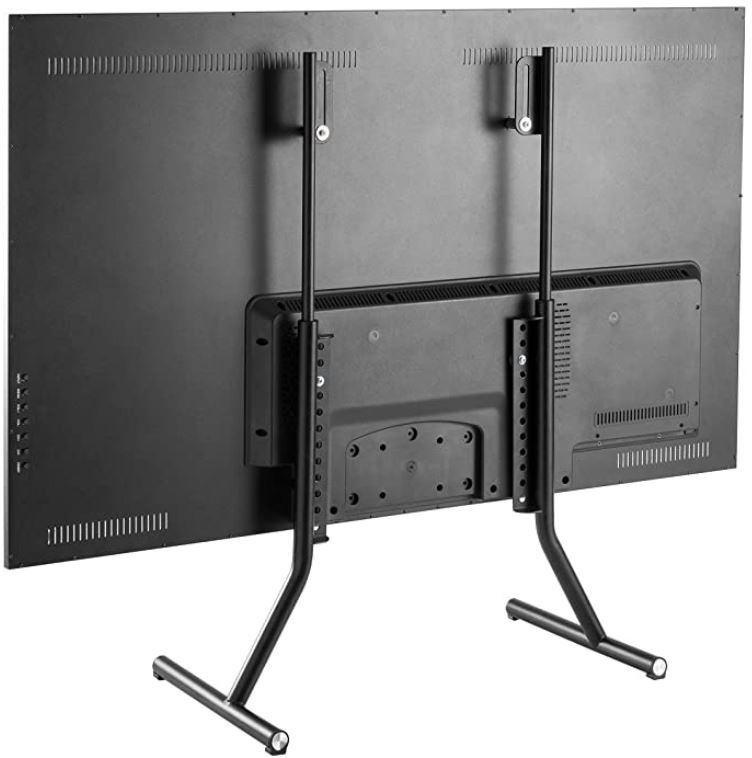 TechOrbits Universal TV Stand
TechOrbits, like Perlesmith, makes a variety of stands, including their triple monitor stand. The TechOrbits Universal TV Stand has a unique aesthetic, with metal tube-style construction. The legs are 12.8 inches in length, with rubber feet at the end to protect your surfaces. The legs meet them in the middle, and angle inwards before rising vertically up the back of your TV.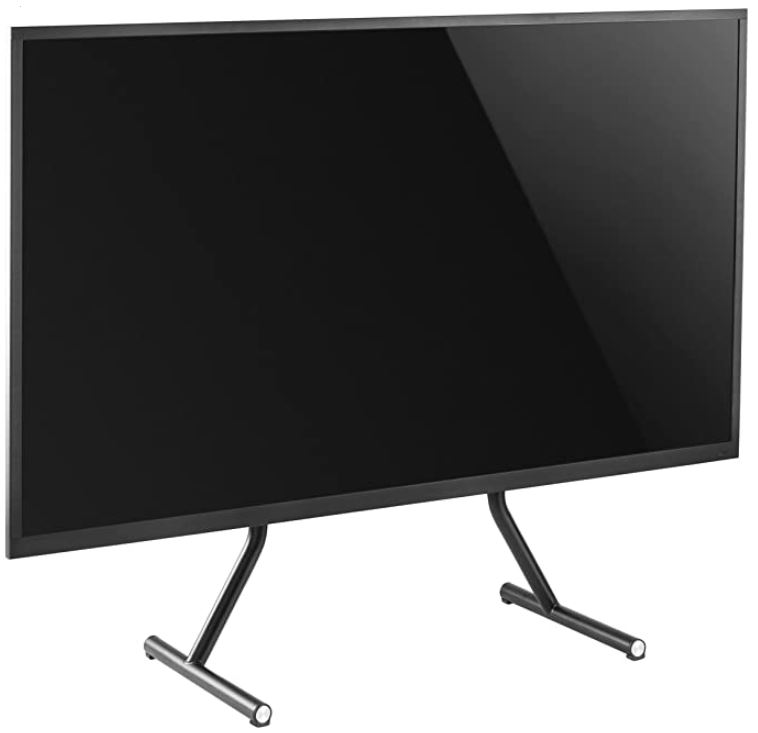 Along the bottom half of the vertical sections, there are wide, sturdy flanges with holes drilled in them. These are for the bottom screws into the TV. The top screws will go into the top portions of the legs, which are narrower than the bottom portions. Like the bottom portions, these areas are flanged. But instead they have a single, long slot instead of multiple holes. This allows for smooth, stepless height adjustment. In all, you can mount your TV anywhere from 23 to 31.2 inches.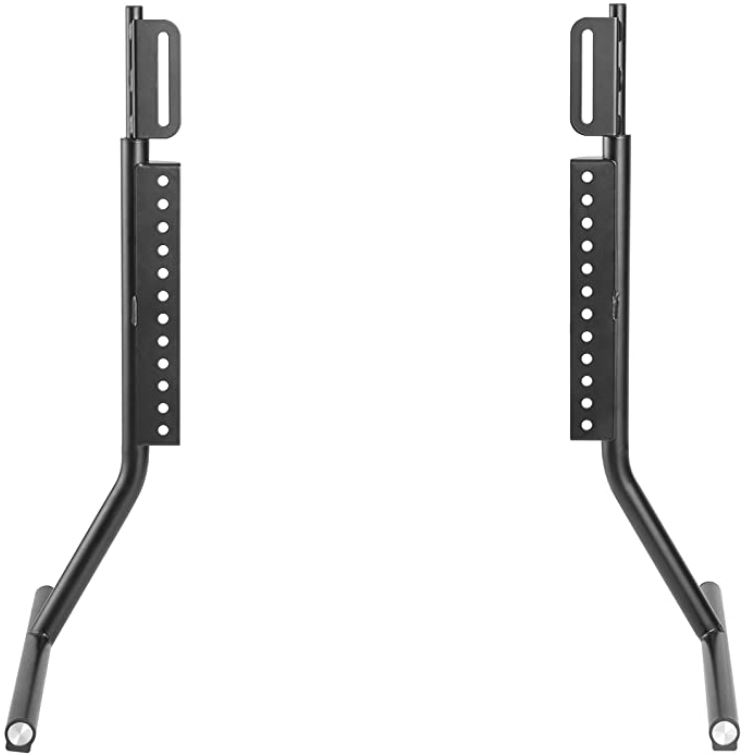 This stand has a capacity of 88 pounds, and is rated to support screens between 37 and 70 inches. It's compatible with 200 x 200 to 800 x 400 VESA mounts, but not 800 x 600. For very large TVs, this may be an issue. Then again, those extra-bulky TVs are liable to exceed the weight limit. For every TV that fits, the kit includes plenty of screws and spacers.
Final Verdict
Ultimately, these are all well-engineered TV stands. But which one is right for you? We started by examining the Perlesmith Universal Table Top TV Stand. This is the sturdiest of the bunch, with 14-inch feet and a 110-pound weight capacity. It also supports a reasonably wide range of sizes.
The TAVR Universal Table Top TV Stand is great for shorter mounting heights, as low as 20.2 inches. It's also a solid choice for very slim TVs, thanks to the wide screw selection. That said, it will only accommodate TVs up to 55 inches. If you have a very large TV, it's not going to fit.
The TechOrbits Universal TV Stand provides you with the widest range of height adjustment, and a unique design. It supports the largest number of sizes, although the weight limit might not be enough for the biggest TVs. All in all, it's a great choice if you like the look and it fits your TV.