Most TV wall mounts are designed for flat panels, and if it hadn't escaped your notice, curved panels aren't flat. As a result, it can be slightly more difficult to find an appropriate mount for curved displays. Fewer curved televisions being used by consumers means there are fewer mounts made with curved panels specifically in mind. And less competition in some niche almost always means you'll end up having to work twice as hard to avoid mediocre products.
By their very nature, curved screens tend to be large. The reason curved displays are even manufactured is because when you're looking at a flat panel, the distance between the outer edges of the panel will be further from your eyes than the center of the screen. And human eyes are pretty good with depth perception, so bigger screens end up feeling more two-dimensional as well. It's essentially the difference between an ordinary movie theater and an IMAX theatre.
In other words, to get the benefits of curvature, you really need the screen to be large. But now you've got a giant panel that will no longer elegantly sit on top of your entertainment console, or for that matter, anything else in your home. The obvious solution is a wall mount, but just because you can stick your TV on a mount doesn't mean it's the right one for the job.
Choosing a Mount
So what's the right wall mount for a curved display? One type of mount you'll want to avoid are the typical low-profile mounts you see used for flat screens. Low-profile mounts are built to keep your screen flush against the wall, making the screen unobtrusively integrated into the room. Except when mounted in this fashion, curved screens will stick out on each end of the wall.
For an ordinary screen, that slightly awkward positioning would be fine, but for a curved display, being mounted flat against the wall ensures you won't be able to make any subtle changes to the orientation of the screen. Finding the optimal viewing position is essential to the experience of a curved television, so having your screen firmly mounted in a place where it's virtually non-adjustable will be a non-starter for anyone who understands the technology.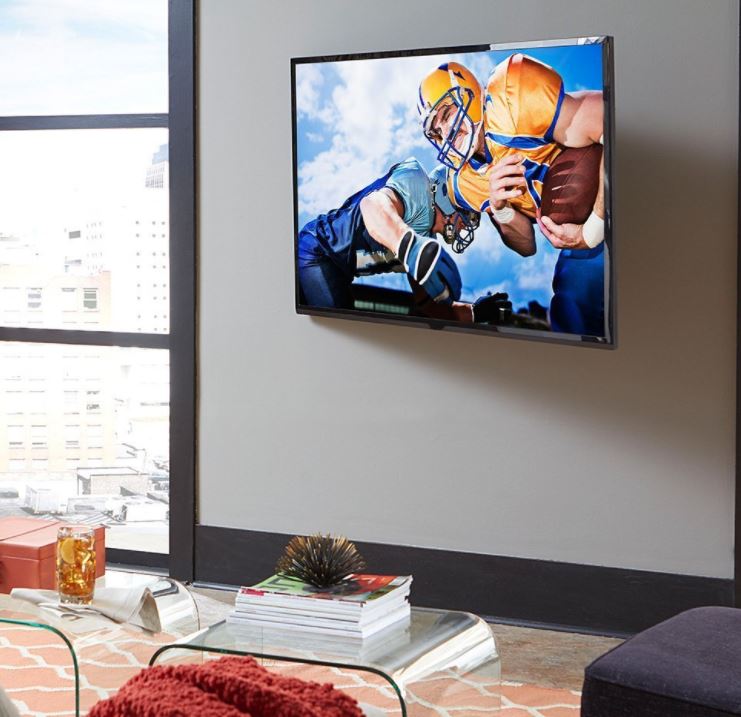 Adjustability for Curved Wall Mounts
Fortunately, there are far more mount options available than fixed mounts. Depending on what you're looking for, you can also find tilt mounts, ceiling mounts, mantel mounts, and full motion mounts. For curved panels, what you really need is a wall mount that falls among the most flexible of this list.
Each type of mount is more or less what it sounds like. Tilt mounts are mounts that are capable of tilting slightly up or down. Being able to tilt makes them more suitable to mounting curved televisions than fixed mounts, but that's still far too little adjustability for the purposes of most people. Mantel mounts are good for being angled in a downward position, as though hanging above a fireplace. Mantel mounts aren't a ridiculous choice for a curved screen, but would still be extremely limiting in terms of where you would be able to sit and get a great view.
Rather than using a wall, ceiling mounts are mounted on the ceiling, allowing the television to dangle down from above. When you've got the right environment to use a ceiling mount, they're a strong choice for curved televisions because they've got an incredible range of motion that will help you get the viewing angels you need for an immersive curved viewing experience. The only mount that competes with a ceiling mount for flexible range are full motion mounts, which is essentially a robot arm you install in your wall that can move adjust your television in just about any way you'd want.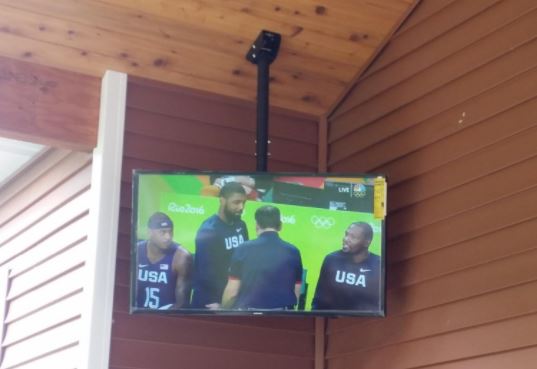 Knowing the Purpose
What's the difference between a $100 mount and a $10 mount? It depends entirely on your purposes. For some people, there will be no difference, for others the difference will be night and day. But you need a mount that's rated to support the weight and size of your screen, you'll want a reasonable extensive range of motion, and you'll want something that's easy to install. Bigger, stronger mounts are needed for larger televisions, and they cost proportionately more relative to what they can do.
Bracket Size
Most mounts are VESA-compliant, which means they adhere to a regular standard regarding the orientation of mounting screw holes. Some mounts may only be partially compliant, use a different standard, or may be designed in such a way plugs are blocked while mounted. These kind of details are easy to overlook, but important to pay attention to.
VESA-compliant mounts can accommodate screens between 37-70 inches. For smaller screens, you'll often have to rely on mounts using alternative standards. Either way, you'll want to ensure the mount you select has been designed to carry your screen. Just because you can attach a mount to your television doesn't mean it will be strong enough to keep your hardware on the wall.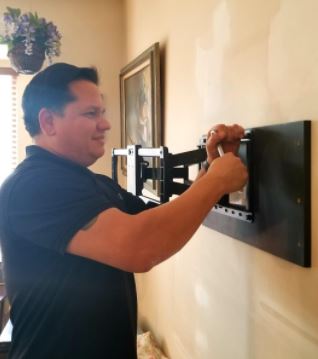 Installation
Installation is another thing to think about. Expert installation is one option, but most people are going to want to do it themselves. In that case, you'll want to know how easy it the mount is to install. For the most part, installation should be as simple as putting a bracket on your TV, installing a bracket on the wall, and then putting the two together. But that's only possible if all the necessary bolts and hardware are included in your kit. Just about the only thing that shouldn't be included is the friend you'll want to help you with installation.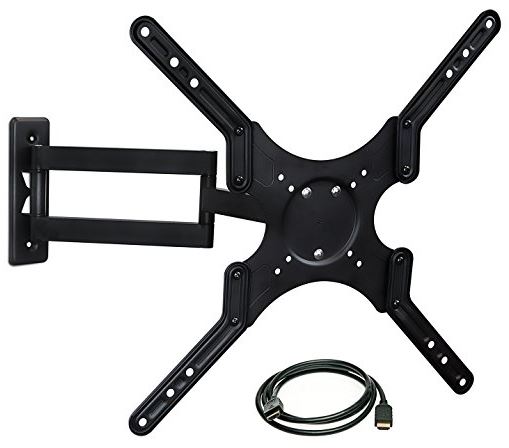 Mount-It! Swivel TV mount
If your screen isn't a 65-inch behemoth, then there's no reason for you to pay for a TV mount designed to carry one. Perfectly suited for modestly sized curved screens ranging 19" to 37", the Mount-It! Swivel TV mount is a surprisingly versatile option for its price range. Although it fits a display no heavier than 55 lbs., you'll have hard time finding many 37" curved panels that come close to being as heavy as that. For smaller curved TVs and computer panels, Mount-It! is a clear choice.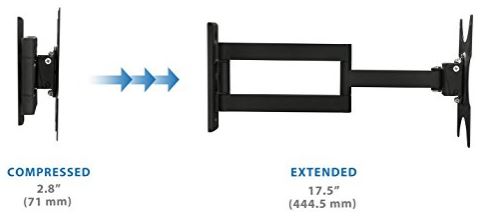 Range of Motion
As a full motion mount, this mount can provide a considerable 18-inches of extendibility from the wall. That's particularly significant because for setting up a curved panel, depending on the size of your screen, you want to be a specific distance away from the panel for optimal effect. But if your couch happens to be a little too close or too far to achieve that distance, it's much better to be able to pull forward your screen than it is drag your furniture into the middle of the room.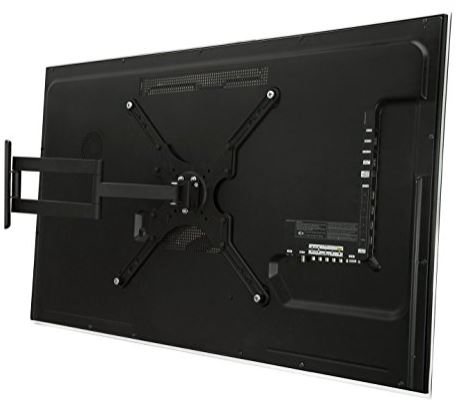 In addition to the extendibility, this mount supports tilt 12 degrees up and down, and 180 left and right. In combination with the extendibility, you'll be able to find the perfect viewing angle without problem. And when you don't want your screen looming over the middle of the room, you can push it back to work as a flat mount against the wall, collapsed to a slim 3.1" profile.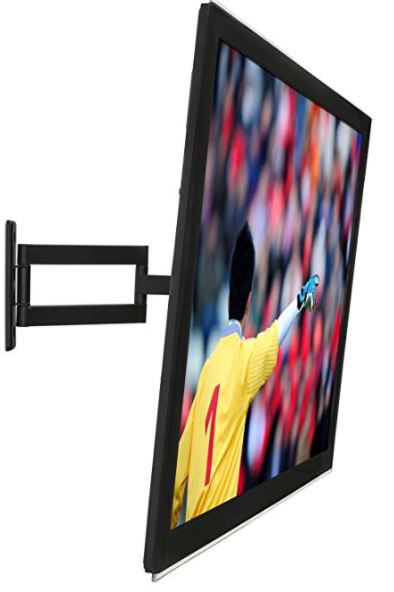 Installation and Mounting
As you should demand from any curved television wall mount, this kit includes all the necessary hardware for installation. The wall plate is a modestly sized 2.25" x 7.5-inches that will subtly fit on most walls. Although this mount is too small to technically be VESA compatible, the design is made to be compatible with ordinary VESA-compliant panels. For installation, you need the bolts on your panel to have distances between each other of 8″x8″, 8″x4″, 4″x4″, and 3"x3" horizontally and vertically. As long as you've got an ordinary panel, you'll have no problem attaching to this mount. But if you're not certain, be sure to check.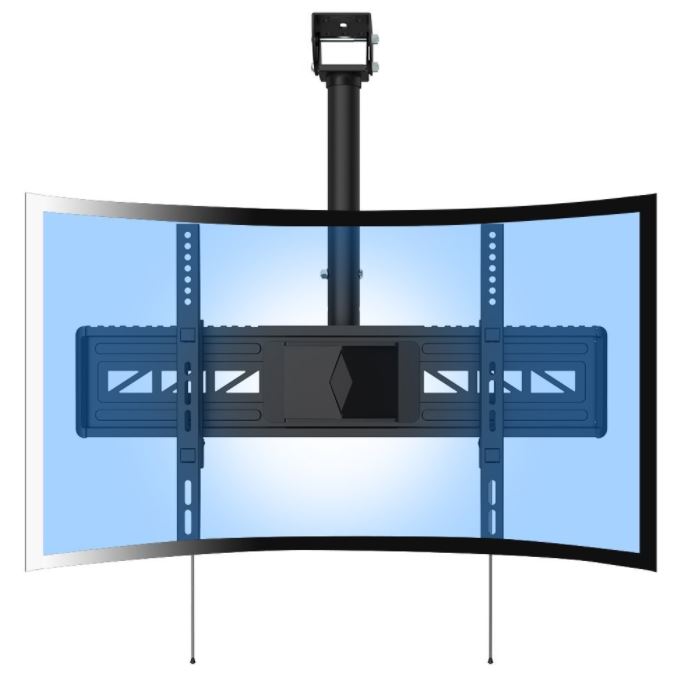 Loctek CM3 Full Motion Ceiling Curved TV Mount
For many environments, ceiling mounts are going to be better than fixed mounts with even a considerable range of motion. Apart from being undeniably cool, ceiling mounts are optimal for curved panels because they provide a full 360-degree swivel that doesn't lock your panel into a fixed 180-degree viewing angle.
And for a ceiling mount, you want the Loctek CM3. It's suitable for screens for 32-to-65 inch televisions, including both curved and flat screens. The sturdy installation supports a considerable 99 lb. maximum capacity, which should be enough for all except the very largest panels on the market.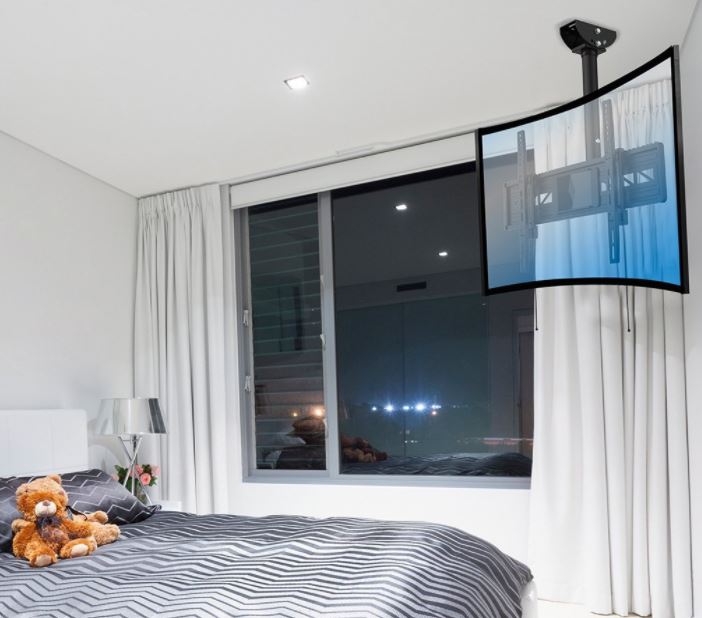 Range of Motion
Because it hangs from the ceiling, this mount supports a full 360-degree rotation. Panels can also be angled 180-degrees up or down to achieve an optimal viewing no matter where you've decided to hang your screen. You can adjust the hanging-pole up and down for better viewing distances, depending on the size of panel you're using. The tilt angle offers a full 20-degrees of motion. Plus, the ceiling plate is adjustable to a 90-degree angle so you can easily install this mount on a sloped ceiling, flat ceiling, or even on a wall.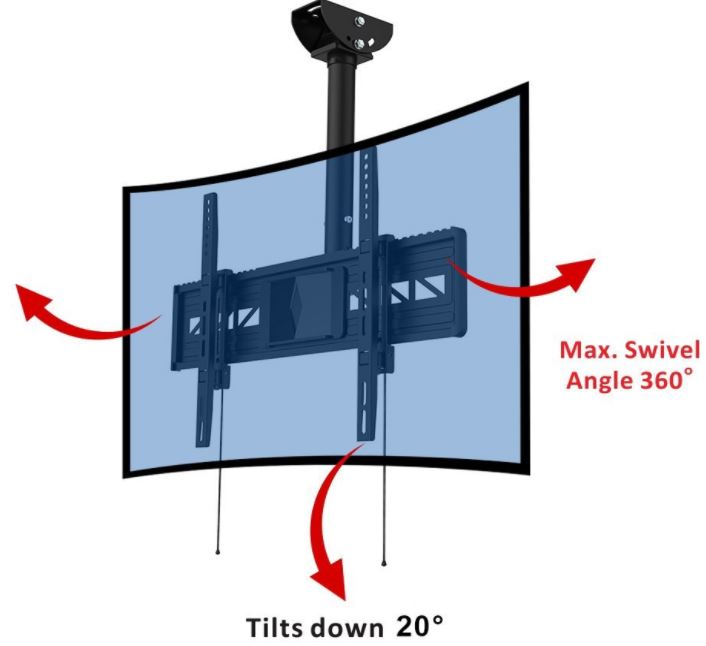 Installation and Mounting
In terms of installation, you'll want to know that the hanging distance from the wall is 20″-32″ range, so this isn't the mount for you if you have vaulting ceilings. The installation plate includes 3 degrees of horizontal adjustment, so if you make a slightly crooked installation, you don't have to live with it or go through the hassle of reinstalling.
The mount itself weighs about 16 lbs. and supports most VESA sizes including: 100x100mm, 200x100mm, 200x200mm, 300x200mm, 300x300mm, 400x200mm, 400x300mm, 400X400mm, 500x400mm, 600x400mm.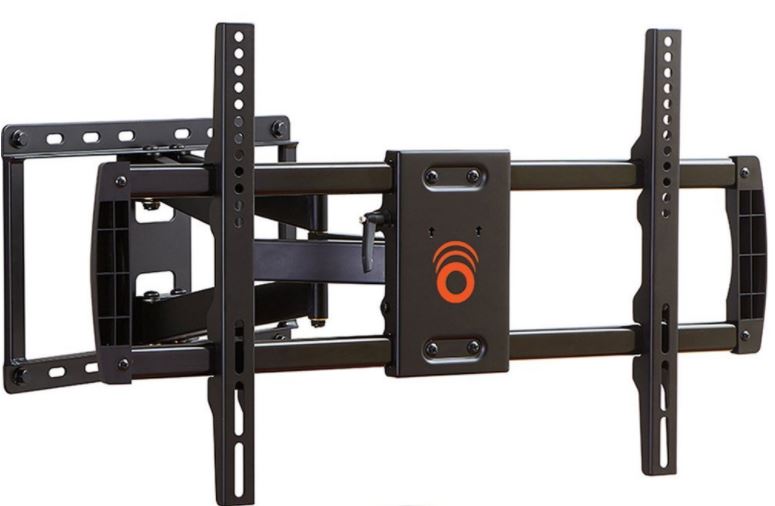 ECHOGEAR Full Range Motion Mount
Giant screens need wall mounts to match. Suitable for curved panels between 37 and 70-inches and supporting as much as 132 lbs. of weight, Echogear's full range motion mount is rated to handle even the biggest and heaviest curved panels on the market. You won't have to worry about even the heaviest panels wearing down this mount because it's rated to hold up to 500 lbs. However, your wall might not hold up as well as the mount, so you should stick to the recommended 132 lb. limit.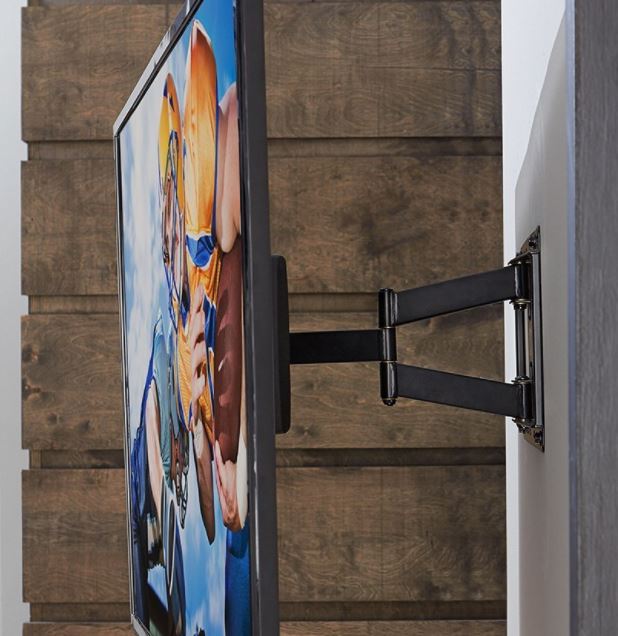 Range of Motion
Like with Mount-It!, this mount makes use of a considerable 16" range of extendibility from the wall, and sits only 2.6" off the wall when pushed all the way in. 150-degree range of motion left and right is more than enough for the largest screens. And the 15-degrees of tilt is more than enough to combat glare, or make your screen positioning that much better. As an added bonus, this mount is tension adjustable, allowing you to make smoother or stiffer articulation of the screen as you see fit.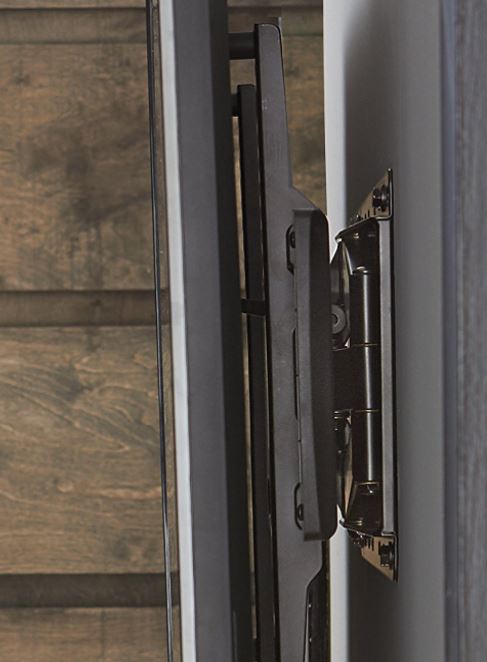 Installation and Mounting
The wall plate is a sizeable 17.1 x 10.2-inches, which is what helps it support so much weight. Mounting is simple enough to be completed in about half an hour. This kit includes the 16" studs and all necessary mounting hardware to get going immediately. And if you're not optimistic about how well you'll do installing this mount, you'll appreciate post installation horizontal adjustability of 3.5-degrees. Even if you don't have a friend to help you, you'll be able to get a straight mount with that much room for error.
Because this mount is carrying so much weight, you don't want to mount it on drywall alone. You're going to want to make contact with a wood stud, or alternatively use a concrete wall. Both options are supported, and so is the mount with Echogear's included 5-year warranty. This mount is also VESA compliant, so you don't have to worry about your panels attaching.
Choosing Between 3 Strong Curved TV Wall Mounts
If you've got a more modestly sized curved TV or computer monitor that you want attached to the wall, you'll be well served by Mount-It! and their Swivel mount. Their full range mount lives up to its name with a stunningly complete range of motion for a product in this price range. It's only deficit is being made to support only panels smaller than 38". With its smaller size orientation, this mount will be used for curved computer monitors just as often as it's used for televisions.
If you're looking for an elegant ceiling mount, you'll have trouble finding a better option than the Loctek CM3. It has a range of motion you just can't get with a mount that's been fixed to a wall. It also supports all the most common screen sizes for large panels, and is sturdy enough to hold up to the kind of weight it's expected to handle.
But curved screens are supposed to be big, and if you've got a very large mount, then you need a mount to match. For that, you want Echogear. Their mount is pricier than others because you're getting far more hardware per dollar. It's rated to handle considerable loads of weight and the largest consumer grade screens. For large curved panels, you won't find a safer or more mobile mount on the market.