Nowadays, everyone uses wireless earbuds without a second thought. But this wasn't the case a few years ago. Before the invention of true wireless stereo (TWS), wireless audio was barely good enough for hands-free calling. With the exception of smartphone headsets, nobody was using Bluetooth for audio. But then, TWS was invented, and wireless audio was suddenly on par with a wired connection. Apple went wireless-only with the iPhone 7, and the rest is history. Everyone is using wireless buds now!
But this can become problematic for consumers. With the explosion of demand, there's been a corresponding surge in supply. Every manufacturer that makes electronic gadgets is now producing at least one pair of wireless earbuds. With this many options to choose from, it can be tough to tell the good from the bad. One helpful way to decide is to look for earbuds that come from a trustworthy manufacturer.
iWalk is one of these reliable manufacturers. They produce a wide range of earbuds, along with unique, phone-attached chargers like the iWalk Link Me 4. Now, we're about to review the iWalk Amour Air Duo 2 Wireless Earbuds. These are extra-comfy, extra-affordable earbuds that also offer reasonably good sound quality. But that just scratches the surface of what you need to know. Before you invest in any pair of earbuds, you'll want to look at the charging case, battery life and other features. Only after you have a complete picture will you be truly ready to make a decision. Let's take a closer look at the Amour Air Duo 2, and see how they perform!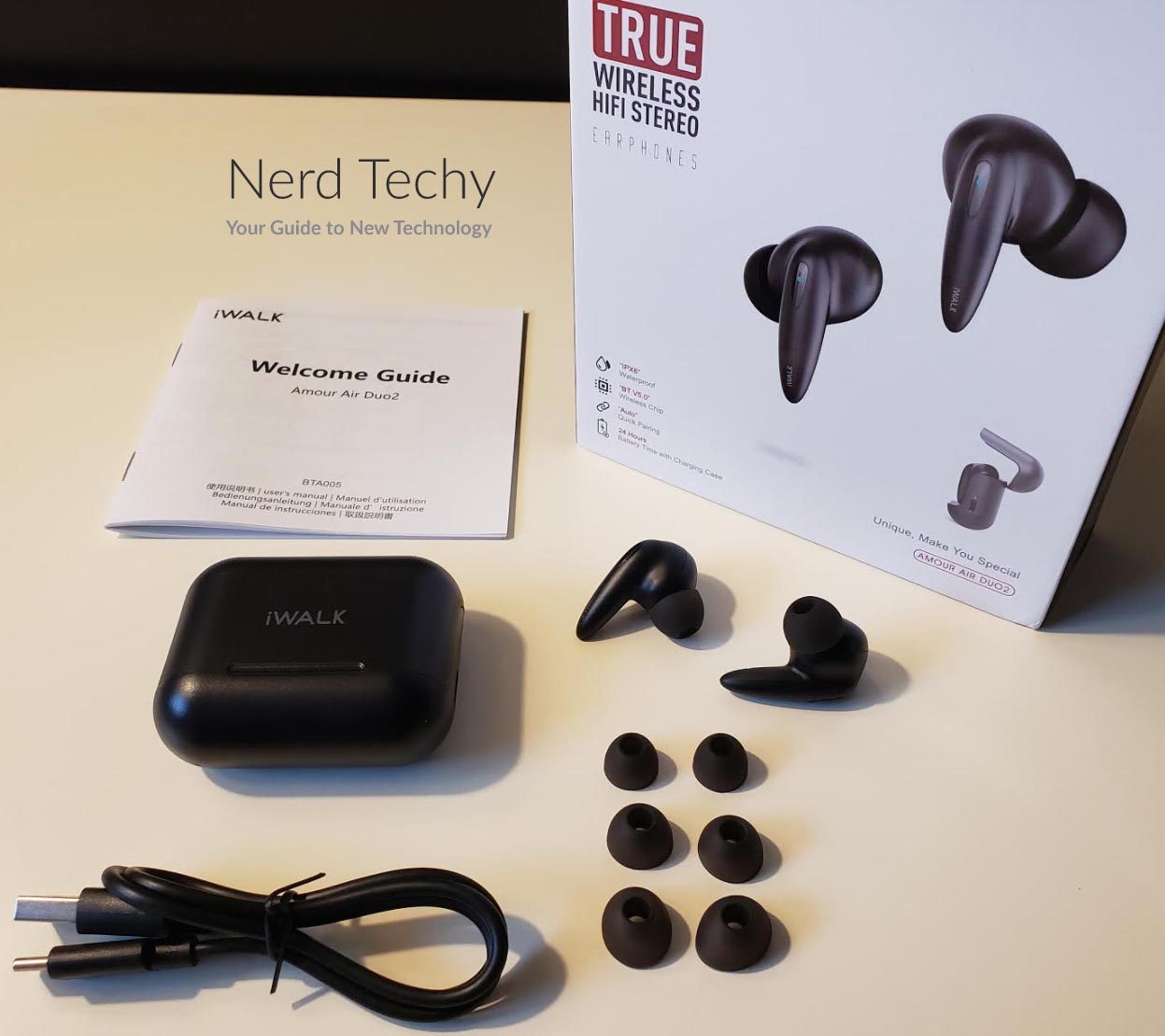 Overall Design
The iWalk Amour Air Duo 2 Wireless Earbuds are compact buds that have a steeply-angled design. They're designed to fit securely into your ears, and the angles are made to accomplish that. You have to insert the earbuds with a slight twisting motion and they sort of pop into place. When this works well, it's extraordinarily comfortable. It also provides an excellent seal between the buds and your ears. The result is some impressive passive noise isolation, keeping out a lot of environmental noise.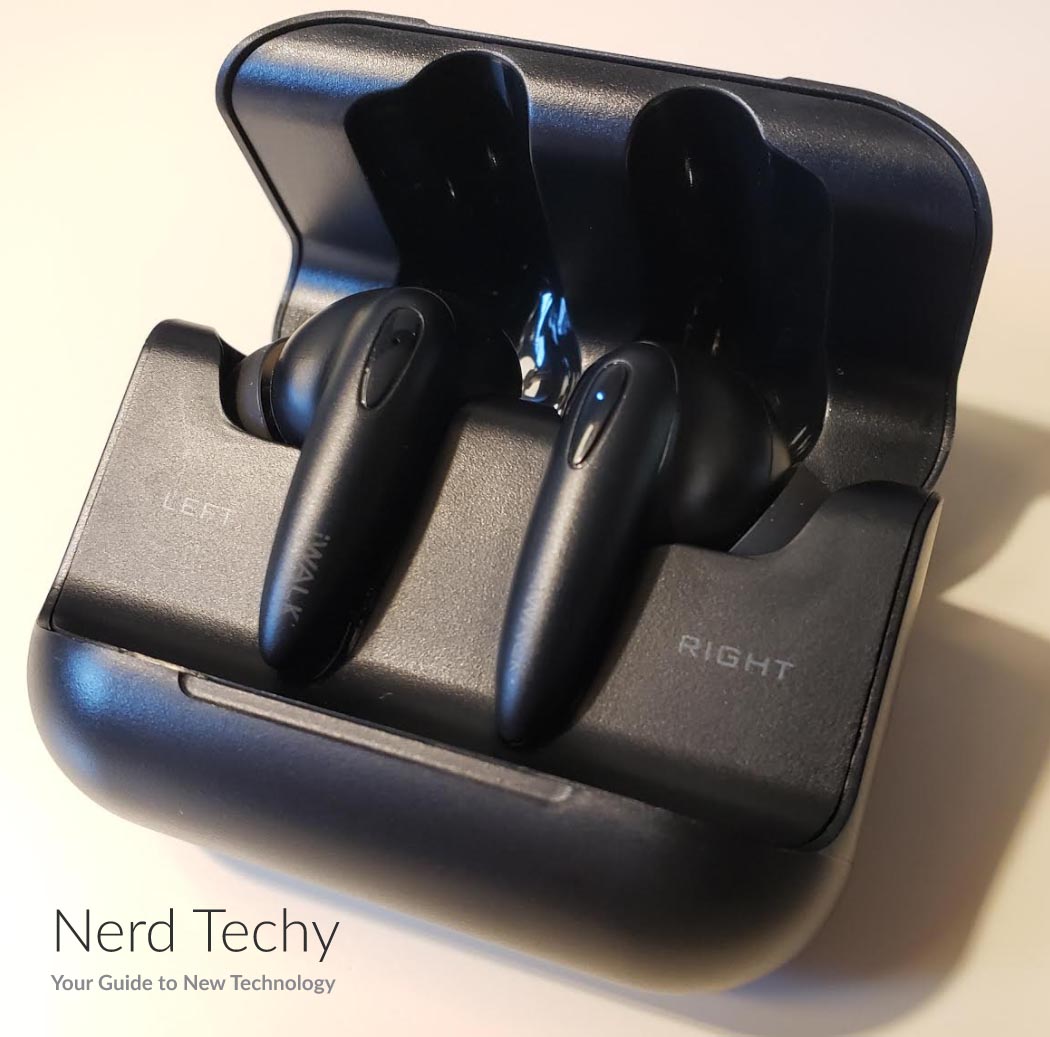 Needless to say, this only works as well as the earbuds fit. If the tips are loose, they won't be very secure, and the noise isolation won't be very good. Conversely, if the tips are too tight, they won't be comfortable to wear for long periods. Thankfully, there are three extra pairs of ear tips in the package, in three different sizes. If you're not happy with the initial fit, try out one of the other tips. We see a ton of reviews for all kinds of earbuds complaining that the tips are too big or too small. It seems like many people are unaware that in most cases, you can simply change the tips!
The shells are constructed from black ABS plastic, and have a soft, satin finish. This means they don't collect fingerprints, and are also easy to clean. They're IPX5-rated for water resistance, so they can stand up to splashes. We wouldn't wear them in the shower, since they're not designed to handle a continuous stream of water. But sweat, hard rain, and other everyday sources of moisture don't pose a threat. You can get through your morning workout, indoors or outdoors, without any issues.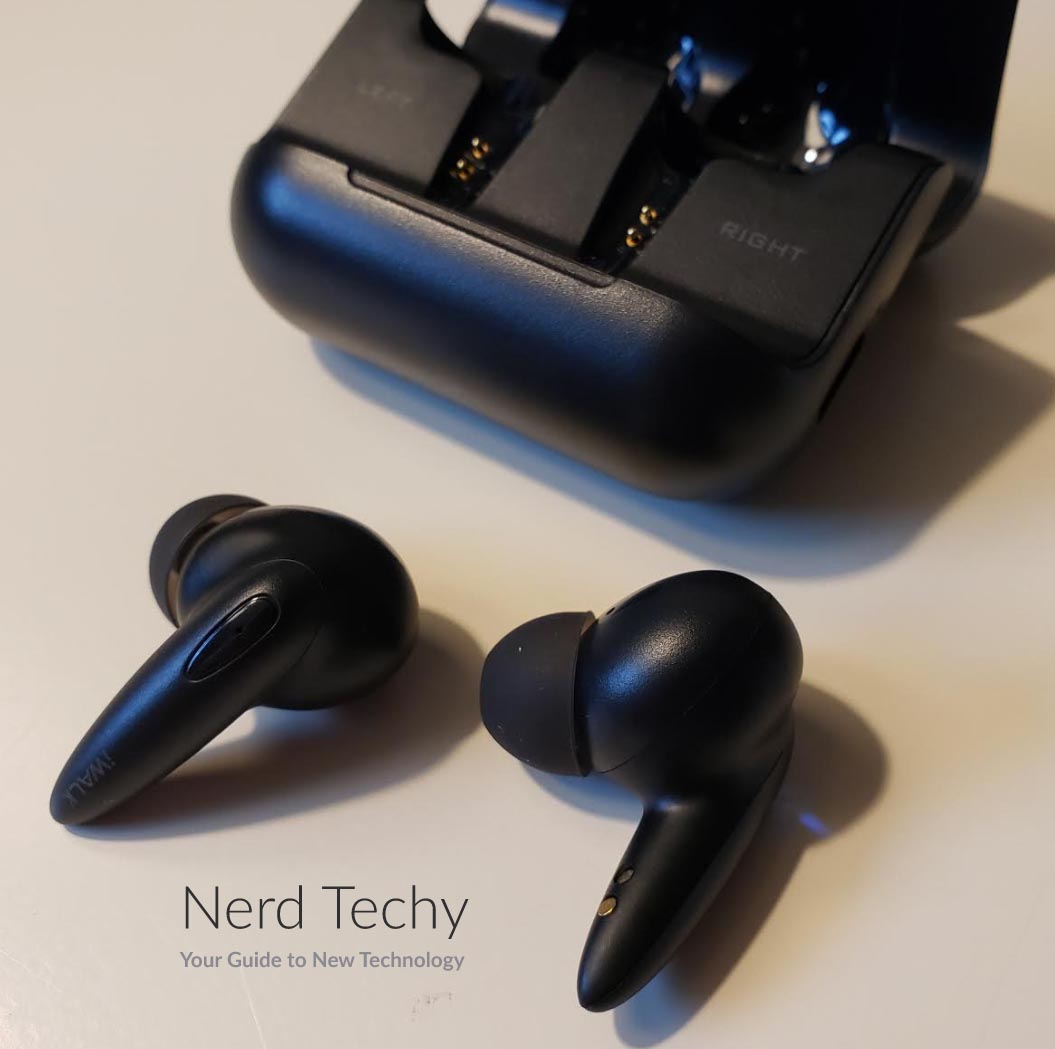 The backs of the earbuds are small and oval in shape, with a slightly-raised protrusion that points downward. The raised part of this protrusion features a small touch surface that functions as an earbud control. The small size makes them hard to tap quickly until you get a feel for their location. That said, you won't accidentally trigger the controls while you're just adjusting your earbuds. The controls can adjust the volume, skip tracks, answer and end calls, and perform other commonly-used functions. You can even bring up your phone's voice assistant for total hands-free operation.
Like most wireless earbuds, the Amour Air Duo 2 earbuds include a charging case. This case has a unique design, since it literally splits in half when you open it. It's still hinged — the two halves don't separate completely — but the "lid" is just as big as the rest. The earbuds are easy to insert, and the molded sockets make it impossible to get them reversed. The sockets also ensure that the contacts will always be touching whenever the lid is closed.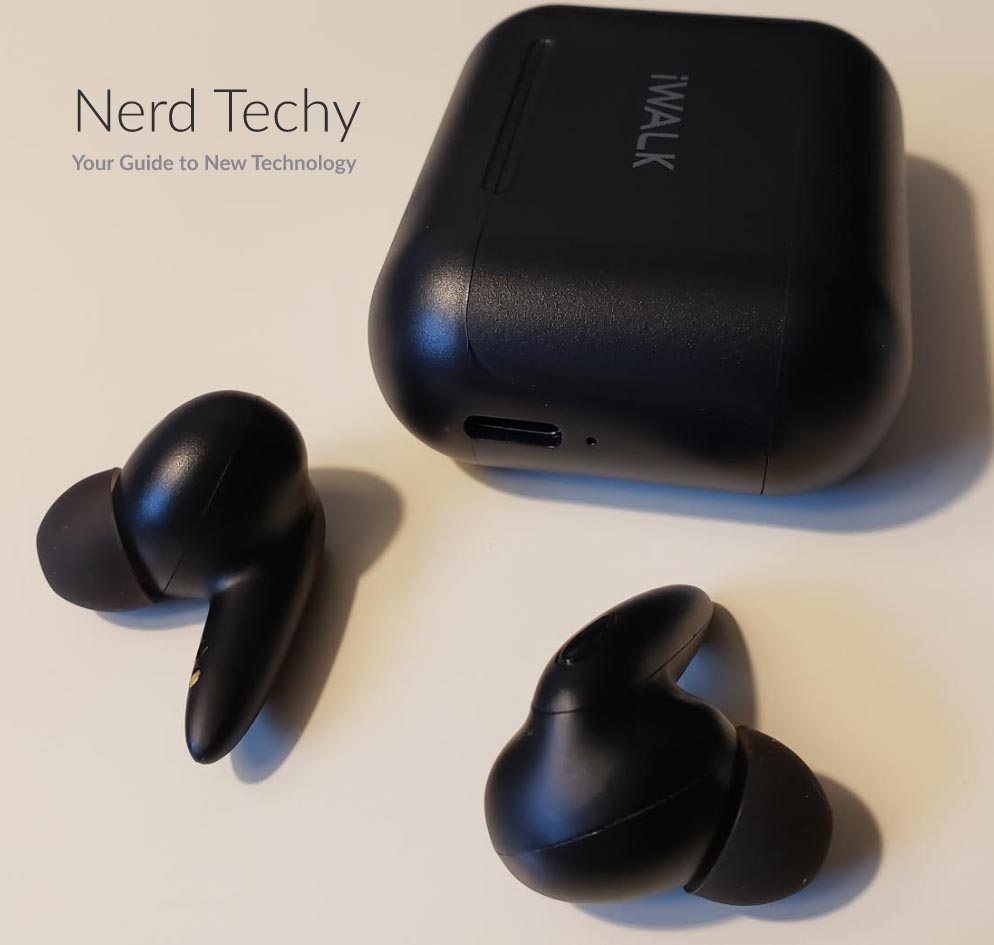 The case charges from the side, not from the front or the back. It charges via USB Type-C, and there's a cable included in the kit. This is less discreet than a behind-the-lid power port, but it offers more convenience. It's just a question of whether you prefer a more practical design or a more aesthetic one. There's a single, color-changing LED located directly next to the charging port. This light will be green from 60 to 100 percent charge, and blue from 30 to 60 percent. At 30 percent, the light will turn red, which means you want to plug in and recharge soon.
iWalk has a record of making earbuds with unique charging cases. Consider the iWalk CrazyDuo. The buds themselves have a similar design to the Amour Air Duo 2, with similar features. However, the CrazyDuo buds come with a larger case that doubles as a power bank for your phone.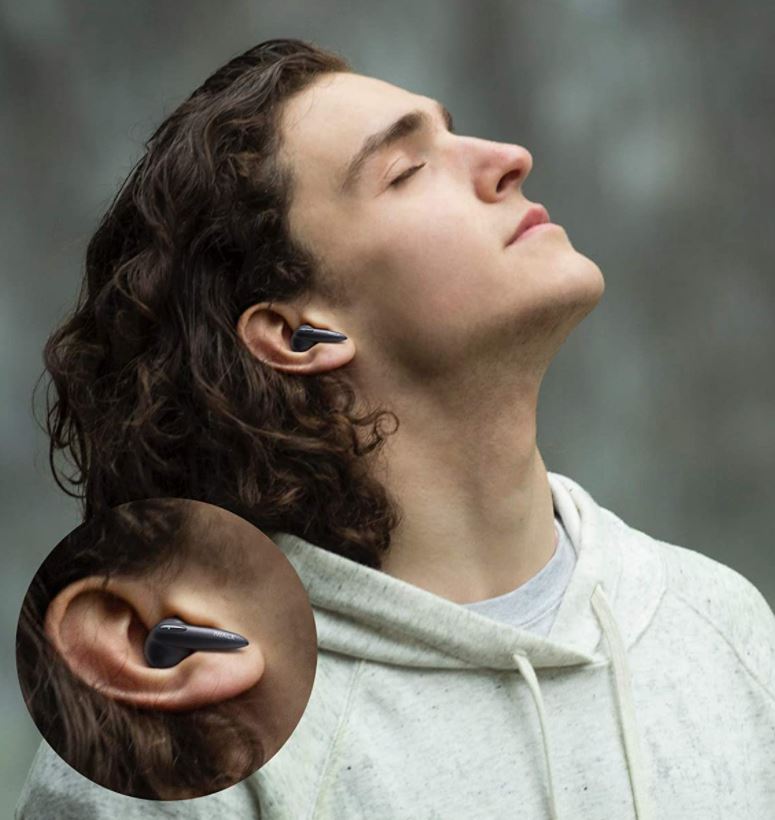 Battery & Connectivity
When fully charged, the iWalk Amour Air Duo 2 earbuds provide about 4 ½ hours of playback. In and of itself, this isn't bad. However, this is their manufacturer-rated playback time, which means it's based on half-volume playback. If you like to listen with the volume turned up, you can expect shorter life. This may have been just fine three or four years ago. But newer wireless earbuds are now shipping with battery ratings of seven hours or more. Even so 4 ½ hours isn't terrible, and it will get you through the day.
The charging case offers an additional 3 ½ charges, so you get about 20 hours of battery life between plug-ins. Again, this 20 hours is based on half volume. At full volume, you're not going to do quite as well. On the other hand, charging is easy. The earbuds themselves will top off in about an hour. When you charge the case via USB Type-C, the case will be topped off in about 90 minutes. You can also charge via a wireless Qi charger. This allows for more convenient charging, albeit at somewhat slower speeds.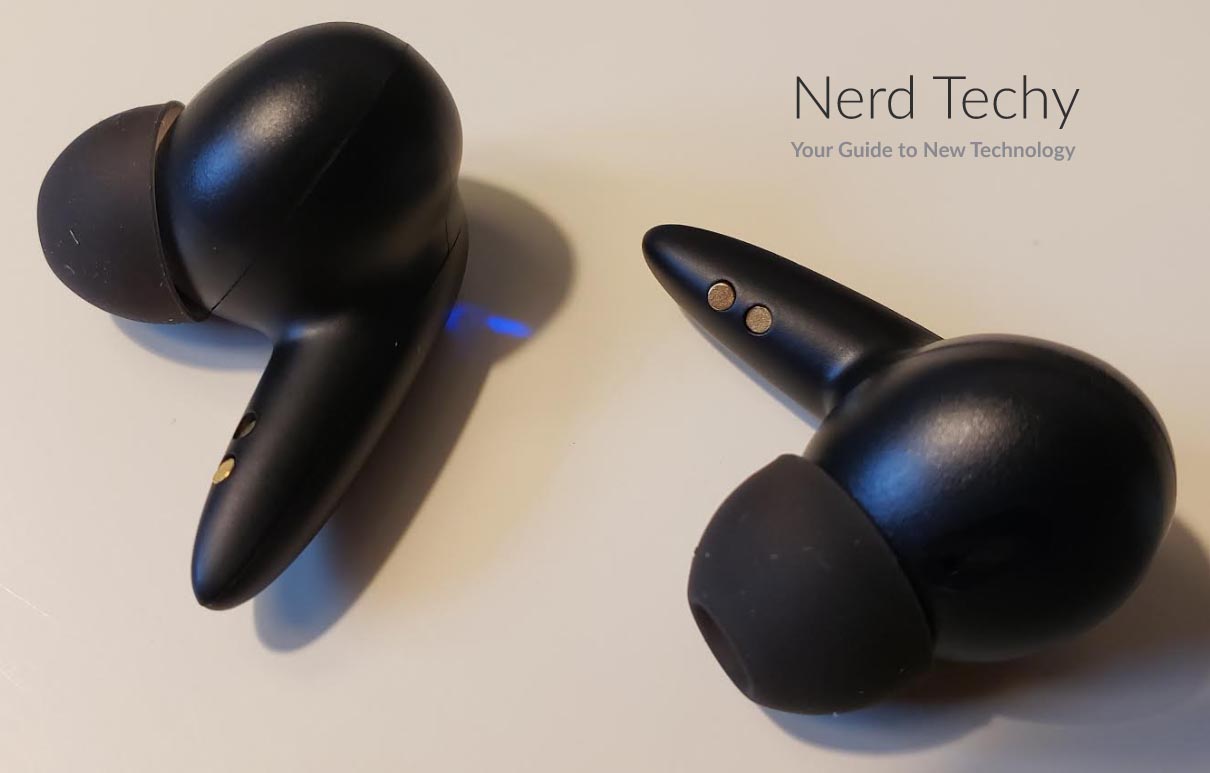 The Amour Air Duo 2 connects to your phone via USB 5.0. This is the current Bluetooth standard, and will be compatible with any modern smartphone. It's superior to the older Bluetooth 4.2 protocol for a handful of reasons. First, it's lower-latency, which means there's less delay between the signal and when you hear the sound. This is hugely beneficial for gaming or watching videos. Second, it allows higher-bitrate audio, which means you can enjoy HD audio. Finally, the signal is more stable, for fewer dropped calls.
Beyond all that, the earbuds can be paired either individually or as a pair. Stereo mode will obviously be your default for listening to music. But if you want hands-free calling or situational awareness, a single earbud can be better. This way, you can double your battery life, since you're only draining one at a time. That said, the touch controls won't be fully functional when you're only using one bud.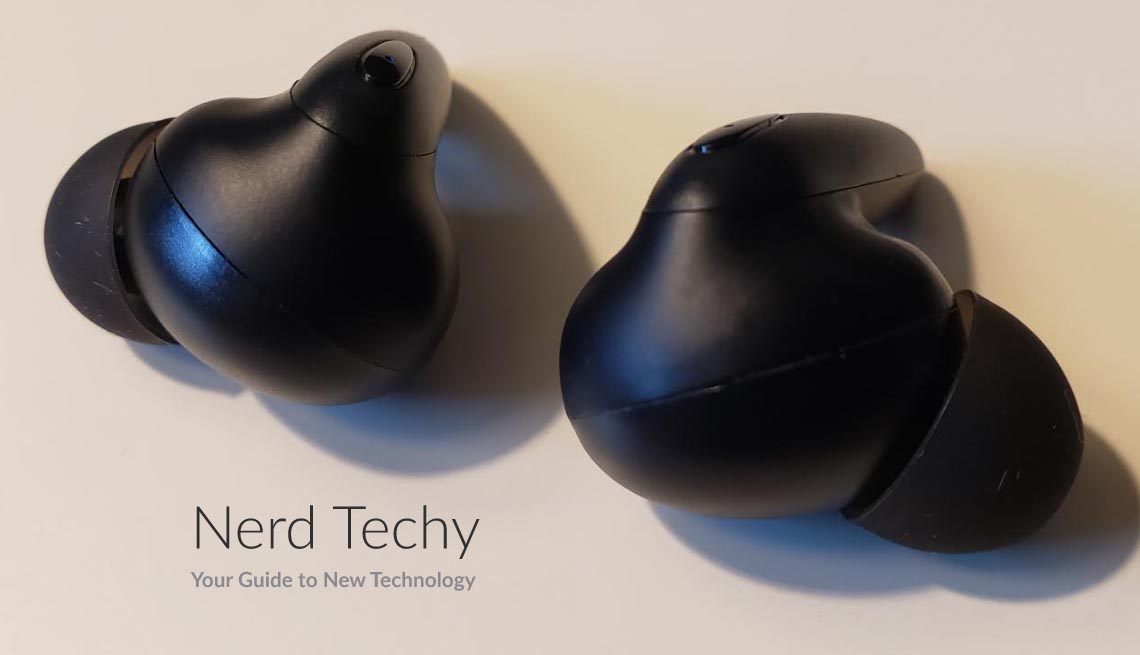 If you want longer battery life, the iWalk Crazy Duo Battle Gaming Wireless Earbuds are a solid choice. Not only do they provide seven hours of playback time, but they offer ultra low latency for gaming. On the downside, they have very sensitive controls that are easy to hit by accident.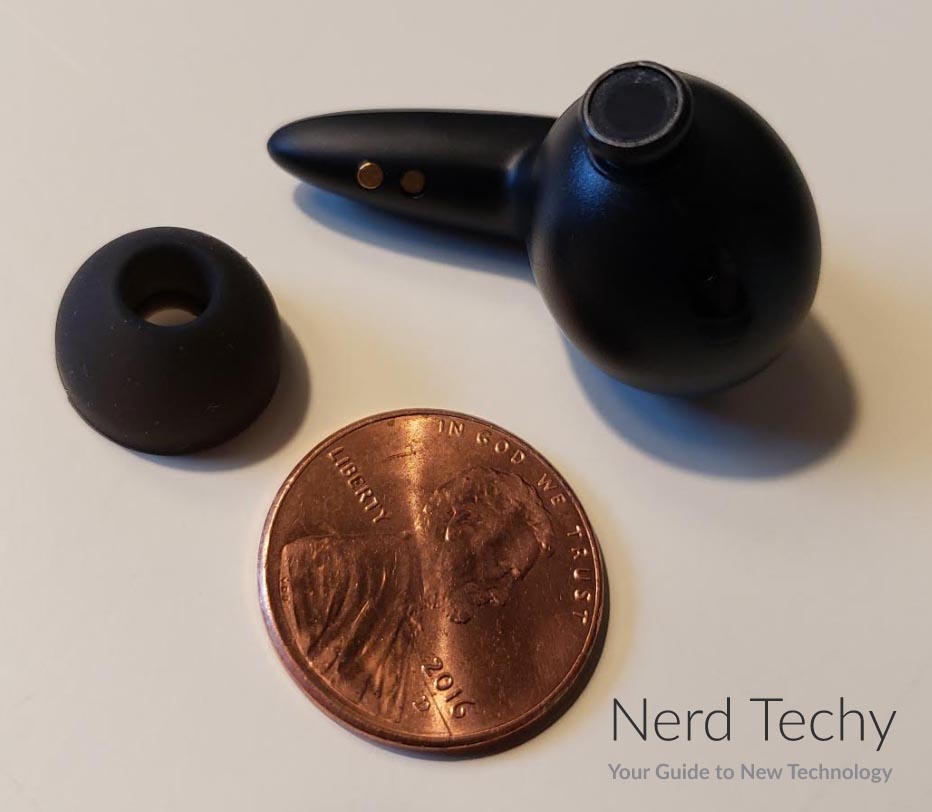 Audio Quality
The Amour Air Duo 2's 10mm drivers are fairly large for smaller earbuds, especially at this price point. They're big enough to provide more bass than you might expect, which is ideal for working out. Many people like a lot of punch during their morning run, and these drivers are up to the task. As you might expect, the bass isn't as rich as you'll get from higher-end earbuds. Still, the intensity alone is fairly good for the price.
The high frequencies are present and bright. They don't get lost in the mix, even when the bass is thumping. Middle frequencies are also present. They don't get overwhelmed by the bass, either, although a little "squishing" is inevitable at times. Again, though, we're talking about budget-priced buds. All things considered, the quality is very good. This is thanks in part to the soundstage, which is wide enough to provide separation between instruments.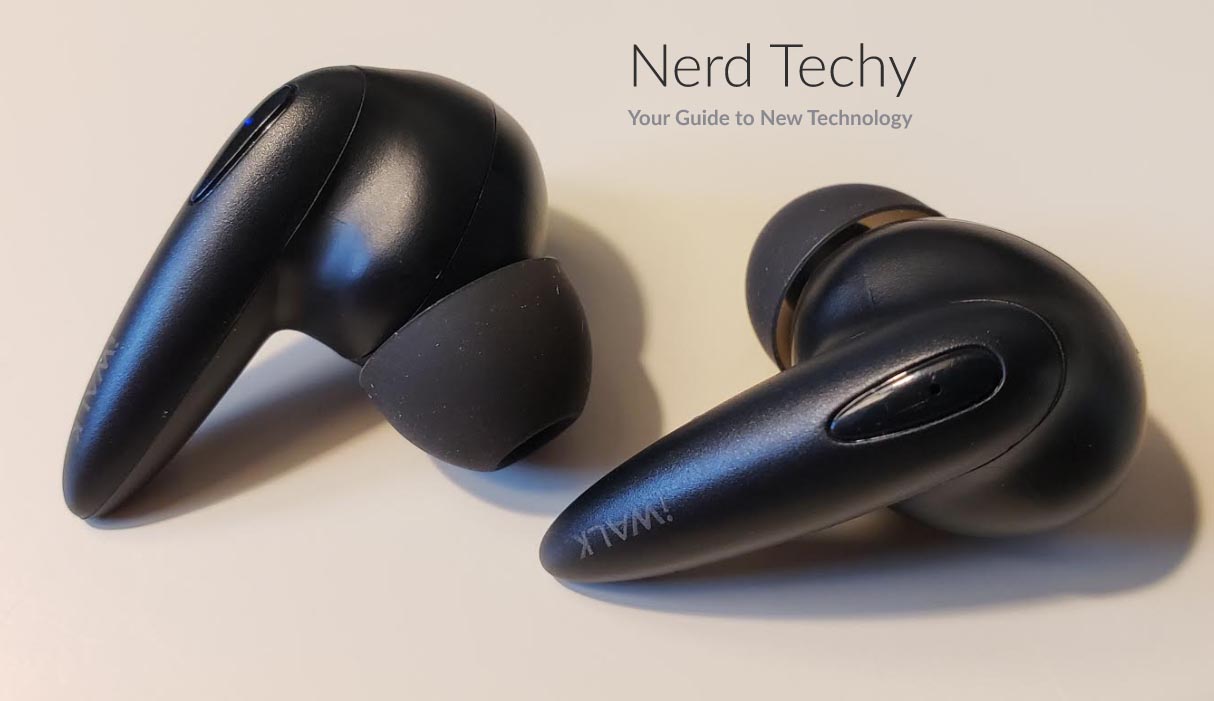 The hands-free calling is another matter. Many modern earbuds use noise isolation technology on their mics. Basically, the mics focus on your voice and ignore most ancillary noise. That's not the case here. The mics will most certainly pick up your voice. However, if you're in a crowded environment or standing in the wind, you'll end up repeating yourself a fair bit. As for how well you hear the other person, that's tough to say. It has more to do with their mic than with your earbuds.
Final Verdict
So, are the iWalk Amour Air Duo 2 Wireless Earbuds worth buying? It depends on what you need. Their main weakness is short battery life, which might be a dealbreaker for some. They're also not ideal for hands-free calling. That said, these are affordable earbuds, and they do very well in many other respects.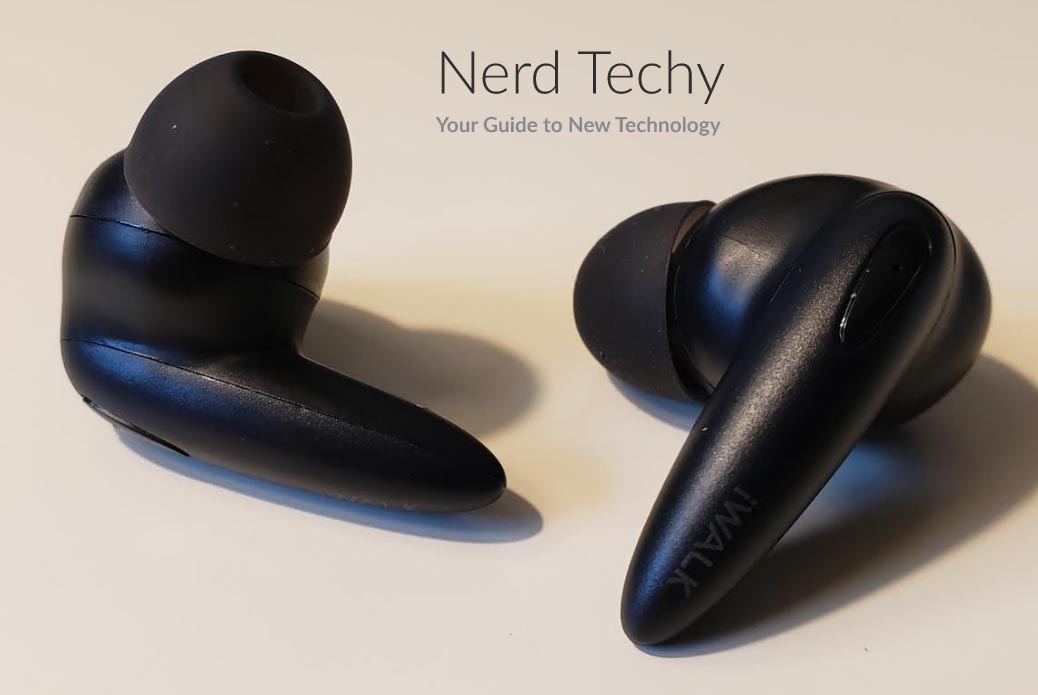 To begin with, the physical design is well-engineered. The buttons are easy to find, and the unique, split case is easy to carry. Moreover, you get the option for wireless charging, which many people find very convenient. Finally, the sound quality is very good for the price. Bass, middle, and high frequencies are all present in the mix. If you want budget earbuds that also sound great, you're looking at one of the better choices available.