The shift from wired to wireless earbuds has been rough at times. When Apple first announced that the iPhone was going full wireless, without even the option for a 3.5mm jack, the technology press went berserk, with some writers predicting an end to the earbud as we know it, and others lamenting the fact that Apple would own a monopoly on the wireless earbud market.
Thankfully, neither of these predictions has come to pass. Advantages in technology have allowed wireless earbuds to maintain a light weight and a small profile, while still performing just as well as wired earbuds. And independent manufacturers have had a field day producing their own wireless earbuds to compete with Apple's AirPod. Today, we'll be looking at one of those alternatives, the iWALK CrazyDuo True Wireless Earbuds.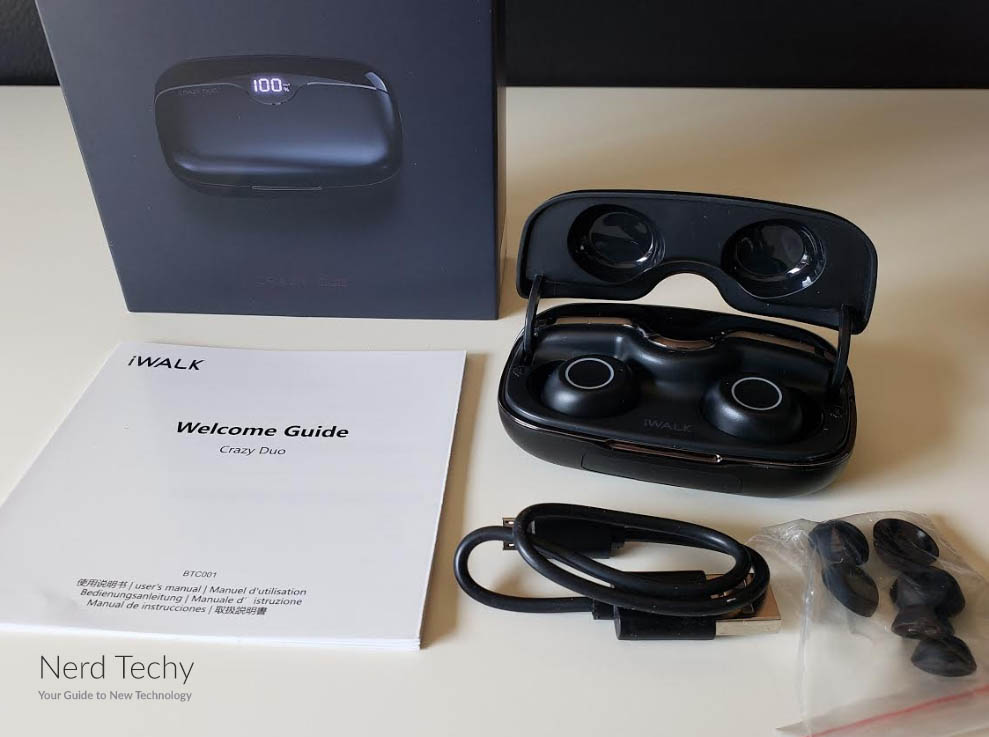 These earbuds serve as an answer to one of the greatest criticism of wireless earbuds: limited battery life. With the charging case, you get up to 80 total hours, which is more than enough juice for just about any purpose. But what else do they have to offer? We took a good look, and these are the results.
Basic Construction
Inside the cardboard box, you'll find a few accessories in addition to the earbuds themselves. These include three extra sets of ear caps, as well as a USB charging cable. We'll talk about all of these things as they come up. But the first thing we should talk about is the charging case, which arrives with the earbuds inside it. This case is larger than most earbud cases on the market, measuring 4 ½ inches on each side, and more than an inch and a half high. It's a bit large to fit in your pocket, but you can still slip it into a backpack or briefcase with plenty of room to spare.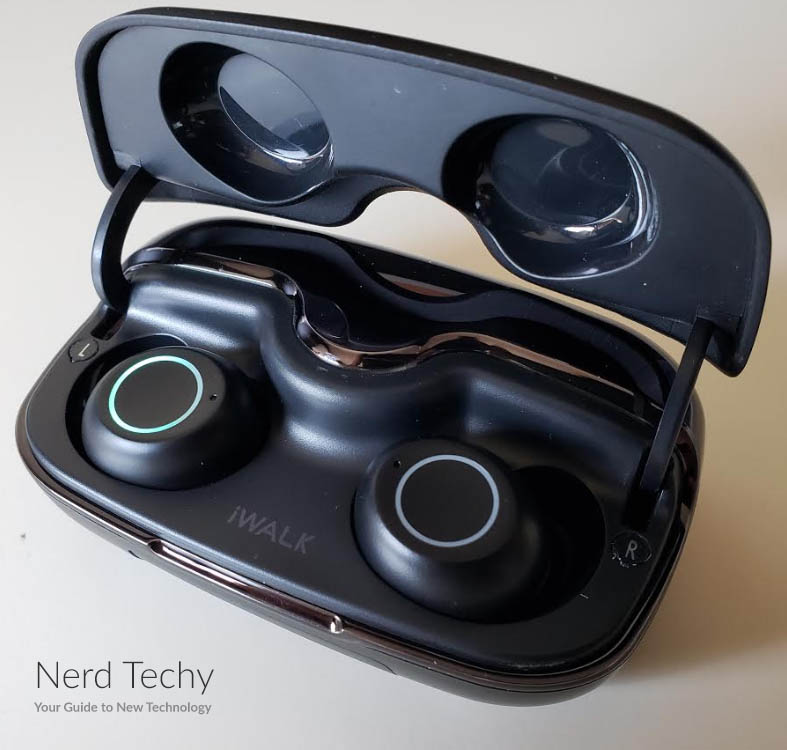 The iWALK's case has long, large hinges that pivot open easily, and provide a lot of resistance when the lid is closed. When it's open, you can easily see the battery meter, which displays the current charge level. When the charging case is plugged in, it also doubles as a charge indicator. It will read "in" when the case itself is charging, and "out" when the case is being used as a power bank for charging other devices.
The earbuds have a wide outer body, with an S-shaped profile for inserting into your ear canals. They slip easily into place inside the case. The backs feature glowing blue rings that light up when the earbuds have been turned on. Inside of those rings are soft-touch buttons that control all of the earbuds' features. The control scheme is standard for a pair of wireless earbuds, if inevitably underwhelming. Press the button once to play or pause tracks, or to answer or hang up phone calls.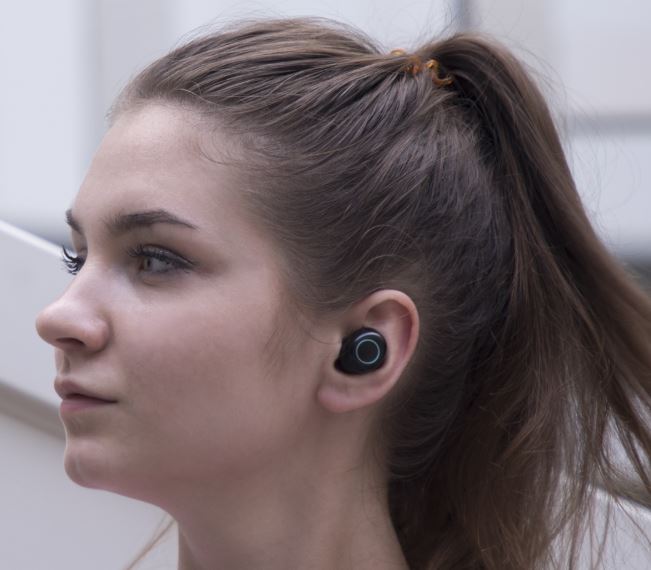 The iWALK CrazyDuo earbuds themselves are IPX5 water resistant, which means they're splash-proof, but not immersion-proof. This means they're just fine for most everyday activities, including intense outdoor workouts on sweaty summer days. Be careful, though; the case is not water resistant, and can become damaged if it's immersed.
If you prefer a different fit altogether, read our review of the Soundcore Spirit X2. These earbuds have an over-the-ear design, and while they don't have quite the same insane battery power as the iWALK's charging case, they have an impressive amount of built-in power.
Battery and Charging
As we've already mentioned, these iWALK earbuds offer virtually unparalleled battery life. However, most of this capacity comes from the 2,500mAh charging case. The earbuds themselves hold approximately 5 hours of charge, which still isn't bad. It's more than enough for a morning and evening commute, or for a week's worth of workouts. Keep in mind that just as with all battery time measurements, this is an approximation. Depending on your bitrate, whether you're making phone calls, and what the volume level is, your mileage may vary.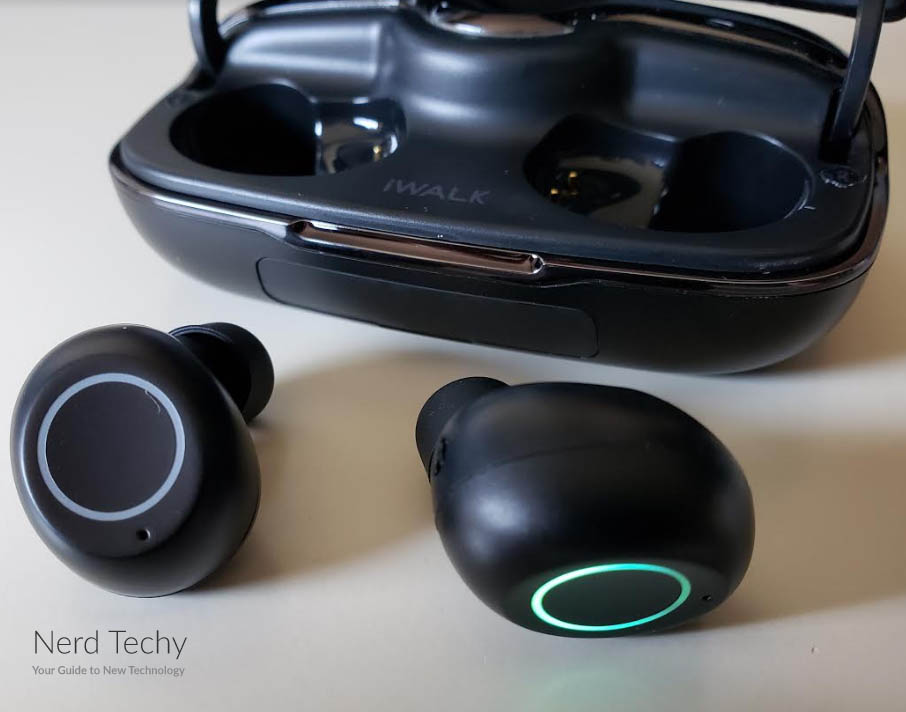 Of course, if you're going on the road, whether on vacation or for a weekend business trip, you'll need significantly more than 5 hours of listening time. Thankfully, the case offers enough juice for an incredible 15 recharges, for a total of 80 hours of battery time. This is virtually unheard-of, and it's a huge step up from the 20-30 hour industry average. And with this much battery power, the case can also be used as a power bank for a cell phone or tablet. 2,500mAh is only slightly less than the iPhone X's 2,710mAh capacity, so you'll have nearly a full charge worth of reserve power to play with in an emergency.
The iWALK's case offers two different charging options: a USB-C cable and wireless charging. On USB-C, your case will fully charge in about 90 minutes. On a wireless charge pad, it will be fully charged in just over 2 hours, which isn't bad at all. The battery meter also makes it easy to keep track of how much juice you've got left, so you'll never be caught off guard by a dead battery.
If you want even more total juice, consider the Aideaz SoundOrigin. The charging case for these earbuds carries enough reserve powers for a whopping 140 hours of total use. However, the reserve power is a little less, at only 2,200mAh, so it's slightly less useful as a power bank.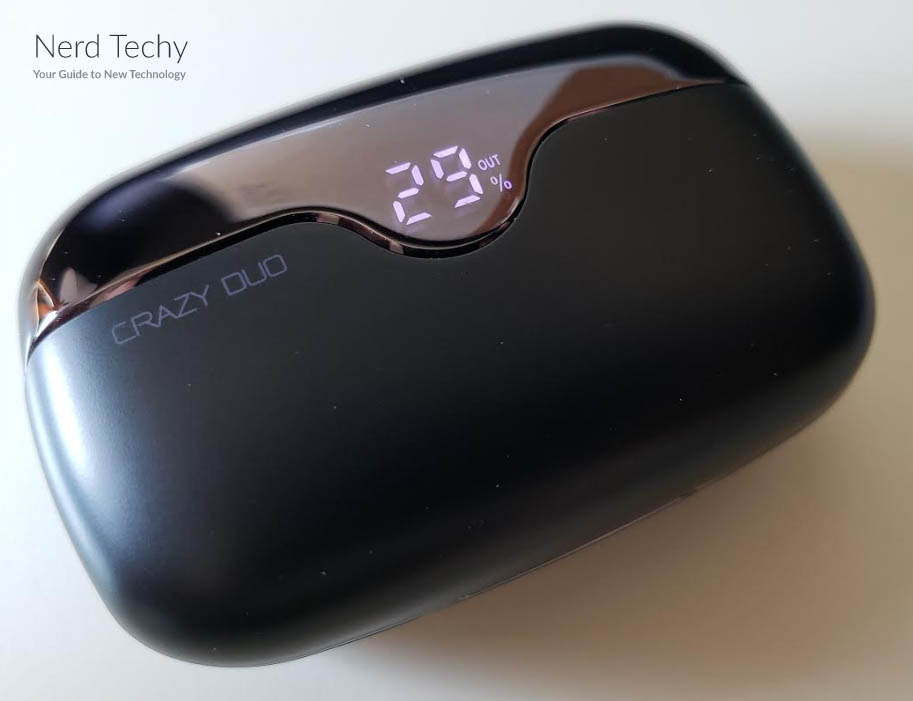 Connectivity
iWALK CrazyDuo True Wireless Earbuds are very easy to pair with your smartphone. All you have to do is charge them for the first time, then remove them from the case. When they're removed from the case, the lights will automatically illuminate to indicate that they've been turned on. At this point, you should be able to easily select them from your phone's Bluetooth menu. Because they utilize True Wireless 2.0 technology, pairing them will be easy from this point forwards. Once they've been paired with your phone, they will automatically pair when they're in proximity.
These earbuds connect with the Bluetooth 5.0 protocol, which means the connection is very low-lag. This will be particularly noticeable while watching movies, since there will be no delay between what you see on your screen and what you're hearing. It's also a great protocol for phone calls, significantly cleaner than the old 4.2 protocol.
Extras
We've already talked about most of the iWALK's extra features, but we haven't really addressed the extra ear caps. These are a common feature on many wireless earbuds, but they're an important extra, considering the way the iWALKs fit. Their long shank is designed to be inserted into your ear canal, where the silicone tips provide a seal that helps keep outside noise out. This is nowhere near as effective as active noise cancelling, but it's nonetheless a well-engineered feature.
The thing is, if the ear tips aren't the right size, the fit is either going to be loose, uncomfortable, or both. As a result, it's essential to find the right fit. If you do this as soon as you open the box, you'll ensure that you don't have any problems down the line.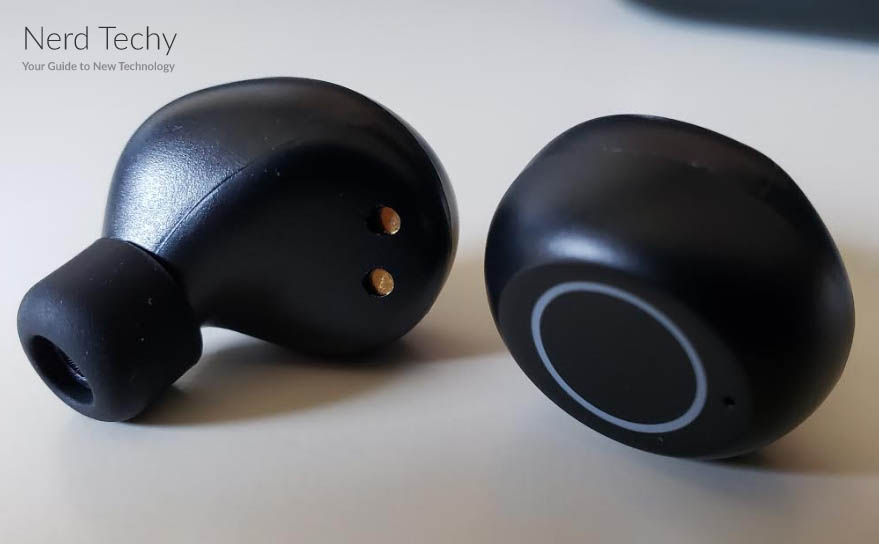 Sound Quality
The sound quality on these iWALK earbuds is about what you would expect from a pair of wireless earbuds in this price range. That said, they're still a great value, especially when you consider the battery and other attractive features. But what exactly are we talking about, here?
The highs are clear, clean, and brilliant. They sound fantastic even if you're listening to music with a lot of cymbals, such as 70s soft rock. That said, there are a few problems with the mids that need to be addressed. Simply put, these iWALK earbuds don't provide a lot of separation between the lows and the highs. When this happens, the mids get crowded out, and there's not a lot of clarity. This can lead to muddy vocals during instrumentally complex songs. That's not to say that the mids are bad. For podcasts or audiobooks, they're quite good. But throw in some instruments, and you'll wish you had more separation.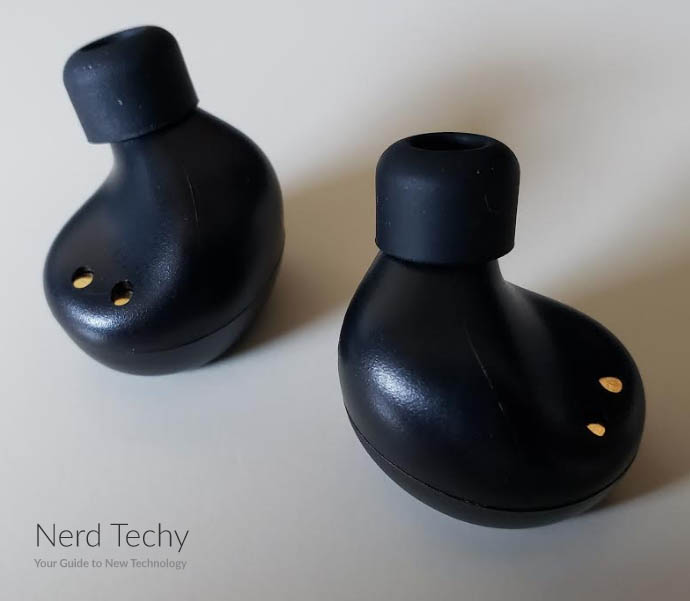 The bass is good quality, although as with most earbuds in this price range it's not very loud. Still, you can hear it clearly, so when the bass is thumping you'll be able to dance along. As with the mids, the main problem is that there are only single drivers in each earbud, so the bass gets muddy easily when there are a lot of highs in the mix.
iWALK earbuds are also perfectly serviceable for phone calls. They feature a pair of built-in microphones that provide a good balance between sensitivity and quiet, although you'll inevitably pick up some background noise if you're in a crowded area. And if you want to, you can remove either earbud individually and use it as a hands-free device. Obviously, you won't get stereo music this way, but you'll be able to take phone calls on the road.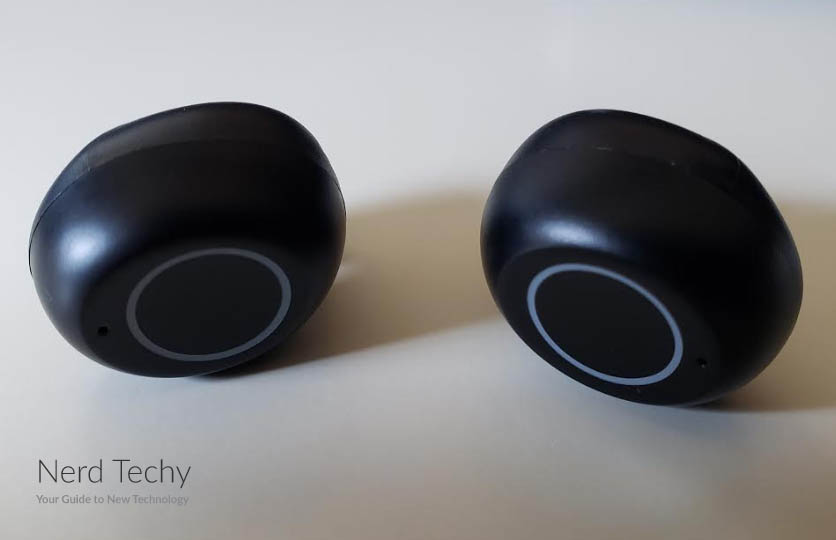 If you're looking for more immersive sound or active noise cancelling, you should think about ditching your earbuds for a pair of quality over the ear headphones. Recently, we reviewed both the Raycon H50 and the H100, both of which are a great value for the investment.
Final Verdict
So, are the iWALK CrazyDuo True Wireless Earbuds a good buy? Considering the price point, we'd say yes. Forget about the earbuds for a second. You're looking at a 2,500mAh power pack with wireless charging, and it will also charge your earbuds. That alone is worth a good portion of the purchase price.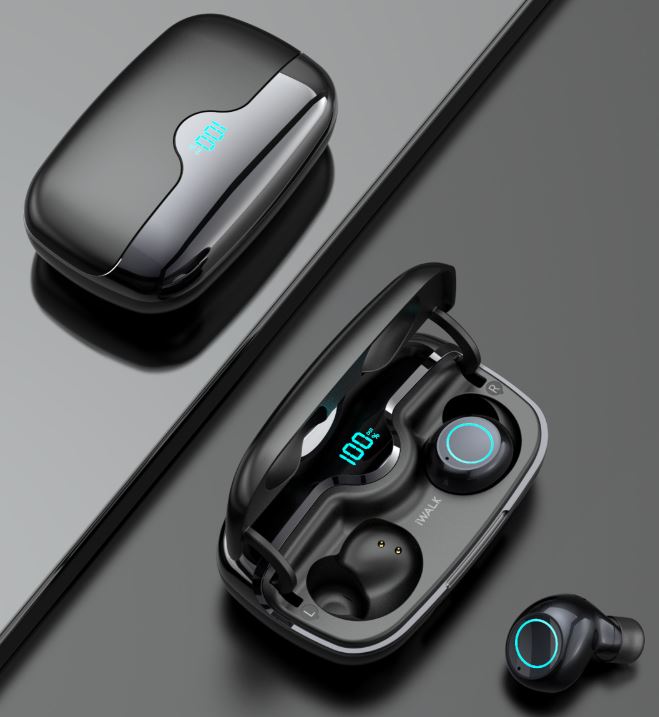 Next, consider the quality of the connection. A lot of mid-priced earbuds are still using the old Bluetooth 4.2 protocol, which is slow and laggy compared to the newer 5.0 standard. It's nice to see iWALK staying ahead of the curve. In addition, the sound quality is reasonably good, especially for phone calls, as well as for spoken word material like podcasts.
Finally, these earbuds are just plain comfortable. They're designed to conform to the shape of your ear, and, provided you choose a well-fitted pair of ear tips, they remain securely in place even during intense physical activity. Combine that with IPX5 water resistance, and you're looking at a pair of earbuds that's ideal for athletes.