Back in September, Anker held a press conference in New York to announce the launch of six new pairs of earbuds. Now, we're not going to be talking about all of them here. That would be a tall order for a single article! Instead, we're going to focus on the Soundcore Spirit X2.
This is an upgrade of their original Spirit X, which was itself designed to be an alternative to Apple's Powerbeats Pro. You'll find a similar profile, along with most of the same features. However, the Spirit X2 also features a flexible ear hook, which provides a significantly more comfortable fit than the Powerbeats Pro.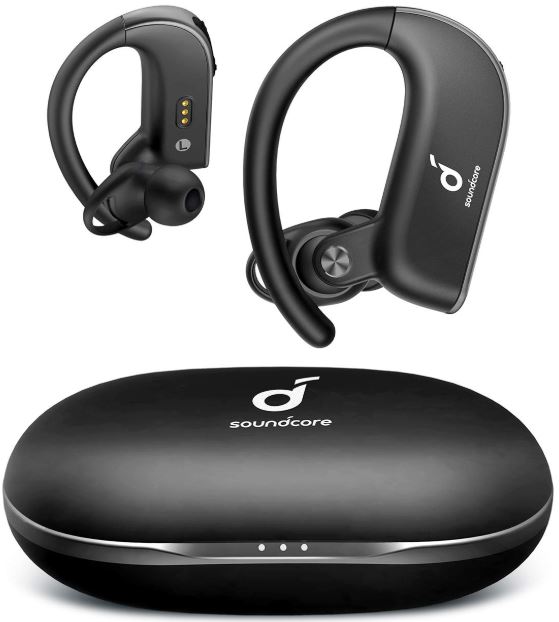 But simply being designed like an Apple product doesn't mean the Spirit X2 is necessarily going to perform like one. So we put a pair of these buds through their paces to see how they perform.
It should be obvious at this point that the Spirit X2 is a set of earbuds, not over the ear earphones. They're very high quality earbuds, but at the end of the day they're still not going to provide quite as much immersion as a complete set of earphones.
If you're looking for that kind of experience, we recommend reading our review of the Corsair HS headset series. These three sets of earphones have slightly different features, but all of them are designed for gamers, complete with an adjustable boom mic that offers crisp, clear communication. Alternatively, the mic can be removed to keep it out of the way. The HS50 and HS60 are multi-functional, and will work with mobile phones, consoles, or PCs, while the HS70 is specialized for PC use.
With that being said, it's time to check out some of the highest-quality in-ear earbuds that money can buy. Let's get started!
Design Overview
To begin with, we'll be looking at the look and feel of these earbuds, since it's the first thing you'll notice when you take them out of the box. They're designed with an ear hook form factor, which means that a hook extends around the top and back of your ear instead of simply resting in your ear canal. This makes them heavier than a smaller pair of earbuds, but it also gives them more space for a larger batteries.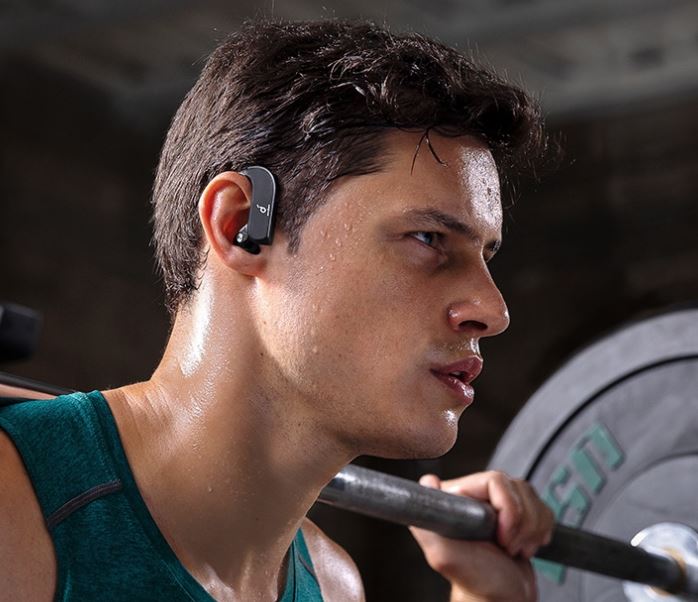 Both the ear hooks and the ear tips are replaceable and flexible. In the box, you'll find three extra pairs of each, in three different sizes. This means you can mix and match them as you desire, so your fit will be truly customized to your ears and needs. The flexibility is also helpful, since even if the hook is the right size, a rigid hook can dig into your skin. Not all ears are shaped the same, but the Spirit X2 fits well on most. What's more, the flexible hooks are very secure, so your earbuds will stay on your head even during intense workouts.
Spirit X2 earbuds are IP68-rated for water resistance. This is actually a higher water resistance rating than the IP67 rating than you'll find on most earbuds. While this technically means that they can withstand immersion in 1.5 meters of water (about 4 ½ feet), we wouldn't chance it. These tests are performed under ideal laboratory conditions, and your mileage may vary in the real world.
That said, they're more than tough enough to stand up to rain, sweat, and dust. And if you accidentally drop them in the water, you'll be able to snatch them up and put them somewhere to dry without them getting ruined immediately. The outer surface is coated with a hydrophobic Nano coating that causes water to bead up and roll off.
Connection and Compatibility
The Soundcore Spirit X2 connects via Bluetooth 5.0, which is the latest version of the protocol. This allows for a clean, quick connection, and guarantees that you'll get the best sound quality that your device is capable of transmitting. If you happen to be connecting to an older device, no problem. The X2 is also compatible with older versions of the Bluetooth protocol.
The controls are elegant and easy to use. On the right earbud, you'll find a simple set of up and down buttons. These buttons are used to control the volume when you tap them. When you hold them down, they'll skip forward or backward while listening to music, or skip through contacts while you're using your phone.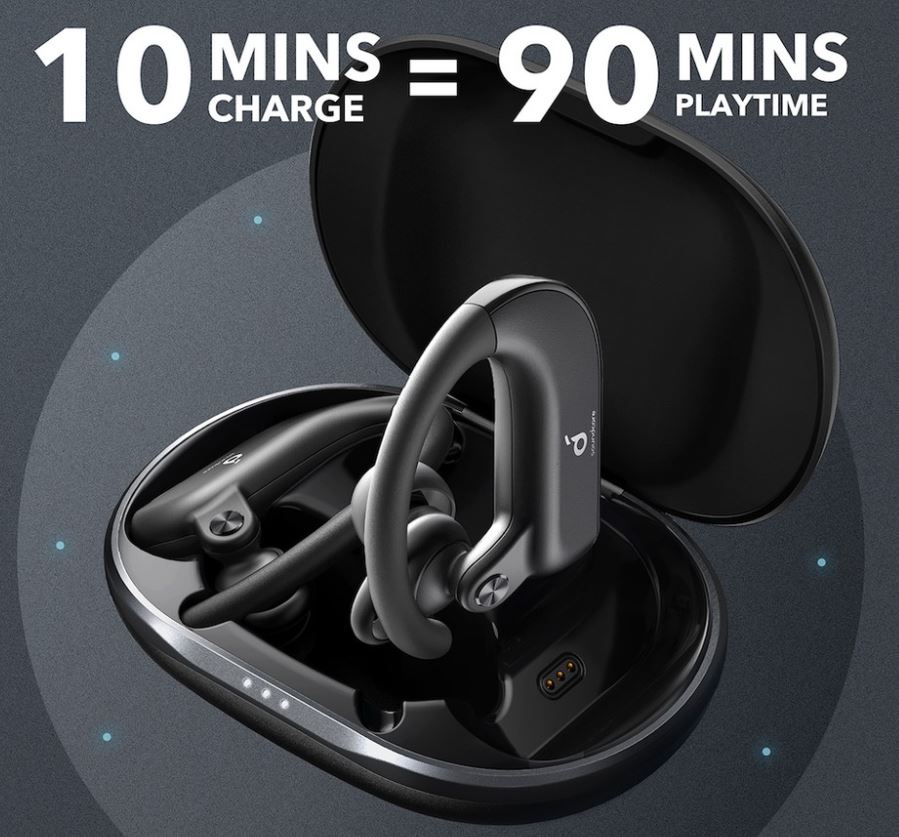 On the left earbud is another pair of buttons. The top button controls the Bass Up feature, which we'll talk about in detail later on. When you're on the phone, it can be used to end a call, or to ignore a call that's currently coming in. The bottom button is used for answering calls, or as a play/pause button while you're listening to music.
Portability and Extra Features
The Soundcore Spirit X2 charges via USB-C, which is the latest, fastest version of USB cable. This allows for exceptionally fast charging, although ultimately your charge is only going to be as fast as your drive. So if you plug it into a slow, 1-amp USB-A port on your PC, it's going to charge significantly slower. Anker includes a USB-C cable in the kit, so you'll have everything you need.
When connected to a USB Type-C port, though, you can get some really impressive charge times. The X2 supports a quick-charge mode, which provides you with 90 minutes of battery life in only 10 minutes. This is a great feature when you unexpectedly run out of juice and need to get through your workout.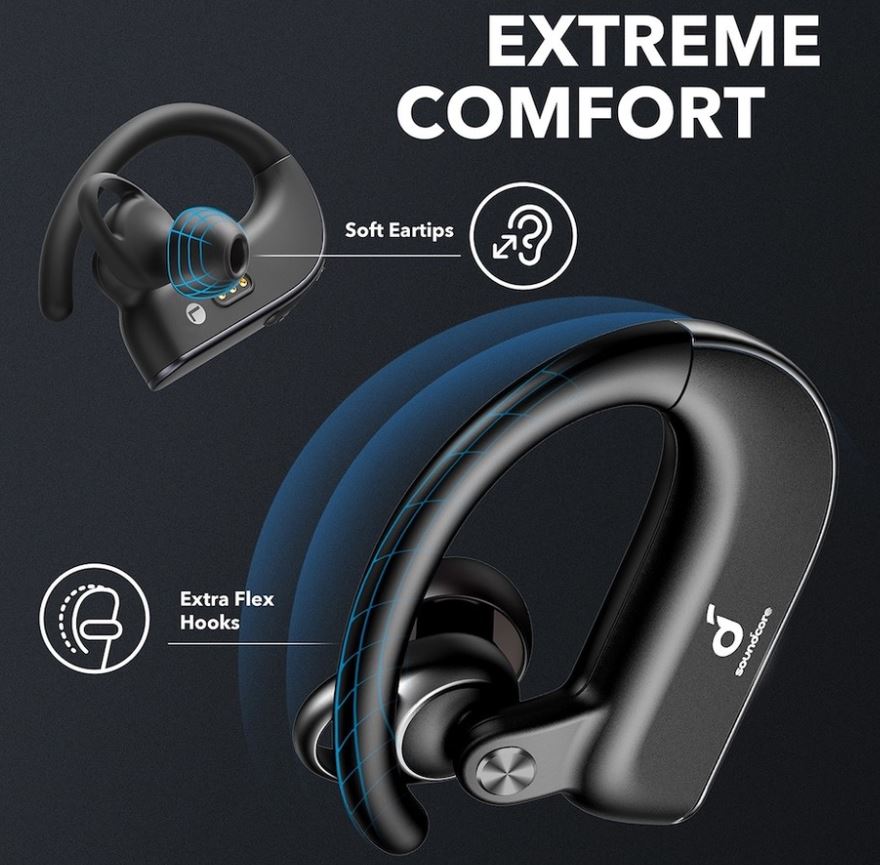 That said, you should have to worry about battery life to begin with. These earbuds have an impressive 9 hours of battery life. And that's just the earbuds themselves. The portable charge case carries enough juice to recharge the X2 three additional times, so you can use your earbuds for up to 36 hours without the need to connect to a USB port.
The charge case itself is well-designed, with a black anodized aluminum shell that can take significant abuse. The closure is magnetic, which is both a blessing and a curse. On the one hand, it means you can open the case with one hand, without the need for a zipper. On the other hand, it can be popped open by accident, although that would require a good bit of force.
On the front of the case, just below the closure, are three small green LEDs. These indicate the remaining battery level. These lights roughly correspond to how much battery is left. With three lights, you'll have three remaining recharges, with two lights, you'll have one, and so on.
While there's a lot to like about the Soundcore Spirit X2 so far, all this quality comes at a price. If you're looking to spend less on your next pair of wireless earbuds, read our Mpow Flame 2 review. These earbuds are significantly cheaper than the X2, but they're a great value for what you get. They offer 27 hours of total battery life, which, while not as impressive as the X2, is still pretty generous. In addition, you also get great mids and vocals. That said, the bass leaves something to be desired, but that's to be expected at this price point.
Sound Quality
We've talked a lot about battery life and physical construction, but what about sound quality? After all, the whole reason you're buying a quality pair of earbuds is to enjoy excellent sound. So, how does the Soundcore Spirit X2 compare to the competition?
To begin with, you're going to get top-tier mids and highs. The highs are clear and consistent, with shimmering cymbals and high-end synths that can really add excitement to club music. The mids have plenty of space, and don't get muddied by the bass or obscured by the highs. You'll get pitch-perfect vocals, perfect for rap, hip-hop, or any music that's primarily lyrical. This is also fantastic for classical music, which relies heavily on brass and strings.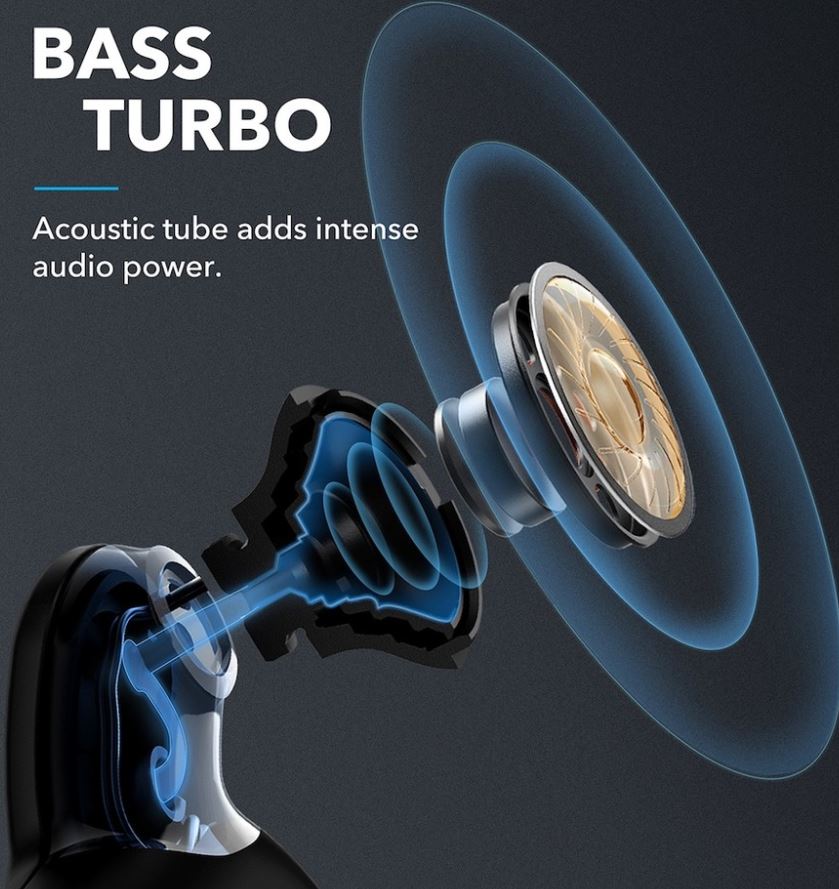 But a lot of earbuds produce quality mids and highs. The real challenge is to push out powerful bass. In this regard, the X2's 12mm dynamic driver really impressed us. It's mounted in a heavy-duty elastic material that's flexible enough to withstand much stronger vibrations than a typical driver mount. This allows it to push out loud, booming bass. Moreover, the diaphragm itself is constructed from bio-cellulose, a particularly resonant material that's on the bleeding edge of modern technology. If you're looking for the most powerful, hard-hitting bass available, it's hard to go wrong with these bad boys.
But sometimes, you don't always want the most powerful bass. Sometimes, you're listening to a podcast or an audiobook, which requires a little less punch. The Bass Up button allows you to control exactly how much punch you get. Turn it on for workouts, and turn it off when you're trying to relax to something more soothing.
Sound quality is also excellent while you're on the phone. The Soundcore Spirit X2 utilizes CVC 8.0 noise reduction technology. This means it filters out background noise and conversations, so the person on the other end will only hear what you're saying. If you spend a lot of time in crowded areas like airports and train stations, you'll spend more time communicating, and less time repeating yourself.
If sound quality is your number one priority, take a look at our review of the iKonex X7. These earbuds are currently being funded on Indiegogo, and they boast some of the best quality on the market. We managed to get our hands on a prototype, and we really liked what we saw. The downside? The crowdfunding campaign is still ongoing, so you'll need to wait a bit to actually get your pair.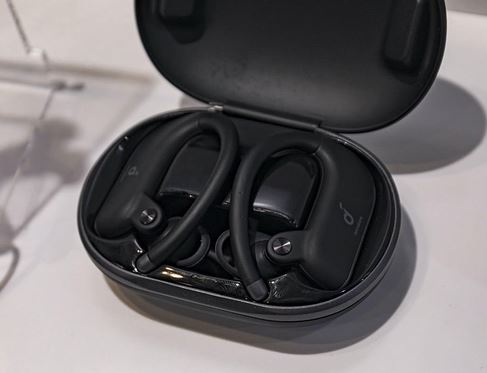 Final Verdict
So, what did we think of the Soundcore X2? We think it's a quality earbud, and a worthy addition to Anker's line. With 36 hours of total battery life, you can listen for a day and a half straight – or, more realistically, for a month's worth of workouts. And the Bluetooth 5 connectivity and the 12mm bio-cellulose driver provide some of the best sound quality on the market.