Founded in April, 2018, Aideaz has quickly become one of the hottest new electronics manufacturers in the business. They produce a full array of home electronic accessories, from wireless chargers to USB chargers to power packs to Bluetooth speakers and earbuds. Today, we'll be looking at their new set of Bluetooth 5.0 Wireless Earbuds.
These earbuds have a pretty standard design that should be familiar to anyone who's used a pair of wireless earbuds in the past. But how good are they really? We're going to take a close look, and give you the full skinny on Aideaz' SoundOrigin Bluetooth Earbuds.
Design Basics
As we said, the overall design should be pretty familiar. You get a set of two wireless earbuds, along with a magnetic charging case. The earbuds have a true earbud-style design that sits inside your ears instead of looping over the top. This makes them very compact, although whether or not it's more comfortable is a matter of personal preference. The silicone ear caps are injected with soft gel that provides a lot of cushion, and provides a secure fit along with a reasonably good seal against outside noise. The controls are easy to operate, with a simple on/off button on the back of each earbud.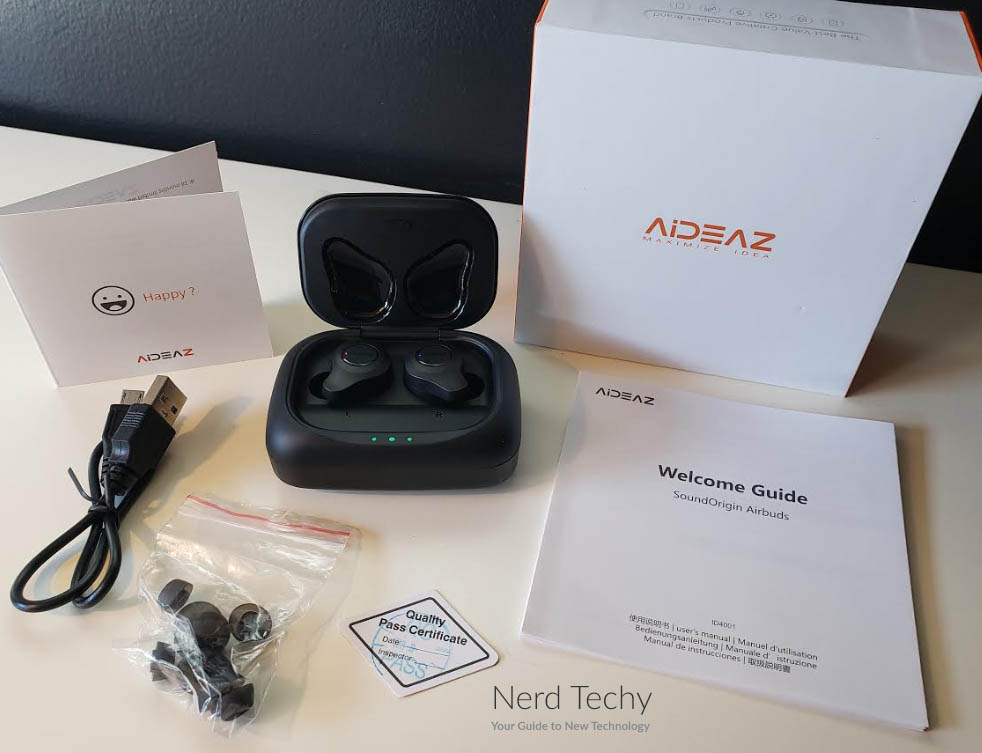 The case is slim and rectangular, with a glossy black finish that's easy on the eyes. It's magnetized, both inside the earbud charging wells and around the lid. This means you won't have to worry about any clasps, or use both of your hands to perform what should be a single-handed operation. It also means that the earbuds are easy to seat, and will drop into position in the correct orientation, so you won't have to worry about them failing to take a charge. The lid sits flush with the top of the case, and has indentations to accommodate the tops of the earbuds. Under the front lip, you'll also find a set of 3 LED lights, which indicate the current level of the battery charge.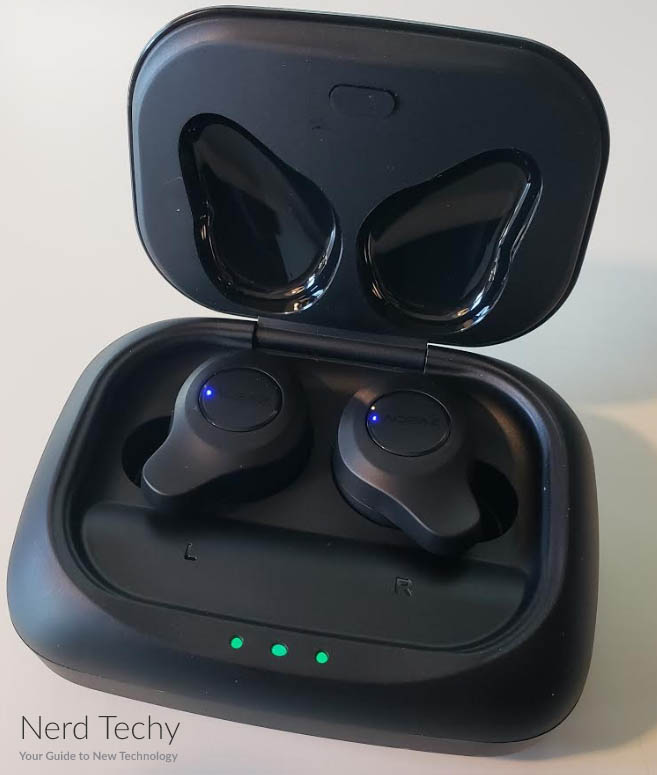 These Aideaz earbuds are IPX6-rated for water resistance, which is the highest rating an electronic product can receive without being rated for submersion. They will stand up to any amount of sweat or rain, making them a great choice for long runs, especially if you've got any serious concerns about the weather. The earbuds also only weigh 4 grams, or about 0.14 ounces. This is exceptionally light, even for a pair of wireless earbuds, so they won't cause discomfort or feel heavy even if you're wearing them for a whole day. Their small size is also attractive, since they won't stick visibly out of your ears.
For an even smaller design, consider MUCRO True Wireless Earbuds. They also have soft touch controls that are easy to operate, but keep in mind that the smaller size means you'll get significantly less battery life.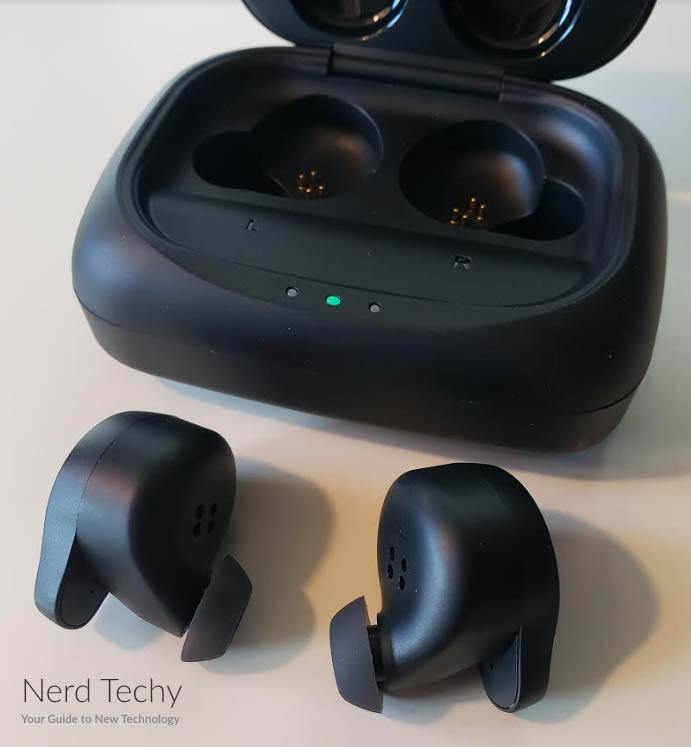 Battery and Charging
The charging case has a 2,200mAh battery, which is enough to power the Aideaz SoundOrigin buds for an incredible 140 hours. That's nearly unheard-of, even with low-voltage devices like a pair of wireless earbuds. Of course, you're not going to get that much battery life all at once. By themselves, the earbuds will run for about 20 hours before requiring a recharge. However, the case can charge them six times, so that 140-hour total assumes that you're starting out with both a fully-charged case and a fully-charged set of earbuds.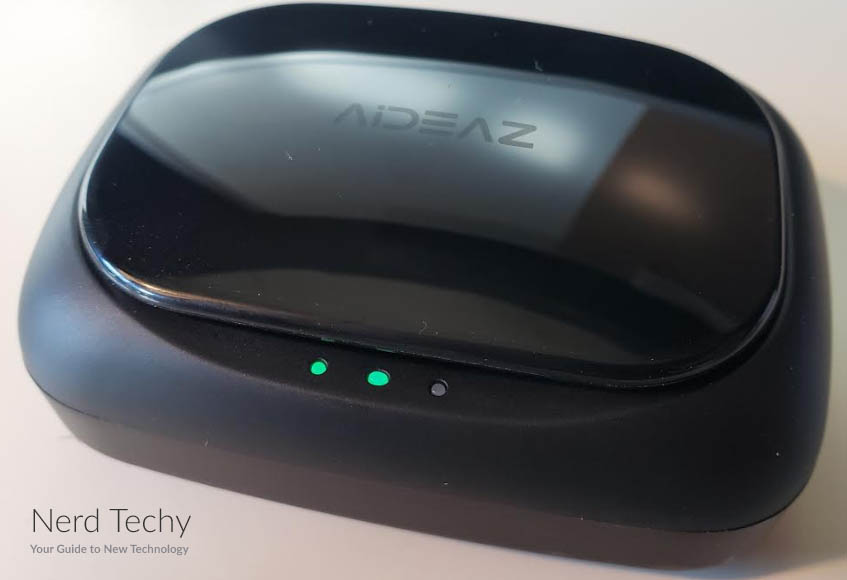 The case can be charged in two different ways: either through a USB Type-C charger (included), or wirelessly on a Qi pad. This is exceptionally convenient, since you'll always have a way to charge your Aideaz earbuds. Charging from an empty battery takes about 3 hours via USB Type-C, and about 4 ½ hours on a Qi pad. So, obviously USB-C is better, but the Qi pad can be more convenient if you've already got one set up for charging a variety of devices.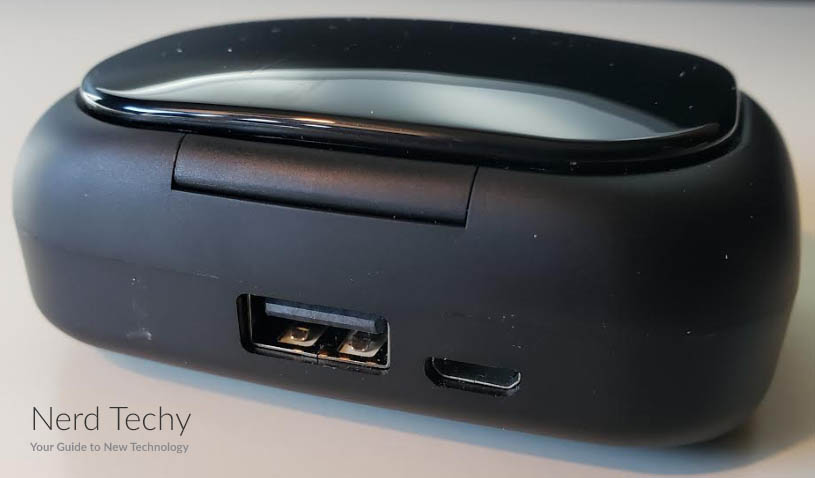 In addition, you can also use the Aideaz charging case as a portable power pack. The front of the case has a standard USB port for this purpose, so most mobile phone and tablet chargers will be able to plug in without any issues. Keep in mind, though, that while 2,200mAh is a lot of juice for a pair of earbuds, it's not very much for a cell phone. It's enough to get about a quarter of a charge on a Samsung Galaxy S10, which is a great asset in an emergency. At least it's enough to make a call for help if you've gotten yourself into a pickle.
Connectivity
These Bluetooth earbuds are very easy to operate. When you remove them from the case, they will automatically recognize and pair with each-other. After that, all you have to do is open up your phone or MP3 player, activate the Bluetooth, and select them from your menu. The connection itself is very powerful, with the latest 5.0 Bluetooth protocol. It's almost twice as fast as Bluetooth 4.2, which means you can stream music at higher bandwidths for better sound quality. It's also faster, so you'll experience zero lag while gaming or watching movies.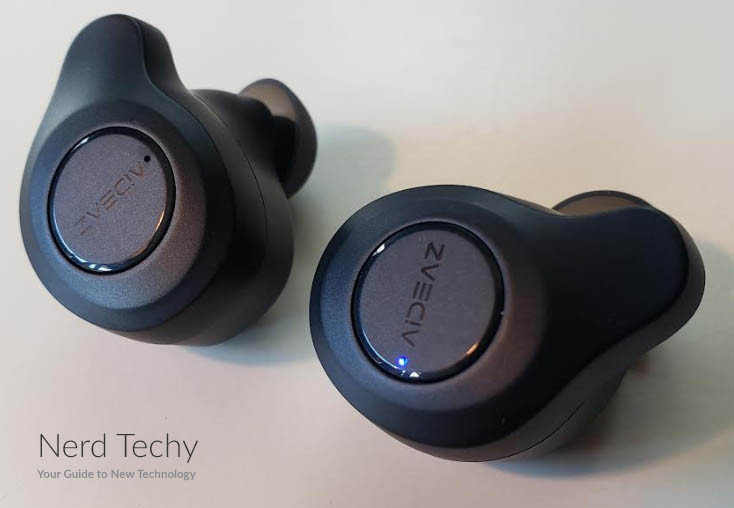 Aideaz earbuds also support voice controls, voice for your phone or for Siri, so you can run internet searches, call your friends, and even use voice to text if needed. That said, the microphone quality is only so-so, so we'd choose another option for gaming or if you intend on using your earbuds for more than just the occasional phone call.
One feature to keep in mind is that the left earbud can be used by itself. This is a great option if you're using your earbuds primarily for phone calls or using voice commands. It also keeps you more aware of your surroundings if you're listening to a podcast or audiobook that doesn't require full stereo immersion. That said, sometimes the earbuds will fail to pair properly after they've been used in this fashion. To reset them, simply place both earbuds into the charging case at the same time, let them sit for 10 seconds to ensure they've entirely powered off, then remove them from the case again. After this reset, they should pair normally.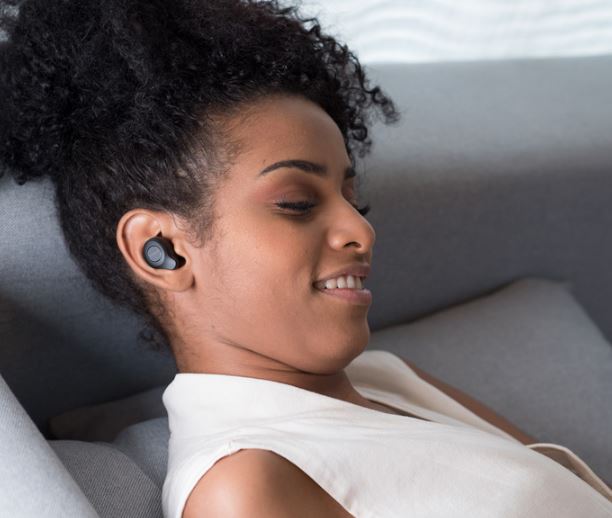 Accessories
Aideaz Bluetooth 5.0 Wireless Earbuds ship with three extra tips of gel-injected silicone ear tips. We've already talked about how comfortable these are, but even the softest touch can get irritating if the fit isn't right. So if you find that your earbuds are uncomfortable, try switching to a different tip. The tips are designed to fit into your ear canal, both for clarity of sound and for a secure fit. Keep this in mind when you're choosing which ear tips to use.
As we've mentioned, some varieties of earbuds have an over-the-ear design. This involves a wing over the back of your ear, which some people find uncomfortable. However, if you have small ear canals, or just don't like the feeling of an ear tip that goes all the way into the canal, the Mpow Flame 2 is a solid choice. With multiple sets of ear tips and ear wings, it's just about the most easily adjustable set of earbuds on the market.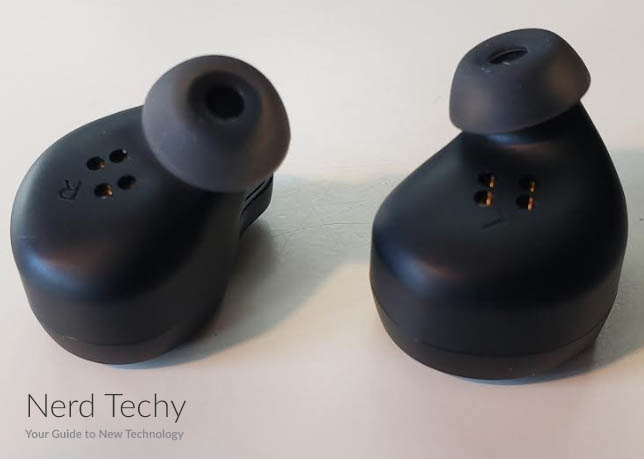 Sound Quality
When it comes to earbuds, sound quality is where the rubber meets the road. If you haven't got good sound, your earbuds aren't good for much other than taking phone calls. So, how do these Aideaz buds compare to others on the market? We're about to find out.
To begin with, the treble is very high quality. This is common enough on wireless earbuds, because higher frequencies are easy to produce with a pint sized pair of drivers. Still, it was nice to hear crisp, clean cymbals and strings. For classical music and string-heavy genres like country and western, this is a fantastic feature that you'll appreciate. It's also important for clear vocals, although not as essential as the mids, which will get to in a second. Finally, electronica and other similar genres will also benefit, since good treble is essential to appreciate the contrast when you get to the bass drop.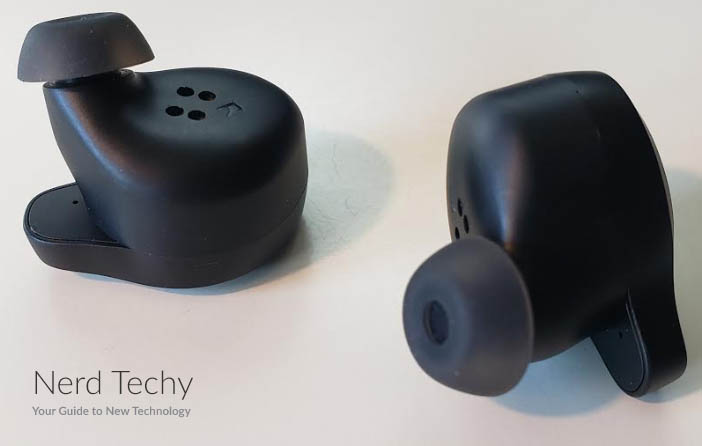 The bass is also surprisingly good for such a small set of buds. This means you'll get to enjoy both ends of the bass drop equally well. It's also great for dance music, pop, and anything else that involves a lot of drums. That said, the bass interferes with the mids, and can cause them to sound muddy if you've got the bass turned up. This is unusual on Bluetooth earbuds, which typically don't offer much bass to begin with. So, if crystal clear vocals are your thing, you may end up somewhat disappointed if there's a lot of bass in a song. That said, for everyday phone conversations, the quality is good enough; unless, of course, the person on the other end of the phone happens to be playing the drums while you're talking to them.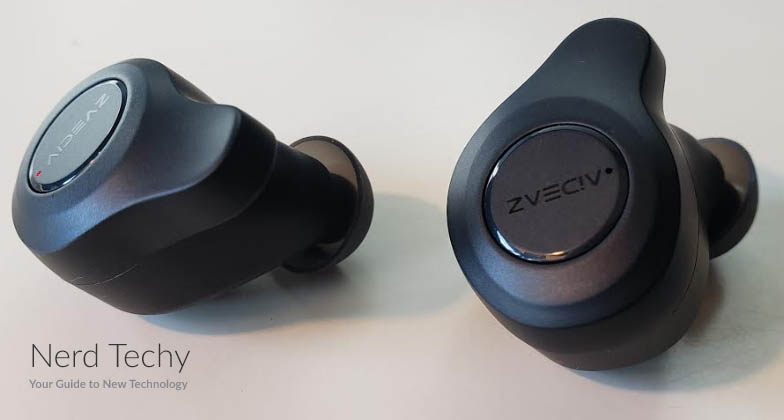 For a fantastic EQ that will always be just what you need, the Anker Soundcore Liberty Air 2 is a solid choice. Through the companion app, these buds will test your sensitivity to different frequencies of sound, and will adjust the EQ accordingly, so you'll actually hear what you want to hear.
Final Verdict
At the end of the day, Aideaz SoundOrigin Bluetooth 5.0 Wireless Earbuds are a solid addition to the young company's lineup. While they could have offered better mids, there's only so much you can expect from a pair of earbuds this small. And the presence of powerful bass was refreshing.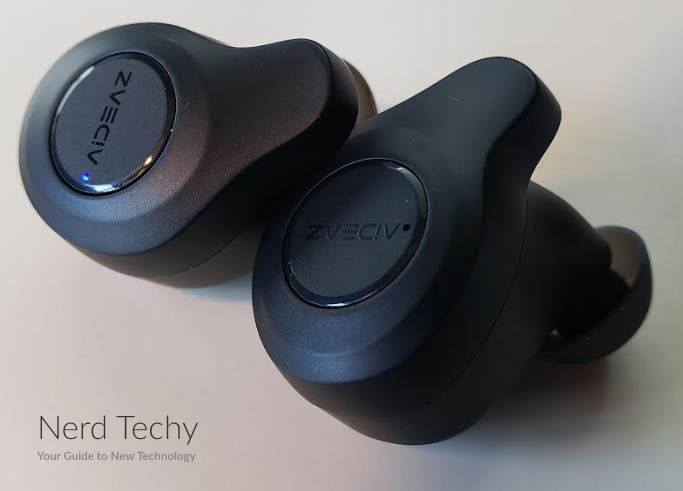 We liked the Bluetooth 5.0 connection, because of the low latency. Older Bluetooth protocols, even Bluetooth 4.2, can sometimes fall a split second behind what's happening on the screen when you're watching a movie or show. And latency of as little as a tenth of a second, while not even noticeable during a phone call, can make movies look and sound unnatural.
In addition, we loved the IPX6 water resistance. A lot of so-called athletic earbuds don't stand up well to foul weather. In this regard, Aideaz has delivered a truly worthy set of earbuds that will last you for a long while.