These days, every respectable office has a paper shredder. They're essential for just about every type of business. For example, suppose you run a retail business. It doesn't matter if you're selling tchotchkes to tourists on the Atlantic City boardwalk. If you're dealing with any kind of customer credit card information, you need to protect that. A paper shredder gives you a quick and easy way to protect your customers. It will also keep you safe from potential lawsuits. For a doctor's office, or for anyone handling tax information, this is even more vital. Losing track of customer data could get you into some serious legal trouble.
But what if you need to get rid of large amounts of paper? A single-sheet shredder isn't going to fit the bill. This is even more true if you need to dispose of cardboard, credit cards, DVDs, or other more robust media. The last thing you want to do is jam up your paper shredder with a bunch of thick, solid material.
In that case, you're going to need a heavy-duty cardboard shredder. These devices are a bit pricier and bulkier than normal paper shredders, but they're far more powerful. Today, we'll be looking at three different options. First up, we'll review the Bonsaii EverShred Pro 3S30. This is a quiet, yet powerful machine that can handle up to 18 sheets of paper simultaneously. Next, we'll look at the Kensington OfficeAssist M200 Micro Cut Shredder. This machine is a bit louder, but can handle up to 130 sheets at the same time. Finally, we'll examine the HSM ProfiPack C400 Single-Layer Cardboard Converter. This unit is expensive, but it's one of the most powerful shredders that money can buy. Let's take a closer look at each of them, and see how they stack up!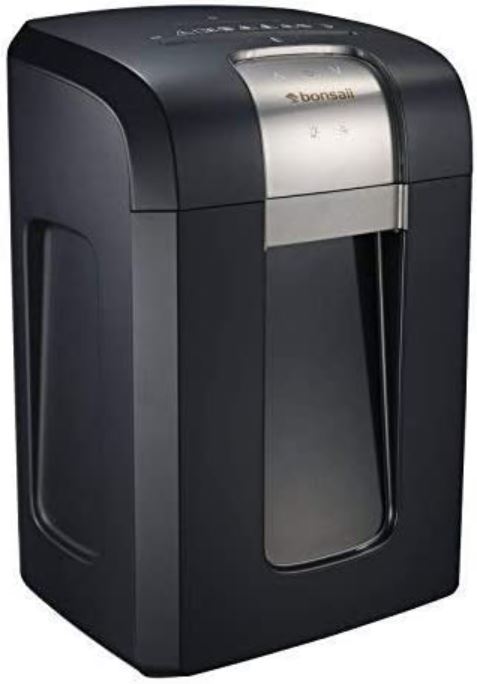 Bonsaii EverShred Pro 3S30
First up on our list is the Bonsaii EverShred Pro 3S30. This is an office-sized machine that's still capable of handling a large workload. It measures 24 inches high, 12 inches wide, and 16 inches deep. It also has a slick design. Available in black or silver-grey, it matches just about any office décor.
At 38.6 pounds, it's a bit heavy for the size. However, this is a side effect of the powerful motor and metal shredding gears. You just won't get the same reliable performance out of a machine with plastic interior parts. And the more metal you have, the more weight you're going to be dealing with. Not only that, but there are four removable castors that make the unit very portable. Snap them in if you need them, or leave them off to save a few inches of height.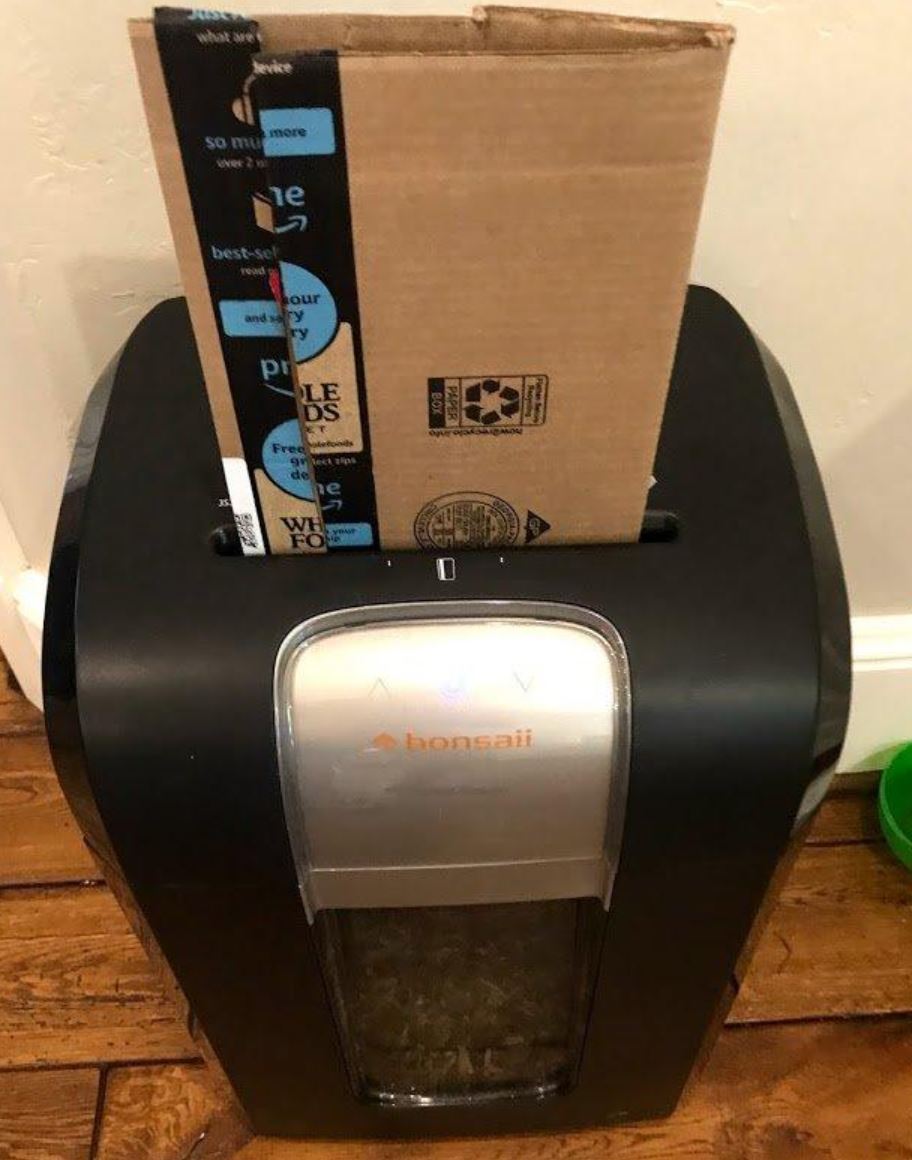 The top half of the unit looks like the top of most traditional paper shredders. There's a row of control buttons, along with a slot to insert your paper through. The edges are beveled, which eliminates any sharp corners. This means you don't have to worry about getting jabbed if you bump into it. Underneath, there's a large hopper that collects shredded paper or cardboard. This hopper has a capacity of 7.9 gallons, which is bigger than most office trash cans. In addition, there's a separate hopper with a 0.37-gallon capacity for CDs, credit cards, and other plastic. A transparent window on the front of the machine makes it easy to keep track of the hopper's remaining space.
When in operation, the Bonsaii shredder can operate for up to 240 minutes at a time. This means you can shred for four straight hours without stopping. If you need to destroy a very large number of documents, this machine will handle it. Not only that, but operation is relatively quiet. At 58dB, it's about as loud as an ordinary conversation. It won't disturb your office's quiet environment while you're using it. Not only that, but Bonsaii includes protection from overheating and overloading. If there's any serious malfunction, it will shut down automatically for your safety. All of this is protected by Bonsaii's 3-year manufacturer's warranty.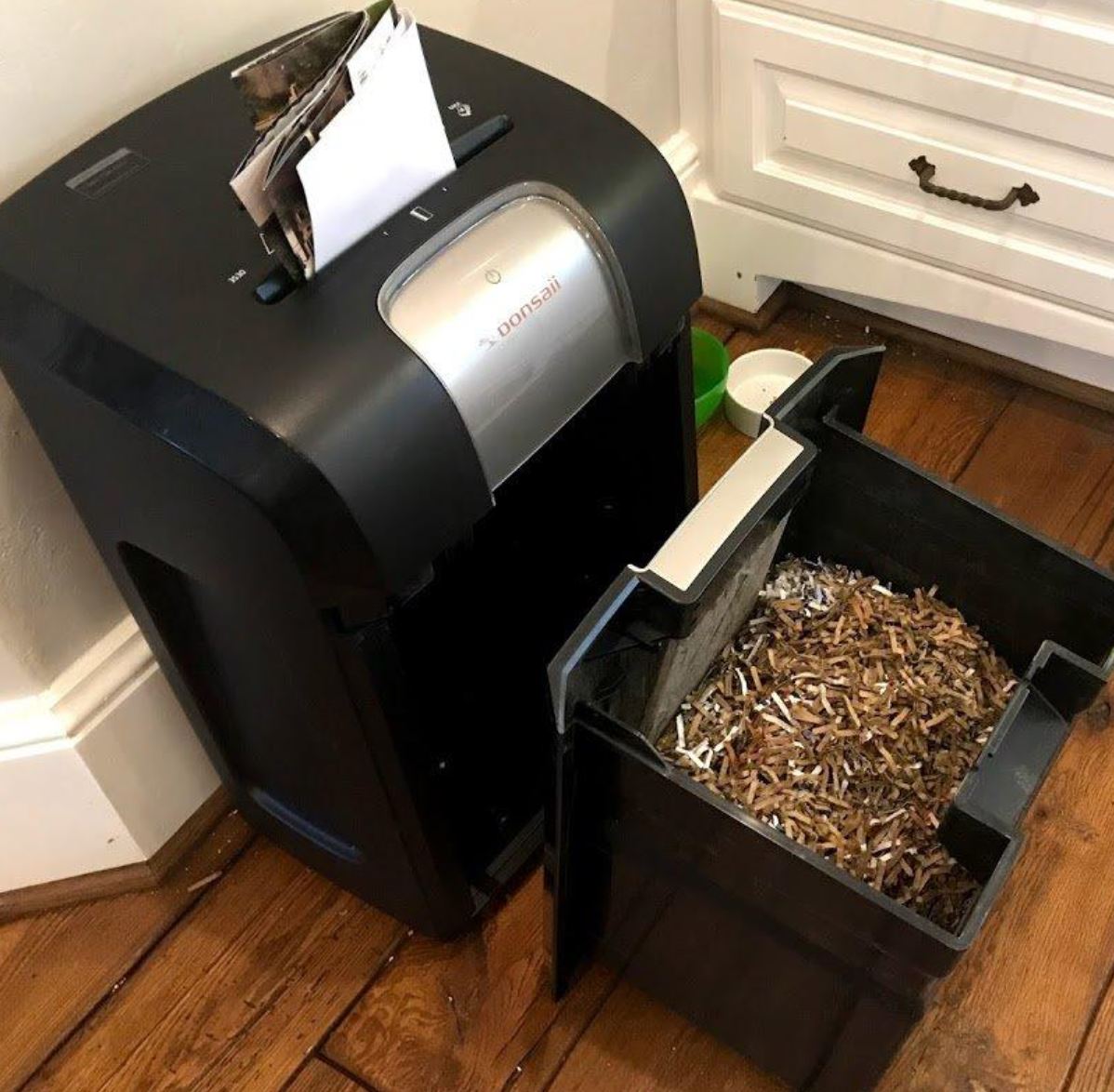 Performance and Capacity
The Bonsaii EverShred Pro 3S30 is rated to handle 18 sheets of letter-sized paper simultaneously. It can also handle individual sheets of cardboard. Moreover, it can manage CDs, credit cards, and even documents with staples. Pretty much any sensitive data you want to shred will be easy to handle. Regardless of what you're shredding, you won't have to worry about security. The 3S30 shreds paper down to 5/32 x 1 3/8-inch rectangles. Even an experienced forensic investigator would have a hard time reassembling such fine pieces. Your average identity thief won't have a prayer of recovering any sensitive data.
Bonsaii advertises shredding speeds of up to 5.9 feet per minute. This is impressive, but it assumes that you're only feeding a single sheet of paper at a time. If you're shredding multiple sheets, cardboard, or plastic, your performance will slow down substantially. Regardless, you're still looking at a beefy unit. An auto-reverse system also ensures consistent operation. If the shredder senses a jam, it will automatically go into reverse, then resume shredding and try again.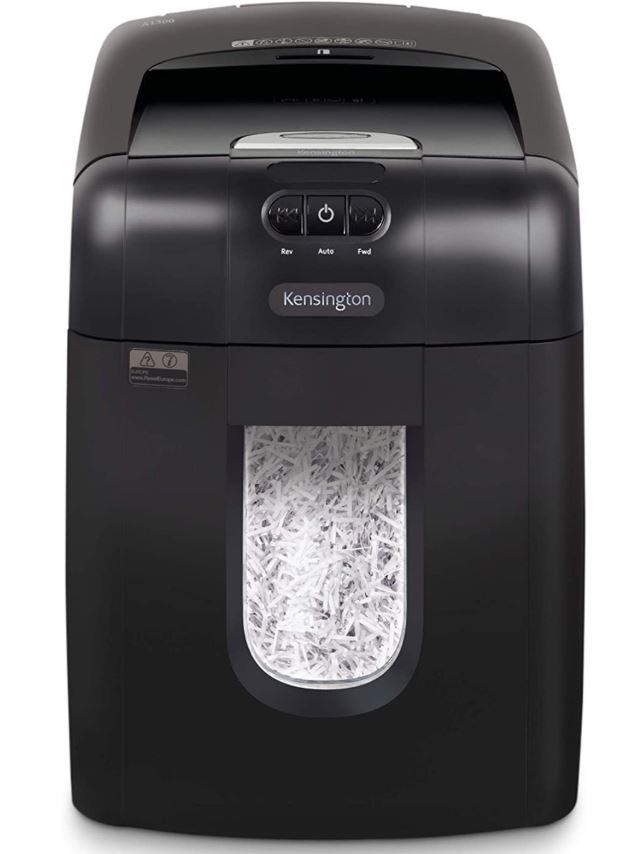 Kensington OfficeAssist M200 Micro Cut Shredder
Kensington is an all-around office supply company, best known for accessories like mice and docking stations. But with their expertise in electronics, they're well-positioned to develop a quality shredder. The Kensington OfficeAssist M200 Micro Cut Shredder represents their best effort to date. At first glance, it looks similar to the 3S30. However, it's a bit more compact, measuring 16.9 inches high, 12.3 inches wide, and 17.6 inches deep. It's also a bit lighter, tipping the scales at only 24.9 pounds. This is still fairly heavy for the size, though. You don't have to worry about cheap plastic parts interfering with the performance.
The M200's insertion slot is located horizontally under a lip on the top of the unit. This makes it easy to insert documents, even while the shredder is located under a desk. As paper or cardboard gets shredded, it feeds into a 7-gallon hopper. This hopper is capable of holding up to 250 sheets of shredded paper. It also slides out like a drawer for easy emptying. You won't have to mess around with any complicated emptying system. A transparent window on the front of the hopper lets you know when it's time to dump it out.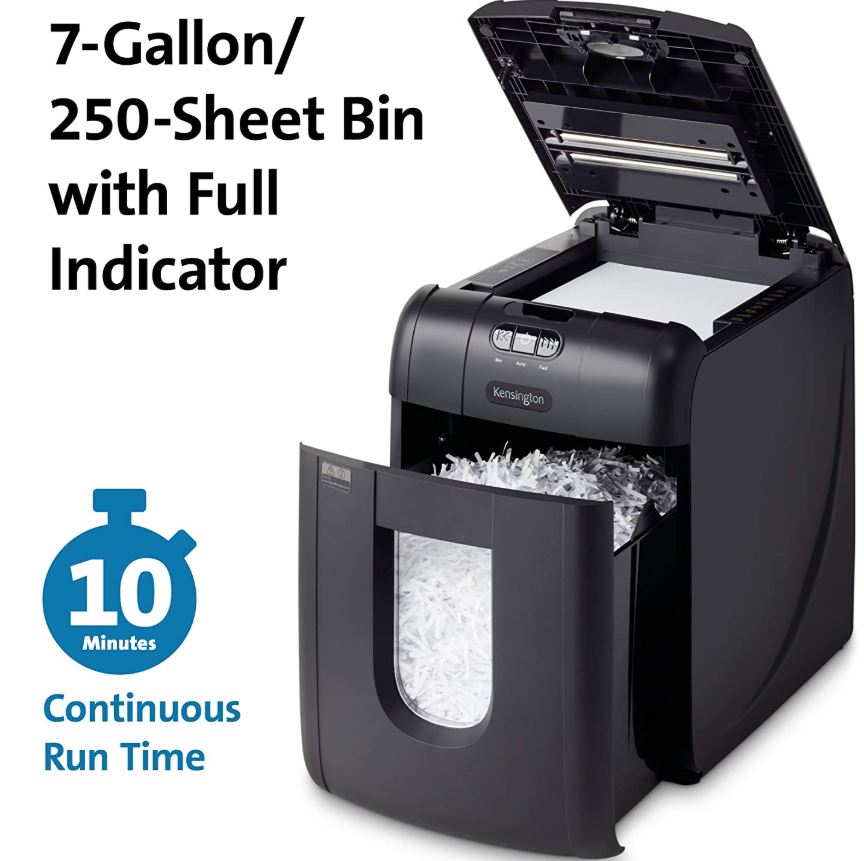 Operation is relatively quiet. While Kensington doesn't provide an official decibel rating, it's comparable to the Bonsaii shredder. The M200 isn't going to disrupt your office environment. Moreover, it comes with an intelligent power saving mode. When it's not in use, the lights will turn off and it will appear to be off. However, it will still remain semi-active. Just insert a piece of paper or cardboard into the shredder, and it will start running again.
Performance and Capacity
The Kensington OfficeAssist M200 Micro Cut Shredder can handle up to 130 sheets of paper simultaneously. This is a massive capacity, designed to tear through long documents with ease. Paperclips, staples, and other everyday fasteners will run through with no issues. You can also shred credit cards and, yes, cardboard. All in all, you're looking at an all-purpose shredder that handles any everyday need. Unfortunately, this is hampered by a 10-minute run time rating. After running for 10 minutes, the M200 requires 30 minutes of cooldown time. For intermittent use, this is a non-issue. However, if you're trying to use the shredder more or less constantly, it's a crippling limitation.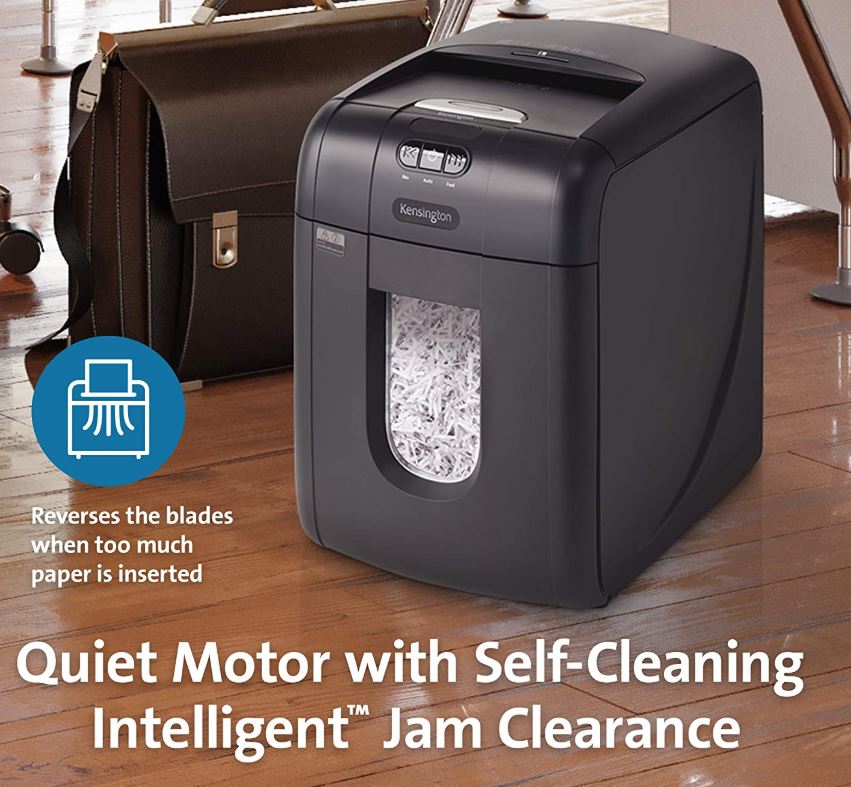 Security and privacy are no problem for the M200. It shreds paper into 5/32 X 1 37/64-inch rectangles. Much like the Bonsaii shredder, this is very secure. You don't have to worry about some random identity thief reassembling your private documents. Operation is also safe. The motor features an automatic reverse feature that will self-clear any jams. If you accidentally inserted 140 sheets instead of 130, the shredder will keep trying until it gets the job done. To be fair, this feature isn't infallible. If you try to run 200 pages through the shredder, you're going to have problems. But for everyday "oopsies", it's good enough. It's also helpful if you're dealing with a lot of paperclips or staples. One way or another, they're going through.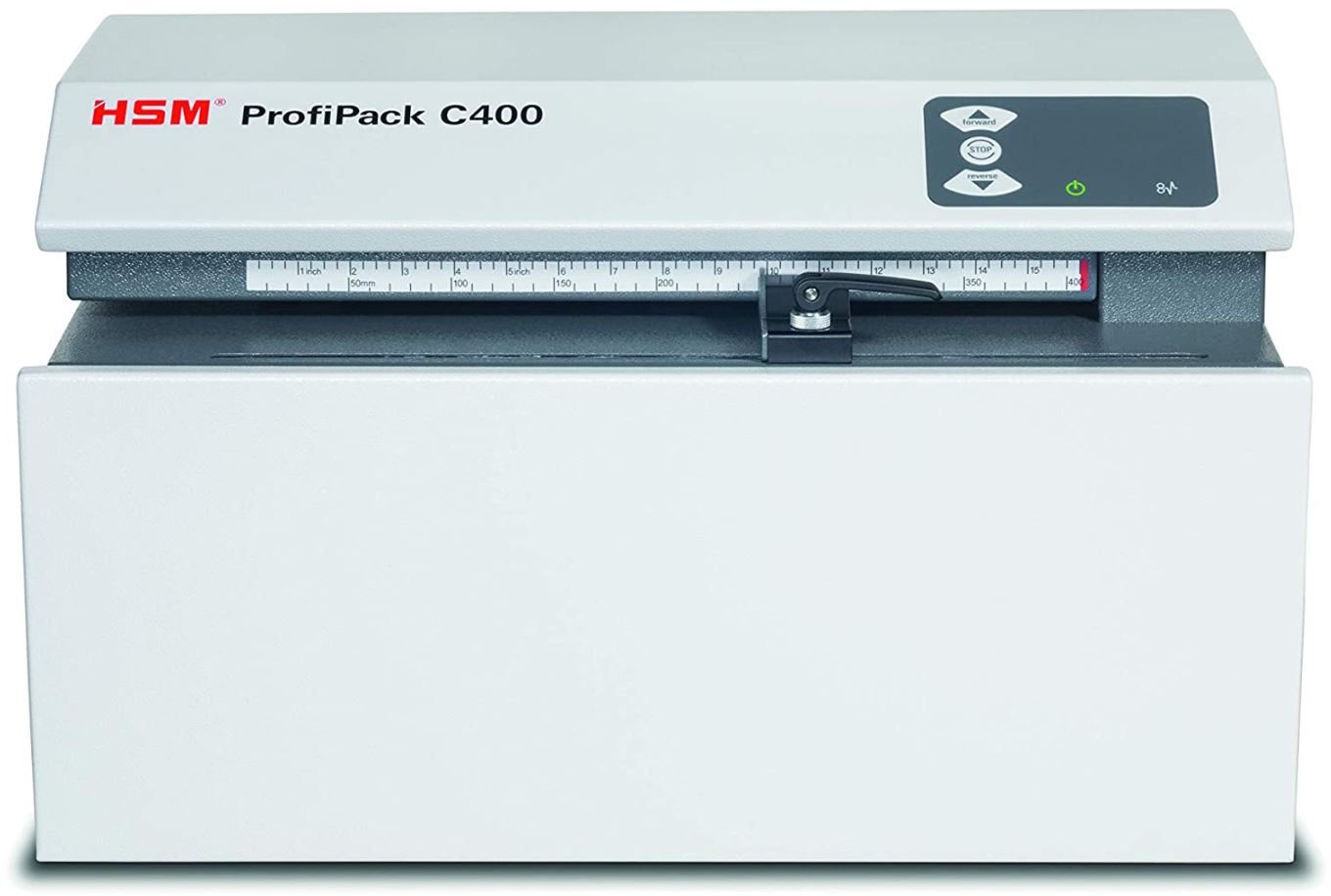 HSM ProfiPack C400 Single-Layer Cardboard Converter
The HSM ProfiPack C400 Single-Layer Cardboard Converter is a much more powerful unit. It's also correspondingly bulkier than the last two machines we've looked at. It's significantly more robust, measuring just over 2 feet in width, and 18 inches in height and depth. It also boasts all-metal construction, which makes it exceptionally durable. Of course, this comes with a correspondingly high weight. At 82 pounds, you definitely won't want to move it around too often.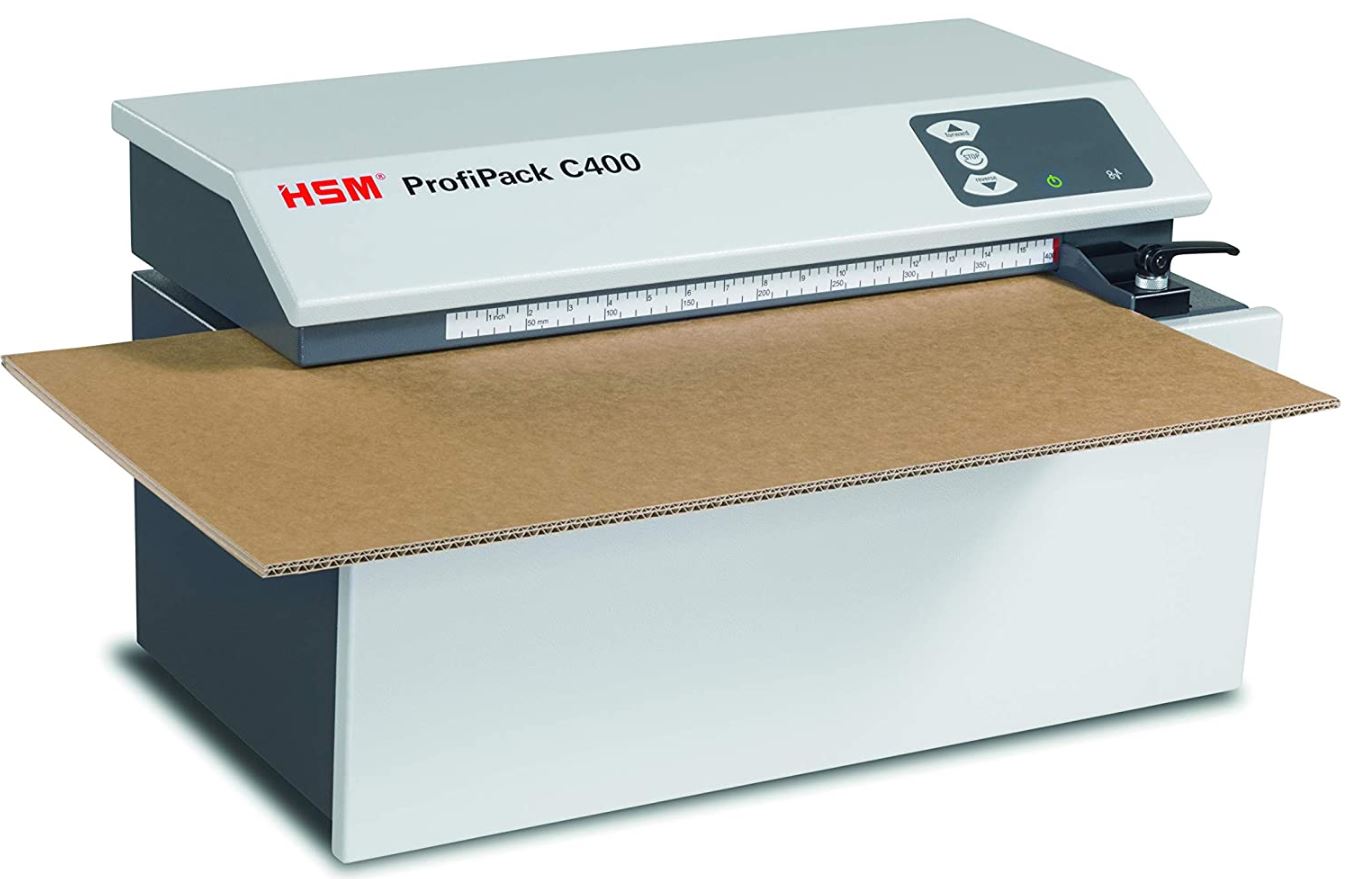 The design is utilitarian and not very attractive. It's better suited for commercial use than for actually sitting in an office environment. But inserting your cardboard is very easy. It slides in through a horizontal slot, with an adjustable slider that can be adjusted up to 16 inches. As a result, you can process material of a wide variety of sizes.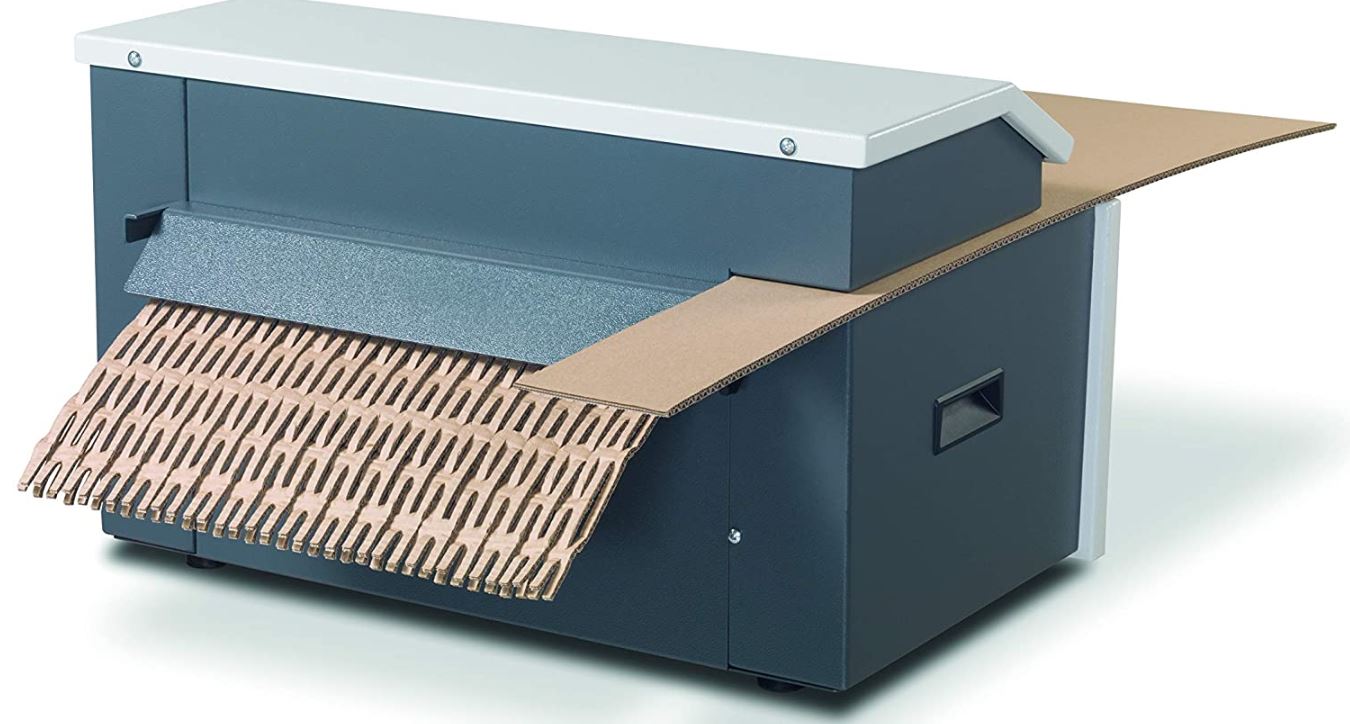 Performance and Capacity
The HSM ProfiPack is perfectly capable of handling virtually any material. That said, it's really not designed as a "shredder", per se. As the name says, it's actually a "converter". It's designed primarily to turn a sheet of corrugated cardboard into a perforated sheet. As a result, paper would still be perfectly readable. Similarly, it's a bit big to use just for credit cards.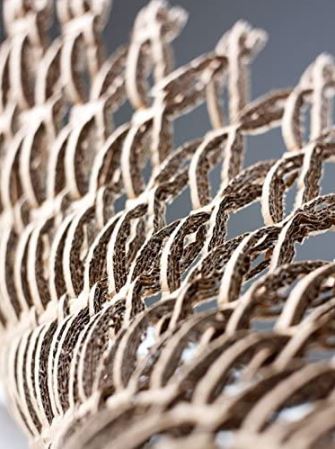 Then again, if you have to process a bunch of cardboard, it's an excellent choice. The reason is that your cardboard won't go to waste. Instead, it will be processed into efficient packing material. Not only that, but the guides will keep your cardboard straight, and the cutter will trim it to the desired width. Internal bearings also prevent your cardboard from getting twisted during processing. If you're looking for a dedicated, heavy-duty cardboard processing machine, this is an excellent choice.
Final Verdict
Each of these shredders has its own costs and benefits. Let's start with the first one we looked at, the Bonsaii EverShred Pro 3S30. This is an office-sized shredder, but it's quite robust for the size. With the ability to handle 18 sheets of paper at once, it can tear through large documents very quickly. A 240-minute continuous operation rating means that it's useful for long sessions. It's heavy for the size, but that's just a side effect of the robust construction. If you want to shred cardboard, CDs, credit cards, or more, you're looking at a solid choice. Just don't expect to dispose of huge volumes of tough material in a short time period.
The Kensington OfficeAssist M200 Micro Cut Shredder has a similar exterior design. It's slightly smaller than a mini fridge, and can still handle a lot of material. With the ability to shred 130 pages at once, it's an excellent choice for large documents. It can also handle cardboard and plastic for solid all-around performance. That said, it can only run for 10 minutes before it requires a 30-minute cooldown period. This can be a limiting factor if you need to do a lot of document disposal in a short timeframe.
The last shredder we looked at was the HSM ProfiPack C400 Single-Layer Cardboard Converter. This is a more powerful beast, designed specifically for corrugated cardboard. If you need to dispose of boxes on a regular basis, it's an ideal choice. Of course, it can still handle paper and plastic. But considering the price point, you can get those jobs done just fine at a much lower cost. That said, the C400 is a very powerful machine. It's big and bulky, with all metal construction that's designed to last. It even has an adjustable guide to make feeding as easy as possible. The main feature, though, is that it converts cardboard into excellent packing material. As a result, it's better-suited for shipping applications than it is for privacy.