Whether you're opening a new store or upgrading an old one, it's easy to overlook your receipt printer. It's one of those things you only think about when you need one. Otherwise it does its job, day in and day out, without you giving it a lot of consideration. But what is it that makes one receipt printer better than another?
To begin with, any good receipt printer uses thermal printing technology. This technology uses a heated print head on specially-treated paper in order to create letters and images. The advantage of thermal printing is that there's no ink. You don't have to worry about replacing ink cartridges, cleaning up spills, or priming your printer. The printing process is also considerably faster, speeding up your checkout process. That said, it's important to remember that thermal printers have limitations. They can only print in black, and they can't produce ultra high-resolution images. Then again, they're still just fine for UPCs, QR codes, and simple, black-and-white logos.
Other than that, you want to look for a printer that's fast, reliable, and works with your register system. After all, even the best receipt printer will be useless if it's not compatible with the rest of your equipment. Finally, a good printer will be easy to set up and easy to use. The last thing you want is a complicated, quirky printer slowing down all of your customer transactions.
With all these things in mind, we're about to review the Rongta RP332 Commercial Thermal Receipt Printer. This is a fast, efficient printer with an auto-cutting mechanism and multiple wired inputs. It's compatible with most register systems, and it's easy to set up. But those are just a few features of the many we'll need to cover. We'll start with the physical design and controls. Then, we'll talk about how the RP332 is set up and installed. Finally, we'll talk about the kind of results you should expect. After we've talked about all those things, we'll be able to provide a fair judgement.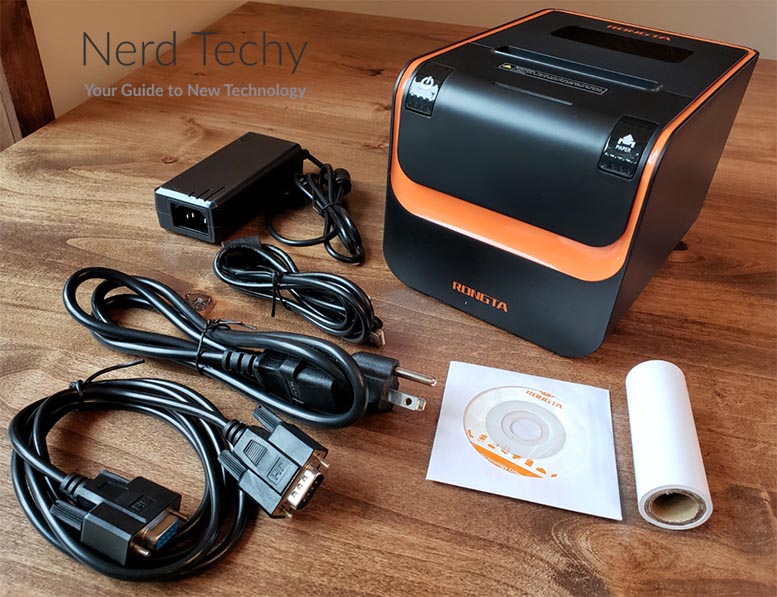 Overall Design
The Rongta RP332 Commercial Thermal Receipt Printer has a mid-sized design. At 7.8 inches long, 5.7 high, and 5.7 wide, it's about the same size as most other retail receipt printers. This is mostly out of necessity, since it's designed to hold standard receipt paper rolls. That said, the total weight is only 2.6 pounds, which makes it easy to move when necessary. The housing is constructed from a black plastic that's surprisingly durable. It also has a matte finish, to help keep it from collecting dust, dirt, and fingerprints. Around the edges of the lid, you'll notice a bright orange highlight, which gives it a splash of color. There's also an orange Rongta logo towards the back, and another on the bottom front.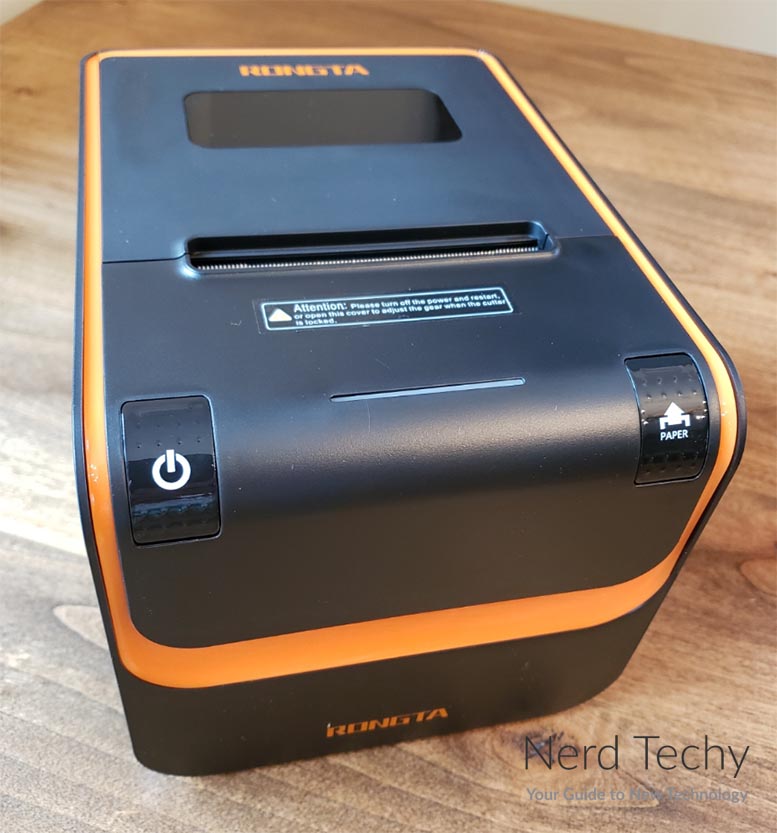 Positioning this printer is relatively easy. There are little rubber feet on the bottom, which keep it from slipping around or damaging your counter. However, it can also be wall-mounted. There are a pair of screw holes and slots on the bottom, which makes it easy to hang. This is particularly useful in stalls, booths, and other locations where counter space is at a premium. The power and connection ports are all located on the back, which faces down when the printer is hung. As a result, you won't have any issues with cable management.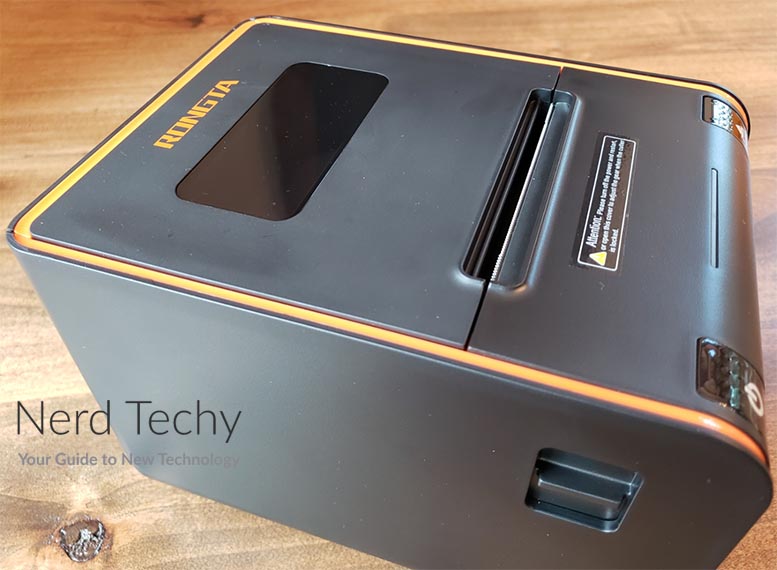 On the front of the housing, you'll notice two large, black buttons. The left is the power button, which is self-explanatory. The one on the right is the feed button, for starting a new roll or manually extracting paper. Between the two buttons, a blue LED light bar illuminates whenever the printer is powered on. The only other physical control is on the left. There, you'll find a black release switch, which you pull forward to open the lid. When it clicks, the lid will pop open a hair, and can be freely lifted open.
The lid itself has a slot in the front, where receipt paper feeds out. Behind that, there's a transparent window, so you can see approximately how much paper is remaining. Inside of the housing, there's a gap where you insert your paper. Lay the end of your paper through the opening, close the lid, press the feed button, and you're all set. The kit actually ships with a small roll of receipt paper, which is enough to get you started. Still, you're going to want to order several rolls of paper at the same time.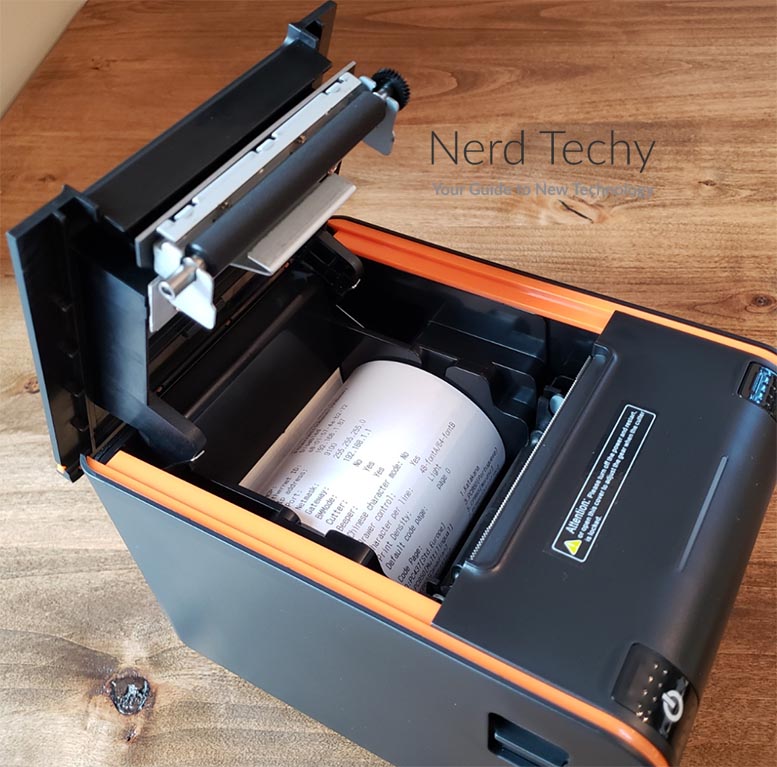 One of the only drawbacks of the RP332 is that it's only designed for receipts. Unlike a lot of other thermal printers, it won't print large shipping labels or small mailing labels. If you want a more versatile printer, consider the Rongta RP420 instead. It accepts many paper widths and formats. However, there's no paper spool or hopper, so it can be awkward to set up.
Connectivity and Setup
The Rongta RP332 can connect in four different ways. First, it can be connected via USB. This is the easiest method, and will be what you use for connecting it to a single modern computer. That said, you might still be using an older register system. If that's the case, you'll still be covered. There's a 9-pin serial port, used by many older registers that are still in operation today. There's also an old-school RJ12 phone connection. This is another option that's still in use on some late-model register systems. Finally, you can connect via Ethernet, which allows you to set up the RP332 as a network printer.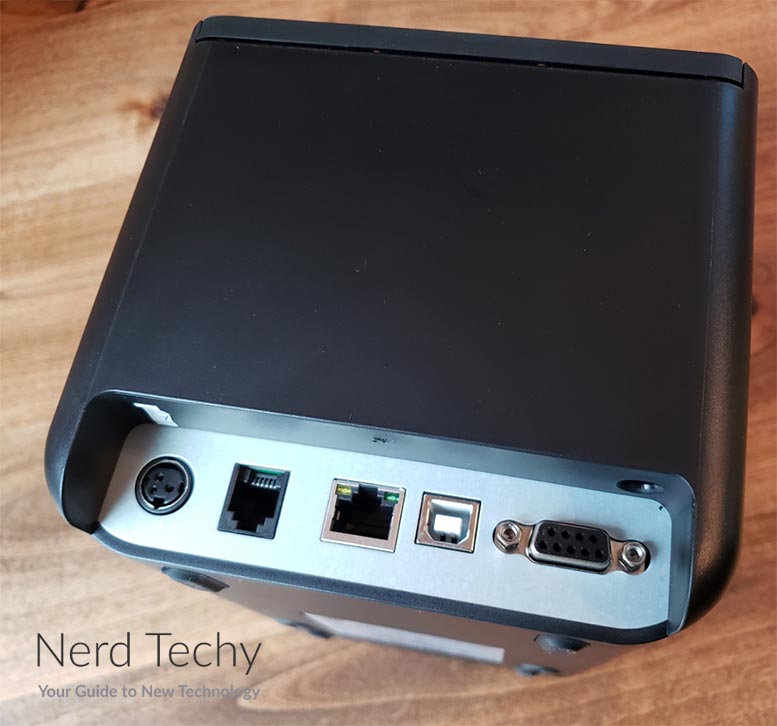 As you can see, you've got plenty of ways to hook this printer up. That said, it doesn't offer WiFi or Bluetooth connectivity. In most retail settings, this is a non-issue, since you want your register system to be secure. And WiFi and Bluetooth are inherently less secure than a hardwired connection. That said, there are scenarios where you might want a wireless receipt printer. For example, what if you're at a trade show or convention, and you're trying to sell your goods? In that situation, a hardwired register might not be practical, or even possible.
If you need a printer you can use on the go, check out the Phomemo M02. This is a pocket-sized Bluetooth printer, which is primarily used for printing simple labels or stickers. However, there's no reason you couldn't use it to print receipts on you're on the go. Just be aware that the paper capacity is far too low for everyday use in a brick-and-mortar store.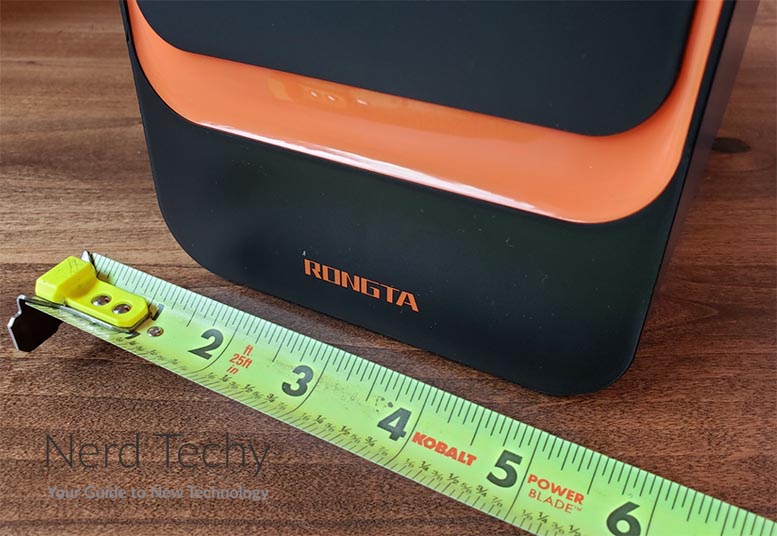 In terms of compatibility, the RP332 will work with almost any register system. To begin with, it works right out of the box with ESC, POS, and OPOS systems. So if you're already using one of those systems, you're all set. For Windows, Linux, and Mac users, you'll have to download the drivers. These take only minutes to install, through a simple, easy-to-use interface. Pay attention when you're doing this, though. The install program will default to the drivers for the 58mm receipt printer. Make sure to change this to the 80mm printer before you complete the installation process.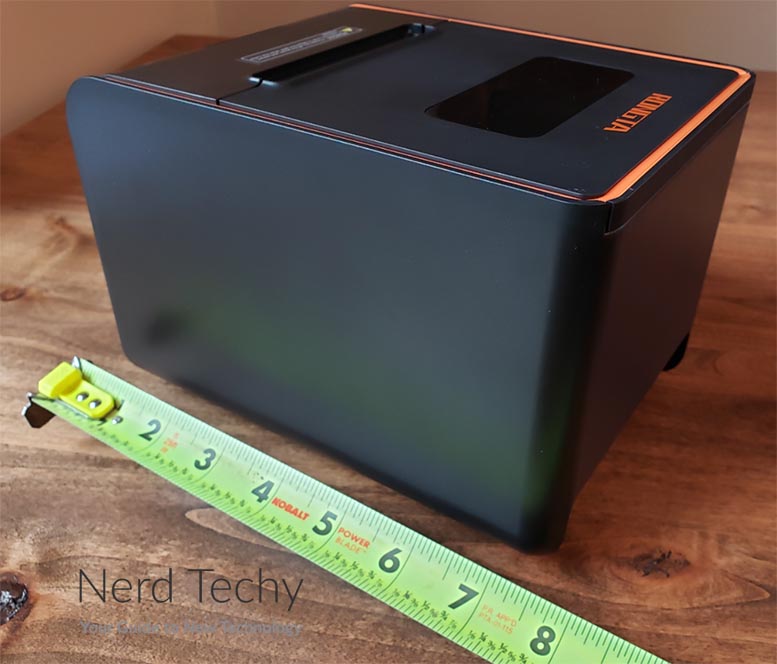 With all that in mind, remember that this is not designed to be a mobile printer. It won't function with smartphones, tablets, or Chromebooks. This means it can't be used to directly print receipts from apps like Grubhub. It's also not compatible with the Square register kit.
Printer Performance
The Rongta RP332 is designed to support standard, 80mm (3 1/8") register paper. Because this is such a common size, you won't have any trouble finding suitable paper. Among other brands, you can use Munbyn, Rollo, and MFLabel rolls, up to a length of 203 feet. That's the same kind of receipt paper used by big box retailers, and a roll is good for plenty of customers.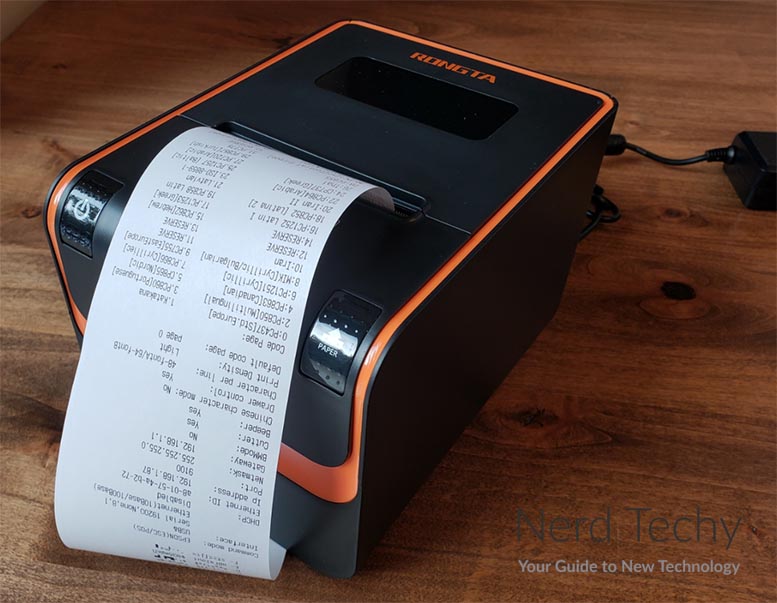 But what if you want a beefier printer for bigger jobs? In that case, it's tough to do better than the Munbyn Thermal Label Printer. It's designed for printing shipping labels, coupons, and even small flyers. If you need a thermal printer for all your non-receipt needs, it's one of the best on the market.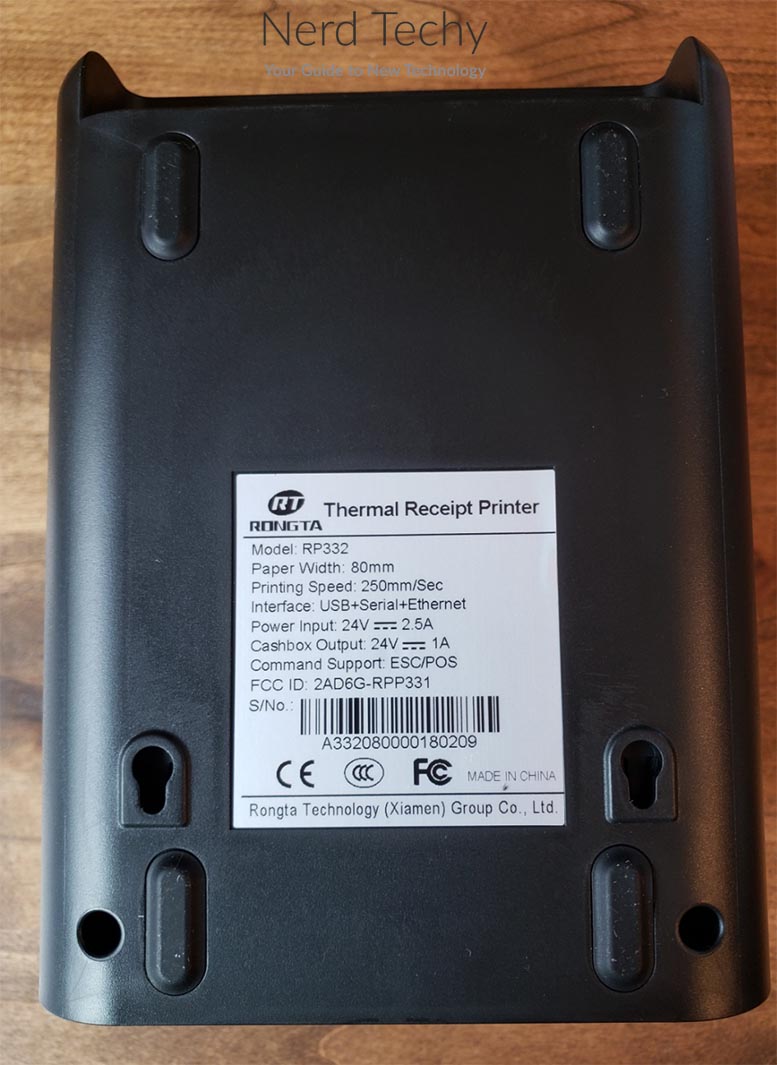 One of the most important things to look at in a register printer is speed. Simply put, you don't want to slow down your customers by making them wait for a receipt to print. That's a non-issue here. The RP332 prints at a blazing-fast 9.84 inches per second. That's more than 50 percent faster than most commercial thermal printers. Even a CVS receipt would be done printing before you can count to "three Mississippi."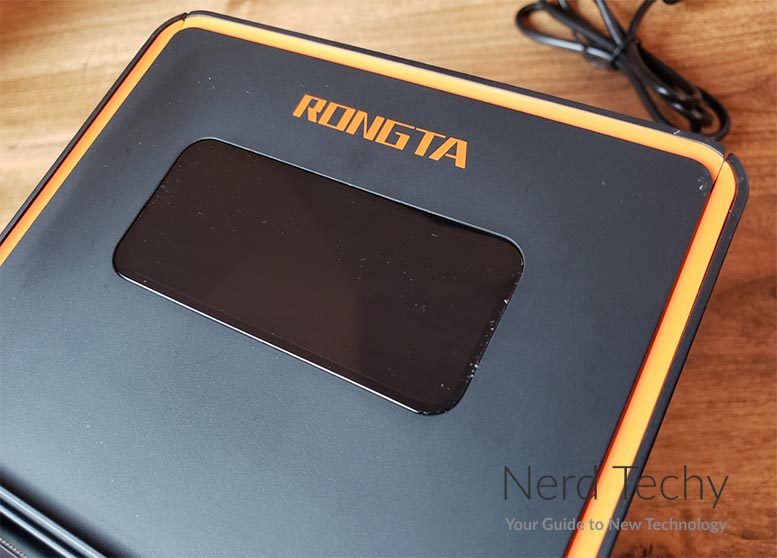 Another useful feature of the RP332 is that it has an automatic cutting mechanism. This keeps paper from getting torn, forcing you to re-feed the paper or reprint a receipt.
For all of its speed, this printer actually has very good quality. It prints at a resolution of 203 DPI, which is the industry standard for a "high-resolution" thermal printer. Keep in mind that we're not looking at a photo printer. That said, you can print scannable QR codes and barcodes reliably, every time you print one. You can also apply fine print, add a logo to the top of your receipt, and create other useful elements. As long as whatever you're trying to print doesn't need ultra-fine detail, you're going to be just fine.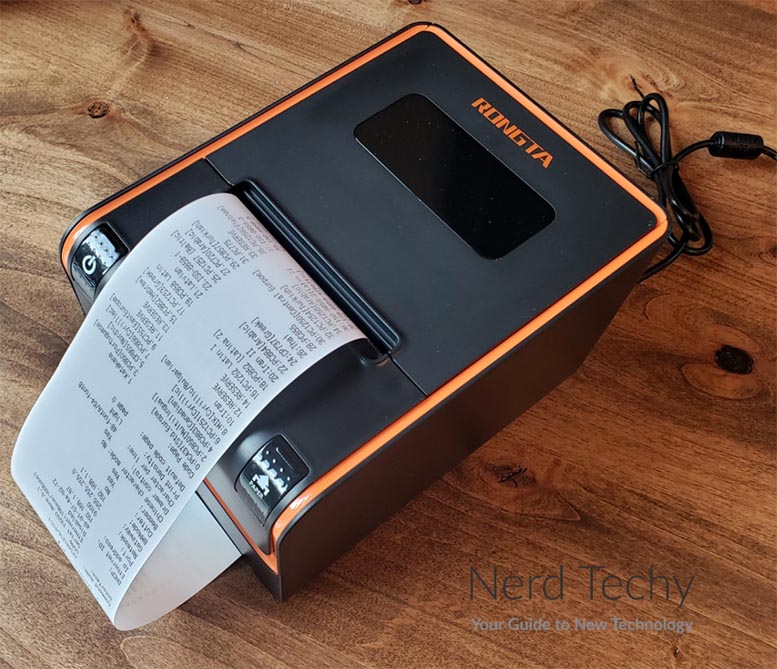 Final Verdict
The Rongta RP332 Commercial Thermal Receipt Printer is a top performer. Of course, you have to be aware that this is purely a retail receipt printer. It's not made for mobile use, and it won't connect wirelessly. But for printing receipts, it's one of the fastest, most accurate printers around. It works with almost any register system, and it supports the use of long, 203-foot paper rolls. It's also easy to load and operate, so it won't tie you up when you're swapping out rolls. That's all you could ever ask from a receipt printer.