In today's day and age, we oftentimes forget the charm of a physical picture. To some extent, this is perfectly understandable. Physical prints require extra equipment, time, and resources. Meanwhile, there's no way to "share" them on social media without snapping a picture of them with your smartphone. So why not just take the original picture with your phone and skip the middle step?
There's no one single answer. But there are a few reasons you might want to have a physical copy of a picture. For one thing, a digital picture is impersonal. By its very nature, it can be copied an infinite number of times, and all of those copies will be identical. A physical picture is unique. Any copy will be of inferior quality, so the original always retains a certain value. Yes, the "value" of a picture can be monetary, if you're a famous photographer. But for all of us, a picture can have emotional and sentimental value that far exceeds the paper and ink.
Physical pictures are also more versatile. A digital image appears on a screen. It can be shown on many screens and many online platforms, but it's still just a picture on a screen. A physical picture can be anything. It can be a bookmark, or a label, or a sticker, or a thank you card. Physical pictures aren't limited to the digital realm. They're part and parcel of the real world where we live our lives.
Today, we'll be reviewing the Phomemo M02 Pocket Printer. This is a compact pocket printer that's small enough to carry anywhere. It pairs with a smartphone app, so you can print pictures from your phone, or create custom artwork. But how well does it perform, and how easy is it to use? To find out, we'll first need to look at the basic design, including the paper and printing mechanisms. We'll have to consider the battery life, and how easy it is to connect to. Finally, we'll need to find out how good the final printed results are. With all of that taken into consideration, we'll be ready to render a verdict. Let's begin!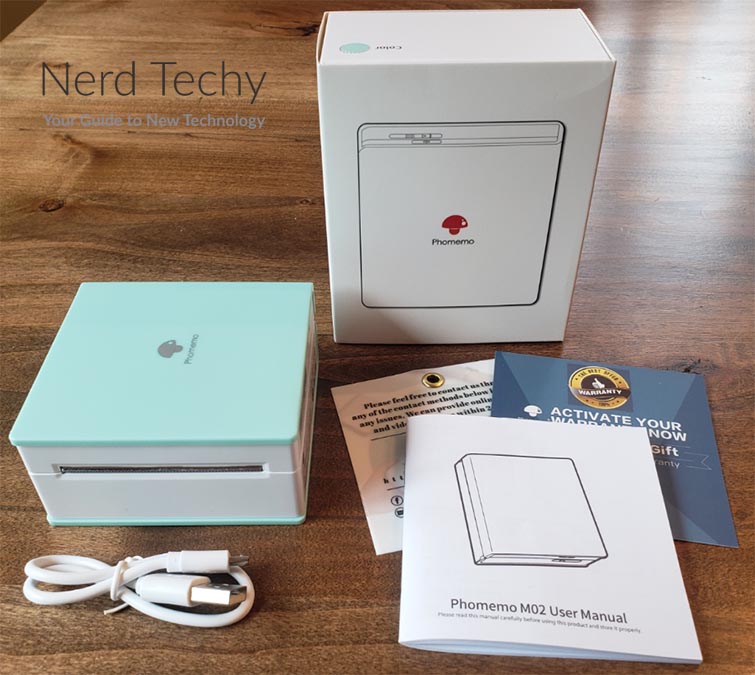 Overall Design
The Phomemo M02 Pocket Printer has a playful design that suits its purpose perfectly. The plastic housing measures 3.3 by 3.2 inches on its sides, and stands only 1.6 inches thick. As such, it's more than small enough to slip into your pocket. It's certainly small enough even for a tiny purse. There are five colors available, including black, white, pink, and mint green. The fifth is a black and white piano keyboard pattern, to jazz up your printing experience. Despite the playful look, it feels solid, not cheap, when you hold it in your hand. We weren't foolish enough to attempt a drop test, but we're guessing it can take a beating.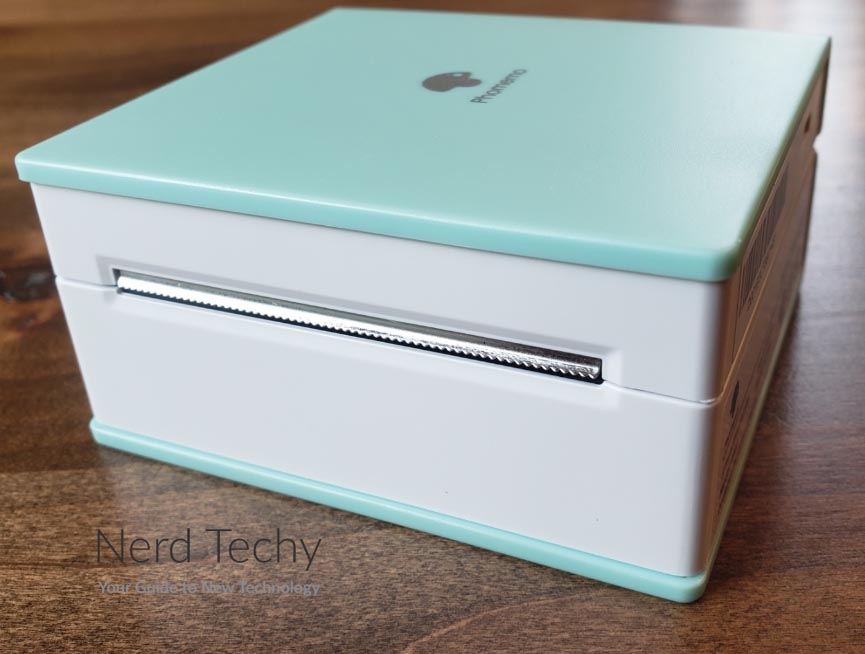 The top is styled plainly in a standard cube shape. On one side, you'll see the power button along with a spring-loaded switch that opens and closes the printer body. This makes it easy to turn on and off with your thumb. Another thing we liked is that the button is ever so slightly recessed. This means it won't get pressed by accident in your pocket or your purse.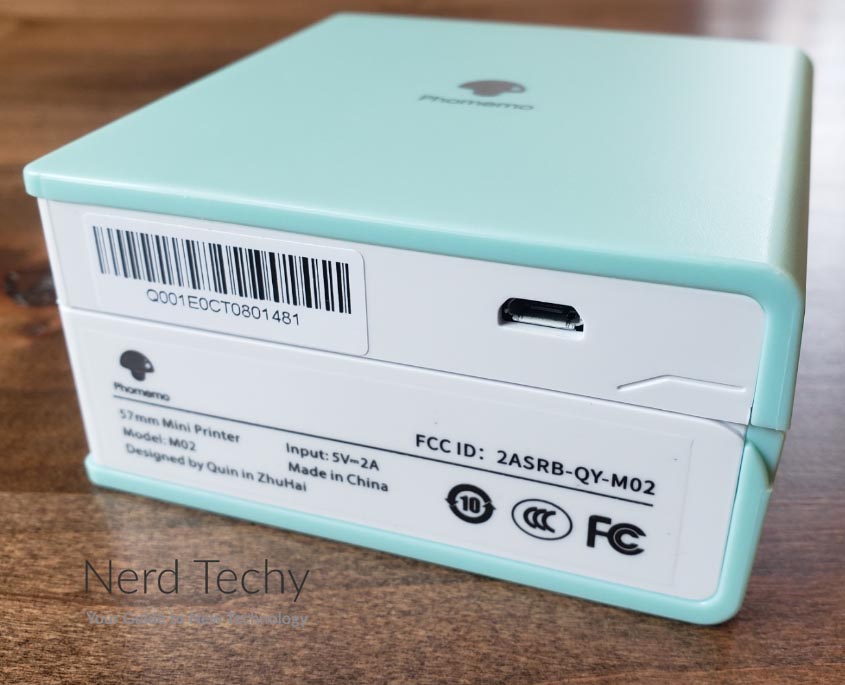 The sides and front of the housing are cream in color, and form a contrast to the top, bottom, and back. The top and bottom also protrude somewhat, further enhancing the effect of a closed envelope. On the front, you'll see a wide, narrow slot where your photos feed out. Just inside, there's a fine-toothed blade that makes it easy to tear the photo paper cleanly.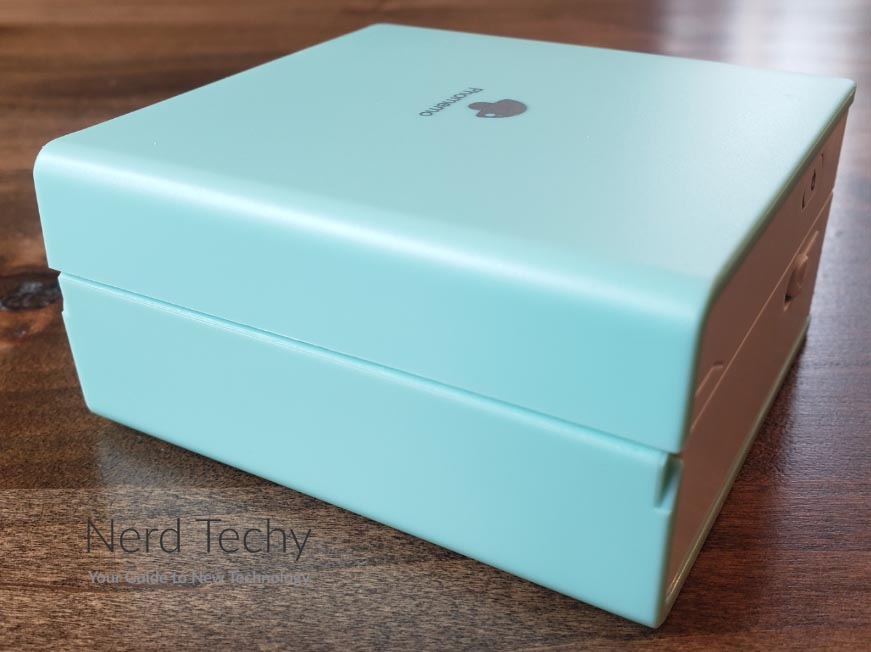 To insert rolls of paper, you have to open the housing. There's a slide on the left that pops open the latch, and allows you to open the printer. It flips open like a book, revealing the chamber where the paper installs. You'll notice that the print element is very small, and there are no ink cartridges. That's because this is a thermal printer. Instead of using ink, it uses a heated element to etch your image onto specially-treated paper.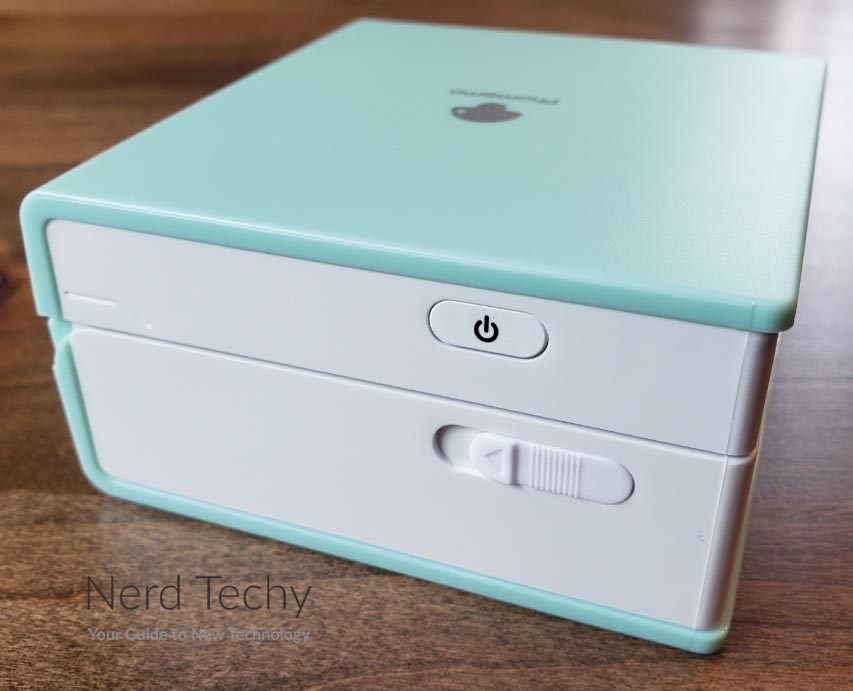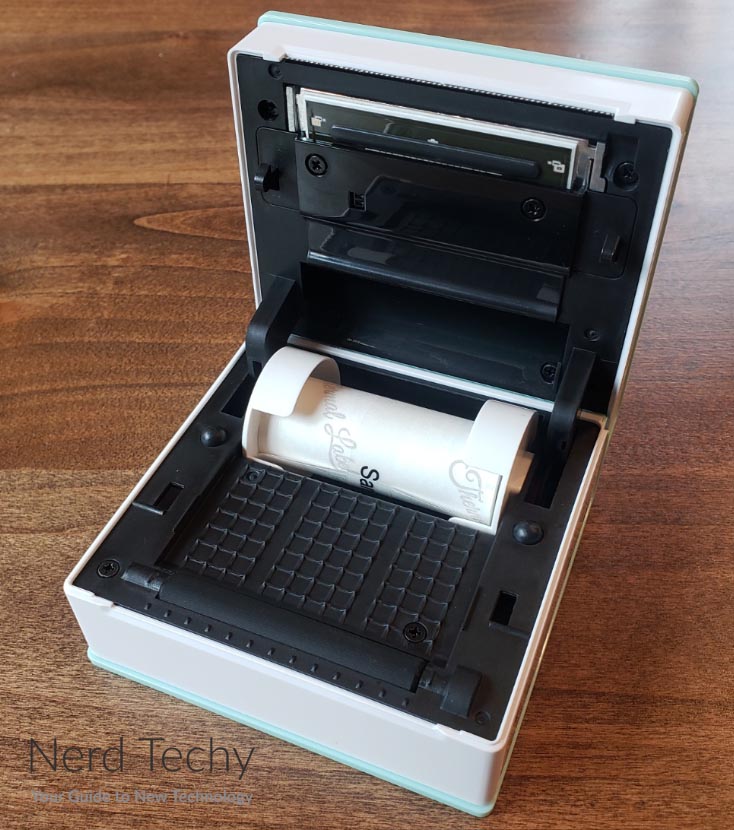 To be clear, the Phomemo camera is a pocket printer, not a heavy-duty thermal printer. If you need to print a ton of labels, consider the iDPRT SP410 instead. This is a thermal shipping label printer designed for heavy-duty, day-in and day-out use. But it's not portable, and you'll only be able to print in black and white. So it's not ideal for arts and crafts.
Battery and Connectivity
The M02 operates on a 1,000mAh internal battery. This battery is fairly small, but it doesn't need to be huge, since the printer draws very little power. It will remain charged for about a week of standby time, so it doesn't have to constantly be tended. That said, if you're leaving it to sit for more than a week, you should probably charge the battery. A fully charged battery has enough juice to print four full paper spools. How many labels or stickers that is will obviously depend on the sizes you're using.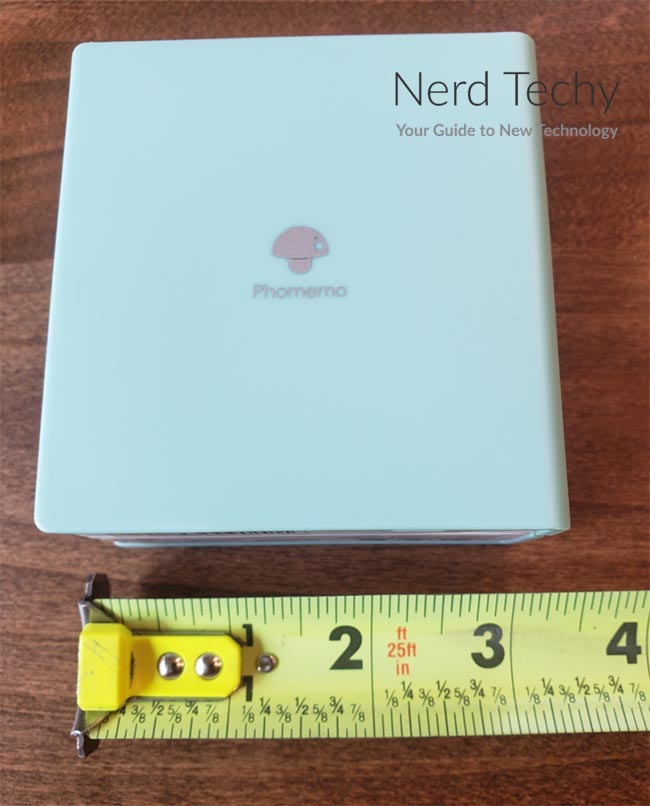 The printer has a battery warning light, which will begin to shine red when the battery is low. At this point, you'll want to plug in. There's no automatic shutoff feature, so it will keep running until the battery dies. This means it might stop mid-label if you ignore your warning light. Charging is very easy, and takes less than an hour. However, it will take longer than that if you're using the printer while you're charging.
The M02 printer connects to your phone via Bluetooth 4.0. To use it, you'll first need to install the Phomemo app, which is free on Android and iOS. With the app installed, open your phone's Bluetooth menu, and look for the M02 Pocket Printer. Once it's been paired, your printer will automatically sync with your app. From there, you'll be able to print any image with a single touch. This easy operation makes it easy to print several images in a short period of time.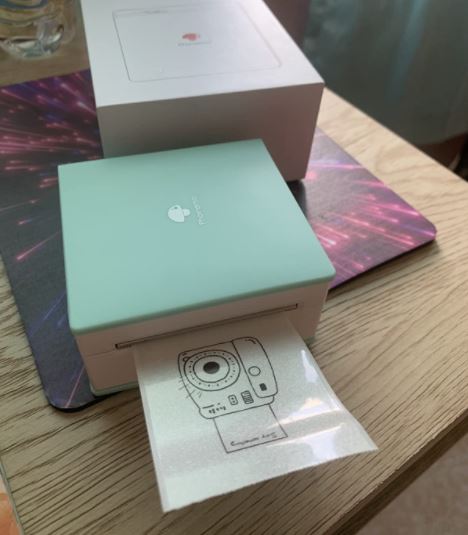 Paper and Print Quality
In addition to printing pictures from your phone camera, the M02's app comes with a host of other features. For one thing, it includes a clip art gallery, as well as dozens of filters, frames, and photo themes. You can also use the app to create text labels in a wide array of fonts, or even put text on your photos. Yes, you can use this printer to make real-world memes with your friends.
With that being said, this is a thermal printer, not an ink printer, and it has certain limitations. Basically, it's printing in one color. In most cases, that color will be black, although different papers can produce different colors. That said, the images themselves look surprisingly crisp. The M02 has a density of 203 DPI, which produces sharp-looking labels and black and white photos.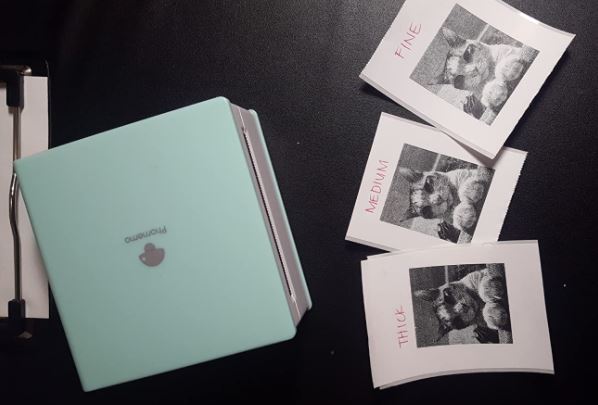 If you do need a full color photo printer, there are options at this size. The Polaroid Mint, for example, is an excellent choice. It's the size of a smartphone, and it prints high-quality photos. However, the replacement paper is expensive, since the thermal process is much more complex.
As far as paper for the M02 goes, there are a number of options. It will accommodate any thermal paper with a width of 53mm. Phomemo sells several varieties, and it's probably best to stick with one of theirs. They offer eight different colors of standard paper, where images appear in black. There's also a blue-on-white variant, as well as a gold and silver transparent options. There are also transparent and semi-transparent choices. All of these come in standard and sticker-back options, so you have plenty of versatility.
Our biggest disappointment was that the images aren't very long lasting. We're not chemical experts, but some thermal printing processes seem to be better than others. In the case of the M02, images will begin to fade noticeably after a year, give or take a few months. In this regard, they're a lot like old Polaroid photos, which inevitably faded with age. To keep your prints as fresh as possible, it's best to keep them in a dry place, and out of direct sunlight. They still won't last forever. But this way, you'll get the best possible durability.
Final Verdict
The Phomemo M02 Pocket Printer is a unique gadget that will appeal to a wide swath of people. Because it can accept so many different types of paper, you can use it for many purposes. Want to create custom stickers? Check. Attractive scrapbook labels? Check. Graphics for greeting cards and invitations? Check. If you need small pictures, labels, transparencies, or stickers, it's got you covered.
To be fair, there are some limitations. As we noted, the prints don't last forever, so they're not useful for long-term archives. You also only get to print in monochrome. But provided you're okay with those limitations, there's a lot to like here. The M02 isn't just versatile, either. It's also portable enough to carry anywhere you go. This makes it great for creating on-the-fly prints of your everyday photos.