Joyzis BR300
Pros
Supports PD and wireless charging.
Compact and lightweight.
Safe for sensitive electronics.
Can charge 8 devices simultaneously.
Cons
Not suitable for high-wattage devices.
Only practical for low-wattage CPAP machines.
Nowadays, electronic devices are an integral part of our daily lives. We rely on electricity for our appliances, our communications, and our businesses. This makes it all the more painful when the power goes out. Even if you're going off the grid, you're probably going to want to take some power with you. For example, what if you're out camping for a week? You may still want to use your phone to post pictures on social media, or to check the weather. You might want to fly a drone, recharge a digital camera, or even use your laptop. With all of these potential requirements for power, what are you going to do when your batteries run out?
The answer is to use a portable power station. With a portable power station, you can carry a battery with sufficient power to recharge all your devices. Power stations come in all different shapes and sizes. Some are barely larger than smaller, portable power banks, and can charge only a few devices at once. Others are very large, and are only "portable" in the sense that they can be rolled around. And as you might imagine, there are tons of potential features, depending on what you want. But what all of these machines have in common is that they can get you power where and when you need it.
We're about to review the Joyzis BR300 Portable Power Station. This is a compact power station that's designed to be carried around in one hand. It supplies power for low- to medium-wattage devices, such as laptops, smartphones, and digital cameras. But how well does it perform when you take it out in the field? To answer that question, we'll need to take a closer look at all aspects of this power station's design. We'll discuss the battery performance and your total maximum wattage. We'll talk about the safety features, and what kinds of devices you can charge. After we've taken all these things into consideration, we'll fully understand this power station.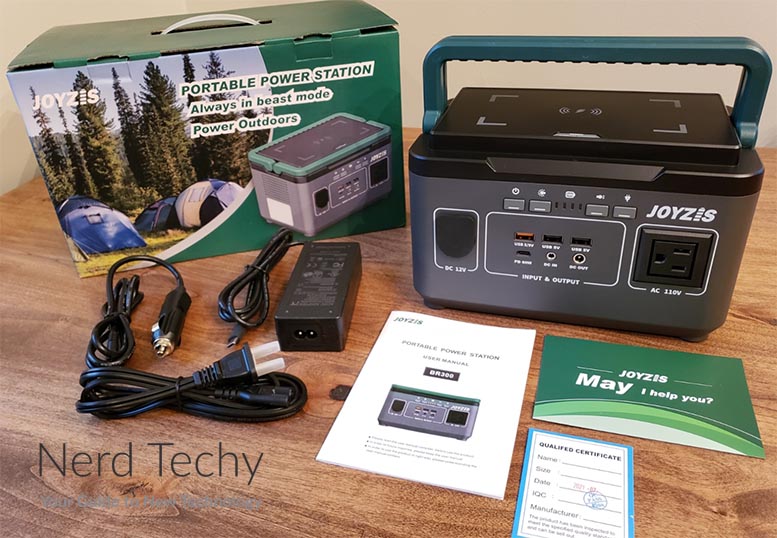 Overall Design
The Joyzis BR300 Portable Power Station has a compact housing compared to most power stations. In total, it measures 7.28 inches tall, 7.91 inches deep, and 12.28 inches in width. And at only 4.29 pounds, it's easy to carry around. The main housing is constructed from a durable charcoal-colored plastic. On the top, the panel is a rich, true black, which provides a nice contrast. A set of non-skid feet on the bottom protect your surfaces when you're at home. And for going on the road, there's a pair of folding green handles built into the lid. These lay flat around the edges whenever they're not in use. In the middle of the top of the housing, there's a Qi wireless charging pad, brightly outlined in white.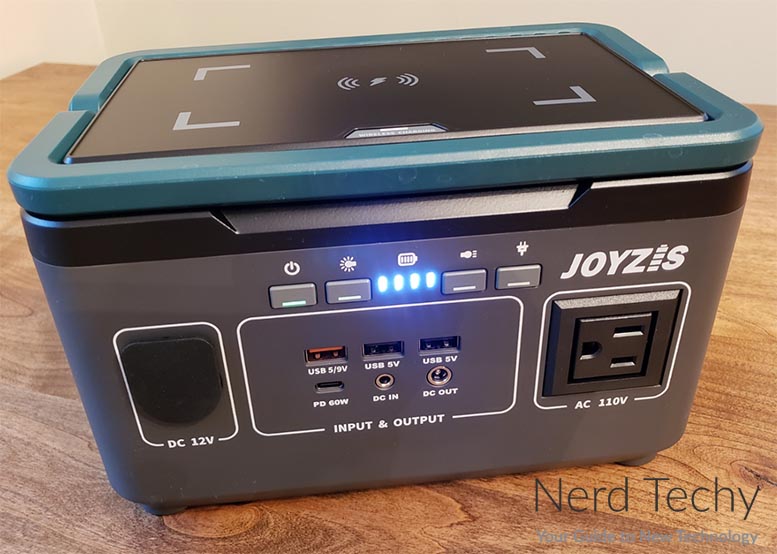 All in all, the basic design is very well put-together, especially for camping. That said, there are many other well-engineered power stations, such as the Jackery Explorer 1000. That power station has a similar size and weight, as well as three times the power of the BR300. On the downside, it also comes at three times the price.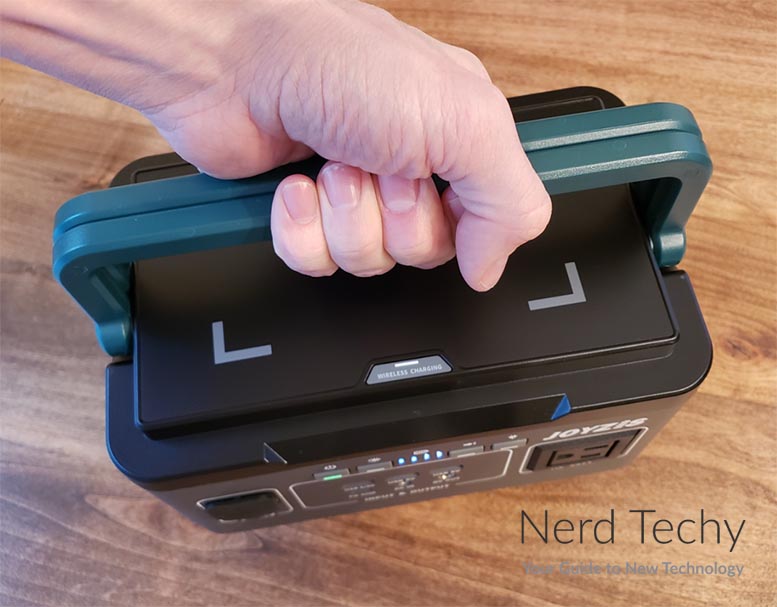 On the front of the housing, you'll find the power inputs, outputs, and all of the controls. Across the top, from left to right, there's a light button, a DC power button, and an AC power button. These last two buttons toggle the various power outputs. This allows you to prevent "vampire power" loss when you're not using the ports. Along the same lines, you should shut off power altogether when the power bank is not in use. Otherwise, you'll slowly lose battery life. The buttons are fat and rubbery, which makes them easy to press. Smack in the middle of them, there's a battery meter, which is simply a row of four LED lights.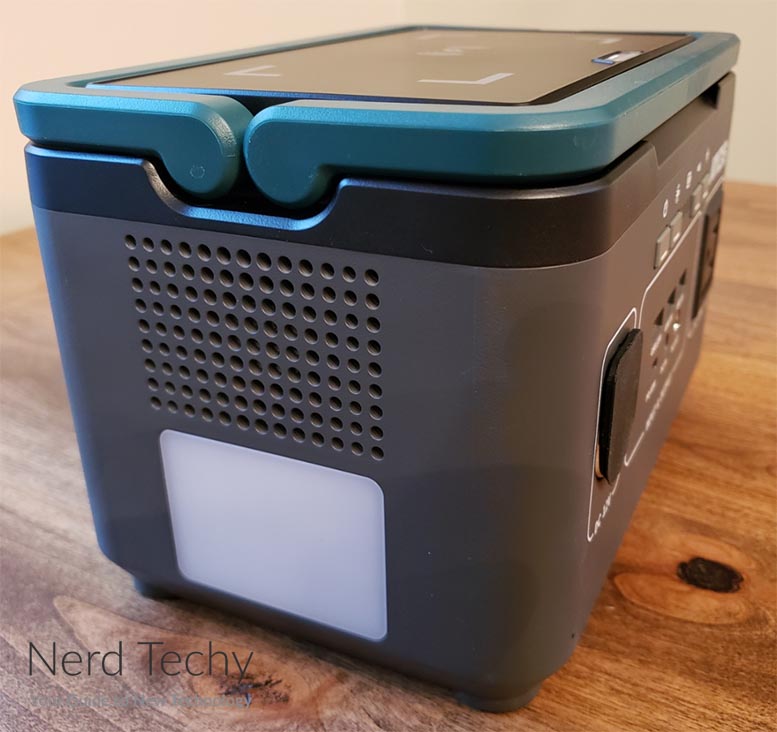 Below these buttons, in the center of the front panel, you'll find your USB and DC power ports. The three USB Type-A ports are arrayed across the top, with an orange tab in the left QC 3.0 port. This tab makes it easy to identify the quick charge port, as well as to orient your USB plug. Beneath these, you'll find the USB Type-C, DC power in, and barrel-style DC out ports. To the left of all this, there's a single 12V DC automotive ports. Off to the right, there's a three-prong AC port. There are no ports of any kind on the back side of the housing.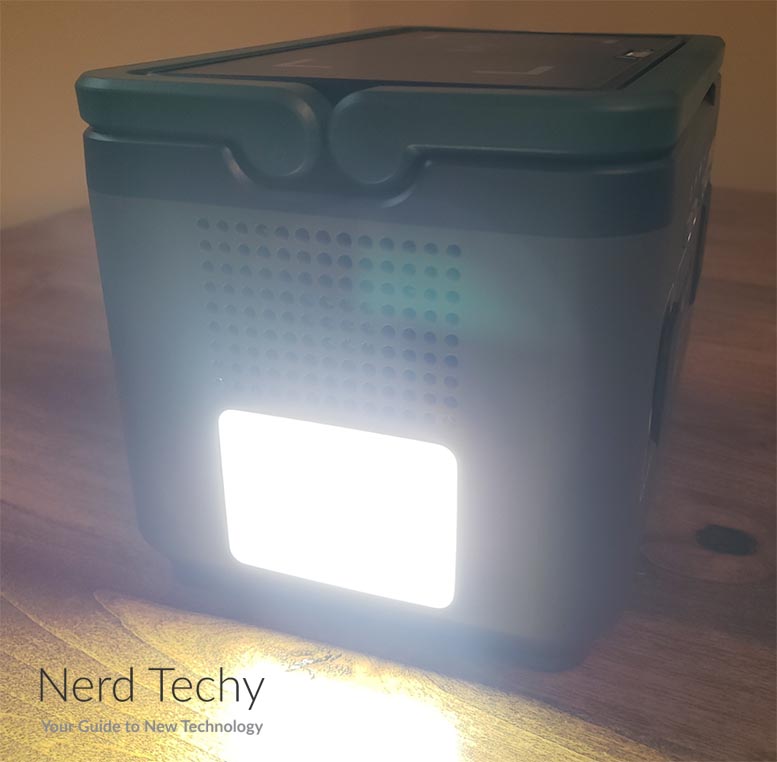 On the left side of the housing, there's a bright LED light. This light operates in four distinct modes, which you cycle through when you press the light button. Pressing the button once will put you into "always on" mode. This is an exceptionally bright spotlight that will illuminate a large area. The second mode is fast flashing mode, which provides a strobe-like effect. A third press of the button will activate an SOS pattern, for signaling an emergency. The fourth and final mode is a dimmer reading light, for use inside a tent or a small room. Pressing the button once again will turn the light back off.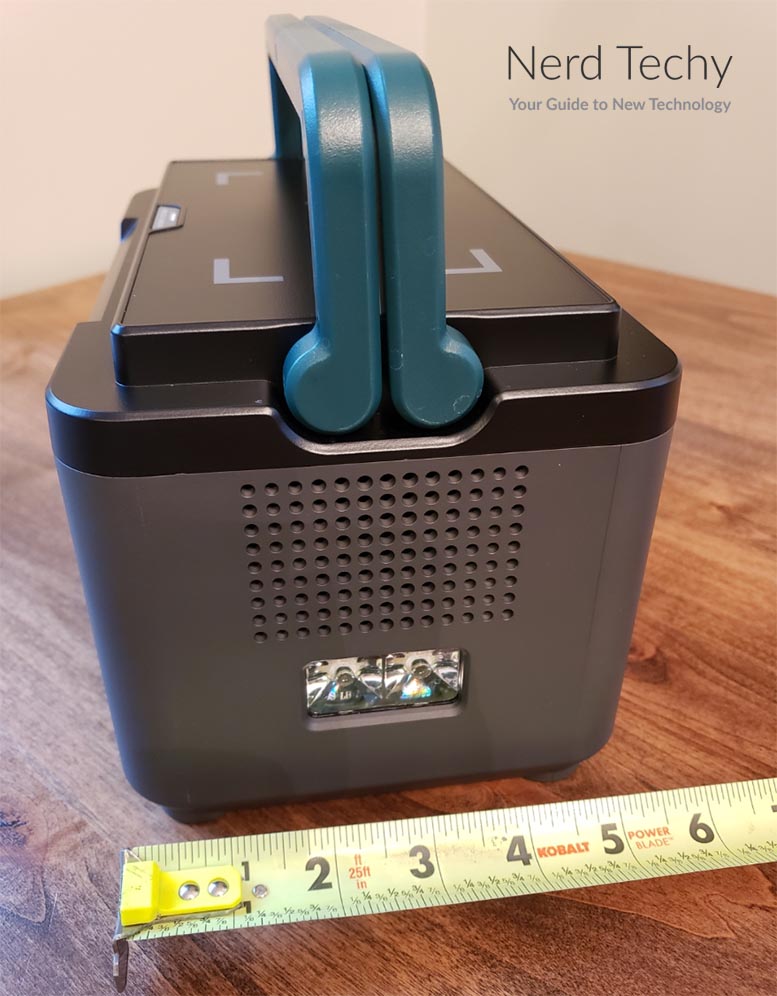 The sides of the BR300's housing are perforated, with large vents for air to flow through. These are for the cooling system, which kicks in when the power station is in use. It's audible when you're sitting in silence, but it's not terribly loud – more of a gentle hum. How often the fan activates will depend on how much power you're drawing, as well as the ambient temperature.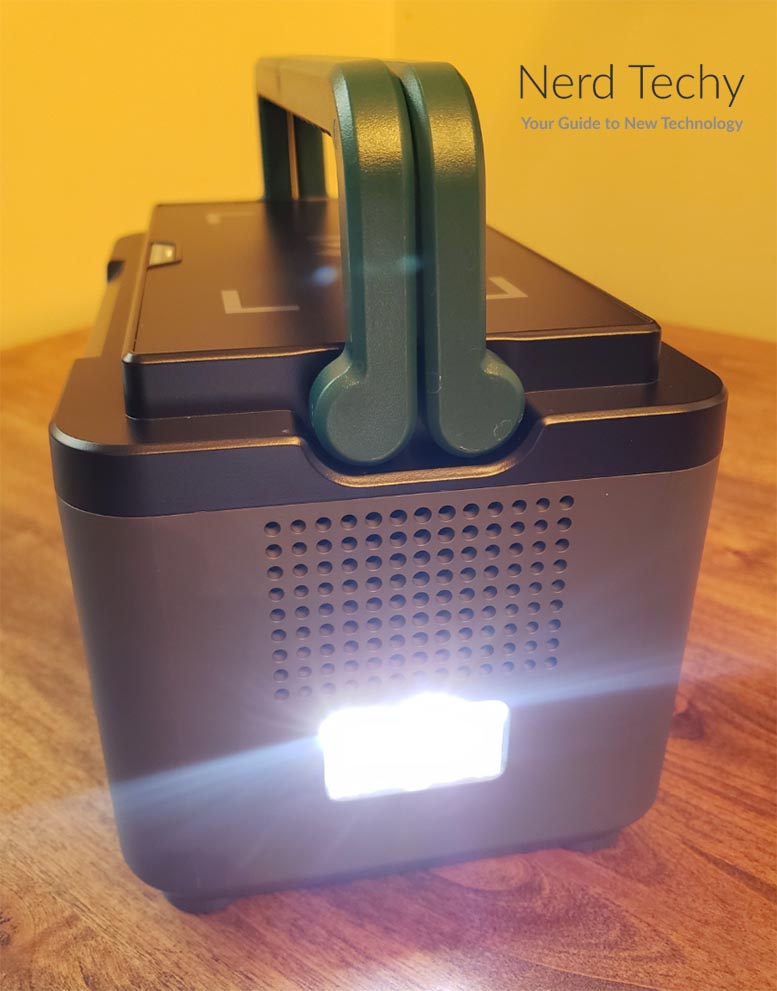 Along with the power station itself, you get a couple of cables to help you get started. The first is a DC charging cable, which plugs into an AC adapter, and then into your wall outlet. The second is a car charger, which plugs into a standard 12V automotive outlet.
Battery Performance and Capacity
The BR300's internal battery holds 300 watt-hours (Wh) of charge. That's equivalent to 80,000mAh, which gives us a basis of comparison for its performance. It will charge a modern smartphone between 20 and 35 times, depending on the model. With a laptop, you can expect 10-20 recharges, again depending on the model. You can recharge the average drone well over a dozen times. And you can get 20 to 25 charges on a digital camera. This makes it suitable for charging light to medium-powered electronics.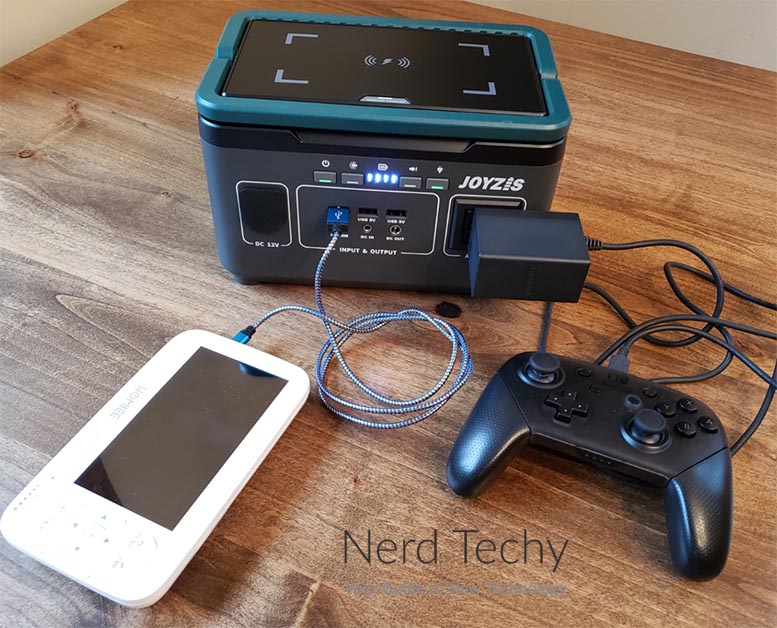 There's one thing to keep in mind, though. The maximum total power draw is 330 watts. By comparison, an ordinary residential 120V power outlet provides a little over 1,500W of power. This means you can't use the BR300 for running things like griddles, kettles, or air conditioners. It's only suited for charging electronics, or running devices that don't require a lot of voltage.
If you need to run more powerful devices, or draw a lot of power, check out the Bluetti B230 and B300. These are ultra-powerful power stations, with add-ons for up to 42,576Wh of power. Then again, they're very expensive, and they're way too big for travel.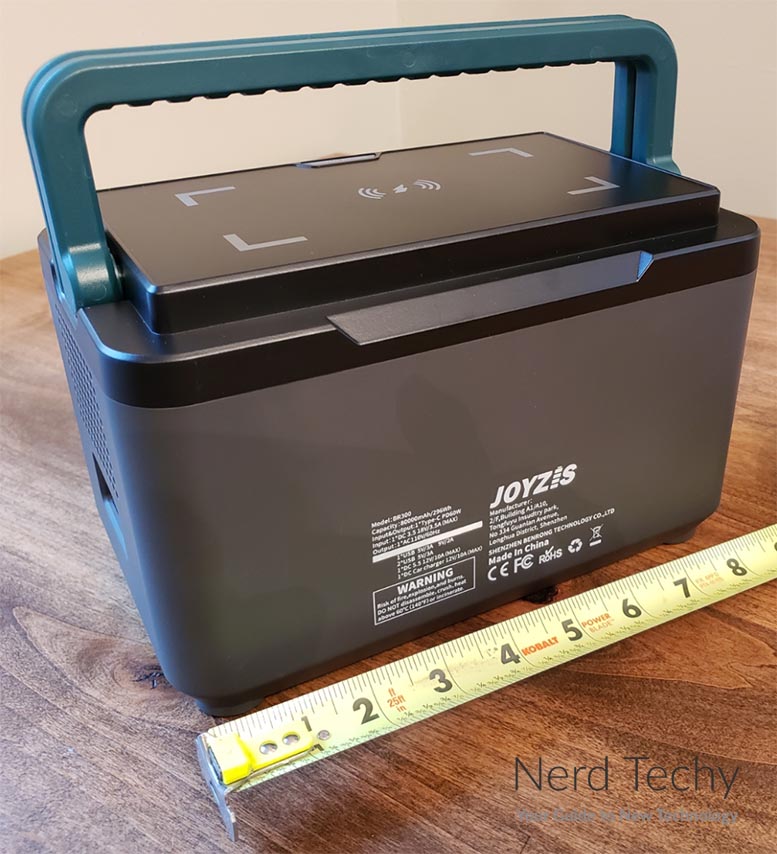 We've already talked about charging the BR300 via AC power or your car's power outlet. But what other options are there? To begin with, you can actually charge the internal battery via USB Type-C. Keep in mind that this will only work if you're plugged into a USB AC adapter. If you're plugged into a laptop or similar device, the USB-C port will be charging that device, not vice-versa. The final way of charging is via a solar panel. This power bank supports 18 to 24-volt solar panels, and uses a 3.5mm x 1.35mm cable. Keep in mind that solar panel performance depends on the quality of the panel, as well as weather conditions. If you're going to rely on solar charging, invest in a well-engineered solar panel.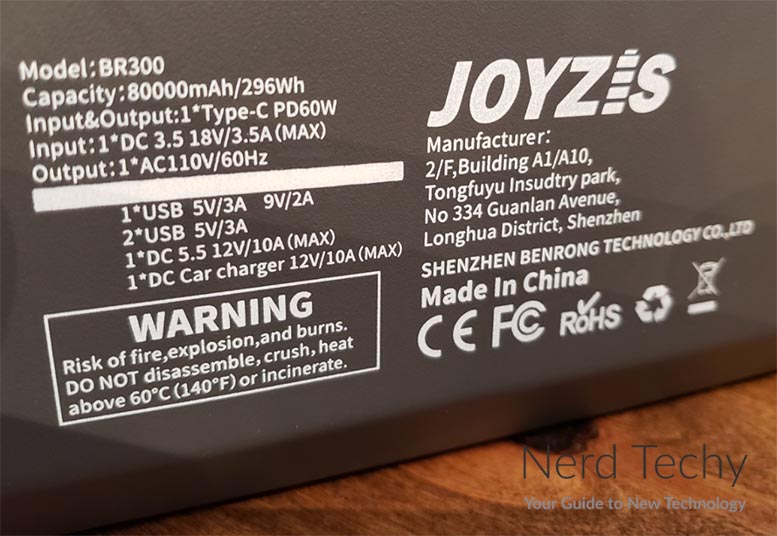 Compatibility and Safety
So, what is the Joyzis BR300 actually capable of? To begin with, the AC outlet is a standard, grounded, 110V AC outlet. This can be used to power any device that draws up to 330 watts. Just remember that if you're powering multiple other devices, that 330-watt maximum will be shared. The barrel-style and automotive-style 12V DC ports will work with most standard DC devices. Be careful about devices that require a 24-volt power supply. Then again, those more powerful devices would probably exceed the wattage limit anyway.
The USB Type-C port utilizes PD charging technology, and delivers up to 60 watts. This allows you to quickly charge even larger laptops. The first USB Type-A port is a QC 3.0 port, with smart delivery of up to 18 watts. The other two USB ports deliver a standard, 12-watt charge.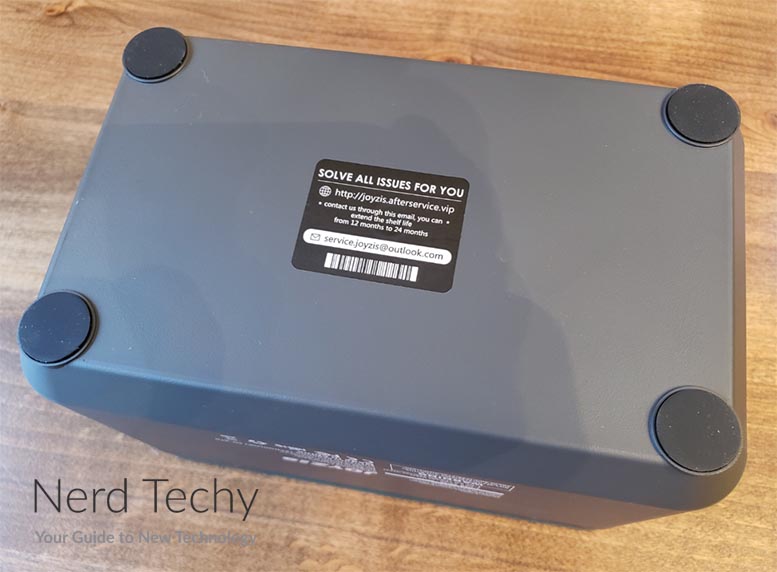 All ports on the BR300 output pure sine wave power. This technology is designed to simulate the smooth, clean sine wave of grid power. As a result, it's gentler on sensitive devices like CPAP machines. This is a great idea in theory. However, the total battery power isn't enough to work with most CPAP machines. For reference, most machines draw between 30 to 80 watts. With a total power of 300Wh, you could get 10 hours of use from a small, 30-watt CPAP. But even a 50-watt CPAP will drain the battery in only six hours. And an 80-watt machine would run you dry in under four hours. Check your CPAP wattage before you buy this power bank – or any power bank.
In addition to pure sine wave power, the BR300 is also well-suited for extreme temperatures. It can handle extremes of -4 all the way up to 149 degrees Fahrenheit. That said, what if you want a battery that's even longer-lasting? In that case, consider the Oupes Portable Power Station. Its LiFePO4 battery will survive through more charge cycles, and delivers 1,100 watts of power. It's similarly-sized to the BR300, but it's a bit pricier.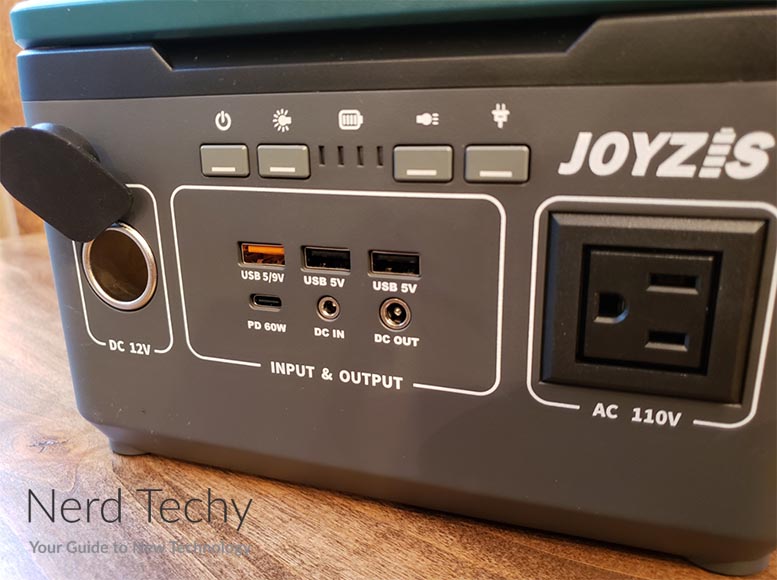 Final Verdict
As you can see, the Joyzis BR300 Portable Power Station is a great choice for powering most devices. It's not suitable for appliances, or if you need huge amounts of power. But for a simple camping trip, it's a solid, affordable option. Not only that, but it's lightweight, affordable, and easy to use. All in all, we were very pleased.