These days, we rely on our electronic devices to manage many aspects of our lives. You don't have to look much further than the average smartphone. We use them for so many things that their use as a phone is almost secondary. Instead, they're a banking platform, or a way to order takeout food, or a GPS system. For most people, a dead smartphone battery is an urgent matter. You need to plug in, and you need to plug in right away. This can be frustrating when you're nowhere near an outlet, or when there's a power outage. In those cases, you need an external power bank or portable power station.
If a smartphone qualifies as urgent, there are some devices which can turn into emergencies without power. For example, what if your refrigerator dies? Within several hours, you'll need to load it with ice, or put your food in a cooler. And that's not even the most serious thing that could happen. To use a more extreme example, some people rely on devices like CPAP machines to stay alive. In that case, a power outage isn't just a matter of spoiled food – it's a matter of life and death. For all of these reasons, it's important to keep a portable power station on hand.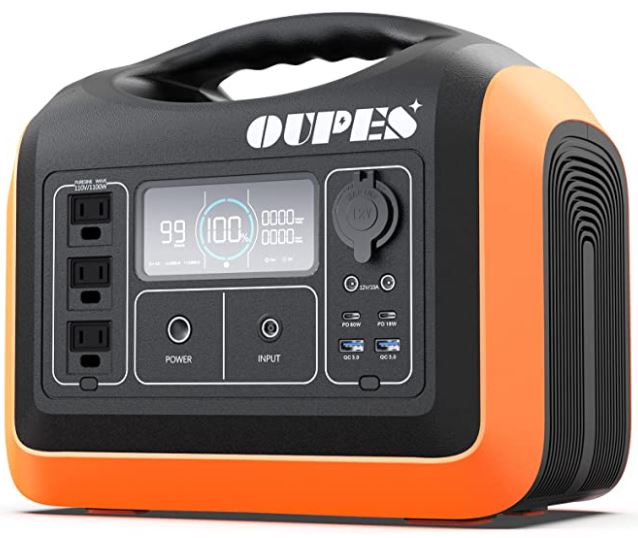 Today, we're going to review the OUPES 1100w Portable Power Station. This is a high capacity, 310,000mAh power bank that's small enough to carry in one hand. That alone is an impressive feat, and it's the explanation for the steep price tag. But capacity isn't the only thing you need to look out for in a power station. You should also be looking for a machine that works with many devices, and one that's easy to charge. It should also have a high enough maximum wattage to supply any machines you need to run. Let's take a closer look at this power station, and see how it stacks up to the competition!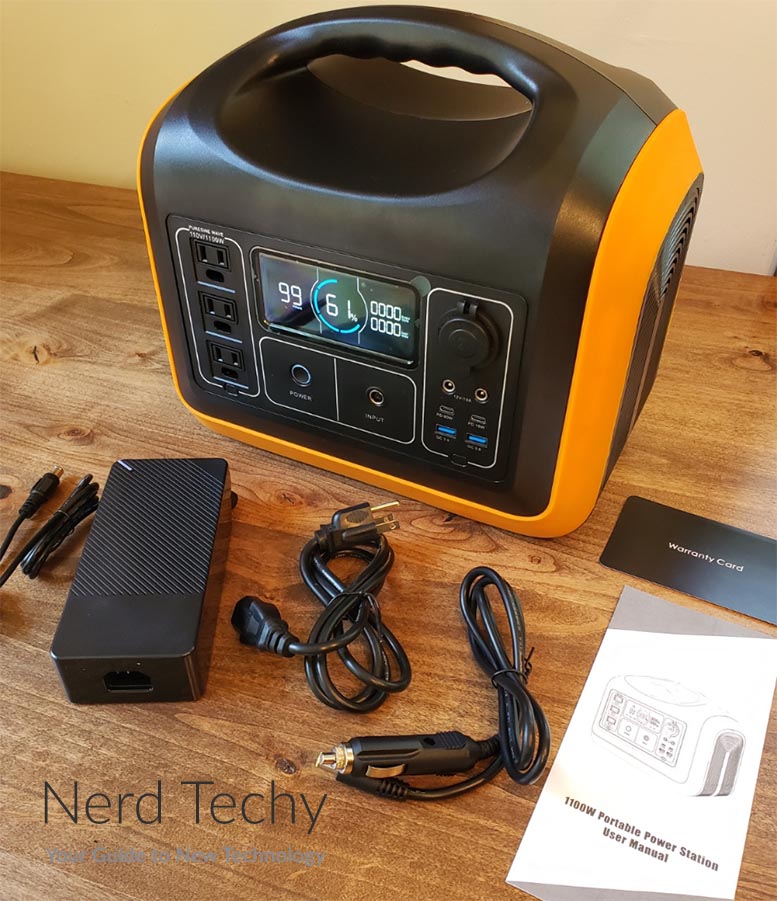 Overall Design
The OUPES 1100w Portable Power Station is built to be as portable as possible for the capacity. Most power stations with this kind of power are big enough that they have to be wheeled around. This makes them fine for home backups, but not suitable for travel use. This power station, on the other hand, is the size of a small cooler, with a molded handle on top. As a result, it's easy to transport anywhere you'd be willing to carry a cooler. You can take it on a day camp, or bring it to your hunting cabin. Carrying it to your backyard for a barbecue is no problem whatsoever. And if you want to power some devices out of your trunk, you can.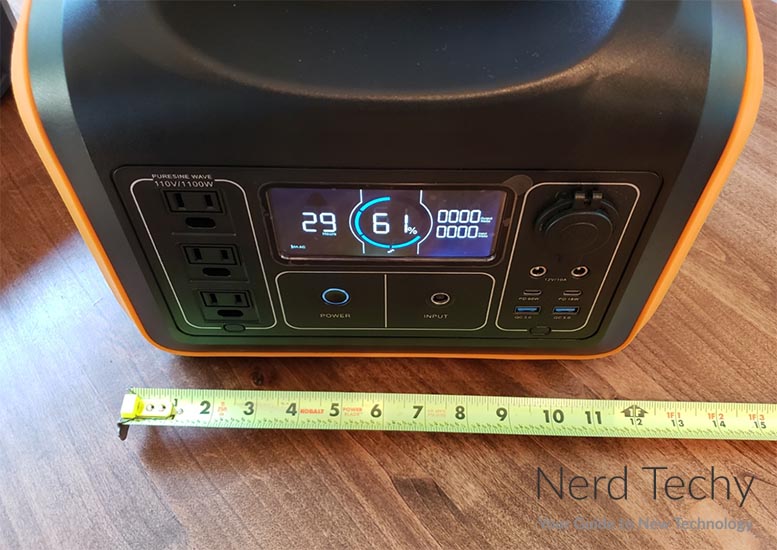 The housing has a two-tone design. The bulk of it is grey, but the corners and edges are a sturdier orange bumper that's slightly curved. This curve prevents any sharp edges that could jab or poke you. The handle itself is well-designed, with an ergonomic shape that's easy to grip. On the sides, you'll notice vents up towards the top. These are used to provide air flow, so the inside of the power station remains cool. Make sure not to obstruct them while it's running, or you won't get as much cooling as you should. On the bottom of the housing, there are four rubber feet. These keep the charger from sliding around, or from damaging delicate indoor floors.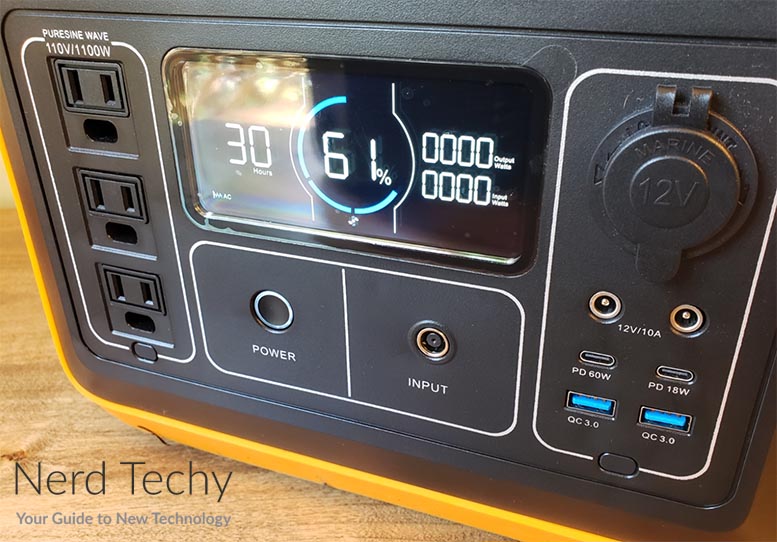 On the front panel, smack dab in the center, there's a detailed, easy-to-read LCD display. In the middle of the display is the current battery percentage, surrounded by a blue ring. The blue ring is simply a visual readout of the battery level, and recedes as it drains. To the left, you'll see the number of hours remaining. Keep in mind that this depends on how much power you're drawing. If you plug something in or unplug something, the time can go down or up respectively.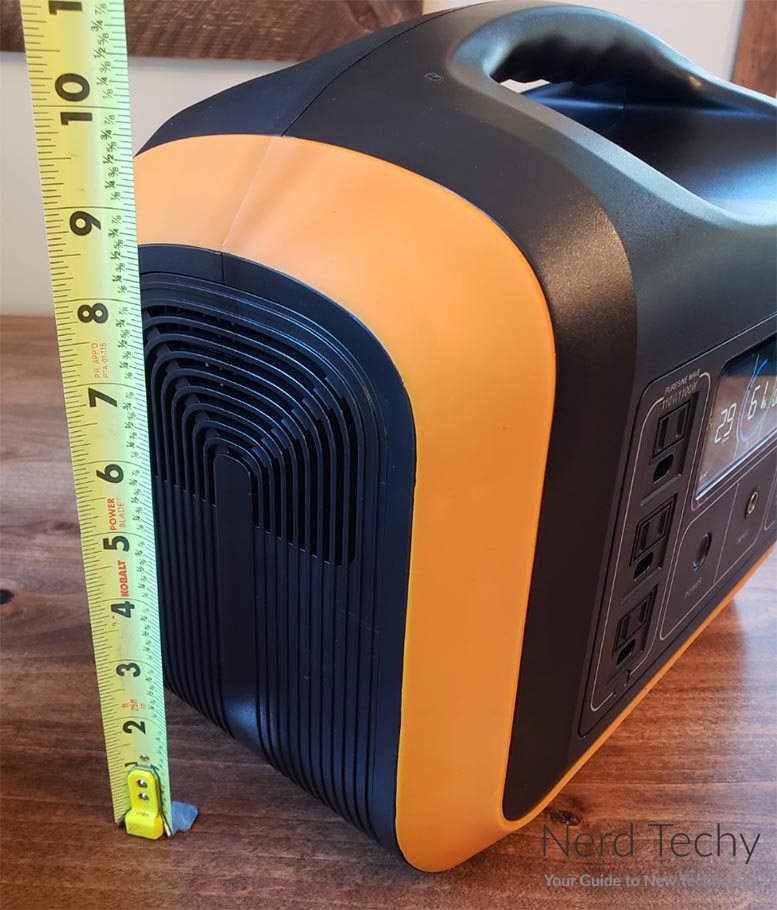 On the right of the display, you'll see your input and output wattage. If the input wattage is higher, the power bank battery will be charging. If it's lower than the output wattage, the battery will be draining. Along the bottom of the display, there's a row of small icons, which show you which power ports are in use. There are also warning lights that will come on in the event of any issues.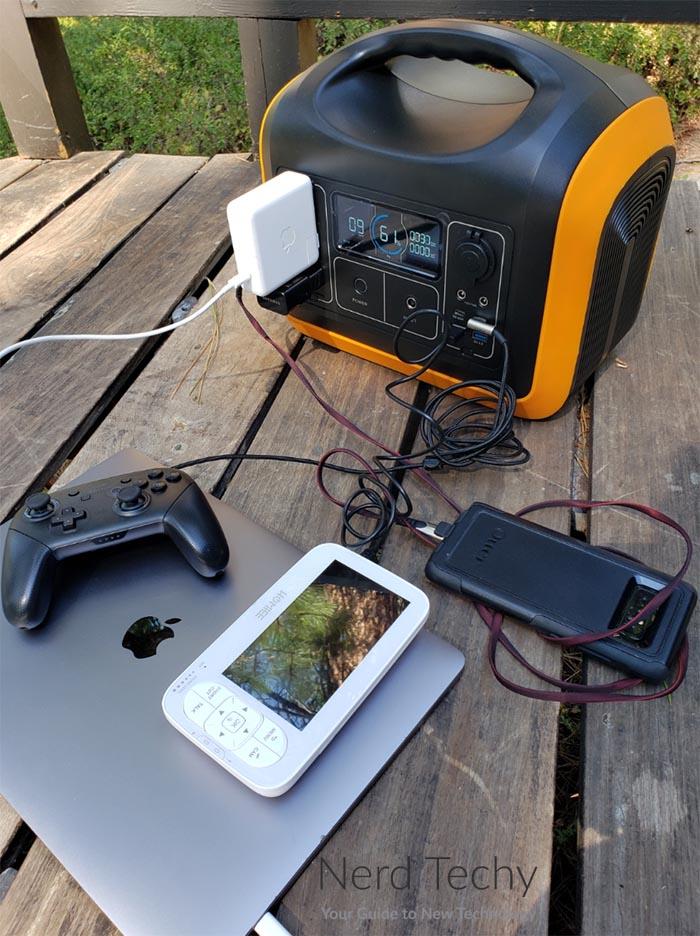 Physical controls are relatively scarce. There's a large power button that turns the charger on and off. There are also separate buttons to the left and right. These activate the AC and DC power outlets separately. The outlets are split to both sides as well. The three AC outlets are on the left, while everything else is on the right. The exception is the power input port, which is in the middle, near the main power button.
On the back of the housing, there's an LED light bar. This bar has a black, thumb-sized button embedded in it, which is used to operate the light. When you press it, it cycles between off, Low, High, and SOS modes. The low light setting is a gentle light for moving around the room and performing basic tasks. It's also great for tents. The higher light setting is very bright, and can be used to illuminate a large area. The SOS setting is equally bright, perfect for signaling for help from a long distance.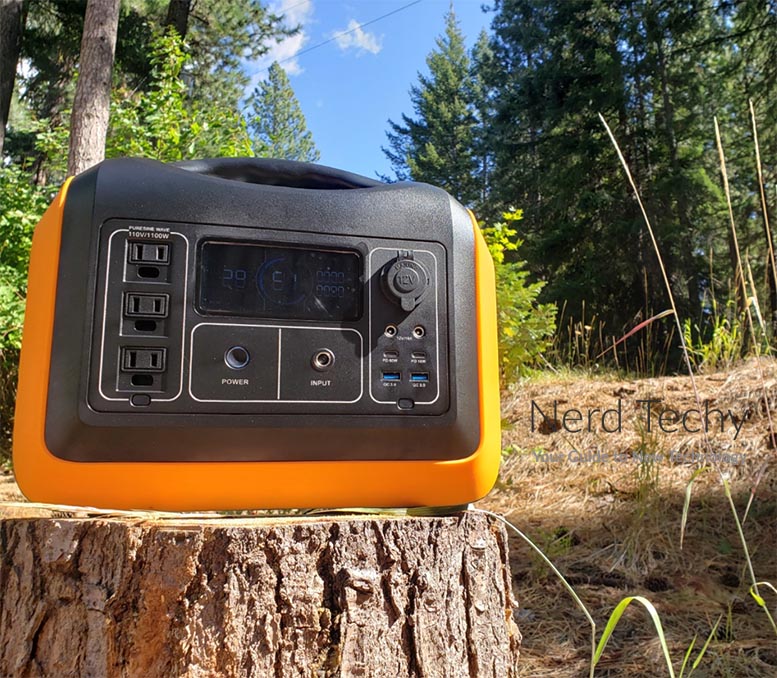 The kit also includes some extras you'll need to get started. To begin with, you get a set of charging cables. There's a DC7909 cable, with car and solar charging adapters. There's also an AC adapter which is compatible with standard North American power outlets. Finally, there's a warranty card. Send this in to get two years of protection, which covers defects in materials and workmanship.
With all of that being said, the OUPES power station is too high-capacity to be allowed on an airplane. If you need a power supply for air travel, you may need something a bit smaller and more-compact.
Battery Performance and Capacity
Without a doubt, the OUPES power station's most impressive feature is its battery. This is true not just because of its capacity, but also because of its reliability and safety. This is a Lithium-Iron Phosphate (LiFePO4) battery, which is the latest development in Lithium technology. It's safer than other types of battery, with a much higher fire rating, and a work temperature limit of 149℉. Not only that, but it's rated for 3,600 charging cycles. This means it can be fully drained and recharged 3,600 times before it loses 10 percent of its capacity.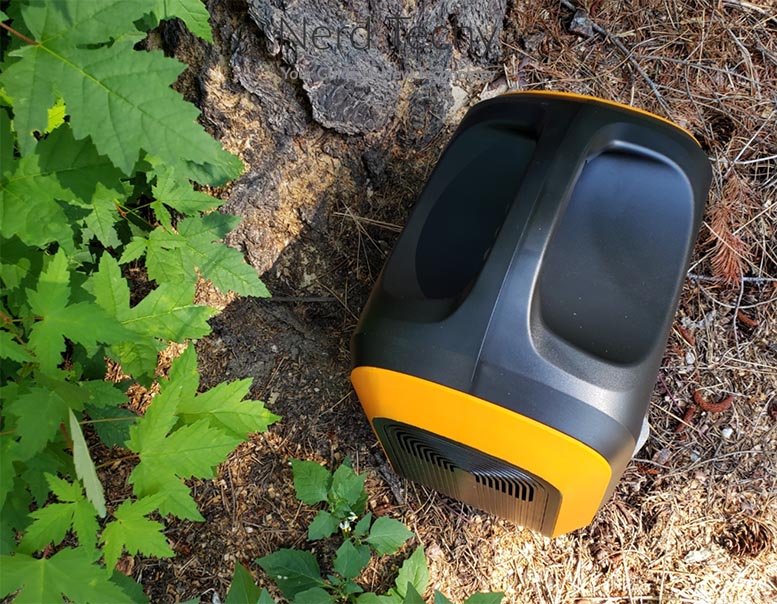 That capacity is 310,000mAh, which sounds like one of those random numbers a manufacturer throws out. Here's what it means in real terms. 310,000mAh is enough for 38 full charges on a MacBook Pro 16", or over 110 charges for an iPhone 12. And if you want to take a mini fridge camping, you can. It will run the average mini fridge for over 150 hours, or just short of a week.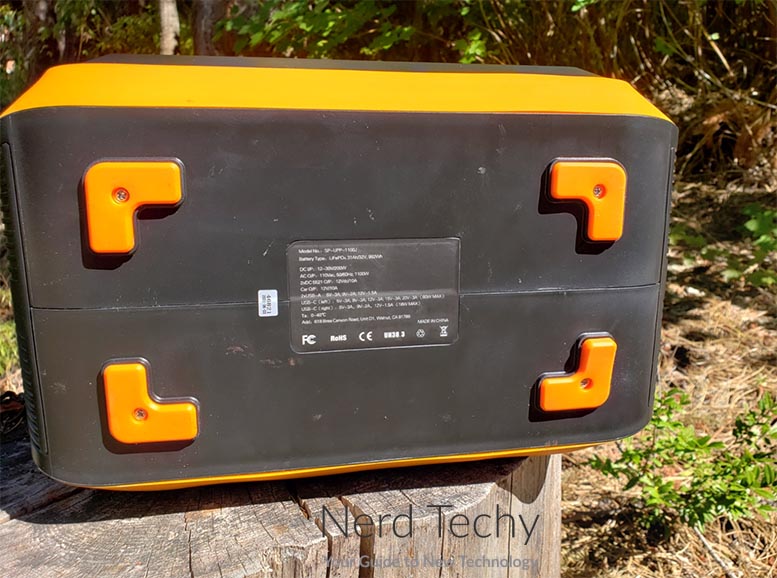 Let's not beat around the bush – this is an insane amount of power for a portable power station. But what if you need a whole house backup system? If that's what you need, consider the Bluetti AC200 Max or AC300 instead. These systems provide truly absurd amounts of backup power, in a modular system. You can even add extra batteries to provide enough energy for your entire home. On the other hand, they're not suitable for travel. They're just too bulky to take on the road.
When it comes time to charge the OUPES power station, you'll have a few different options. First, you can do the obvious thing and plug into your wall outlet. When plugged into standard wall power, the battery will fully charge in about six hours. If you plug it into your car outlet, that time will double to about 12 hours. Alternatively, you can also plug into a pair of 100W solar panels. A high-efficiency set of panels in full sun will charge the battery in about eight hours. 12-16 hours is more realistic under most circumstances.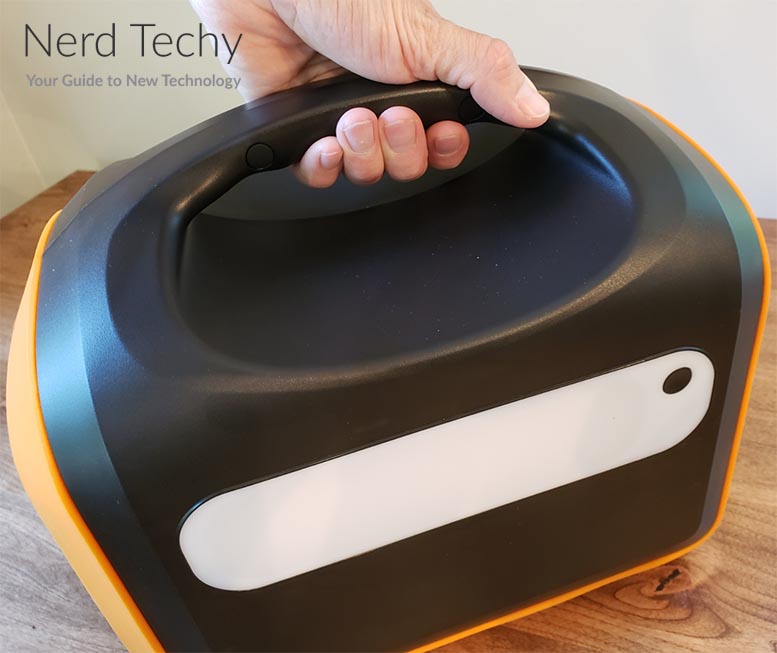 Compatibility and Safety
So, what can you plug into this power station? There 10 different outlets and ports in total; let's take a look at each. To begin with, there are three 110-volt AC outlets arranged vertically on the left. These have a maximum power of 1,100 watts. That's a little over 2/3 the power of a normal wall outlet, and it's enough for most devices. You'll just won't be able to use high-wattage devices like corded power tools or air conditioners. Keep in mind that this 1,100 watts is a total across all three outlets. If you're using all three, the wattage will be shared.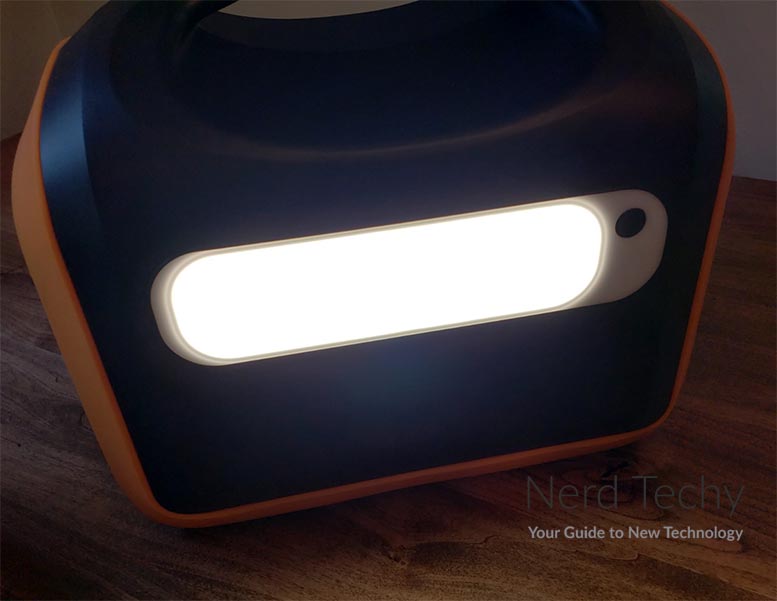 This is pure sine wave AC power, which means it's safe for delicate electronics. Not only that, but both the AC and DC power are protected by a battery management system. This protects you from heat, overcurrent, overvoltage, and short circuits.
If you don't need a lot of AC power, the Bluetti EB70 might be preferable. It has about half the total capacity, with 716 watts of maximum power. However, it has a similar physical design, and it's much more affordable.
To the right, there's a pair of standard 12-watt USB Type-A ports. These are nothing special, but they'll charge any USB device. There are also two USB Type-C PD ports, which deliver up to 60 watts. That's enough to charge most USB Type-C laptops while using them. The other power options consist of a pair of 12-volt DC barrel-style plugs, as well as a 12-volt car plug.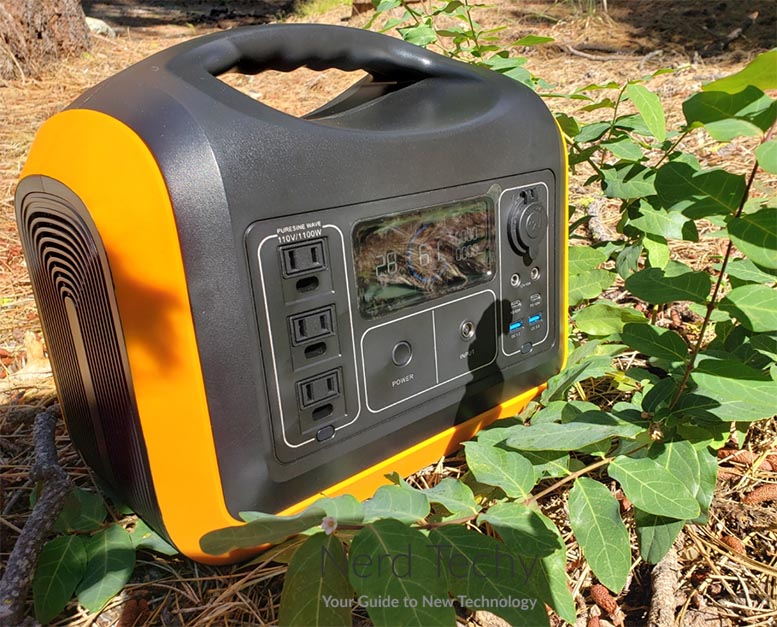 Final Verdict
The OUPES 1100w Portable Power Station is one of the most impressive power stations we've seen. It combines exceptionally high capacity with a small, portable package that's easy to transport. To be fair, you'll pay a lot of money for this power station. But if you want the best, you need to expect to pay a premium. Also, you may want to check out the official OUPES website for their latest deals.