Elevoc Clear
Pros
Incredibly clear call quality.
ANC feature works well for blocking out background noise.
Musical sound quality is great with ideal balance of lows, mids and highs.
Strong bass with deep resonating sounds.
Exterior does not attract fingerprints.
Cons
Only available in one color scheme.
No carrying case or pouch included.
Charging case is not water resistant.
Wireless earbuds have come a long way over the past decade. Gone are the days of tinny sound, poor fit and mundane technologies that simply don't provide the sound clarity we all crave. Advances in noise cancellation and rechargeable batteries have made for a massive influx of earbuds that are now available in virtually every price-range. This natural competition has forced manufacturers to work even harder to make their earbuds stand out from the crowd. Nowadays, we're seeing hundreds of different brands offering earbuds with favorable features, incredible battery life and ideal comfort.
Take Elevoc, for example. They're a relatively new company that's scheduled to launch their new product in the coming weeks through an IndieGoGo Campaign. Self-proclaimed as a "leading AI-powered audio solution provider on a mission to help people communicate with the world", they'll be releasing the Elevoc Clear ANC + ENC AI Noise Cancelling Earbuds. Labeled as "the most powerful noise cancelling earbuds ever", it's needless to say, we have extremely high hopes for them.
Here at NerdTechy, we were lucky enough to get a pair of them to test out for ourselves. We've spent the last week using them for several hours each day. In that time, we've learned a lot about them. Today we'll be going over each of the features and taking a deeper dive into how they perform and where they may fall a bit short.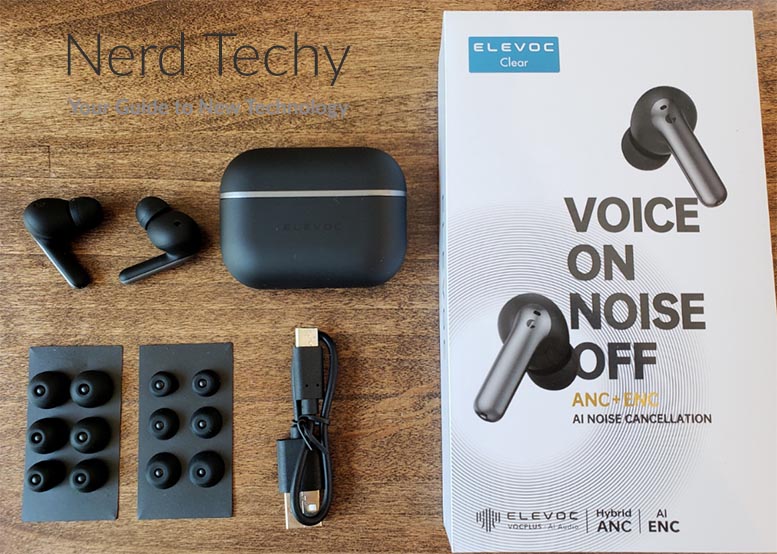 First Look
The Elevoc Clear ship in a compact box with a multitude of accessories included. Upon arrival, we opened up the box and were delighted to find an instruction manual, a charging cable, 12 ear tips, a charging case and of course, the earbuds themselves. It seems to only thing missing is a pouch or carrying case, but it's really not that big of deal. The charging case offers a safe place for them to rest while not in use, all while keeping the internal batteries topped off and ready to use at a moments notice. The case is very compact, measuring about 2.5″ wide x 1.75″ tall x 1″ deep and boasts a flip-top lid that magnetically closes shut. It's really the ideal size for maximum portability; the case fits perfectly in the palm of your hand.
Flipping open the lid of the case, you'll see the earbuds. They come securely nestled within the charging case, immediately ready to pair once you remove them. But first, you'll probably want to take a couple minutes to make sure you have the correct ear tips installed. With 6 different pairs (12 total) included, it's wise to find the tips that provide a snug fit, but one without pressure points. Once you do, the earbuds should fit tightly as to passively seal-out background noise and give you a secure fit. With the buds in your ears, you should be able to shake your head and jump up and down without them coming loose.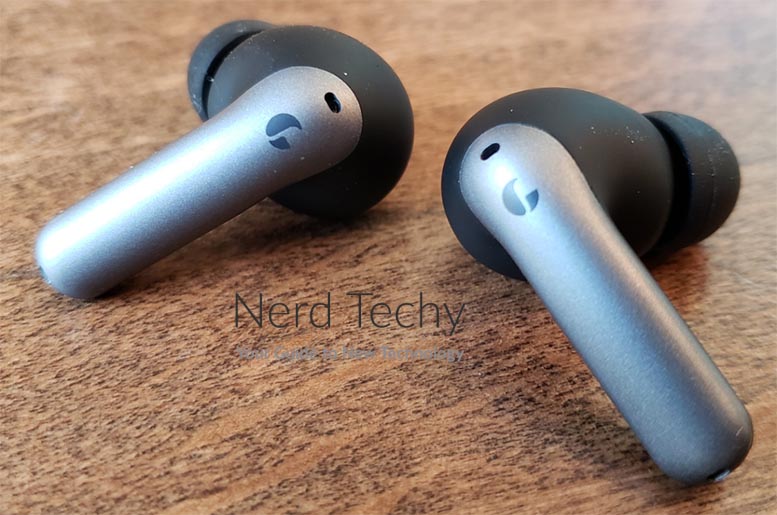 Pairing
Since the Elevoc Clear are wireless earbuds, they rely on a Bluetooth connection for transmitting the audio. This means that you'll need to pair them with a Bluetooth-enabled device to put them to use. The earbuds will automatically go into pairing mode once they are removed from the charging case. Once you remove them, look for the available connection on your smartphone, tablet or device that you want them to pair with. You should see "Elevoc Clear" as a nearby connection that you can pair with. A couple clicks and you're good to go.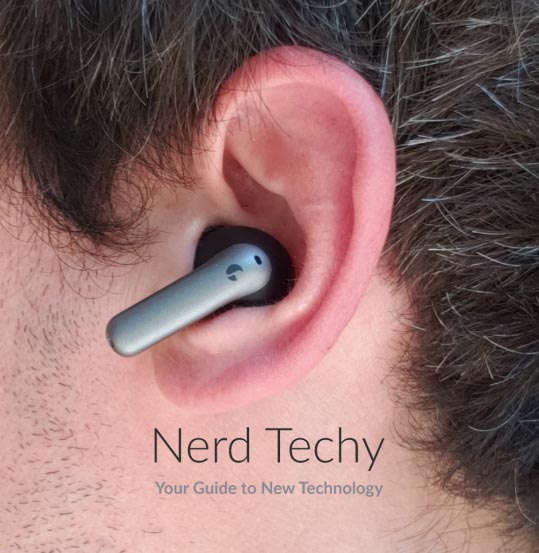 If you're having trouble getting them to pair, or if you'd like to pair them with a new device, simply place the earbuds back into the charging case, close the lid and press and hold the small button near the charging port for about 5 seconds. This will get them ready to re-pair with nearby devices. The two light indicators on the left and the other two on the right will flash alternately before emitting a constant light for 3 seconds. This indicates that the earbuds have entered Bluetooth searching and pairing mode.
We felt that the pairing process what super simple. Exactly what we like; an easy way for them to connect without the hassle you may have become accustomed to with other earbuds. In fact, it only took us about 15 seconds to successfully pair them each time we used the earbuds with a new smartphone.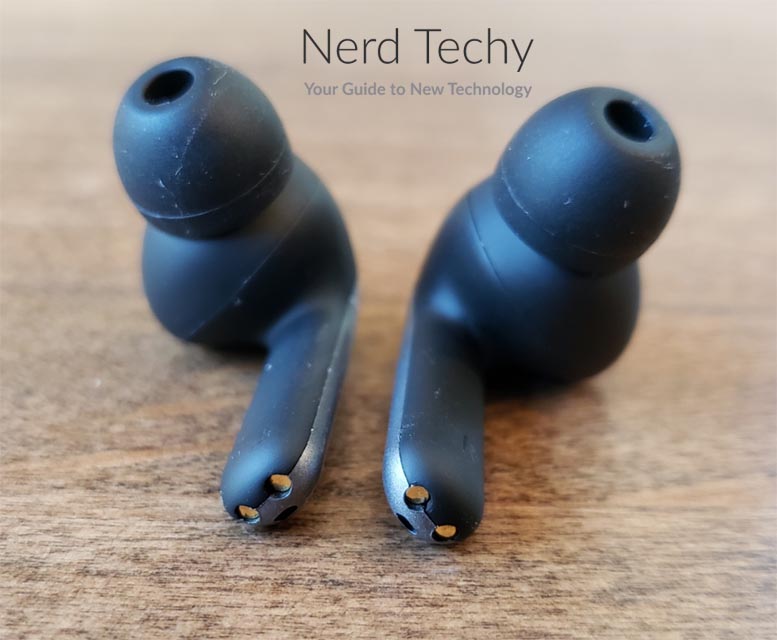 Phone Call Sound Quality
Arguably, sound quality is the most important factor when considering a new pair of wireless earbuds. Elevoc seemed to put extra time and effort into assuring that the Clear earbuds were equipped to deliver the best possibly sound for the price. Utilizing six individual microphones, the Elevoc Clear are able to intuitively cancel-out unwanted background noise for both phone calls and music listening.
The integrated microphones work in conjunction with two voice accelerometers and a unique "Vocplus" algorithm to suppress background noise and distractions from becoming problematic. The microphones work in conjunction to cancel out everything but your actual voice. In theory, this creates the best listening environment for those who want to make phone calls in noisy, busy or distracting environments. In turn, your voice is prioritized, making call quality as crystal clear as humanly possible.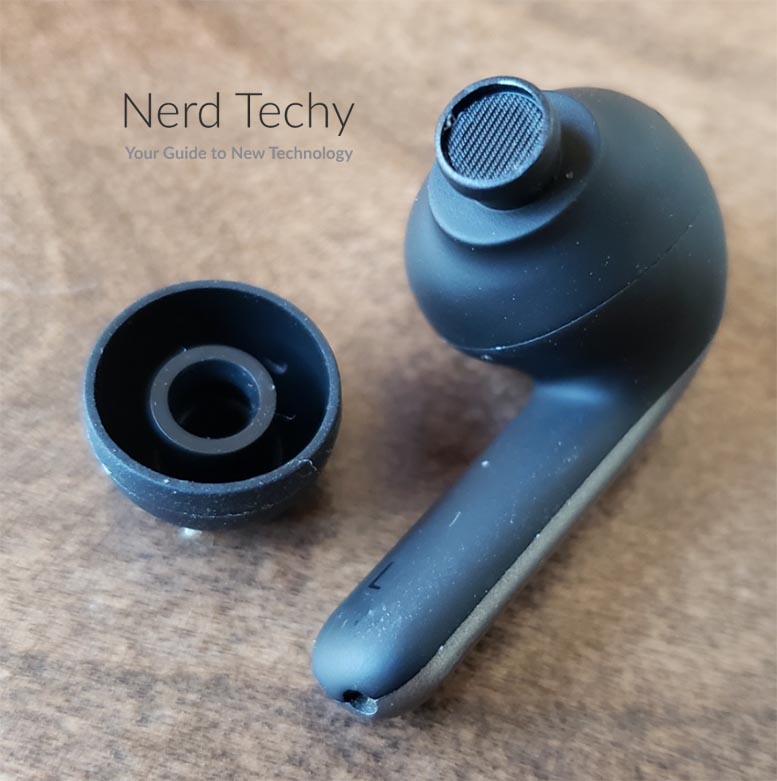 We tested out several phone calls in a variety of environments. Compared to what we have experience with similar earbuds that we've tested in the past, the Elevoc Clear seemed to do a fantastic job at cutting-out unwanted background noise. We tried a phone call inside of a busy bus-ride while commuting to work, inside of a coffee shop, and even during a baseball game. To our satisfaction, we found that the environmental noise cancellation feature works as well as Elevoc promises. From the other end of the phone calls, users reported near-silence, with clear vocal transmission. In the end, it seems that Elevoc delivered their promise of clear phone calls with easy-to-hear clarity.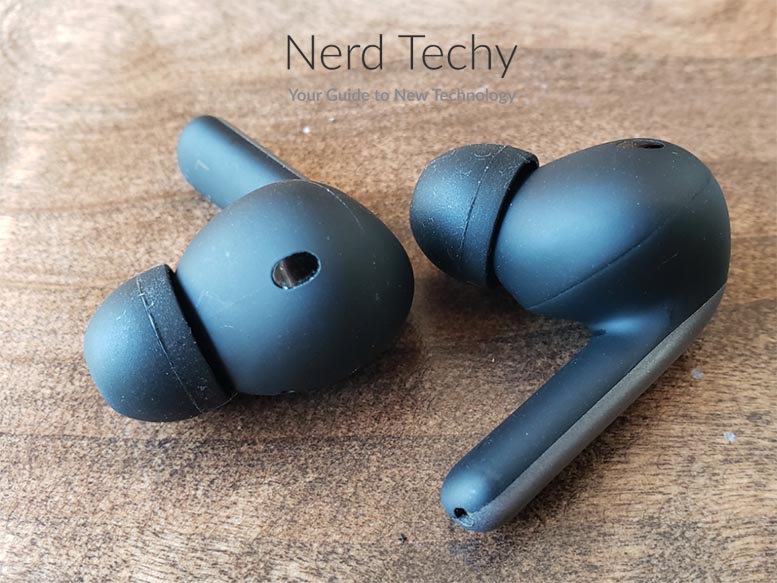 Music Sound Quality
We were overjoyed to see that the Elevoc Clear are not just designed for phone calls, but for immersive sound when it comes to music. Equipped with Active Noise Cancellation technology, the Elevoc Clear utilize each of the integrated microphones to instinctively silence whatever noisy environment you find yourself in. The earbuds do this by using dynamic drivers to emit reverse noise-canceling sound waves. In other words, it picks up background noise and uses the opposite sound waves to block-out these sounds. Pretty cool! Best of all, we found that the ANC feature works very well (if you have it turned on).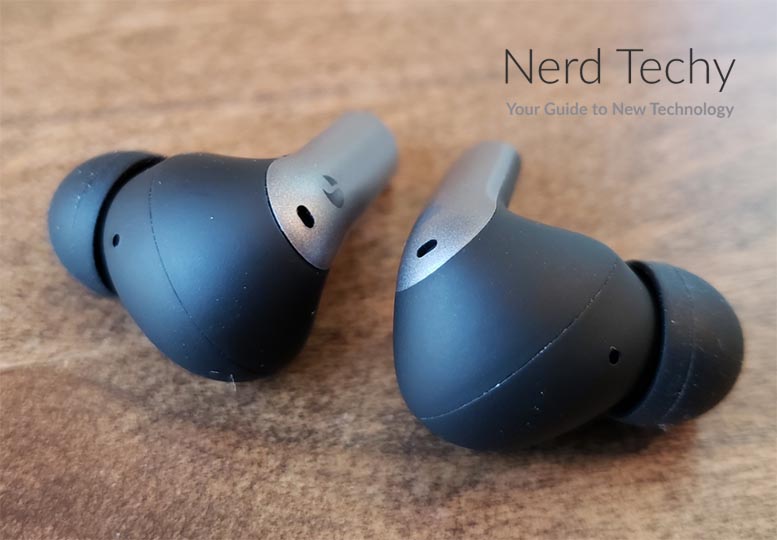 By pressing and holding the left or right earbud for 2 seconds, you're able to toggle between the different sound modes: ANC, ambient and default. We kept the ANC mode activated the majority of the time we used the earbuds since it delivered the best possible sound quality for music. Ambient mode is ideal for those that want to play music, but still hear ambient sound nearby. The default mode is the standard mode that sounds OK, but definitely not as great as when ANC is activated. In our opinion, ANC is the mode that you'll probably find yourself using the most.
In addition to ANC, the Elevoc Clear are equipped with large 10mm drivers in each earbud. Each driver is dynamic, meaning that they're designed to deliver the best possible listening experience. In fact, we found that the frequenices seem to be uniquely tuned to deliver properly balanced highs, mids and lows. Even the low end had a very nice "thump" and "bass" to it. Though the earbuds are small, they tend to emit rich sound with the ideal balance of tones.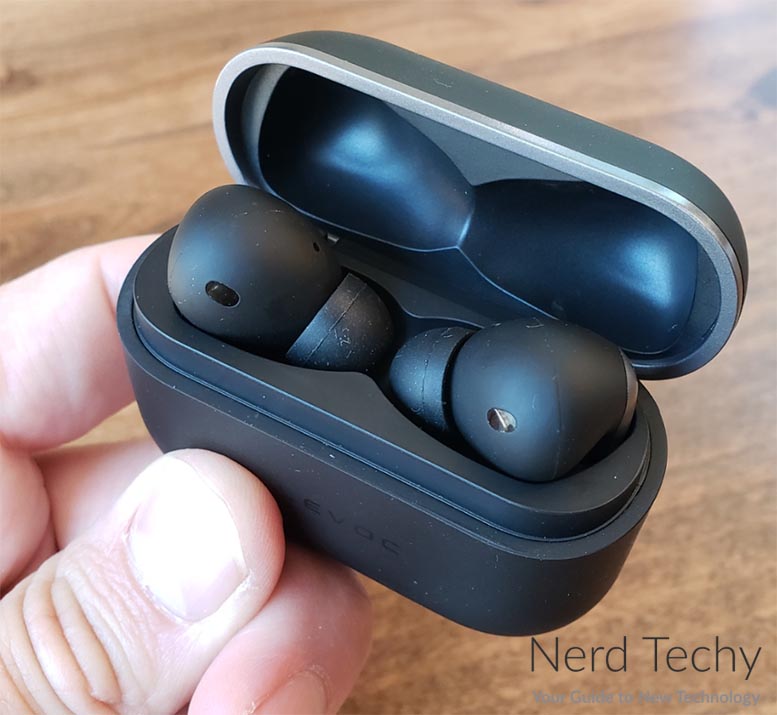 Battery Life
One very important factor that many earbud users often overlook is the battery life. As we stated earlier, the Elevoc Clear come included with a charging case, where you're able to slip the buds into the case to make sure they're always topped-off and ready for listening. This charging case boasts a 600 mAh battery capacity, enabling between 25-30 hours of battery life for the earbuds, before you need to plug-in the USB-C cable to charge-up the case.
However, since each earbud is only equipped with a 45 mAh battery, you can't expect 25-30 hours of battery life for each earbud. In fact, with ANC turned on, you can expect around 5 hours of listening. With ANC off, you might get an extra hour (6 hours total) of listening per earbud, per charge.
From a completely empty battery to fully charged, it takes around 90 minutes for each earbud to "top-off". As for the case, if it's completely drained of battery, you can expect it to fully charge in about 2 hours.
We found the battery life to be on the average side. We've seen earbuds that can go 50+ hours per single charge, and others that struggle between 12-18 hours. However, the approximations made by Elevoc for the battery duration seemed spot-on. Each time we charged up the earbuds, it took almost exactly the amount of time as we predicted. That's something that we can be happy about.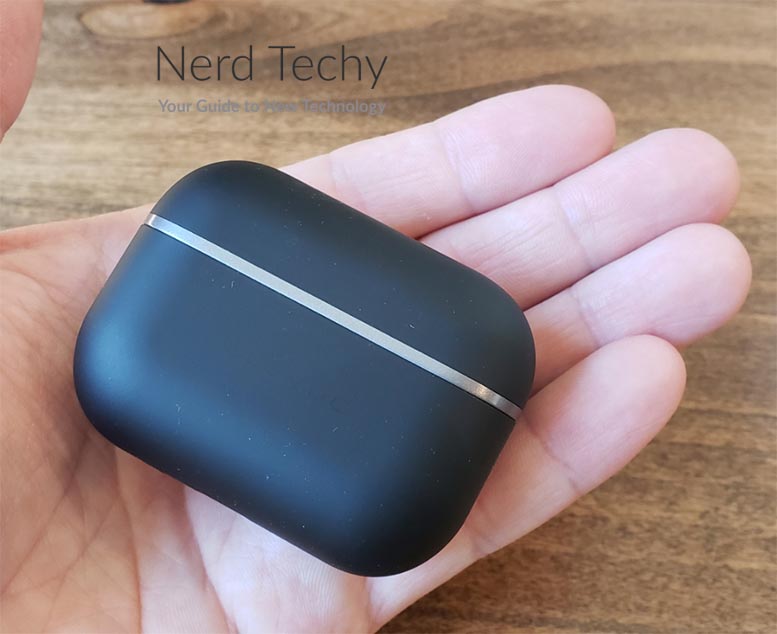 Durability
The Elevoc Clear wireless earbuds feel solid and built to high quality standards. They definitely don't feel cheap or tacky; in fact, they're solid, compact and built-well. Additionally, we appreciate the matte-finish as they don't seem to attract fingerprints or dirt.
Best of all, the Elevoc Clear are rated as IP54 for water and dust resistance. The "5" means that they're semi-resistant against dust and dirt with normal operation. However, they're not fully resistant against dust or dirt ingress if you were to truly put them through the wringer. The "4" means that they're protected against splashing water from any angle, but not fully waterproof.
In the end, they're not fully waterproof, simply put; they're water resistant against sweat, moisture and rain. High pressure water or full immersion in water will have a negative effect on the performance and longevity of the earbuds. In other words, you don't want to swim with them on, but you're totally fine going out with them in the rain and snow. Yes, we would have loved to see a bit higher durability rating, but for most scenarios, they're going to provide enough resilience to work just fine.
One thing you'll want to keep in mind is that while the earbuds are rated as IP54, the charging case is not. It's important to keep the case out of harms way; do not expose it to moisture or dirt as it'll likely have a negative effect.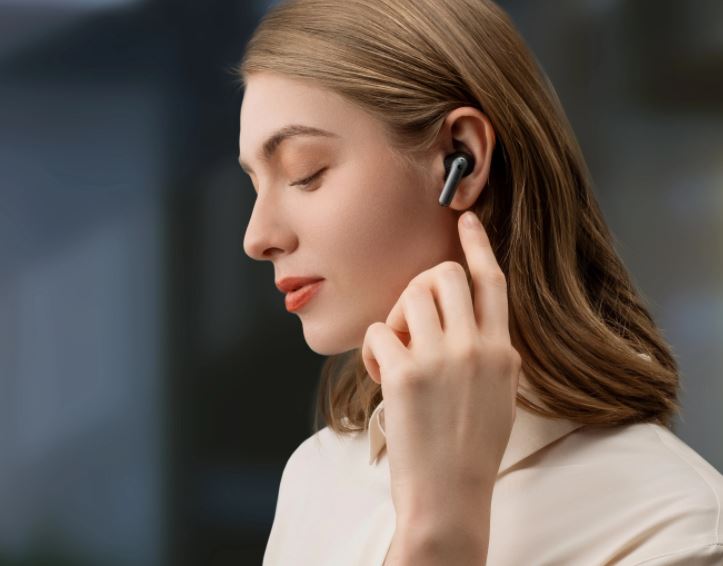 Final Thoughts
Overall, we found that the Elevoc Clear Wireless Earbuds are equipped with many features that set them apart from the competition. They're comfortable, form-fitting and most importantly, the sound is on-point.
Utilizing the unique Vocplus algorithm, we believe the call clarity is simply unrivaled. Phone calls are crystal clear, even in the noisiest of environments; it's actually pretty incredible. Music-listening sound quality is excellent, with ANC being our favorite feature to keep activated at all times. The bass is rich with the mids and highs delivered perfectly, regardless of the genre or type of music you enjoy.
It would have been nice to see a soft carrying case or protective pouch included, but we feel that there's plenty of value here. Not all manufacturers get it right, but Elevoc seemed to get just about everything right with their "Clear" earbuds. They're dialed-in, feature-rich and ready to deliver excellent sound quality not matter if you're making a phone call or tuning into your favorite podcast. They definitely get our approval.
While the Elevoc Clear earbuds are not yet widely available, the IndieGoGo Campaign launches on September 7th at 7AM PST. They'll be available at a super early bird price of $59 to those who want to be the first to try them out.