There are essentially two reasons to use a stroboscope. The first is because you want to check the rotational speed of an object. For measuring RPM, you always want the simplest tool for the job. If you're capable of affixing a piece of reflective tape to the equipment that you want to measure, then the right tool for that job is an optical tachometer. But what about all the instances where you can't use reflective tape? For those tasks, you need a digital stroboscope.
The second reason you'd reach for a digital stroboscope is because you're trying to measure something that you can't shut down, or you want to evaluate machinery while it's still in use. For those types of tasks, a stroboscope is far and away the best tool for the job. It can help you get a view of what's happening during any particular rotation of a part, or during any particular flash of the scope.
Stroboscopes can help you find errors from manufacturing machines, cabling, wireless printing machines, drill machines, and comparable devices. When the flash rate of a stroboscope appropriately matches the movement of whatever object you're measuring, that object can appear totally stationary. Examinations of quick rotors, shafts, spray patterns, sealing, cams, and similar instruments can be made far easier with the help of that optical illusion. Some stroboscopes are also build to help photographers take advantage of flash while doing high speed photography.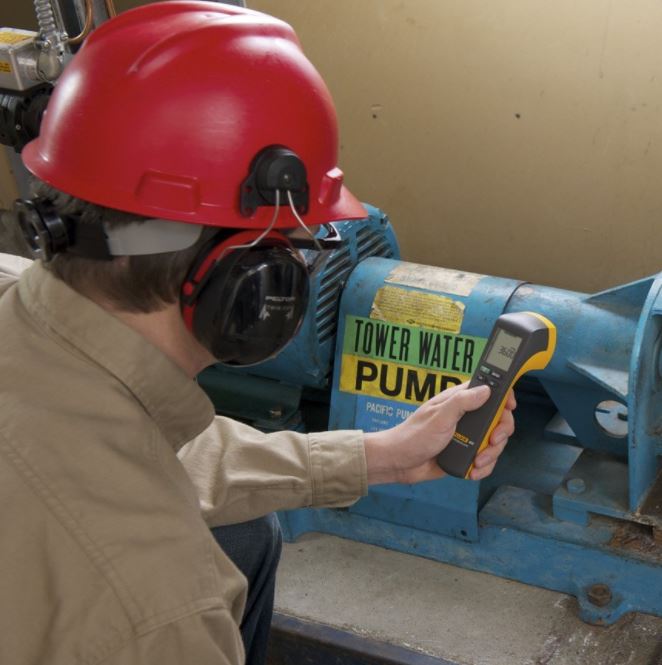 Stroboscopes and Practical Use
Stroboscopes and tachometers both measure RPM, but tachometers are far easier to use. By comparison, stroboscopes can be relatively complicated and take some degree of practice to begin taking effective measurements. In other words, you'll only want to use a stroboscope when you're dealing with a job that no other instrument can complete.
For example, only a stroboscope can help you identify material stress by looking for signs of fatigue in the wave motion of a moving part. Stroboscopes can be used to monitor the compliance of rotational parts and the work processes of electrical equipment. Keeping an object's apparent motion slowed can be critical for diagnosing how components behave while they're in use.
Choosing a Digital Stroboscope
Flashes from a stroboscope are measured in flashes per minute (FPM), and they're what allow a stroboscope to make a harmonic measurement of the RPM of a device. That's done by manually calibrating the rate of flashes gradually until you find the perfect frequency to use. Because of that relationship between FPM and RPM, the maximum FPM of an instrument is reflective of the maximum RPM it can help you see.
But what's the maximum RPM that you'll need to measure with your device? Supported speeds among digital stroboscopes ranges widely from 30 to 500,000 RPM. The accuracy of those figures varies just as widely depending on the stroboscope you end up using.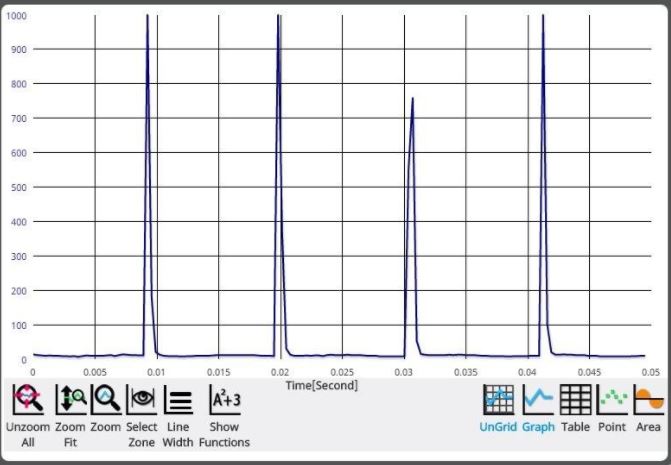 Bulb Power
Brightness power is another thing to consider. Brighter bulbs allow greater visual clarity, especially when being used in rooms that are already lit. If you need to see hundreds of thousands of rotations per minute, you'll need a bulb that's equipped to flash not just frequently, but brightly enough to generate a clear visual. Photographers also want to pay attention to bulb strength for reasons that are obvious.
Where brightness matters to the design, manufacturers typically provide a listing of the amount of illumination their device provides, as measured in lux. Whether you need only a few hundred lux for monitoring a small area, or thousands of lux to see a giant rotational pipe, depends entirely on your individual purposes.
Other Considerations
Does your job need an external output or input from the strobe? The input jack from a sensor may accept signals from other modules, which can speed along testing for an experienced technician. Finally, you may want to consider if any accessories are included. For a strobe, that often includes input or output cables, remote sensors, covers, cases, or spare lamps.
Will the stroboscope be used in a particularly dirty environment? Whether or not you need waterproofing, a splash proof, or a dust-proof rating depends on what kind of places you'll be using the instrument.
A certificate of calibration may or may not be included. If you don't know enough to trust the brand you're dealing with, such a certificate is a guarantee that you're getting what you paid for. On the other hand, it may not matter if the device can be calibrated.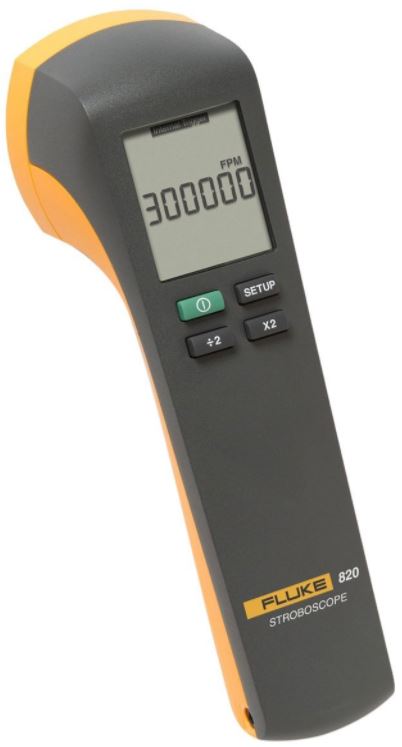 Fluke 820-2 Stroboscope
The Fluke 820-2 is ideal for measuring foundations, cogwheels, shafts, belt machines, drive motors, turbines, spindles, and similar electrical systems. It uses an intuitive four button design that helps make an otherwise complicated instrument become almost instantly comprehensible. And the light source in this model is the product of a reasonably strong LED that's capable of providing an extremely fast rate of flashing, ranging from 30 to 300,000 FPM.
Technical Specifications
Control of the 820-2 is as easy as stroboscopes come. The LCD display includes two buttons to either multiply or divide your FPM for incremental adjustment of the instrument. Beyond that there are only two more buttons, one for power, and one for settings.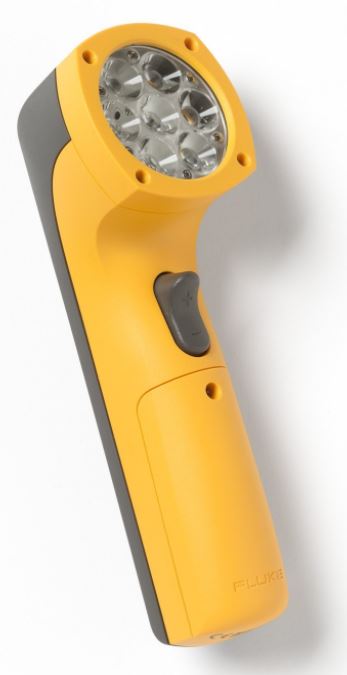 In spite of its intuitive and simple design, the 820-2 supports powerful features like digital pulse width modulation, to help provide sharp stop-motion images even at high speeds. Inside the settings window you'll also find access to the POP and IR-Fusion modes, which can help you find the problem you're looking for as quickly as possible.
Light for the 820-2 comes from an array of seven LEDs, which offer 4,800 lux at 6,000 FPM. For viewing larger objects, the Fluke 820-2 will allow you to quickly get everything you want to see in focus. The microprocessor and LED combined ensure a high flash that's accurate to within a margin of error of 0.02%. And this stroboscope is rated to take readings ranging from -20°C to 350°C, which makes it prepared for a rugged range of testing.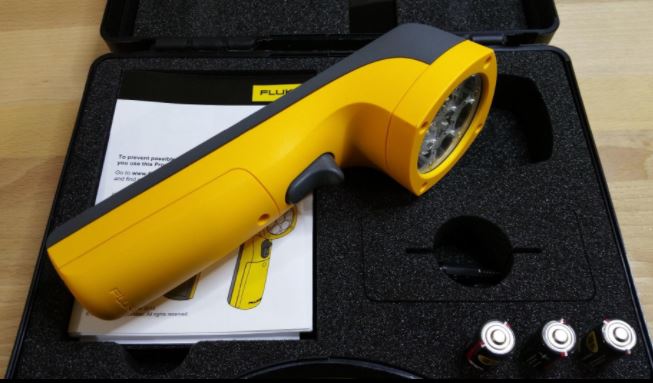 Build & Design
The 820-2 uses a compact 10.2 x 8.8 x 3.4-inch design that's one-part rugged machine and one-part compact instrument. It doesn't make use of hollow cavities, glass, filaments, or other easily broken materials. Being smartly designed like that is what helps ensure this device is rated to survive a one-meter drop. Though with any luck you won't be dropping the 820-2, thanks to the long handle that fits comfortably in your hand to helps support the moderately hefty 4.5-pound weight of this instrument.
In addition to the stroboscope, included you'll find a user manual, NIST certificate of calibration, and the 3 AA batteries that are necessary for operation. As an added bonus, Fluke provides a padded hard shell case that can help protect the 820-2 for years to come.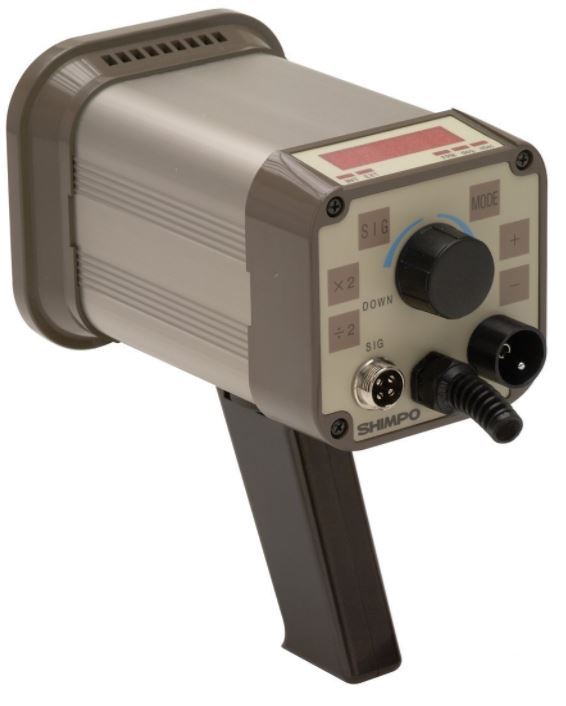 Shimpo DT-311A
The Shimpo DT-311A is somewhere between the quality of instrument you'd find in a rocket lab and a mechanic's workshop. It's supported range of rotational measurement is slightly shallower than other stroboscopes on the market, reaching a maximum speed of only 35,000 FPM. But it also supports speeds as slow as 40 FPM, as well as brightness and accuracy fitting of its price. Outside of high tech commercial settings, this instrument should be more than enough for virtually all types of application.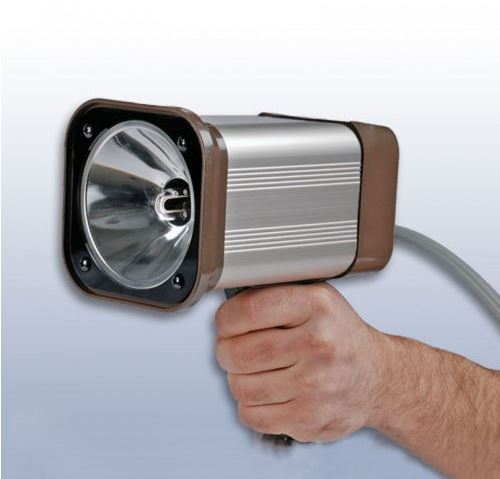 Technical Specifications
Shimpo's DT-311A isn't particularly bright, offering a maximum 1190 lux, or an average of 300 lux from a measuring distance of about one foot. That means the DT-311A is well-suited to helping you examine objects that are roughly the size of a car's engine, but not any super-large machinery.
Like with any stroboscope, the resolution you'll get from FPM measurements varies by speed. For moderate speeds around 5,000 FPM, you can expect accuracy to the nearest tenth of a flash. At the highest speeds, the resolution is restricted to whole units without decimals. That means Shimpo doesn't skimp on accuracy, and can provide results that are accurate to 0.01% of your reading.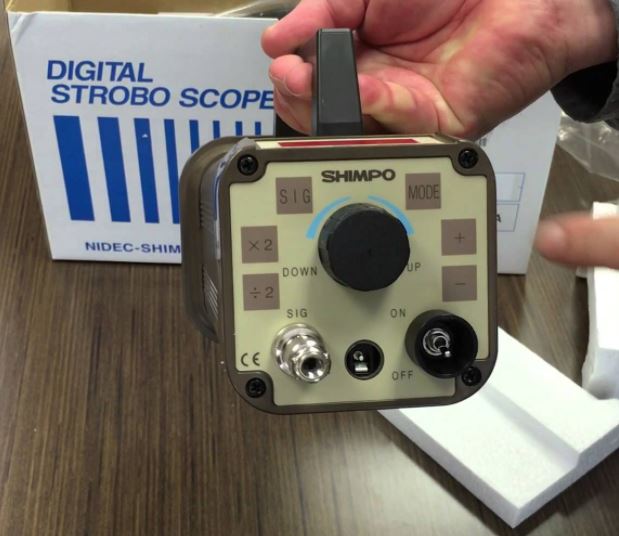 Build & Design
The ergonomic design includes a fully detachable pistol grip style handle, and allows both external trigger input and synchronous pulse output. You'll be able to adjust the instrument from an easy to read LED, and the intuitive controls allow you to multiply or divide your FPM by 2, or phase adjust for a rapid reading.
The DT-311A is constructed with a 4.7 x 4.7 x 7.2-inch build that's best described as hand-held. For comfort, it weighs as little as 2.6 pounds. For power, you'll be using the included 12-volt DC adapter because there's no options for battery input. And Shimpo includes a two-year warranty to help ensure you're satisfied with their instrument.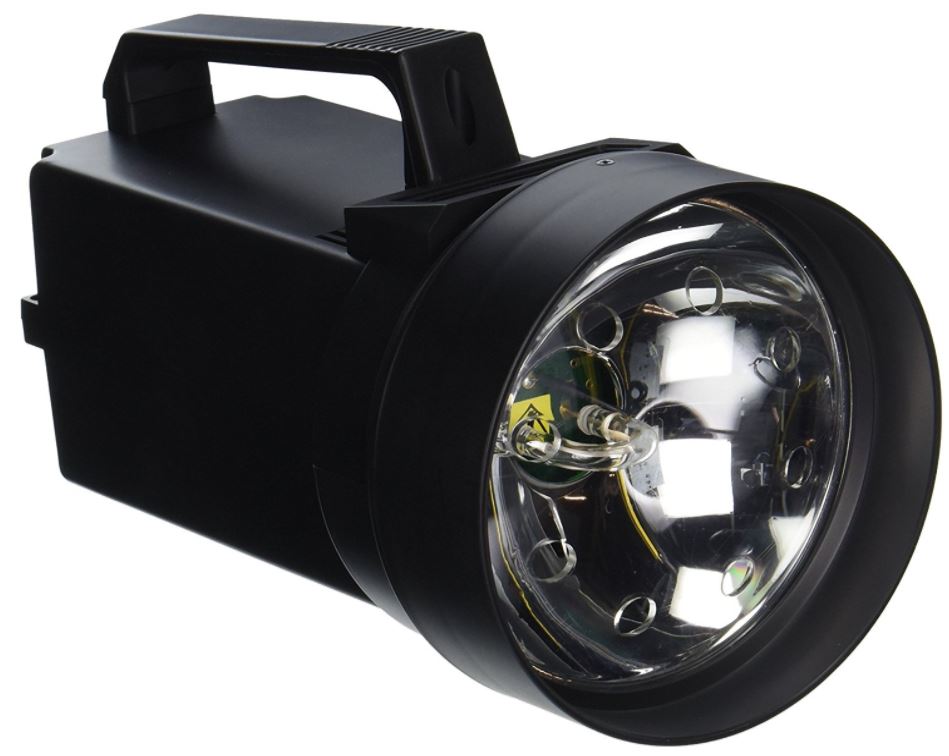 Sper Scientific 840009
Sometimes you don't need an industrial-grade stroboscope. For classrooms or quality control, a moderately powered stroboscope should be more than sufficient. And that's exactly what Sper Scientific has made with their 840009 model. This stroboscope won't be winning any competitions for power, but it has a performance to cost ratio that makes it worthy of consideration for anyone who doesn't need an extremely powerful instrument.
Technical Specifications
In spite of its relatively inexpensive price, this stroboscope provides a reasonably wide range of 100 to 100,000 FPM. In terms of accurate data collection, what you get is a little less impressive. For slow speeds under 1,000 RPM, data results are available within a fairly precise resolution of 0.1 units. However, that resolution becomes large and unwieldy when you're using the highest speeds of the device, and the lowest resolution supported resolution for your readings can become as large as units of 10.
In spite of that relatively weak range of measurement resolutions, the 480009 still makes use of much of the same modern microprocessor technology you'll see in top-tier stroboscopes, which help ensure the data you get is accurate within 1 unit of measurement, and that your data is presented readable and bright on a 4-digit LED.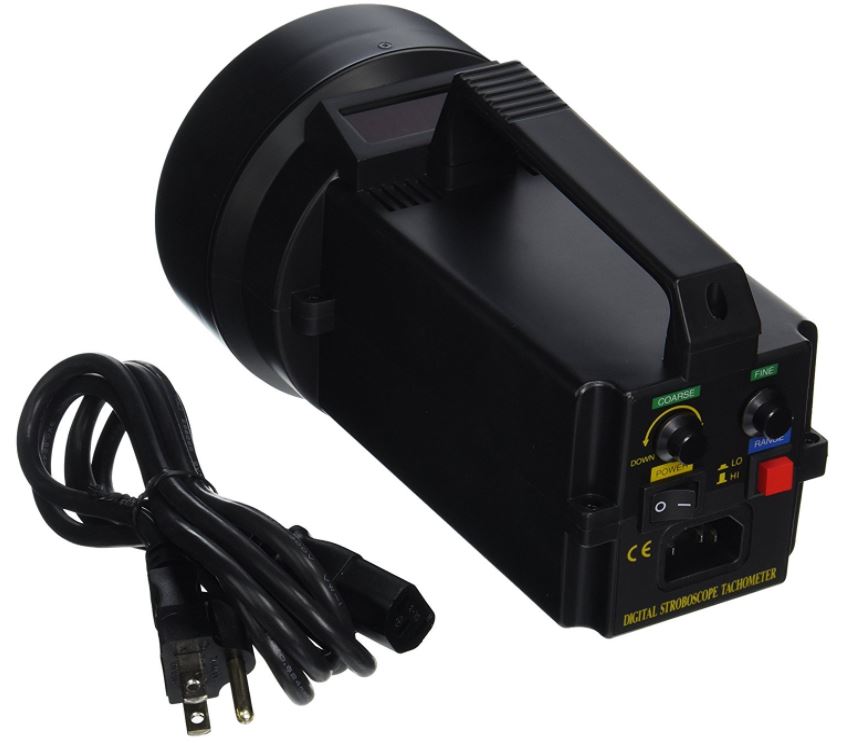 Build & Design
Rather than using LEDs, for lighting Sper Scientific's 84009 uses a Xenon lamp. That lamp will not be bright enough for photographers, or for anyone else who requires extreme output from the light. But the 840009 is bright enough to help you take measurements while you're inside a well-lit room, and sizeable enough to compare to the Shimpo DT-311A. But if you need a great deal of light, like a photographer may, then you'll definitely find the 840009 lacking.
Along the bottom of the device you'll find a built-in tripod screw for easy mounting. The 9 x 5 x 5-inch build is large but still lightweight, weighing only two pounds. The 840009 is powered by the included 110V/220V/240V power cord, but doesn't include any support for battery power.
Choosing Between 3 Accurate Digital Stroboscopes
Not everyone will need industrial strength accuracy, or speeds that soar past 10,000 RPM to take measurements. If you're looking for something inexpensive and suitable to the kind of typical rotational speeds ordinary mechanics may encounter, the Sper Scientific 840009 is a great addition to any at-home workshop or classroom. It has an incredible range of FPM, but lacks the accuracy and functionality that you'll want from a more scientific instrument.
Some people need precision and accuracy to monitor insanely fast moving parts. For those people, the Fluke 820-2 is a great choice. It's built to provide industrial-tier performance, and it puts out enough light to help you examine the motion of very large objects. In spite of all that power, it remains as easy to use as any stroboscope you'll ever lay hands on, and it's particularly versatile thanks to its ability to use batteries.
But there's a middle point between the insane power of the Fluke 820-2 and the entry-level Sper Scientific 840009. That middle point is the Shimpo DT-311A. It's equipped to handle most industrial tasks, but has a somewhat limited illumination capacity that's clearly designed for monitoring smaller objects. If you think one ordinary light bulb could provide sufficient illumination for the tasks you have in mind, then you'll be well served with the DT-311A.
Meet Derek, "TechGuru," a 34-year-old technology enthusiast with a deep passion for tech innovations. With extensive experience, he specializes in gaming hardware and software, and has expertise in gadgets, custom PCs, and audio.
Besides writing about tech and reviewing new products, Derek enjoys traveling, hiking, and photography. Committed to keeping up with the latest industry trends, he aims to guide readers in making informed tech decisions.