Bluetti EB70
Pros
High-capacity battery.
Lightweight and portable (for a power station).
Supports 120V AC charging and 100W PD charging.
LiFePO4 battery rated for 2,700 charge cycles.
Cons
Less total wattage than most larger power stations.
The idea of backup power solutions isn't a new one. To use a basic example, people have been using gas generators for generations. In fact, for many purposes, generators remain the default backup power option. But there are cleaner, less expensive ways to provide backup power, particularly for limited applications. What if you just need to run a mini fridge for a few hours, or keep a CPAP machine running overnight? A gas generator might do the job, but it can be overkill. Meanwhile, generators require maintenance, and require you to burn gas. Not only does this pollute the environment, but it can be problematic if you don't have access to gas.
Batteries have been around for some time now, but they haven't been portable for long. For backup power, most people used deep cell batteries. These are great for off-grid use, but they're a far cry from portable. But battery technology has continued to advance, and modern portable power stations are changing the playing field. Nowadays, you can carry enough power for serious backup needs, and even run small appliances.
In the past, we've reviewed a number of Bluetti power stations. These include the Maxoak Bluetti EB150. This was an earlier offering of theirs, and was designed to provide power for drones and USB devices. It's lightweight, and relatively low-wattage. Now, we're going to review the latest in the Bluetti lineup, the Bluetti EB70. This power bank is designed to be both small and powerful, a difficult result to achieve. So, was Bluetti successful with their new build? We're about to find out. We'll take a close look at the benefits, features, and drawbacks of the EB70. When we've taken all of those factors into account, we'll render our final verdict. Let's begin!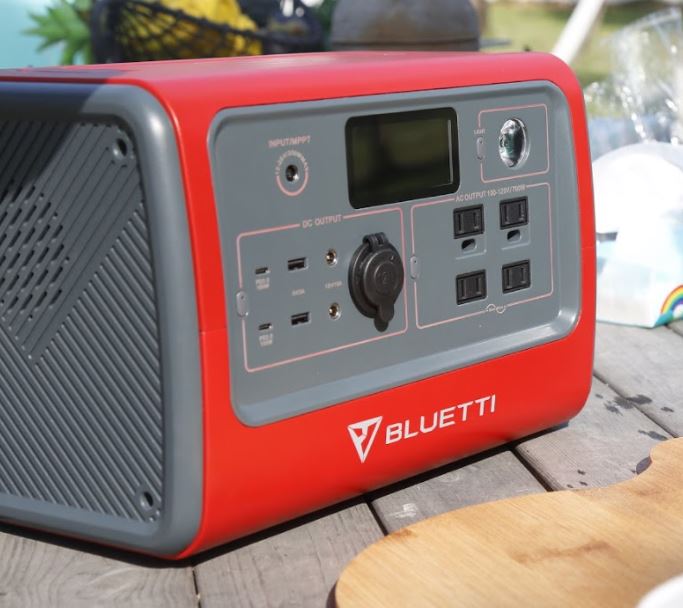 Overall Design
The Bluetti EB70 is small enough for easy storage at transport. At 12.6 inches wide, 8.5 inches deep, and 8.7 inches high, it's essentially a rectangle, and fits just about anywhere. It also tips the scales at a modest 21.3 pounds. This is heavier than you'd expect, given the modest size. But Bluetti manages to pack a lot of power into such a small package. The housing is constructed from a black PC plastic, with slightly rounded edges, and vents on both sides. These vents allow fans to draw air through the unit, which keeps the internal components cool even under heavy loads. To make the power bank easier to carry, there's a molded plastic handle that collapses into the top.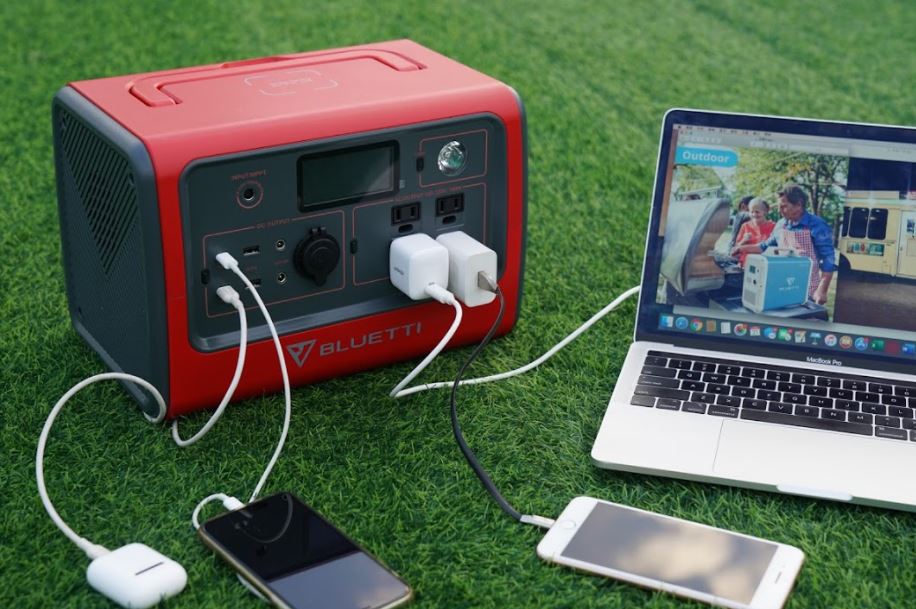 Depending on your needs, you may be able to tolerate a larger, beefier power backup. In that case, the Bluetti AC200p may be a better choice. It holds an impressive 2,000 watt-hours of power, but tips the scales at 60 pounds. Lightweight it most certainly is not.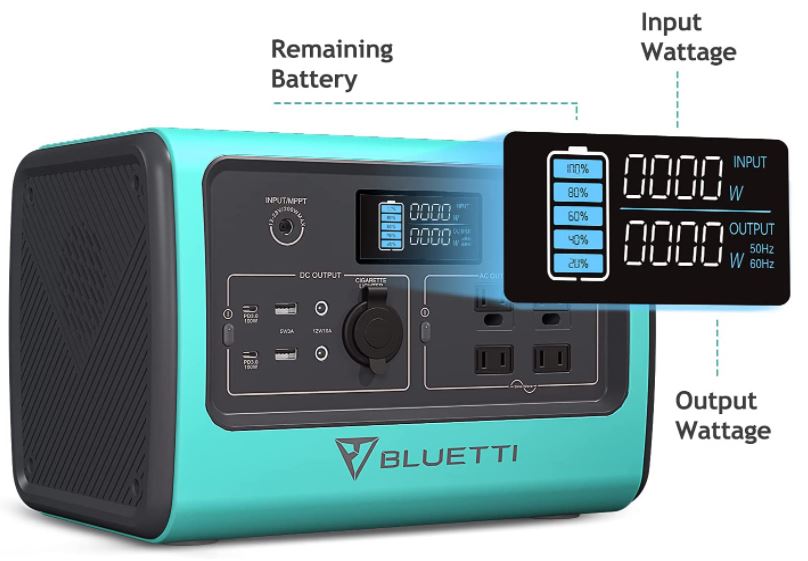 On the front of the EB70, you'll see a bright LCD display that keeps you posted on the current status. This display is quite detailed, with a separate percentage bar for each of the five battery cells. You'll also be able to view both the current rate of power input and the rate of output. If you're using pass-through charging, you'll be able to see if the balance of voltage is positive or negative.
Next to the screen, you'll notice a switch and a large LED light. This light is exceptionally bright, and the three-way switch can also set it to an SOS mode for emergencies. LEDs are a common feature on power banks, but they're often a pain to aim. Because the EB70 is so small, the light is much easier to point where you want it to go. On the other side of the screen, you'll find a simple power input, where you plug in your charging adapter. The 200W AC power supply is included in the package.
The rest of the front of the power bank is occupied by the various charging ports. To the bottom left, you'll see a pair of USB ports, two additional USB Type-C ports, and two DC barrel ports. There's also a 12V DC automotive power supply. To the right, you'll see a set of two three-prong AC power ports, and two two-prong outlets. The neat thing about this is that the left and right sides are reserved for DC and AC power respectively. Each side has its own individual switch, to minimize phantom power loss. The entire unit is covered by a 24-month warranty, which protects you against any manufacturer defects.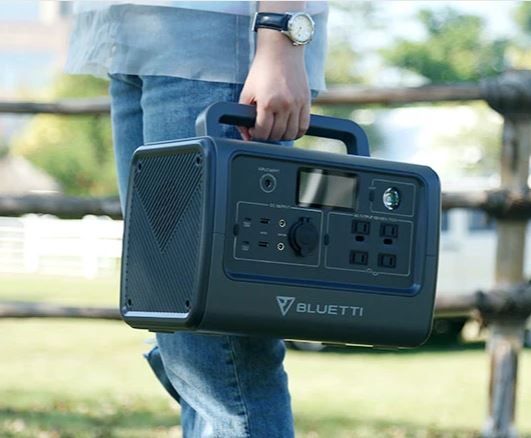 Battery Capacity and Performance
The EB70's internal battery has a capacity of 716 watt-hours. This works out to 142,300mAh at five volts, or a still-robust 5,977mAh at 120 volts. To put it in more concrete terms, a fully-charged power bank can charge a new iPhone up to 60 times. It can also power a TV for up to six hours. You can even run small kitchen appliances, although those will chew through your battery a bit faster. Still, you can run a microwave several times before you run out of juice.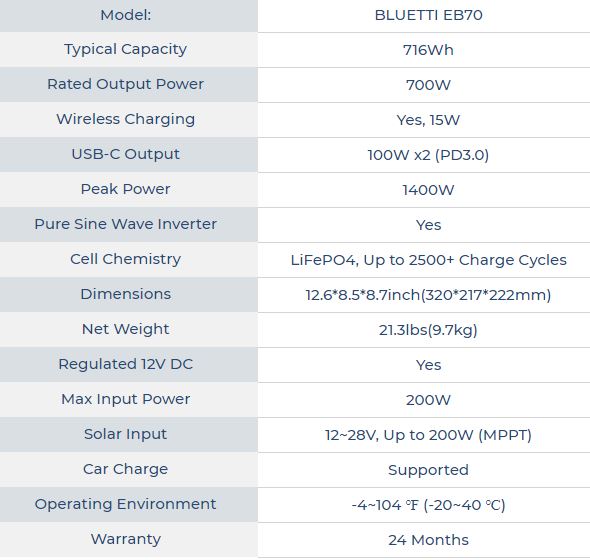 As with any power bank, there are two limitations on how much power you can use. First, there's the total battery capacity, which we just discussed. Secondly, there's the total maximum wattage at any given time. In the EB70's case, that number is 700 watts. No matter how full the battery is, you can never draw more than 700 watts at a time. If you do, the on-board safety system will automatically shut off the power station to prevent damage. This is perhaps the EB70's most limiting factor. For example, we just mentioned the example of a microwave. But a 700-watt microwave is a very small microwave. If you're using even a mid-sized model, you won't be able to power it with the EB70.
If you want a power bank with a higher maximum wattage, consider the Bluetti EP500. It's a 2,000-watt model that can power even a full-sized fridge or window AC, with 5,100 watt-hours of capacity. On the downside, it's both bulky and expensive, so it definitely represents a more serious commitment.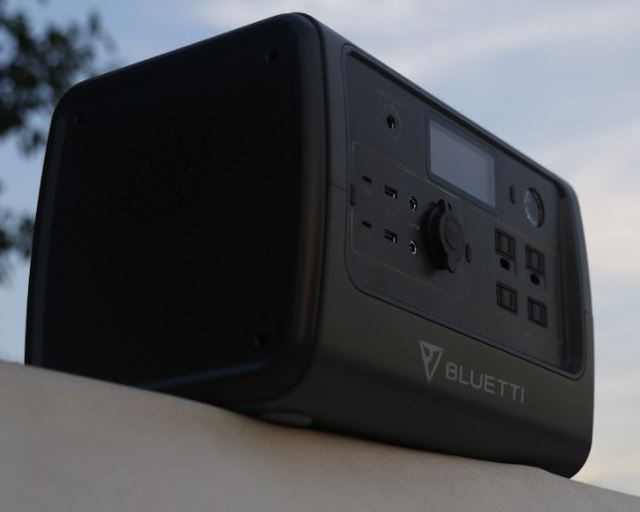 The EB70 can be charged in three different ways. First, you can use the included AC adapter to plug it directly into a wall outlet. The 200-watt charging block will fill a dead battery in a little over three hours. Another option is to use a solar panel. The plug is already designed to take a standard solar input, and can support up to 200 watts. Most DIY solar systems don't have that kind of output, except for larger off-grid systems. But even so, you can charge throughout the day with even an RV rooftop setup. Finally, you can charge from an automotive 12V or 24V DC system. This will require an adapter, though, which is not included in the kit. Any adapter will do, as long as it doesn't supply more than 200 watts.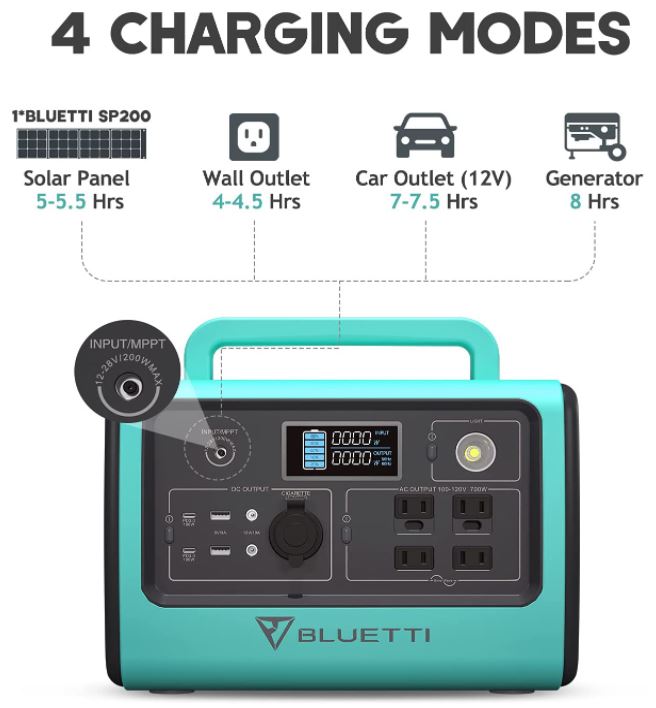 The internal battery itself is rated for a minimum of 2,700 charge cycles. By industry standard, this means that you can go 2,700 cycles and experience only 10 percent capacity loss. In theory, you could go even longer, but the cells will no longer be performing optimally after that point. Even so, 2,700 cycles is a lot of cycles. It's tough to imagine using a single power station that many times. More than likely, you'll never get anywhere close to wearing out the EB70's battery.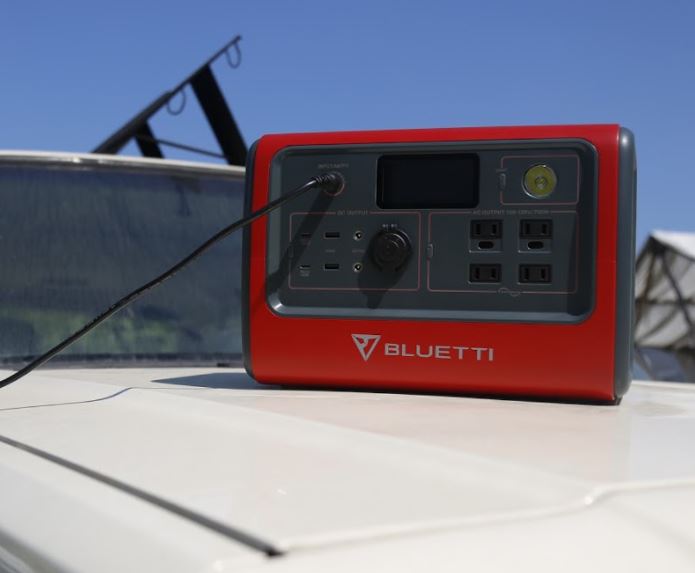 Compatibility and Safety
So, what can you power with the EB70? Let's take a closer look at each of the individual power ports. Starting at the top left, we have a pair of USB Type-A outlets. These are ordinary, vanilla USB 3.0 ports that deliver 15 watts of power (5 volts, 3 amps). Just beneath, you'll see the pair of corresponding USB Type-C outlets. These are PD power ports for charging modern devices like the MacBook Pro 16". In total, they can deliver up to 100 watts (5 volts, 20 amps), the maximum for USB power. At the time of this writing, there is literally no more powerful USB port on Earth.
To the right of the USB port, a pair of DC5521 outlets are ready for drones and other barrel-style DC devices. These can also be used for many other DC devices, but your mileage may vary. As is generally the case with barrel-style plugs, you'll probably need an adapter. But simply having them available is a benefit when they're needed. Finally, in this side of the charger, there's a standard 12-volt, 10-amp automotive outlet. This can be used for running car vacuums and other small devices when you're nowhere near your car.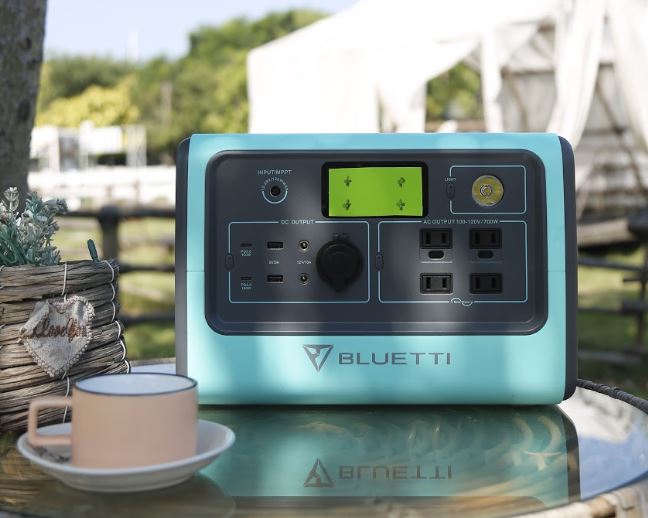 The four AC outlets to the right are standard 120-volt outlets. That said, remember that the bottom two aren't grounded, which limits the devices you can plug in. Last but not least, the top of the housing sports a wireless charging pad. This is normally the slowest charging method, but can also be the most convenient.
The battery cells themselves have a Lithium-Iron Phosphate (LiFePO4) chemistry. This is the latest battery technology, and is more stable and longer-lasting than earlier lithium formulations. There's also a built-in battery management system (BMS), which provides a number of safety features. In the event of a short-circuit, overcharge, undercharge, or overheating, the BMS will automatically shut off the power station. This ensures that both the EB70 and your devices remain safe from any damage.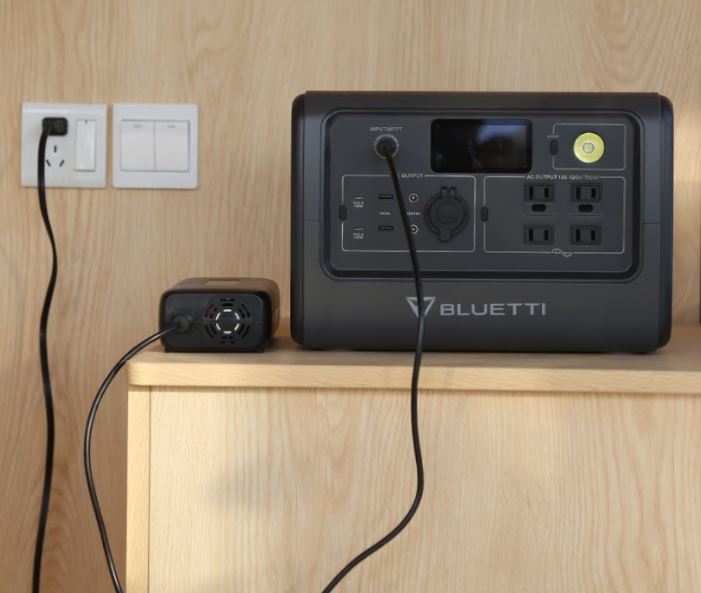 Final Verdict
The Bluetti EB70 is an excellent choice for anyone who wants a compact, truly portable power station. It's not for everybody. If you need 2,000 watts, you'll need something bulkier and less mobile. But considering the size, the EB70 puts out an absurd amount of power. If that's not enough, you also get plenty of charging ports, and even wireless charging. A folding handle, bright LCD display, and robust warranty all add value to an already desirable package. If you're in the market for a power bank in this capacity, it's one of your best options.