Tribit Flybuds 3
Pros
Up to 100 hours of battery life.
Case doubles as a power bank.
Unique rotating ear wings.
Fully submersion-proof.
One-step pairing is very easy.
Cons
Audio is not very powerful.
Not ideal for Zoom meetings.
Limited color schemes.
If you need a new pair of earbuds, you can easily find thousands of options. At first glance, this seems like a good thing. Having choices is good, so having more choices must be better, right? To a point, yes. But how can any person examine all the possible choices on today's market? Even if you did nothing else but shop for earbuds, you'd never run out of choices. The first step in finding the right pair is to cut those thousands of options down to a manageable number.
There are any number of ways of doing this. The first is to choose a wired or wireless design. And while wired earbuds still have their place, wireless buds are by far the more popular option. Another way to trim your options is to look for a reliable manufacturer. Don't get us wrong. Many successful, well-engineered earbuds have come from brand new startup companies. But sticking with companies you know can help you weed out a lot of garbage. Finally, think about what you're willing to pay. A high sticker price is by no means a guarantee of good quality. But as a general rule, the more you pay, the more features you'll get, and the better the audio will be.
We're about to review the Tribit Flybuds 3. These are wireless earbuds from a manufacturer with a solid track record. As such, they meet our two main criteria. As for price, these are on the more affordable end of the scale. This means we can expect fewer bells and whistles, but we're still looking for good fundamentals. So, how well do they perform in the real world? We'll take a close look at all of their features, from the ergonomics to the audio quality. We'll also discuss the battery life, as well as any extra features. Let's dig deeper, and see how these buds stack up!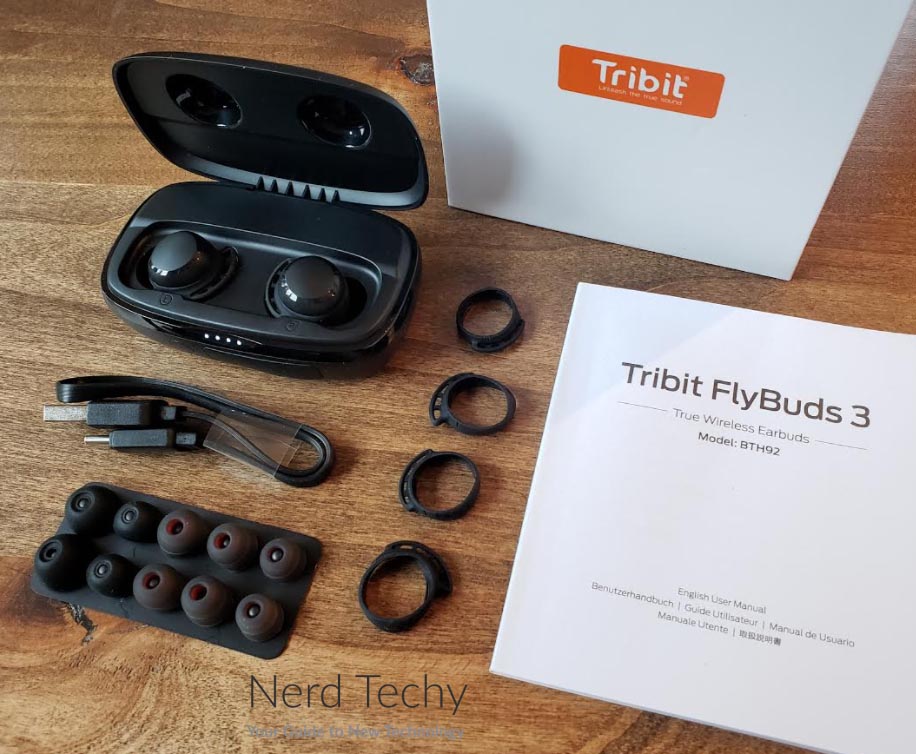 Overall Design
The Tribit Flybuds 3 are compact, in-ear buds that are designed to have a low profile. They come in black or slate grey, which are just a few shades apart. That said, the black versions are a bit shinier, with a slick finish. Both versions are easy to clean when need be. This compact, in-ear design is useful for portability, since it makes the buds small enough to fit in a small case. You don't have to worry about big ear hooks or other attachments adding more bulk. On the other hand, small earbuds like this rely on a secure fit in order to prevent them from popping out.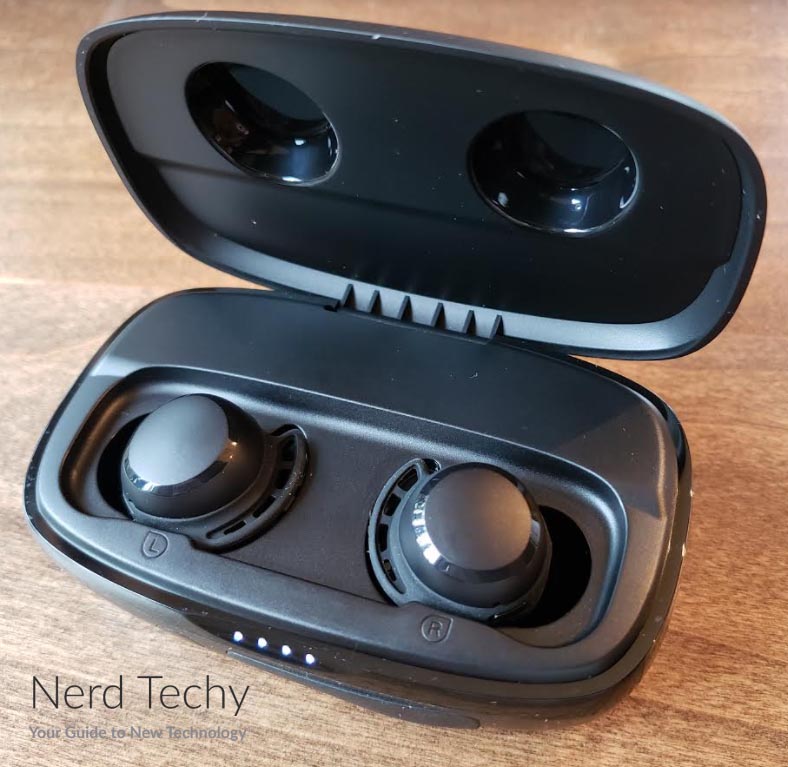 The Flybuds 3 come with an impressive six sets of ear tips. These are advertised as six "sizes," but this isn't quite accurate. There are three different sizes, and two sets in each size. Each of these sets in turn has its own design, either longer and firmer or fatter and softer. So you have large, medium, and small tips in two different types. This allows for a comfortable fit in just about any ears. But the six sets of tips aren't the Flybuds 3's best feature. That honor is reserved for the unique ear fins. Yes, there are plenty of earbuds with fins for your outer ear, but these buds come with three different sizes. Not only that, but the fins have a rotating design. They say the human ear is unique as a fingerprint. With these fins, you can literally change the shape of your earbuds to fit.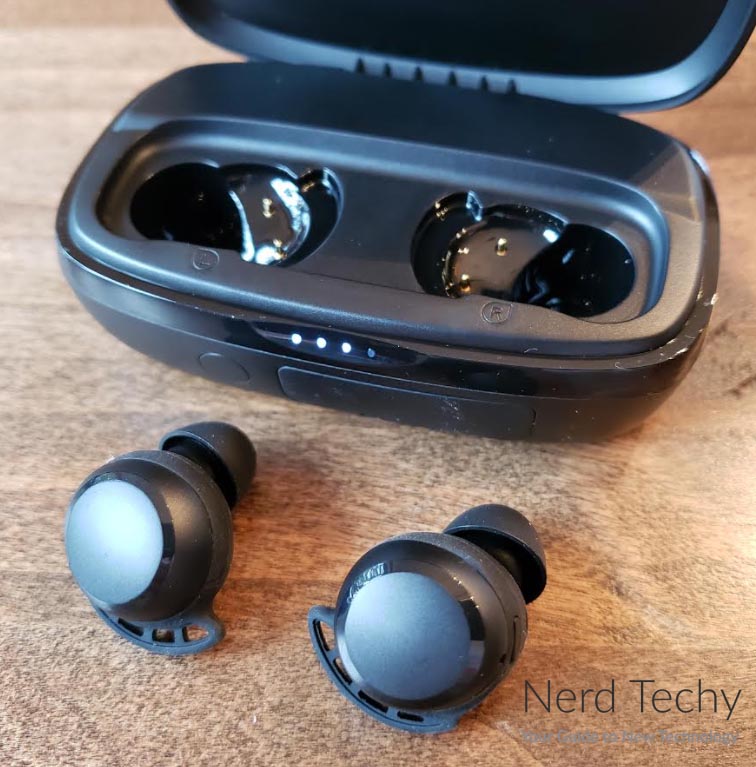 The backs of the buds have a smooth, slightly-arced shape, and function as soft touch controls. Because you don't have to press down hard, you won't have to cause your ears any discomfort. On the other hand, the buttons can be easy to activate by mistake. This is a common design feature, and gives you the ability to control all of your earbuds' functions. You can adjust the volume, skip and reverse tracks, play or pause your music, and answer and end phone calls. You can even call up your phone's voice assistant. So if you want to ask Siri for a recipe for chicken parmesan, you can do it with your earbuds.
The buds themselves are IPX8-rated for water resistance, which is the highest rating available. This means they can be fully submerged for over 30 minutes at a depth of more than a meter. To be honest, this is way more than you'll probably ever need for a pair of earbuds. Even so, a higher rating instills a lot of confidence. If your earbuds can withstand full submersion, surviving a post-workout shower will be no sweat. Tribit is no stranger to building high-quality, waterproof audio equipment. In the past, we've reviewed their Tribit StormBox Pro, a portable Bluetooth speaker with an IP67 rating.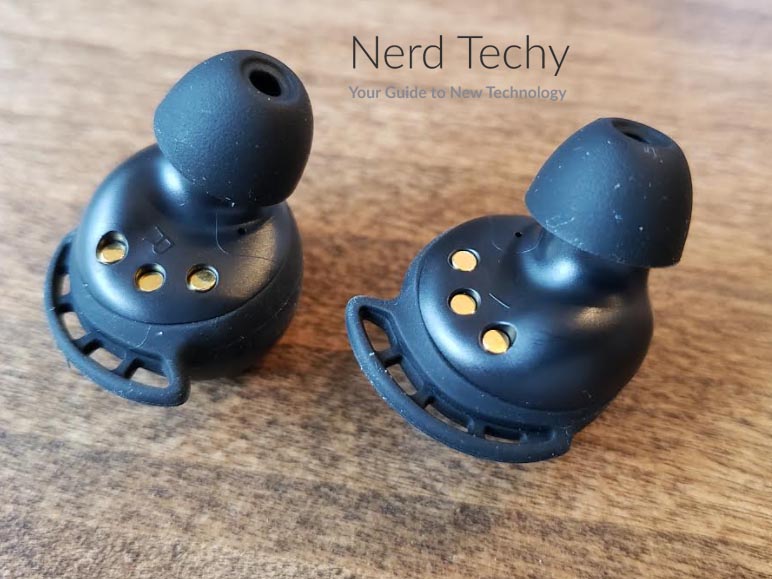 The Flybuds 3 come in a charging case, which is constructed from a similar plastic to the earbud shells themselves. The case has a clamshell-style design, and opens to reveal a pair of molded wells for your earbuds. The overall size of the case is 3.4 inches long, 2 inches wide, and 1.2 inches thick. That's about the size of a deck of cards, but a bit fatter. It's small enough to carry comfortably in your pocket, and light enough that you'll hardly notice it's there.
Under the front of the lid, you'll notice a row of four white LED lights. These indicate the current charge level of the battery, so you'll never get caught by surprise. Beneath that, there's a control button for pairing and going into power bank mode. We'll talk more about that in a second. Next to that button, you'll find a rubber plug, which covers the USB ports. This is a slight departure from typical earbud design, where the ports are located on the back of the case. But that's just a cosmetic choice, and doesn't make any practical difference.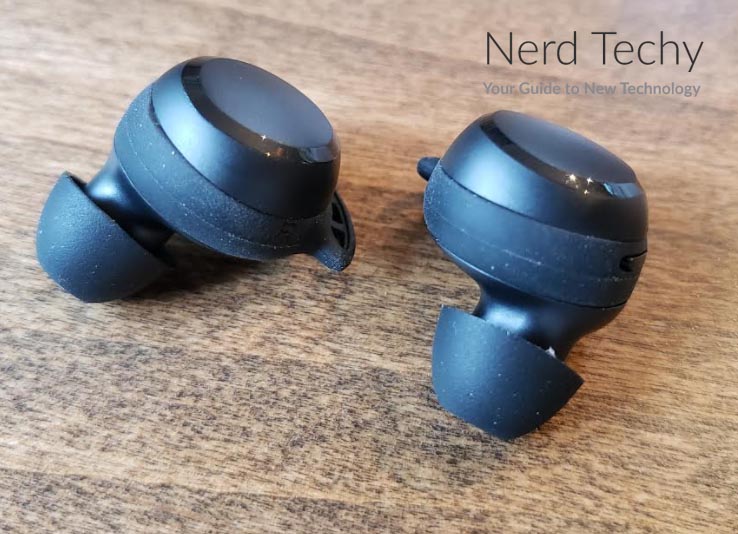 Battery and Connectivity
The Flybuds 3 batteries last for approximately five hours per charge. This is enough for most people to get through a couple days, but it's on the short side of "acceptable." Furthermore, the five hour rating assumes playback at moderate volume. So for normal use, you can actually expect more in the neighborhood of 4-4 ½ hours. But you're still getting several hours of use either way.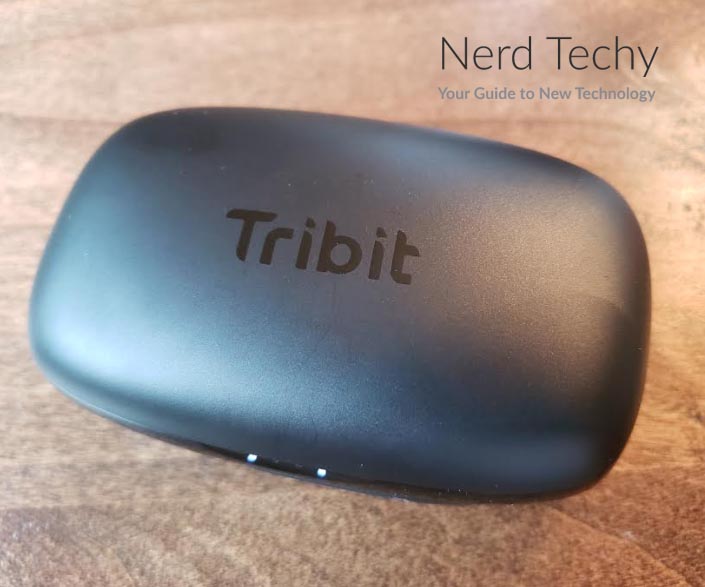 Where the Flybuds really shine is their charging case. The case carries enough juice to recharge the earbuds an impressive 20 times. This gives you a total battery life of 80 to 100 hours without needing to go near a power outlet. In addition to that, the charging case allows for a 10-minute quick charge cycle. If your buds are totally dead, a quick charge will give them enough juice for 90 minutes. That's plenty for a workout, or for most people's commute. Finally, this large battery can also be used as a power bank. With a capacity of 2,600mAh, it has about the same amount of power as a fully-charged iPhone. Just plug your phone into the USB port, press the control button, and get started.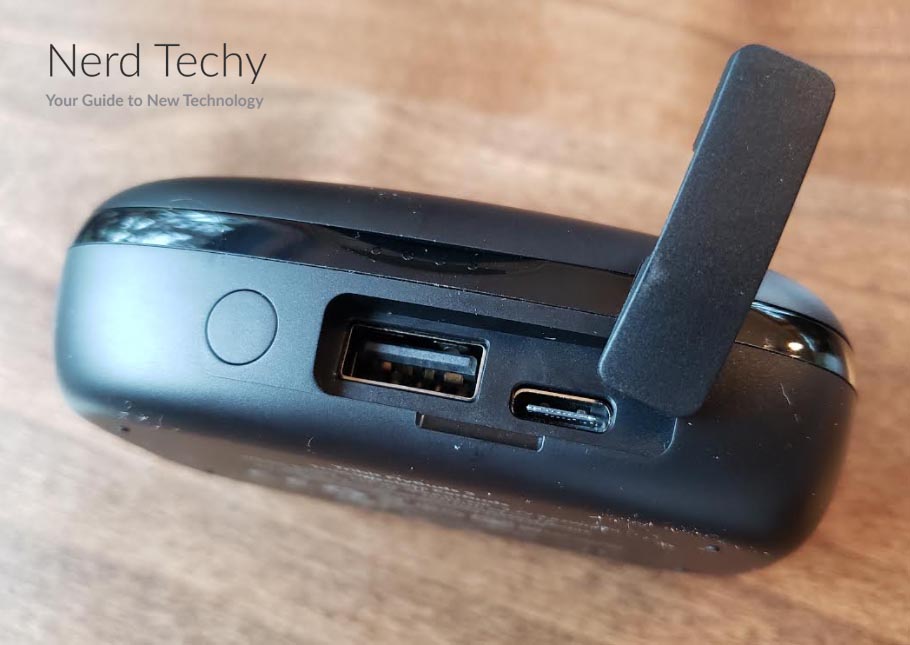 The Flybuds 3 connect to your phone or MP3 player via the Bluetooth 5.0 protocol. This is the current wireless standard used by most devices, and is faster and lower-latency than older standards. Most importantly, it's the first version of Bluetooth with low enough latency for gaming and watching movies. For most people's purposes, Bluetooth 5.0 offers all you'll ever need. However, there is a slightly newer update with even lower latency. The Tribit Flybuds C1 incorporate this blazing fast Bluetooth 5.2 protocol, although they offer poor noise isolation.
Audio Quality
The Tribit Flybuds 3 come with 6mm drivers, which are about average in size for wireless earbuds. This lead us to expect they could push an average amount of air, which is accurate. That said, there's a big difference between producing good volume and providing quality audio. You can get these buds reasonably loud, albeit not as loud as buds with larger drivers. However, the sound is middling at best.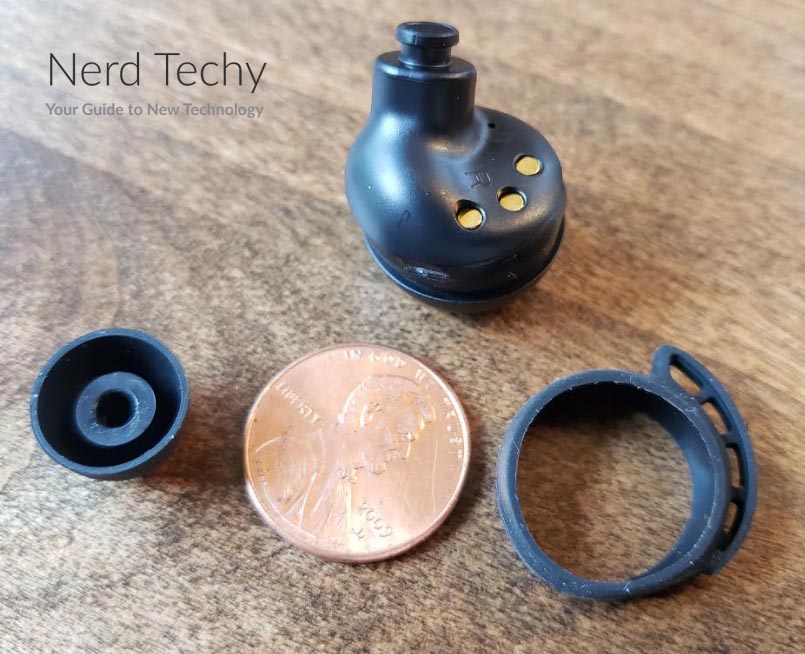 On the one hand, you can hear audio clearly at all frequencies. You won't have any issue distinguishing bass, mids, or highs. There's also a flat EQ. Whether this is good or bad is a matter of preference, but it's generally best on more affordable earbuds. With too much emphasis on bass at this price point, it tends to sound sloppy. Unfortunately, despite the flat EQ, there's definitely a bit of slop in the bass. Crank up the volume, and booming frequencies turn to a rattle. This is unfortunate, since it's perfectly possible to produce tight bass with a small set of drivers. However, the bass sounds fine at moderate volumes, so it all depends on your listening habits.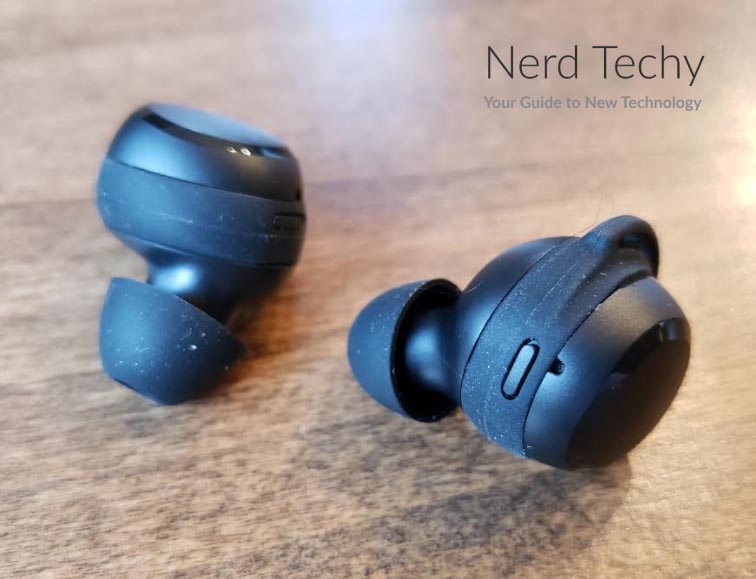 If you want better quality audio, look no further than the Tribit QuietPlus 78 ANC Headphones. As their name implies, these headphones provide active noise cancellation along with top-notch audio. That said, they're full-sized, over-the-ear headphones, so they're not nearly as portable as the Flybuds.
For hands-free calling, the Flybuds perform reasonably well. There's no type of voice isolation, and we wouldn't expect it at this price point. But the mics do a decent job of picking up your voice even in a moderately loud environment. However, there's no mute button. This can complicate Zoom chats and other remote work apps.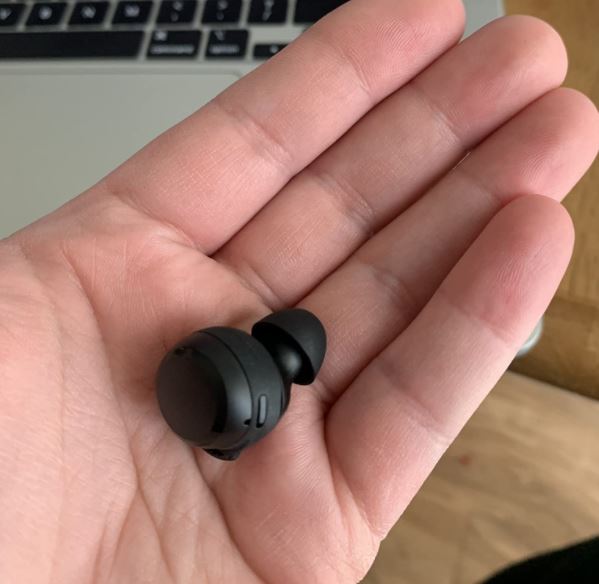 Final Verdict
As you can see, the Tribit Flybuds 3 are a reasonably well-engineered pair of earbuds at a reasonable price. Their best feature is their powerful battery, which allows for 100 hours of use. They're also exceptionally comfortable, with six sets of ear tips and the unique rotating ear wings. However, we couldn't help but feel that the poor audio quality was a missed opportunity. On the one hand, the ear wings were an awesome and unique feature. On the other hand, without them, Tribit may have been able to put more money into their drivers. These earbuds are not for audiophiles, but they're comfortable, durable, and long-lasting.