Overall Design -

8/10

Ease of Use -

8.5/10

Battery Performance -

9.5/10

Build Quality -

9/10
Summary
The BLUETTI AC200P is an exceptionally well-rounded portable power station with a robust build, a vast array of ports, and impressive power output. Its diverse charging capabilities, backed by multiple recharge options and a large battery capacity, make it suitable for a wide variety of scenarios. While it is a bit heavy and lacks wireless control, the pros significantly outweigh these minor inconveniences. Its LCD touchscreen interface enhances the user experience, though it does require careful handling and can't be viewed well in sunlight.
Pros
In-depth touchscreen user interface
Large battery capacity
Ports are covered
Built-in wireless charging pads
Wonderful aesthetics
Cons
Slow AC recharge rate of 386W maximum
Bulky AC adapter
Screen can be hard to view in sunlight
When we consider the increasing demand for portable, clean, and reliable power sources, it's hard not to notice the rise of portable power stations. These units are designed to provide electricity wherever and whenever you need it, be it in the backyard, on a camping trip, or during an unexpected power outage.
One such product that stands out in the portable power station market is the BLUETTI AC200P. Boasting an impressive array of features and capabilities, it's our focus in this comprehensive review.
Unboxing the BLUETTI AC200P
Upon receiving the AC200P, you immediately get a sense of the product's quality. The robust and well-secured packaging ensures the safety of the device during transit, reflecting the care and attention the manufacturer has invested in the product.
Along with the power station, the box contains a comprehensive user manual, an AC adapter for wall charging, a car charging cable, a solar charging cable, and a warranty card. The inclusion of all these accessories means that you can start using the power station right away, a significant convenience.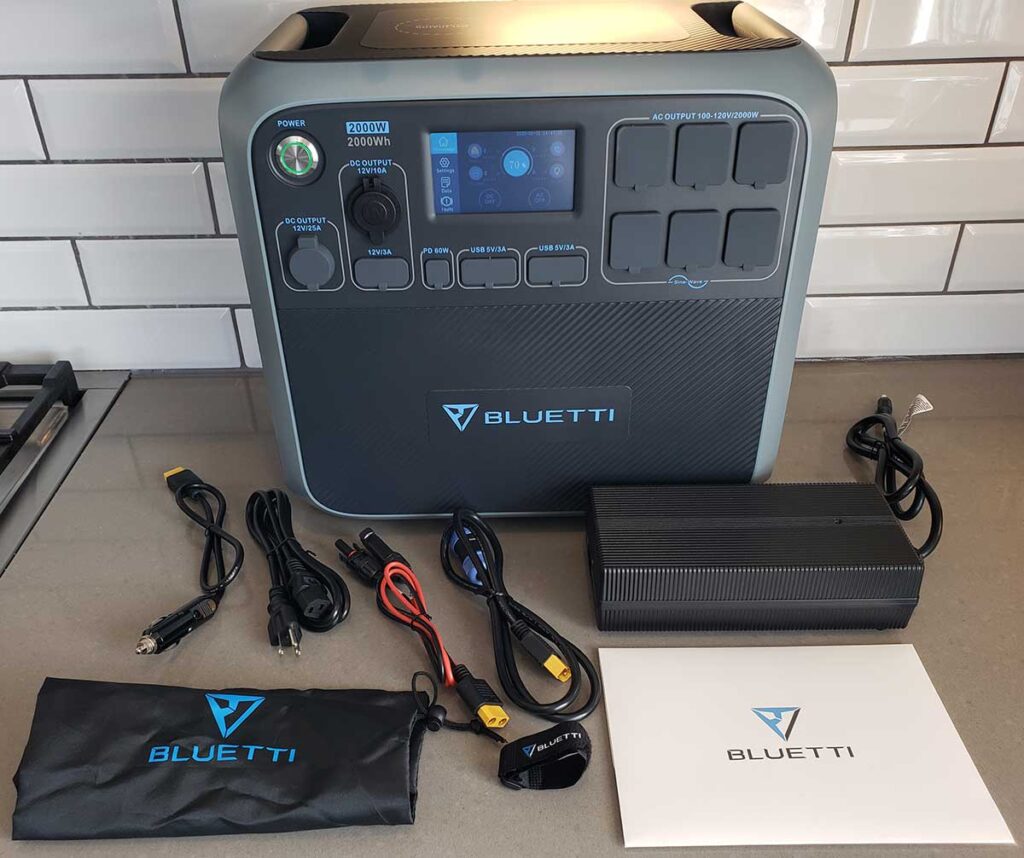 First Impressions
It has a sturdy and robust build quality. It's not lightweight in the general sense, clocking in at 60.6 pounds. Considering its hefty power capacity, this is understandable. But when you consider that similar power stations can weigh much more, 60 pounds doesn't sound too unwieldy. Factor in its dimensions of 16.5 x 11 x 15.2 inches, and it has a compact design relative to its high power capacity, allowing for ease of storage and transportation.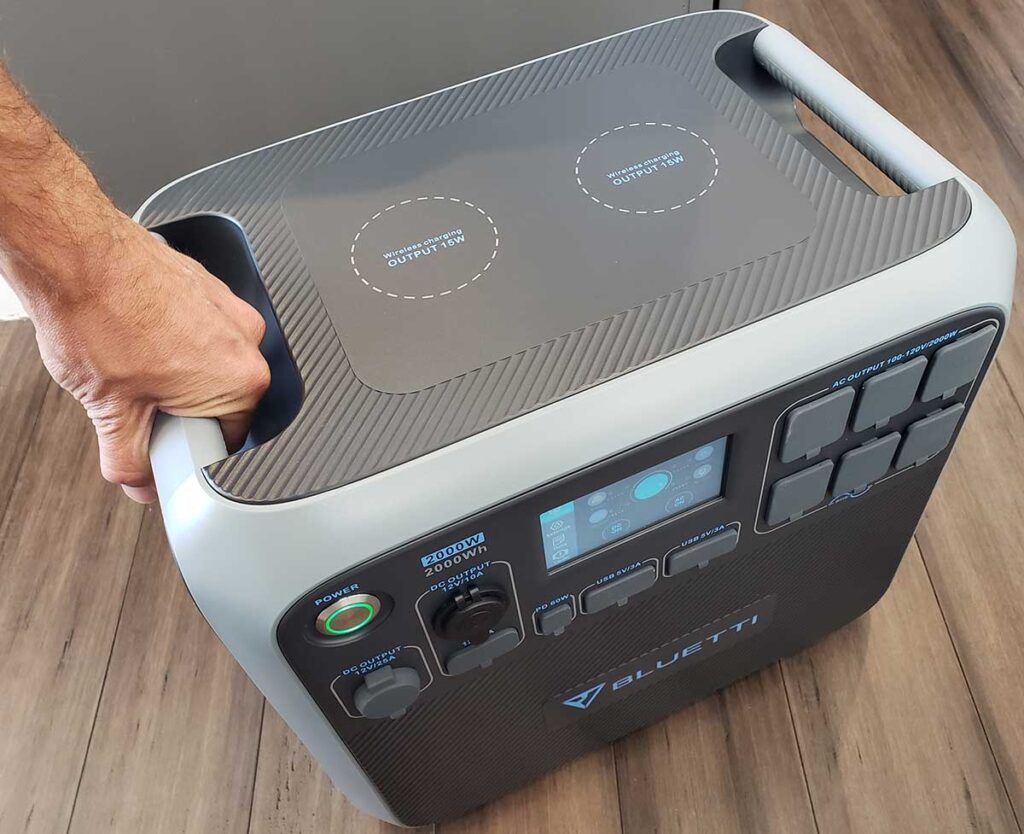 The unit sports a professional aesthetic, with solid construction and a dark, neutral color palette, giving it a sleek, modern look. Its interface is user-friendly, too, featuring clearly marked ports and an LCD screen. It's easy to read indoors, but in direct sunlight, it's difficult to view. Regardless, you immediately get the sense that this is not just any portable power station. With a 2000W AC pure sine wave inverter, 17 different output options for multiple devices, and seven different ways to recharge, it's apparent that the AC200P is designed to offer versatility and reliability in nearly any situation.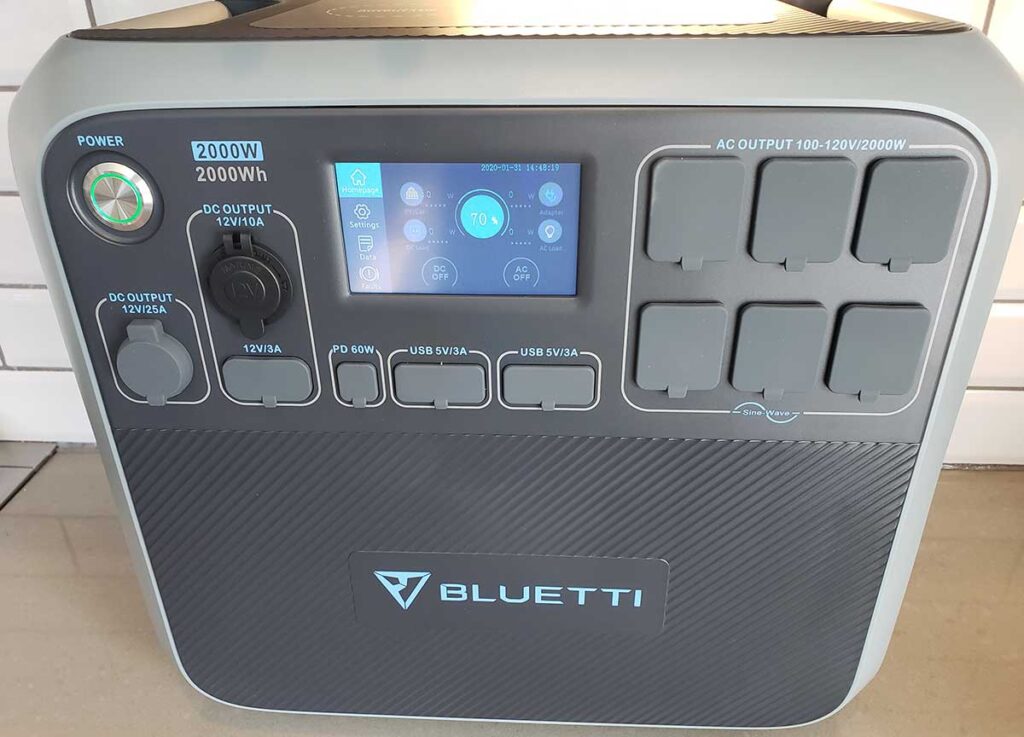 Our first impressions were positive. From the thoughtful packaging and accessory inclusion to the robust construction and intuitive design, the product immediately inspires confidence in its ability to deliver reliable power in a variety of contexts. But verifying this required thorough testing, something we were all too happy to begin doing. In the sections that follow, we'll be sharing our experience and how it stacked up.
Power Rating
The power capacity is among its most impressive features. It's equipped with a 2,000W AC pure sine wave inverter, capable of handling a surge of up to 4,800W. This makes the unit exceptionally versatile, capable of powering a wide range of devices from small personal electronics to larger appliances. We hooked it up to several power-intensive appliances, such as a coffee machine, a laptop, and an air conditioner. Let's take a look at how it handled these in the following section.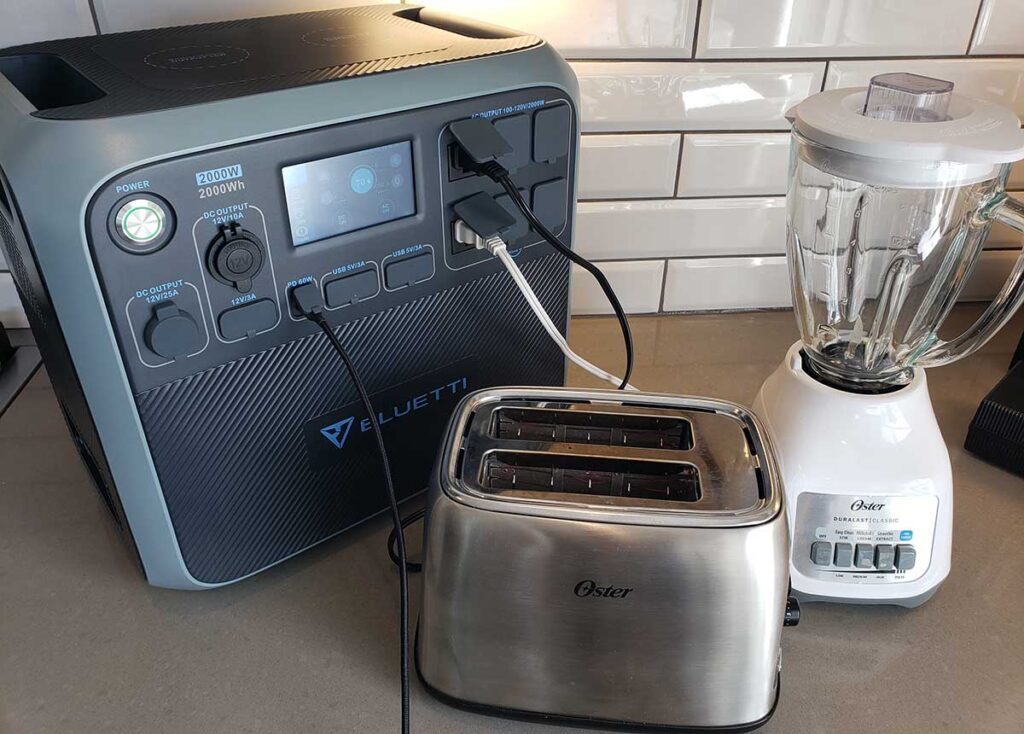 Battery Performance
The heart of its power output lies in its 2,000Wh LiFePO4 battery, which has a significant life cycle of over 3,500 cycles to 80% of its original capacity. To put that into perspective, if you were to fully discharge and recharge the battery once per day, it would take nearly a decade to reach 80% capacity. That's a testament to its durability and long-term value. During our testing, we found the battery's performance to be consistent and reliable.
We could power a 60W mini fridge for nearly 20 hours and a 60W light bulb for up to 40 hours. It also handled higher power draw appliances admirably, running our 1,000W coffee machine and a 500W laptop for around 1.5 hours. It also features a sophisticated Battery Management System (BMS), which closely monitors and protects the device from potential risks, enhancing the battery's safety and overall lifespan.
Charging Capabilities
Another standout feature is its vast array of charging capabilities. It offers a total of 17 outputs, including six AC outlets, four USB-A ports, one USB-C port, a 12V/10A car outlet, and two 12V/3A outlets. Additionally, it provides a 12V/25A RV port and two 15W wireless charging pads. This diversity of ports allows you to power multiple devices simultaneously, making it a robust and versatile power solution in various scenarios.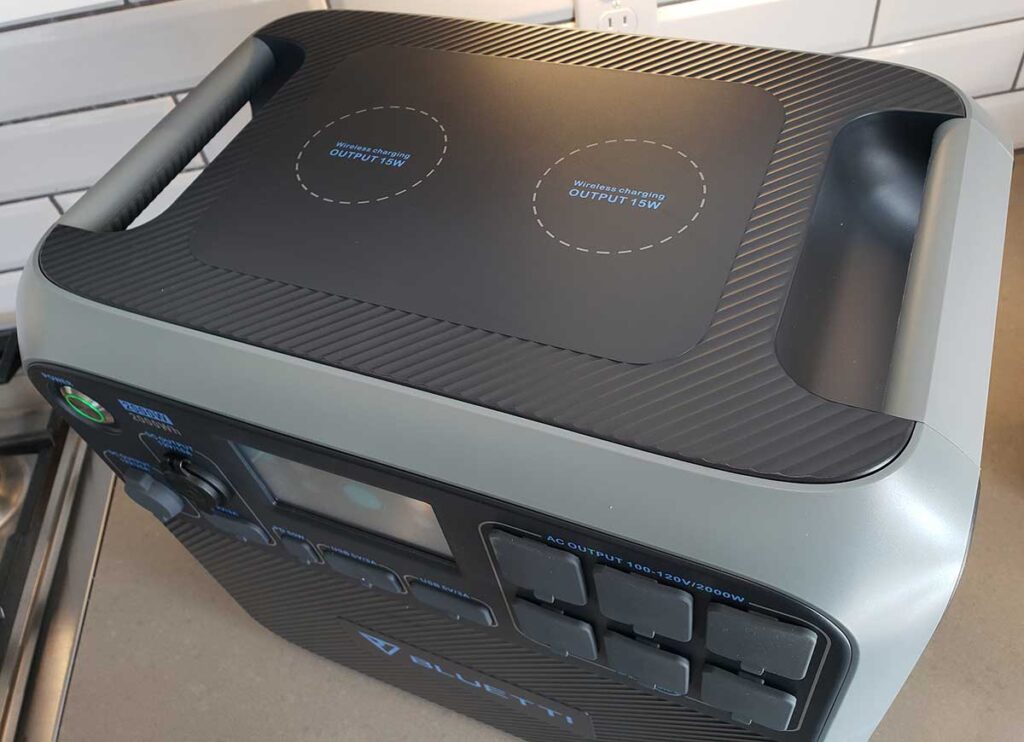 Speaking of the wireless charging pads, they are located on the top of the power station. Each pad boasts a single max output of 15W, so charging smartphones is a breeze. That's likely what most people will use them for, but if you have other gadgets that can make use of wireless charging, you shouldn't have any issues putting them to the test.
It's also worth pointing out that BLUETTI went the extra mile and equipped every single port with protection coverings. This prevents dust and other debris from entering the ports, guaranteeing safe and long-lasting operation. In terms of input, the station can be recharged in several ways: AC, solar, car, generator, lead battery, dual AC, or a combination of AC and solar. It's worth noting that it can support up to a maximum solar input of 700W and a maximum fast dual charging of 1100W (solar and AC adapter simultaneously). These options add flexibility and convenience, ensuring you can recharge the power station wherever you are.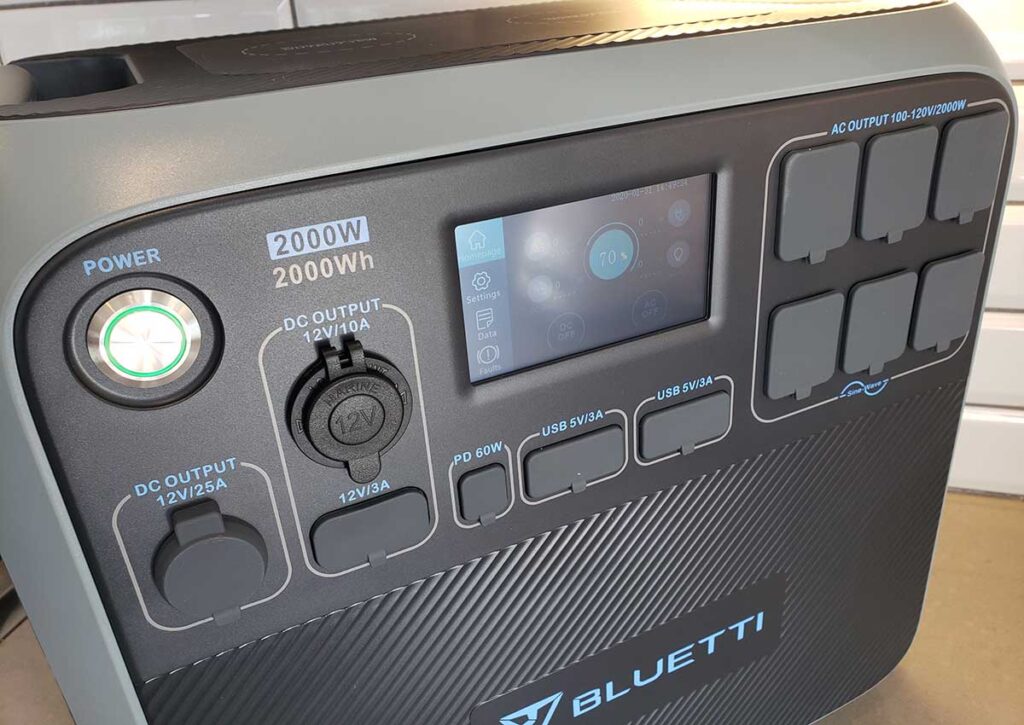 Recharge Times
One of the critical considerations for a portable power station is how long it takes to recharge. With the AC200P, you have various options, each with different recharge times. For starters, you can use an AC adapter that has a maximum input of 400W. True to its claim, our tests revealed that this method fully recharges the unit in approximately 5.5 to 6 hours. It also supports solar recharging, with a maximum solar input of 700W.
We conducted tests under prime sunshine conditions, ideal orientation, and low temperatures. With a 650W array, the power station recharged fully in about 4.5 to 5 hours. Keep in mind that these times may vary based on the efficiency of your solar panels and weather conditions. BLUETTI offers different solar bundles with included panels, so that option is always there if you want a hassle-free kit without buying separate solar panels.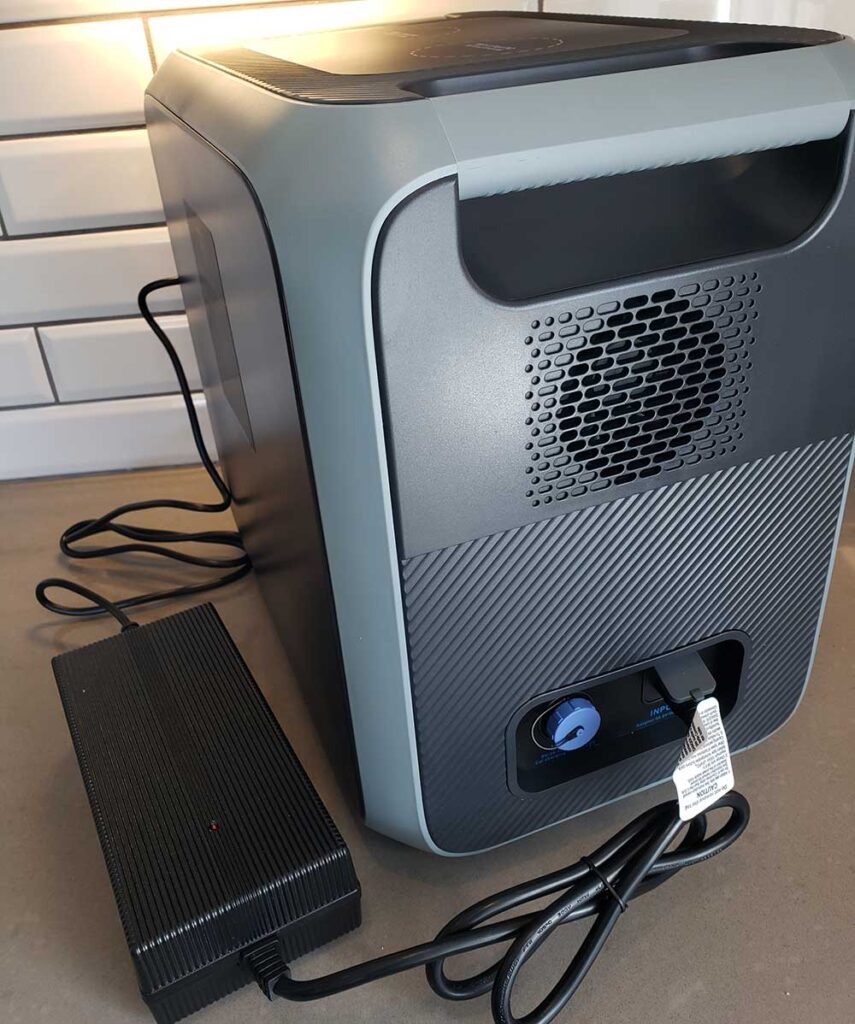 There's also the option to recharge using a 12/24V car outlet, with input options of 100W or 200W. You can expect approximately 10 or 20 hours of recharge time, respectively, based on our testing. Notably, the station supports simultaneous charging from both the AC and solar inputs, and that's what gives you the maximum combined input of 1100W. Under optimal conditions, the recharge time was significantly reduced to roughly 2.3 to 2.8 hours. This capability is advantageous, especially in situations where you need to recharge the power station as quickly as possible.
Finally, there's the option of using dual AC inputs (800W), which can fully recharge the unit in about 3 to 3.5 hours, providing another fast-recharging alternative. As you can see, it offers a range of flexible and efficient recharging options, which should cover most needs and situations, whether you're at home, on a road trip, or in the great outdoors. It's nice to have so many viable options available to you. You may not always have every charging method available to you, but you're sure to have at least one – and that's what matters.
User Interface
The AC200P's user interface design emphasizes simplicity and efficiency, making it accessible to a wide range of users. Starting and shutting down the unit involves just a short press of the power button to switch it on and a slightly longer two-second press to power it down. This straightforward mechanism ensures that the unit is easy to operate, even for those with minimal technical skills. A key feature of the user interface is its LCD display, which offers a clean, white-on-blue visual that we found instinctive to navigate.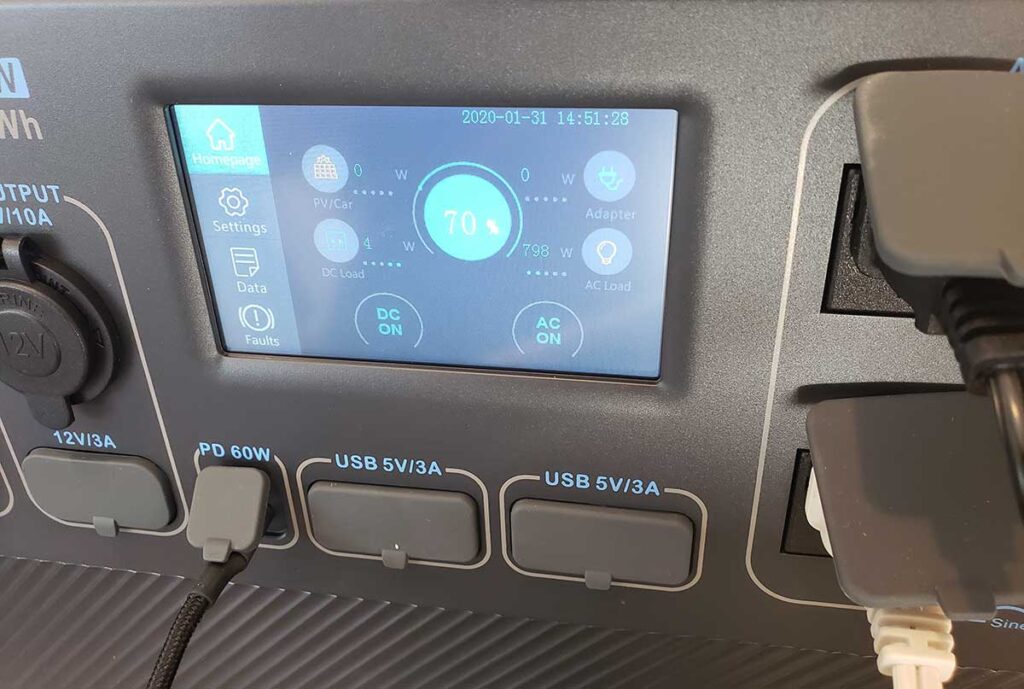 The LCD features a "resistance screen" technology, which means it responds to pressure, not heat. This requirement for a more deliberate interaction ensured the unit responded only when intended, avoiding accidental input changes. While navigating the menus to access and adjust various settings such as state of charge and discharge, output voltage, frequency, and charging mode, the screen responded accurately to our inputs.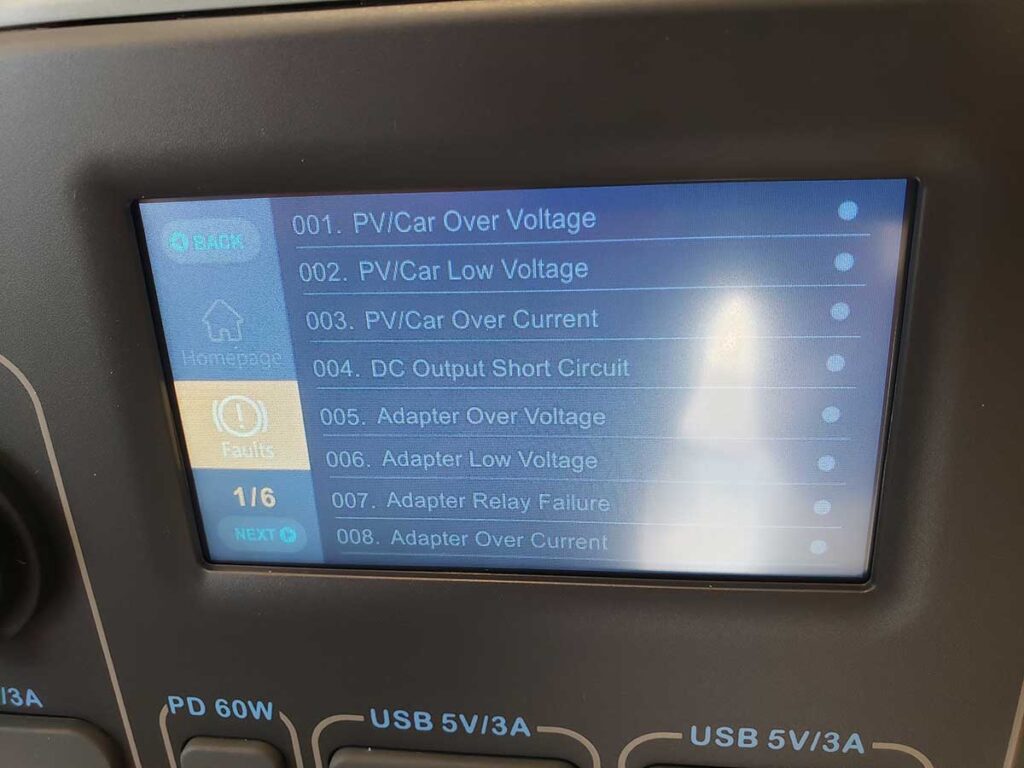 The LCD screen is organized into a clear and concise layout. On the left is a menu navigation bar that allows access to the settings, data, and fault sections. On the right pane, you'll find a myriad of buttons, including PV/Car charging display, BMS information display, date/time, DC load information display, DC and AC ON/OFF switches, adapter charging display, and AC load information display. Each button is conveniently situated, allowing for easy monitoring and control of the unit's various functionalities.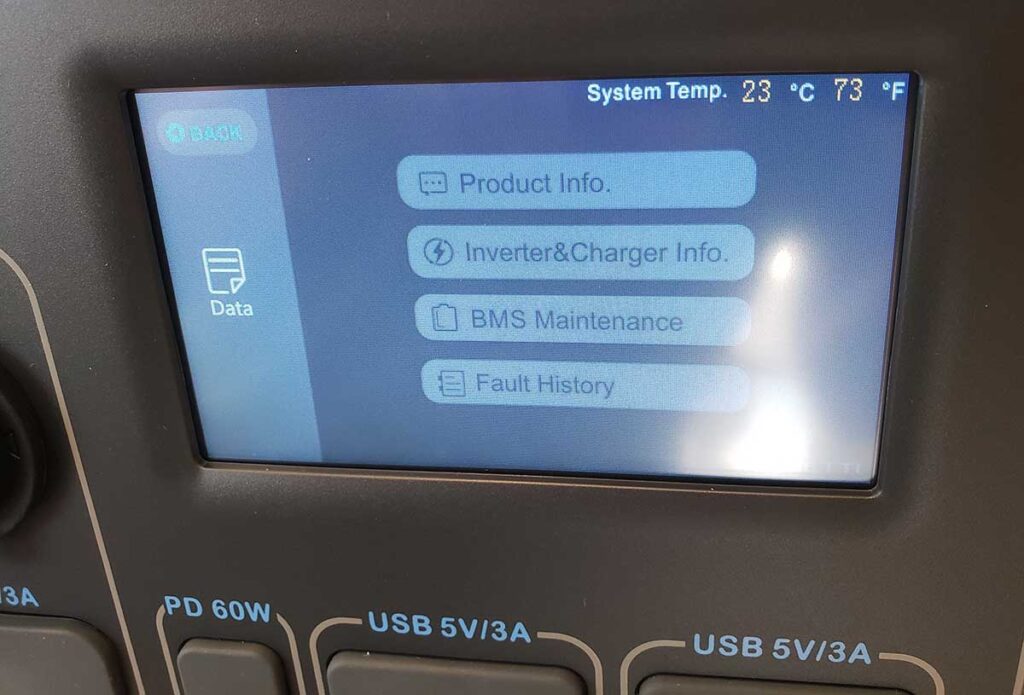 However, the LCD does have a potential vulnerability due to its touch-sensitive nature. It could be more prone to damage compared to physical buttons, especially in rugged environments. Therefore, careful handling of the device is recommended. It's worth noting that there's a lack of wireless radio or app control, a feature that some other large power stations do possess. While this may be a minor setback for some users who prefer a more remote form of interaction, the intuitive and user-friendly interface should suffice in delivering a pleasant user experience.
Final Verdict
The BLUETTI AC200P is an exceptionally well-rounded portable power station with a robust build, a vast array of ports, and impressive power output. Its diverse charging capabilities, backed by multiple recharge options and a large battery capacity, make it suitable for a wide variety of scenarios. Whether you need reliable power for outdoor activities or emergency backup power at home, this device has you covered.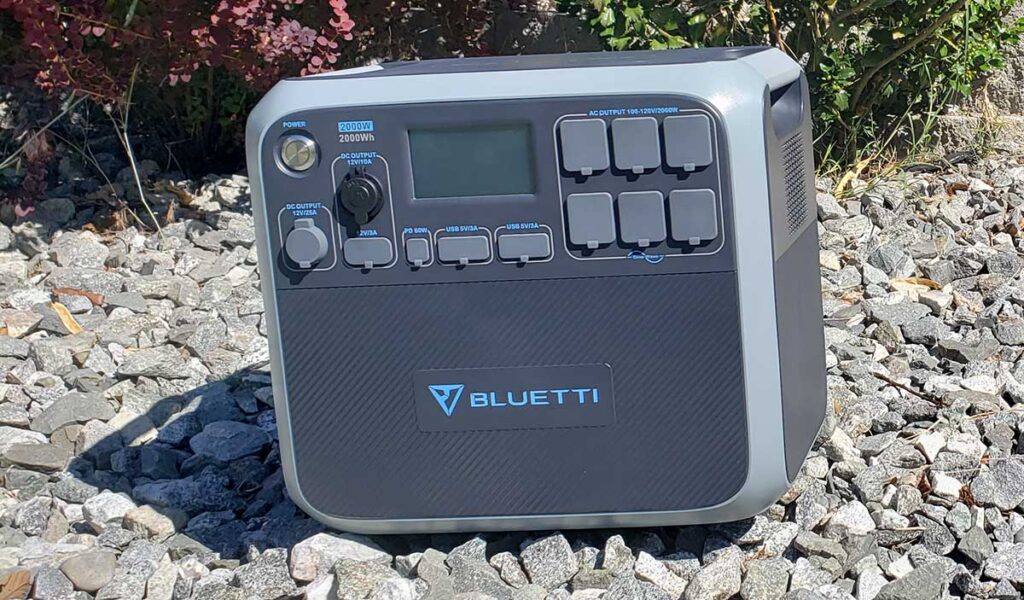 While it is a bit heavy and lacks wireless control, the pros significantly outweigh these minor inconveniences. Its LCD touchscreen interface enhances the user experience (if not in direct sunlight), though it does require careful handling. However, it's hard to overlook the unit's comprehensive offering of ports, a powerful 2000W inverter, large battery capacity, and multiple ways to recharge it. The AC200P stands out as a versatile, reliable, and high-quality power solution. If you are in the market for a portable power station, this product is definitely worth considering.