These days, we rely on our electronics more than ever before. If you want to spend a weekend in the woods, you probably intend on keeping your phone charged. Similarly, if you have an off-grid cabin, you're probably going to want power. If nothing else, you want to be able to keep your phone charged, and run a lamp or two. This means using a portable power station.
If you're in the market for backup power, there are any number of options. You can use a standard power station, or upgrade with a quality solar charging station. Similarly, you might want a larger or smaller battery. A smaller battery is less powerful, but more portable. Conversely, a large battery can be tough to lug around, but delivers more juice.
Note: At no extra cost to you, we may earn a commission for purchases using our links. Learn more.
Today, we're going to review one of the larger power stations, the Bluetti AC200P Portable Power Station. It has six AC outlets, along with USB and other options. But how well does it perform in the real world? Let's take a deeper dive into its settings and options. Once that's done, we'll know what it has to offer, and what you can expect. Let's get started!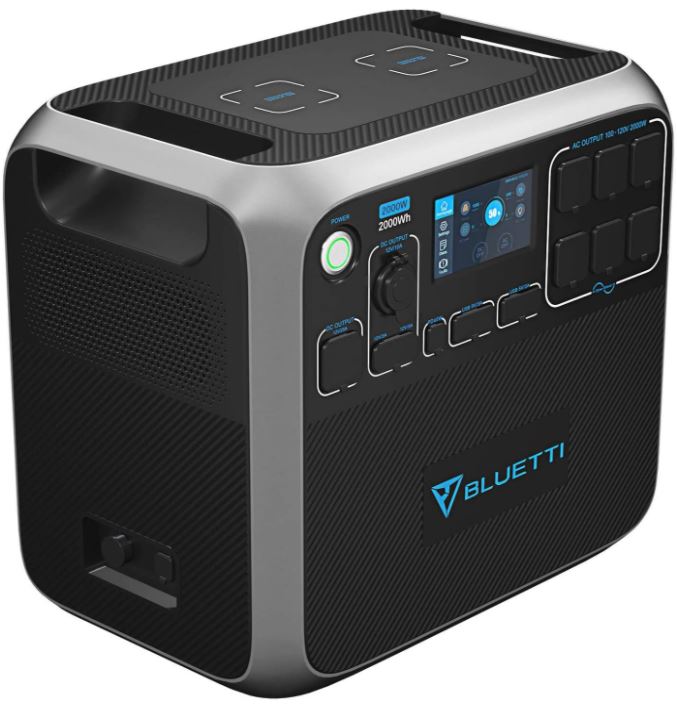 Overall Design
The Bluetti AC200P Portable Power Station is a large, rectangular power box for everyday users. It measures 16.5 inches tall, 15.2 inches wide, and 11 inches deep. This size is about what we've come to expect from a portable power station. That said, the 60-pound weight is a bit much for one-handed use. You definitely need to be in shape if you're going to lug it around. On the other hand, if it's just sitting in the back of your car, the weight won't be a major obstacle. It all depends on what you're using it for.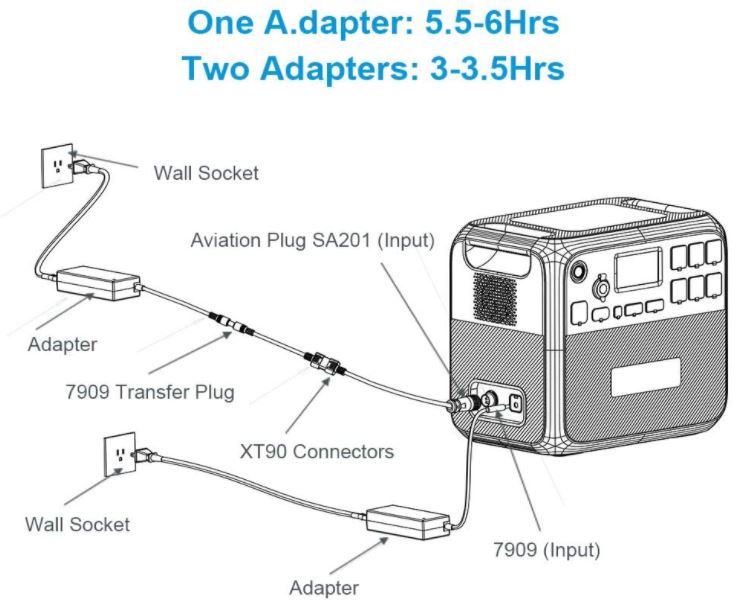 TheBluetti AC200P's most attractive feature is its array of six 120-volt AC outlets. These are grounded, three-prong outlets that can be used for power tools and other demanding appliances. Now, you'll need to keep in mind the AC200P's overall wattage limitations, which we'll get to in a second. You can't actually use all six outlets at maximum power. That said, if you're plugging in a bunch of phone chargers or other low-voltage devices, you have the outlets.
In addition to the standard AC outlets, the AC200P sports four USB Type-A ports. These can be used for smartphones, tablets, and other USB devices. Moreover, you get a pair of 12-volt DC outlets for automotive devices. You can run small automotive vacuums, plug in a GPS unit, and more. Finally, there's a USB PD port, which provides higher wattage than ordinary USB. This won't provide a benefit on all devices, but can be handy for modern smartphones and laptops. Regardless, you've got plenty of options. Whether your device needs 12-volt, 120-volt, or USB power, the AC200P has it all.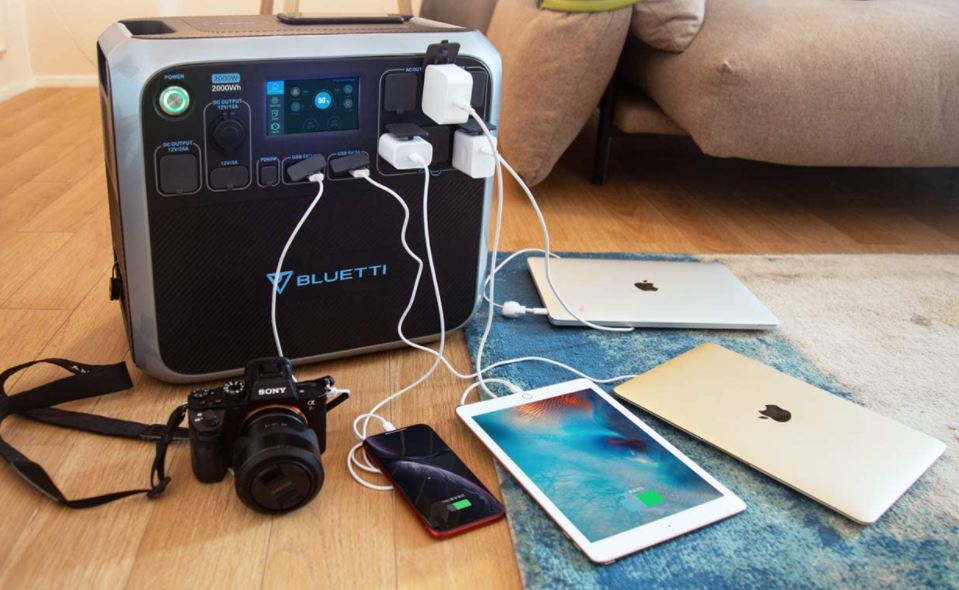 The heavy-duty plastic housing is designed to protect against high temperatures and high voltage. This means you don't have to worry about overheating. Even if the charger is under maximum load, it's going to stay safe. The intelligent fan kicks in automatically when the housing reaches 45 degrees Centigrade. This provides an extra layer of security in the event that temperatures start to rise. Even when the fan is running, the unit runs quietly. It's a soft hum, quiet enough that you can sleep while the fan is in operation.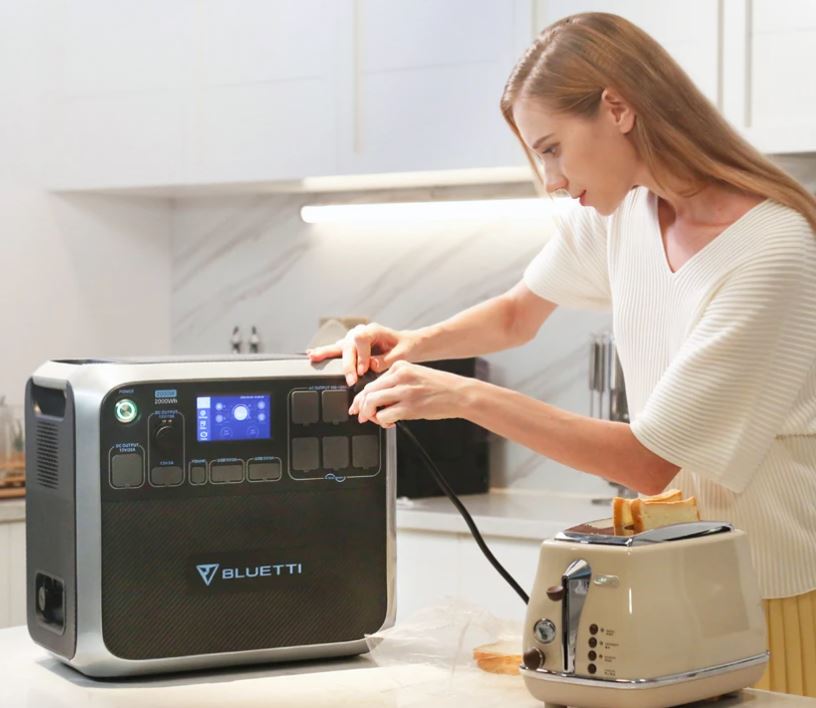 In terms of power input, you get several options. The AC200P comes with an AC adapter, which will charge the battery in about six hours. You can order a second AC adapter and take advantage of 800-watt dual charging. This requires a second power outlet, but will fully charge the battery in only 3 ½ hours. Moreover, the AC200P supports solar charging. It can accept up to a 700-watt, 12-volt solar array, enough for most off-grid applications. Because solar arrays rarely operate at maximum power, expect it to take all day to fully charge. A solar charging cable is included in the kit, although you'll need to supply your own solar panels. You can also charge via 12-volt DC power. This will take correspondingly longer than normal AC charging, but allows for more versatility. The AC200P will charge in your car, truck, or RV as easily as in your home.
The AC200P displays the current voltage, wattage, and temperature on an LCD screen. You can monitor the status of all your devices, and customize the power flow as needed. The battery will retain its charge for up to 24 months, although regular charging is recommended. It's also covered by a 24-month manufacturer's warranty. If there are any issues in that time period, you'll receive a full refund or replacement.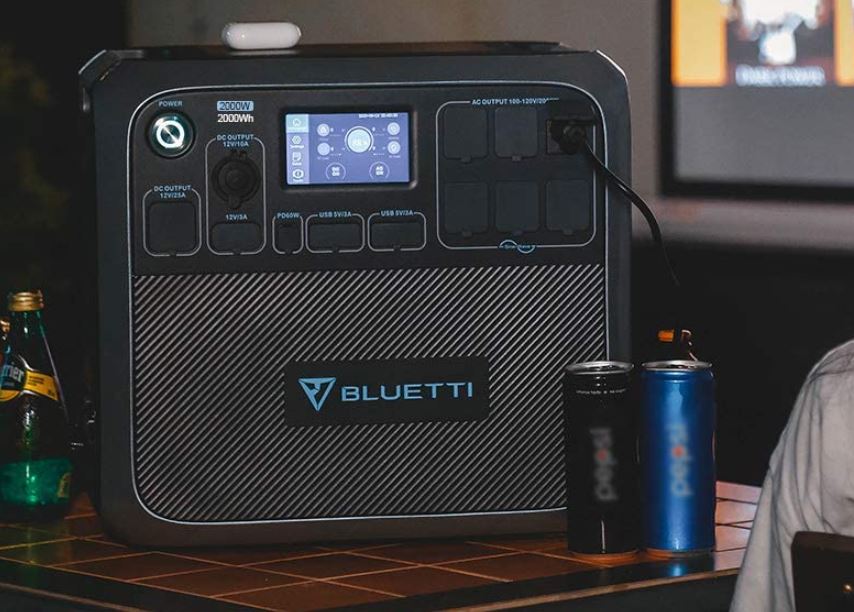 Battery Performance and Capacity
We were critical of the AC200P's heavy weight, but that weight comes with a significant upside: massive capacity. The battery has a truly impressive 2,000 watt-hour capacity. Needless to say, you won't be taking it with you on your next airline flight. But if you need to run a mini fridge for a weeklong camping trip, it's got you covered.
The overall wattage limit is 2,000 watts, which is the total for all your devices. So, for example, you could plug in a 100-watt laptop, a 1,200-watt refrigerator, and a 700-watt toaster oven. Even more impressively, the AC200P can provide up to 4,800 surge watts. Surge wattage is important because many devices draw a lot of power when they start up. For instance, a fridge compressor can easily draw 1,000 extra watts when it first kicks in. The AC200P's high surge wattage means that this won't be a problem. You can even run power tools like drills and circular saws. Their high surge wattage won't pose any serious problems for the AC200P. This makes it ideal for construction sites and new homes, where power has not yet been connected.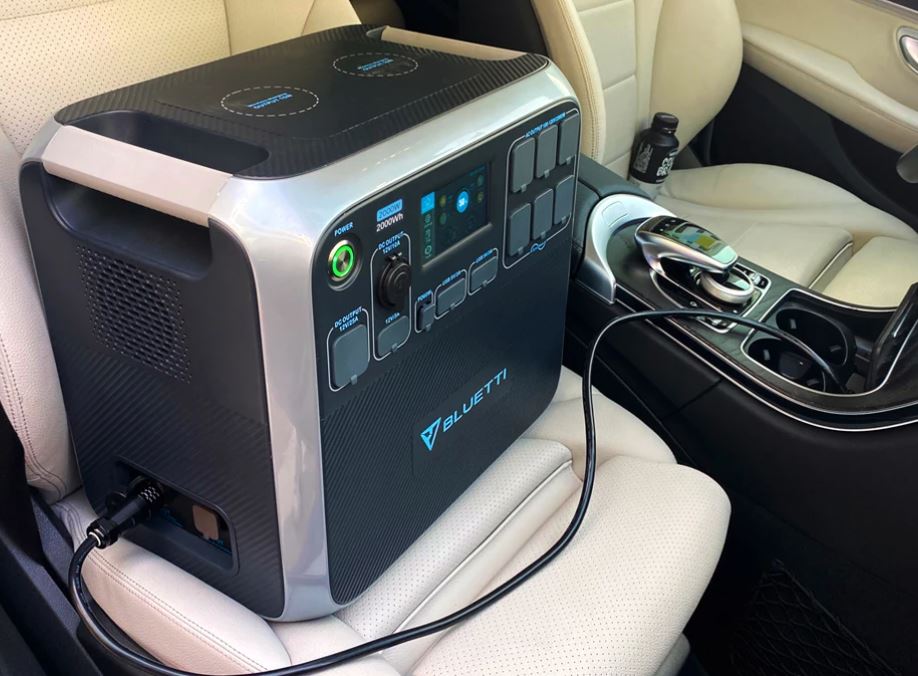 The battery's capacity is over 166,000mAh. That's enough to recharge a modern smartphone more than 40 times. For off-grid use, it will easily run a few small appliances overnight. Keep it hooked up to a solar array, and you have an effectively limitless supply of power. Similarly, it's more than enough juice for a weekend camping trip. You can also use it in an RV. Plug it into 12-volt power while you're on the road, and you'll have a backup battery when you're done driving. That way, you won't have to run your engine to keep the power flowing.
Compatibility & Safety
The BLUETTI AC200P has a built-in battery management system (BMS) for protecting your devices. A BMS system supports longer battery use, overcharge protection, and other protections. Specifically, you get protection from long-term battery drain, as well as short circuiting. The long-term battery drain protection is perhaps the best feature. If you're relying on the AC200P as an emergency backup, it will last for at least 24 months. As we already mentioned, it's best if you top off the battery more often. But if you can't, you know it will be there when you need it. Furthermore, the AC200P includes overcurrent, overload, and overvoltage protection. These features will protect your smartphone, tablet, or other devices from getting damaged.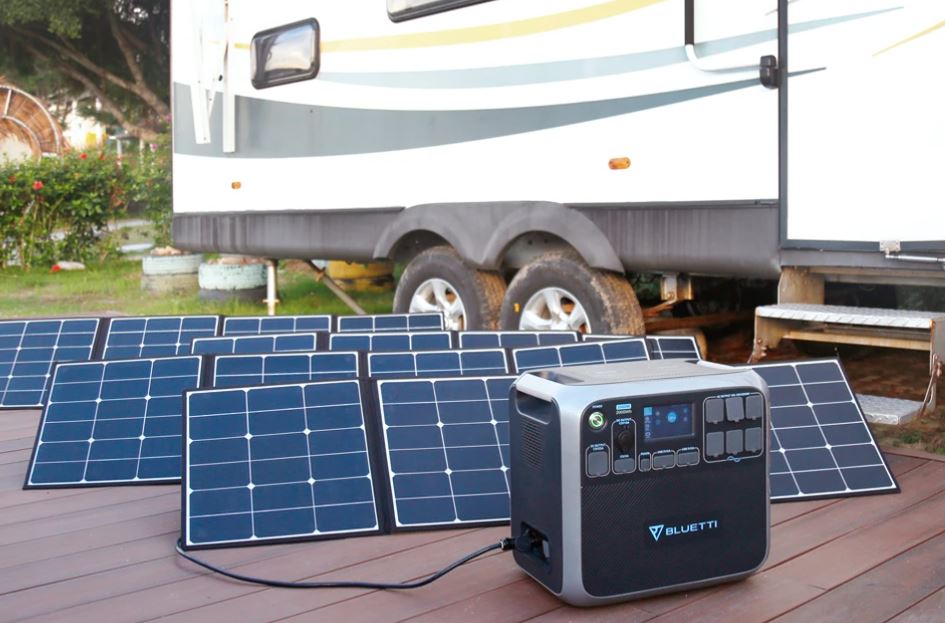 The BLUETTI AC200P's six AC outlets provide plenty of versatility. You can run multiple devices simultaneously, with a total maximum wattage of 2,000 watts. Keep in mind the limits we outlined in the last section, and you won't have any issues. The four USB ports provide additional versatility. You can plug your smartphone or laptop in directly. There's even a PD port, which supports high-speed charging for newer devices. Even better, it sports a 12-volt DC outlet. This means it can be used for automotive purposes, much like an ordinary DC adapter. No further adapters are required. In addition to all that, the AC200P supports wireless charging. The top of the unit houses a pair of 15-watt wireless pads, which can be used for smartphones and wireless earbuds.
Of course, not all devices are created equal. In some cases, all you need is enough juice to get through the night. For example, maybe you need extra battery life for a CPAP machine. In that case, consider the Maxoak Bluetti EB240. It's a powerful charger that's ideally-sized for CPAP machines. To be fair, it doesn't offer the same versatility as the AC200P. But as a safety backup, it's more than up to the task.
At the end of the day, you want a battery pack that's as versatile as possible. The AC200P is capable of supplying electricity for just about any purpose. You might want a more powerful power supply if you're running a small business. But if you're just using your power supply for everyday use, you're well covered. Your phone is safe from short circuits, overpower, and overcurrent. Moreover, the AC200P is compatible with solar and lead-acid charging. This makes it ideal for off-grid use, where ordinary AC charging isn't practical.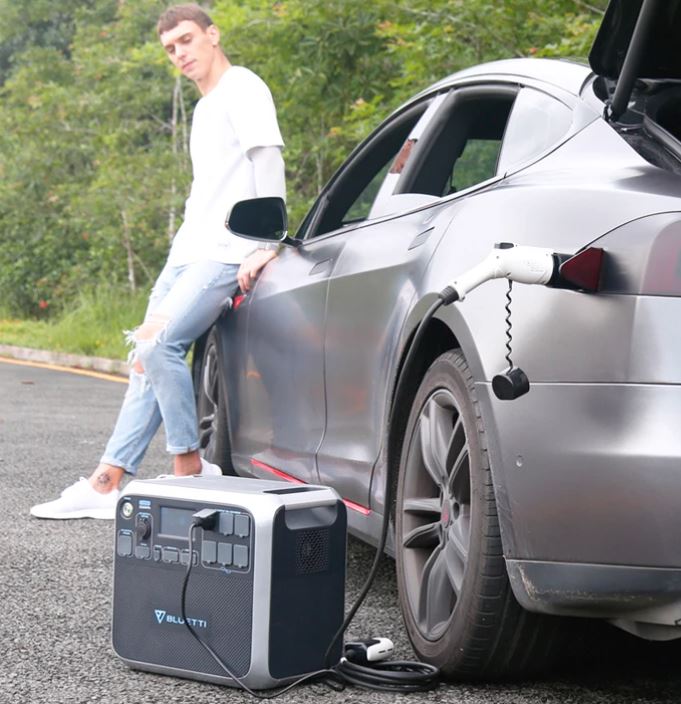 Final Verdict
The BLUETTI AC200P is a big, powerful charger that's designed for serious tasks. At 60 pounds, it's better suited for long-term use than for carrying around. That said, once it's set up, it has a lot to offer. With six AC outlets, you can connect a variety of devices, from smartphones to appliances. Additional USB, DC, and wireless chargers provide more versatility. No matter what you need to plug in, it's got you covered.
The AC200P supports solar charging, so it's perfect for off-grid applications. Just plug it into a 12-volt solar array, and the battery will start charging. With support for up to 700 watts, you can easily top off the battery in less than a day. For on-grid use, the AC charger will fill the battery in less than six hours, or in half that time with dual charging. If you're looking for a powerful battery that charges quickly, the AC200P is tough to beat.
Please consider sharing:
Note: At no extra cost to you, we may earn a commission for purchases using our links. Learn more.