Overall Design -

8.5/10

Build Quality -

9/10

Ease of Customization -

8/10

Gaming Performance -

9.5/10
Summary
GameSir's G7 SE makes a formidable addition to any gaming setup, solidifying its position as a top-tier choice for discerning gamers. With a quality build, customizability, superior performance, and longevity, it is an outstanding embodiment of GameSir's commitment to delivering innovation and quality. However, despite its incredible feature set, it is important to remember that it's a wired controller at its core.
Pros
Customizable and durable design
Superior Hall Effect technology
GameSir Nexus software enhances customization
Longevity of sticks and triggers
Cons
No wireless option
Limited compatibility
In the vast world of gaming peripherals, GameSir's latest addition is already making its mark – the G7 SE. This special edition device has made a notable entrance onto the stage. And the fact that it comes from a brand known renowned for innovative and quality gaming peripherals has the gaming community excited to get its collective hands on this cutting-edge tech.
Intended for discerning Xbox and PC gamers, the G7 SE promises a unique blend of style, security, and high-level performance. Does it deliver where it matters? Let's find out.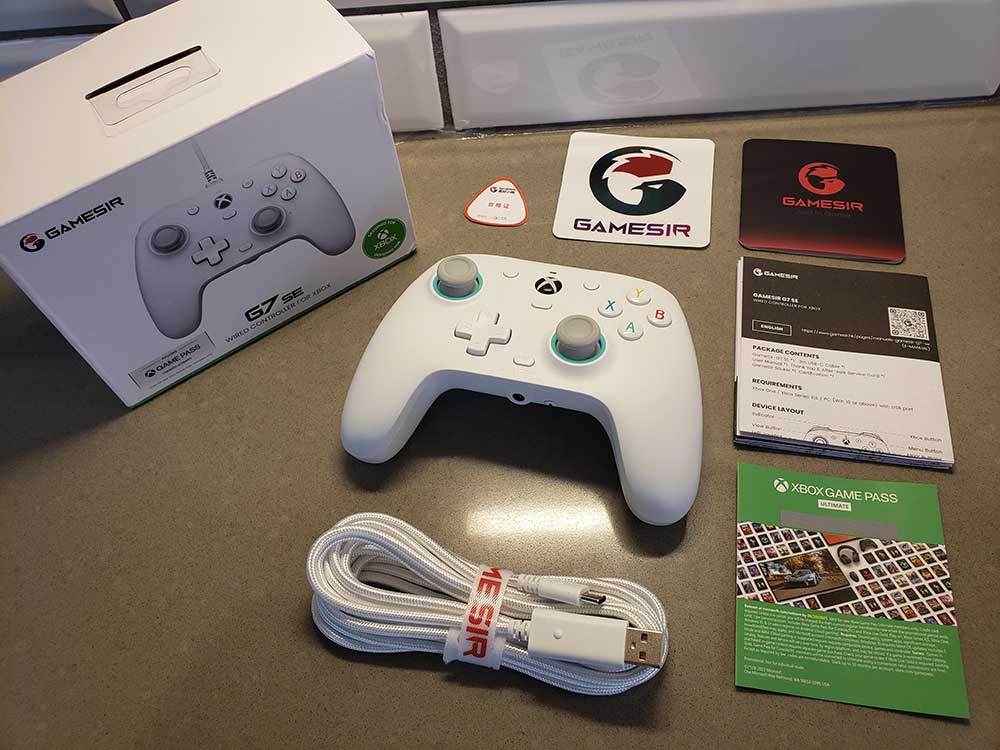 Build Quality
The construction of the GameSir G7 SE is robust and thoughtfully designed. A key attribute is the special magnetic paintable faceplate. Not just an aesthetic feature, this enables gamers to personalize their controller, adding a touch of individuality to their gaming gear. It's a small but significant detail that adds a personal dimension to the otherwise technical nature of gaming peripherals.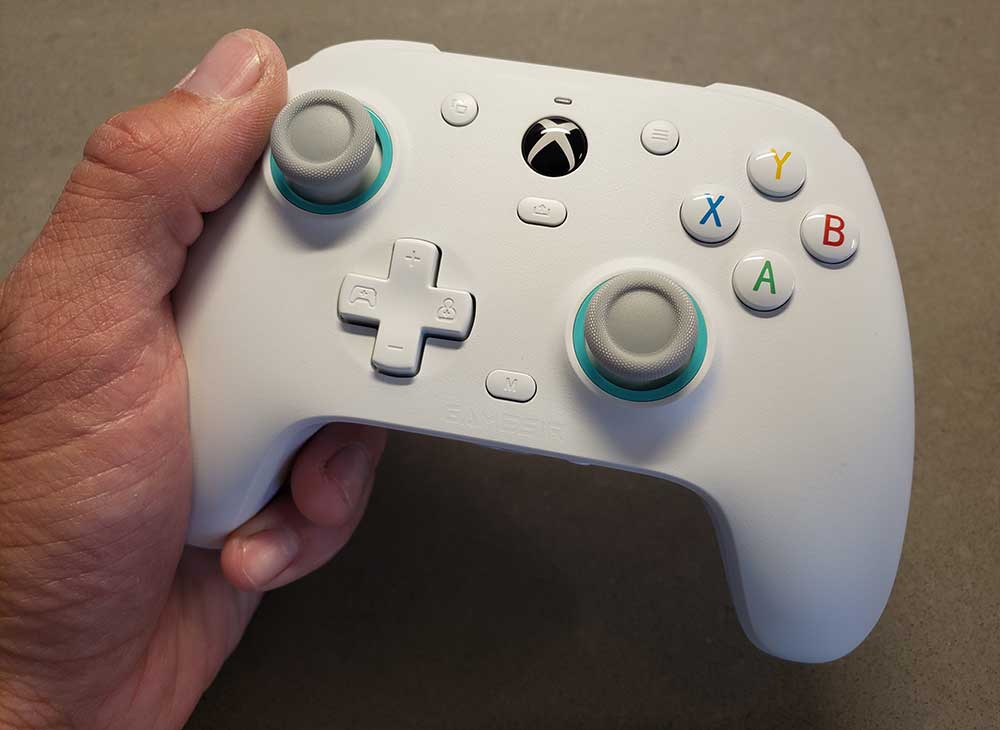 Now you can quickly and easily swap out the faceplates of your choosing without having to resort to time-consuming tools and instructions. Furthermore, the gamepad comes equipped with secure quick latches. These have been purposefully integrated to turn on and off the back buttons. The secure latches are essentially toggle switches that allow for further customizable gaming. They're a testament to how meticulously the controller is designed, matching various gaming styles and ensuring a secure grip.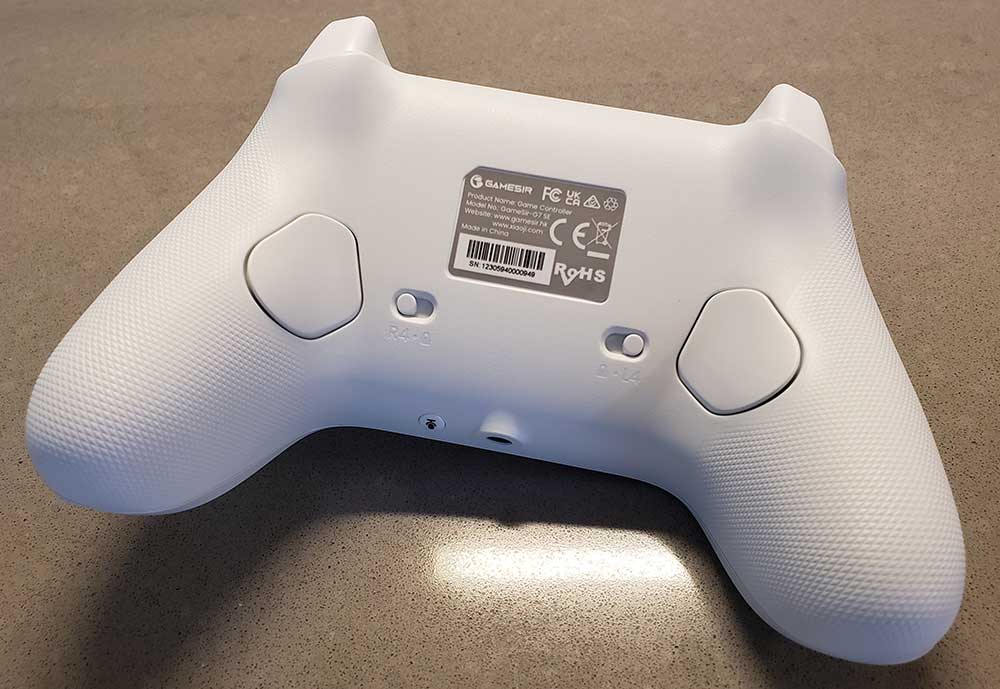 Moreover, the inclusion of these latches underpins the manufacturer's aim to prevent any unwanted interruptions during those adrenaline-filled gaming sessions. And they certainly do come in handy. Your hands naturally rest where the back buttons are situated. If you don't intend to use them, accidental presses are likely to occur. And if that were to happen, it could seriously impact your performance.
First Impressions
Holding the G7 SE for the first time leaves an impression of a controller built with serious gamers in mind. Despite measuring 5.98 x 4.06 x 2.48 inches and weighing a mere 7.8 ounces, it has a substantial feel without being overly heavy. It's also worth mentioning that its dimensions and weight are on par with Microsoft gamepads, so gamers will feel right at home with GameSir's upgraded controller. The included 6-foot detachable USB-C cable, compatible with Xbox One, Xbox Series X and S, along with Windows 10 and 11, speaks volumes about its versatility.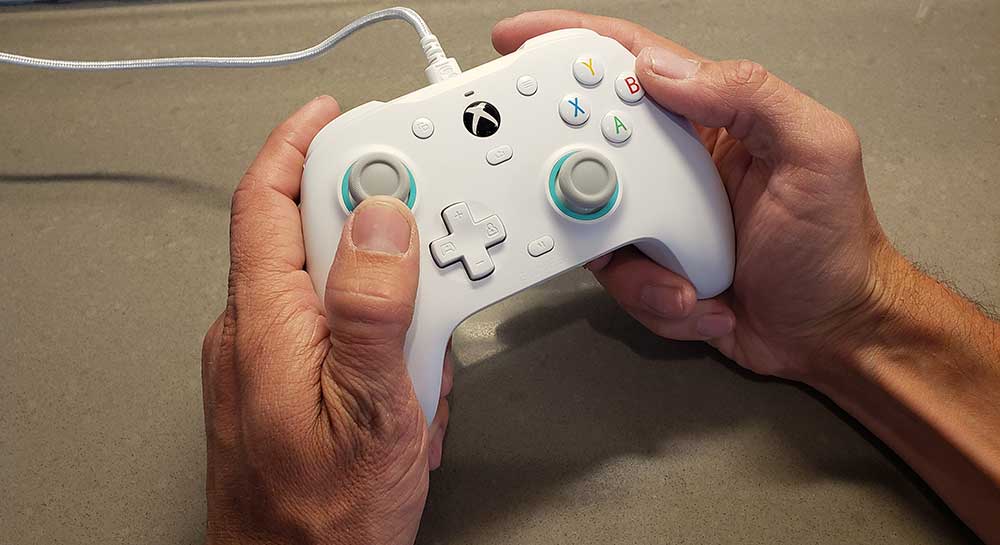 From our initial interaction, the G7 SE feels built for longevity, with anti-drift Hall Effect sticks that use non-contact magnetic sensors. These are designed to prevent stick drift and wear over time, ensuring superior stick performance throughout their lifecycle. With the first touch, one can tell that GameSir's claim about the sticks being crafted to endure up to 5 million cycles isn't just a marketing gimmick. They're built for the long haul, attesting to the controller's overall durability and reliability.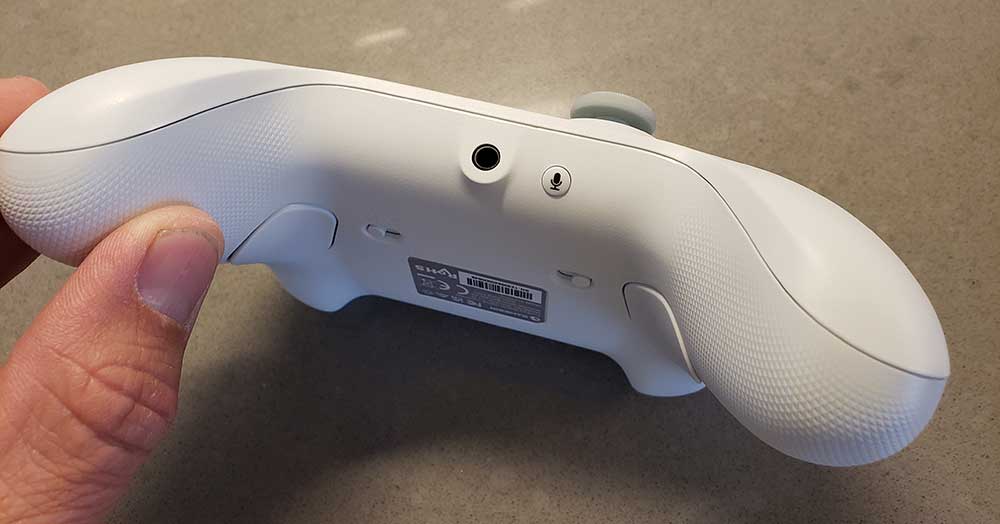 A neat feature we noticed immediately is the built-in 3.5mm audio jack. Many gamepads these days omit this feature, but it's here in all its glory on the G7 SE. This, combined with a dedicated microphone mute button, elevates the user experience, offering an integrated and seamless audio-visual gaming experience. What's more, the addition of these features keeps GameSir's controller more in line with Microsoft pads, and that's definitely not a bad thing.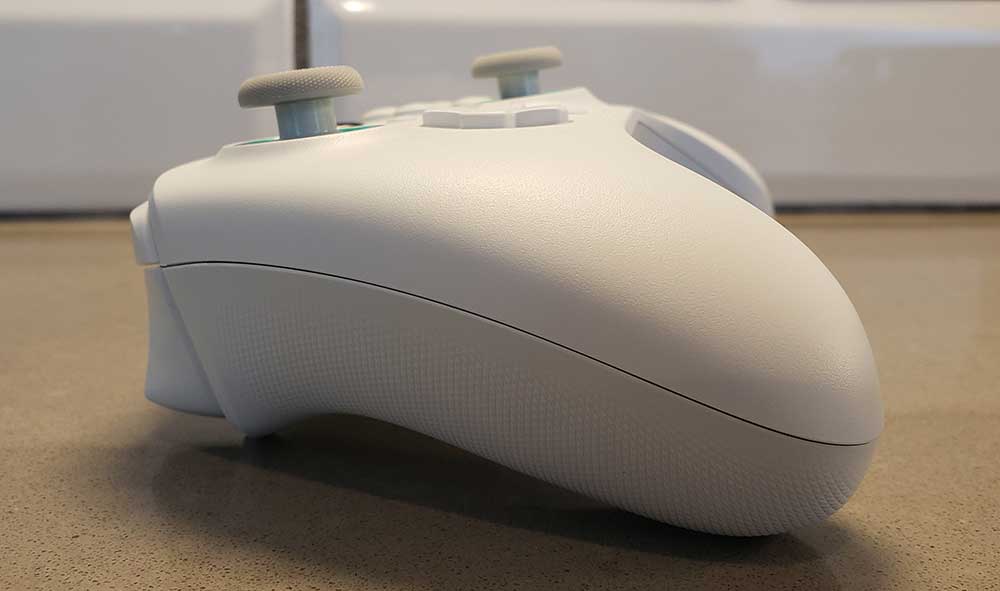 Indeed, the first impressions of the G7 SE reinforce its goal to deliver a comprehensive and secure gaming experience without compromising style or performance. Notably, the unit presents a blend of tangible quality and intuitive design that leaves one eager to test its gaming prowess further. Whether it's the unique personalized faceplate feature or the anti-drift sticks, the G7 SE lays down a strong marker for what gamers can expect in the forthcoming gaming sessions.
Button Layout
The G7 SE's button layout is intuitively designed, facilitating a seamless and immersive gaming experience. The two back buttons mentioned previously are also mappable. This addition allows gamers to customize their gameplay, assigning their most-used actions for quick access. The ABXY buttons are comfortably positioned, featuring a smooth membrane mechanism, which provides responsive and tactile feedback on each press.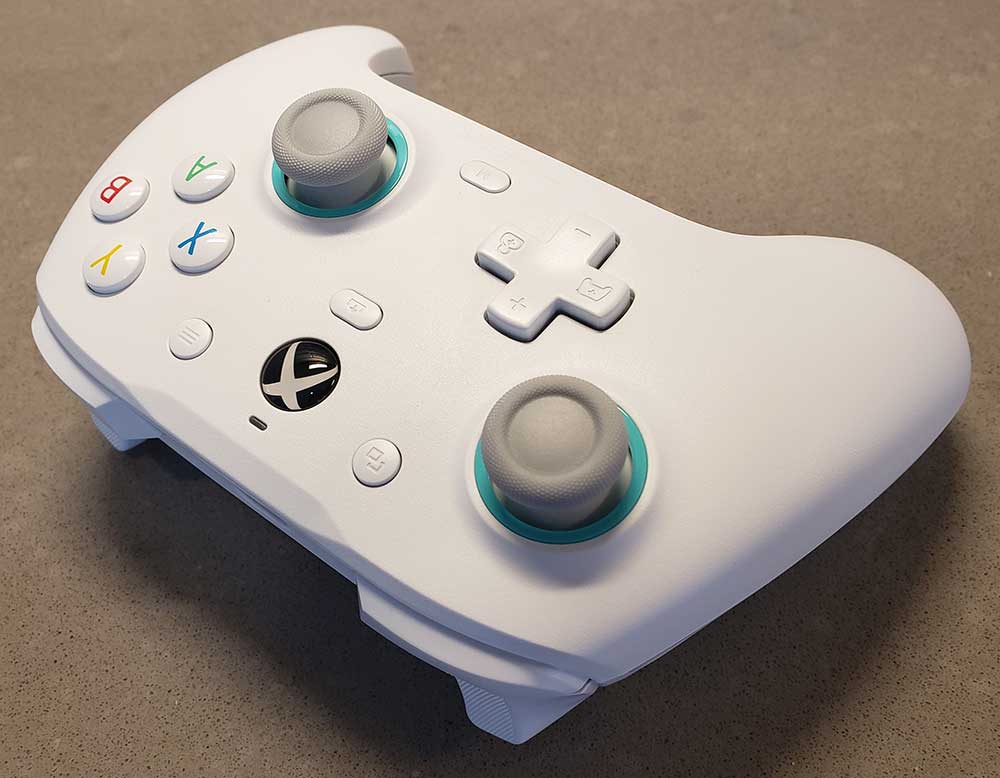 We appreciate that the microphone mute button offers convenient control over the voice chat. As any modern gamer will tell you, it's an essential feature for cooperative and competitive online gaming. It is all complemented by an M Button, a handy feature allowing the gamer to swiftly switch profiles, catering to the needs of different games or personal preferences.
Hall Effect Sticks
The controller's sticks leverage Hall Effect technology, one of GameSir's main attractions. This standout feature contributes significantly to the controller's high-level performance. Hall Effect technology utilizes non-contact magnetic sensors to ensure the sticks do not experience wear and tear or drift over time. This technology also provides a smooth and precise response, which is crucial for games requiring high levels of accuracy.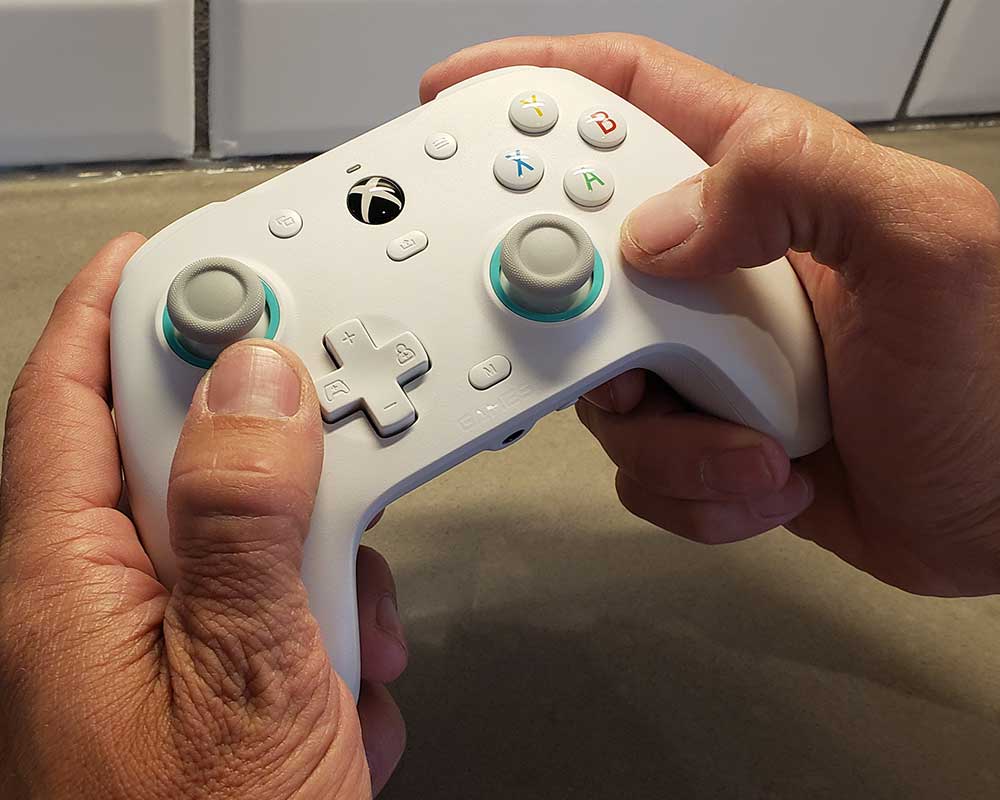 If you've had to replace a controller recently, stick drift is most likely the reason why. It's a common problem that plagues virtually all modern gamepads – or at least, it was. The first time GameSir released its Hall Effect sticks, it took the gaming industry by storm. Finally, the dreaded stick drift was a thing of the past. But that means you have to invest in controllers by GameSir to benefit from this groundbreaking technology.
Thankfully, the company's hardware is pretty stellar across the board. So you don't have to worry about wasting your money on another controller that will break in a few months. And as we already pointed out, the anti-drift design of the sticks offers consistent performance, maintaining the same quality of input across millions of cycles. This addition signifies GameSir's commitment to providing a superior gaming experience, ensuring the reliability of the device through long and intense gaming sessions.
Hall Effect Analog Buttons
The G7 SE stands apart from its competition through the integration of Hall Effect technology not just in its sticks but also in its analog buttons. The presence of this technology in the buttons makes for an impressive touch, ensuring that they exhibit no wear and tear, even after repeated use. It's a very welcome addition for GameSir to include these, as triggers are often the second most likely part of modern controllers to break. But with Hall Effect tech featured in them on this pad, you're assured even longer use.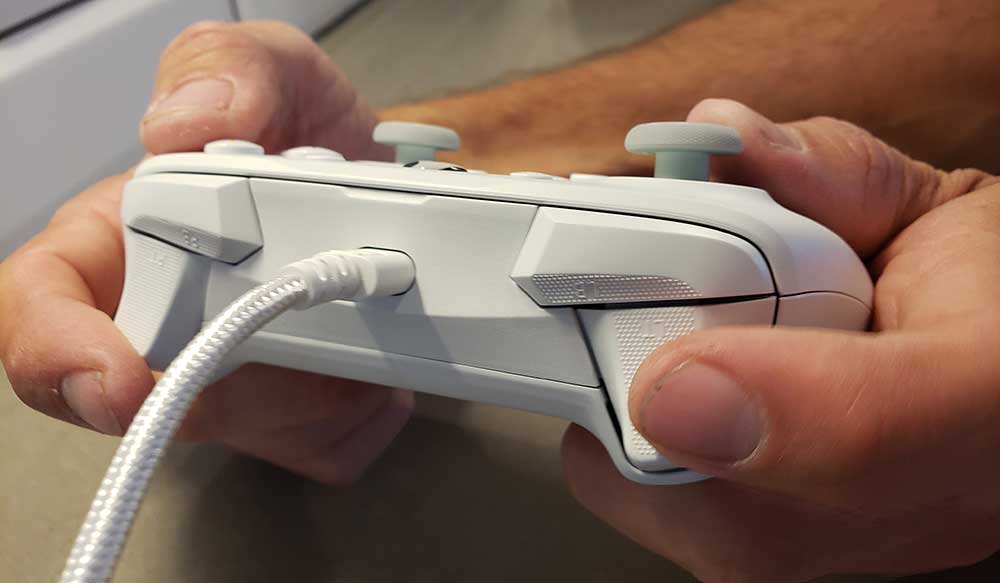 This longevity is particularly important for the analog triggers due to the fact that they often bear the brunt of the action in many games. The use of the Hall Effect technology means the triggers remain highly responsive, no matter the frequency or intensity of use. The resultant performance is nothing short of superior, matching the high standards set by the other features of this controller.
This thoughtful integration of Hall Effect technology in both the sticks and buttons of the G7 SE underscores the overall focus on durability, performance, and reliability, making this gamepad an excellent choice for any avid gamer. The thoughtful design of the button layout combined with the superior technology supporting the stick and button performance promises an unrivaled gaming experience that is hard to beat.
Gaming Performance
The G7 SE definitely has some big shoes to fill in the controller market. Common concerns aside, there are some really high-quality options available. Thankfully, GameSir's latest offering does not disappoint.
From the very first usage, one can feel the benefits of its various features. The controller's anti-drift sticks are exceptionally accurate, responding quickly and precisely to every movement. In a real-world gaming session, this accuracy translates into a clear advantage, especially in high-intensity games where each fraction of a second counts.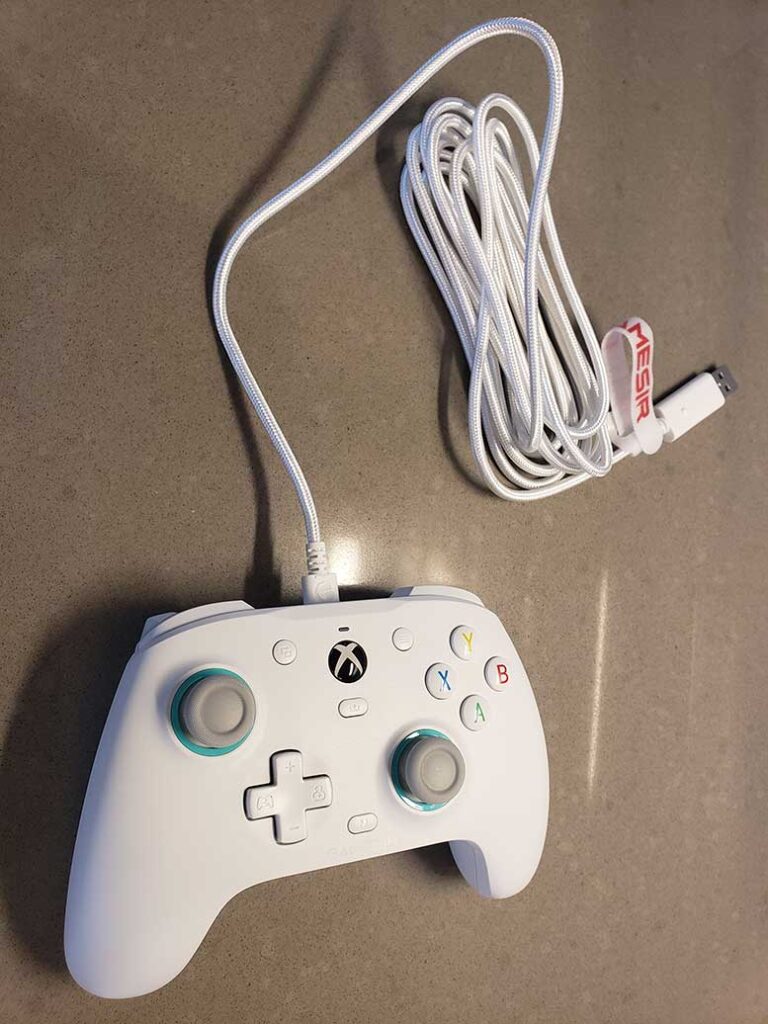 Moreover, the mappable back buttons and the profile-switching M Button play pivotal roles in enhancing gameplay. The back buttons are incredibly useful in fast-paced, action-packed games where having a set of custom actions at your fingertips can make the difference between a win and a loss.
On the other hand, the M Button is incredibly handy when switching between different games, as it enables the player to change profiles seamlessly without interrupting the gaming flow. Factor in the triggers' responsiveness and the ABXY buttons' tactile feedback, and you're sure to have an immersive experience. The four rumble motors, synchronized with game actions, add another dimension to the gameplay, making the experience even more engaging.
Software
The GameSir Nexus software is yet another area where this controller shines. The software interface is simple and user-friendly, ensuring even those less technologically inclined can navigate through with ease. Nexus offers the ability to map the back buttons to specific actions and save these configurations across different profiles. The customization possibilities are extensive, enabling gamers to optimize the controller for each game's unique requirements.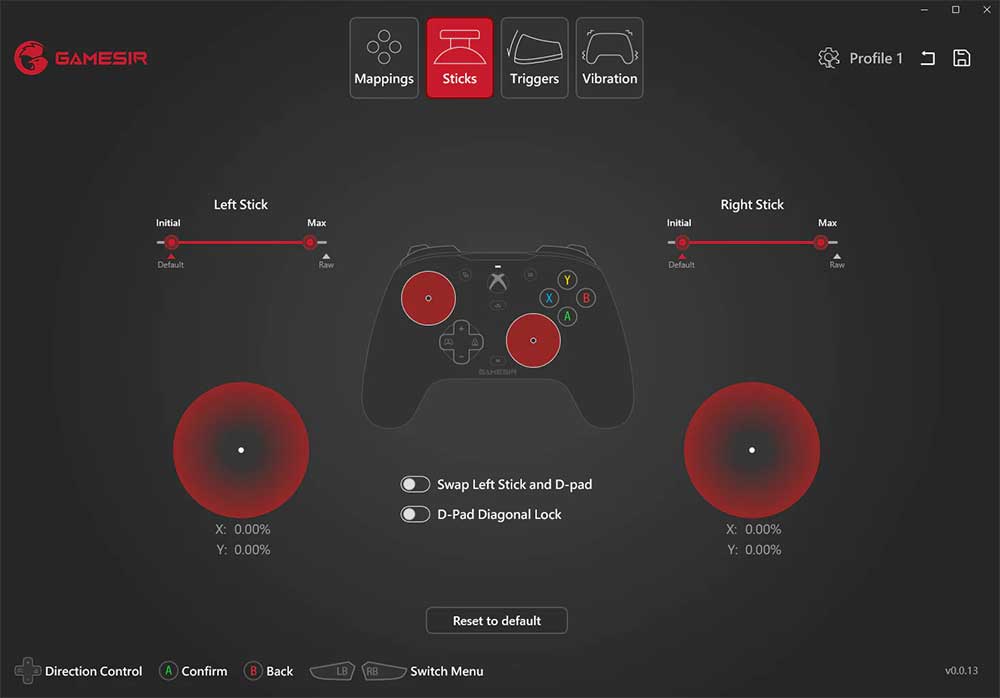 The software also allows you to monitor and calibrate the controller's sticks and triggers. This is a very welcome feature, as it can be an invaluable tool. With it, you can maintain optimal performance levels and adjust the controls to your liking. The ability to tweak the sensitivity of the sticks and triggers can significantly improve your gaming experience, particularly for games where precision is paramount.
Overall, the performance of the G7 SE, along with the flexibility offered by the GameSir Nexus software, combines to deliver an exceptional gaming experience. The tangible quality of the unit's build is only enhanced by its superior performance and the high level of customization offered by its companion software. This controller, without a doubt, encapsulates the true essence of what it means to be a "Special Edition" accessory.
Final Verdict
GameSir's G7 SE makes a formidable addition to any gaming setup, solidifying its position as a top-tier choice for discerning gamers. With a quality build, customizability, superior performance, and longevity, it is an outstanding embodiment of GameSir's commitment to delivering innovation and quality.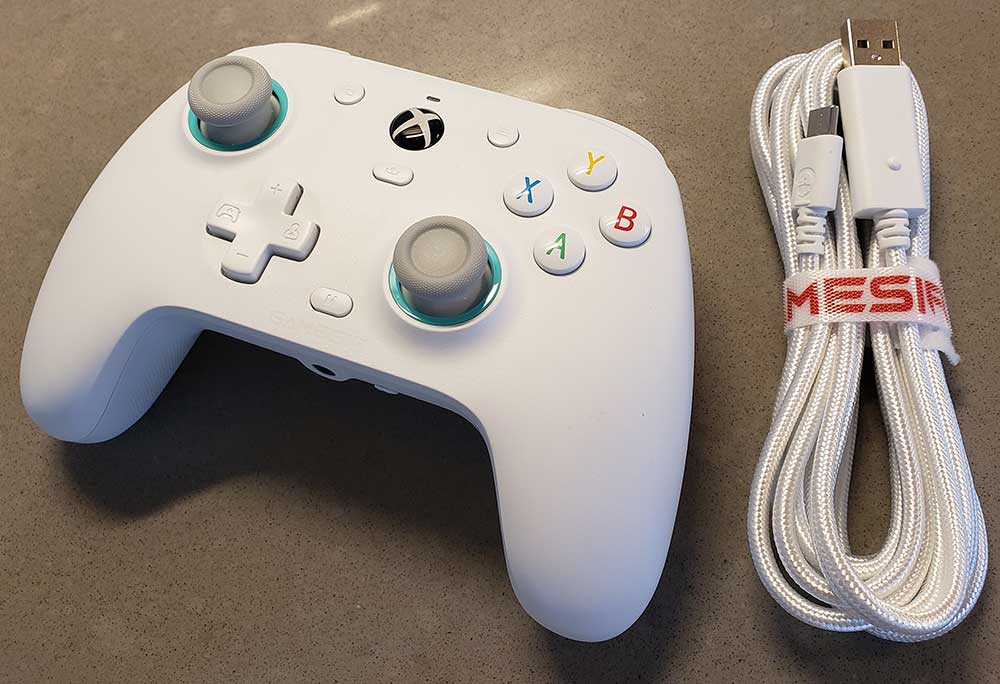 However, despite its incredible feature set, it is important to remember that it's a wired controller at its core. So if you're looking for true wireless gaming, you might be let down. Still, with the GameSir Nexus software adding further value through customization, the G7 SE stands out as a remarkable contribution to the gaming peripheral market.