When looking for a great PC, most people think they have to get a top-end gaming rig. However, that's not the case. Mini PCs are taking center stage as technology increases capabilities and decreases sizes. The GEEKOM AS 6 fits in great with this niche in the PC marketplace.
Coming pre-equipped with a Ryzen 9 6900HX CPU, built-in graphics, plenty of storage, and fast memory, you get a powerful computer in a tiny package. Pair that with a ton of ways to connect either with wires or wirelessly, you can truly customize your workstation to suit your wants and needs. If all of that sounds intriguing, keep reading to learn more about it.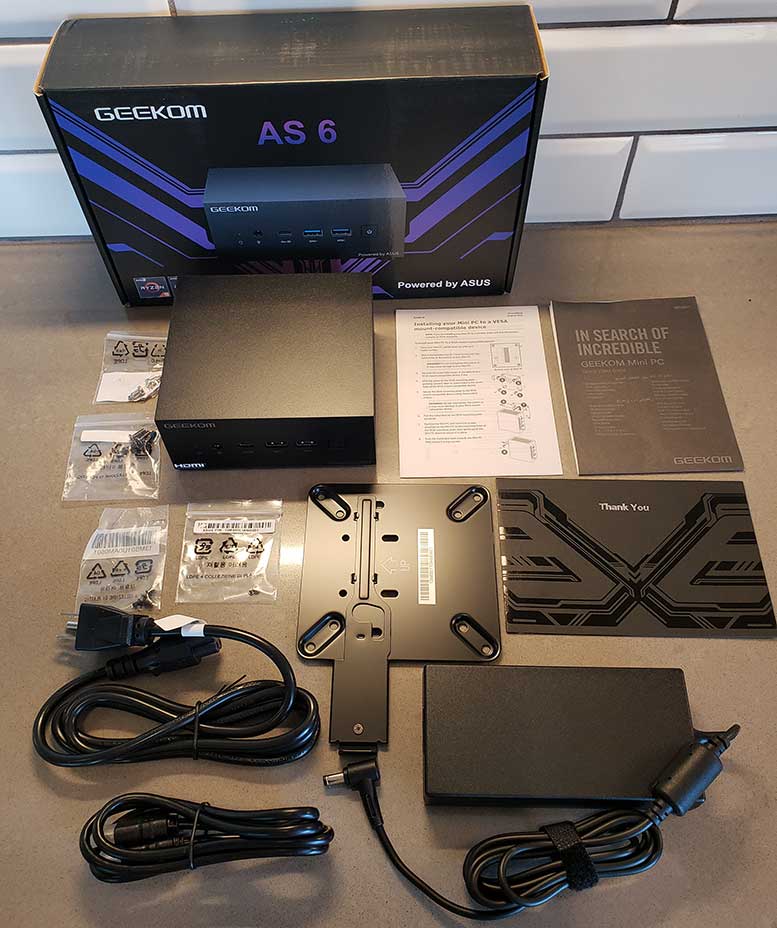 State Of The Art Internal Components
Technology gets better every day. What used to take up entire rooms for computing space now takes up a tiny fraction of space. Mini PCs are the ultimate show of this, taking everything you'd want in a desktop and installing it all in a small case. The GEEKOM AS 6 (discount code as640a) uses the state-of-the-art Ryzen 9 6900HX for its CPU. It has 8 cores, 16 threads, and 16MB of Cache. This allows it to run at a 3.3GHz base and up to 4.9GHz boosted.
Mini PCs aren't easily compatible with the bulky graphics cards you expect in a gaming rig. That doesn't stop this PC from including graphics, however. Using AMD Radeon Graphics 680M it can handle graphics needs, even supporting ray tracing. These graphics are ideal for design work, light gaming, high-resolution video playback, streaming, and more.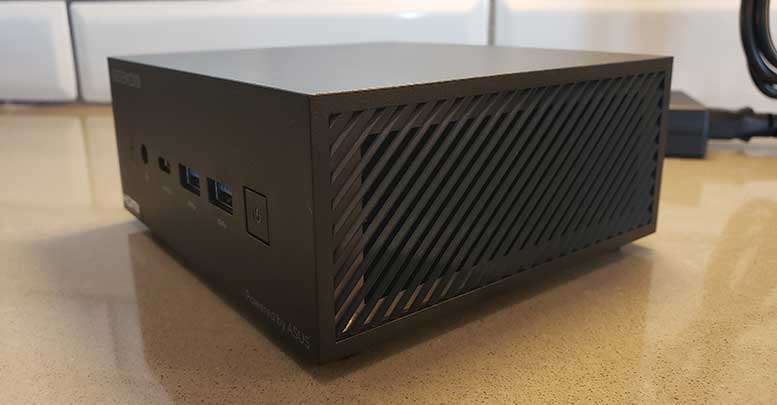 Next up is RAM. The AS 6 uses DDR5 RAM internally. Included are two sticks totaling 32 GB. They run at 4800 MHz and are 1.5 times faster than DDR4 3200 MHz memory. The maximum amount it can support is 32 GB so you won't have to expand it further down the road. As for storage, it comes stock with a 1 TB PCIe 4.0 M.2 SSD. This SSD can read at 3500 Mbps and write at 2000 Mbps. To further expand the storage, you can add an additional M.2 SSD as well as a 2.5-inch HDD. The M.2 slots support up to 2 TB and the HDD slot also supports up to 2 TB.
Wired and Wireless Connections Galore
Some computers are lacking when it comes to ways to connect. Some don't support wireless or Bluetooth. Others don't seem to ever have enough USB ports included. The GEEKOM AS 6 shouldn't have these same issues. When it comes to wired ports to plug your devices into, they are included on the front and the back.
The front has the following:
1 – Audio Jack
1 – USB4 Typ-C
2 – USB 3.2 Gen1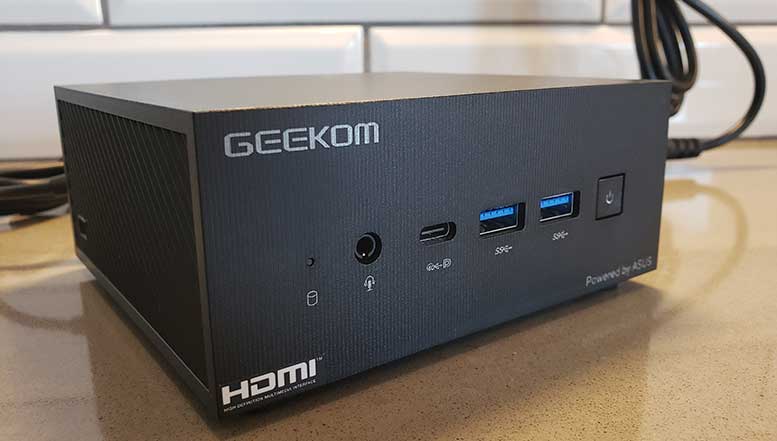 The back has the following ports:
2 – HDMI 2.1
1 – Display Port 1.4
1 – USB4 Type-C
3 – USB 3.2 Gen1
1 – 2.5G RJ45 LAN
1 – DC-in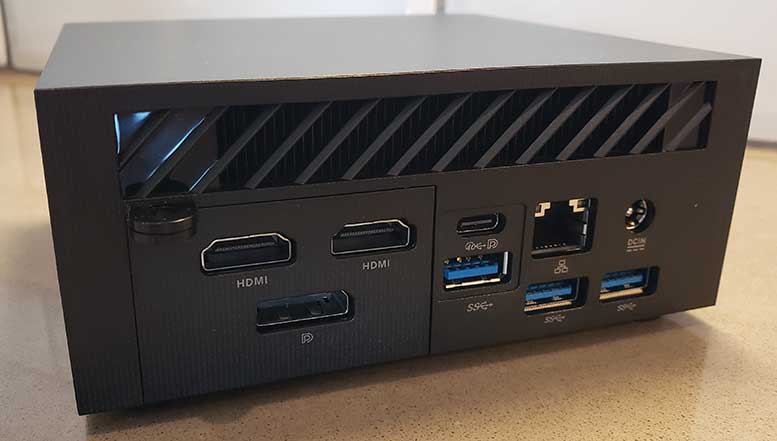 These connections give you ample options when it comes to where you should plug in your mouse and keyboard. Additional accessories such as microphones, webcams, and more should be easy to use as well.
As for the display outputs, they each can provide different levels of resolution and refresh rates. The USB4 Type-C port can output 8K resolution at 60hz. The Display Port can output 5K at 60hz. Each HDMI 2.1 port can output 4K at 60hz. Each can be used simultaneously, giving you the option to connect with up to 4 displays at once straight out of the box. However, cables are not included in the packaging so you'll have to purchase those separately if they don't come with our displays.
Next are the wireless connection options. The AS 6 supports both Wi-Fi and Bluetooth connectivity. Easily connect to your wireless devices using the integrated Bluetooth v5.2. To connect to the internet, you can do so via Wi-Fi or LAN. When using Wi-Fi, this PC utilizes Wi-Fi6E. It can handle up to 2400 Mbps of data over this connection type. As for LAN, it can reach speeds of up to 2500 Mbps, just barely beating the wireless option.
Slim Design and Sturdy Construction
Mini PCs should live up to their name and be as small as possible without sacrificing too much on computing power. The GEEKOM AS 6 does as it should, providing all its capabilities in a small form case that can be easily hidden or put out of the way.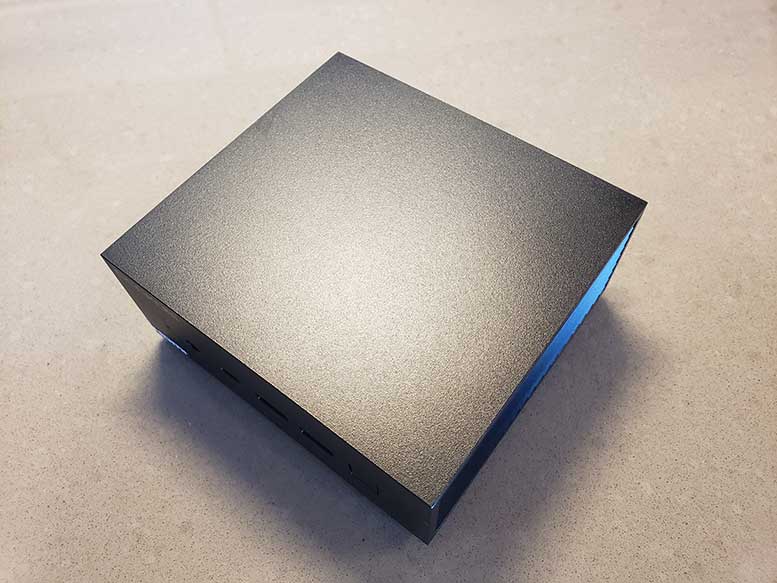 For dimensions, it's 4.7 x 5.1 x 2.3 inches. Additionally, it only weighs 1.7 pounds. This makes it easy to put on your desk or somewhere else out of the way while still maintaining the ability to use it easily.
Best of all, it's extremely durable to protect from unexpected drops and more. The AS 6 has been tested to meet the MIL-STD-810H* military standard. This ensures it can withstand extreme temperatures, humidity, drops, vibrations, and more.
Innovation Keeps the AS 6 Cool and Clean
To help boost performance, the AS 6 uses an innovative cooling system. This system takes air in and runs it through a thermal module. This helps dissipate heat, and an aluminum heatsink keeps great conductivity. This system also allows the AS6 to have an anti-dust self-cleaning system. While in operation, this system keeps the heatsinks clean.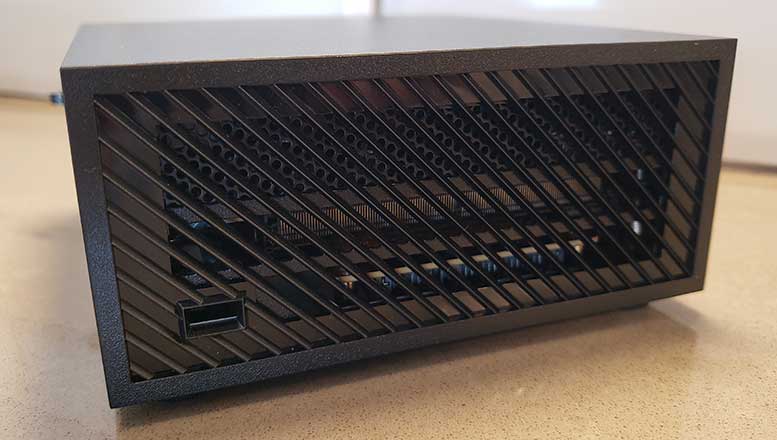 Additionally, it pushes out dust and particles so they don't get stuck within your system. It does all of this while maintaining quiet fan operation. In fact, the system as a whole is whisper quiet, producing between 25 and 35 decibels of sound while idling or in full use.
Extra Software to Top It All Off
The GEEKOM AS 6 works with MyASUS software to further enhance your computing experience. This software can do multiple functions that are really great. These functions include:
AI Noise cancellation to filter out unwanted noise from both incoming and outgoing audio.
System diagnosis to give descriptions and help identify various potential situations that could be problematic for the computer. This lets you choose the right course of action.
Smart fan control to change speeds, letting you focus on performance vs. sound creation of the fan.
Wi-Fi SmartConnect to optimize the wireless network.
TaskFirst to distribute bandwidth of the internet connection to specific individual tasks you are performing with the computer.
Link to MyASUS lets you connect the computer to a mobile device.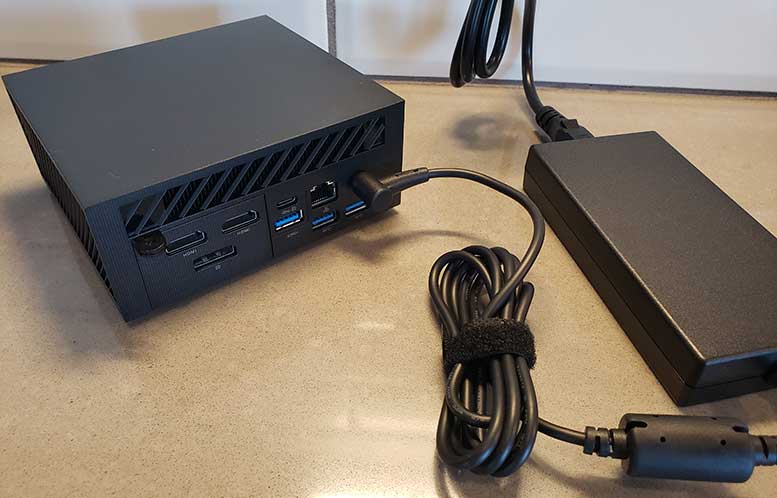 Final Thoughts
Overall, the GEEKOM AS 6 (discount code as640a) is a fantastic Mini PC. Internally, it has all the current-gen components you could ask for in this style of computer. With tons of options to connect to wired ports and wirelessly you can be sure all your devices can be used at once.
It's also great to be able to connect to four displays at a minimum resolution of 4K. A great cooling system helps it run smoothly and quietly while also keeping it clean. Pair all of that with great software in MyASUS to control different aspects, and you have a Mini PC that can handle heavy workloads and even some light gaming.