Bluetti B230 & B300
Pros
Exceptionally large battery capacity.
Exceptionally high power delivery.
Modular, adaptable system.
Pure sine wave power is safe for sensitive electronics.
Cons
Large and heavy.
Batteries require AC200 Max or AC300 base unit to function.
If you were to visit the average American 100 years ago, they would own zero electronic devices. Yes, electricity was a thing, and major cities had electric street lights. But fancy gizmos like vacuum cleaners and radios were still only found in wealthier homes. Fast forward to 2021, and everyone depends on their electronics for life's necessities. We use our smartphones alone for dozens of everyday tasks, from banking to ordering pizza. We use computers, smart TVs, and game consoles on a daily basis for ordinary entertainment. And those are just the fancy, flashy things.
We also rely on electricity for survival. Without power, the food in your fridge will start to go bad within the day. In the summer, you won't have air conditioning. And in the winter, you won't be able to use any kind of heat that relies on power. That's not to mention the pickle you'll be in if you rely on a CPAP machine or another medical device. The point being, there are many reasons it's a good idea to maintain a reliable backup power system. Depending on your needs, this might just be a few small power banks for your smartphone. Alternatively, you might need a whole house backup, or a large portable system.
Today, we're going to be reviewing the Bluetti B230 and B300 expansion batteries. These are big, powerful expansion packs for the existing AC200 and AC300 systems. They're designed as powerful, modular power stations for providing the maximum amount of wattage. As a result, they're useful for a number of purposes. For one thing, they can provide whole house backup power for a large number of electronic devices. For another thing, the fact that their modular makes them adaptable enough for road use. They're a bit large for your next camping trip, but perhaps not for professional purposes. But that's just scratching the surface of what you need to know. Here's our full review of both Bluetti expansion batteries.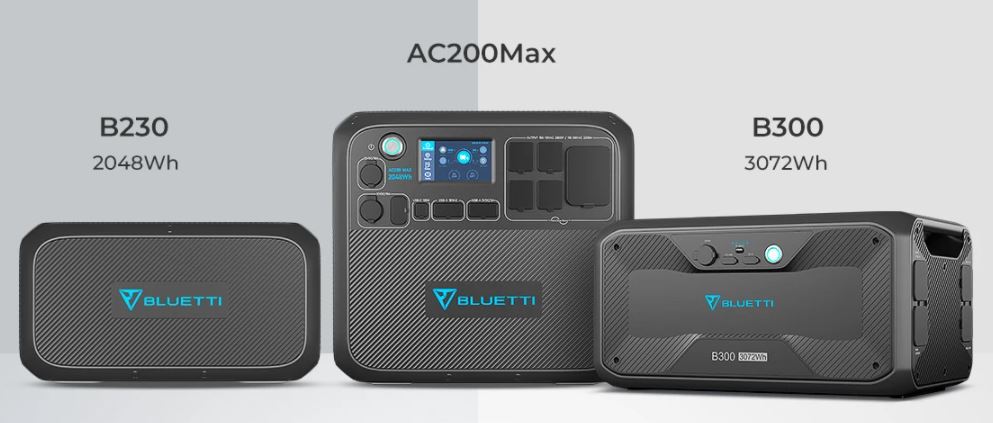 AC200 Max and AC300 Systems
As we mentioned, these are expansion batteries for the Bluetti AC200 Max and AC300 power stations. By themselves, they're basically just doorstops. So before we talk about the batteries, let's talk a little bit about the two power stations. After that, we can talk about how the batteries work, and how they fit into the equation.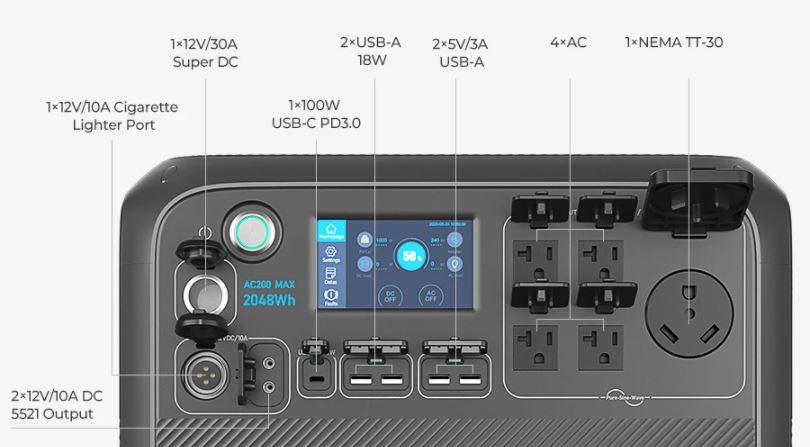 The AC200 Max is the more basic power station, and measures 16.5 inches wide, 11 deep, and 15.2 high. It's a bit heavy for the size, but that's to be expected, since there's a lot of electronics inside. It's also easy to lift regardless, thanks to a pair of molded handles in the top corners of the housing. The material itself is a rugged black polymer, which can take a serious beating if it needs to. The sides are vented, which allows for plenty of air flow to keep the internals cool. There's a bit of branding on the front, but it's blue, and it matches the housing well enough.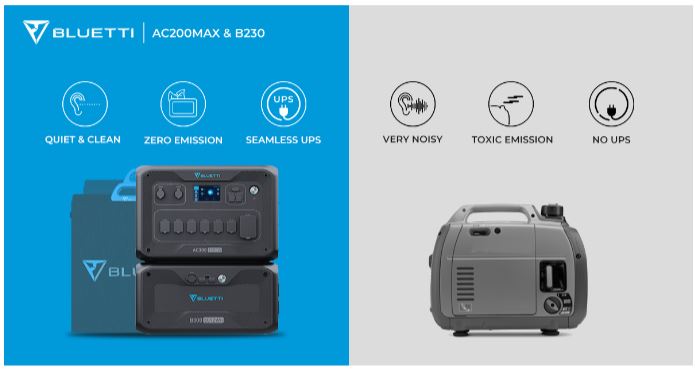 The AC300 has a slightly larger footprint, at 20.5 inches wide by 12.6 inches deep. That said, at 13.8 inches high, it's a bit shorter. Other than that, the cosmetics are very similar. It's built from the same durable black polymer, and even has identical ergonomic handles for transport. Besides the size and weight, there's not much difference in the appearance. That said, there some other differences that are worth pointing out.
On both power stations, you'll find all the physical controls on the front of the housing. These don't amount to much; just a power button and an LCD display. The display is informative, but can't be used as a touchscreen interface. So for anything other than turning the power station on and off, you need to use the smartphone app. Fortunately, the app is free, and it's easy to install on Apple and iOS devices.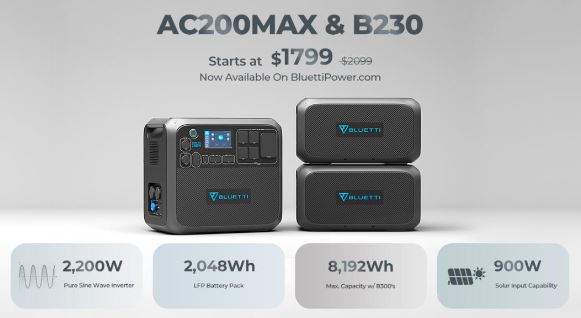 How you can use the app depends on which version of the power station you're using. The smaller AC200 Max only supports a Bluetooth connection. To use the app, you need to be within about 33 feet. This is no big deal under most circumstances. On the other hand, if you want true remote operation, you'll need to order the AC300. It will connect via WiFi, so you can access it from anywhere in the world. Just keep in mind that this won't help you in the event of an outage, since local WiFi will most likely be down. But it can be used to perform remote check-ups – for example, in the hours leading up to a major storm.
As you can see, even the base AC300 and AC200 Max systems are fairly beefy. If you want something a bit more portable, the Bluetti EB70 might be a better choice. It's more compact, with a folding carry handle. And despite its small size, it still provides AC power. That said, it doesn't have nearly as much capacity as the AC200 Max, never mind the expansion batteries.
Both the AC300 and the AC200 Max ship with all the accessories you need to get started. Among these are AC, solar, and automotive charging cables. The expansion batteries will ship with the cords you need to connect them.
Battery Capacity and Performance
The B230 and B300 expansion batteries both have a similar aesthetic to the base power stations. They're designed to be stackable, with the same footprint as the AC200 Max base unit. The main differences between the two are capacity and compatibility. But what the two expansion batteries have in common is the battery technology. These units use Lithium-Iron Oxide (LiFePO4) cells, which are a relatively new type of technology. They're longer-lasting than Lithium and Lithium-Ion cells of the same size and weight. They also last for more charge cycles, and they're far less prone to overheating. All in all, they're a lot safer and more efficient.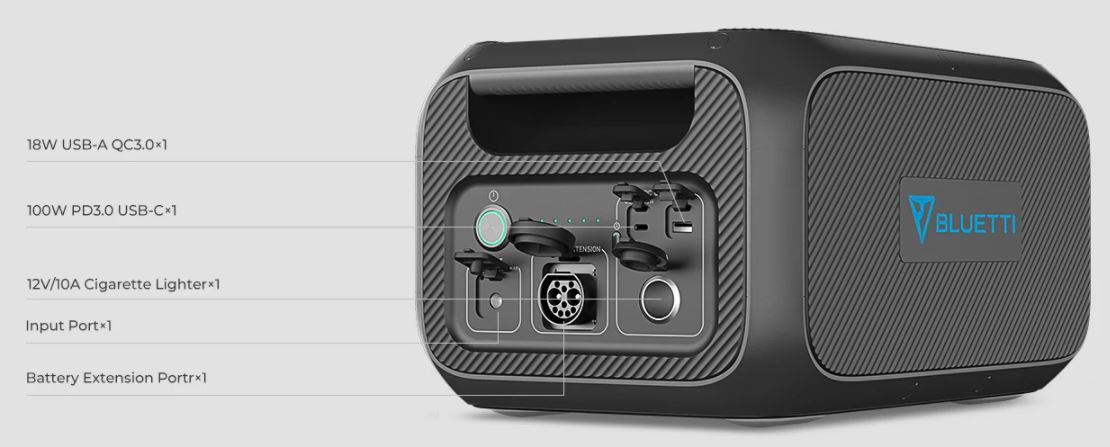 Along the same lines, both the B230 and B300 provide pure sine wave power. This is the same type of power provided by the base units, and it's safe for sensitive electronics. Many power stations and batteries provide modified sine wave power, which can cause damage. This is especially true for CPAP machines and other medical devices.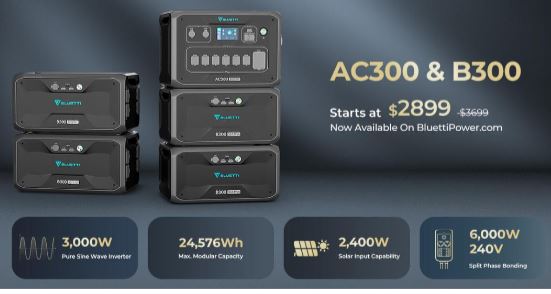 As for their differences, the B230 is compatible only with the AC200 Max power station. Each B230 battery has a capacity of 2,048 Watt-hours (Wh). That's enough to recharge an iPhone 12 more than 175 times. You can combine a maximum of two of these packs together with a single base unit. In that case, the total charging capacity will be 8,192Wh altogether.
The B300 battery pack is a little bit thicker. However, it's also more versatile, and has a higher capacity. The B300 can be used with both the AC200 Max and the AC300. With the AC200 Max, you can once again use two of them together. Each B300 will provide 3,072Wh of power, for a total of 10,240 with the base unit. The AC200 Max has a recharge speed of 1,400W with an AC input, or 900W with a solar input. This works out to about eight hours of charge time via AC, or 12 hours via solar. Even with two large batteries.
You can also pair the B300 batteries with the AC300 base station. You can daisy chain up to four of them with a single base station, although the base itself provides no power. Even so, with four B300 batteries, you get a total of 12,288Wh of power. Not only that, but you can pair two base stations with eight batteries, for a whopping 24,576Wh of power. The AC300 supports recharge speeds of 5,400W and 2,400W via AC and solar respectively. With eight batteries, it will charge in five hours via AC, or about 11 hours via solar.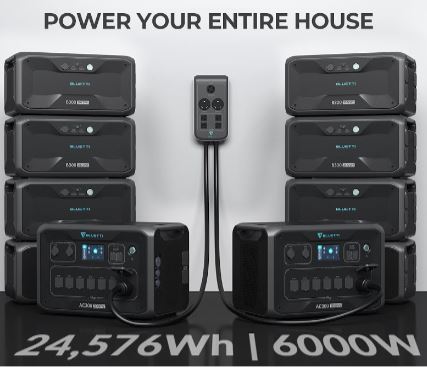 Compatibility and Safety
Because these are batteries and not complete power stations, their compatibility depends on the base station. Thankfully, both the AC200 Max and the AC300 come well-equipped with power ports for your devices.
On the AC200 Max, you'll find four three-prong AC outlets. These have a total maximum wattage of 2,200 watts, with a surge rating of 4,800 watts. Keep in mind that that's a shared total. If you're just using a single outlet, it will perform as well as a wall outlet. If you're using more than one, your performance on each outlet will drop correspondingly. Even so, you can run several low-powered devices simultaneously. You can also take advantage of a TT-30 outlet, as well as 12- and 24-volt DC power outlets.
On the USB side, you'll find two 15-watt USB Type-A ports, which exceed the ordinary, 12-watt standard. The other two provide 18 watts, which is ideal for charging iPhones. There's also a USB Type-C PD port that provides a whopping 100 watts. This can be used for even the most powerful of USB Type-C-powered outlets. On top of the housing, you'll also see a pair of wireless Qi charging pads.
The AC300 is very similar, although it has six AC outlets instead of four and no 24-volt DC outlet. It also has a higher power rating of 3,000 watts, or 6,000 watts surge. If two base stations are paired, this goes up to 6,000 watts continuous and 12,000 watts surge. Regardless, you'll have plenty of ways to use your expansion batteries.
If you're looking for emergency backup but want a simpler option, consider the Bluetti EP500 Power Station. It's a large, single-piece unit that rolls around on wheels. And it's designed specifically for use within the home.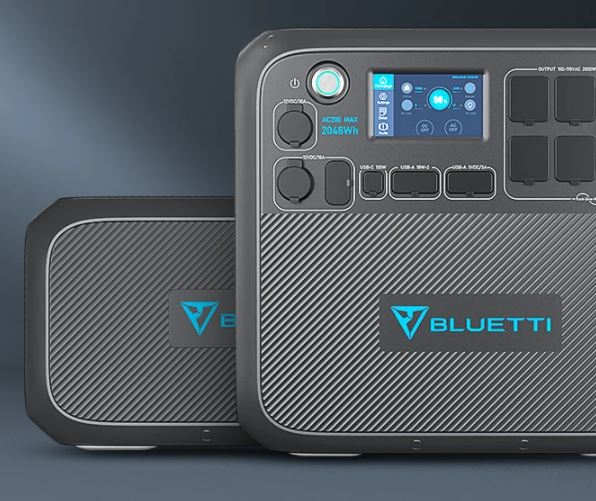 Final Verdict
The Bluetti B230 and B300 expansion batteries are worthy add-ons to some already-impressive power stations. Both the AC200 Max and the AC300 already had a lot to bring to the table. Now, you can augment them with over 24,000Wh of power. If you want to maximize your total battery reserve, it's tough to go wrong with these.