Home projectors are one of those technologies that almost went extinct for a while. Then, like vinyl records, they've made a recent comeback. And like vinyl, there's a good explanation for this madness. See, old-school home projectors were nothing like their modern counterparts. Back in the 60s and 70s, they were big and clunky, and you needed to use a reel-to-reel film. Yes, you could get great video quality. But it was a big, expensive system, and the film took up a lot of storage space. As a result, only serious hobbyists even owned one. For most people, home video would remain out of reach until the invention of VHS in the 1980s.
VHS changed the game because it was affordable and compact. Later DVD and Blu-Ray technology has followed suit. With each new technology, the storage medium gets a little smaller, and the quality gets a little bit better. With digital video and streaming, we've reached the logical conclusion. Digital video takes up zero physical space, besides part of a thumb drive or cloud server. And you can get excellent video quality – far better than the bad old days of VHS. Now, with digital media, home projectors have once again become viable. You don't need big reels of film, or a big frame to mount them on. As a result, not only can a projector provide great quality – they can also be surprisingly compact.
Take, for example, the pint-sized projector we're going to review today: the PVO YG300 Mini Projector. This projector is made first and foremost for portability, and it's as compact and lightweight as they come. But can good things really come in small packages? To find out, we'll need to dig a little deeper into how it functions, and what it's capable of. We'll start by reviewing the physical design. We'll talk about how it's constructed, and how the controls work. Next, we'll look at the quality of the video itself, as well as the built-in speakers. Last, we'll talk about how you can connect to the projector, and any extra features it offers. At that point, we'll have a more complete picture. Let's begin!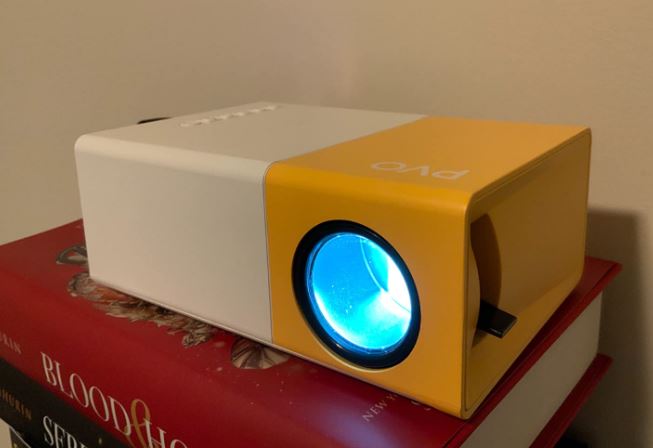 Design & Controls
The PVO YG300 Mini Projector is a tiny projector that measures 5.6 inches wide, 3.7 deep, and 2.1 thick. That's about the size of a paperback book, which is truly remarkable for a fully-functional projector. It weighs only 11.2 ounces, which is fairly light, even for the small size. This makes it very easy to carry around. You can drop it in your laptop bag or backpack and you'll hardly even notice you're carrying it. The case has a two-tone design, with orange-gold on the right third and off white on the rest. There's also an off white PVO logo on the top, directly over the lens.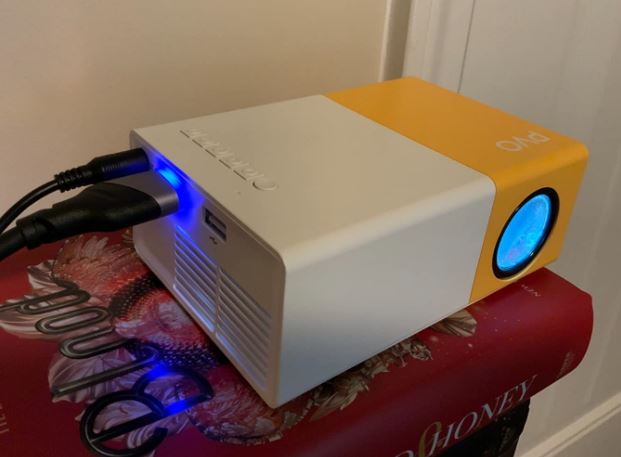 The lens is housed in the gold part of the case, and doesn't protrude very far. In fact, the black lens housing only extends by about a quarter inch, and the lens itself is slightly recessed. This keeps the glass well-protected, both from bumps and from scratches. The controls are located on the top left of the housing, and consist of a row of plastic buttons. These are solid buttons that provide good tactile response, not merely soft touch controls. You can use the physical controls to turn the system on and off, play or pause your video, or skip tracks. There's also a menu for more advanced functions, and for fine-tuning the quality of the image.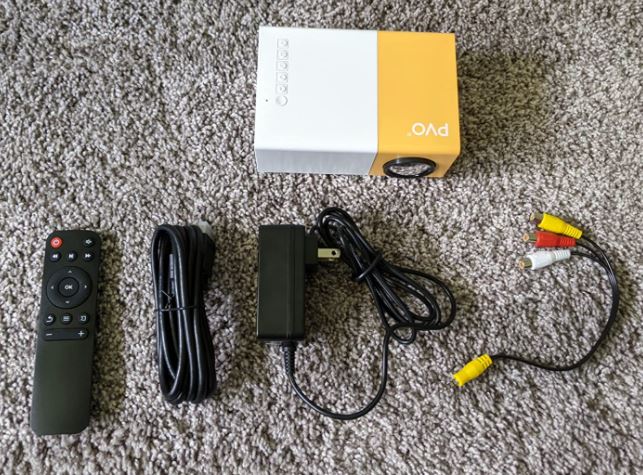 In the sides of the housing, there are horizontal slats to allow for air flow. There are additional slats in much of the back of the housing, providing additional flow. They do a surprisingly good job considering the small housing size. Just keep your hands free of the lens area while the projector is running. And give it a few minutes to cool off before storing it away. One thing you won't find on this housing is any kind of keystone adjustment dial. This was disappointing, since it makes placement a little more complicated. Unless the projector is roughly perpendicular to the screen, you'll see some distortion.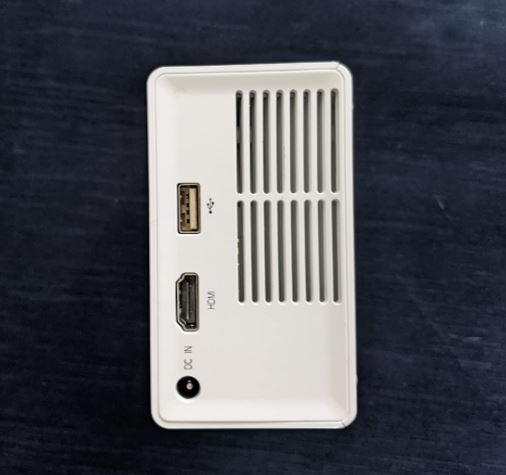 On the right side of the housing, near the top, there are three ports. From front to back, there's a USB port, an HDMI port, and a circular DC power port. On the back of the housing, there's a 3.5mm aux port, an AV port, and a plug for the 3-way RCA adapter. Just above that, you'll see the SD card slot, as well as an additional USB port. This port is an optional power port, a feature we'll discuss more in a few minutes.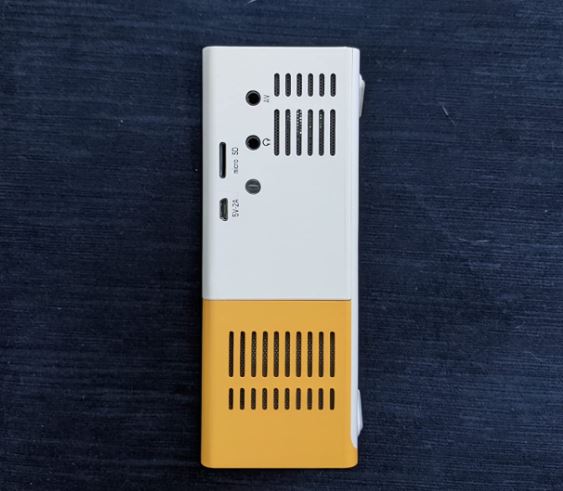 Along with the projector itself, you get a handful of accessories to help you get started. First, there's an infrared remote, which does everything the main controls do. This makes it easy to pause your video without walking over to the projector. The kit also includes a power cord, an HDMI cord, and an RCA adapter for your older devices. This is actually pretty comprehensive, and should cover most of your accessory requirements.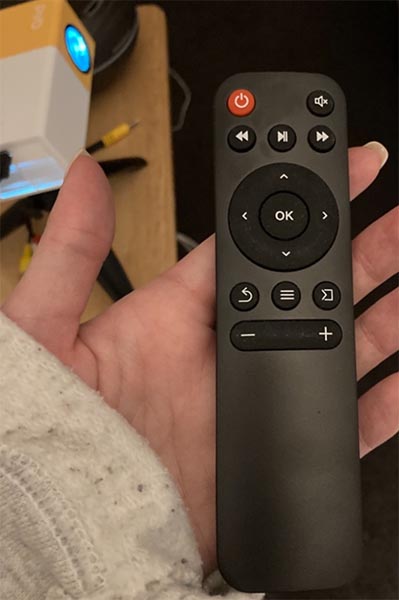 That said, suppose you want a projector that also comes with a screen. In that case, the GooDee W80 is a reasonable choice. It has an ultra-bright bulb, which is great for large rooms, and it includes its own screen. That said, it's a full-sized projector, so it's not as portable as the YG300.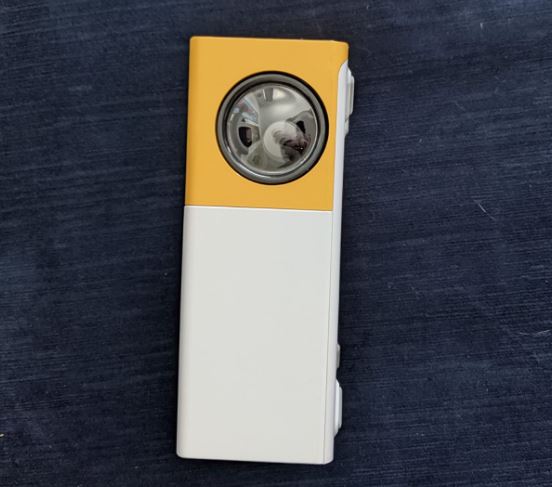 Video Quality
When you're shopping for projectors, you need to consider not one but two different video resolutions. The first is the native resolution – the resolution the projector is capable of displaying. The second is the supported resolution – the resolution you can put into the projector. In this case, the YG300 has a supported resolution of 1080p, and a native resolution of 800 x 480.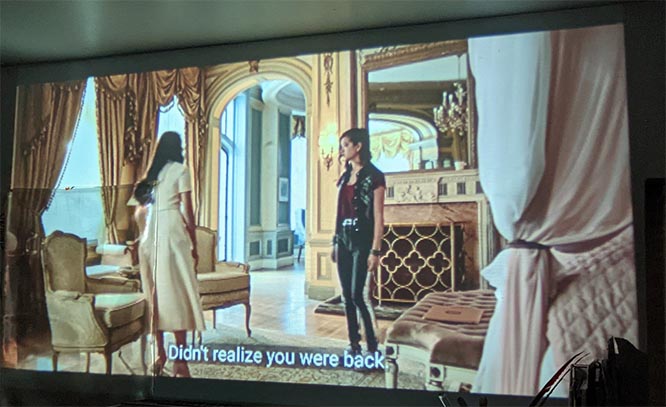 This is actually pretty unimpressive. Let's say you're playing a DVD, with a resolution of 1080p, or 1,920 x 1,080 pixels. It will only play back at 800 x 480, or less than a quarter of the number of pixels. To be fair, 1080p projectors are rare. But the industry standard these days is 720p; that's a cut above the YG300's 480p resolution. Not only that, but the light is only really bright enough to use in a darkened room. It's great for backyard movie nights, too. But if there's ambient light, natural or otherwise, the image is liable to look dim.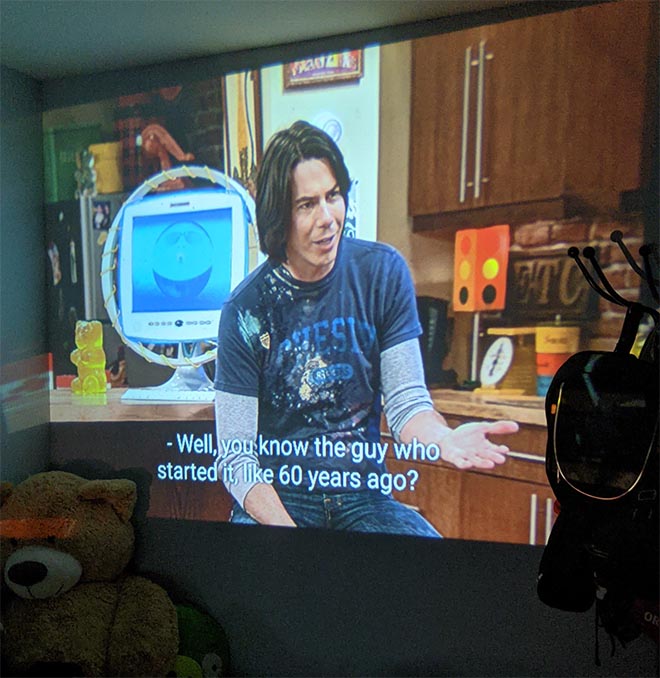 As with most projectors, you change the screen size by adjusting the distance to the screen. In total, you can adjust from a minimum of 25 inches to a maximum of 152 inches. That's over 12 feet on the diagonal! This corresponds to a distance of between 50 and 150 inches from your screen. Outside of those ranges, your image will start to get blurry.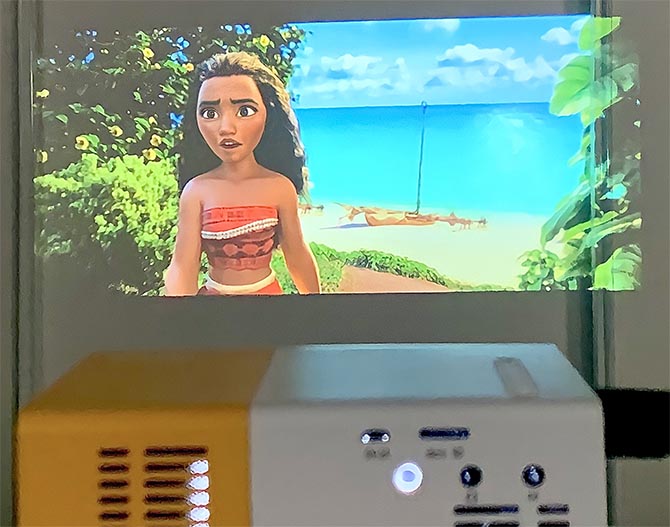 So, what do you do if you want a projector with better video quality? If that's what you want, consider the Vilinice 5000L Mini Outdoor Movie Projector. It's similarly light and compact, with a native resolution of 720p and better color vibrancy. It's still not very bright, but that's more a function of size than anything else.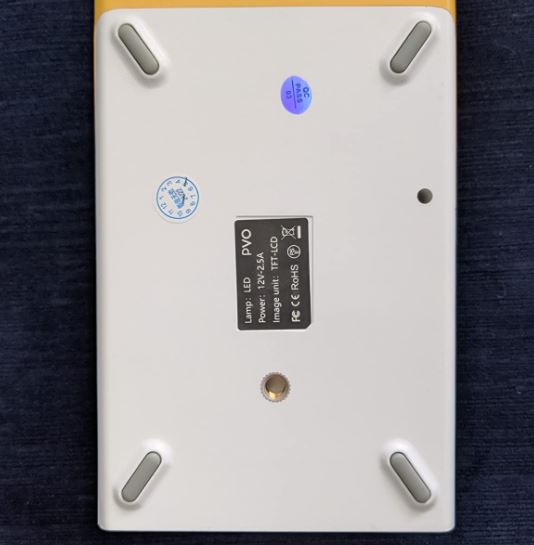 Compatibility & Extras
So, what types of input can you use to play your videos? To begin with, there's the HDMI port. This is the default option, and it's what you're going to use for most modern devices. If you're using a DVD player, Blu-Ray player, or game console, it will be your go-to. That said, there are a number of devices that don't have HDMI as an option. In that case, you can also use a simple AV cable. With the included splitter, you can also accept an AV signal from an RCA device. This will encompass VCRs, as well as older game consoles. If you want to have a retro gaming night with your PlayStation 2, you can.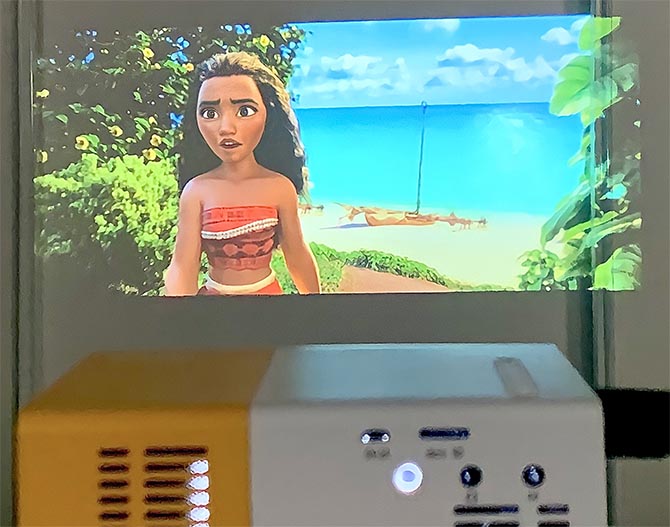 Another option is to use the USB port. You can easily plug in a thumb drive or external hard drive to watch your movies that way. You can also use smartphones that support USB-connected displays. So you can stream Netflix from your phone directly to the projector screen. The last option is to use the SD card. This is ideal for home videos, whether from your phone or from a dedicated camcorder.
The YG300's internal speakers are capable, but they're relatively small. The sound sounds just fine, but you won't be able to fill a room with noise. Unless you're quietly watching movies by yourself, you're going to want a more capable set of speakers. Thankfully, you can plug into the 3.5mm aux port and get your signal from there. This makes it easy to set up most sets of speakers. That said, there's no WiFi or Bluetooth capability. As a result, there's no way to use Bluetooth speakers that don't support a wired connection.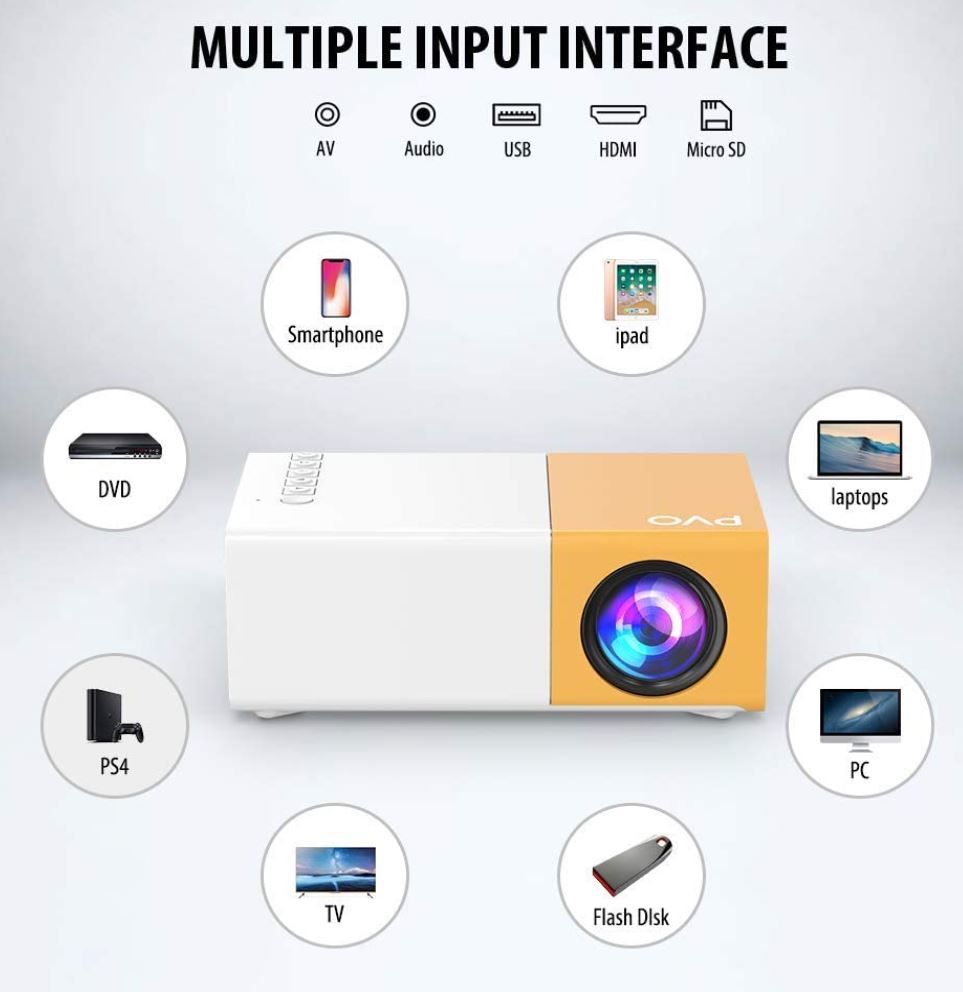 Depending on your sound setup, this may or may not be an issue. But if you need Bluetooth support, there are options. Take the WiMiUS S25, for example. It supports not just Bluetooth speakers, but also casting from your phone via Bluetooth. Not only that, but its 720p native resolution is superior to the YG300.
One thing the YG300 offers that most other projectors don't is an alternative power option. You can run it from any USB power supply, with a minimum of 5 volts, 2.5 amps. That's slightly more than the standard of 5 volts, 2.4 amps. But there are plenty of USB power banks that provide considerably more.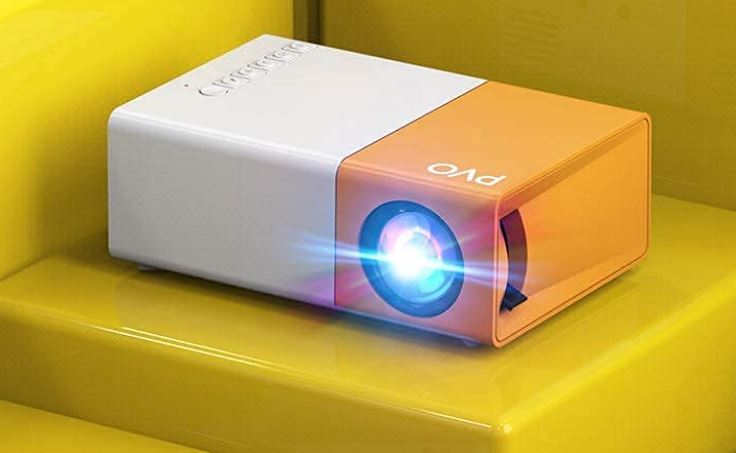 Final Verdict
All in all, the PVO YG300 Mini Projector is a bit of a mixed bag. Its main benefit is its portability – you can take it anywhere you want, even on an airplane. It's pretty much unparalleled in that regard. On the downside, the quality is less than we'd expect from a modern projector. Even if it were 720p, that would be a major improvement.