When most people think of cutting-edge video technology, they're usually thinking of something flashy. 8K TVs and the latest game consoles are some of the sexier offerings on today's market. But sometimes, the best technology hearkens back to earlier, simpler times. Projectors are a good example of this kind of technology. Like vinyl records, they used to be the only option for home users, before falling out of favor. And also like vinyl, they've seen a resurgence in recent years.
In the case of projectors, the old-school version relied on a reel-to-reel film system. You could get amazing video quality, up to as good as you'd see in a theater. However, the equipment was expensive, and so were repairs. Not only that, but reel-to-reel film is not exactly a space-efficient way of storing video. A small movie library could easily occupy an entire bookshelf! In the 1980s, VHS tapes quickly took over the market. They didn't offer nearly the same video quality as a projector. But they were compact and relatively cheap. Thanks to VHS, home video went from being a niche hobby to a mainstream obsession.
Note: At no extra cost to you, we may earn a commission for purchases using our links. Learn more.
VHS has given way to DVD, which has given way to Blu-Ray and streaming services. But nowadays, thanks to digital storage, projectors no longer need to be expensive and clunky. A home projector can be smaller than a Blu-Ray player, and gives you an old-school feel. There's no replacement for the experience of watching a movie on a projector screen. Make yourself a bag of popcorn, and you'll feel like you're in the theater. Now, we're going to review the VILINICE 5000L Mini Outdoor Movie Projector. Starting with the controls, we'll move on to video quality, as well as what devices the 5000L can connect to. Let's get started, and see how this projector performs!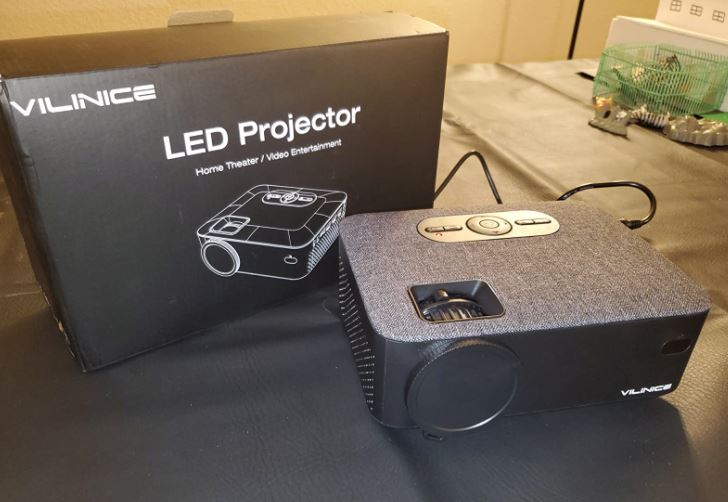 Design & Controls
The VILINICE 5000L Mini Outdoor Movie Projector lives up to its name. Manufacturers have been constantly pushing mini projectors smaller and smaller, and VILINICE is continuing the trend. The 5000L measures just a hair over 12 inches wide, 7.4 inches deep, and less than four inches thick. This makes it compact enough for easy transport, even if you're also carrying a laptop and a handful of cables. It has a black ABS plastic housing, with rounded corners that are less likely to damage other electronics. It also sports an attractive black fabric top, which makes it look more decorative than functional.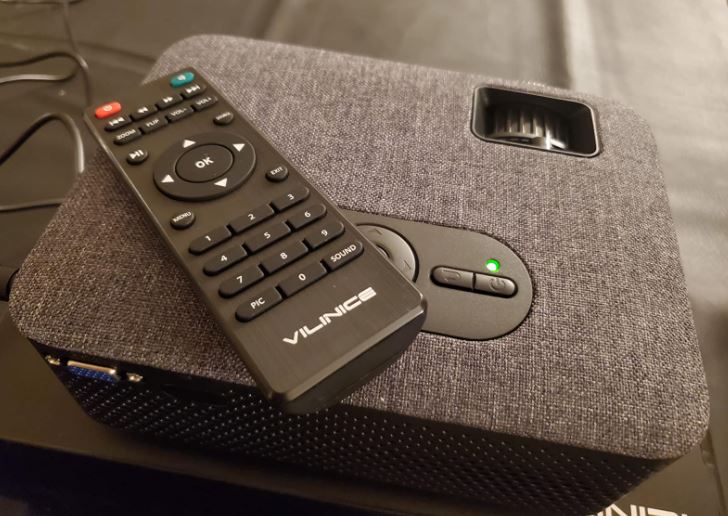 The lens is built into the front of the housing, towards the right side. It protrudes only slightly, only marginally breaking an otherwise-smooth profile. On top of the housing, just behind the lens, you'll see a pair of dials. These are used to adjust the vertical and horizontal keystones respectively. Each can be adjusted by 15 degrees in either direction. This makes the 5000L easy to position, since it doesn't have to be pointed right at the screen. It can sit on the floor, hang in a ceiling bracket, or rest on a table off to the side. Just don't go past 15 degrees, and you'll be able to get a perfect picture.
Towards the back of the unit, you'll notice a control panel on the top. This has a set of basic controls including play, pause, fast forward, and rewind. There's also a set of buttons for navigating the projector menu. There, you can adjust the brightness, color balance, sharpness, and other settings. If you prefer to use a remote control, no worries. One is included in the package, and it can do everything the built-in controls can do. That said, there are no batteries in the package. You'll need a pair of AAAs to make the remote work. But once a pair is installed, they should last for well over a year.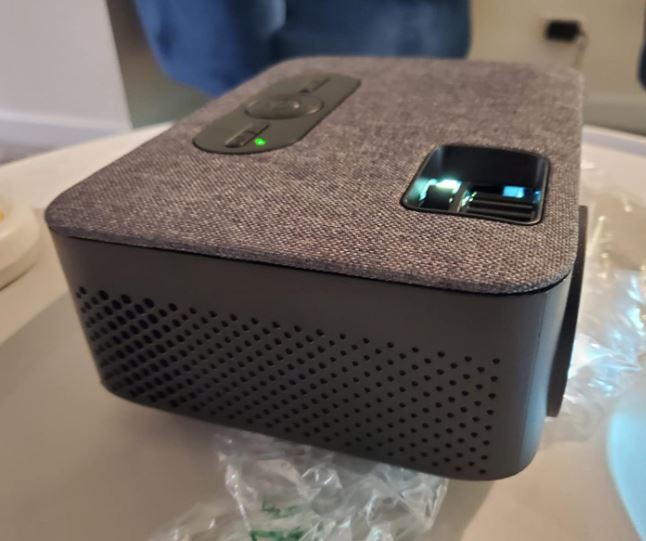 The cooling system operates with a pair of variable-speed internal fans. These suck air in from the back and blow it out the sides, cooling off all the guts of the unit. When the temperature sensor detects that the projector is overheating, the fans ramp up. When the machine is running cool, the fans slow down to save power and reduce noise. The good news is that this system is very effective. And despite the sometimes-slow fan speeds, VILINICE guarantees the bulb for 80,000 hours. The bad news is that the fans can sometimes get loud when they're running at full speed. If your TV volume is low, this can get irritating.
The bulk of the 5000L's inputs are located on the left side of the unit. This makes them easy to access both from the back and from the front. It also keeps the back of the unit clear for speakers, which we'll discuss more in a second. There are two exceptions to this, though. The VGA port and the DC power input are located on the back. We're not sure why this is the case, but it's not an inconvenience.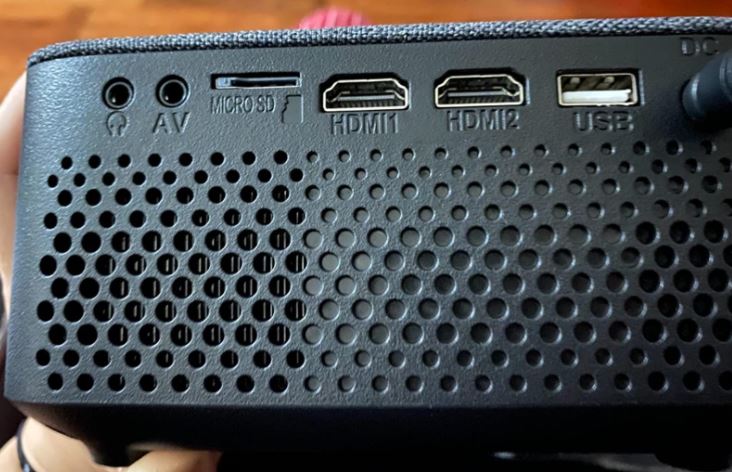 Along with the projector and the remote, you'll get a set of cables to help you get started. These include a power cable, an HDMI cable, and a three-in-one AV cable. For most video sources, you'll already have everything you need to watch your favorite movies. All of this comes at a very reasonable price, so you're getting a good value. Another good value option is the VANKYO Leisure 410W Mini WiFi Projector. For just a few dollars more than the VILINICE, you get a mini projector as well as a screen. However, the colors aren't as vibrant.
Video Quality
The 5000L has a native resolution of 720p. However, it will support input resolutions as high as 1080p. This means that all video up to and including 720p will be played in its original resolution. A 720p video will display in 720p. A 480p video will display in 480p. However, anything from 720p to 1080p will be downscaled. So your 1080p DVD will still play; it just won't look as sharp as it will on a big HD television. This is fairly standard for home projectors, where 1080p is still a significant upgrade.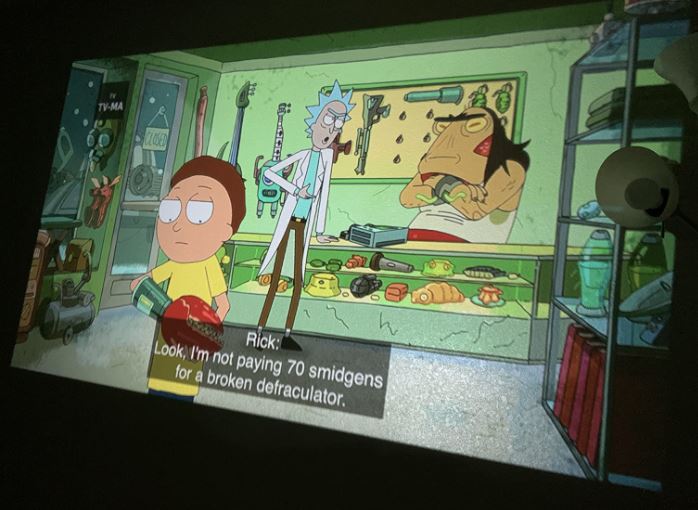 The bulb is rated at 5,000 lux, which is bright enough for most home purposes. That said, it's not bright enough for use in fluorescent office lighting. If you try to use this projector for a presentation, everything is going to look dim. The same goes for using it in daylight. If you have a big picture window in your living room, draw the curtains before you start your movie. That said, the colors are rich and vibrant, and look gorgeous. As long as the environment isn't too bright, you'll be very pleased with the video quality.
That said, you might need a more versatile projector that can handle both home and office use. In that case, consider the GooDee W80 WiFi Video Projector. Its ultra-bright bulb can be used even in harsh office lighting. On the downside, it tends to run warm, so you'll need to make sure it's well-ventilated.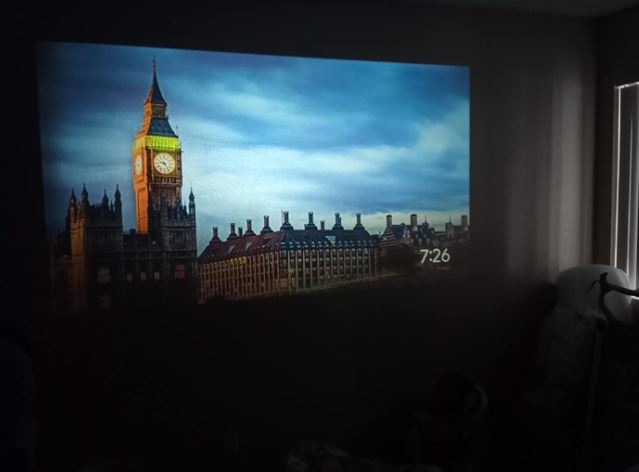 One thing we liked about the 5000L is its 5,000:1 contrast ratio. This is the difference between the brightest and darkest colors on the screen. The higher the ratio, the better visibility you'll have during dark scenes. With a very low ratio, you'll have trouble distinguishing many modern movies and shows. That said, 5,000:1 is an absurdly high ratio. The human eye can only really detect up to 3,000:1; anything else is superfluous. Even so, it's nice to know you're getting the highest contrast ratio visible to the naked eye.
The projection size can range from 32 to 240 inches, which is very wide. There's no zoom on the lens, so this is controlled by moving the projector closer or farther. It's designed to remain in focus between 1.5 and 7 meters from your screen. Too close, and it will get blurry. Too far, and it will get both blurry and dim. But it's doubtful you'll ever need a larger or smaller screen.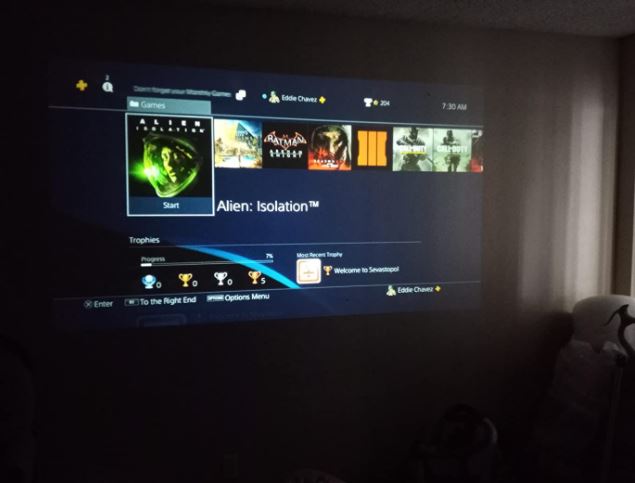 Built into the 5000L's housing are a pair of three-watt stereo speakers. At three watts, you can't expect them to put out an absurd amount of sound. But if you don't need a lot of volume, you'll be surprised by the quality. Bass, middle, and high frequencies are all present and accounted for.
Compatibility
The VILINICE 5000L is compatible with most modern devices. It has a pair of HDMI ports, which will work with most modern PCs and set-top boxes. An AV port and 3-in-1 adapter let you connect to older devices like VCRs. With the VGA connection, you can plug in older laptops and desktop computers. Finally, there's a USB port for connecting your smartphone, Amazon Fire, or Roku stick. There's even an SD card slot if you want to watch videos from a digital camera.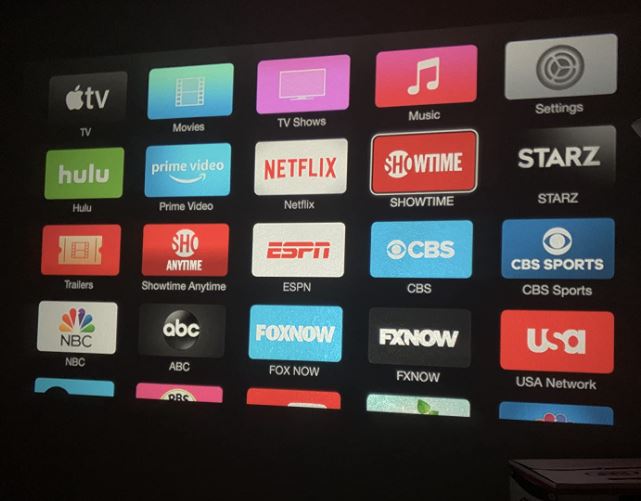 In addition to all that, the 5000L also creates its own small WiFi hotspot. Connect with your iOS or Android device, and you can stream wirelessly from your phone or tablet. You can even wirelessly stream videos from your MacBook or Chromebook.
Of course, the 5000L isn't the only projector with good video quality and good connectivity. Another excellent choice is the GooDee YG600. It has similar video, and can connect to all your devices, but it also has a very sturdy build and three-year warranty. On the downside, you pay a premium price for this type of reliability.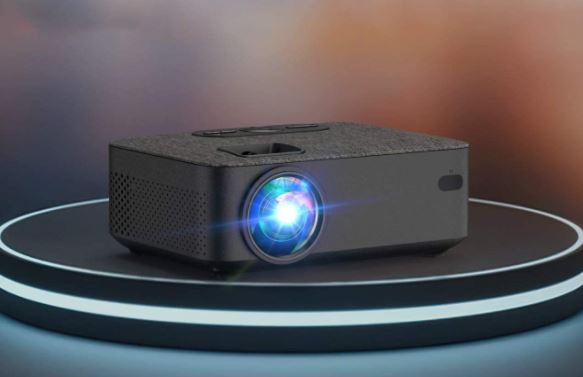 Final Verdict
So, is the VILINICE 5000L Mini Outdoor Movie Projector worth your hard-earned cash? In most regards, yes. This is not an office projector. But for anyone who wants to enjoy a home movie in retro style, it provides good quality video. Moreover, it comes in a small package that's easy to transport and easy to set up. And with a variety of inputs, you'll be able to connect any device in your arsenal.
Note: At no extra cost to you, we may earn a commission for purchases using our links. Learn more.