Liene Amber Series
Pros
Compact and portable.
High-quality photos.
Easy-to-use WiFi connection and smartphone app.
Clean, convenient TDS printing.
Cons
Must download drivers to print from PC or Mac.
Ink cartridge needs to be replaced roughly every 40 pictures.
These days, digital photography has pretty much taken over from old-school analog photography. To be fair, there's a small community of film devotees, and there probably always will be. But digital photography has a number of benefits. To begin with, you don't need film, so the camera is small enough to integrate with other devices. This allows us to use cameras on smartphones, laptops, and tablets. Another major benefit of digital photography that it's easy to share your images on social media. Modern smartphones will even let you do this directly from the camera app. With a physical photo, you'd have to scan the photo and upload it, which is needlessly complicated. So it makes sense why the world has gone digital.
That said, there are contexts where what you want isn't a digital image on a screen; it's an actual photo. In that case, your average office printer isn't going to be up to snuff. They just don't print in a high enough resolution for good quality photos. To get the best quality, you need a dedicated photo printer, along with some photo paper. Not only that, but ordinary office printers are bulky. That's just fine if your printer is sitting on your desk. But if you want to take your printer on the road, you're going to want something a little bit more portable. These are just a couple of reasons you might want to own a specialized photo printer.
Note: At no extra cost to you, we may earn a commission for purchases using our links. Learn more.
We're now going to review the Liene Photo Printer. This is a compact, portable printer that's made for on-the-go use. It's designed to print 4 x 6-inch photographs on high-quality photo paper, for surprisingly good prints. Not only that, but it acts as its own WiFi hotspot. But those features just scratch the surface of what a good photo printer should offer. What we need to determine is whether the Liene printer (Amber Series) is the complete package, or whether it's overrated. To do that, we're going to take a deep dive into all its features, benefits, and functions. Let's take a closer look, and see how well it stacks up!
Overall Design
The Liene 4×6″ Photo Printer has a petite housing that measures 8.07 inches wide, 4.91 inches deep, and 3.36 inches thick. This is about the size of a fat paperback book – think a Stephen King novel. In other words, it's not pocket-sized, but it's small enough to easily carry in a backpack or a laptop bag. It tips the scales at 4.34 pounds, which is a bit dense for the size. But when you think about how many components are necessary for a functioning printer, it makes sense. Besides which, it's not as if it's too heavy to carry. If you've got a gaming laptop, it's probably about the same weight.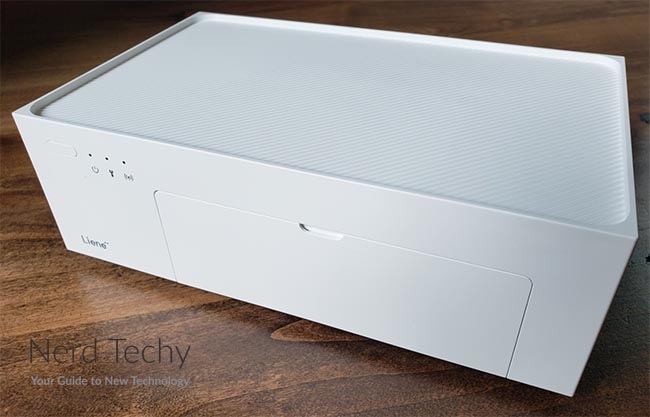 The housing is constructed from white ABS plastic, with an easy-to-clean matte finish. The rear is actually smooth, as is the right side. There's an access door on the left, as well as on the front. We'll talk about the insides of those areas momentarily. The top of the housing is ribbed, with venting to provide air flow. This is helpful, since the Liene printer's thermal process puts out a fair bit of heat.
On the front of the housing, there are a few features worth noting. First, there's a power button at the top left, which should be self-explanatory. Next to this button, there are three small indicator LEDs. From left to right, they indicate the power status, error status, and whether there's a WiFi connection. Over to the right of the front, you'll find a USB Type-C port, right next to a small, barrel-style power port. There's an AC power adapter included in the kit, which has a small block at the outlet end. It's white to match the printer housing, and wraps up easily for travel.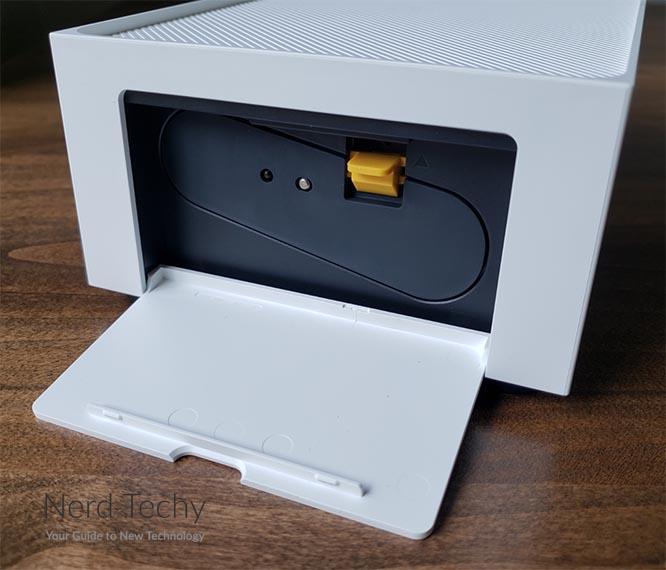 Along with the main printer housing, you get a separate paper hopper which assembles modularly. The hopper is a semi-transparent purple in color, and it opens from one end. You slide the photo paper inside, and it feeds out the same way it feeds in. To use the hopper, you open the access panel on the front of the printer and click it into place. Finished photos will feed out on top of it. At first glance, this might seem needlessly complicated. Why not just have a normal, rear-mounted hopper? Or even a front hopper that's easier to load?
The answer is portability. Most printers are awkward to transport because they're irregular. Hoppers, trays, and other features tend to stick out. By contrast, when you want to transport the Liene printer, you can easily remove the hopper. The hopper then snaps into the top of the housing, so you don't have to carry it separately. The best part is that it has the same width and length as the printer housing itself. So when it's snapped into the top, there are no weird, extra angles to the unit as a whole. Because of its design, the paper hopper can only accommodate 4 x 6-inch paper. Depending on what you wanted to achieve, this can be either a good thing or a bad thing.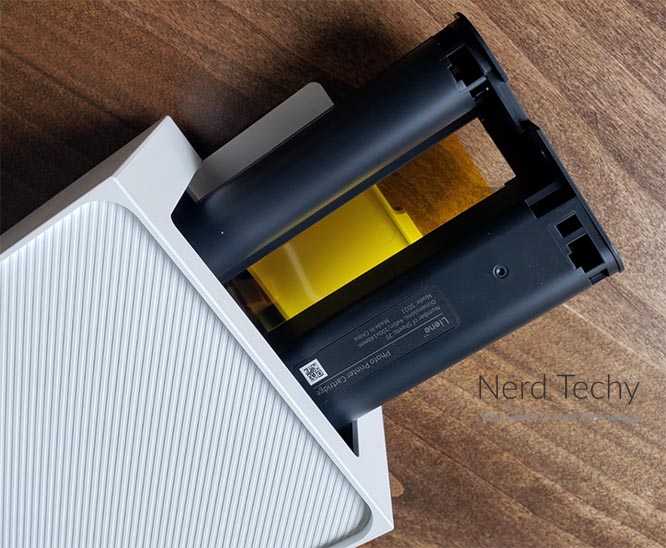 If you want smaller photos, check out our review of the Canon IVY. This is a small, pocket-sized photo printer for wallet-sized photos. Then again, the small size corresponds with less overall capability.
You also get a few other essentials when you first open the Liene box. To begin with, there are 20 sheets of photo paper. Along with these, there's a single ink cartridge. One cartridge has enough ink for about 40 photos, so you'll need paper before you need a new cartridge.
Connectivity & Setup
The Liene Photo Printer is designed first and foremost for printing from your smartphone. To make this as easy as possible, it creates its own WiFi network. When you first connect, your default password will be "12345678." After entering this ingenious combination, you'll be able to set your own password. You can actually connect five different devices simultaneously via WiFi. This makes collaborative projects quick and painless.
The only real downside of the WiFi connection is that it's harder to set up as a network printer. With an Ethernet connection, you could easily set this up as a network printer. But it wouldn't be easy to connect to unless you plugged into your router. That said, you can connect to a single device via USB Type-C. Most people will do this to connect to a PC or Mac. But if your router has a USB port for network devices, you could jury rig a functional network setup.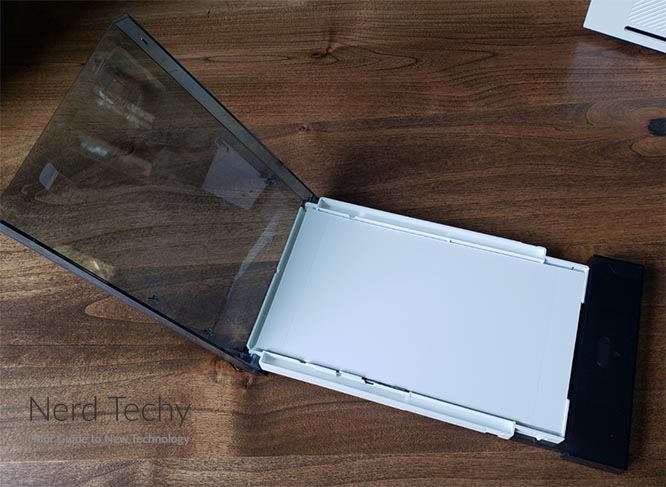 To actually print anything, you'll first need to download and install the Liene app. Through the app, you can print your photos, as well as adjust your printer settings. When you first go into your photos, you'll be asked if you want to print in ordinary or ID printing mode. We're not sure if there's any difference in the technical specifications of the finished photos. But from an app perspective, ID printing mode is more streamlined. You don't get any editing options; you just print the pictures. This seems to be designed for printing larger runs of photos, including for organizational purposes.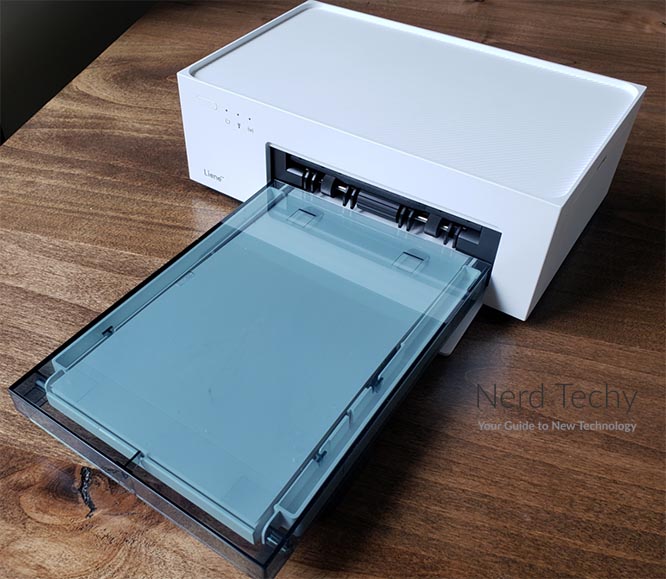 In ordinary mode, you get access to a handful of more options that you might appreciate. To begin with, you can perform basic editing. You won't find advanced tools like you will in Photoshop or Corel. That said, you'll have access to basic functions like cropping and rotating. You'll also have access to a bunch of effects, filters and frames. This is similar to the filters you'll find on Instagram and other similar sites.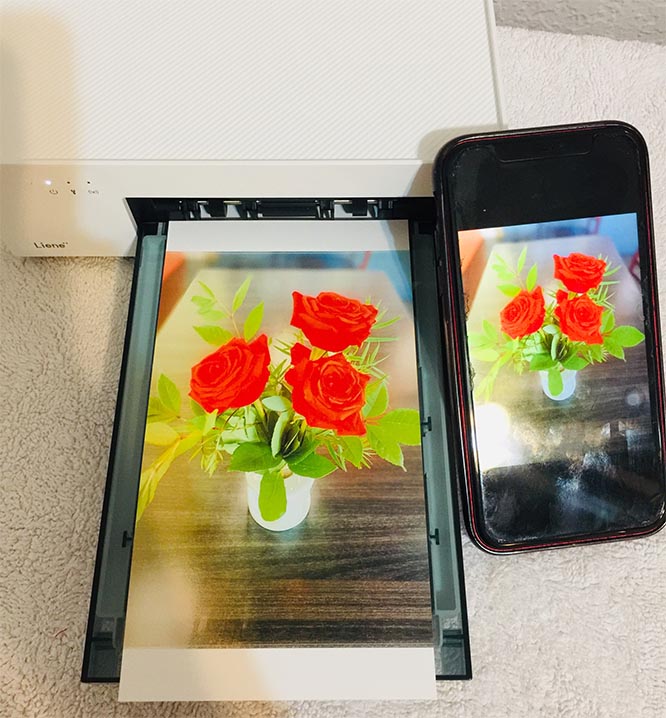 To use the Liene printer with a PC or Mac, you'll need to download the drivers. Neither system has the right drivers, and if you try to use an alternative, you'll get wonky results. Thankfully, the drivers are easy to find on Liene's website, and installation is a breeze. Once the printer is set up, you can print from your favorite photo editing app.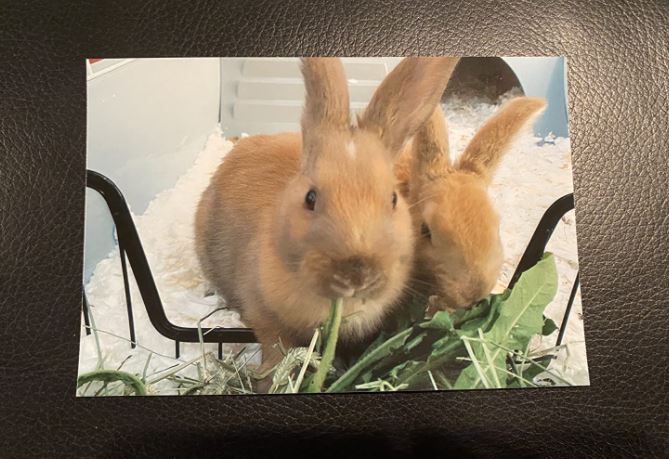 But what if you want a printer that's built with computers in mind? In that case, consider the HP Envy 5055. It's a more traditional desktop printer that connects with a PC or Mac. It boasts a built-in scanner and can print larger photos, but it's not terribly portable.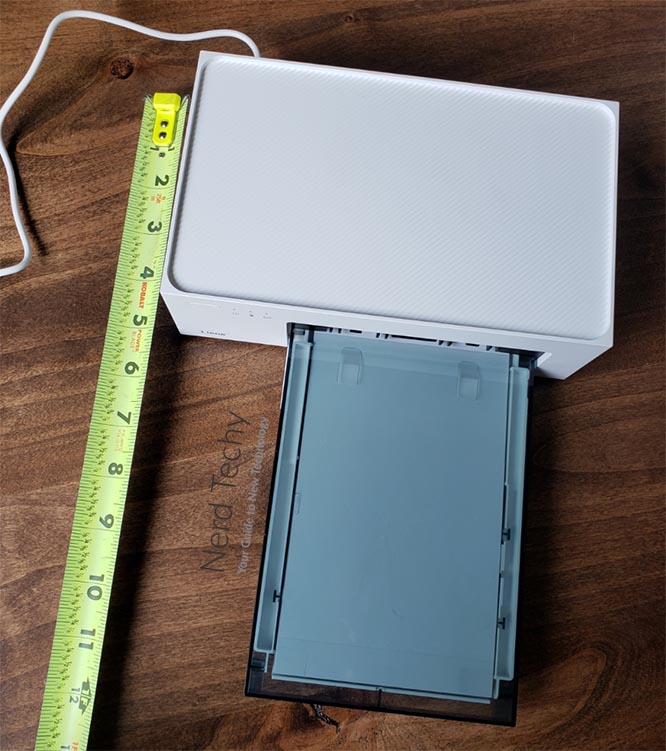 Printing Performance
The Liene Photo Printer utilizes a process called thermal dye sublimation (TDS). Without getting too far into the weeds, TDS utilizes a heat process. This causes the dye to leech – or sublimate – into the printer paper. This process is useful for a couple of reasons. First off, it allows for smaller print cartridges. There's no liquid ink – instead, dye is stored on flexible panels in a reel inside the cartridge. This makes for a clean replacement process, and less need to clean the inside of the printer.
The other benefit is that TDS provides better vibrancy and permanence. Because the dye has soaked into the paper, it won't fade as quickly. Not only that, but the printer actually applies a protective layer as part of the finishing process. The cartridge installs easily, through the access panel in the side of the machine. Replacement printer and cartridge kits are affordable and readily available.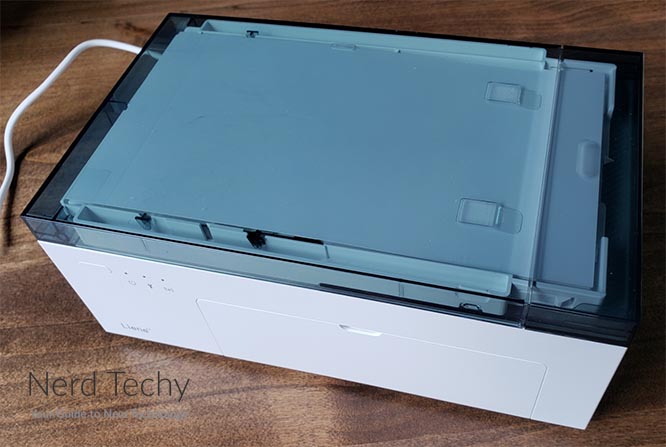 Final Verdict
So, is the Liene Photo Printer a good choice for you? For many people, the answer is going to be yes. To begin with, it's portable enough to take with you on your vacations. It's also durable, with a nifty hopper design that's easy to collapse. The smartphone app works well, and is easy to set up via the WiFi connection. Even PC performance is pretty good, although you do have to install your own drivers. Print quality is excellent, better than you'll see from a laser jet. And the easy-to-use cartridges make operation a breeze. All in all, we were very pleased.
Please consider sharing:
Note: At no extra cost to you, we may earn a commission for purchases using our links. Learn more.