If you're like many people, your RV is your second home. And whether you're on the road for weeks, months, or even years, you want to have all of home's amenities. That means hot water, a functioning refrigerator, and a television. Yes, we all love the dream of sitting outside under the stars. But the reality is that many evenings, foul weather or mosquitos will keep you indoors. Having TV, DVDs, and a game console can help pass those evenings more pleasantly.
In the past, we've reviewed several RV accessories. These include lockable RV TV wall mounts, a necessity if you don't want your nice TV getting smashed. Today, we'll be looking at the best 12-volt LED TVs. These TVs are designed to plug directly into a standard 12-volt RV outlet. This eliminates the need for a power inverter, which you would need to install an ordinary TV. Since an RV TV tends to be a semi-permanent installation, it makes more sense to use 12-volt power. An inverter makes more sense for game consoles, or other electronics you plug and unplug frequently.
We're about to consider three different 12-volt LED RV TVs. Once we've looked at all of their benefits and features, we'll know which one is the best. First up, we'll examine the Free Signal TV Transit. This is a 28-inch TV, which is fairly large for an RV television. Next, we'll look at the Jensen JTV19DC. This is a compact, 19-inch TV, but the image quality is a cut above most others. Finally, we'll review the AXESS TVD1804-24. This is a mid-sized 24-inch TV that sports a built-in DVD player. Let's take a closer look, and see how they compare!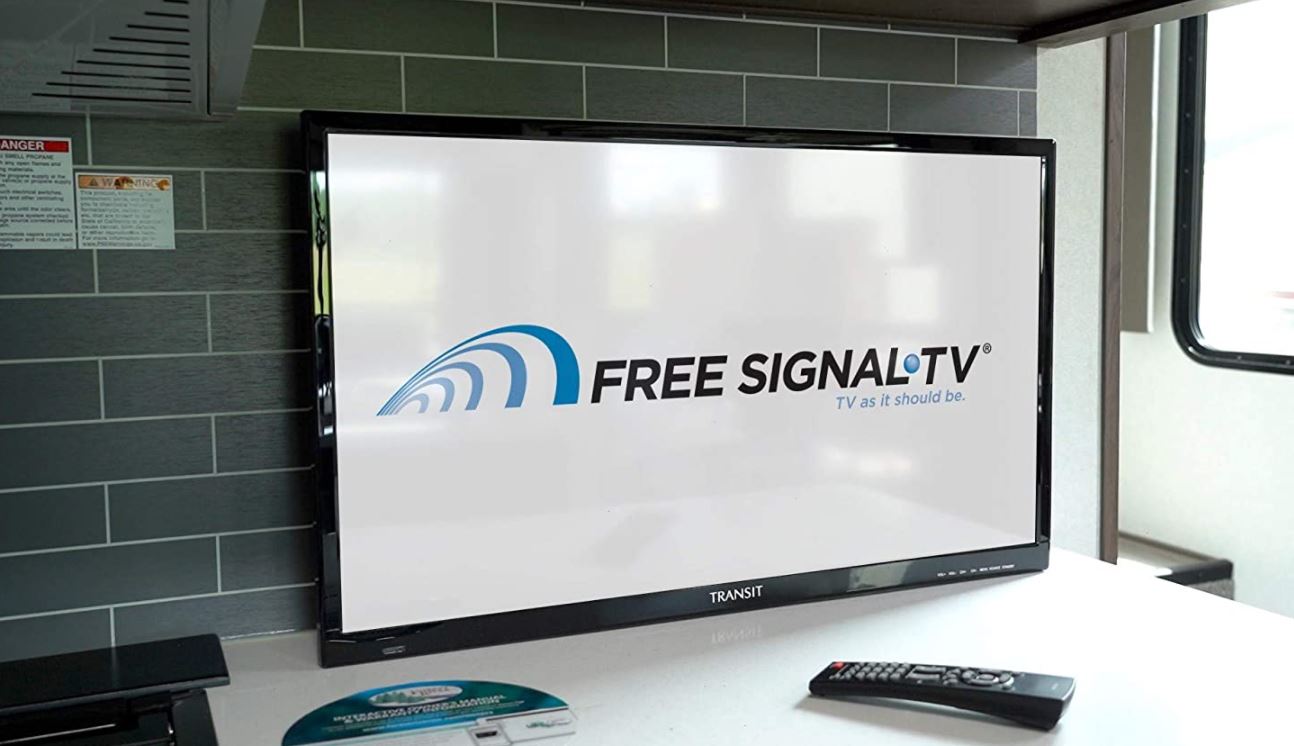 Free Signal TV Transit
The Free Signal TV Transit's main attraction is clearly visible as soon as it comes out of the box. The 28-inch screen is large for an RV, if not for a home TV. But at the distances you'll be watching in an RV, it may as well be very large indeed. The overall dimensions are 25.1 inches wide, 13.75 inches tall, and 2.5 inches thick. At 9.2 pounds, it has a weight befitting its size. That said, 9.2 pounds still isn't all that heavy. You can carry it under one arm without any trouble.
When it comes to installation, you have a couple of options. The first and most obvious option is to use a VESA mount. The back of the Transit has threaded holes in the appropriate pattern. You can also use the stand that's included with the TV. Keep in mind that this is a terrible idea in a moving RV. However, it also makes the Transit suitable for home use, provided you have an AC to 12-volt converter. This is a niche application, but it has its uses. For instance, if you're only "at home" a few weeks or months a year, you might not want a dedicated home TV. In that case, the stand gives you a bit of versatility.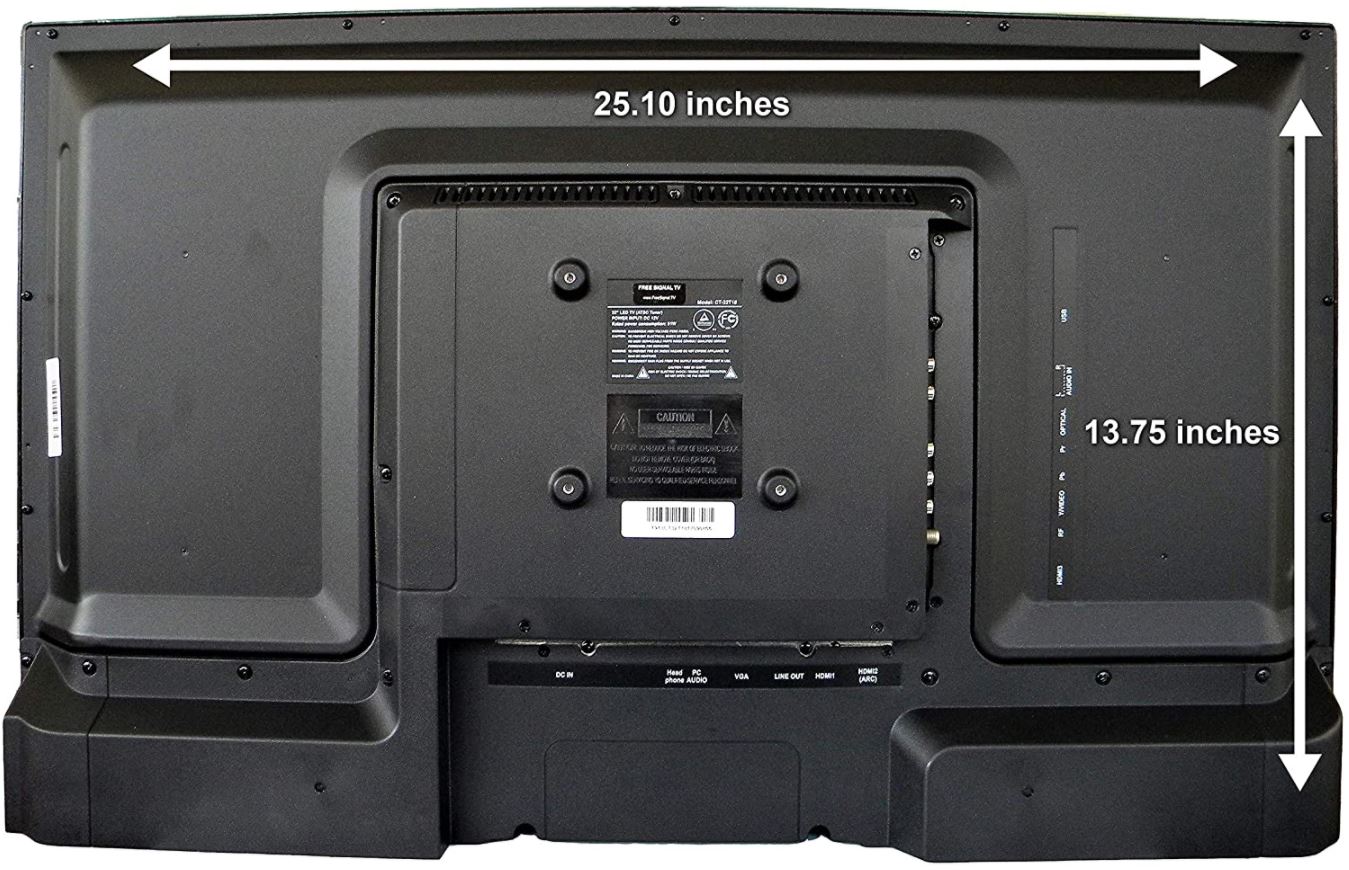 Like most modern TVs, the Transit has a row of simple control buttons at the bottom right. If you want to adjust brightness or perform other more complex functions, you'll have to use the remote. It plugs into a standard 12-volt RV power outlet, so you don't have to fiddle with any wiring. It also has three HDMI ports, so you can connect multiple inputs at once.
Picture Quality and Extras
The Transit advertises a resolution of 720p, but they're underselling themselves. The actual resolution is 1,366 x 768 pixels, slightly better than 720p. This isn't "full HD," but it's still reasonably good for an RV television, especially one that only draws 12 volts. The brightness is excellent, and 100 percent brightness is way more than you'll ever need.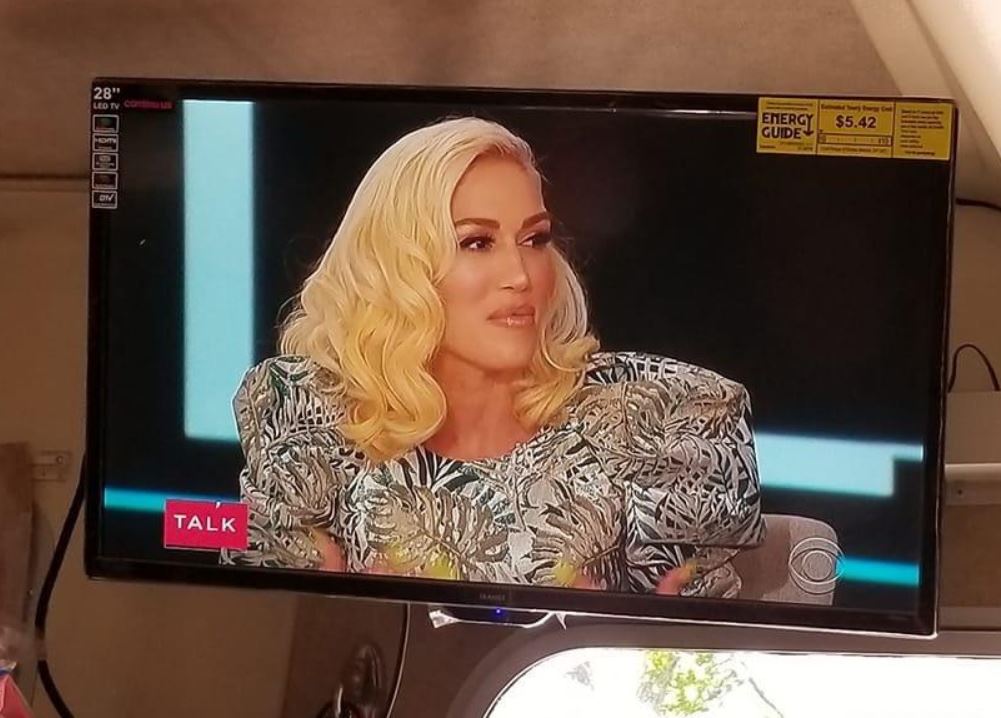 One thing that disappointed us was that Free Signal TV does not say what the contrast ratio is. This is the difference between the lightest and darkest colors on the TV. You won't notice it much in bright scenes, but it makes a huge difference in darker scenes. Suffice it to say that the contrast ratio is good, but not great. For most people, it's going to be just fine. Similarly, the audio has reasonably good frequency response. It's not the best, but it's better than your average TV speakers will provide. Not only that, but the audio circuitry is shielded, which protects it from interference from other electronics.
The Transit is available with a built-in DVD player. This feature costs extra, but it's less than a standalone DVD player. That said, if you already have a standalone player or game console, why pay for a DVD player? Either way, it's good to have choices. All of this is covered by a 12-month manufacturer's warranty. This covers defects in both material and workmanship. Not only that, but Free Signal TV provides 7-day tech support if you have any trouble with setup or installation.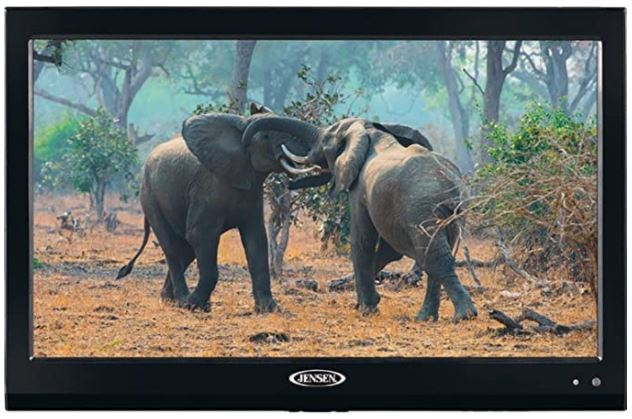 Jensen JTV19DC
The Jensen JTV19DC has the smallest screen of any TV on our list, at only 19 inches. But as they say, good things come in small packages. For one thing, it's surprisingly heavy for the size, tipping the scales at just over seven pounds. In part, this is due to the old-school oversized frame, which provides extra protection and durability. This durability is evident on the internal components as well. An internal metal cabinet houses coated circuit boards, and all of the input and output ports are reinforced. This makes the Jensen perfectly suited for even the most rugged of roads.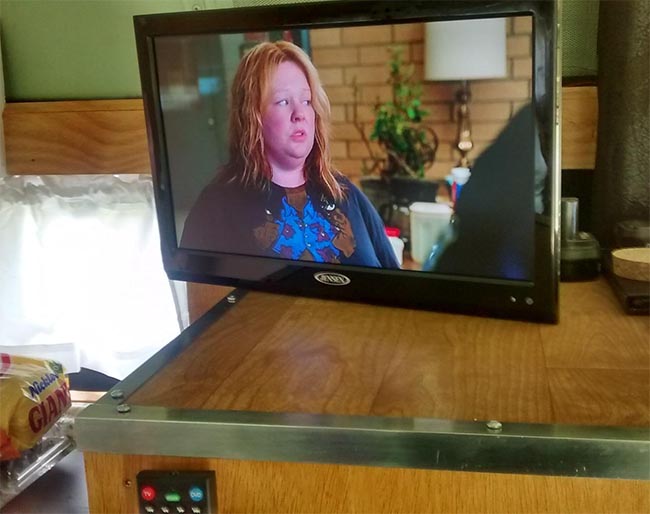 The back of the TV has threaded 100mm x 100mm VESA holes ready for mounting. This is your default mounting option, and the only real option in a moving RV. That said, there are still a pair of plastic legs included. These legs are fairly cheap, and are an obvious afterthought considering the high quality of the TV itself. Still, they're available if you want to use the Jensen indoors. A remote control is included, although the TV's front panel allows you to perform some basic functions.
In terms of input, you get a variety of options. Not only do you get an HDMI input, you also get component video, composite video, and VGA inputs. There's even an RF connection for an old-school antenna. On the more modern front, there's a USB port for a thumb drive or streaming stick. For audio, you get a 3.5mm audio input, as well as a stereo input. You also get a headphone jack and a selectable RCA audio output in addition to the built-in speakers. This makes the Jensen suitable for connecting just about any device. On the other hand, the single HDMI input can be limiting if all your devices use HDMI.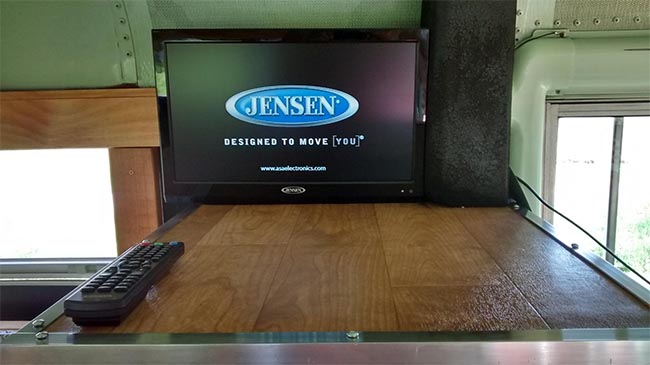 Picture Quality and Extras
The Jensen's screen has a resolution of 1,368 x 768, the same as the Free Signal TV Transit. However, the Jensen's smaller screen means that the pixel density is far higher. This means that the video looks sharper than on the larger TV. The contrast ratio is also better. At 3,000:1, it's at the upper limit of what the human eye can distinguish. As a result, the Jensen is ideal for watching darker scenes, since you'll be able to distinguish more detail.
The Jensen TV supports audio return channel (ARC) technology on its HDMI ports. This makes it capable of working with multiple inputs and automatically switching between them. It also enables multiple features for modern AV receivers. If you're trying to install a state-of-the-art home theater inside your RV, ARC technology is practically required.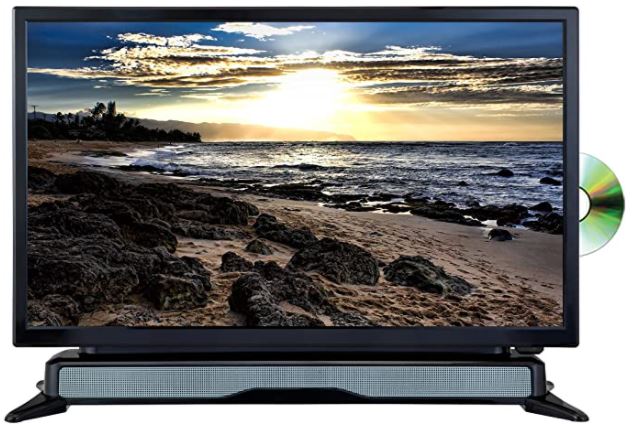 AXESS TVD1804-24
AXESS is a brand we've covered before, when we looked at their rugged Bluetooth speakers. Their TVD1804-24 television is also built with audio in mind, with a built-in soundbar. The screen measures 24 inches on the diagonal, for a mid-sized viewing area. And the whole TV measures 22 inches wide, 15 inches high, and 3.5 inches deep. This size gets a bit larger when you attach the stand, but that won't be necessary in an RV. Even at this medium size, the AXESS TVD is fairly lightweight, at only five pounds.
Like the Jensen, the AXESS TVD supports a variety of inputs. This includes HDMI, VGA, component, and RF inputs. You can connect pretty much any device, old or new. Other than that, the design is fairly barebones. There are a few control buttons on the right side, along with a remote control and a standard 12-volt cord. Attach it to your VESA mount, plug it in, and start watching your favorite shows.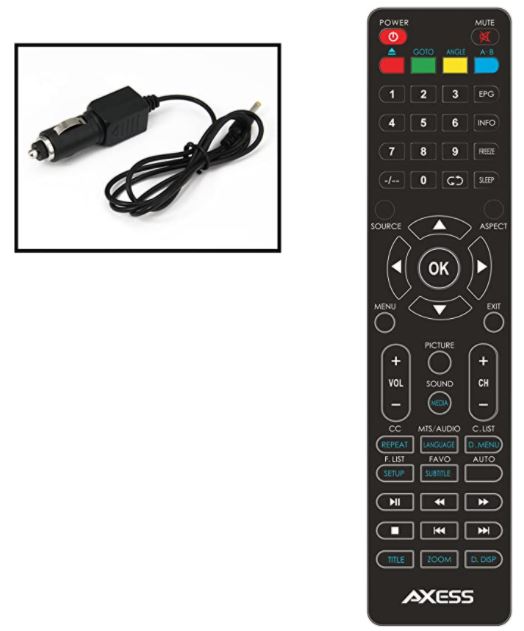 Picture Quality and Extras
The AXESS TVD's screen has a maximum resolution of 1,366 x 768 pixels, the same as the others. Because of its medium size, it falls right in the middle in terms of pixel density. We should also note at this point that there's a 32-inch variant. If you went this route, the TV would be very large indeed for an RV. It would also have a correspondingly low pixel density. Either way, you get a contrast ratio of 1,000:1. This isn't great, but it's not bad either. Normally, we want a minimum of 1,000:1, and the AXESS meets that standard.
The standard, 24-inch AXESS TVD has a built-in DVD player, which the 32-inch variant doesn't offer. This allows you to play DVDs directly from the TV, which is great if you don't already have a DVD player. If nothing else, it's one less device you need to power. All the DVD controls are included on the remote, so operating the DVD functions is a non-issue.
The main benefit of the AXESS TVD over our other options is the built-in sound bar. This offers significantly better audio quality than a set of ordinary TV speakers. Depending on how loud you listen and your audio preferences, you may or may not notice a difference. The louder the volume and the more powerful the bass, the more noticeable the difference. Similarly, if you prefer an even mix at low volumes, the difference is minimal. It all depends on how you like to listen.
Final Verdict
As you can see, each of these 12-volt TVs has its own strengths and weaknesses. Which one is the best is going to depend on what features are most important to you. Let's review each of them briefly. To begin with, we looked at the Free Signal TV Transit. The Transit is a 28-inch TV whose main selling point is its size, which is bigger than most 12-volt TVs. It supports three HDMI inputs, so you shouldn't have any trouble with multiple devices. Another impressive feature was the screen brightness. Even if you get stuck in the campsite with a light just outside, you'll still be able to see your screen.
The Jensen JTV19DC is a better choice if you want a more compact TV. At 19 inches, the screen is very small, but the overall unit is a bit larger due to the protective internal frame. This frame makes it highly durable, so you don't have to worry about it getting easily damaged. The Jensen also offers superior image quality to our other options. True, the resolution is identical, but the pixel density is higher and the contrast ratio is also higher. Moreover, the Jensen supports multiple input formats, as well as ARC technology. This makes it more future-proof, at the expense of having only a single HDMI port.
The AXESS TVD1804-24 is the best choice if you want maximum audio quality without external speakers. The built-in sound bar adds some punch to the bass, as well as reducing distortion at high volumes. The image quality is reasonably good as well, if not quite as impressive as the audio quality. You can also connect a variety of inputs, and the design is lightweight and easy to mount. All in all, there's a lot to like here.
Meet Derek, "TechGuru," a 34-year-old technology enthusiast with a deep passion for tech innovations. With extensive experience, he specializes in gaming hardware and software, and has expertise in gadgets, custom PCs, and audio.
Besides writing about tech and reviewing new products, Derek enjoys traveling, hiking, and photography. Committed to keeping up with the latest industry trends, he aims to guide readers in making informed tech decisions.