Finding a good pair of wireless earbuds isn't easy. The fact is, there are literally thousands of models on the market. Every one of them has its own costs and benefits, and for every great find, there are at least a few turkeys. How do you sort out the good from the bad? There are a handful of ways. But one of the easiest ways is to stick with a manufacturer you know and trust. Mpow is one of these trusted manufacturers. They're known for producing high-quality headsets, Bluetooth speakers, and other audio equipment at an affordable price.
Today, we're going to review two of Mpow's hottest new offerings. First, we'll look at the Mpow MX1 Wireless Earbuds. These buds have an AirPod-style design, with studs that hang down from your ears. They're great for hands-free calling, with CVC noise cancelling to keep your voice clear. Next, we'll review the Mpow X5 Wireless Earbuds. The X5 buds have a tighter, in-ear design, complete with active noise cancelling (ANC). They also include a transparency mode for convenience. But which choice is the best for you? Let's take a closer look at both of these earbuds, and see what we come up with.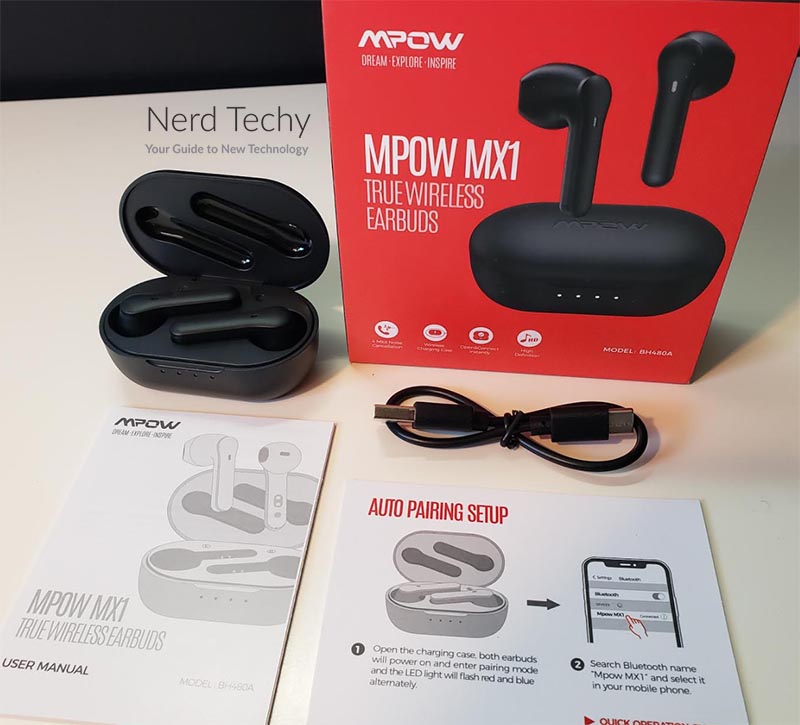 Mpow MX1 Wireless Earbuds
As we mentioned, Mpow MX1 Wireless Earbuds have an AirPod-style design. This doesn't just mean the iconic protruding battery compartments. It also means there are no silicone ear tips. Instead, the MX1 buds are designed to fit loosely in your ear. This provides less of a seal, so more outside noise will penetrate. On the other hand, it's more comfortable for long-term wear, particularly if you have sensitive ears. If you prefer an in-ear fit, no worries. Mpow offers plenty of great in-ear buds.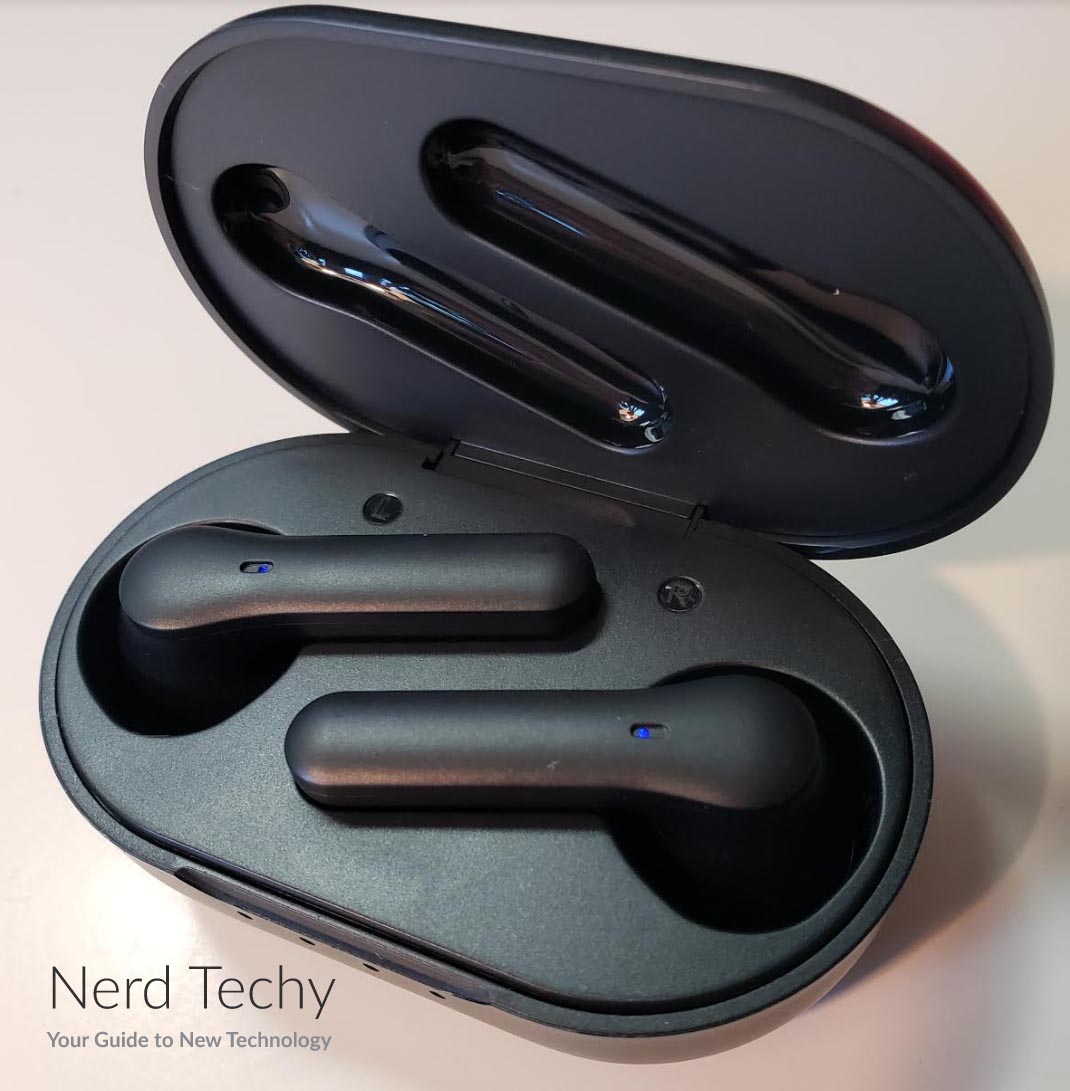 Like many modern earbuds, the MX1 buds have soft touch controls on the back. This allows for easy operation without applying a ton of pressure. You can skip tracks, adjust the volume, or even activate your voice assistant at the touch of a button. The buttons are also well designed. Applying pressure to the sides of the buds won't activate them. This means you can easily adjust your earbuds without accidentally skipping tracks or hanging up on someone.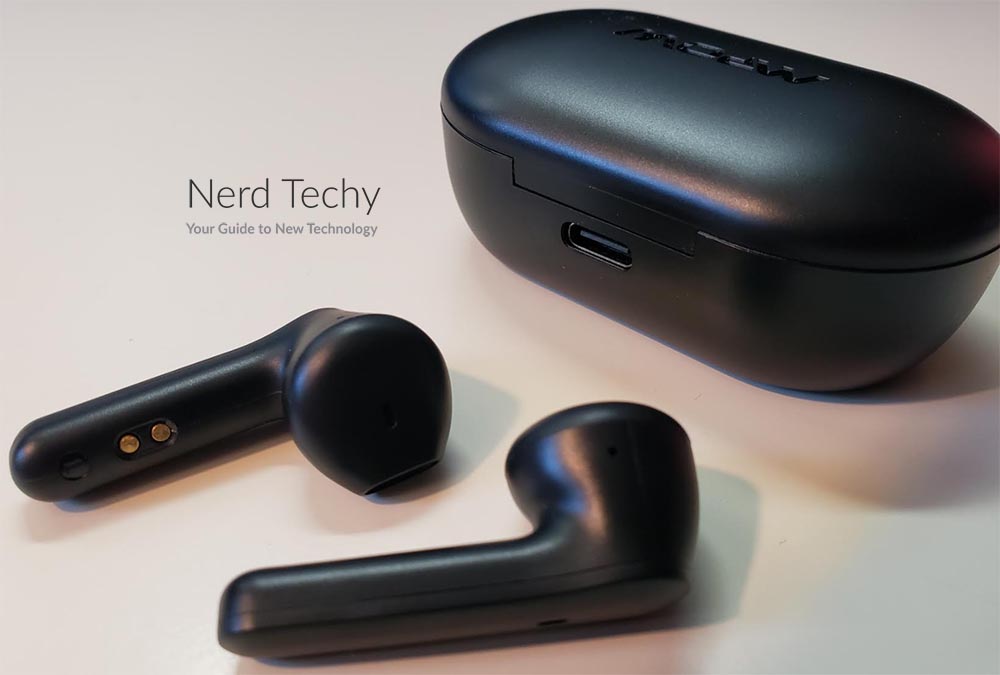 The MX1 earbuds are IPX8-rated for water resistance. This is the highest rating available, and indicates that custom testing was performed. At a bare minimum, it means the buds can be submerged for half an hour at deeper than three feet. We're not saying you should take them swimming; why tempt fate? But you can safely wear these earbuds in the shower without ruining them.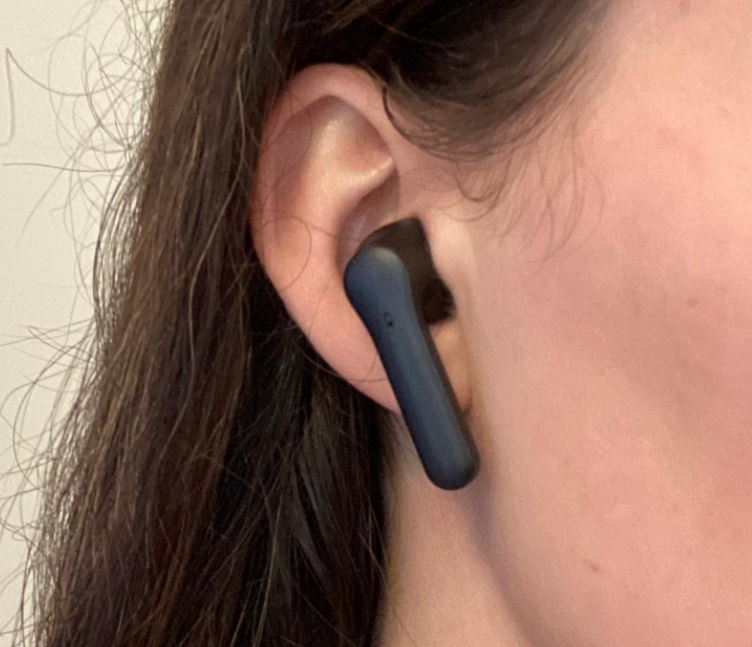 The MX1 case is a departure from the AirPod-style design in that it's horizontal, not vertical. This makes it easier to remove the earbuds, as well as to ensure that the contacts are touching. The case has a clamshell design, and slips easily into your pocket. On the front, a row of four LEDs will keep you notified of the current battery level.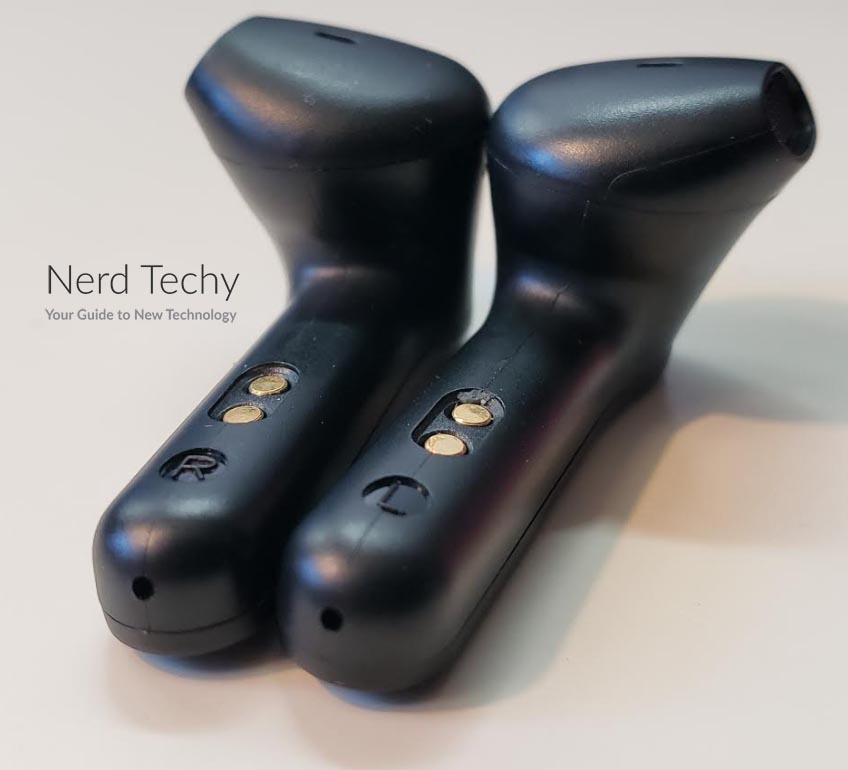 Battery and Connectivity
The MX1 earbuds' internal batteries hold enough charge for about five hours of continuous listening. This is a manufacturer's rating, and like many manufacturer's ratings, it's a bit optimistic. The reason is that it's based on listening at moderate volume. If you're cranking your earbuds up all the way, you may get as little as four hours. Still, that's not bad, even if it is at the low end of modern earbud performance.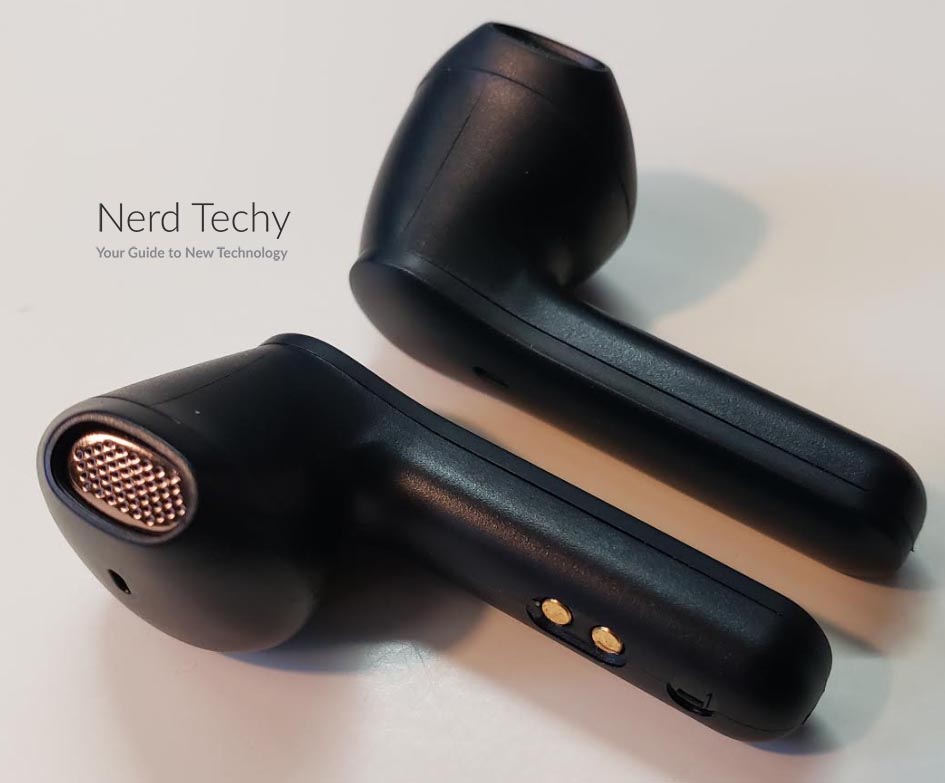 The charging case is a bit more impressive, with enough juice for six additional charges. This gives you between 28 and 35 hours of performance depending on your volume level. You can go on vacation for a week and not worry about having to charge. When it is time to charge your case, you can use either USB Type-C or Qi wireless. When using USB Type-C, you can fully charge the case in about 90 minutes. When using Qi wireless, it will take about 2 ½ hours. Even so, you're looking at very little charge time for a lot of playtime.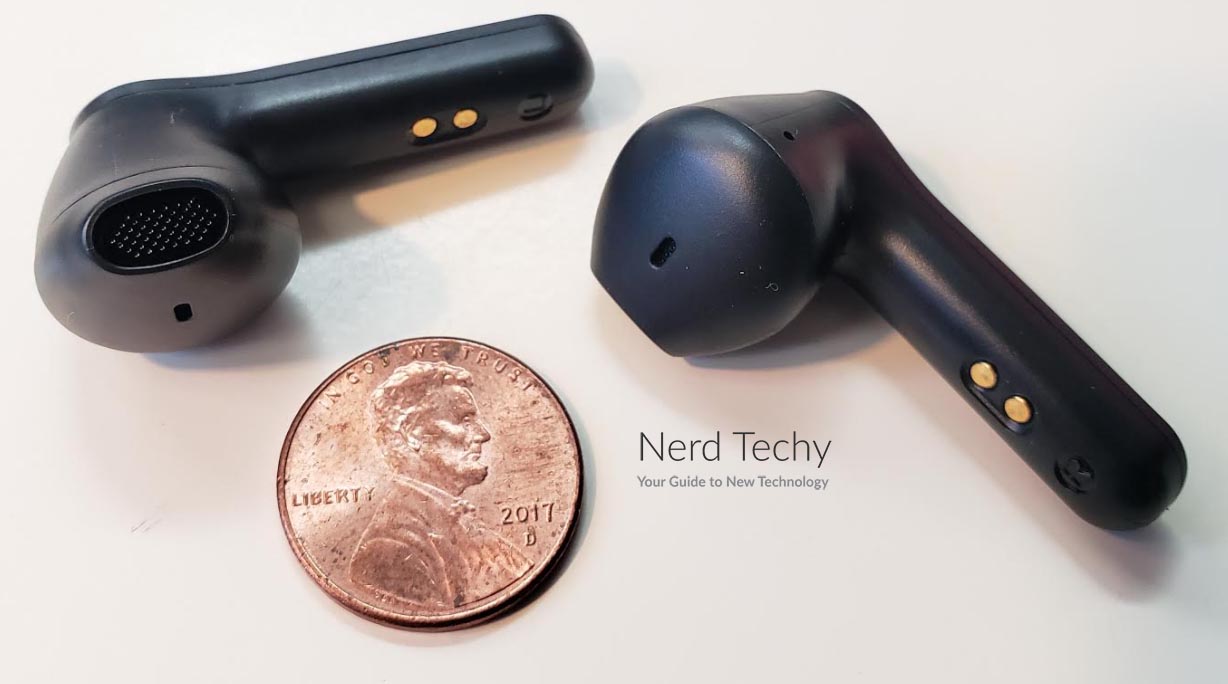 The MX1 Wireless Earbuds pair with your phone or MP3 player with the Bluetooth 5.0 protocol. This latest Bluetooth version is capable of more stable connections, lower latency, and higher bandwidths. It also supports automatic pairing in both stereo and mono mode. When you remove only a single earbud from the case, it will pair in mono mode. This is ideal for hands-free calling, or other situations where you want to hear your environment. Removing the second earbud will return you to stereo mode for ordinary listening.
Sound Quality
The MX1 earbuds sport 10mm drivers, which are larger than the drivers on most earbuds. This translates to better performance across the spectrum. This is comparing apples to apples, of course. You're not going to get the thumping bass you'd get from true over-the-ear cans. But you'll get a nice, even EQ where the bass is just as present as the mids and highs. One thing the MX1 buds do offer is a wide soundstage. This means there's plenty of separation between the instruments, as if you're actually in the room with the musicians. This is a huge improvement over many affordable earbuds, which often sound "squished."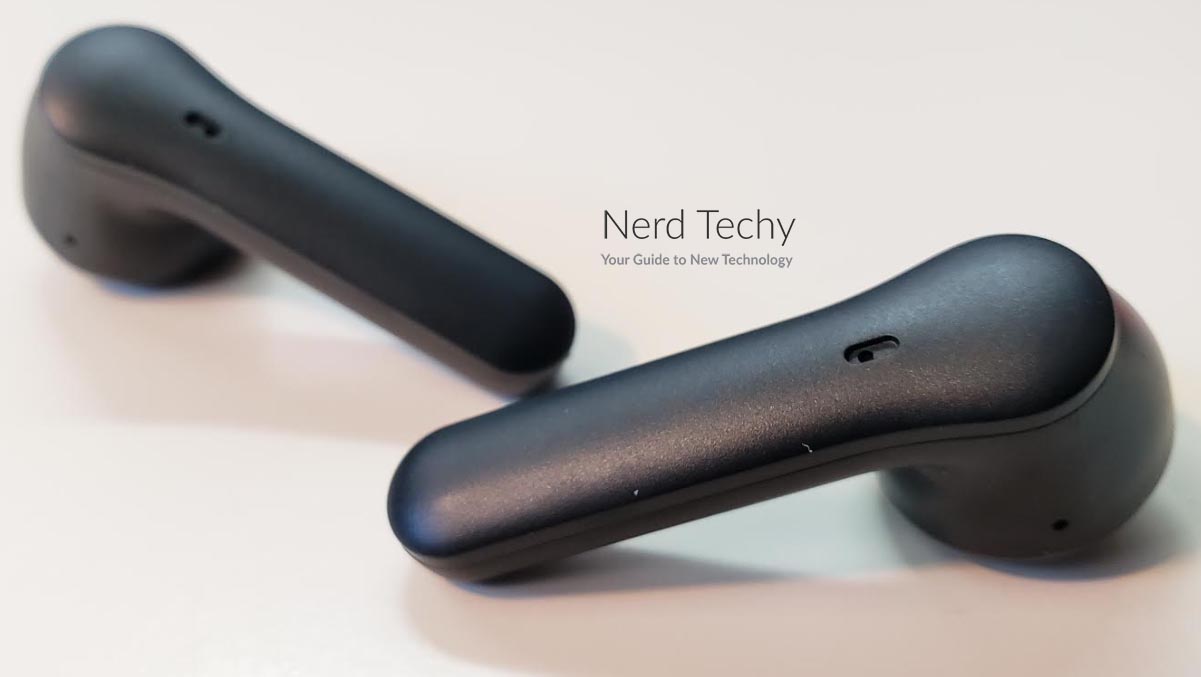 The Mpow MX1 Wireless Earbuds were built with hands-free calling in mind. Each bud has a pair of built-in microphones which work together to isolate your voice from ambient noise. CVC 8.0 software then filters out the background noise, leaving your voice clean and clear. This works better with both earbuds in, but it's still very effective in mono mode. Keep in mind that CVC 8.0 technology only affects how clear your voice is. It will have no impact on how well you can hear the other person.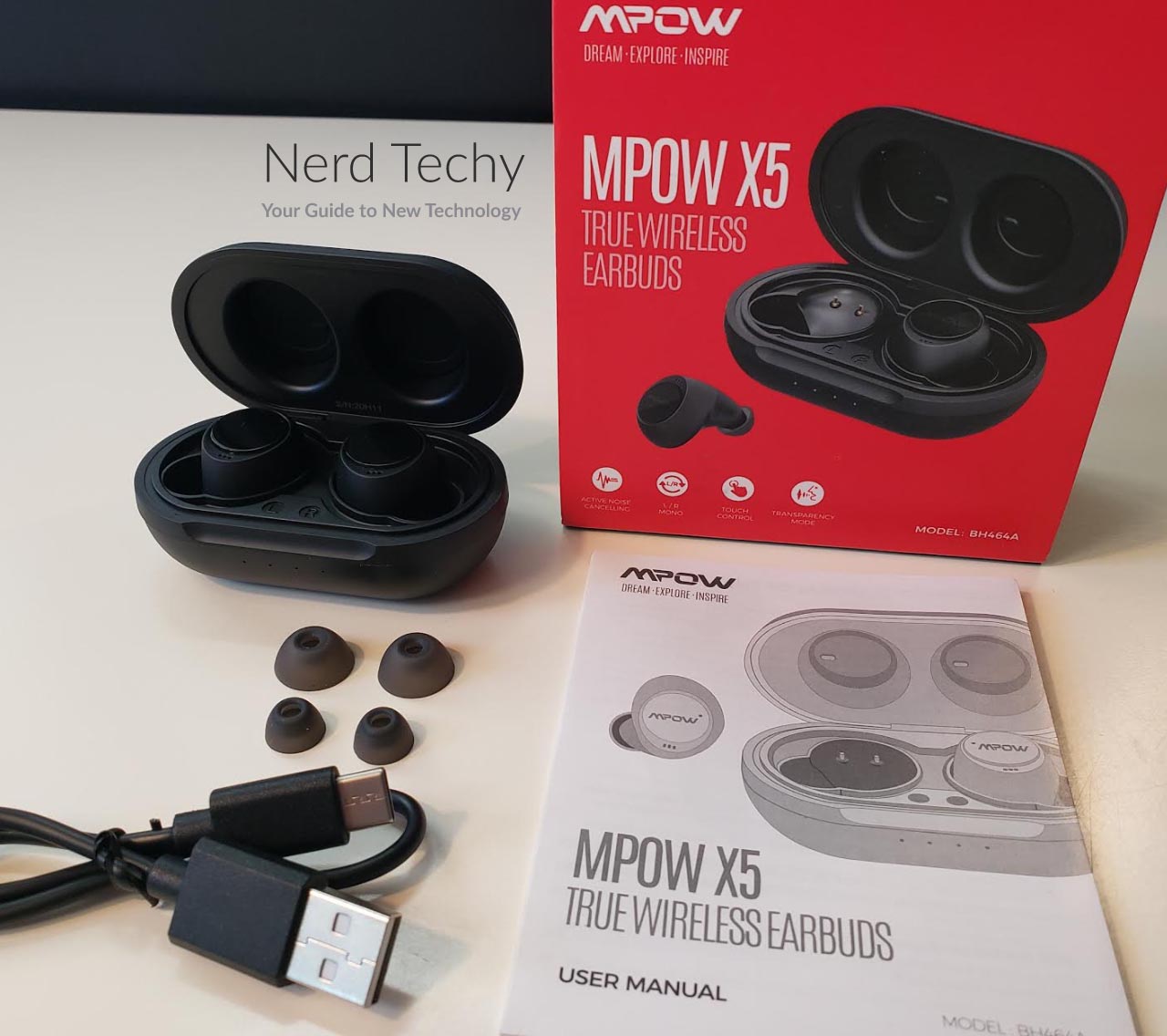 Mpow X5 Wireless Earbuds
The Mpow X5 Wireless Earbuds have a compact, in-ear design that's designed to keep a very low profile. This design is also very secure, provided you've got the right sized ear tip. Getting the right fit is also important for passive noise cancellation, which means blocking outside noise. There are three different sized tips included in the kit, so take your time finding the right ones. If you want an even more secure fit, check out the Mpow Flame Lite, which has an ear hook design.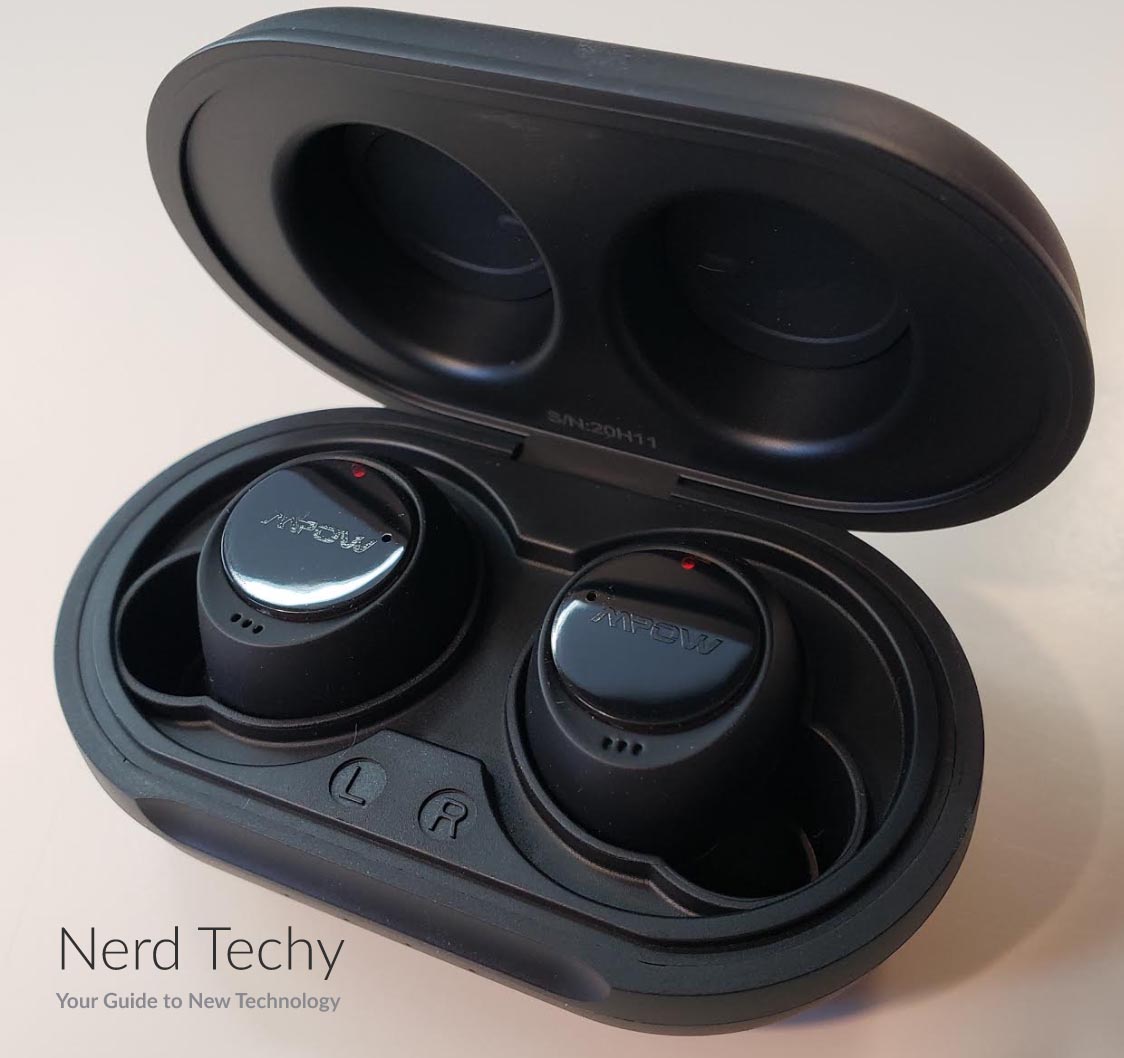 The X5 buds have soft touch controls on the back, which allow for easy operation. You can use them for music, phone calls, and even for summoning your phone's voice assistant. Both the box and the manual state that the X5 earbuds are "waterproof," but no actual IP rating is provided. We'd err on the side of caution and keep them out of the shower, but they're certainly sweat-proof at minimum.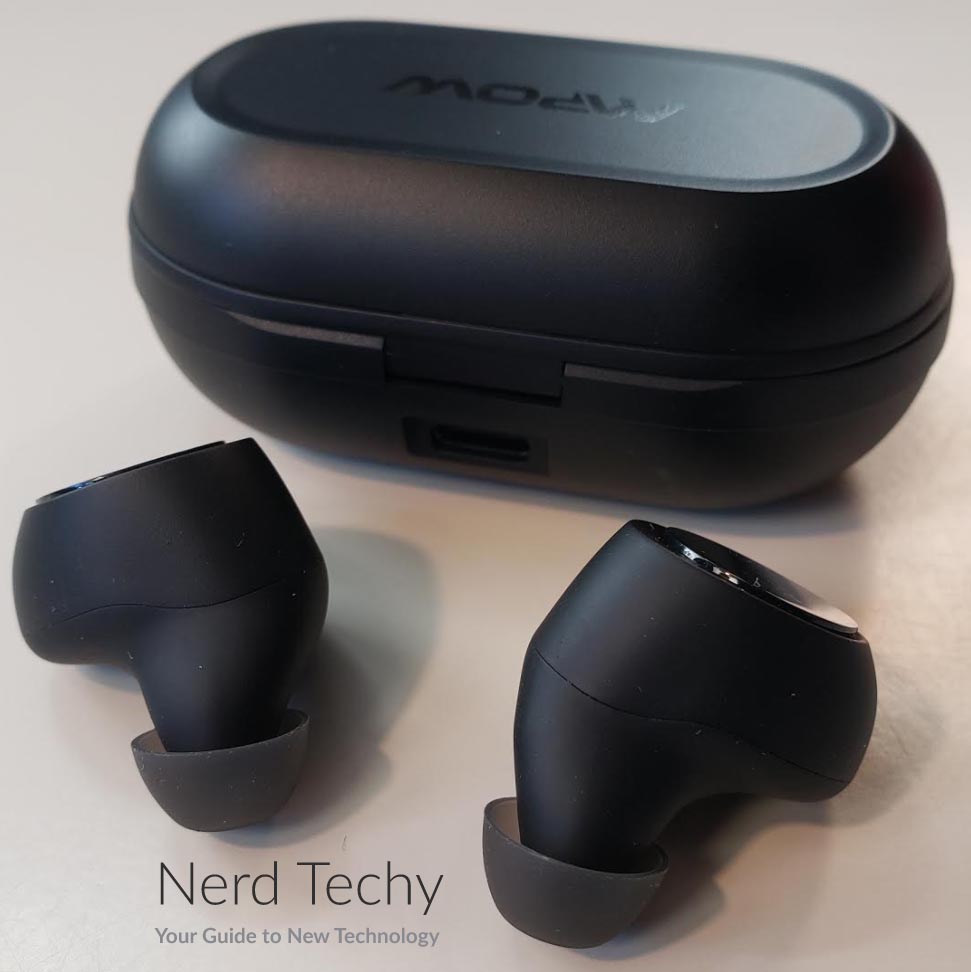 Like the MX1 earbuds, the X5 Wireless Earbuds come with a clamshell-style charging case. This case is smooth and compact, with an oval shape that's designed to easily slip into your pocket. On the front side of the case, you'll find a row of four LED pips that indicate the battery status. On the back, you'll find the USB Type-C port for charging.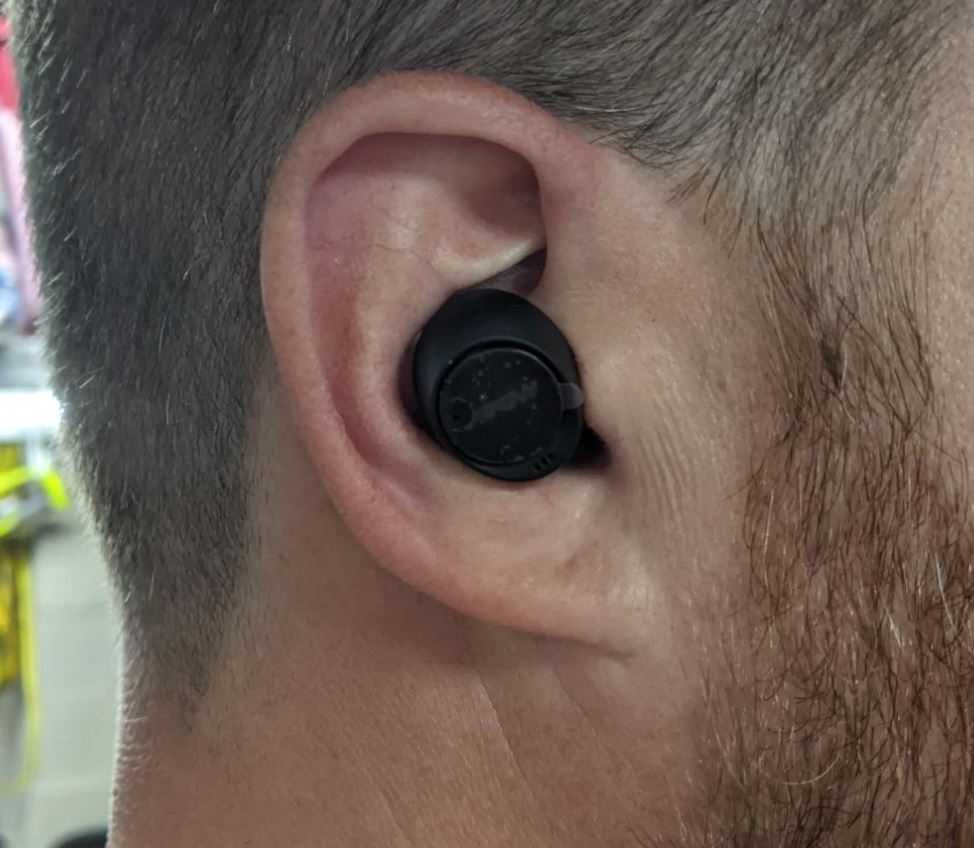 Battery and Connectivity
The X5's internal batteries are rated for eight hours of continuous operation. Even allowing some leeway for manufacturer ratings, you're still looking at some long-lasting buds. You can wear them through an entire workday without the need to recharge. Not only that, but the charging case provides an additional three full charges, for a total maximum of 32 hours. That's not quite as long as the MX1's maximum, but it's in the same ballpark. That said, the X5 case does not support wireless charging. You'll need to charge via USB Type-C.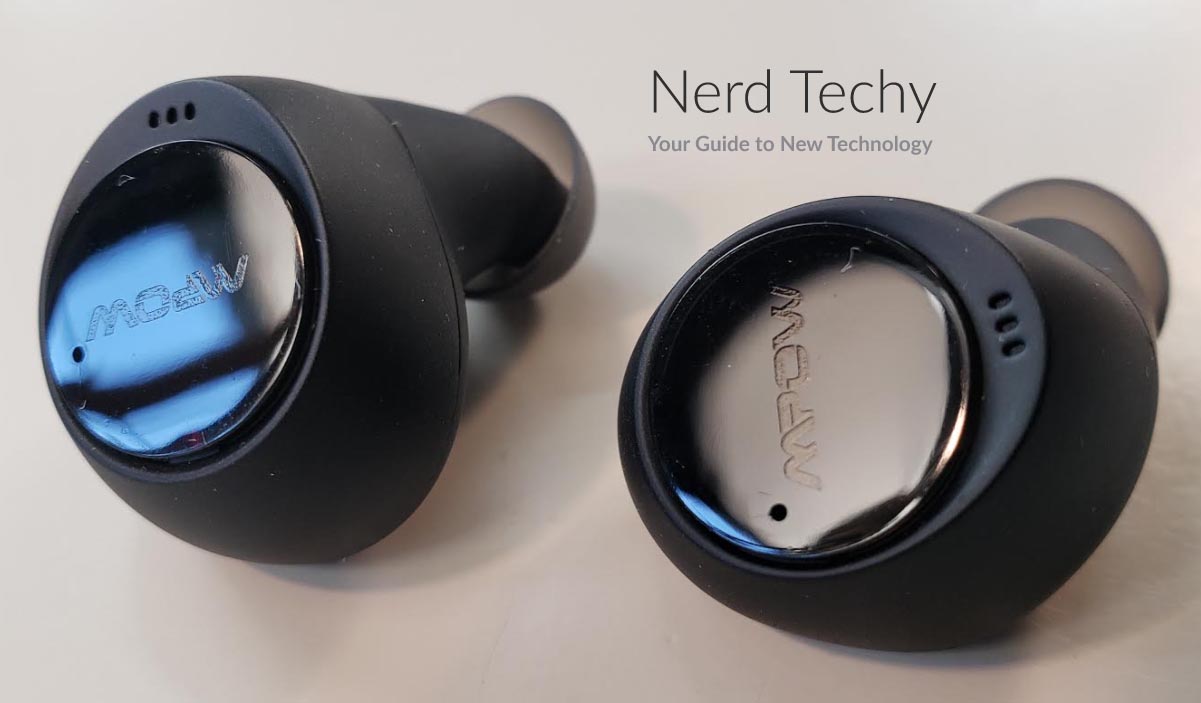 The X5 uses the same Bluetooth 5.0 protocol as the MX1. It also allows for pairing in either stereo or mono mode, so you've got plenty of versatility. The nice thing about mono mode is that it doesn't just allow for better situational awareness. It also doubles your battery life, since you can use the buds sequentially.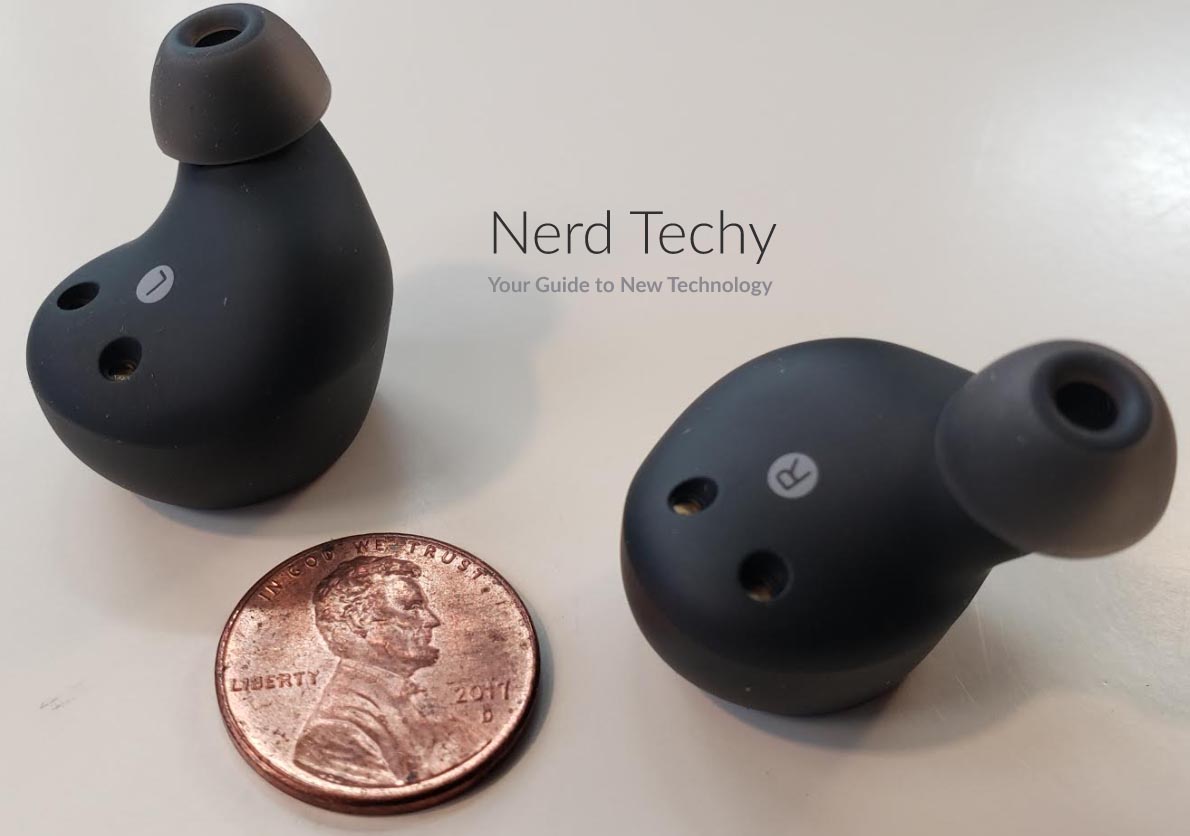 Sound Quality
The X5 Wireless Earbuds have 9.2mm drivers, smaller than the MX1 but still on the large side. These drivers sound very good for the size, and produce an even response across the sound spectrum. Mids, basses, and high frequencies are all present. You also get a nice, wide soundstage, much like the MX1.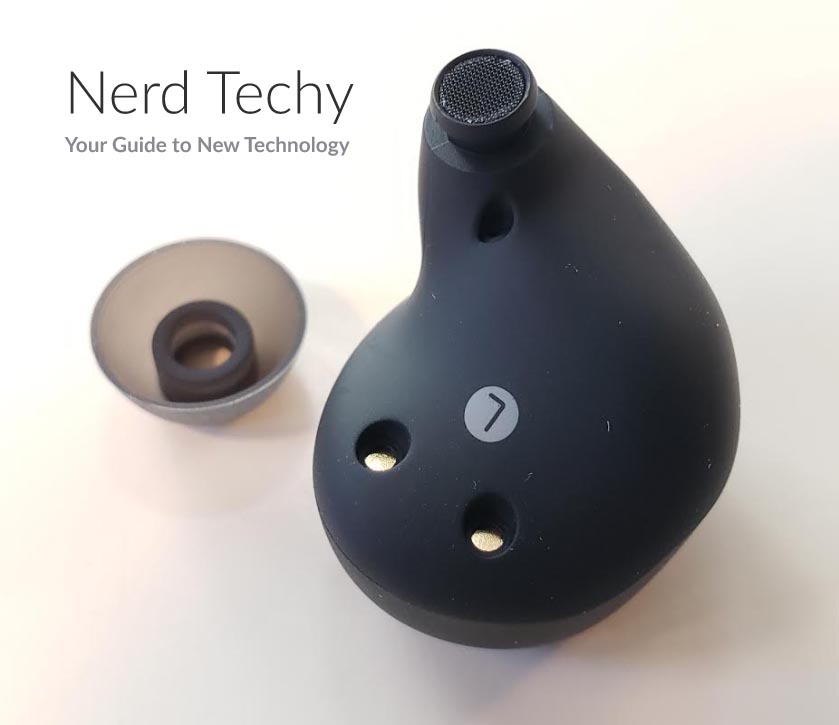 That said, the X5 buds offer a couple of extra features compared to their more-affordable cousins. The most prominent of these is hybrid ANC technology. The X5 buds use both internal and external microphones to determine the exact frequencies reaching your ears. Internal circuitry then produces an inverse audio wave to counteract that background noise. The difference between ordinary ANC and hybrid ANC is these internal speakers. Because they're located inside the ear, they pick up the noise that's actually bleeding through. This allows the circuitry to better hone in on problem frequencies.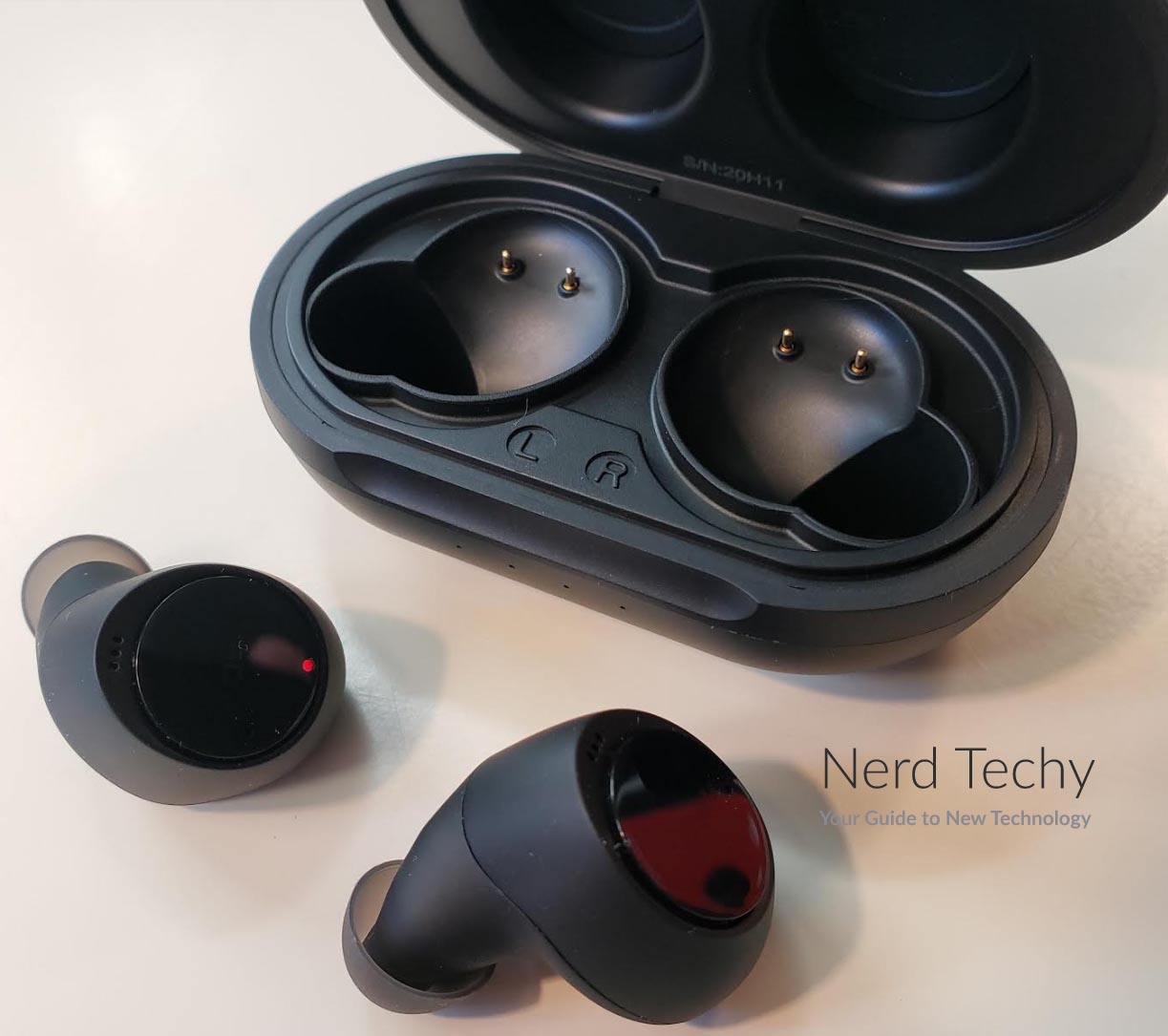 The X5's other standout feature is transparency mode. In transparency mode, the ANC is turned off, and the earbuds instead allow in as much noise as possible. This is useful for situations where you want some awareness; for example, if you're waiting for an airplane boarding announcement.
Final Verdict
As you can see, which one of these earbuds is the best depends on what you're looking for. The Mpow MX1 Wireless Earbuds are a better choice if you're big on hands-free calling. The CVC 8.0 noise cancellation makes a big difference when you want to be heard clearly. The sound quality also isn't bad, especially considering the price point. The main drawback is the fit, which is a bit loose. On the other hand, that can be a benefit if you've got sensitive ears.
The Mpow X5 Wireless Earbuds are better suited for audiophiles who want the best music quality. To be fair, the base audio quality is about the same as the MX1. But hybrid ANC technology is a significant improvement, allowing you to listen in your own personal bubble. Not only that, but the overall design is sleek and well-engineered. We also appreciated the snug fit, which is great for highly active individuals.