Quick Analysis
Pros
Excellent sound quality with deep bass.
App integration for added settings and customizations.
Very comfortable for long periods of wear.
Phone calls utilize DSP for noise reduction.
Super-compact design with plenty of accessories included.
Cons
Fingerprints are very visible on the glossy finish.
Not fully waterproof, only splashproof.
Not compatible with wireless chargers.
Everyone loves listening to their favorite music – this is likely something we can all agree on. Whether you're working out or just taking a break from a hectic day, playing a song from your favorite artist can do wonders for your inner-self. Because of this, most people own a pair of wireless earbuds. They give you the ability to discreetly listen at your own convenience, without blaring your tunes in public.
This raises an important and somewhat never-ending question. Which pair of earbuds should you choose to own? The market is literally flooded with different options – from various manufacturers, all over the spectrum. Sure, you could hop in your car and drive to your nearest BestBuy – but who wants to do that when you have Amazon at your fingertips? The fact of the matter is, Amazon has thousands to choose from, and many of them are surprisingly nice. Take the newest FIIL true wireless earbuds for instance.
The T1XS true wireless earbuds, manufactured by FIIL, are an affordable option that many have chosen. Currently on Amazon, there are over 2,500 reviews for this specific model; showing their popularity. A couple weeks ago were personally invited by FIIL to try them out for ourselves, so we agreed. Last week we received them and since then we've spent the last 7 days thoroughly examining and putting them to use. Today we're going to dive in and showcase everything they have to offer. We'll see if FIIL executed them with good intentions or if they leave us wanting a bit more.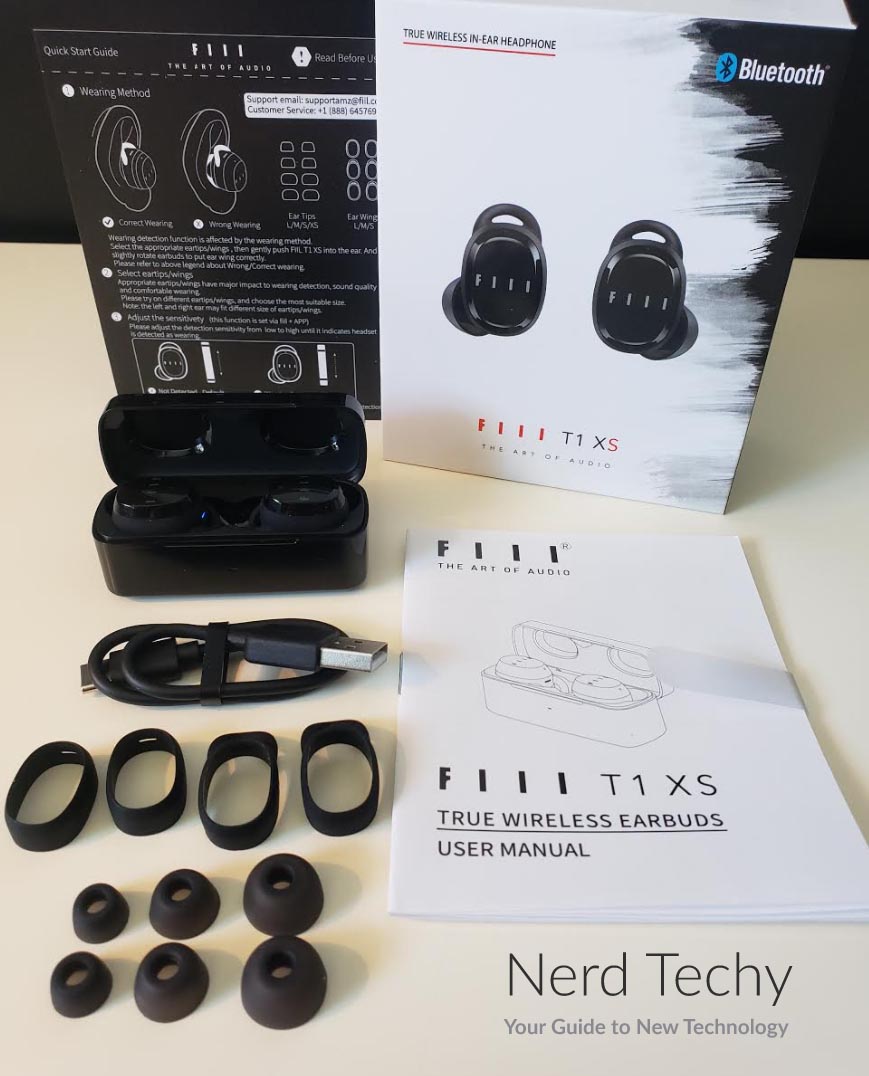 Unboxing and First-Time Use
We received the FIIL T1XS TWS Earbuds only 2 days after we placed our order (thanks to Amazon Prime). When opening up the box for the first time, you'll be pleased to find a wide range of accessories included. First, you'll notice the compact charging case with the earbuds already nestled inside. Lift up the Quick Start Guide and additional paperwork and you'll see a wide range of accessories. These accessories include three sizes of eartips (xtra-small/medium/large), two extra sizes of earwings (small/large) and a USB-C charging cable. Keep in mind that the size-small eartips and the size-medium earwings are pre-installed on the earbuds.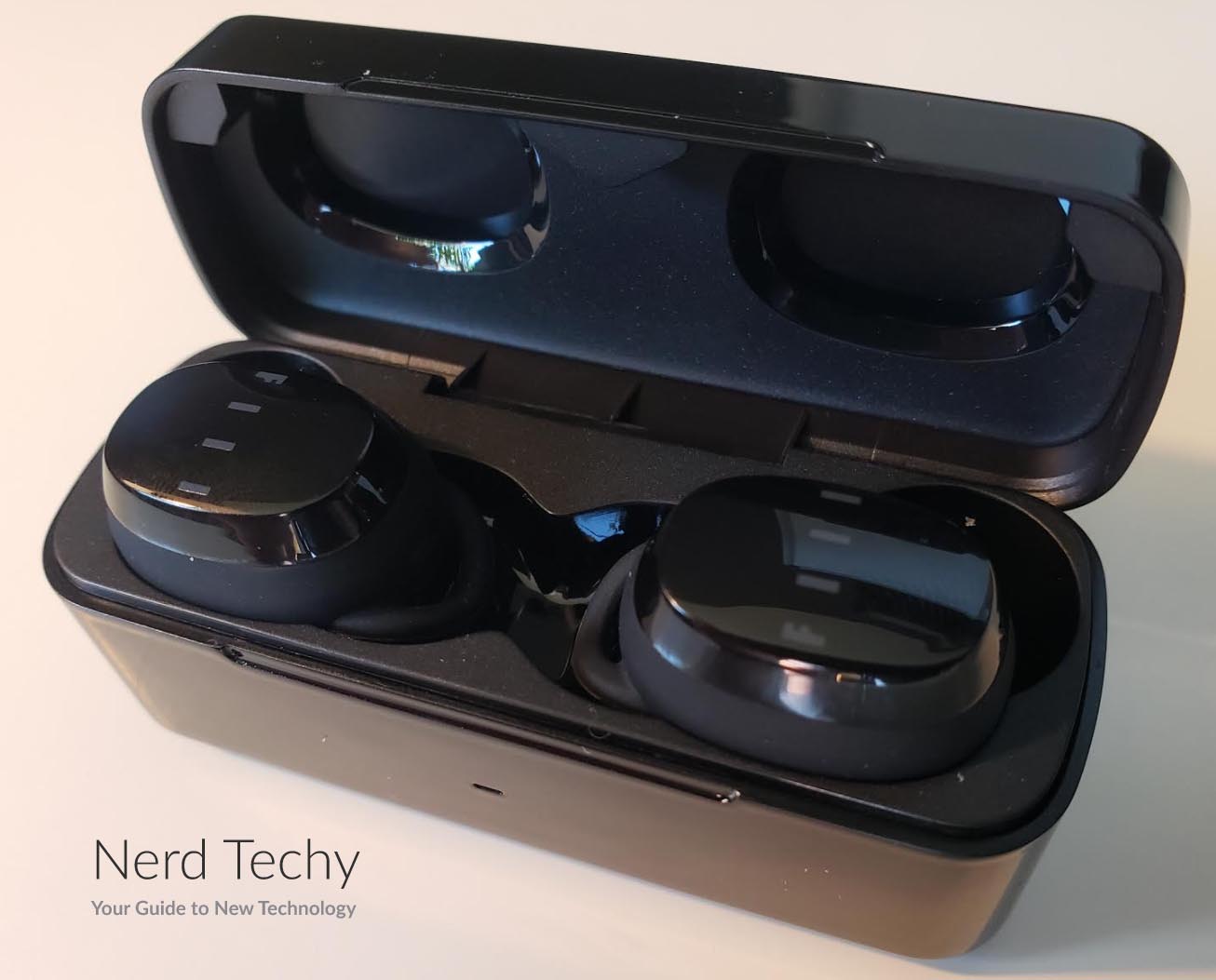 The case for the earbuds is pretty compact. In fact, it measures just 2.8 inches wide, 1 inch tall and 1 inch deep. Before you use them, FIIL recommends that you give the case (with the earbuds placed inside) a quick 10-20 minute charge. After this, open up the lid of the case and you should see the small green LED on the front begin to blink, indicating an automatic sync. At this time, pick up the earbuds and you should see the small blue LED (on each earbud) begin to blink rapidly. This means that the earbuds are ready to pair with your Bluetooth-enabled device.
Go to your smartphone (or whichever Bluetooth device you want to pair with) and go to your Bluetooth settings. When you see a list of available nearby connections, select "FIIL T1 XS" from the list. Tap it once and give it a few seconds; you should now be able to freely use them.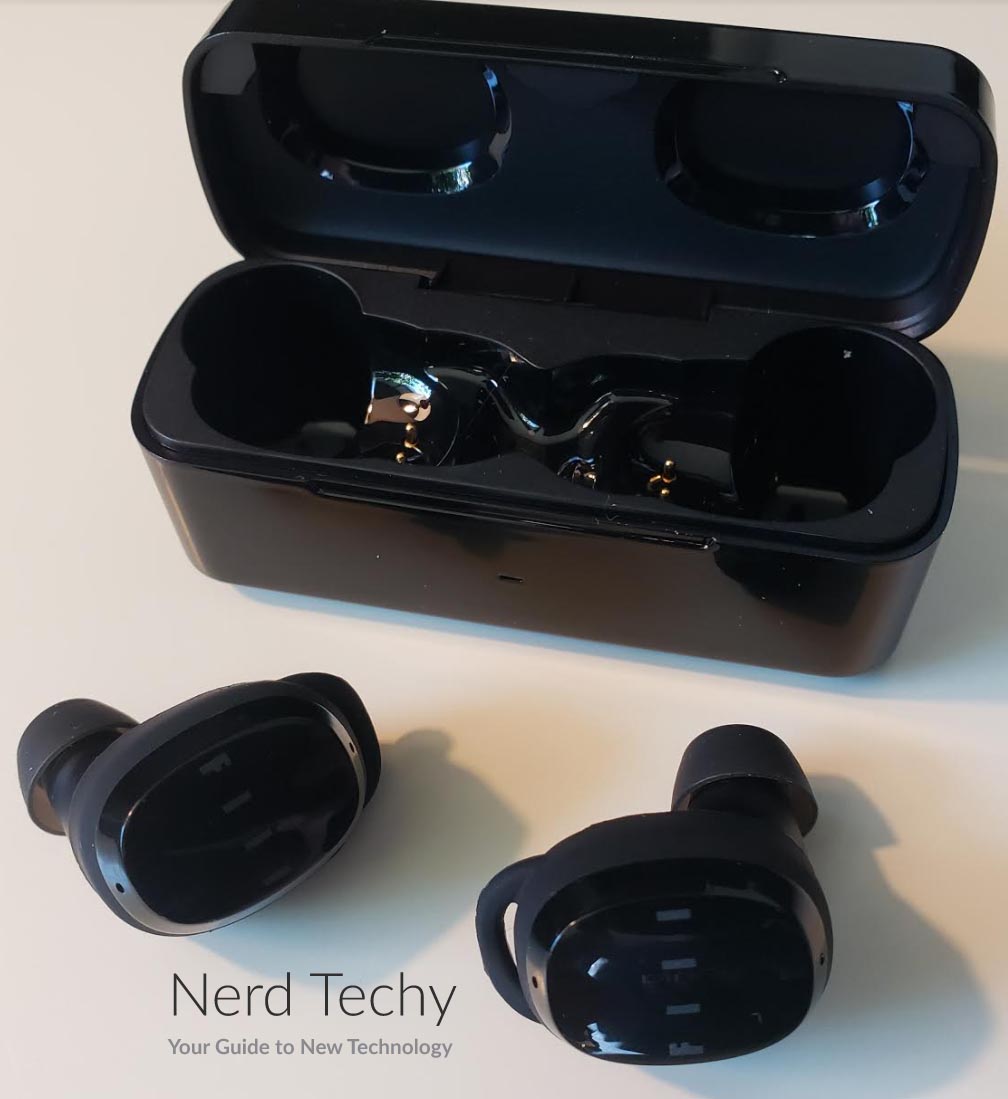 Comfort
Before you begin to truly enjoy the T1XS earbuds, you'll need to do a bit of trial and error. What we mean by this is; don't settle with the default installed eartips and earwings. Swap out different sizes until you feel that the earbuds rest gently in your ear canals without causing any annoying pressure points. When you achieve a proper fit, it'll allow the earbuds to passively isolate unwanted background noise and let you enjoy them for several continuous hours, without any discomfort. We were lucky enough to utilize the pre-installed tips and wings, since right out of the box they felt like the correct size for our ears. However, changing them isn't too much of a hassle – it's actually quite easy.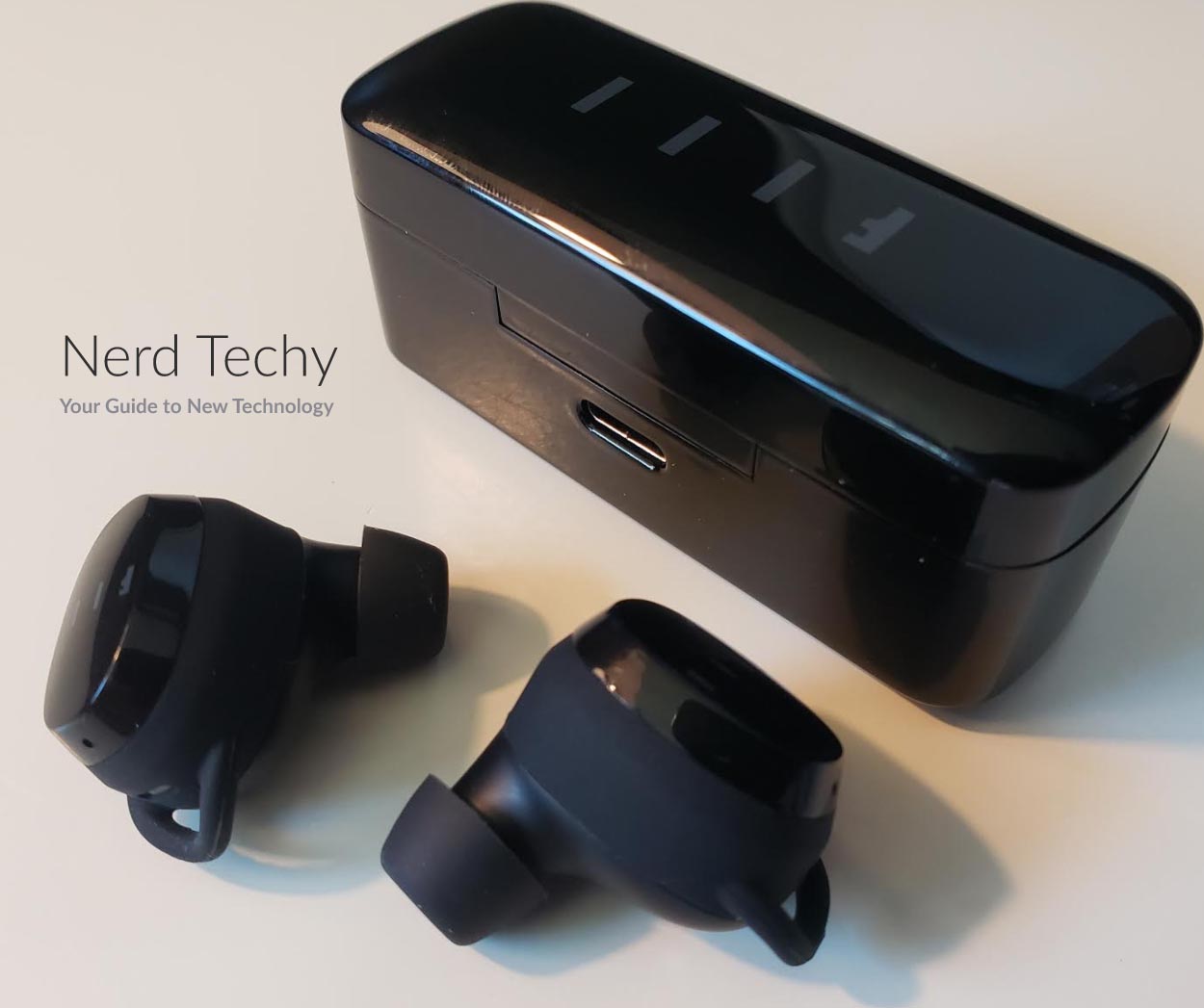 We're a big fan of how small the earbuds are. They rest snugly within the ear while the wing flexes downward to wedge into the inner-contour of your ear. It's a somewhat unique design that we don't always see properly executed. Luckily, FIIL seemed to have designed this correctly. You can wiggle, bounce and shake your head vigorously without worrying about the earbuds coming out. We tried them while running, hiking, biking and even during a couple tennis matches. Needless to say, we're a fan of the fit and the comfort they provide.
Although we don't often listen to music consecutively for 5-6 hours straight, we did try them continuously for just under 3 hours. In that time, we were never once inhibited by the way they felt in our ears. We didn't notice any developing pressure points or other qualms about the way they were placed in our ears. We can confidently say that they feel cozy, even for long durations.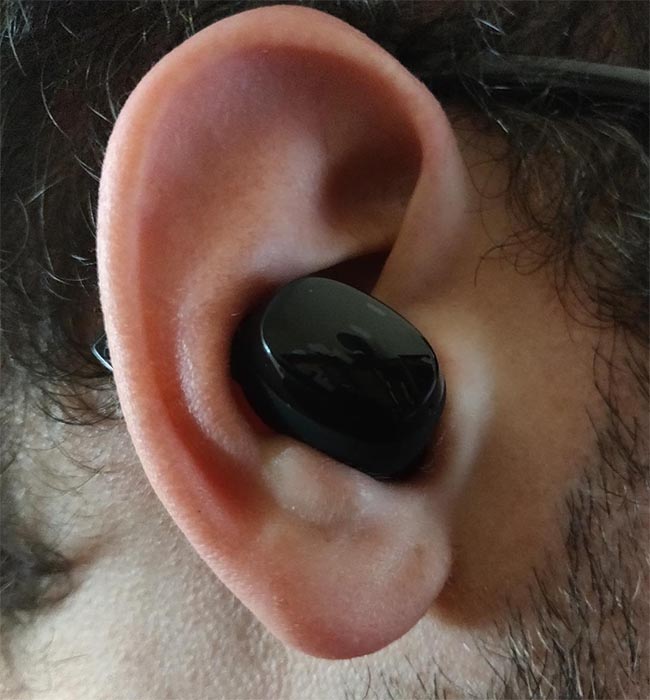 Sound & Call Quality
Inside the FIIL T1XS earbuds, they've included a 1/4″ dynamic driver to induce true HiFi stereo sound. This small driver might sound like a gimmick, but we were thankful FIIL integrated it. It seems to give a positive response to the deep bass that most of us crave. The deep and lull-like tones were evident right from the start. In addition, we felt like the bass was set to the proper level – not too much, not too little. In addition, genres and songs that were bass-heavy sounded magnificent, by default. Sure, you shouldn't expect audiophile studio quality bass that you'd achieve with a $200 pair of over-ear headphones, but for an inexpensive set of earbuds, they're truly impressive when it comes to bass.
As far as sound clarity goes – it's pretty nice. You can expect clear, concise levels of treble that mesh well with the amount of bass that's given. We didn't experience any "tinny" effect, except when we cranked the volume up to the maximum level. Even though we can confidently say most people won't crank the volume up to 100%, we suggest keeping the volume to under 80% for the ideal balance of audio quality and loudness.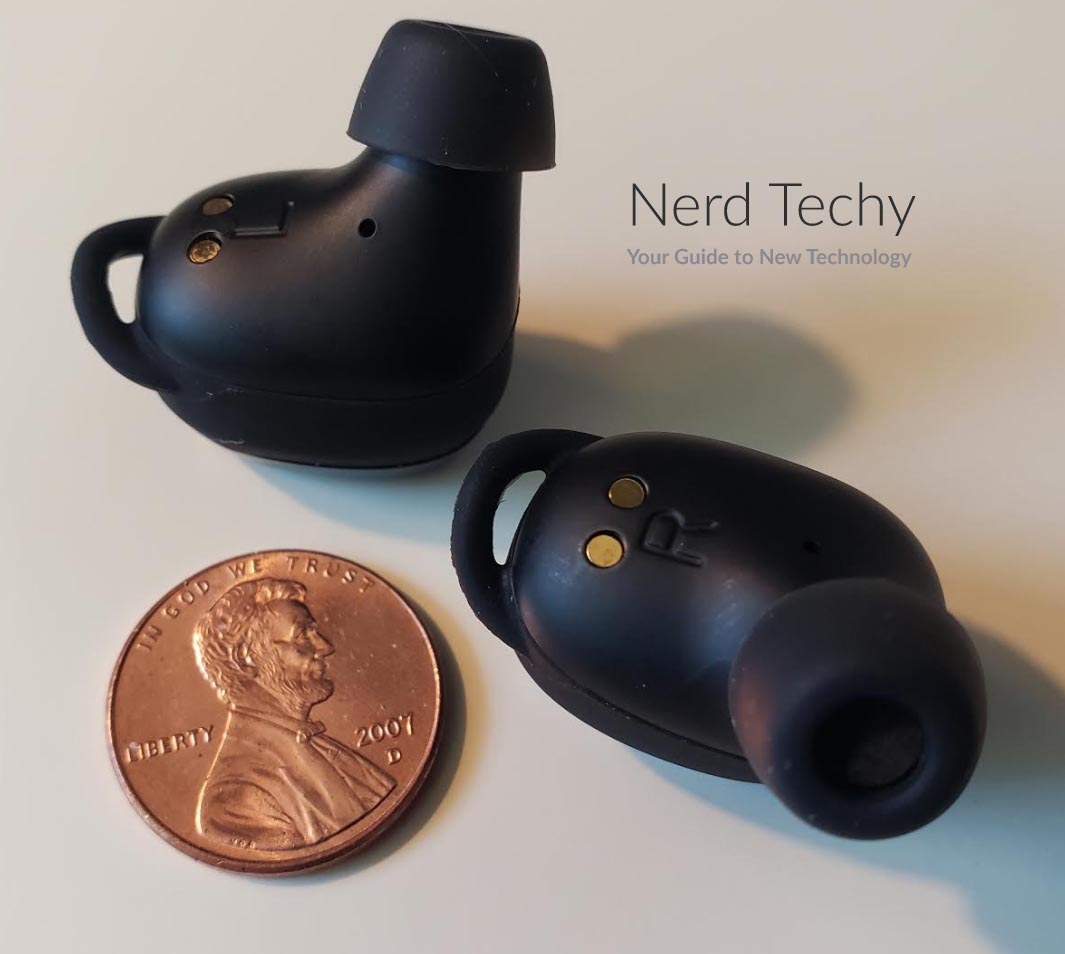 When it comes to call quality, we briefly tested the T1XS earbuds with a couple phone calls. Truthfully, we're not big fans of taking phone calls when you're in the middle of listening to music, but sometimes you need to take that important phone call when the time comes. When we picked up the phone call, the sound quality was pretty much identical to that of the music. However, thanks to the included DSP noise reduction, this built-in algorithm helps to recognize the voice on the call and prioritize them over anything else. This achieves clear communication between whoever is on the other line with you. And we must say, it works pretty well. We were in a public setting (a coffee shop) when testing this feature and it worked perfectly well – no complaints!
App
FIIL did something a lot different that most earbud manufacturers when it came to the T1XS earbuds. They released the FIIL + App in the Google Play and Apple store. Downloading this app will open up a new realm of features that gives a bit of an edge over the competition. This free app lets you experience 15 different types of equalizer modes. Playing around with the different modes is kind of fun. Each mode will enhance the flavor of the sound in a unique way. Some presets are bass-heavy whereas others are tweaked more for voice communication and/or low bass, high-treble, lyrical music tracks.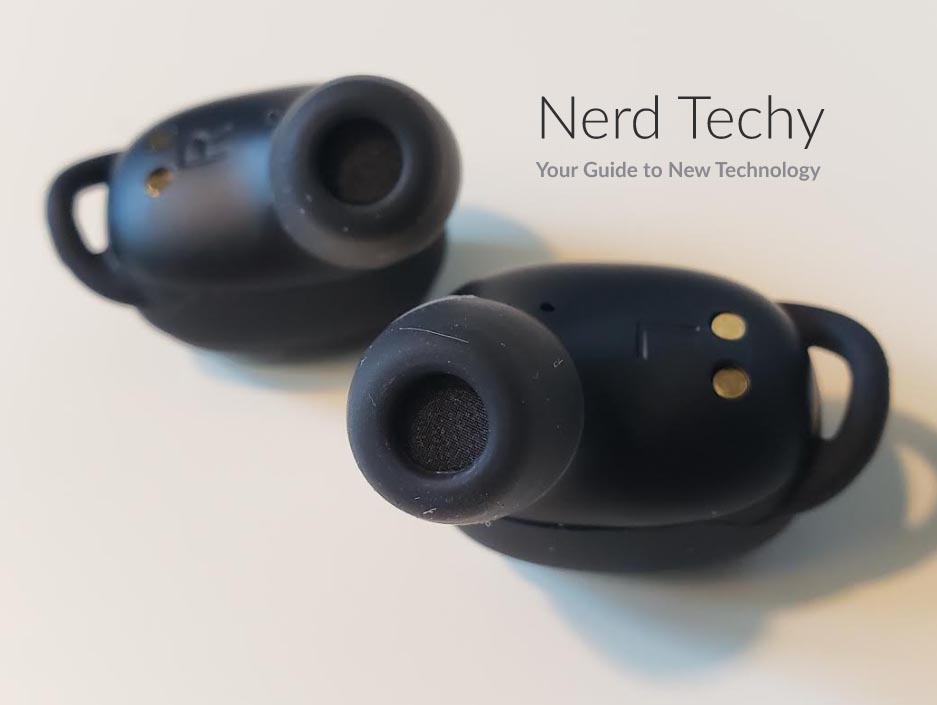 In addition, the app lets you check the precise battery level of each earbud and the case itself. It's a pretty cool integration that can definitely come in handy. In fact, we're pretty impressed with the app integration – from over 6 years of reviewing budget-friendly earbuds here at NerdTechy, we haven't seen such an affordable pair of eardbuds with this kind of "smart" integration.
Battery Life
If you didn't already know, the included case is used for more than simply holding the earbuds while not in use. It contains an internal battery that keeps the individual earbuds charged each time you place them into it. It's actually a pretty common practice for manufacturers to include some sort of charging case, so this isn't something that's necessarily unquiet. However, the capacity is pretty nice.
What we mean by this is that it offers your earbuds up to 24 hours of listening time and 36 hours of call/talk time. But this doesn't really mean you can use the earbuds for an entire day. Each "charge" lasts about 5-6 hours, meaning you can achieve around 4 recharges before you need to plug the USB-C charging cable into the case.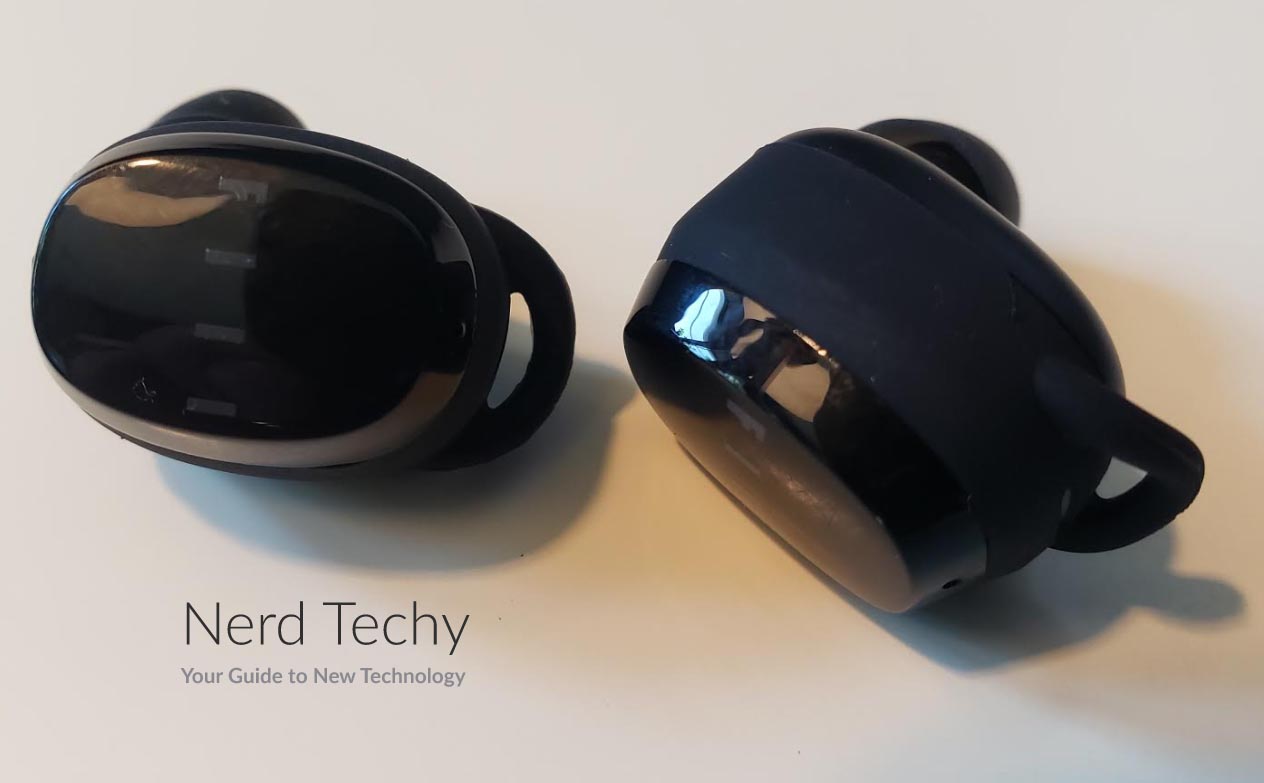 We found the estimates to be quite true. Although some companies like to "pad" their battery stats, we feel confidently that FIIL didn't do this. In fact, we have used the earbuds for almost 20 hours now. In that time, we've needed to charge them up about 3 times. Sure, we never let them drain completely to zero capacity, but even so, that's plenty of battery life to go around.
As far as recharging goes, it's actually pretty impressive. If the earbuds are completely drained (or even if they're not), it takes just 10 minutes on the charger to support 2 hours of playtime. So, 20 minutes = 4 hours, 30 minutes = 6 hours.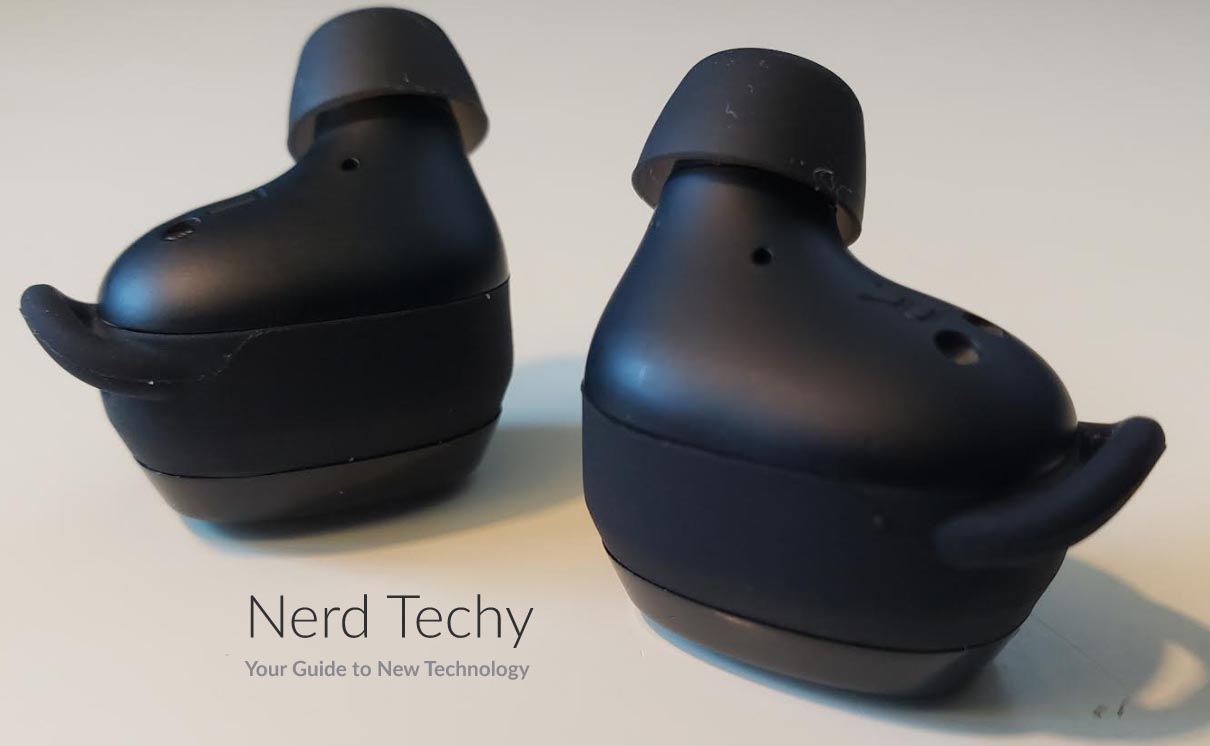 Durability
The FIIL T1 XS don't exactly feel robust since they're lightweight and made of plastic. However, they're built with an IPX5 waterproof rating; meaning that they can withstand sprays of water from non pressurized sources. This means that rain, sweat and humidity will not affect them in any way. We wouldn't recommend swimming with them, but you can take them in the shower with you, or on a jog during a rainy day, without any worries.
The lightweight design doesn't exactly "scream" quality, but we prefer lightweight plastic over expensive or heavy metal. They seem to be built fairly well and will likely hold up to normal wear and tear for years to come.
One small aspect of their build quality that we're not fans of is the glossy design. Truthfully, they seem like fingerprint magnets. The shiny finish attracts fingerprints and oil like no other. We would have much rather preferred a smooth matte finish rather than a glossy one, but you can't expect everything to be perfect if you're looking for budget-friendly options like these.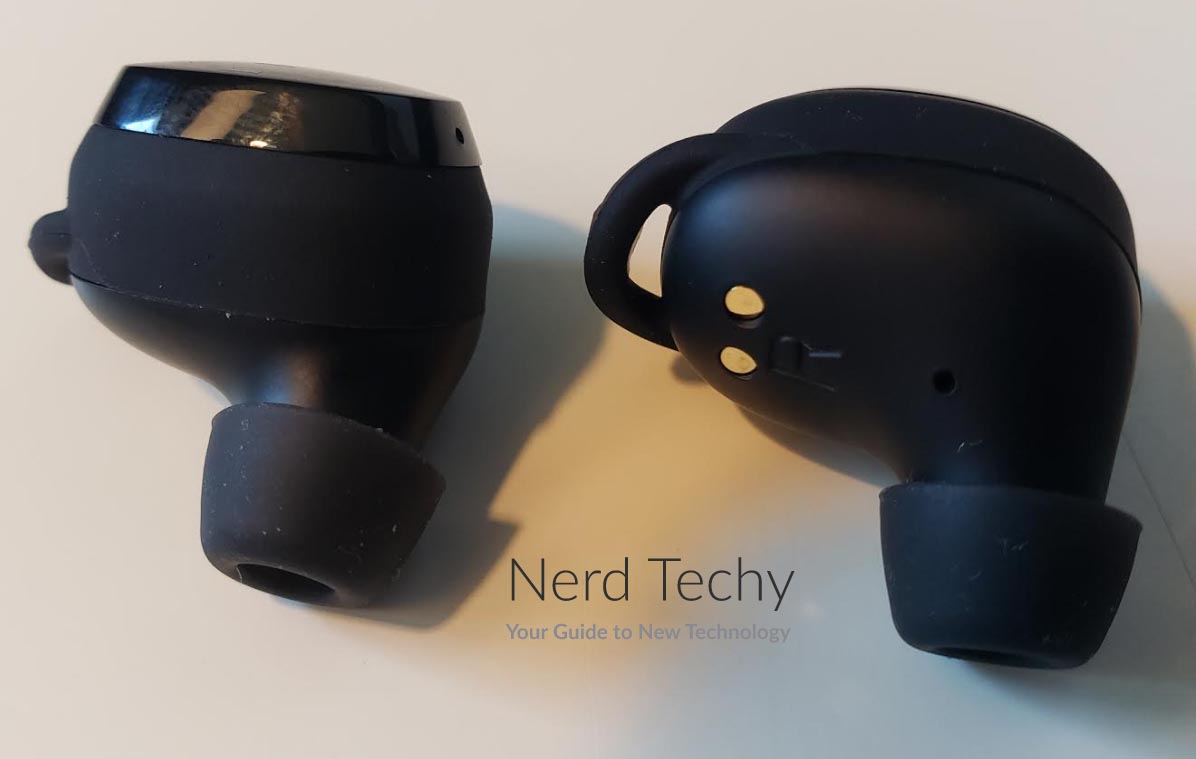 Final Thoughts
It's clear to say that we really do love the FIIL T1XS TWS Earbuds quite a lot. They're packed with a wide multitude of features, even including a smartphone app integration that opens up a whole new realm of soundstages that you can freely play around with. It's not a huge game-changer, but it's an added bonus for sure.
These are earbuds that boast plenty of comfort for multi-hour sessions and enough flavorful bass to keep the music pumping without letting up. Sure, the battery life isn't world-record breaking, but it allows plenty of use without the need to constantly charge them.
The case and earbuds themselves, although compact and robust, could have been designed with a matte finish, but some things aren't always perfect. Yes, they are small, lightweight and durable enough, but just keep in mind that they can attract fingerprints quite easily.
All in all, we can confidently say that the new FIIL T1XS are a great buy if you're looking for nice quality that doesn't come at a ridiculous price-point.