Shopping for a new pair of earbuds can be a challenging task. To begin with, there are just so many options on the market. A quick internet search will reveal literally thousands of earbud models, each with its own quirks. Even if you wanted to look at all of them, there's no way a single person would have enough time. Instead, you need to narrow down your options. What type of fit are you looking for? What's your price range? Do you need longer-lasting batteries, or wireless charging? These kinds of questions will dictate the type of earbud you're going to look for. Then, you can narrow down your options.
Today, we're going to review two affordably-priced, AirPod Pro-style earbuds. First off, we'll examine the TAGRY True Wireless Earbuds. These earbuds feature an external battery display, as well as noise-cancelling mics. After that, we'll look at the WENKEY True Wireless Earbuds. These low-latency Bluetooth 5.1 earbuds come with five different ear tip sizes, for a perfect fit. But which one is going to be the right choice for your needs? To find out, we'll have to take a closer look at both of their designs and features. We'll look at the battery life, audio quality, charging cases, and more. At that point, we'll be able to make an accurate comparison. Let's get started!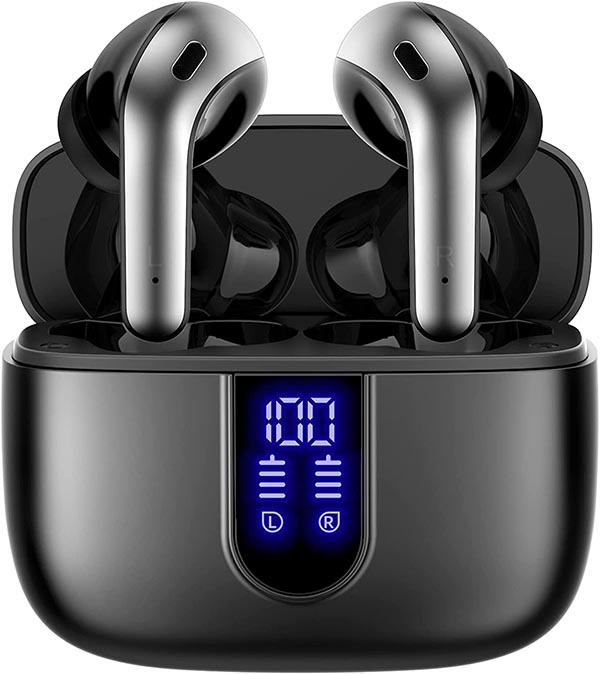 TAGRY True Wireless Earbuds
The TAGRY True Wireless Earbuds have a vertical design, similar to the AirPod Pro. The shells are mostly black, with an elegant curve near the top. That said, the backs of the shells are silver-grey, which provides an attractive accent. These areas in the back of the buds function as soft touch controls, so you can interact with your phone. You can skip tracks, adjust the volume, and answer or end phone calls. You can also bring up your phone's voice assistant to perform more complicated functions.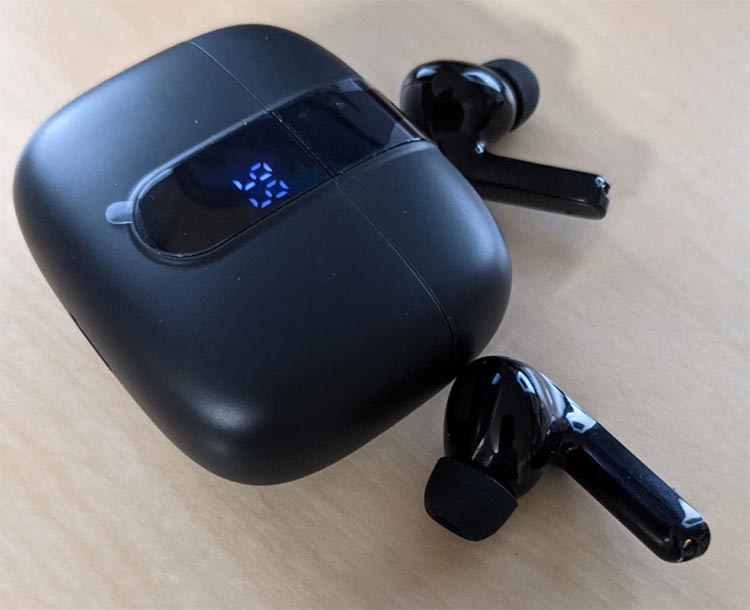 The package includes three sets of ear tips, in three corresponding sizes. When properly fitted, they provide a secure, comfortable fit, as well as good noise isolation. They shouldn't feel loose, and you shouldn't hear a ton of outside noise bleeding through. Of course, there's such a thing as too tight of a fit, so it's okay to use a smaller tip, too. The point is to find the set that works best for you.
These earbuds have a water-resistance of IPX5, which means they're slightly better than sweat-resistant. They can withstand a light stream of water, which means you can safely wash them with a wet cloth. They'll also be just fine in the rain, or during an intense workout. Just don't immerse them in water, and you shouldn't have any trouble.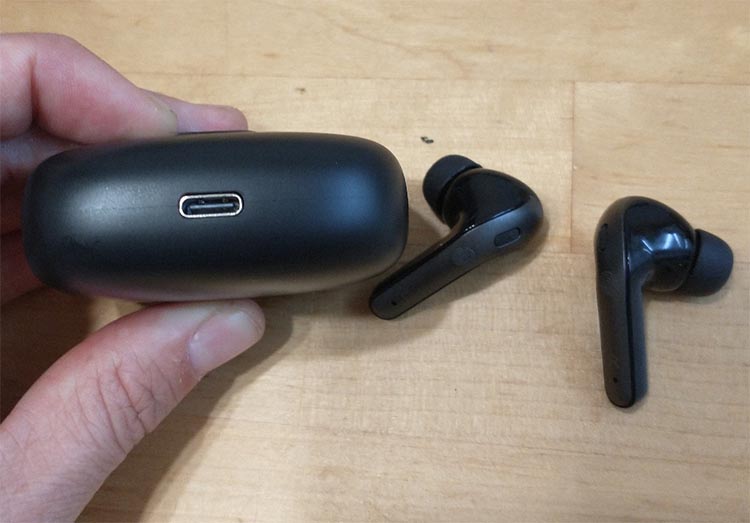 Like most wireless earbuds, the TAGRY buds come with a charging case. This case is constructed from the same black plastic as the main parts of the earbud shells. Like the buds, it has a vertical design, and the earbuds drop in from the top. They fit into molded wells, and stay in place magnetically so they reliably charge. The lid is spring-loaded, and snaps shut easily when you're done putting the buds in.
The front of the case has a digital display, which shows you the current battery charge level. Across the top, there's a percentage readout, which shows the charge of the case's reserve battery. At the bottom, there are two separate bar meters, which show the left and right earbud charges respectively. The display will turn off when the lid is closed to save power. It will turn back on when the lid is opened, or when the case is plugged in. A USB Type-C cable is included for charging.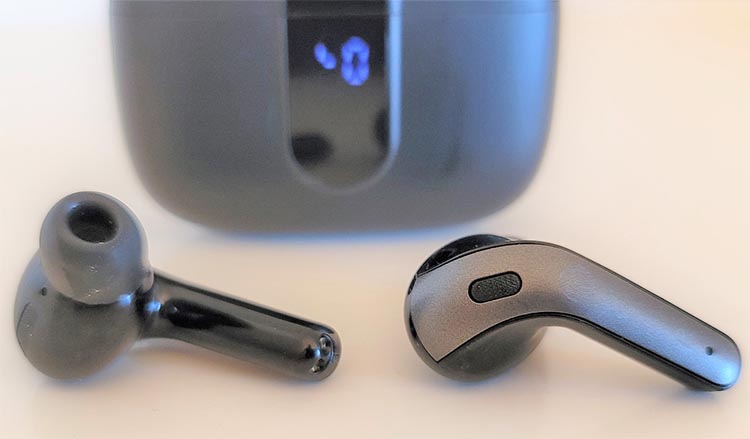 If you prefer a different design altogether, take a look at the Tozo A1 earbuds. They have a compact, in-ear design that's barely visible when you're wearing them. Then again, this smaller form factor comes with a noticeably shorter battery life.
Battery & Connectivity
The TAGRY wireless earbuds will last for around six hours on a full charge. Bear in mind that this is a manufacturer's rating, and it assumes the buds are being used at half volume. If you're using them at a louder volume, they won't last quite so long. Even so, six hours is pretty respectable for a pair of wireless earbuds, especially in this price range. The charging case has enough capacity for four full recharges. That's 24 additional hours, for a respectable total of 30 hours' battery without plugging in.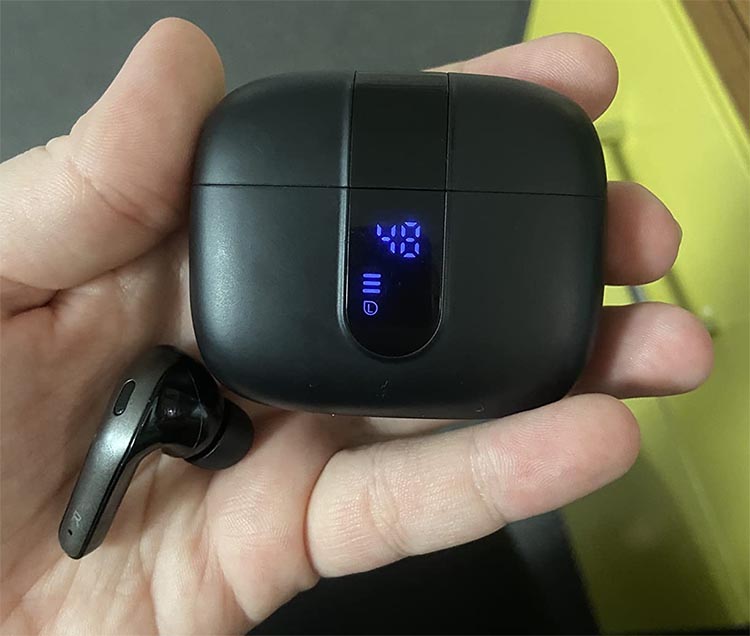 As a matter of fact, you don't actually have to plug in at all. Using a Qi wireless charging pad, you can fully charge the battery in as little as 90 minutes. Of course, this depends on your case and the exact charging pad, so your mileage may vary. Still, many people prefer wireless charging for its convenience. And if you truly need a fast charge, a USB Type-C charge will take only 60 minutes.
These earbuds connect to your phone or other device via Bluetooth 5.0. Bluetooth 5.0 is the current industry standard, and it's suitable for most applications. Most notably, the bandwidth has been upgraded from Bluetooth 4.2. This means you can listen to high definition audio, which wasn't always the case on wireless buds. Bluetooth 5.0 also has lower latency, as well as a more stable signal to prevent a dropped connection.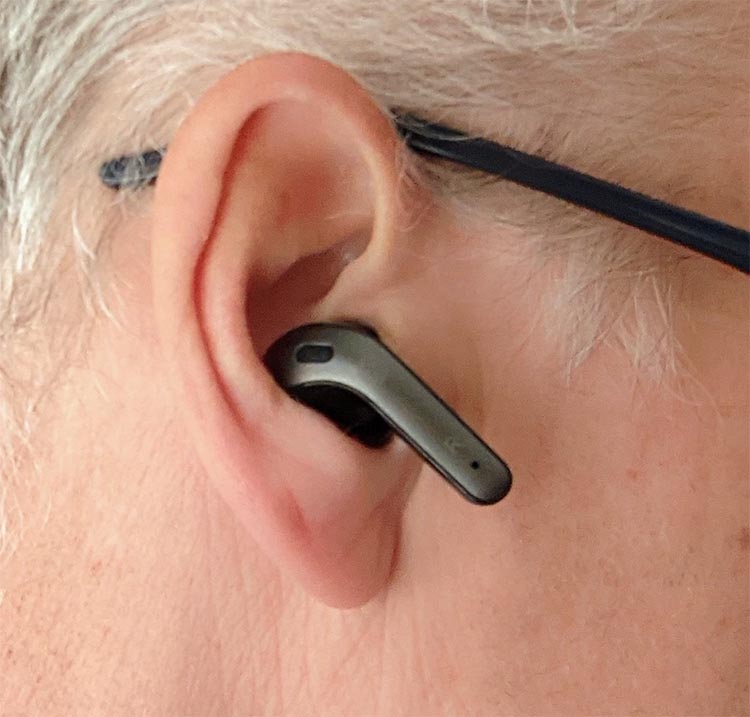 Audio Quality
The TAGRY True Wireless Earbuds have 13mm drivers, which are fairly large for wireless earbuds. They utilize a triple-layer composite material that provides a surprisingly textured audio. We're not talking about Bose quality here, but for the price, you get good quality. There's a real sense of space, and the stereo feels nice and wide. That said, the bass feels a bit underwhelming. It's present, and it sounds just fine, but it's not as punchy as we would have preferred.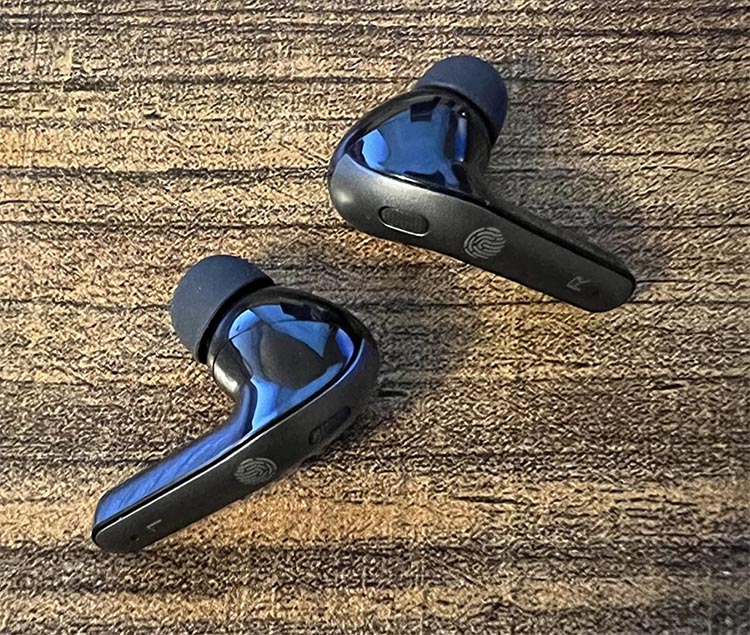 The call quality on these earbuds is excellent. They use three sets of microphones to capture your voice, along with a sample of the background noise. Then, internal CVC hardware goes to work, and strips the background noise from your voice transmission. This means the other person can hear you very clearly, even in a loud environment. Keep in mind that this will only work on your own voice transmission. How well you hear the other person will depend more on their mics.
If you're willing to pay significantly more for richer audio quality, consider the SoundPEATS H2. They have dual drivers, which allows for better performance across lower and higher frequencies.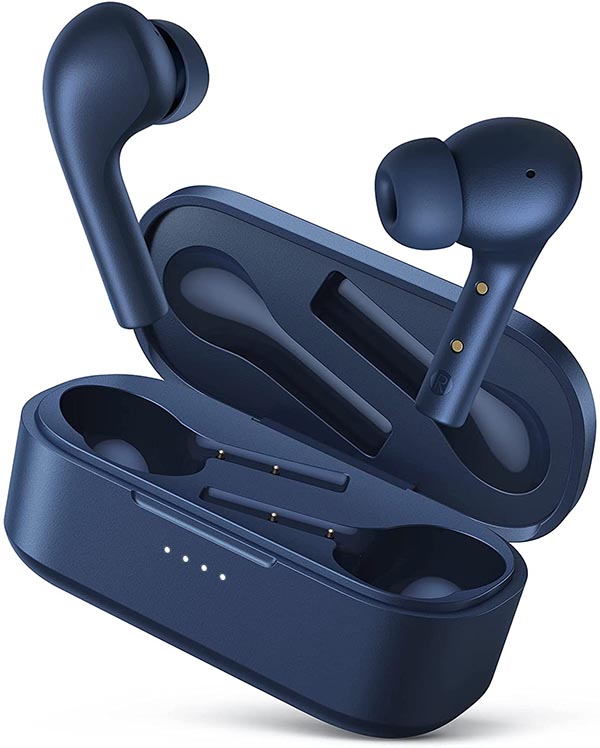 WENKEY True Wireless Earbuds
The WENKEY True Wireless Earbuds have a vertical design like the TAGRY buds, but a smoother appearance. They're all one color, and they're available in blue, black, or white. The backs function as soft touch controls, with all the functions you'd expect. This includes the ability to call up your phone's voice assistant. The matte finish is easy to keep clean, and the silicon tips are soft and rubbery.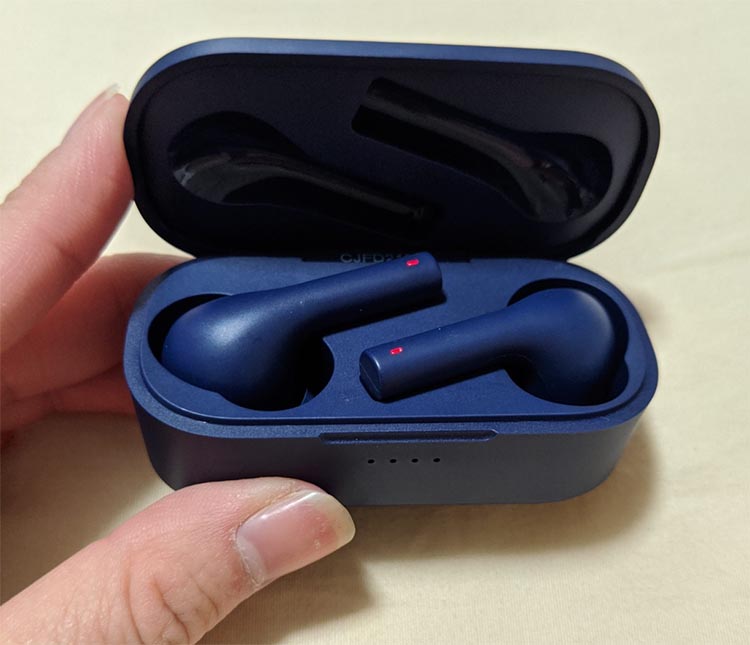 Unlike the TAGRY earbuds, the WENKEY buds come with five full sets of ear tips. This provides enough sizing options for just about anybody. Even if you have very large or very small ears, you'll be able to get a comfortable, secure fit. The shells themselves are water-resistant, with a rating of IPX6. This means they can withstand being washed under a faucet if need be. They just can't handle full submersion; anything short of that is just fine.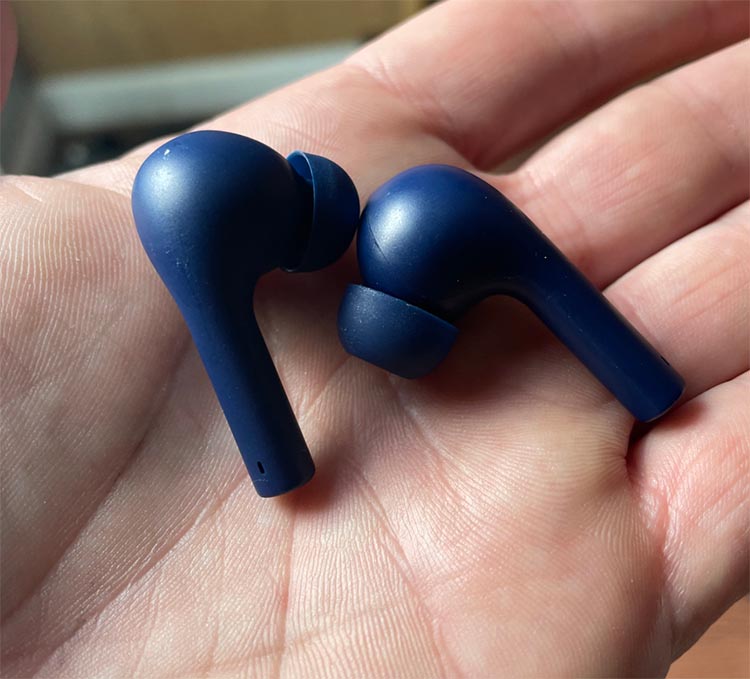 If you do need to fully submerge your earbuds, or wear them in the shower, check out the Tozo T9. They have an excellent water-resistance rating of IPX7, as well as rich audio quality. On the downside, their battery life is less than stellar.
The WENKEY charging case is designed to match the earbuds, with the same color and matte finish. It has a horizontal design, and the earbuds lie in sideways. This makes it easy to set down on your desk, since the top and bottom of it are flat. The lid is spring-loaded, and is easy to snap open and shut. There's also a cutout underneath to make it easy to open with your thumb. Just beneath that cutout, you'll see a row of four battery lights. These indicate the current battery level.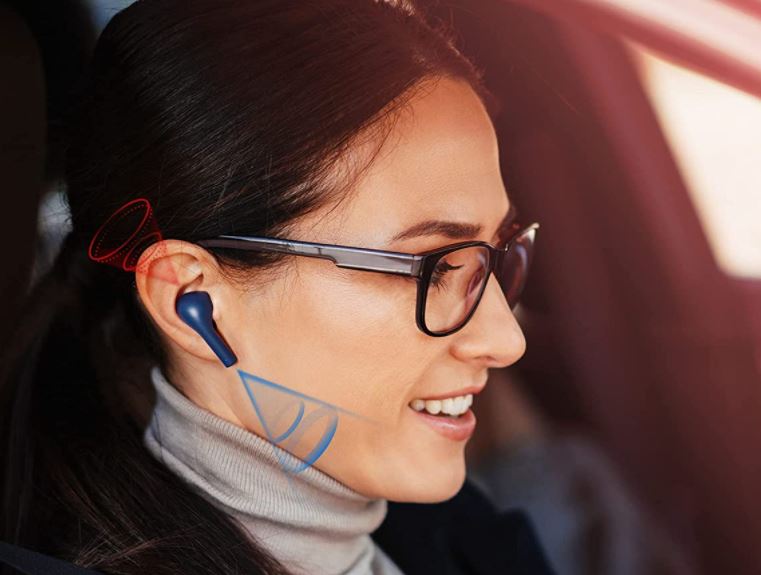 Battery & Connectivity
The WENKEY earbud batteries are rated for five hours per charge. That's slightly less than the TAGRY batteries, if not by all that much. Then again, the charging case is more powerful, enough for five full recharges. That gets you to the same 30-hour ballpark as the TAGRY earbuds and charging case. Charging performance is also comparable, with both USB Type-C and wireless charging options.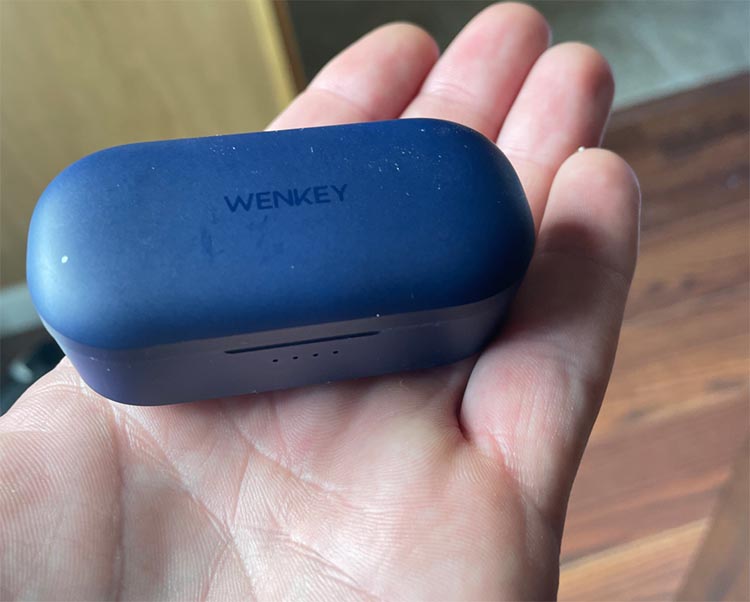 These earbuds use the Bluetooth 5.1 wireless protocol, which is an augmented version of Bluetooth 5.0. The difference is that latency is reduced even further, improving synchronization between audio and video. If you're only using the earbuds for music, you're not going to notice much of a difference. That said, if you're doing a lot of gaming, you'll appreciate the reduced latency.
Audio Quality
The WENKEY wireless earbuds have smaller drivers than the TAGRY buds, with a diameter 7mm. They can't move quite as much air, so the maximum volume is noticeably lower. There's also less richness and texture to the overall sound, which is more a factor of design than of size. On the upside, the bass response is relatively more powerful. So if you prefer a bass-heavy EQ, you'll be pleased.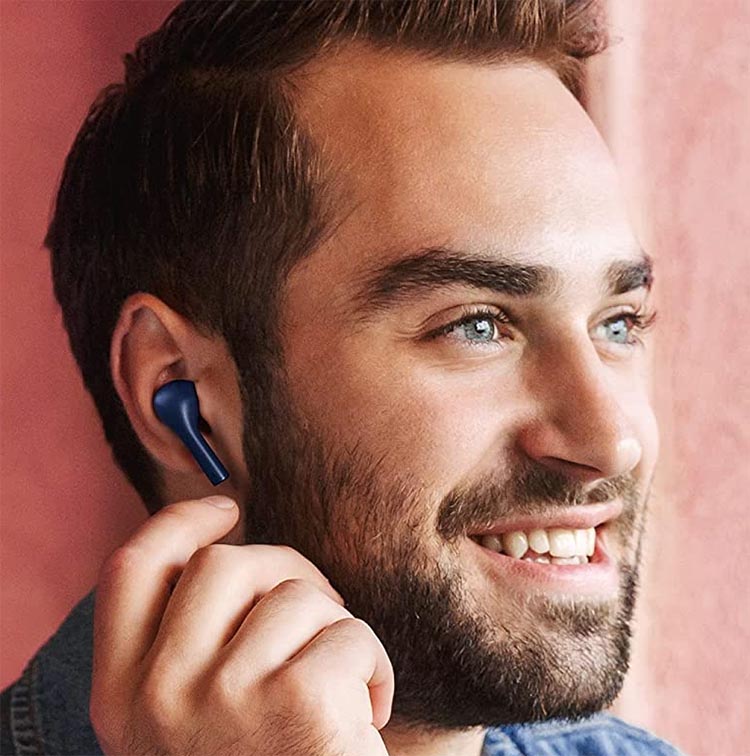 As far as call quality goes, the performance is about what you'd expect for the price. The microphones are functional, but expect to pick up background noise in crowded areas.
Final Verdict
As you can see, these two sets of earbuds have their own benefits and drawbacks. The TAGRY True Wireless Earbuds are notable first and foremost for their full-featured case. The battery display might just be a cosmetic touch, but it's a bold one, and it's one we approve of. The audio quality is good for the price, although fans of "bass boost" earbuds should look elsewhere. That said, the call quality is excellent, which is important if you plan on being on the phone a lot.
The WENKEY True Wireless Earbuds, on the other hand, excel when it comes to gaming. The Bluetooth 5.1 connection has so little latency that you might as well be using wired earbuds. The bass is also nice and powerful, at the expense of somewhat reduced overall volume.