SoundPEATS H2
Pros
Beautiful, rich and vivid audio quality.
Slick appearance with a high-end design.
Comfortable for long periods of time.
Low latency gaming mode works great.
Touch controls are easy to use.
Cons
No active noise cancellation.
Only available in one color.
Battery life is only moderate.
Charging case is not water resistant.
Wireless earbuds are an essential part of daily life for most individuals. Whether you're a casual podcast listener or a big-time music fan, owning a pair of quality wireless earbuds is important. Needless to say, the ability to enjoy a wide and vibrant soundstage without the tangle and mess of wires is often taken for granted. In reality, they've come a long way over the past several years.
If you've been on the search for a new pair of earbuds, you've likely encountered countless options. From name-brand manufacturers to no-name knock offs, finding the right pair can quickly become complicated. Here at NerdTechy, we've reviewed hundreds of different makes, models and brands over the last five years. In that time, we've become huge fans of the budget-friendly market. Often priced much less than Sony, Apple or Beats, the truth is; you don't necessarily need to spend a lot to get a lot. Most notably, SoundPEATS has created a name for themselves as a quality choice that typically doesn't cost an arm and a leg.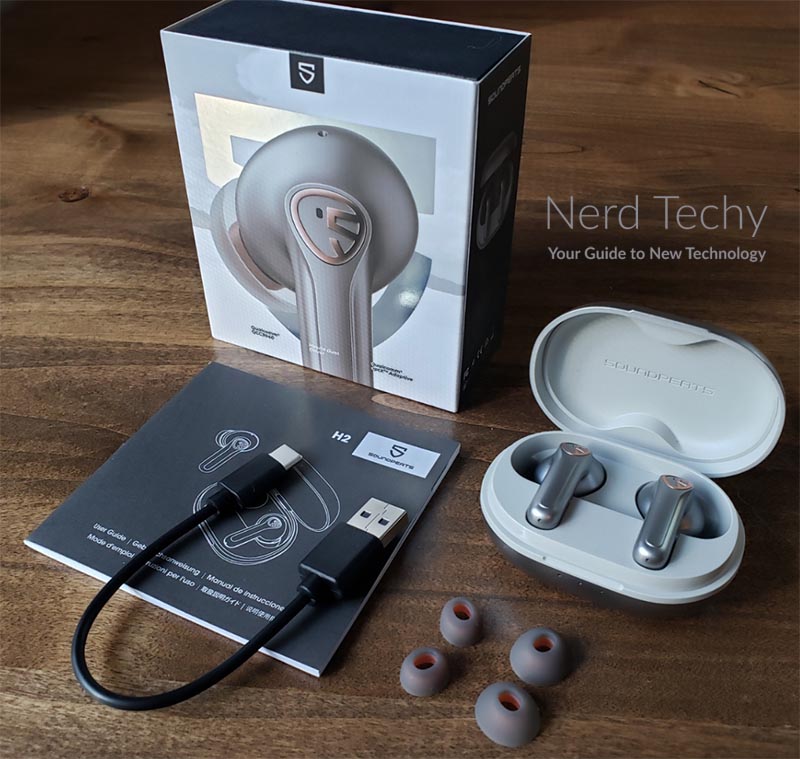 Recently, SoundPEATS released their newest version – the H2 Hybrid Dual Driver Wireless Earbuds. As one of the most expensive pairs they've released, we knew we had to give it a closer look. Today we're going to take a deep dive into the new H2 earbuds and see what they're all about. Do they perform as well as expected or do they fall short and fail to deliver? Let's find out!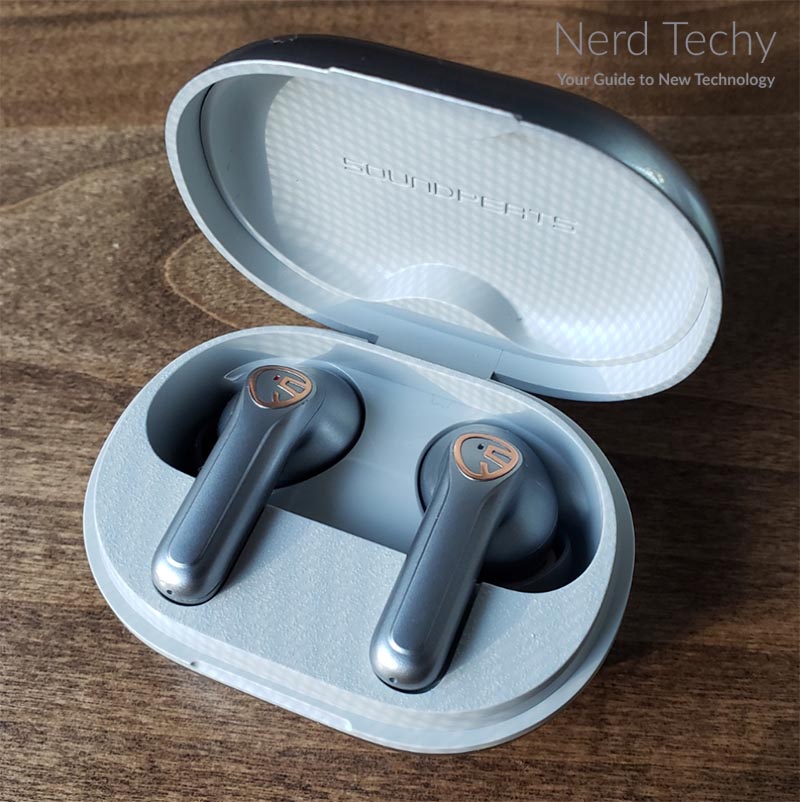 First Look
Right from the start, we felt that the SoundPEATS H2 Wireless Earbuds were trying to make a name for themselves. Priced much more than your typical SoundPEATS offering, they appear to be a high-end choice in a budget-minded market. Simply put, they're not quite as expensive as Apple's AirPods, but designed to appear as high-end and stylistic as possible. With a glossy silver finish and rose gold embossed accents, they immediately give off a vibe of being not only high in build-quality, but high in performance.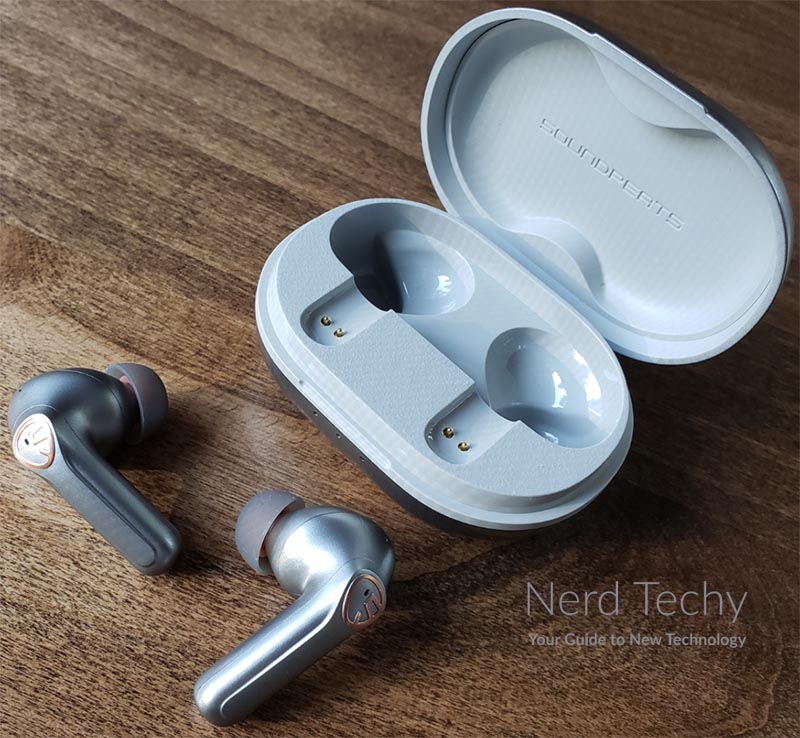 Inside the box, you'll find a short USB-C charging cable, two extra pairs of eartips, instruction manual, charging case, and of course; the earbuds themselves. The case is made from a high quality ABS plastic and boasts a standard clamshell-design and measures just 2.5″ wide, 1.75″ deep and 1.25″ tall. In addition, with the earbuds inside, the case weighs in at just 58 grams (or 2.05 ounces). As an added bonus, the glossy silver finish has a very nice appearance that doesn't seem to attract visible fingerprints. Best of all, the case magnetically clasps shut and utilizes a USB-C charging input on the back. None of that outdated Micro-USB here!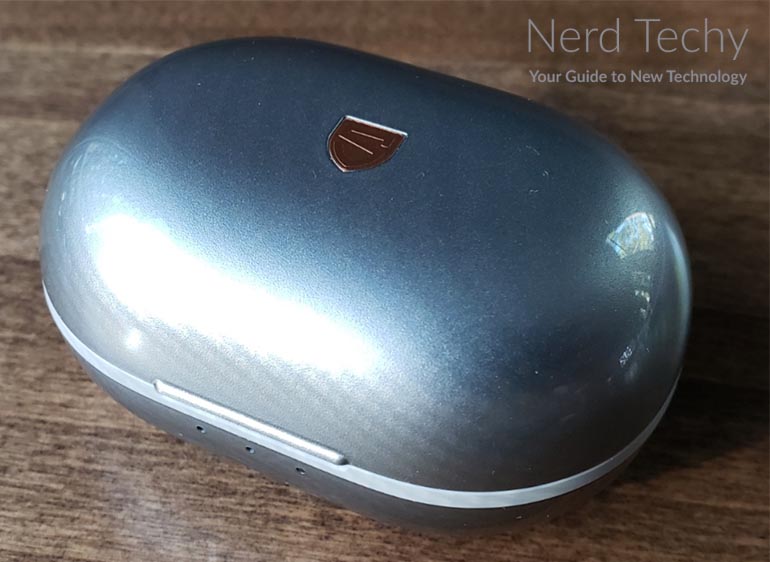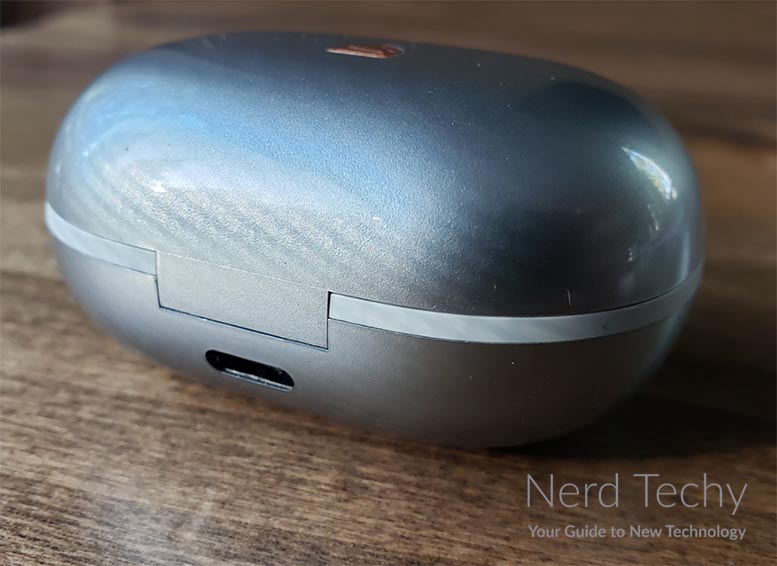 Comfort & Fit
Holding the earbuds in the palm of your hand for the first time, you'll notice that they have a solid yet lightweight feel. With each earbud weighing in at a measly 8 grams, it goes without saying, SoundPEATS managed to make them as minimalist as possible. Placing them in your ears, they rest inside your ear canal with a contoured shape that conforms nicely. They come pre-installed with medium-sized tips, but a smaller and larger size are both included in the box. We highly recommend test-fitting them with all sizes of tips so you achieve a wiggle-free fit that isn't too tight or loose. This will only take a minute, yet can make a huge difference in the comfort and sound that these earbuds produce.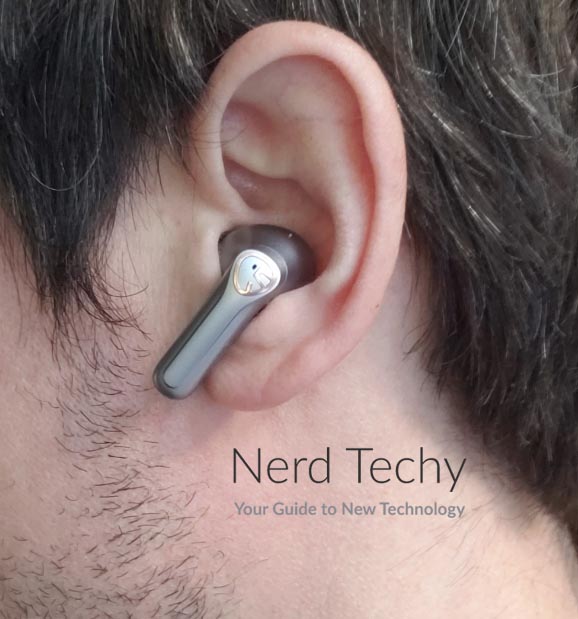 We felt that the SoundPEATS H2 provided a very cozy fit. The shape they've been given is ideal since they cradle nicely without coming loose. With running, jumping and even skateboarding, we never experienced any instance where the earbuds needed to be pushed in or continuously adjusted. Ultimately, they seem geared towards listeners with an active lifestyle, although we feel that anyone can enjoy them for virtually any activities.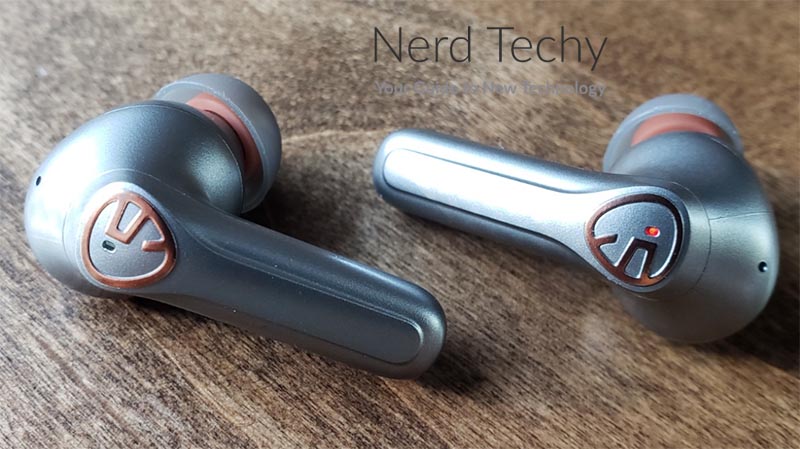 Sound Quality
Inside the SoundPEATS H2 is a hybrid dual driver that utilizes Qualcomm's QCC3040 audio codec along with the latest Bluetooth version 5.2. This combination seems to create a sweet spot for audio-quality that enables the earbuds to emit punchy bass with vivid sound and strong treble. Whether we listened to rock music, hip hop or dubstep, the audio was always favorable with a beautiful amount of realism. Vocals and instrumentals were always vibrant and paired with a healthy amount of low-end bass that surprised us in the end. The bass isn't distorted or warped, even at high volumes. Ultimately, the sound profile held an ideal amount of balance that we felt anyone would truly appreciate.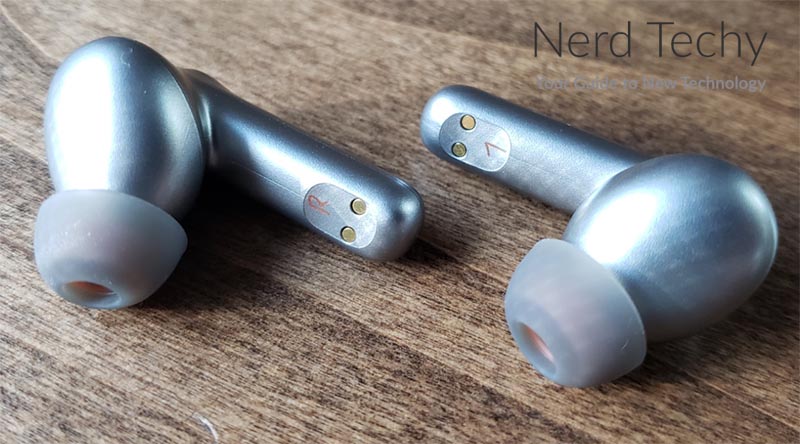 When it came to gaming, the H2 didn't fall short. We're big on mobile games, so it's nice to see a dedicated "game mode" in addition to the aptX-Adaptive codec. This combination made shooting games incredible realistic sounding; much better and a huge improvement over the onboard audio of our Galaxy S21 and iPhone 13. The ultra-low latency of "game mode" means that there's no audio delay between visual and sound effects. On paper, it doesn't seem too special, but in reality, we felt that it had a positive effect in any mobile gaming experience we tried it with. Best of all, activating game mode is very easy to do. Simply triple-tap the exterior of the left earbud to turn it on.
One thing we would have liked to see is Active Noise Cancellation. ANC isn't a requirement, but it assists with isolating the soundstage for an even more in-depth audio profile. This is a feature that is typically only seen on higher-end earbuds. However, since the H2's are SoundPEATS most expensive offering, it's a slight bummer that ANC was left out.
Call Quality
Phone calls are another avenue we knew we needed to test-out. Truthfully, we don't use earbuds for phone calls all that often. However, it's always something we like to try even just a few times. The H2 earbuds are equipped with four external microphones; two on each bud. These microphones pick-up surrounding background noise and utilize CVC to cancel them out on a digital level. This all goes on in the background, automatically, without any activation or intervention on the user-end. Simply put, it assures that your voice is accurately heard on the other end of the phone call. But it isn't just phone calls that this assists with.
Even in-game voice chat or video conference calls benefit highly from the inclusion of CVC noise cancellation. Our voice always seemed to be well-heard and easy to understand on the other end. We tested the microphones with three separate phone calls and several in-game voice chat sessions while we played League of Legends and PUBG Mobile. Each time, we never experienced any issues with the clarity of our voice on the other end.
Charging & Battery Life
With the inclusion of a charging case, the earbuds are always ready to listen and always ready to re-charge. Think of it as a power bank and secure storage place for your earbuds. Once you place them inside the case, the internal battery in each earbud will automatically be topped off. And once the case is depleted, simply plug-in the USB-C cable to the back of the case so it's always ready to go.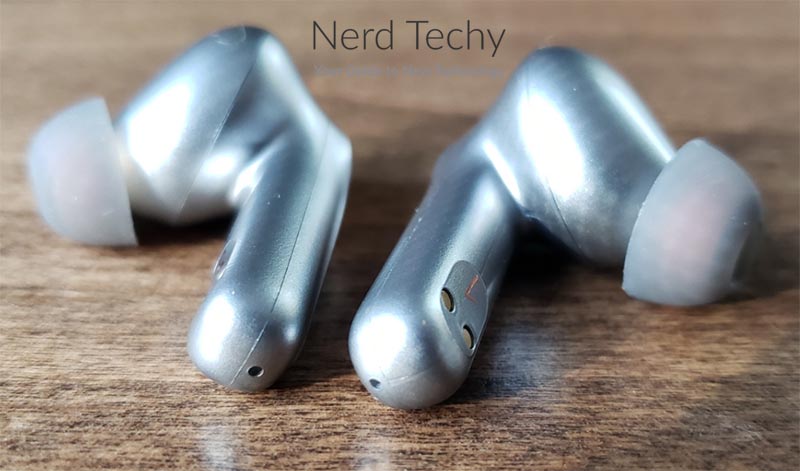 SoundPEATS claims that the H2 earbuds have enough internal battery capacity to offer 5 hours of playtime per charge. The case, on the other hand, offers around three full re-charges before it's drained. That being said, their calculations claim that the case offers 20 hours of playtime. In reality, this all depends on a variety of factors. Notably, the volume level, wireless distance and ambient temperature all play-in to the actual amount of battery life that's provided. If you're blasting music through them at full levels or using them in a cold environment, they're not going to achieve 5 hours of playtime per charge. Additionally, if your smartphone is a long distance from where you're actually using the earbuds, this may dampen the battery life as well.
In reality, we typically experienced around 4 hours of battery life per charge. There were a couple instances where we achieved 5 hours, but this was always when the volume was a bit lower than we would have liked. In our opinion, 4 hours is a more realistic estimate, but still not far off from the advertised lifespan. The charging case, on the other hand, let us achieve 4 full recharges before it needed to be plugged-in. We were happy to see that the case provided over 20 hours of listening time on multiple occasions.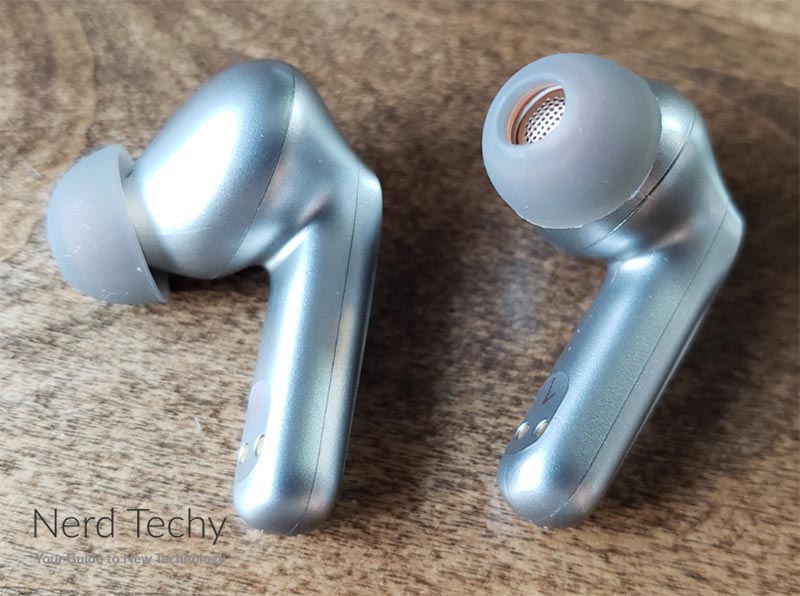 Durability
It's not immediately apparent, but the SoundPEATS H2 earbuds are rated as IPX4 water resistant. Ultimately, this means that they're protected from splashing water no matter the direction. We wouldn't call them fully waterproof, however, they're resistant to moisture from rain and sweat without any issues. You don't want to drop them in a puddle or go swimming with them, but you can rest assured knowing that they can easily stand up to outdoor conditions. The case, on the other hand, is not. There's no water resistance rating given to the case, so it's best to keep it stowed in a pocket or compartment while not in use.
Handling the earbuds and holding them in your hands gives off a high-quality vibe. It's obvious that SoundPEATS took some extra though and time into creating a high quality appearance. The subtle glossiness, smooth finish and raised-textured logos are eye-catching to say the least. We really love the silver color they chose in addition to the rose gold accents throughout. Realistically, the workmanship is probably the best we've seen from SoundPEATS. Yes, they're heavily comprised of plastic, but this plastic seems sturdy, high-end and definitely not cheap.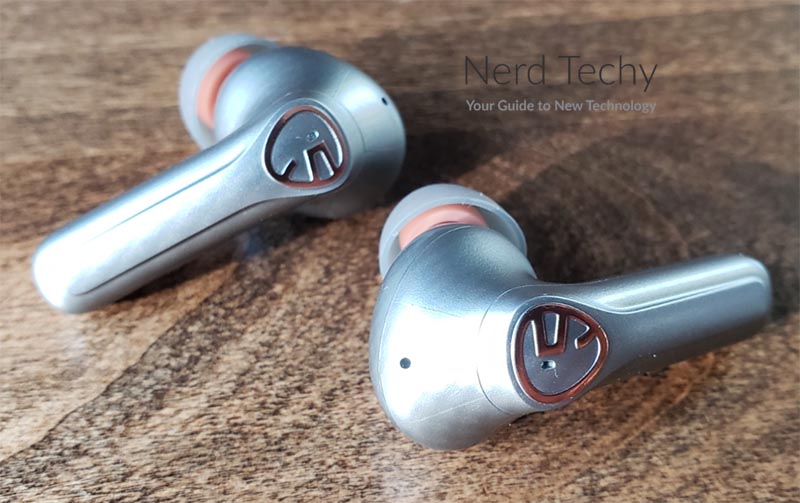 Final Thoughts
All in all, SoundPEATS seemed to have outdone themselves with their new release of the H2 Wireless Earbuds. Our favorite thing about them is the high-end style that they boast. This, in addition to the quality sound they're capable of producing with rich, vivid bass and a healthy level of treble gives listeners a high-end experience without the need to fork over $100+ on something with a more widely known name brand.
Yes, it would have been nice to see ANC included, but the rest of the features and rich audio profile let us forget about it. Even without ANC, the H2 earbuds are exceptional on most fronts. The battery life is sort-of "middle of the road" but it definitely isn't a deal-breaker for us. If you're looking for quality in the lower end of "high end", look no further! We feel that any listener will agree with us. What do you think? Have you tried out the H2 earbuds and have something to say about them? Let us know in the comments below.