TOZO A1
Pros
Minimalist design and shape.
Audio quality is sufficient for music and phone calls.
USB-C charging input rather than Micro-USB,
IPX5 water resistant.
Touch controls are easy to use.
Cons
Bass and low tones seem to be lacking.
Charging case is not water-resistant.
Only available in black.
There are literally thousands of different earbuds to choose from these days. Whether you're shopping locally or scouring Amazon for a great deal, you're more than likely going to be overwhelmed with the amount of options you have. Amazon is full of budget-friendly earbuds, making it easy to find a pair in your price-range. However, this doesn't really make the search any easier.
Here at NerdTechy, we've reviewed hundreds of Bluetooth earbuds in the past. Some of our favorite options have come from lesser-known manufacturers. One such is a small brand called Tozo. Since our first time reviewing their offerings over 3 years ago, we've had the pleasure of testing out many of their best sellers. Most recently, the TOZO T9, NC2 and NC9, T12 and T10. Simply put, TOZO always seems to deliver excellent performance for the price-point.
Today we're here to examine their newest release, the A1 Mini Wireless Earbuds. They're incredibly small, yet seem to be the perfect size for most scenarios. Additionally, they're very affordable. Seeing earbuds at this price may leave you hesitant, but stick with us. We'll be taking a closer look at them and see how they perform.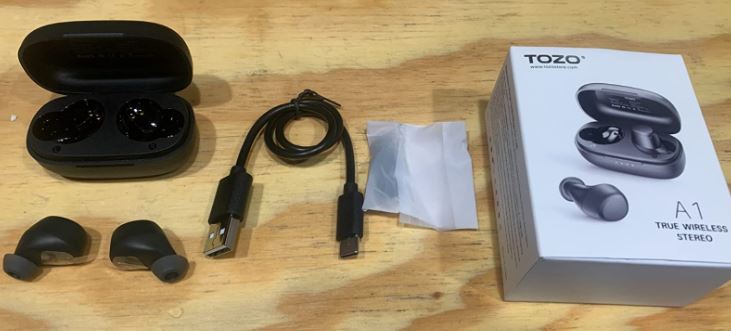 First Look
The TOZO A1 Mini Wireless Earbuds boast a simple, basic matte-black finish with a minimalist appearance. What sets them apart from others is their lightweight design. Each earbud weighs in at a mere 3.7 grams, ultimately making them incredibly "miniature" when compared to others. Inside of the box, you'll find a charging case, two earbuds, a USB-C charging cable and both large and medium-sized silicone tips.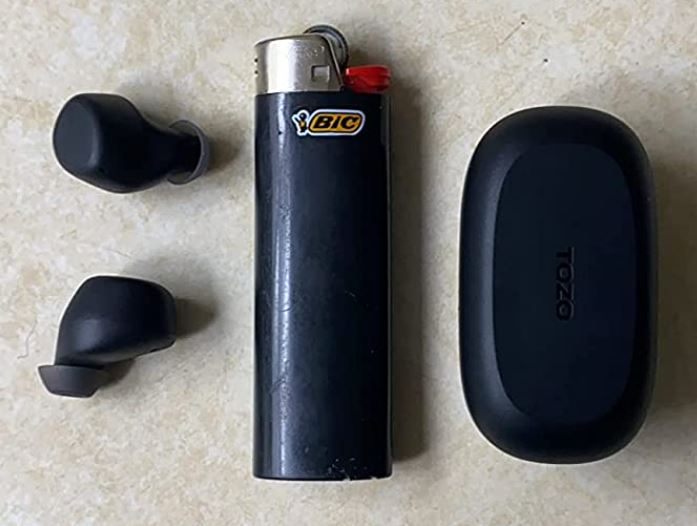 The case acts as a cradle to keep the earbuds safe when not in use, but it doubles an easy way to keep them charged-up. When you place the earbuds within the case, the internal battery within the case will transfer battery-life to each earbud. This way, the buds are always charged and ready to go when you want to use them.
Feeling the earbuds in your hands for the first time, it's obvious that these are considered "mini" earbuds. To put it simply, they're incredibly small. This is great for most scenarios, but it may make them a bit easier to lose. Needless to say, it's a good idea to get into the habit of leaving them in the charging case unless you're actively using them.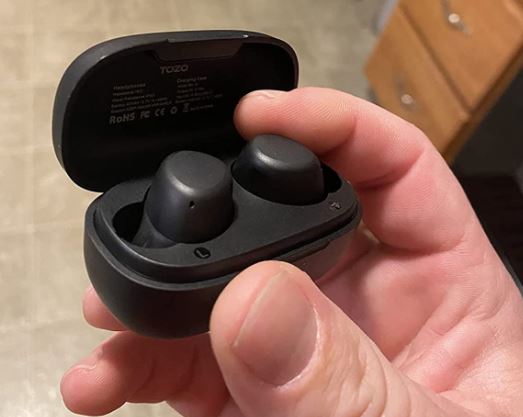 Comfort & Fit
The TOZO A1 have a standard shape and appearance that works well without any extra bells and whistles. They're designed to conform into the inner contour of your ears, but first, you'll need to size them for an ideal fit. To do this, you're going to need to figure out which silicone ear tips are best for the specific size of your ears. The medium-size comes pre-installed, but as we said before, inside the box are two other pairs; smaller or larger. Most individuals will find the medium-size adequate, but we highly recommend taking a couple extra minutes to take off the tips and try on different sizes. Ultimately, you'll want the earbuds to fit snug, without any wiggle-room, but not so tight that they'll cause pressure points or pain.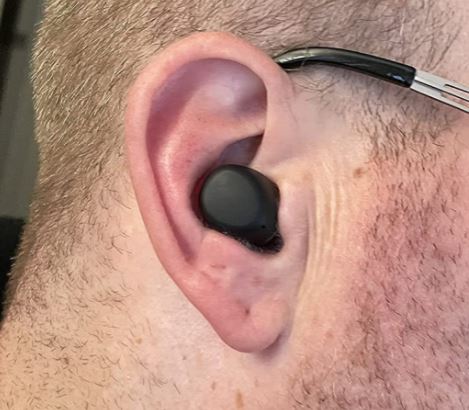 We felt that the fit of the A1 earbuds was comfortable and snug. Whether we jumped vigorously or took a jog down the street, the buds never came loose. Additionally, there were no annoying pressure points to complain of. It seems the miniature size makes them easily fit inside your ear without sticking out. Some earbuds tend to protrude, but these definitely don't.
Audio Quality
Inside each earbud is a 6mm speaker that's supposed to be capable of a wide sound range. Through our experience, the A1 earbuds seem to do a decent job at providing acceptable audio quality without distortion, lag or missed notes. In general, high and mid tones excelled while the low-end slightly suffered. Bass didn't seem that vibrant, but vocals and instrumentals seemed accurately replicated.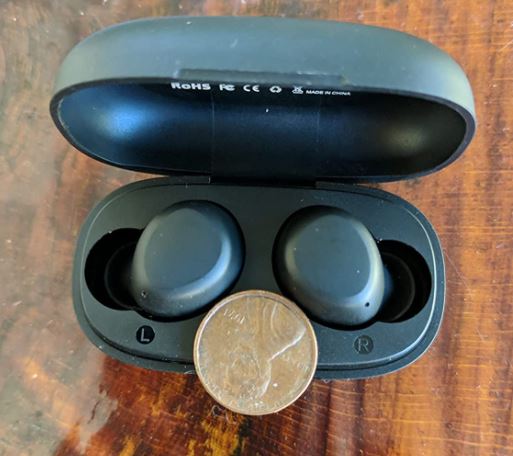 Low tones and bass were the only areas that we would have liked some improvement. The bass is a bit weak, but it's almost expected at this price-point. Don't get us totally wrong; low tones are audible, but not as deep and resonating as other earbuds that are more fine-tuned for music. We definitely wouldn't call the bass "powerful" as TOZO describes, but it isn't totally depleted, either. But let's be honest, at this price-point, you're not going to get everything!
Although we didn't use them more than a couple times for phone calls, the sound quality while talking on the phone through the A1 earbuds is sufficient. These aren't equipped with any advanced audio protocols to cancel-out background noise, but it didn't really seem to matter. We tested one outgoing phone call and another incoming call. Both phone calls went well without any distortion from grey noise or background distractions. Overall, the built-in microphones did a great job at picking up our voice without any muffling or unpleasant effects.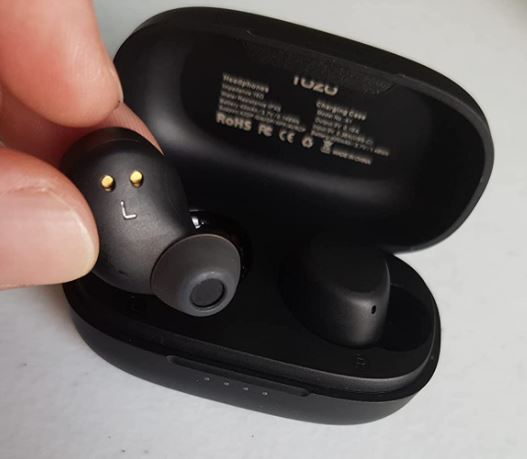 Controls
On the exterior of each of the A1 earbuds there are touch-activated controls. With the touch of your finger, you're able to adjust the volume, skip/previous tracks and pause/play music through a series of finger-taps. Although you'll likely want to memorize each precise function, a few taps here and there will unlock most of the control you could ever need without needing to pull out your smartphone.
Battery Life
There are three individual batteries throughout the A1 earbuds that are worth mentioning. First, the case has an integrated 400 mAh capacity lithium battery that's rated to offer up to 3 full recharges for each earbud. Next, each earbud has its own 40 mAh lithium battery that's rated for 6 hours of playtime. In general, you're supposed to charge the case with the provided USB-C cable and thereafter place the earbuds inside the case to charge each one.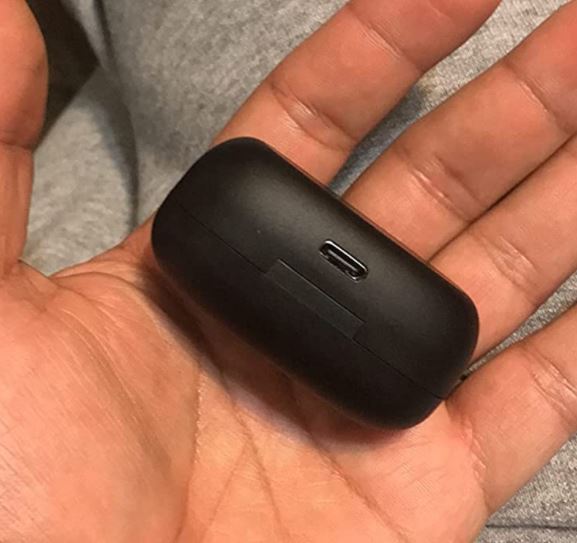 In reality, there are several factors that effect battery life. Ambient temperature, volume level and lifespan are all direct contributors to the overall battery life that need to be taken into consideration. At average temperatures and a 60% volume level, we found that each earbud lasts around 4-5 hours, which is 10-20% less than the advertised battery life. There was only one instance where we actually achieved 6 hours on a single full-charge. In this instance, the earbuds were being used inside at 75 degrees and 50% volume.
Overall, the battery life seems to be fairly close to the advertised amount. The A1 earbuds seem to offer a "middle of the road" amount of battery in most regards. It isn't totally impressive but not all that disappointing, either.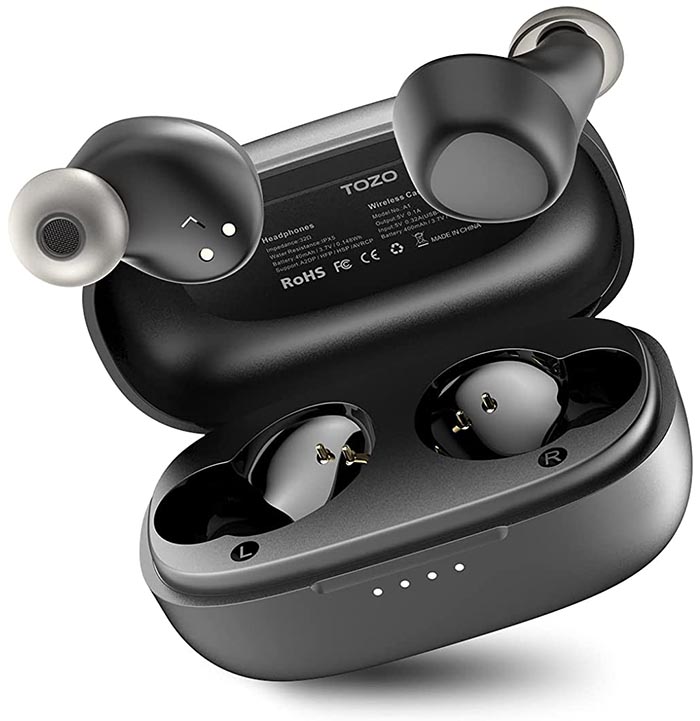 Durability
Holding the TOZO A1 earbuds in the palm of your hand, they're so lightweight that they don't exactly scream "durable". However, on paper, it's nice to see that they're IPX5 rated for water resistance. This IP rating indicates that the earbuds can be sprayed with water and exposed to moisture, but should never be submerged in water. In fact, the A1 are nano-coated to naturally repel water and moisture without any issue. This means that sweat, rain, snow and other liquid won't pose an issue when you're using the earbuds outdoors or inside during a sweaty gym session.
The charging case needs to be cared for a bit closer, however. It isn't rated for any kind of water resistance so you'll need to make sure that you don't expose it to any environment where it can get wet. It's best to leave the case at home, in your car, or simply in your pocket if you want to make sure it doesn't get damaged.
Realistically, the durability of the earbuds and the charging case seems adequate and about what we would expect in this price range.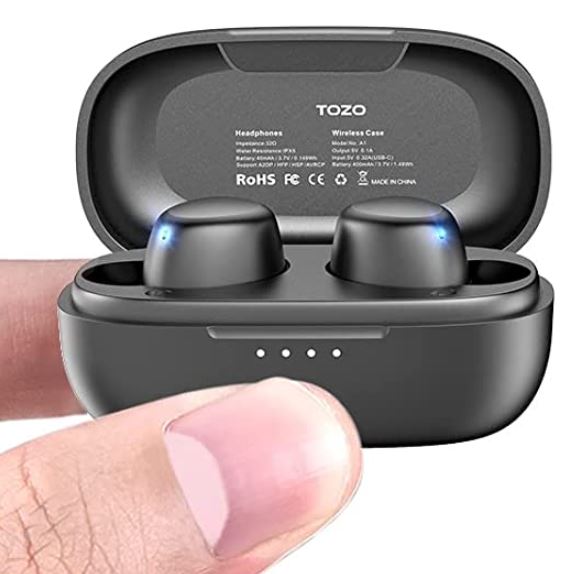 Final Thoughts
As you can see, the TOZO A1 Mini Wireless Earbuds offer plenty to love and little to complain about. They're comfortable to wear, easy to control and built with a decent amount of durability. The sound quality, in our opinion, is sufficient. Simply put, they're not going to perform like a pair that costs two or three times as much. However, for the price, you'll be hard-pressed to find another pair of compact earbuds that deliver this kind of value.
Overall, the A1 earbuds deliver an excellent bargain and the best bang for your buck in this budget-range. They're simple, easy to use and perform well in most scenarios. Have you tried them out? What do you think? Leave us a comment below, we'd love to hear your own experience with TOZO's A1 earbuds.