UGREEN PowerDot
Pros
Can fast charge two devices simultaneously.
Supports pass-through charging.
TSA-approved for airline travel.
High-quality Lithium-Polymer battery.
Cons
Relatively low capacity for the size.
Only two charging ports.
These days, we put more and more faith in our electronics. If you don't have a working smartphone, it suddenly becomes hard to perform all kinds of everyday tasks. For example, you want to transfer some money to a friend. Without your phone, you have to go give them cash in person, or mail them a check. A check is delightfully old-school, but it's not the way most people like to get paid these days. The same goes for all kinds of other phone functions. How do you stay in touch with your boss? If you're traveling, how do you watch a movie in the airport? Life turns into a real headache when your battery runs dry.
A good power bank can help you solve that problem. With a power bank, you can keep your phone plugged in, even when there's no power outlet nearby. This can even happen when you least expect it. We've all sat down on a plane or a train, only to find that the power outlet at our seat didn't work. When you have a power bank, that's not a big deal. Power banks are also great for camping, so you can take pictures, or even call for help in an emergency. The point being, there are a number of reasons to invest in a quality power bank. But how do you choose one that meets all of your needs?
We're about to review the UGREEN "PowerDot" 20W PD Power Bank Portable Charger. This is a pocket-sized 10,000mAh charger that's easy to use and carry. It's compatible with both USB Type-A and USB Type-C, and supports PD charging. But that's just the beginning of the various features we need to be looking at. We need to talk about the construction quality and durability. We need to talk about what it can charge, and how much juice it can provide. We'll also need to talk about the various safety features, as well as the charging speed. After we've discussed all of those things and more, we'll be ready to render a final verdict. Let's take a closer look, and see how this power bank compares to some of the others on today's market!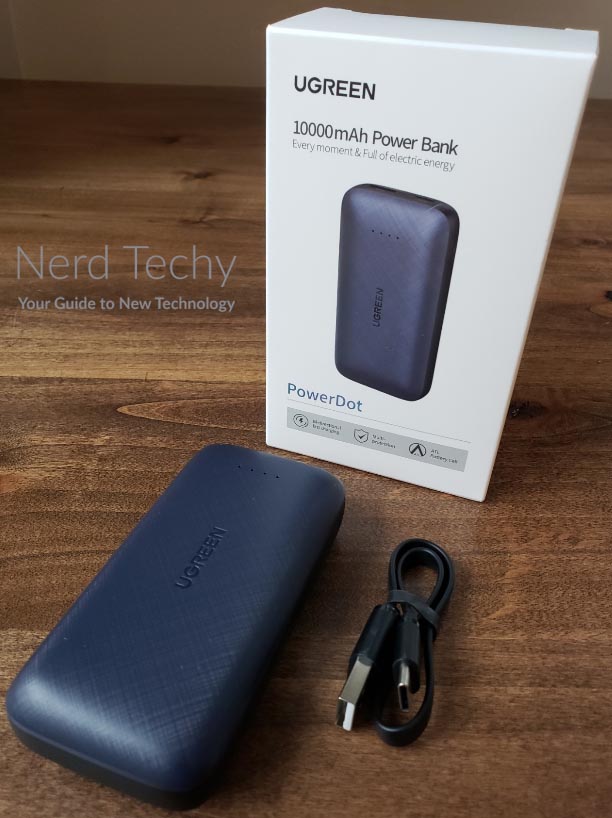 Overall Design
One of the things we like most about UGREEN's products is the aesthetic. Everything they make looks classy, and the UGREEN "PowerDot" 20W PD Power Bank Portable Charger is no exception. The main body is constructed from black plastic, with a rectangular design and rounded corners. The material has a matte finish, so it's easy to keep clean, and won't collect fingerprints during handling. However, the top and bottom both bulge out from the housing, giving the power bank a rounded appearance. These top and bottom panels are brushed blue, with a fine crosshatch pattern that almost looks like denim.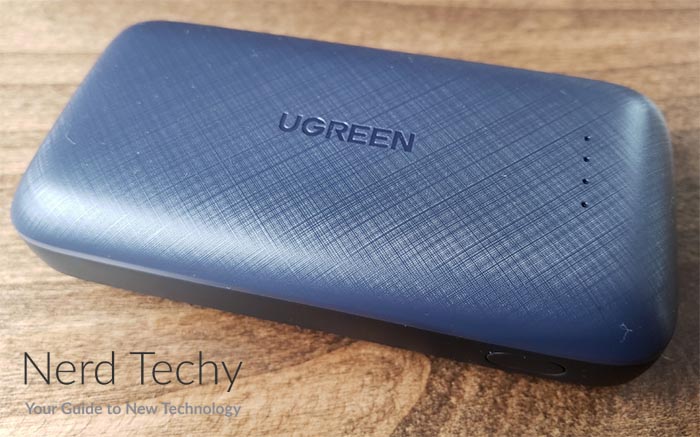 All in all the housing feels nice and sturdy, and it can withstand a reasonable amount of abuse. We're not saying you can drop it off a balcony or anything. But everyday drops and bumps won't be a concern here. One thing we should point out is that there's no water-resistance rating. The top is all solid, so minor splashes shouldn't be a problem. But we'd take care around the USB ports.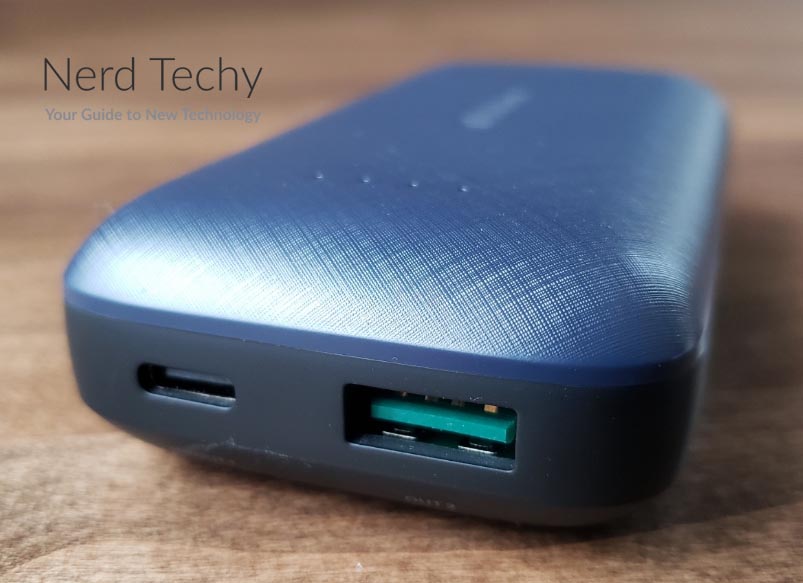 The only real decoration on the housing is a glossy UGREEN imprint in the middle of the top. To one side, there's also a row of four LEDS. These indicate the current power status, and turn off one by one as the battery drains. In order to save power, they'll normally remain off when nothing is plugged into the power bank. That said, you can activate them at any time to check the charge level. To do this, you simply press the power button, which is located in the side of the housing. The power button can also be used to reset the power bank when it's not charging properly.
The charging ports themselves are both located on the front edge. Towards the left, there's a single USB Type-C port. To the right, there's a USB Type-A port. The Type-A port has a bright green inner tab, which makes plug orientation easy. You won't have to constantly struggle with which way your USB plug needs to be facing. Both of the ports are labeled, which isn't strictly necessary. That said, the print is tiny, and it doesn't mar the appearance of the charger. The Type-C port functions as both an input and an output, and a Type-C to Type-A USB cable is included. This is mostly intended for charging the power bank itself. However, it can also be used for connecting to other devices.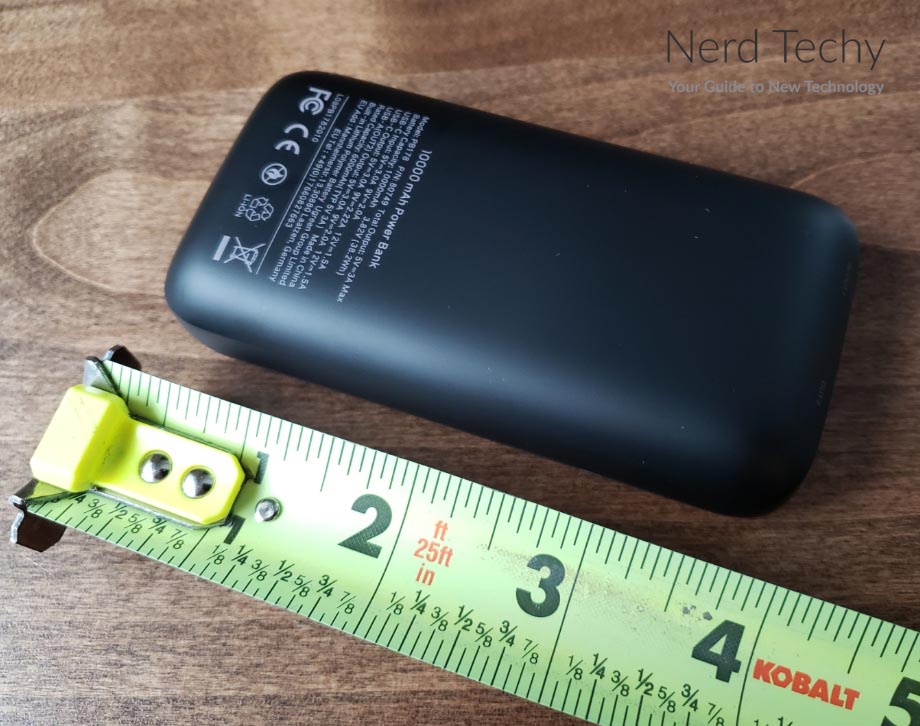 Battery Performance and Capacity
The heart of any power bank is its battery. After all, the battery is what determines how well the power bank is able to perform. To begin with, this battery has a capacity of 10,000mAh. Let's just be honest, and say that this is lower than we'd hoped for. To be fair, a lot of this has to do with the small size. But even in such a small form factor, you can routinely find twice the total charging power.
So, what can you actually expect this battery to do? With an iPhone 12, you'll get about 2 ½ recharges. With an iPhone 13 and its more efficient battery, you'll get closer to 3 full recharges. Performance with Android phones is highly variable, since there are so many models. But in most cases, you can expect 2-3 recharges. That's not bad if you're only charging smartphones. Normally, you're not going to drain your phone three times without getting close to an outlet. But keep in mind that tablets and laptops are far more demanding. You might get a single recharge on a smaller tablet. On a laptop, you'll be lucky to see half a charge.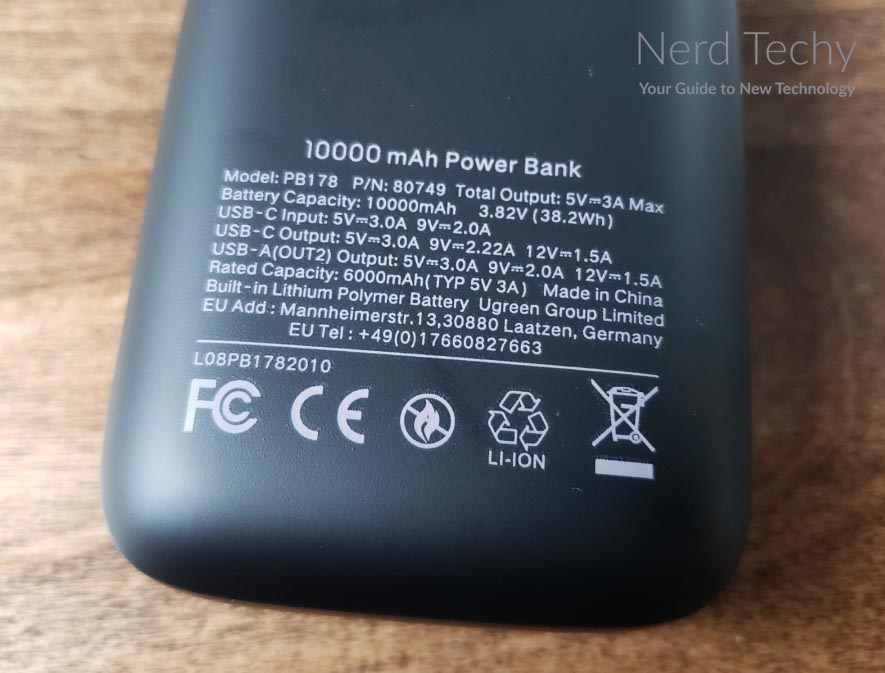 In terms of charging speed, you get 20 watts on the USB Type-C drive, and 18 watts on the USB Type-A drive. The Type-A drive uses QC 3.0 technology, while the Type-C drive uses PD technology. Either way, the result is the same. You get smart power delivery, right up to whatever amount of power your phone can draw. This allows you to charge almost any smartphone at maximum speed. iPhones and most Androids max out at 18 watts, so you'll be able to fill your batteries faster than ever. That said, the total maximum wattage of the charger is 30 watts. When two devices are connected, both USB ports will drop to 15 watts of power delivery. This is only a slight slowdown, and won't even affect some devices.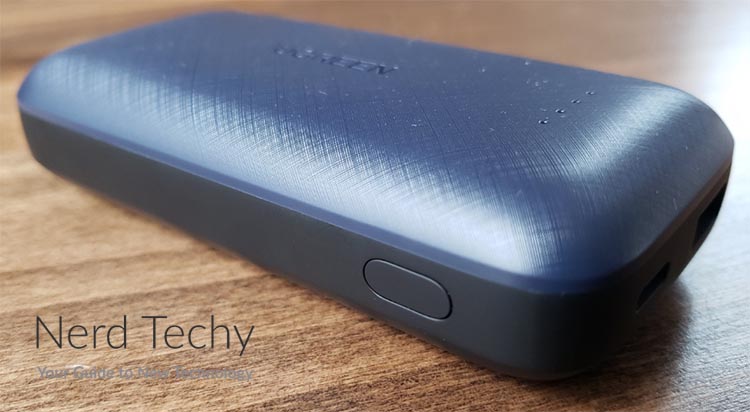 Assuming you're only plugging in one phone, you can expect to get a highly effective quick charge. Within the first 30 minutes, most smartphones will charge to well over 50 percent. Depending on your device, an empty battery will take around 90 minutes to fully charge. Of course, you're probably not waiting until your phone is totally dead to plug it in. So in practice, you can probably expect it to charge a little bit faster than that. Charging the power bank itself is very easy. When connected to a PD-capable USB port, it will fully charge in about two hours. This will take more like three hours if it's plugged into an ordinary USB port.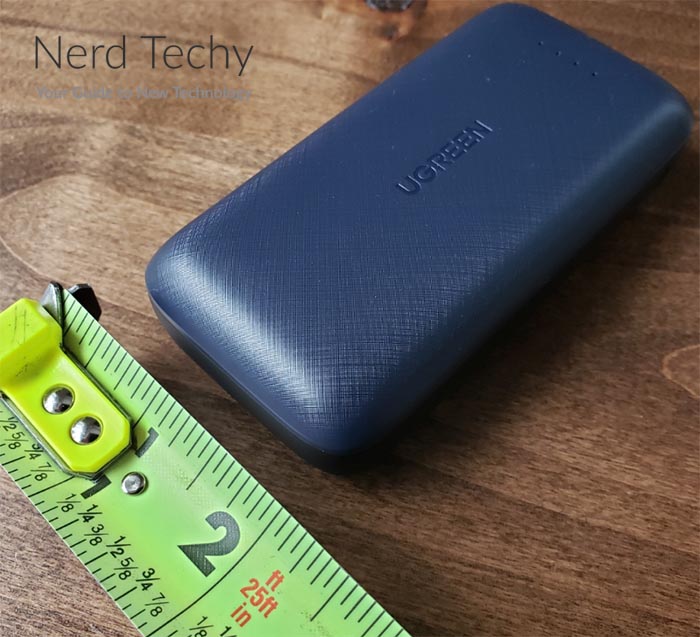 One thing we appreciated about the UGREEN PowerDot was its advanced Lithium-Polymer battery. This is an improvement over earlier Lithium-Ion battery, not in terms of power, but in terms of longevity. In fact, the battery inside this power bank is rated for 500 full charge and discharge cycles. This means that after 500 full cycles, it will retain 80 percent of its original capacity.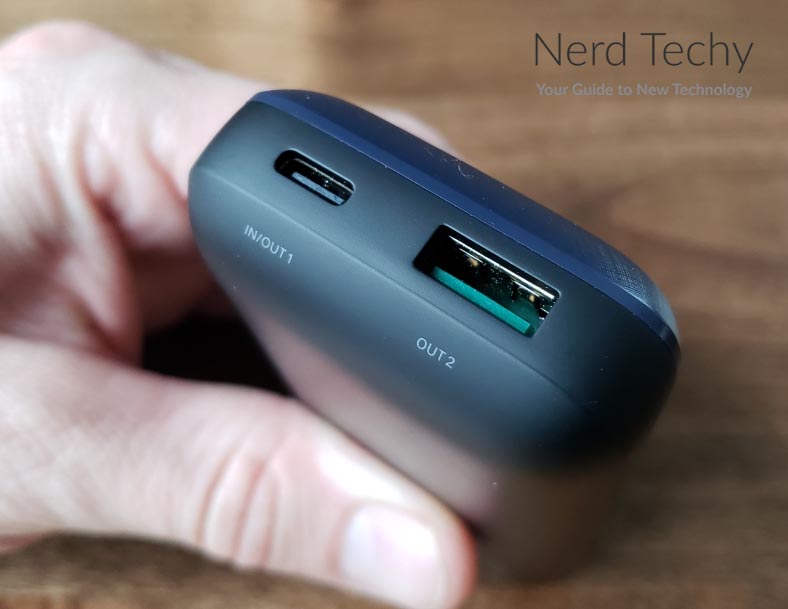 Travel and Safety
As you can see, the UGREEN power bank is very compact and easy to carry. This makes it easy to transport, whether you're carrying it in your pocket or in a bag. Just as importantly, it's also rated for airline travel, which is not the case for all power banks. Even so, we can't help but point out that there are other, more powerful power banks that are still travel-capable.
UGREEN's PowerDot comes with a full suite of safety features. It protects your devices from overcharging or overvoltage, to keep them safe from damage. It prevents over-discharge, which keeps the internal battery from being permanently drained. And built-in short-circuit protection will keep one bad device from ruining your others.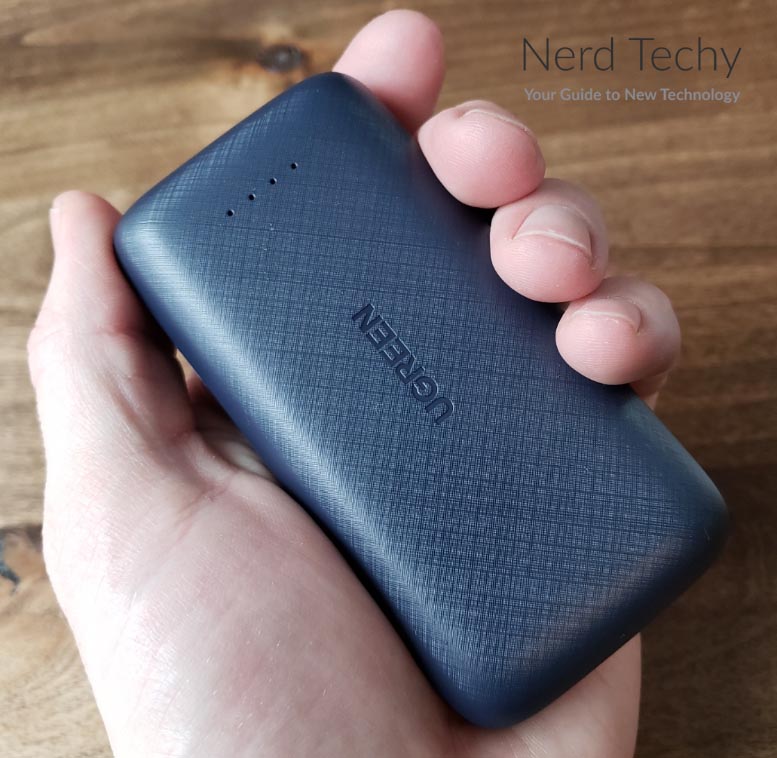 Final Verdict
As you can see, the UGREEN "PowerDot" 20W PD Power Bank Portable Charger is a nifty little power bank. It's compact and easy to transport, and it's compatible with a variety of devices. We would have liked to see more power ports, as well as a little more capacity. However, the charging performance is more than fast enough for any modern smartphone. If you need a small, on-the-go phone charger, this is a solid choice.