If you're in the market for a new pair of wireless earbuds, you know how hard it can be to find the right ones. It's not that there aren't enough options. Far from it. There's an overwhelming number of options, with literally thousands of earbud models available. If you're a perfectionist seeking the perfect pair, you'll never stop shopping. To actually reach a decision, you'll need to limit your options. One way to do that is to focus on buds from a brand you already know and trust. TOZO is a longstanding earbud manufacturer, and we've reviewed several of their offerings before. So today, we thought we'd take a crack at two more pairs of TOZO wireless earbuds.
We'll start by reviewing the TOZO NC2 Wireless ANC Earbuds. These ANC buds offer impressive battery life, along with wireless charging. Next, we'll look at the TOZO NC9 Wireless ANC Earbuds. These buds are designed primarily for comfort, although their noise cancellation is also very good. But which pair is the right choice for you? To make a fair judgement, we'll have to take a closer look at each of their features and benefits. We'll talk about the physical design, the battery life and, of course, how good the audio sounds. After we've covered all our bases, we'll be ready to render our final verdict. Let's begin!
Note: At no extra cost to you, we may earn a commission for purchases using our links. Learn more.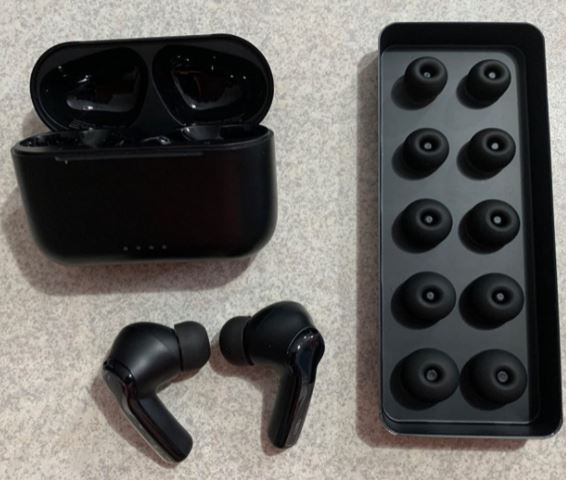 TOZO NC2 Wireless ANC Earbuds
The TOZO NC2 Wireless ANC Earbuds are built with a vertical design. The batteries are housed in studs that hang down from our ears and keep the balance bottom-heavy. This concept has been around since the original AirPods, and is popular among many manufacturers. The bottom-heavy design goes a long way towards keeping your buds in your ears. However, a properly-fitted set of tips is also essential. To this end, TOZO includes three sets of silicone tips so you can find the right fit for you.
The earbud shells are a combination of matte black upper portions and glossy studs, providing a subtle contrast. The backs of the studs flatten out towards the top, and these areas function as soft-touch controls. Tap them or hold them, and you can skip tracks, adjust the volume, make calls, or access Siri. Not only that, but the earbud housing is IPX6-rated for water-resistance. This isn't quite submersion-proof, but it's good enough to wear your buds in the shower.
If you want even better water-resistance, consider the TOZO T10 Wireless Earbuds. These are IPX8-rated, which means they're submersion proof, and they're very affordably priced. That said, they don't offer any noise cancellation, and the battery life is relatively short.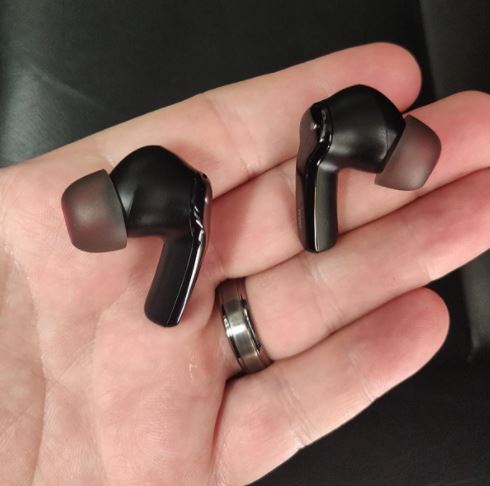 As with most wireless earbuds, the NC2 buds come with a charging case. This case has a vertical design, so the buds simply drop inside. It has a matte black finish, and is small enough to carry in your pocket. When you're carrying it, it's also secure, thanks to a spring-loaded lid that stays shut during transport. Other than the lid, the case is almost entirely plain. The sole exception is a row of four LED lights at the bottom, which display the current battery status.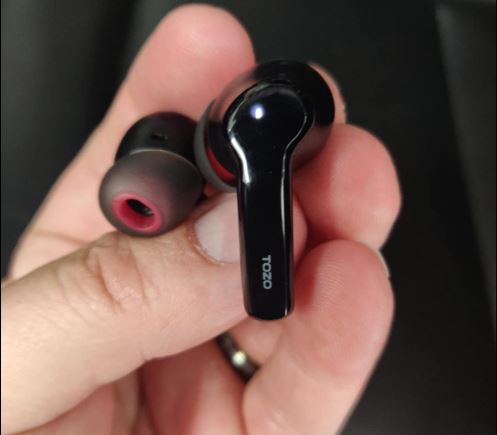 Battery & Connectivity
The NC2 earbuds are rated to last for eight hours per charge. However, as with most manufacturer ratings, this assumes you're listening at half volume. Turn the volume all the way up, and you can expect more in the range of six hours. Still, that's not half bad for a pair of wireless buds, and it far outperforms TOZO's previous offerings. Not only that, but the charging case provides three additional charges. In total, you can expect 24 to 32 hours of playtime, depending on conditions.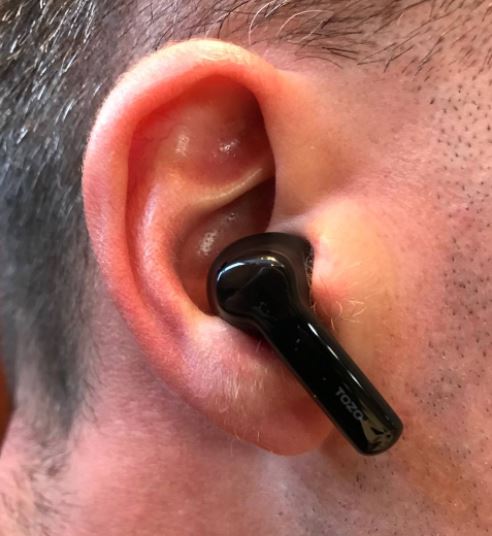 The earbuds will charge in about 90 minutes, so downtime is rarely an issue. The charging case will also charge in about 90 minutes via the included USB Type-C cable. As an alternative, it's also compatible with Qi wireless chargers. This will provide a slower charge speed, but many people prefer the convenience.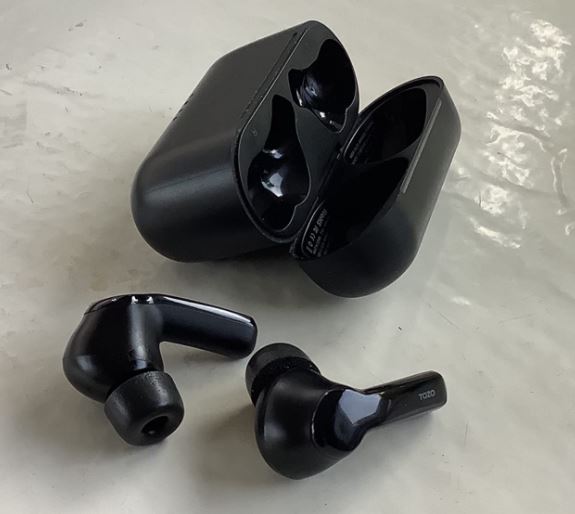 The NC2 buds connect to your phone or MP3 player via the Bluetooth 5.2 protocol. This is the latest and greatest upgrade to Bluetooth 5.0, and allows for dual-channel connections. On compatible devices, each earbud will have its own individual signal, for even lower latency. On older devices, the buds will still work fine; you just won't be able to take advantage of this feature. In addition, these earbuds have built-in optical sensors that can detect when they're inserted. When you remove them, they'll automatically pause your music, then resume when they're reinserted.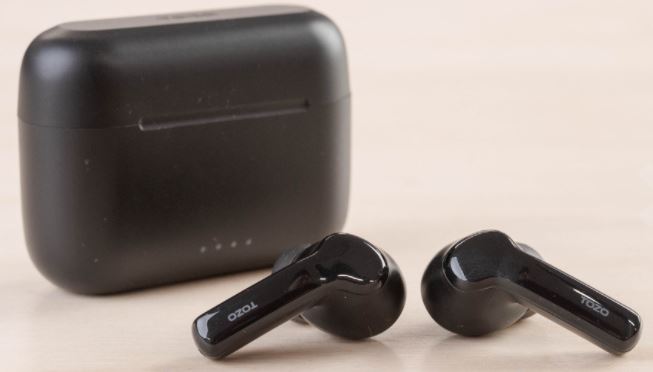 Audio Quality
The TOZO NC2 earbuds offer reasonably good audio quality with a balanced EQ. They're neither bass-heavy nor tinny, but sit squarely in the middle. We're not saying these are audiophile quality, but they're a cut above what we'd expected for the price. Not only that, but the hybrid ANC system is very effective. It reduces background noise by up to 35dB, which is more than most ANC earbuds. You can enjoy your music in peace even if you're on a puddle jumper with propellers.
In addition, TOZO has also designed these buds with everyday interactions in mind. Using transparency mode, the ANC microphones can be tweaked to allow more outside noise in. This is useful for short conversations, listening for airline announcements, and so on. Any time you need to be aware of your surroundings, you can. The external microphones also provide reasonably good call quality. There's no noise reduction circuitry, but the other person should still hear you just fine under most conditions.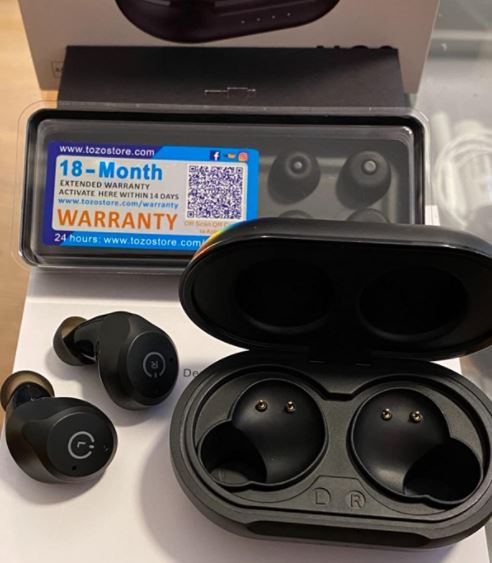 TOZO NC9 Wireless ANC Earbuds
The most striking interest between the TOZO NC9 Wireless ANC Earbuds and the NC2 buds is their shape. While the NC2 buds have a vertical build, the NC9 earbuds are built with a compact, fully in-ear design. Instead of battery studs, they rely solely on long stems and secure silicone tips for a secure fit. Choose between three different sets of tips, and find the pair that's most comfortable. We appreciate the fact that they're softer than most ear tips, so they won't irritate your ear canals.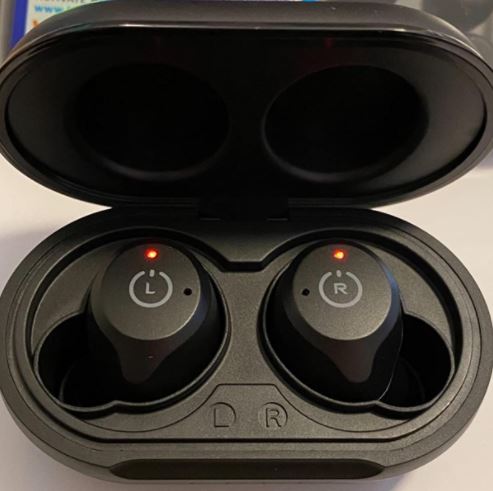 The compact earbud shells are also designed to be as comfortable as possible. They're small in size, and barely put any weight on your ears. The controls also have a soft touch design, much like the NC2 buds. Another similarity between the two pairs is the IPX6 water-resistance rating. They're both shower-proof but not submersion-proof.
If you need submersion-proof earbuds, the TOZO T12 Wireless Earbuds are a better choice. They have an IPX8 water-resistance rating, and support wireless charging. However, their batteries don't last as long as most other Bluetooth earbuds.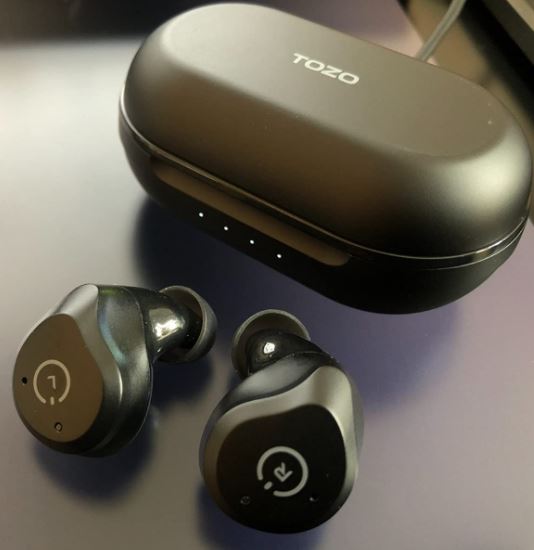 The charging case is matte black to match the earbud shells, although the lid is decorated with a silver band. Like the NC2's case, it has a spring-loaded lid, as well as four LED battery lights. The profile is flat and oval-shaped, and about the same size as the N2's case. Carrying it around in your pocket is no problem.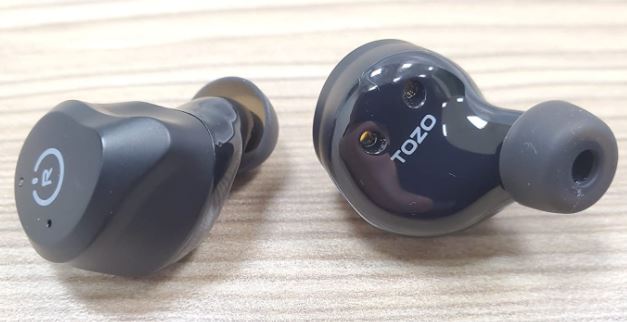 Battery & Connectivity
When it comes to manufacturer ratings, the NC9 and NC2 Wireless ANC Earbuds have the same battery life. Both will last for eight hours per charge, with an additional three charges provided by the case. That said, the NC9's circuitry has a different effect on the batteries. As the volume goes up, your performance can drop to five hours per charge. With the charging case's three charges, that works out to 20 to 32 hours total. This is a bit less than most modern earbuds, and is a bit disappointing. Then again, five hours is still more than most people will ever need in a day. Charging is via USB Type-C only, but takes about 90 minutes, so it's relatively fast.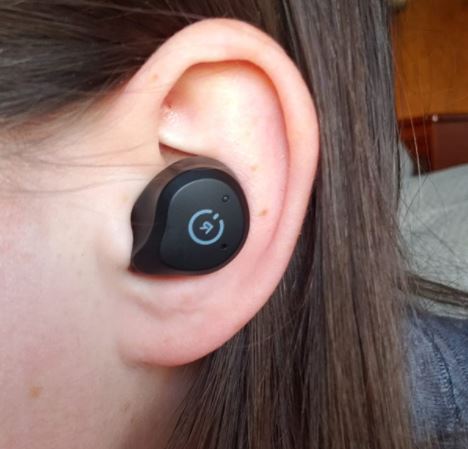 These earbuds use the Bluetooth 5.0 protocol, which is the current standard. Unlike Bluetooth 5.2, it doesn't allow for a true dual connection, and uses standard TWS technology. That said, it still provides significant benefits over the older Bluetooth 4.2 protocol. It's easier to pair, with a more stable signal and lower latency. It's also compatible with almost all modern smartphones, so you'll get the full benefit of your connection type.
Audio Quality
The NC9 earbuds are a bit more bass-heavy than the NC2 buds. Whether or not this is a good thing is really a matter of taste. If you're a fan of classical music, you might prefer some buds with more high-end emphasis. On the other hand, if you primarily wear your earbuds during workouts, you'll probably appreciate the more powerful bass. This isn't to say that higher frequencies are lacking. There's simply more emphasis on bass.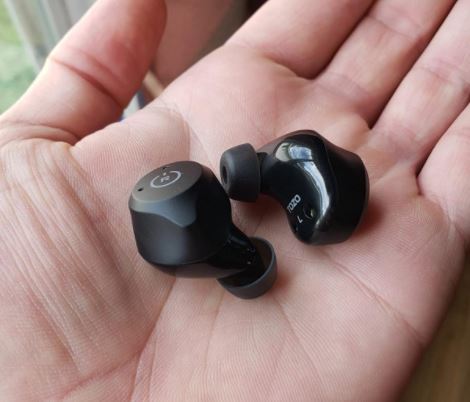 TOZO also offers a number of budget earbuds if you're looking for a cheap set of spares. For example, the TOZO T6 earbuds offer reasonably good audio, albeit less bass. They aren't quite as powerful, but they're only about half the price of today's offerings.
The NC9 earbuds also come with active noise cancellation. There's no decibel rating, and it isn't as powerful as the NC2, but it's definitely noticeable. Like the NC2, the NC9 also comes with transparency mode. This temporarily boosts outside noise so you can hear your surroundings. One area where the NC9 buds outperform their counterparts is call quality. Using a proprietary protocol and multiple external mics, they filter out background noise. This makes it easy for others to hear you, even in a loud environment.
Final Verdict
Which one of these earbuds is right for you? It largely depends on what you're looking for. The TOZO NC2 Wireless ANC Earbuds offers superior battery life and connectivity. With up to 32 hours of playtime including the charge case, these are TOZO's longest-lasting earbuds. And while Bluetooth 5.2 will only work with the latest devices, these earbuds are future-proof. They won't be ideal if you prefer a bass-heavy sound profile. But if you enjoy a more even EQ, there's a lot to like.
The TOZO NC9 Wireless ANC Earbuds have shorter batteries and a standard Bluetooth 5.0 connection type. However, their drivers offer much louder bass performance, which is ideal for workouts. They're also more comfortable to wear, particularly if you have sensitive ears.
Please consider sharing:
Note: At no extra cost to you, we may earn a commission for purchases using our links. Learn more.