CHOETECH MagSafe Wireless Charger
Pros
Can charge two devices simultaneously.
Doubles as a smartphone stand.
Multiple safety features.
Designed specifically for the iPhone 12.
Cons
Doesn't charge as quickly as some other Qi chargers.
Doesn't work well with most smartphone cases.
In the early days of cell phones, you had to think long and hard about using one. Yes, early cell phone plans might only have offered 30 or 60 minutes per month. And yes, additional minutes could be excruciatingly expensive in those days. But time limits aside, early cell phone users had an equally pressing concern. At the time, your phone might only have 30 minutes of battery life! And if you actually wanted to leave your phone on for later, you couldn't even use up all 30 minutes.
For this reason, charging has been a big part of cell phone technology since the very beginning. The first innovation was obvious. Drawing from early "car phone" designs, cell phones were designed to plug into your car's battery. In fact, it was common to see cell phones ship with a car charger and no AC charger. Why would you use an expensive cell phone in your home, when you have an affordable landline? My, how things have changed. These days, smartphones haven't just replaced our landlines; for many people, they're replacing home computers altogether.
Note: At no extra cost to you, we may earn a commission for purchases using our links. Learn more.
But all of this use has put more and more demand on our phones' batteries. For many people, it's important to have access to power 24/7. This has led to an explosion of portable power banks, like the CHOETECH Model B626. It's also led to the development of wireless charging, a more convenient way to charge your phone.
Today, we'll be reviewing the CHOETECH 2-in-1 MagSafe Wireless charger. This is a unique, quirky charger that doubles as a stand for watching videos. It's also a dual charger, capable of charging two different devices at once. As you can imagine, we were excited to get our hands on this unique gadget and try it out. But "unique" can mean two things: "innovative" or "gimmicky." To find out which category the CHOETECH charger falls into, we needed to look beneath the surface. Here's what we discovered!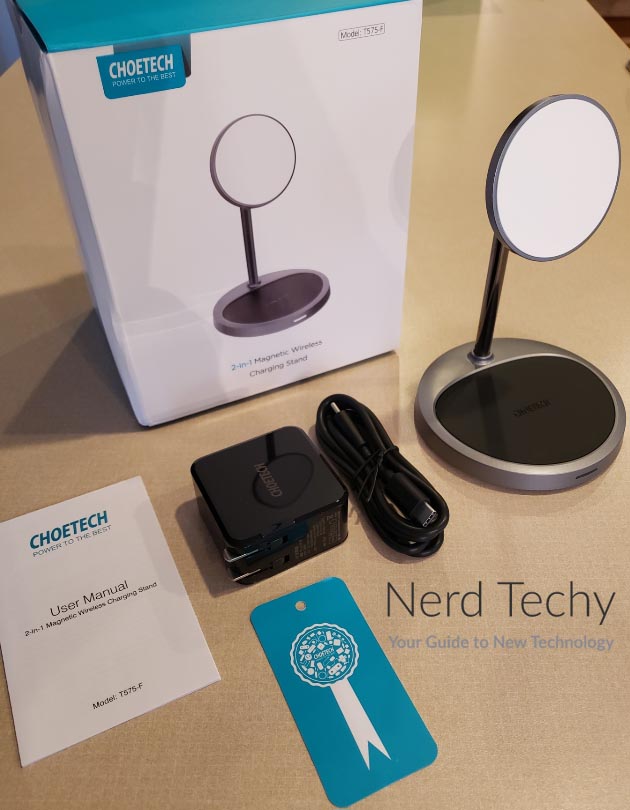 Overall Design
At first glance, it's tough to tell what in the world the CHOETECH charger (Model T575) is supposed to be. It looks vaguely like a bathroom mirror, with a sturdy base and a round metal plate on a vertical arm. But the plate isn't a mirror, and it's considerably smaller, only about 2 inches in diameter. This plate is actually the top one of two wireless charging pads. It's slightly concave, with a shiny chrome housing that's easy on the eyes.
It's also magnetic. This allows it to hold onto your smartphone and double as a stand. Provided your phone attaches to the magnetic pad, you can charge while watching movies or browsing social media. The pad is mounted to the top of the support arm via a 360-degree ball joint. This allows it to be rotated, pivoted, and spun in any direction. You can easily point your phone the way you want to, in either landscape or portrait orientation. This makes it easily as flexible and versatile as many dedicated smartphone stands, with the added benefits of a charger.
The vertical support arm is chrome finished, and attaches into the back of a hockey puck-shaped base. The base is also finished with chrome, but the top surface has an unfinished, black anodized finish. This area demarcates the CHOETECH charger's second wireless coil, where you can charge a second device. The base itself is about 3 inches wide, wider than the upper charge plate, but not by much. Even so, it's nice and bottom heavy, so it's difficult to tip over. There are also small rubber feet on the bottom of the base, to keep it from sliding around.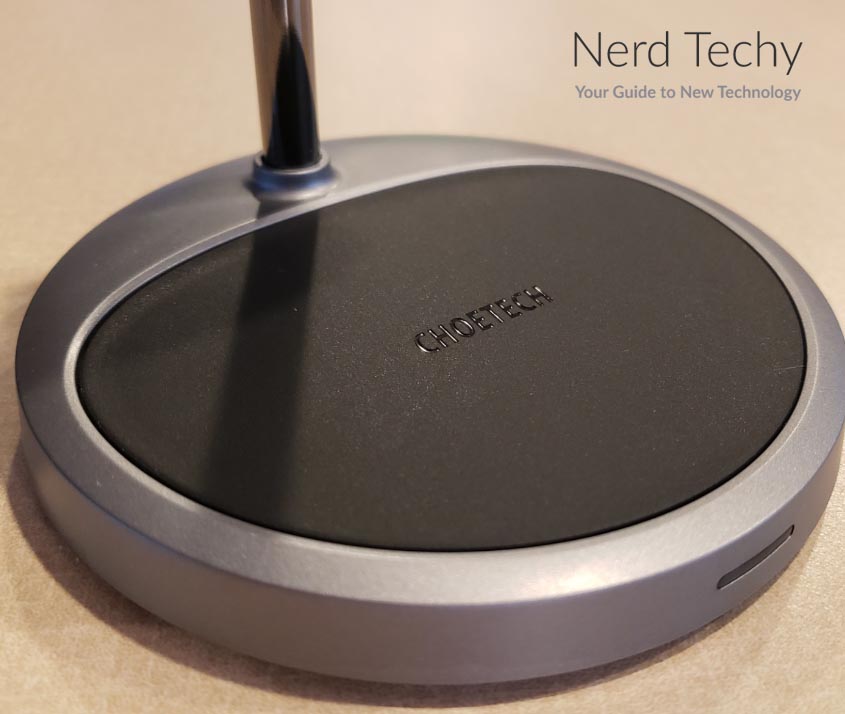 The charger is powered by a 30-watt PD power adapter, which is included in the kit. This is an AC charger with a USB Type-C cable that plugs into the back of the base. As an added bonus, it also provides very fast charging to USB Type-C-compatible smartphones. Of course, to do that, you'd need to unplug it from the wireless charger, which would defeat the purpose. If you ever lose this adapter, you can use any USB Type-C power supply that provides a minimum of 15 watts. That's basically any Type-C charger, so you should be just fine in this department.
If you're looking for a reliable Type-C charger, the CHOETECH 61W USB-C (GaN & PD) Charger is a solid choice. It delivers an impressive 61 watts of power, enough not only for smartphones but for many laptops. That said, it's not capable of any kind of wireless charging.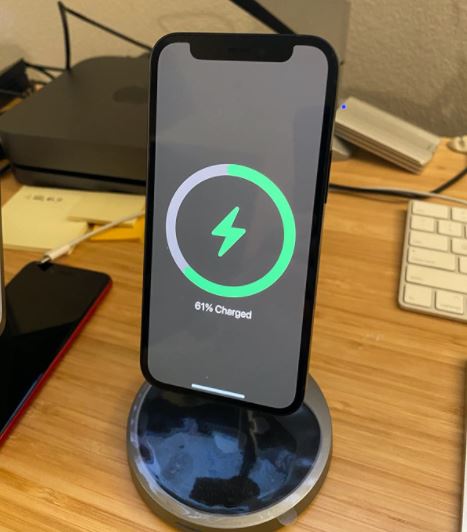 In the front of the base, you'll notice a small, oval LED bar. This bar illuminates when your devices are charging. It also shuts off when charging is complete, so you aren't left wondering whether you're done or not. In addition, the light will blink rapidly if there are any issues. As a simple solution, this light works pretty well. It's a useful, minimalist interface that doesn't require any other display or app.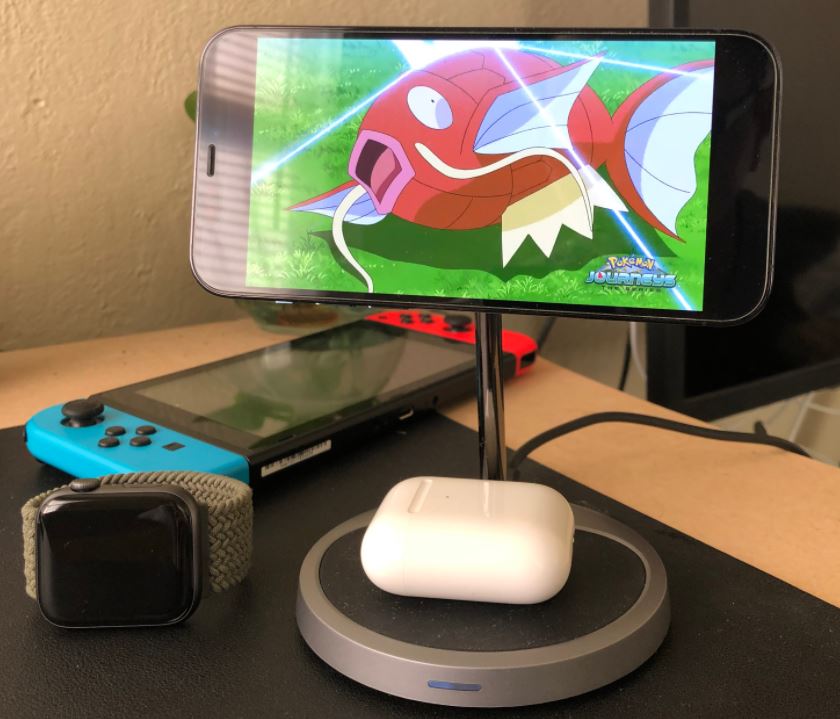 Charging Performance
So, how does the CHOETECH charger perform when you start charging? To begin with, let's talk about how a wireless charger works. Wireless chargers work via a process called induction. In a normal charger, current flows from the charger, through your phone, and replenishes your battery. A wireless charger, on the other hand, uses a copper coil to generate a magnetic field. This field then "induces" an electric charge in a similar circuit in your phone, which charges your battery. The same principle has been used in induction stoves for years, with impressive results.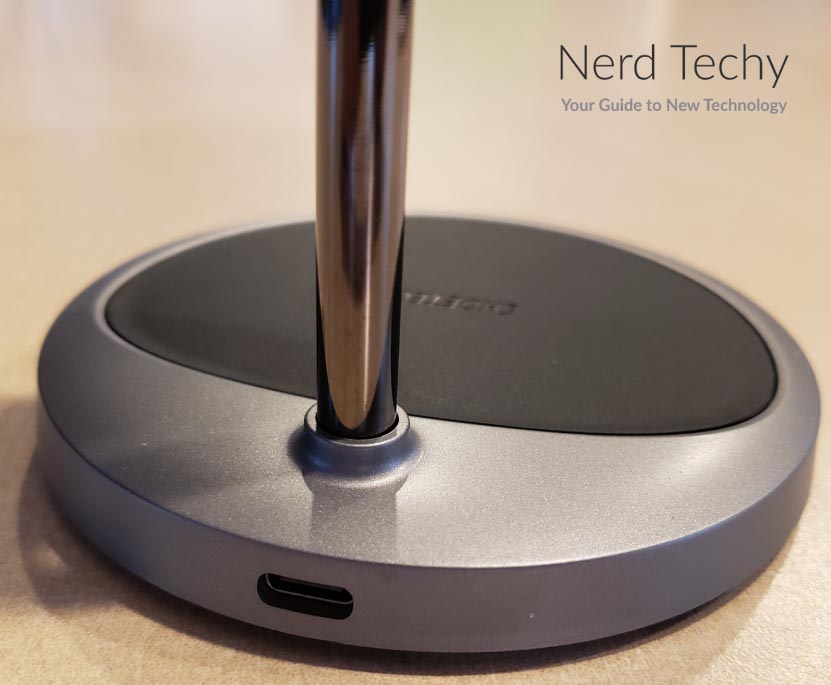 However, a phone charger is only trying to induce a very small charge, so the magnetic field is fairly weak. Furthermore, there are other reasons you wouldn't want a powerful magnet. Powerful magnets require a lot of electricity, and can damage electronics – like your phone. They can also attract other metallic objects, which causes additional complications. For this reason, wireless chargers use a weak current and have a small, localized magnetic field. This means that in order to work properly, your phone has to be positioned just over the charging coil.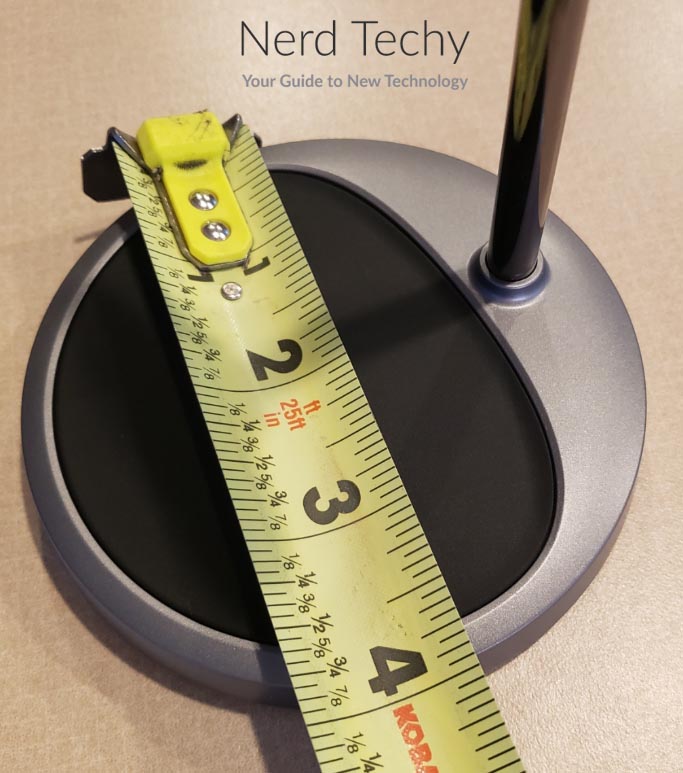 Depending on your phone, this may be very easy. If your phone has a magnetic case, it will automatically align on the top plate. This makes mounting extremely easy, and ensures you're getting the maximum possible charging power. Meanwhile, you can easily position any phone or other device on the lower charging pad.
Assuming everything is properly positioned, you can charge a smartphone at up to 7.5 watts. Surprisingly, this isn't actually that powerful. The latest Qi chargers support speeds of up to 15 watts, so the CHOETECH is actually a hair slow. The bottom pad is even slower, delivering a mere 2.5 watts of juice. That said, it's important to remember that the bottom pad is primarily meant for earbuds. Earbuds only draw a very small current, so 2.5 watts is more than sufficient for charging them. However, if you're charging a second smartphone, it's not going to top off as quickly. Regardless, both pads will automatically detect your device's voltage, and deliver the right amount of power.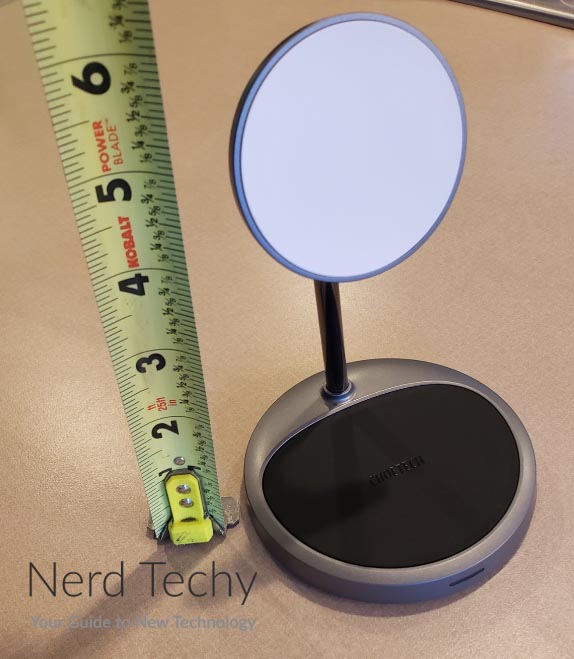 Compatibility and Safety
As we mentioned, a lot of the CHOETECH charger's performance depends on good placement. This is true of any wireless charger. A magnetic case goes a long way towards keeping your phone in place. In fact, this charger was designed specifically for the iPhone 12's MagSafe case. However, it will also work with most other magnetic iPhone cases, such as those officially sold by Apple.
Outside of that, your mileage may vary. If you have a bare, magnetic smartphone, it should work just fine. However, non-magnetic cases will not work, since there's no way for your phone to stay in place. Even some magnetic cases, can pose problems, if they're too thick for the magnetic field to penetrate. Unless you have an iPhone 12, the only way to know for sure if your phone will work is to test it.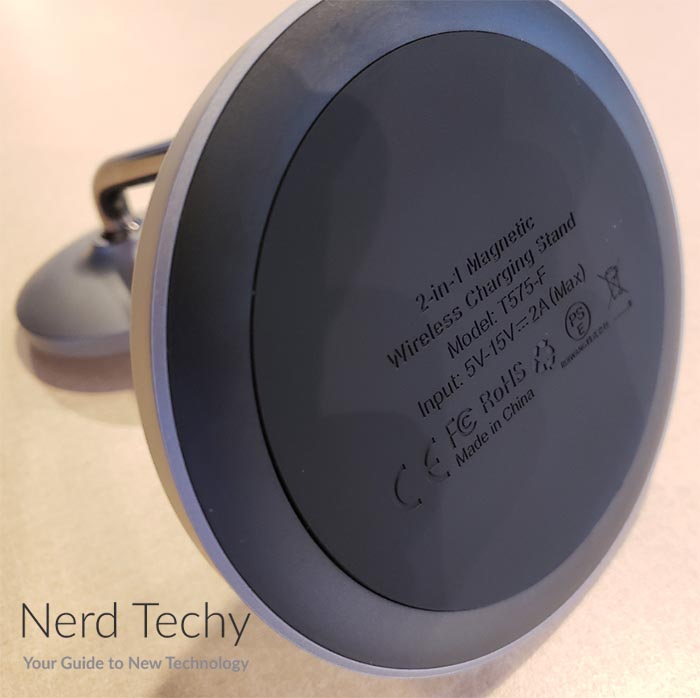 In terms of safety, the CHOETECH 2-in-1 charger has all the features we'd expect from a modern charger. It provides a full array of over-charging, over-voltage, and short-circuit protection. You don't have to worry about your devices getting burned out, or batteries being damaged by over-charging. There's also a pair of built-in temperature sensors which monitor how hot the chargers are getting. If they start to approach a dangerous temperature, they'll automatically be powered off.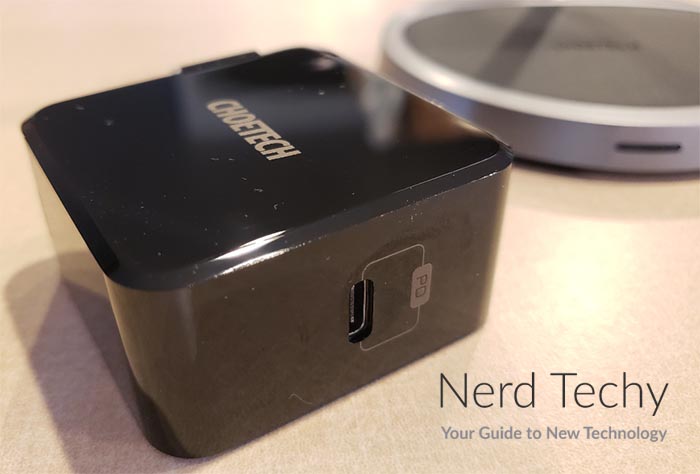 One additional safety feature is foreign object detection (FOD). With a wireless charger, objects such as keys and paperclips can also be affected by the inductive current. However, without a battery, the extra energy will have nowhere to go. Instead, the object will heat up and become a fire risk. The FOD system causes the CHOETECH charger to shut off if anything inappropriate is placed on a coil.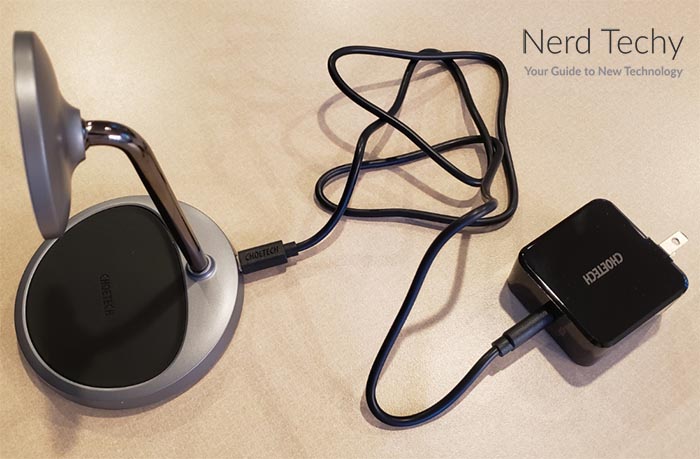 If you want a charger with wider compatibility, consider the Seneo Wireless (Fast) Smartphone Charger. It's a simple sloped stand with a built-in charger, so it will work with pretty much any smartphone. That said, it charges one device at a time. If you want to charge your phone and your earbuds simultaneously, you'll need to plug one of them in.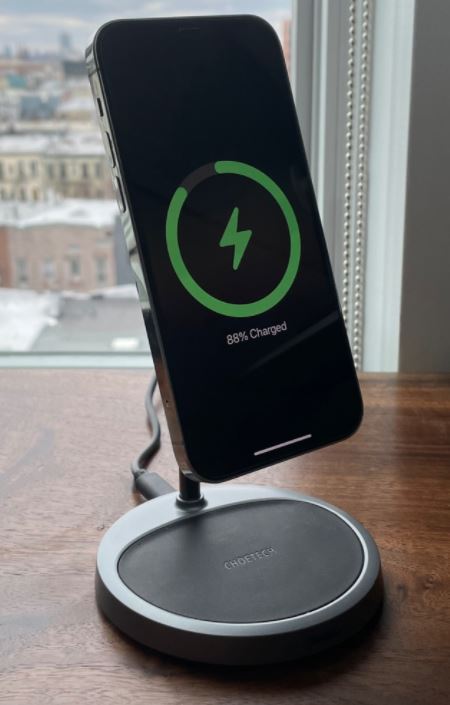 Final Verdict
So, where does this leave us? Is the CHOETECH 2-in-1 MagSafe Wireless Charger (Model T575) innovative, or just another gimmicky wireless charger? To begin with, it's far from gimmicky. It charges two devices simultaneously, and unlike gimmicky chargers, it's not cheaply made. It's constructed from metal, not plastic, and it has a full suite of safety features for your protection.
That said, its main feature – the magnetic, pivoting charger head – is only useful with some phones and cases. If you have a third-party Android phone, you'll need to find a compatible magnetic case. And you'll have to do that via trial and error. On the other hand, if you have an iPhone 12 or similarly-equipped phone, you'll enjoy this charger.
Please consider sharing:
Note: At no extra cost to you, we may earn a commission for purchases using our links. Learn more.