Electronic devices have changed our lives in ways people could never have imagined. Just think of all the convenience in your smartphone. You can check your bank account, order pizza, and call an Uber all from the same place. This is all well and good, until you get that dreaded "Low Battery" warning. You know the one. It's the one where your battery meter turns red and a sinking sense of panic sets in.
That feeling is bad enough when you're stuck in a meeting with no outlet handy. In fact, modern smartphone batteries have proven so inadequate that there's a huge market for compact, portable power banks. But what if you need a little more juice than you get from a small, portable power bank? For instance, what if your power gets knocked out for a day or two? Or what if you're camping for the weekend and want to run a tablet? In that case, you're going to need a power bank with a little bit more oomph.
The CHOETECH 20000mAh 45W USB-C Power Bank (Model B626) is designed to meet exactly that need. With 20,000mAh of capacity, it can power just about any device for the weekend. This makes it suitable both for recreation and as an emergency backup. But you can only learn so much about a power bank's quality by looking at how much power it supplies. You need to know whether or not it does so safely. You need to know whether it's compatible with the types of devices you want to charge. You also need to know what wattages it delivers, and whether that's enough for you. So, does the Model B626 live up to our standards?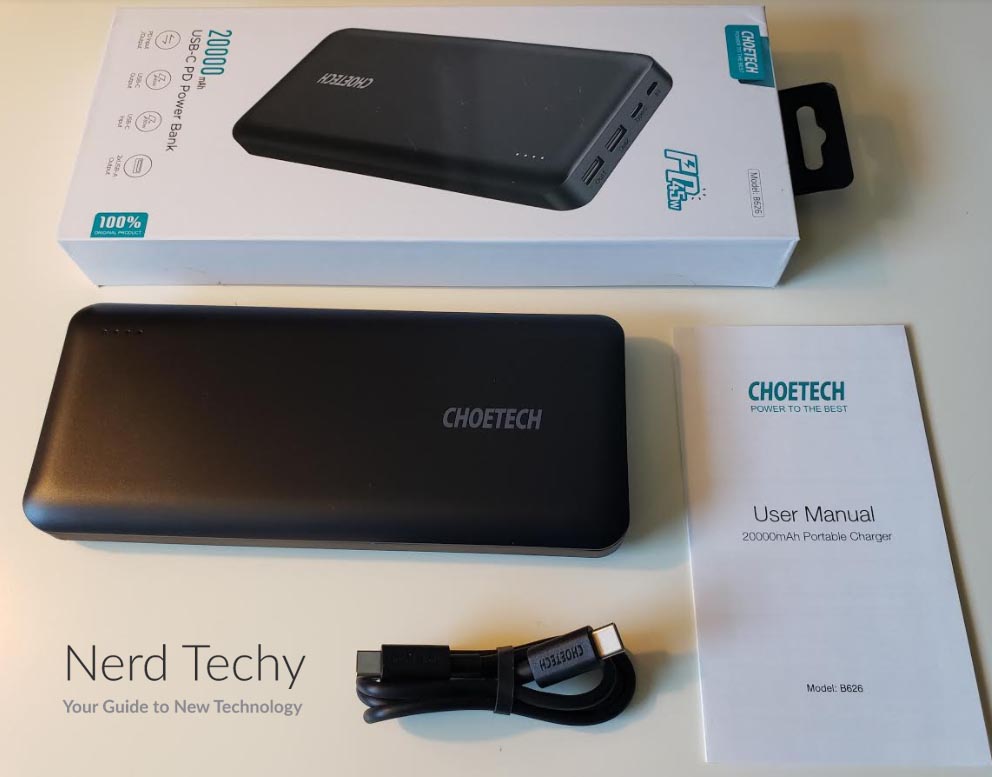 Design & Construction
The Model B626 has a sturdy, beefy design that isn't officially "shock-proof," but nonetheless inspires confidence. It's flat black in color, with an unassuming finish that's more practical than beautiful. It's easy to keep clean, though, which is definitely a plus. The only real adornment on the front of the case is a white CHOETECH logo emblazoned towards the right side. Other than that, the housing is all business.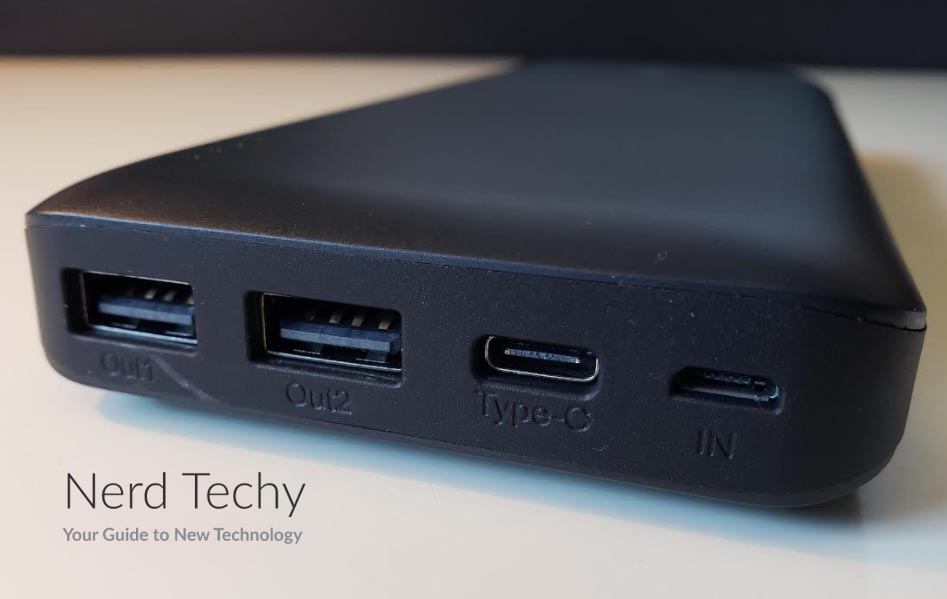 The housing is rectangular in shape, measuring 9.6 inches long, 4 inches wide, and 1.3 inches thick. This isn't absurdly large by any measure. It's only slightly bigger than your average external hard drive. Still, this means it's a bit large to be considered "pocket-sized." On the other hand, the Model B626 only weighs 1.35 pounds. This makes it light enough to carry in a backpack, rucksack, or even a large purse. That said, you might be looking for a power bank that can literally fit in your pocket. If that's what you need, take a look at our review of the iWALK Link Me 4. It's small enough to attach directly to your phone, but has a correspondingly small 4,500mAh capacity.
With that being said, the housing actually has a pleasing profile. The edges are beveled and the corners are rounded, so it won't jab, damage, or puncture anything in your bag. On the short end of the Model B626, you'll see all four charging ports. From left to right, there are two USB Type-A out ports, a USB Type-C port, and Micro USB in port. On the front of the unit, right next to the ports, there's a row of four small green LED lights. These illuminate when the Model B626 is plugged in, and let you know the current battery status.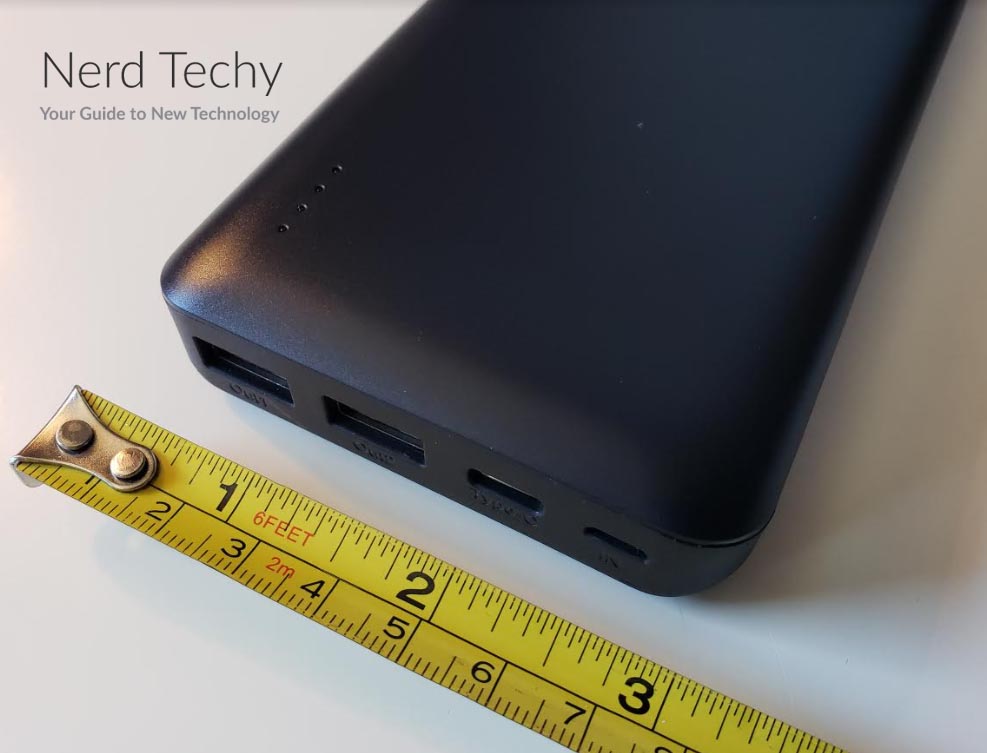 Along with the Model B626 power bank, you get a basic, 1.6-foot USB Type-C to Type-C cable for charging. However, you don't get an AC adapter to plug it into. To get the best possible performance, a PD AC charger, such as the CHOETECH 61W USB-C Charger, is essential. You also don't get a Micro USB cable, which you might want depending on your charging configuration. We'll explain that later.
CHOETECH offers an 18-month manufacturer's warranty against any defects in materials or workmanship. If the power bank fails during that time period, they'll replace it or issue a full refund. They also provide lifetime technical support. If you have any trouble, even if you're out of warranty, give them a call. It's certainly better than nothing!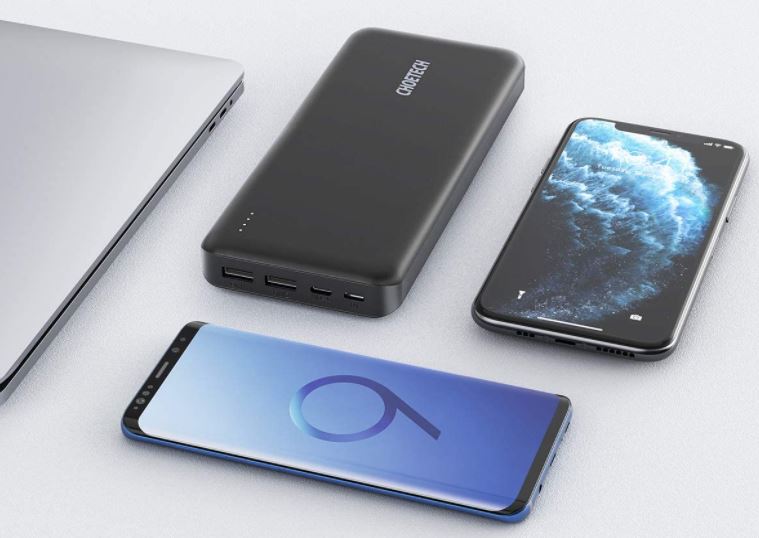 Battery Capacity & Performance
As its name implies, the Model B626 has a maximum battery capacity of 20,000mAh. This sounds impressive, but what does it actually mean? Here's what 20,000mAh means in practice. You can recharge an iPhone X about 7 times, or your iPhone 8 about 6 ½ times. When it comes to laptops, you're looking at enough juice to fully charge a MacBook Pro 13". You can even get about a 70 percent charge on a massive MacBook Pro 16". You can charge up to three devices simultaneously, with both USB Type-A ports and the USB Type-C PD port. This makes it useful for the whole family.
Are there more powerful power banks on the market? Absolutely. But most of them are a bit larger than this. If you absolutely need a massive amount of battery life for emergencies, a solar charger might be a better choice. Since they get their power from the sun, solar chargers are an effectively limitless supply of power. If that's what you need, check out our review of the CHOETECH 24w Portable Solar Charger. It supplies up to 24 watts of power whenever the sun is shining. On the other hand, there's no internal battery, so you'll be out of luck at night.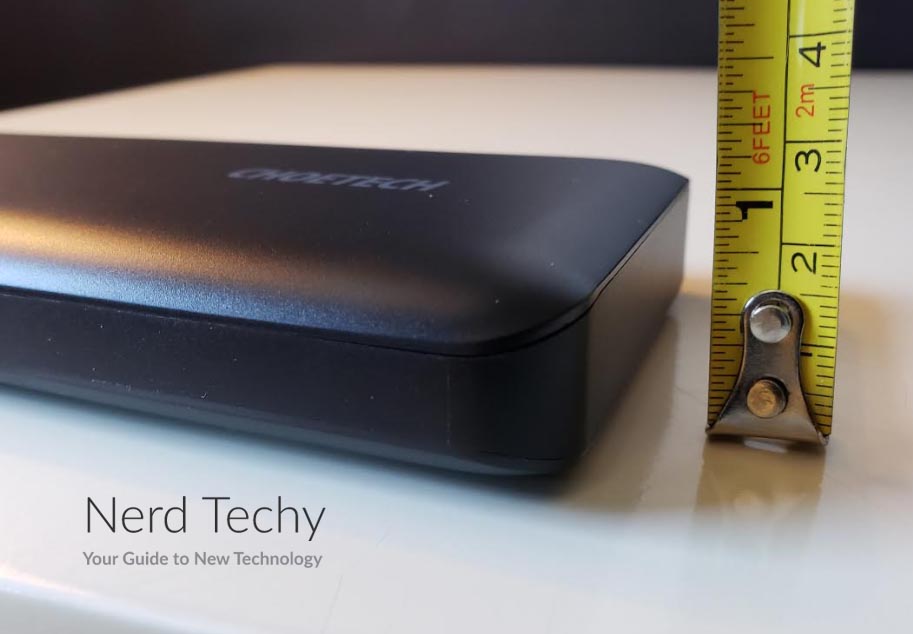 As an added bonus, the total mAh capacity and wattage works out to a capacity of 72 watt-hours. The TSA's limit for luggage, on the other hand, is 100 watt-hours. This means you're well within the limit, so the Model B626 is a solid choice for flying. It's also allowed on international flights, which is when you're likely to need it most.
When the battery does run dry, you're going to need to recharge it. If you use the USB Type-C input, this will take about 3 ½ hours using the 30-watt USB input. Keep in mind that the exact wattage will depend on your AC adapter. For example, if your adapter only supplies 18 watts, you'll only get 18 watts of current. You can also use a Micro USB cable to charge, which will take about 9.5 hours. With either option, you can take advantage of pass-through charging. This means you can charge the power bank while it's in use.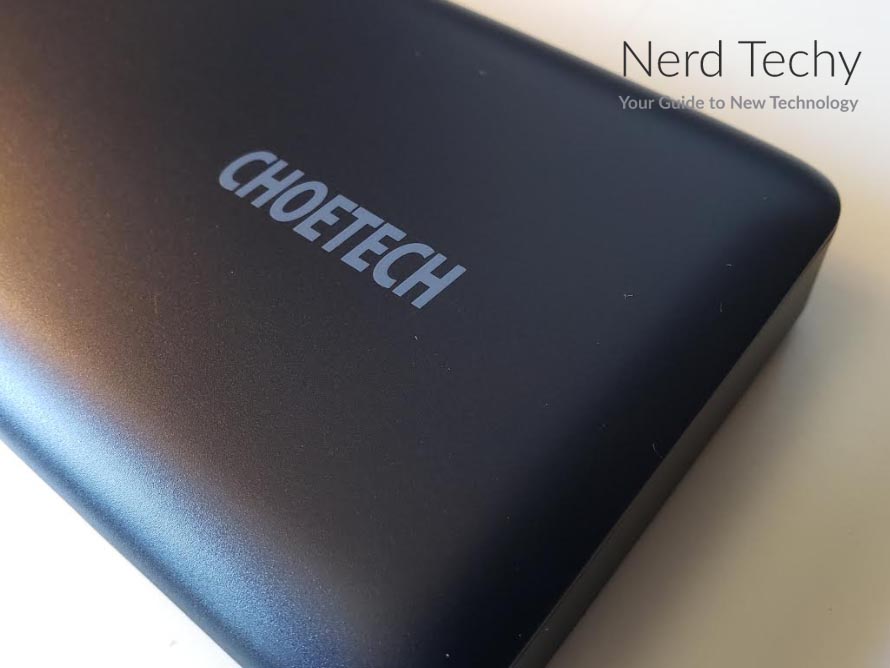 Here's where we got confused. To use the Model B626's PD port, you have to choose whether to use it as an input or output. This makes pass-through charging needlessly complicated. If you want to actually charge the power bank faster than it's drained, you need to charge via PD. This means you can only charge your other devices with the USB Type-A ports. Conversely, if you want to fast charge your smartphone with the PD port, you'll drain the power bank. The Micro USB input is slower than the PD output. Moreover, it serves no real purpose that a second USB Type-C port couldn't do better. Maybe CHOETECH will make this change in their next version.
Safety & Compatibility
The CHOETECH Model B626 comes with a full suite of security features. To begin with, it offers overcharge protection, so the power supply cuts off when your battery is full. It also provides over-voltage protection, so your circuitry won't get damaged by too much current. Built-in short circuit protections will automatically shut off the power bank when a short occurs. This happens instantly, so your devices won't get damaged. Finally, built-in temperature sensors will turn the unit off if it starts to get too hot.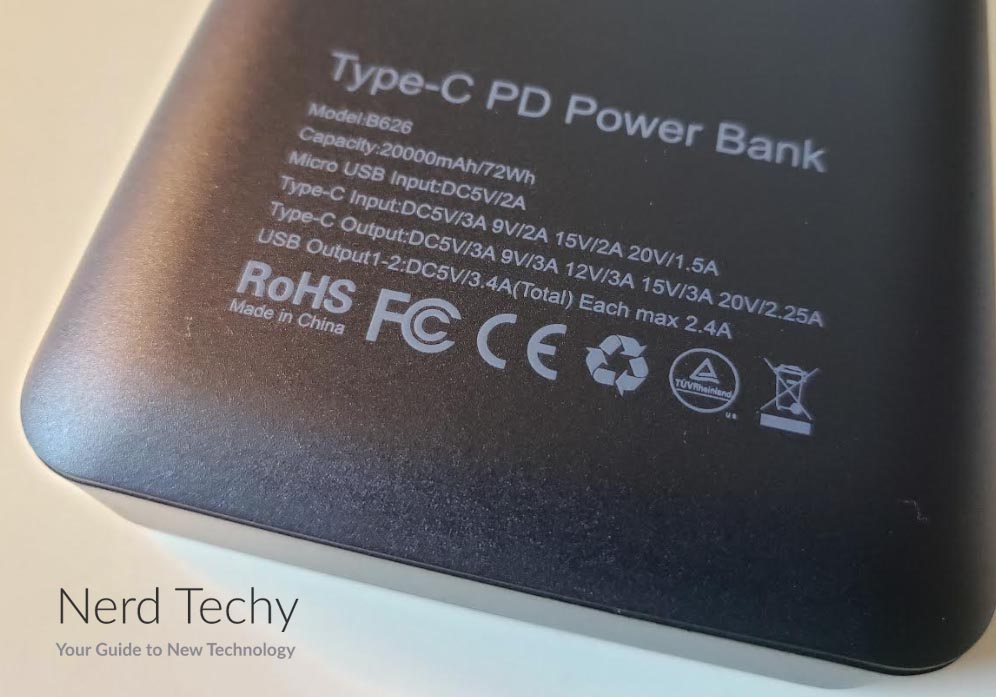 About the only kind of safety protection the Model B626 doesn't offer is water resistance. The ports are on the outside of the housing, and there's no type of plastic covering. This is common on larger power banks, but it's still something you should be aware of.
As we mentioned, the Model B626 can charge up to three different devices simultaneously. The workhorse, of course, is the USB Type-C PD port. This port can supply up to 45 watts of total power. That's enough to charge most laptops in just a couple hours. Keep in mind, though, that it's not enough to charge laptops while you're using them. You'll need to power down in order to properly charge. With this PD port, you can also fast charge most smartphones in about half an hour. That's assuming they support PD charging, of course.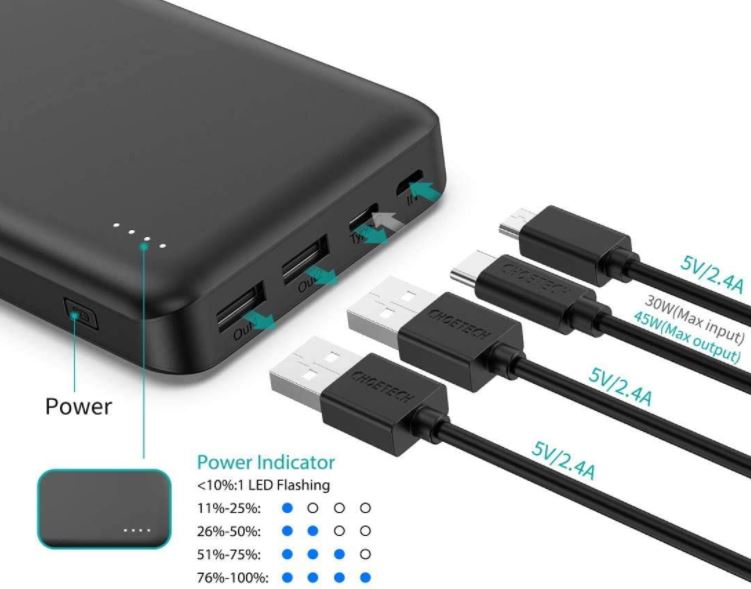 Both USB Type-A ports supply a steady 12 watts. That's the current USB 3.0 standard, and it's compatible with almost any USB cable. This makes the USB Type-A ports your most versatile options, if a bit slower. The total draw for these ports is limited to 5 volts at 3.4 amps, which works out to 17 watts. If you have two USB Type-A devices, they'll have to split that current, at 8.5 watts each.
As you can see, the Model B626 can charge just about any USB device. About the only function it doesn't offer is wireless charging. If that's what you need, the CHOETECH Dual Wireless Charger is an excellent choice.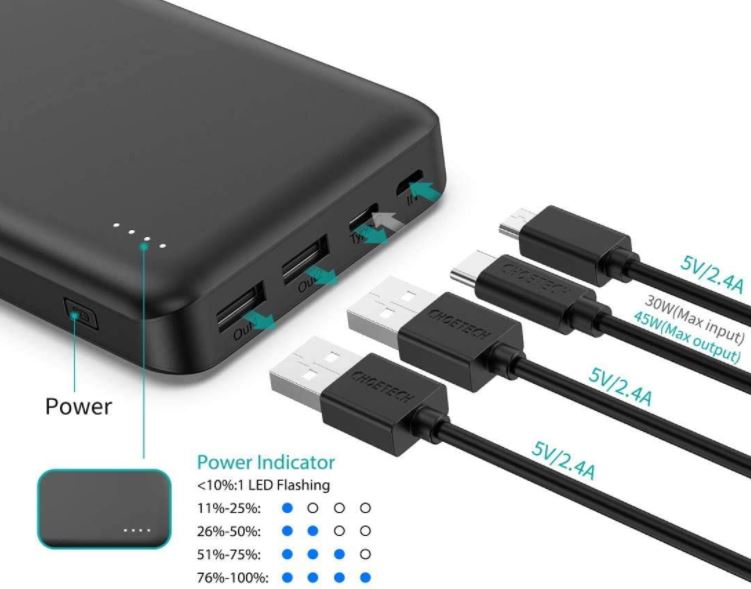 Final Verdict
So, how does the CHOETECH 20000mAh 45W USB-C Power Bank (Model B626) stack up? In most regards, it performs pretty well. We were big fans of the physical construction. To be fair, it won't fit in your pocket, unless it's a big coat pocket. But it's not really made for that. The Model B626 is all about capacity and power, and that's what it delivers. For one thing, you get an impressive 20,000mAh capacity. This is more than most power banks of this size, and you'd have to pay a lot more to do much better.
Unfortunately, CHOETECH made the baffling decision to install a pointless Micro USB port instead of a second USB Type-C port. This somewhat hobbles its performance when it's being used for pass-through charging. However pass-through charging is mostly an ancillary feature. The Model B626 is for getting through a long weekend without power. It's not designed for constant use, and that's really just a bonus feature.
In terms of charging power, the performance is reasonably good. The total wattage of the USB Type-C PD port is 45 watts, enough for laptops and modern smartphones. Even the USB Type-A ports are serviceable, delivering a standard 12 watts.