Nothing brings people together like good food, particularly when you're hungry. It's no surprise, then, that we humans like to take a meal along with us on our adventures. For a day trip or an afternoon at the beach, a cooler can be sufficient.
You'll be able to transport your food and keep all your perishables nice and cool. But if you're out of the house for more than a day or so, coolers start to get complicated. You have to drain water and add ice, or you can kiss goodbye to your Coke and your cold cuts. A car refrigerator can save you the hassle, and keep your food fresh for however long you need.
We know as well as anybody that this is easier said than done. Unlike a home AC power system, a car provides 12 volts. If you're driving a big rig or an RV, you might have a 24-volt power system. Even so, you'll have far less current to work with than you would at home.
Not only that, but vehicle batteries can run dead overnight if not managed properly. A good vehicle fridge will prioritize saving your battery over all else. We've reviewed several portable fridges in the past, so we have a good idea of what we're looking for. Now, we'll be taking an in-depth look at the BougeRV 30-Quart Portable 12V Car Refrigerator.
To find out how it works, we'll need to put it through its paces. We'll start by looking at the physical design. We'll talk about durability, portability, and how the fridge is installed. Next, we'll look at the inside of the unit. How do you store your food, and how much can you carry? Finally, we'll talk about the performance of the actual cooling system. Taking all these factors into account, we'll have a complete picture of how the fridge works. At that point, we'll know everything we need to know to render a fair verdict. Let's get started, and see how this fridge stacks up to the competition!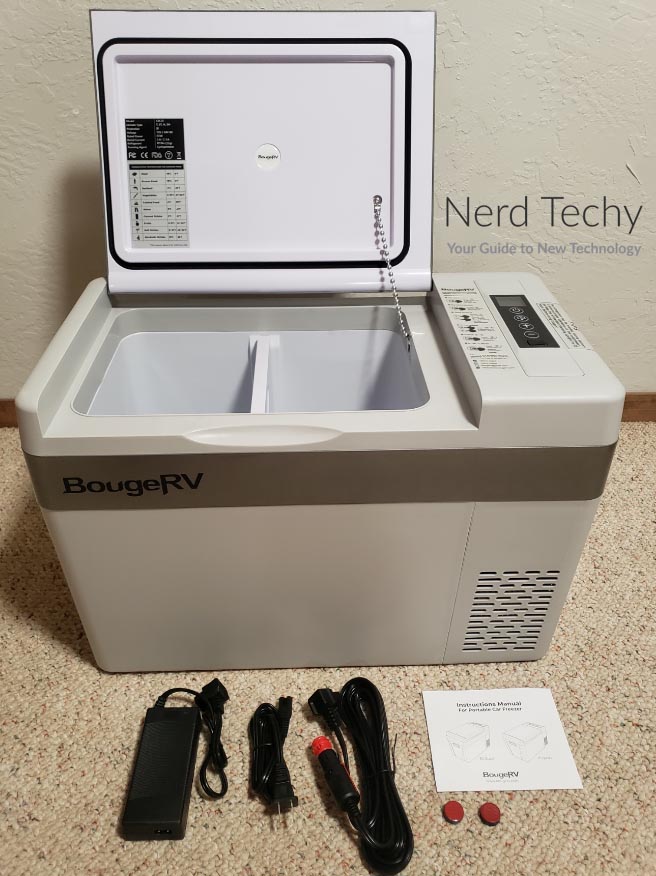 Overall Design
The BougeRV 30-Quart Portable 12V Car Refrigerator is a compact car fridge that's designed for easy transport. It measures 22.68 inches in width, 15.55 inches in height, and 12.6 inches in depth.
That's small enough to fit in the back of even a subcompact car. Moreover, the weight is only 22.8 pounds, light enough for pretty much anyone to carry. Even with a few pounds of food inside, it's not going to break your back. Carrying is made even easier by a pair of molded handles in the sides of the body. The idea is that you can move it by yourself, as opposed to larger coolers that require two people to move.
Use code "nerdtechy15" for 15% off on BougeRV.com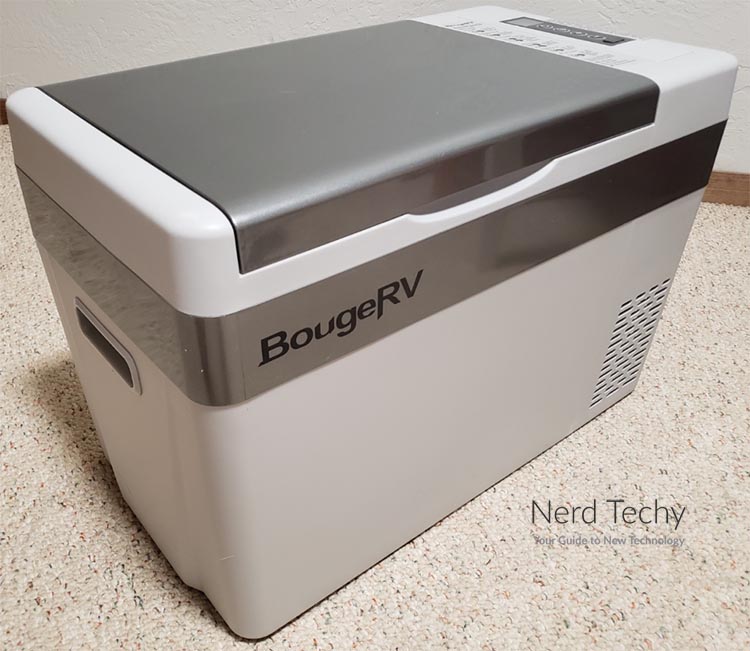 The outer housing is plastic, with a cream-colored matte finish that's easy to keep clean. There's a darker brown band running around the side, with a BougeRV logo, but that's purely cosmetic. The top is hinged at the back, and can be left hanging open on a chain. The inside of the lid is well-insulated, with a fat rubber seal around the edges. It's also magnetic. When it closes, it will hold shut with a bit of added force. As a result, you don't have to worry about the lid accidentally popping open during transport.
Another useful feature is the shock-proof design. Just like you want the lid to stay shut, you don't want the compressor to get damaged by sudden movements. The BougeRV cooler is engineered with a shock-resistant compressor that can operate when tilted up to 30 degrees. This isn't just useful for bumps and potholes. It's essential for traveling up and down hills while your fridge is running.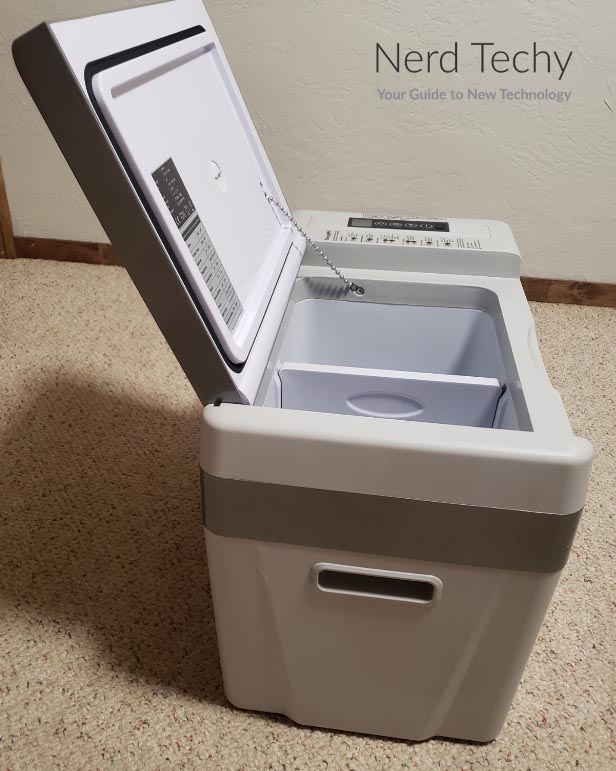 The controls are located in the top of the housing, right next to the lid. The control panel consists of a blue LCD display, with a column of four buttons beneath it. These are used to turn the fridge on and off, lock and unlock the control panel, and adjust the temperature. The display shows the temperature, your settings, and the current status of your vehicle battery. The vehicle battery meter is a nice touch, and very useful if you're running the fridge overnight. Beneath all these controls, you'll find a USB charging port. This is simply a quality-of-life addition for charging your smartphone.
Installation is easy in just about any vehicle. The fridge is designed to stand in place on the floor or inside a trunk. The only requirement is that the air vent on the side is left un-blocked. If you're building a custom enclosure in a truck or RV, make sure to take this into consideration! Other than that, the BougeRV will work on any 12 or 24-volt DC system, and includes a power adapter. Not only that, but it comes with a 110/220-volt AC adapter for wall outlets. Anywhere there's electricity, you can use this refrigerator.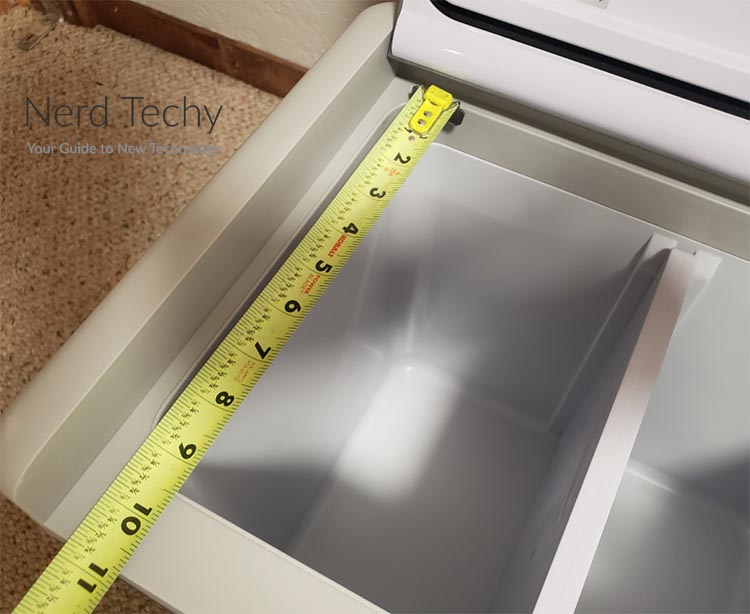 For overnight operation, the BougeRV includes an innovative battery monitor. Most powered vehicle systems are designed to shut off if the voltage gets too low. This ensures that your battery retains enough charge to start up again in the morning. But the BougeRV's monitor goes a bit further. It actually anticipates a draining battery and adjusts accordingly. As the voltage drops, the fridge will slow down in three stages before shutting off completely.
To use a hypothetical example, let's say a typical fridge might run on full blast until 3 AM. At that point, the car battery reaches critical voltage, and the fridge's battery meter shuts it off. The BougeRV might last until 7 or 8 in the morning by slowing down and conserving energy earlier. Again, this is a hypothetical example. But you can see how it can keep your food cooler longer, while putting less load on your battery.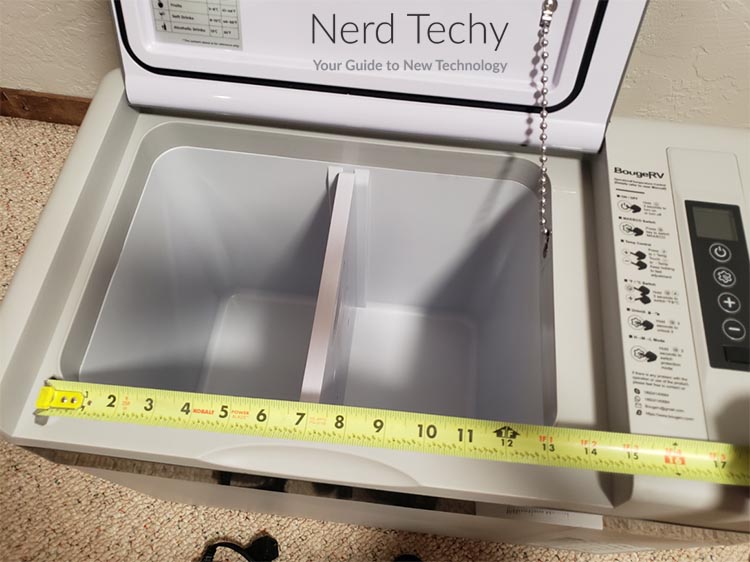 Storage & Organization
The total capacity of the BougeRV 30-Quart fridge is in the name; it's 30 quarts, or around 28 liters. This can be confusing, since ordinary fridges are measured in cubic feet (or cubic meters). We did the math, and the volume of this fridge is just over one cubic foot, or 0.028 cubic meters. By way of comparison, the average full-sized fridge in your home is between 15 and 20 cubic feet. Small dorm fridges tend to fall in the 1-2 cubic foot range. So basically, what you're looking at here is a small, ultra-portable dorm fridge. Of course, calling the BougeRV a "dorm fridge" is a bit of an injustice. But we'll talk about the extra features in the next section.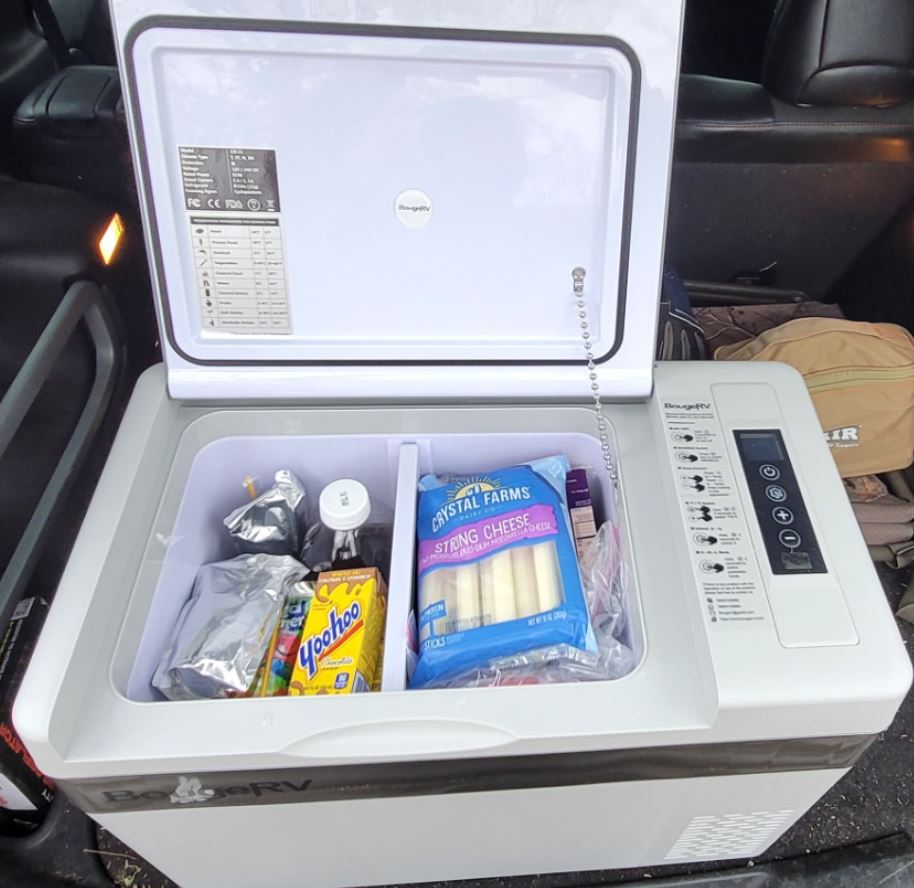 The inside of the storage compartment can be divided with a removable partition. This consists of a white panel that slides into a pair of grooves in the front and back walls. When inserted, it cuts the storage space in two, creating two separate 15-quart compartments. This is useful for separating different types of food. For instance, you can stack cans up on one side and store meat and veggies on the other side. That said, there's no way to change the sizes of the two compartments. There's only one place the partition will fit.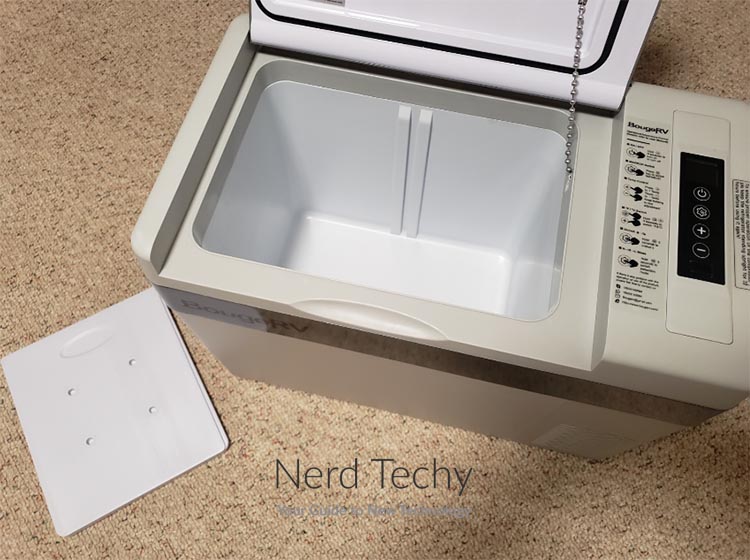 Another unfortunate oversight is the lack of any kind of baskets for storage. On the one hand, we get it. Most people use these fridges for beverages, or for a one or two-day trip. But if you're packing the fridge to the brim or using it for multiple days, a bit more organization is helpful. As it stands, there's only one way to access anything on the bottom of the fridge. You'll have to remove everything else first.
For more storage options, consider the BougeRV 53-Quart Portable Car freezer. Not only does it have easy-to-use storage baskets, but it also has a large, 53-quart capacity. On the downside, it's bulkier than the 30-quart fridge, and it costs correspondingly more.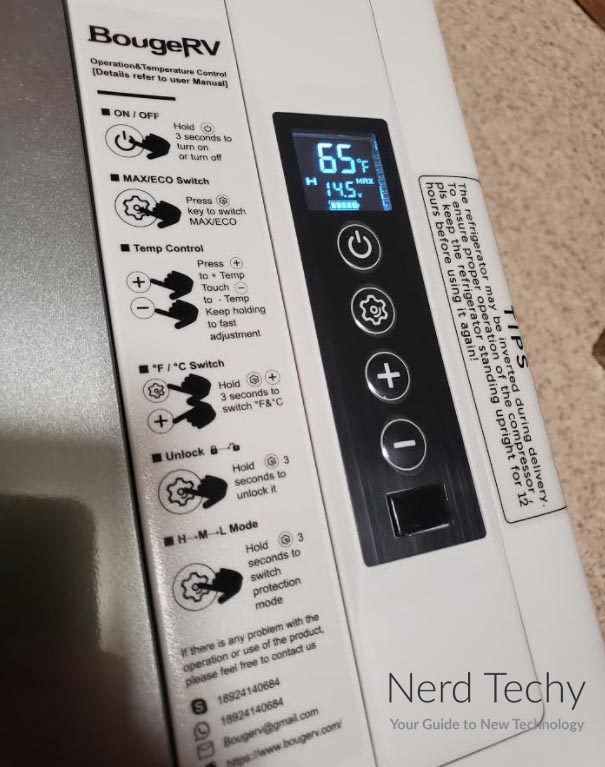 Cooling Performance
The BougeRV 30-Quart Portable 12V Car Refrigerator offers plenty of flexibility. Using the control panel, you can adjust the temperature anywhere from -4 to 50 degrees. This means it can be used as anything from a freezer to a cooler for veggies. Keep in mind, though, that even with the partition in place, the whole fridge will be the same temperature. There are no separate fridge and freezer compartments.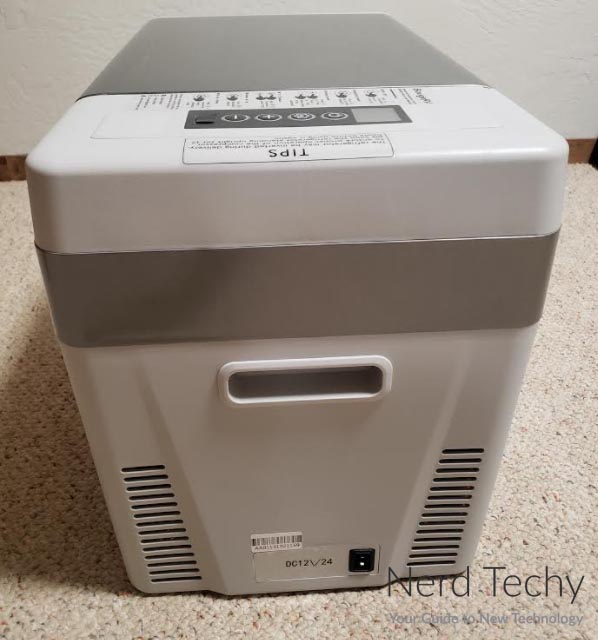 There are two different cooling modes for running the compressor. The high mode, Max Mode, will draw 60 watts. This mode allows for rapid cooling, so your fridge gets cold in a hurry. Even on a hot day, it can drop from the ambient temperature to freezing in 16 minutes. This ensures that even the most sensitive cold and frozen foods stay fresh. That said, high wattages will drain your battery faster. And higher compressor settings result in more noise, which can be problematic in a sleeper cab.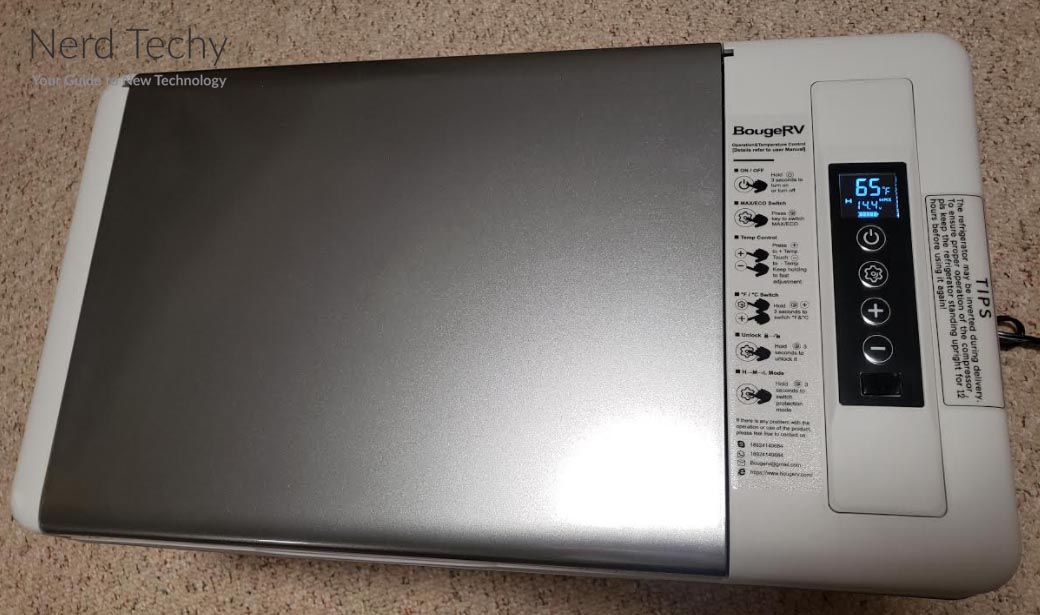 In that case, your alternative is to set the fridge to Eco Mode. In this mode, it will draw a maximum of 45 watts. This keeps the volume to 45dB, which isn't whisper quiet, but it's close. "Mumble quiet" would be a good description. Eco Mode is better for overnight use. Ideally, you'll want to start the fridge on Max Mode and let it run until it gets down to temperature. Then, switch to Eco Mode to save power and reduce noise. That way, you'll get the best of both worlds.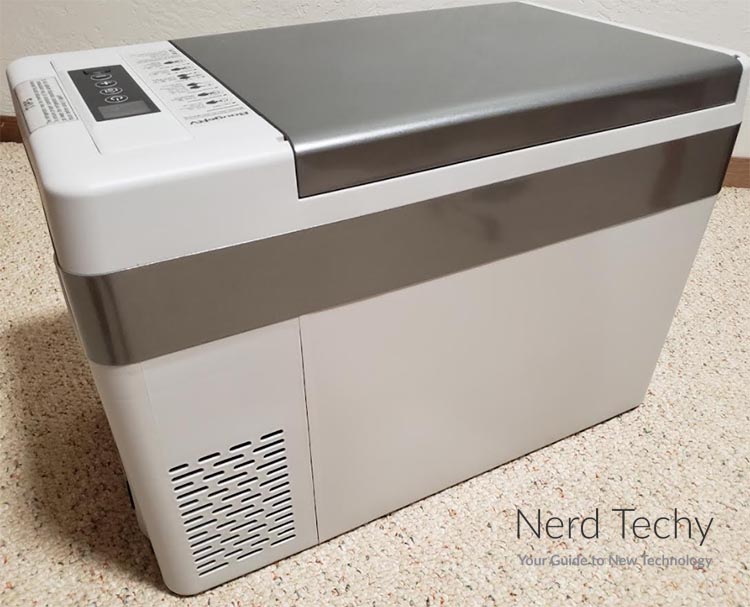 Use code "nerdtechy15" for 15% off on BougeRV.com
Final Verdict
So, is the BougeRV 30-Quart Portable 12V Car Refrigerator worth your time and money? It depends on what you want. This is a highly effective, energy-efficient fridge or freezer that holds enough food for a day or two. It's easy to install, and the design is tough enough to take some minimal abuse. It's also easy to control, so you don't need to be an expert just to get it running properly. Day trippers will love the ability to keep food cold and transport it easily. Long haulers will probably prefer a fridge with more capacity and more customization options.