Two-way radios with headsets used to be the domain of security, whether private or government. Watch any cheesy action movie from the 90s, and you'll see men in black suits with earpieces. And, to be fair, radios are still essential for security. Everyone from the Secret Service to Paul Blart Mall Cop uses them. But headsets have far more applications. For example, suppose you run a catering company that's servicing a large wedding. Coordinating multiple workers across a large dining hall can be a serious pain. And a bunch of servers carrying handheld walkies would ruin the guest experience. It would also be impractical, since they have to work with their hands.
Unfortunately, you can't just go out and buy any old headset for any old walkie. The reason is that there's no fixed industry standard for the connectors. The connectors generally look similar, with a two-prong design. But the length of the prongs, the diameter, and the distance between the two are different from manufacturer to manufacturer. For example, some manufacturers use dual 3.5mm plugs, while others use a 3.5mm and a 2.5mm. In order to choose the right headset, you need one that's compatible with your brand of walkie.
But choosing a compatible headset is only one concern. You also want good comfort and ergonomics. After all, this isn't a recreational device. Someone might be wearing an earpiece for an entire 8-hour shift. With that in mind, the earpiece had better be comfortable. Similarly, the wire for the earpiece and the mic need to be long enough. A person needs to be able to move their body without yanking on the wires or being constricted. Sound quality is an additional concern. Now, you don't need studio quality sound. These are voice devices, not music accessories. But at a bare minimum, you should be able to hear a conversation clearly.
Today, we'll be looking at three of the best two-way radio headsets on the market. Each one is compatible with a different connection standard, so make sure to check for compatibility. To begin with, we'll look at the Reyinl Two Way Radio Headset. This headset is compatible with the Midland brand, one of the more popular brands in the food service industry. Next, we'll review the Retevis Walkie Talkies Earpiece. This headset is designed for Motorola and Mag One walkies that use a dual 2.5mm and 3.5mm plug. Finally, we'll review the BTECH QHM07 Premium Noise Cancelling Earpiece. This headset is designed for any walkie that uses a Kenwood K1 connector. But how well do they perform, and how are the ergonomics? Let's take a closer look, and see how they stack up!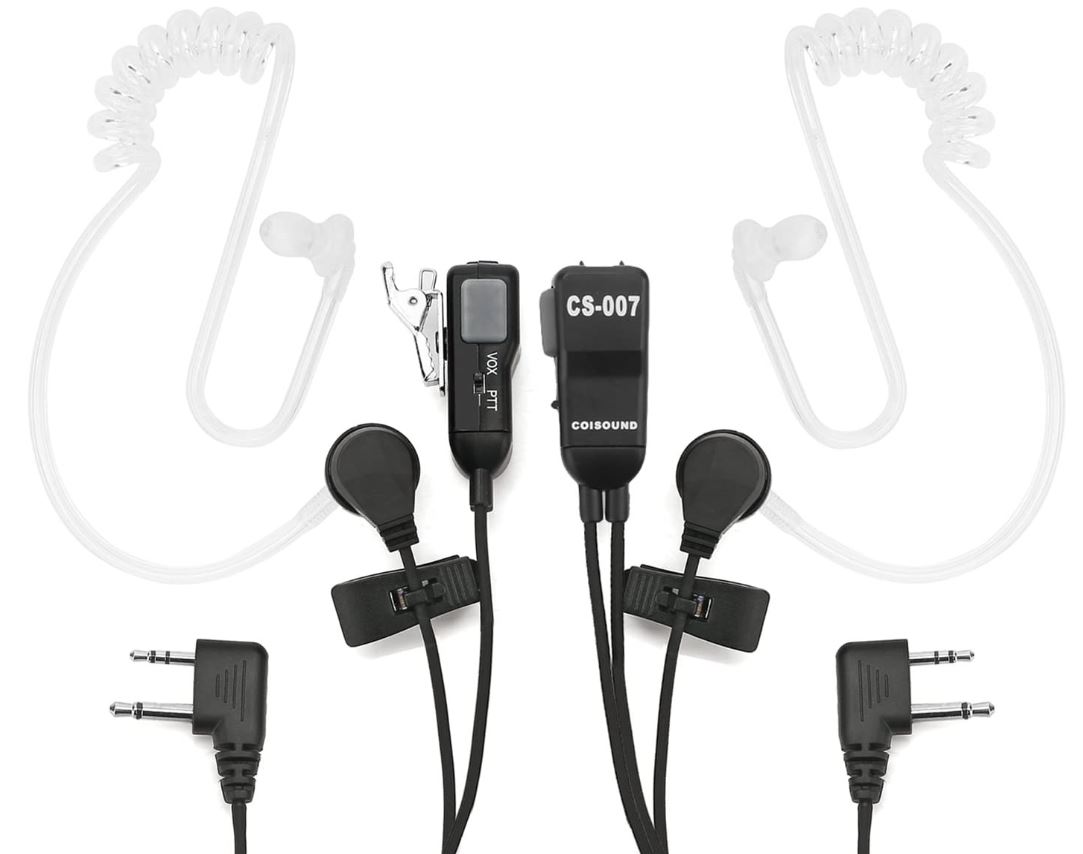 Reyinl Two Way Radio Headset
The Reyinl Two Way Radio Headset is designed primarily for the service industry. This is mostly due to the compatibility, which we'll talk about in a second. But it's also a matter of cost versus comfort. Unlike the other headsets on our list, the Reyinl headset comes in a two pack. This provides a great added value, since you're essentially getting two headsets for the price of one. If you're trying to outfit an entire team, this makes them an excellent choice.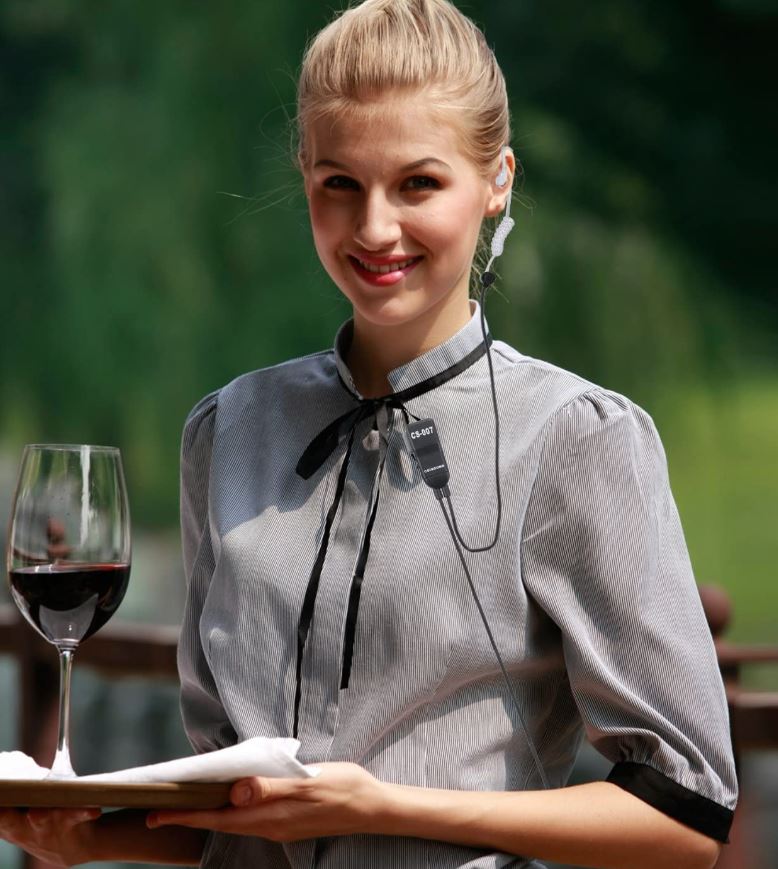 Like many radio headsets, the Reyinl features an in-line push to talk switch. On the one hand, this makes it easy to put on and take off. Without any extra wires, the process is relatively simple. On the other hand, it limits your flexibility. A push to talk switch with its own separate cable can be more useful for ergonomics.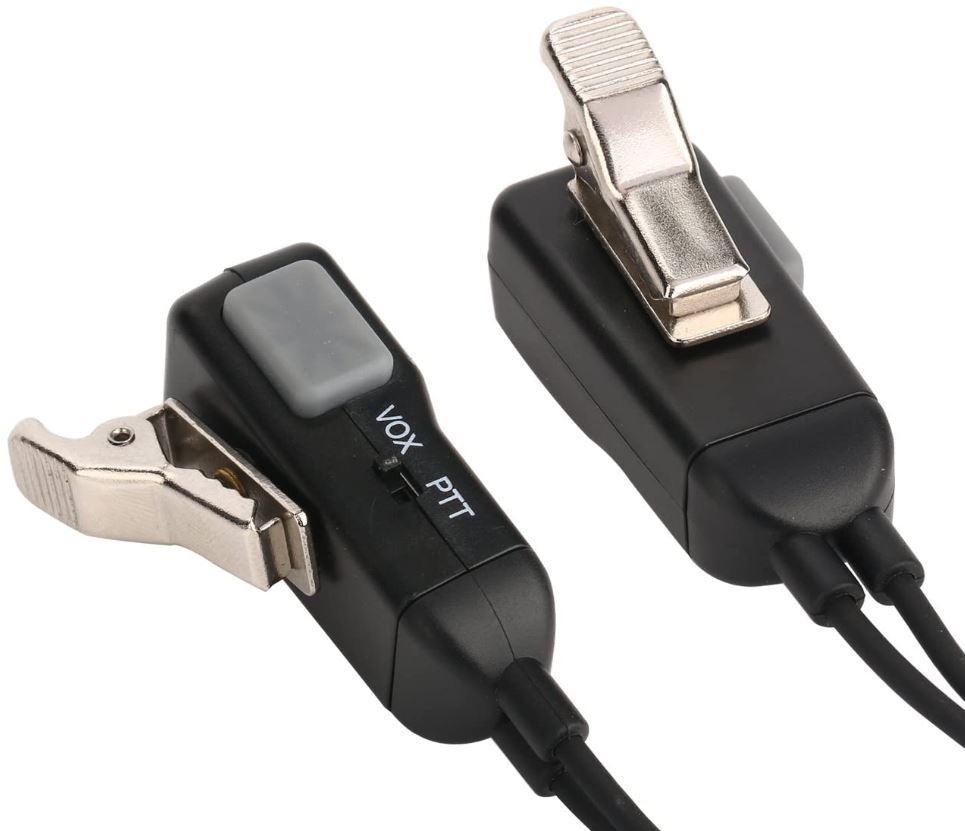 That said, the switch itself is well constructed. It's encased in a matte ABS plastic, which is durable and easy to keep clean. The switch on the side allows you to switch between VOX and push to talk (PTT) mode. In VOX mode, the channel is always open. You'll have constant communication with everybody on the same channel. In PTT mode, the channel is closed unless you push the talk button. As a result, you're set up for just about any imaginable circumstance. The switch features a sturdy stainless steel clip, which keeps it firmly in place without straining the cable.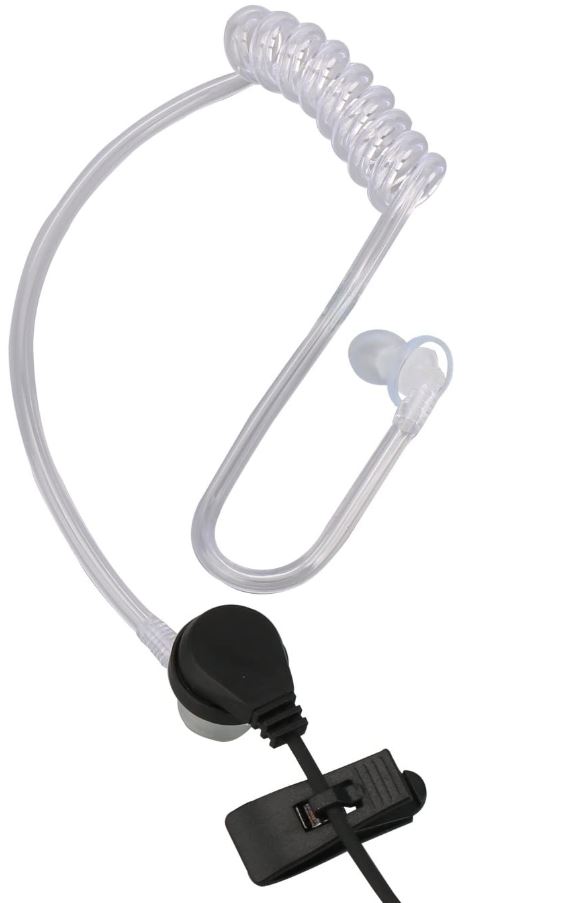 The earpiece itself is transparent and low visibility. Obviously, people can still see it, but it's unobtrusive. It has a coiled tube connection that makes it nice and flexible. You'll be able to move your head around freely, without worrying about the earpiece getting pulled out of your ear. The ear tip itself is soft and comfortable. If you need to wear it all day, you're not going to have any issues. It also has a very secure fit, so it won't pop out during normal use. That said, it fits in your left ear only. If you want to wear it in your right ear, you're out of luck.
Compatibility and Extras
The Reyinl Two Way Radio Headset is compatible with all Midland radios. These are the most popular radios in the service industry, so it's an obvious choice. That said, there are plenty of applications. Many security companies also use Midland radios, because they're both reliable and affordable. Moreover, for personal use, many people use Midland radios for hunting and hiking. If you want to keep radio noise to a minimum while you're out in the field, a headset is a necessity. That said, the Reyinl headset is only compatible with Midland radios. They have a proprietary standard, so the plug won't connect to other brands.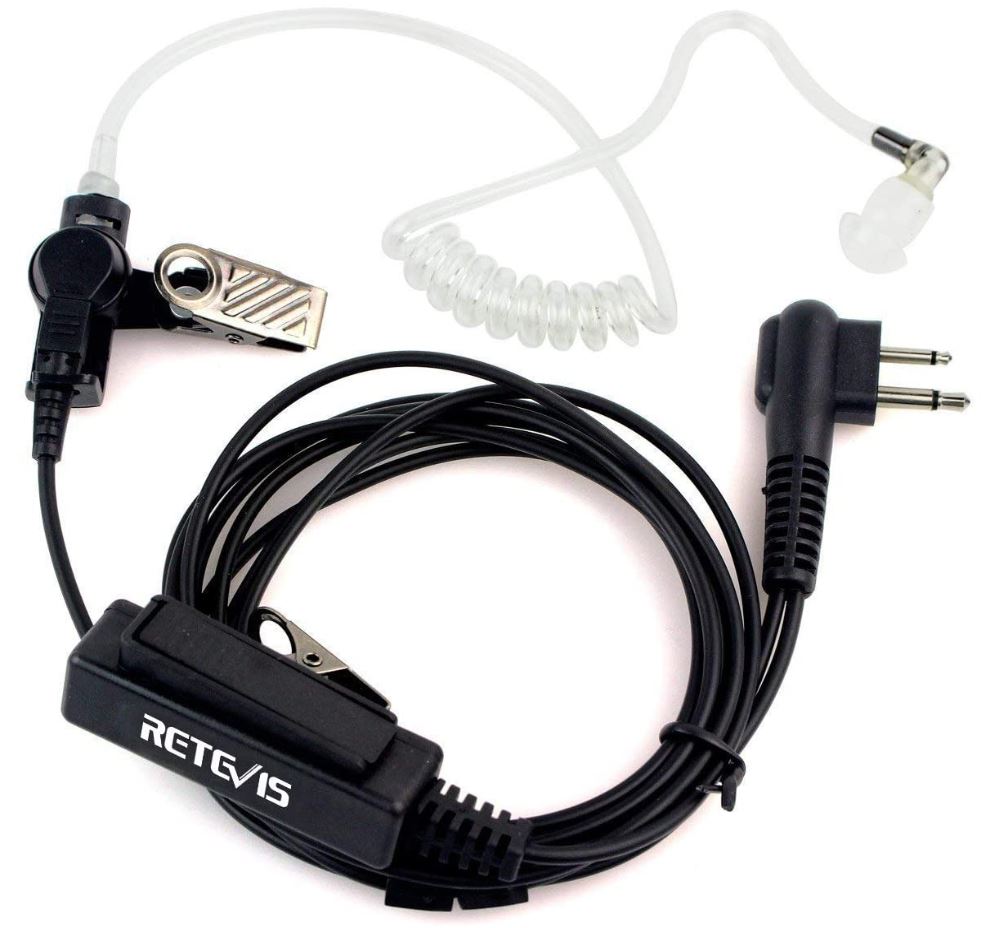 Retevis Walkie Talkies Earpiece
The Retevis Walkie Talkies Earpiece has a somewhat different design from the Reyinl earpiece. Instead of a single cable, it has a dual cable design. The adapter has two cords, one leading to the earpiece, and one leading to the PTT unit. This gives you a bit more freedom of placement than you get with the Reyinl unit. For example, you can wear the earpiece in your left ear, and put the PTT unit on your right lapel. You also get plenty of freedom of movement. The earpiece cable measures 44.5 inches, while the PTT cable measures 39.3 inches.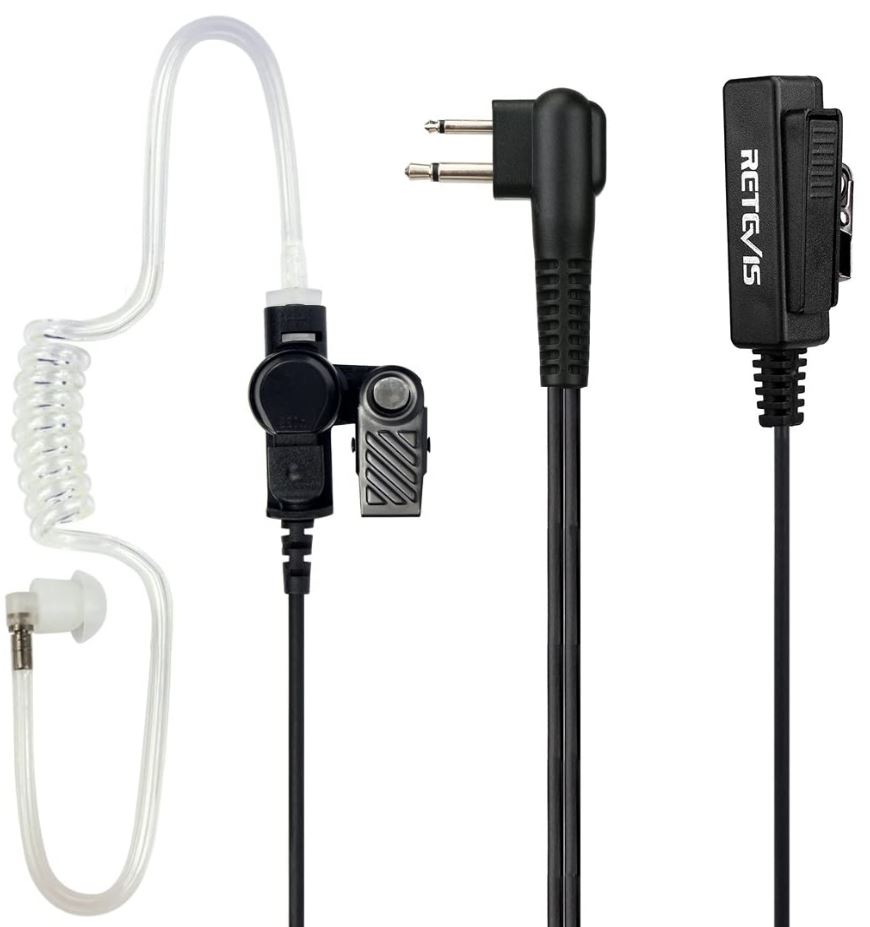 The PTT unit has a big, sturdy clip that's constructed from black stainless steel. The clip is secured with a stainless steel pin that's also exceptionally durable. As a result, it will survive for years of use. You won't find yourself needing to replace your earpiece after just a few uses because the clip has snapped. The PTT unit itself is also very durable. The ABS plastic shell is unobtrusive, and it's easy to keep clean.
In addition, the PTT button is very large. This makes it easy to operate, even while you're wearing gloves. No need to fumble around with a small button or one that's overly twitchy. If you're hunting, you'll be able to keep in touch with your buddies while keeping your fingers warm. Waiters and caterers won't have any issues while offering white glove service. And security can keep their tactical Kevlar gloves on and still remain in communication.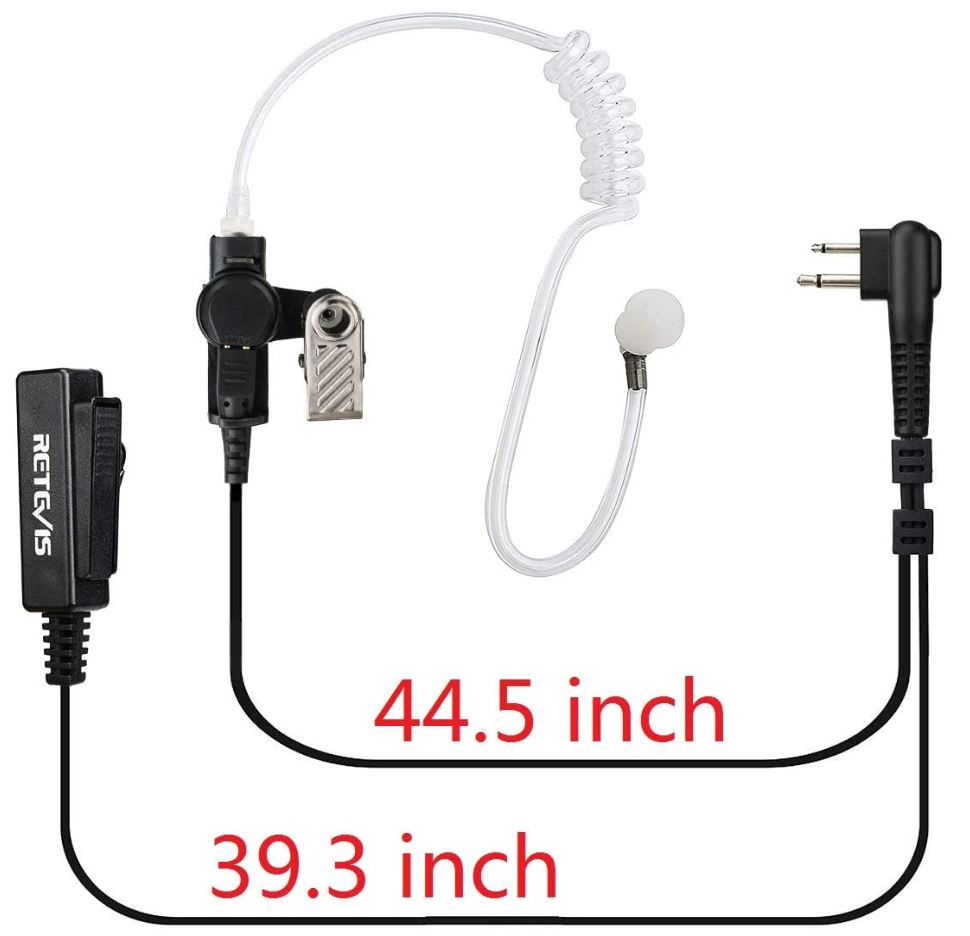 The earpiece itself is relatively low profile. It's advertised as "covert", but a better description would be "low-visibility". Anyone who's paying attention will still see that you're wearing an earpiece. Still, the clear plastic provides an attractive look. The acoustic tube is coiled and flexible, which allows for plenty of freedom of movement. A metal collar keeps the ear tip securely attached to the tube itself. The audio quality is crisp and clear, without a lot of interference. And provided you keep the ear tip securely inserted in your ear, it provides plenty of noise isolation.
Compatibility and Extras
The Retevis Walkie Talkies Earpiece has a standard two-prong configuration. The earpiece prong is 3.5mm in thickness, while the PTT prong is smaller, measuring only 2.5mm. They're separated by a distance of 8mm. This is the most common configuration used by most walkie talkie manufacturers. These include Motorola, perhaps the most reliable walkie manufacturer on the market. You can also use the Retevis earpiece with Mag One BPR40 radios. For other manufacturers, check your radio's earpiece specs before you click that "buy" button. That way, you'll know you're getting the appropriate fit.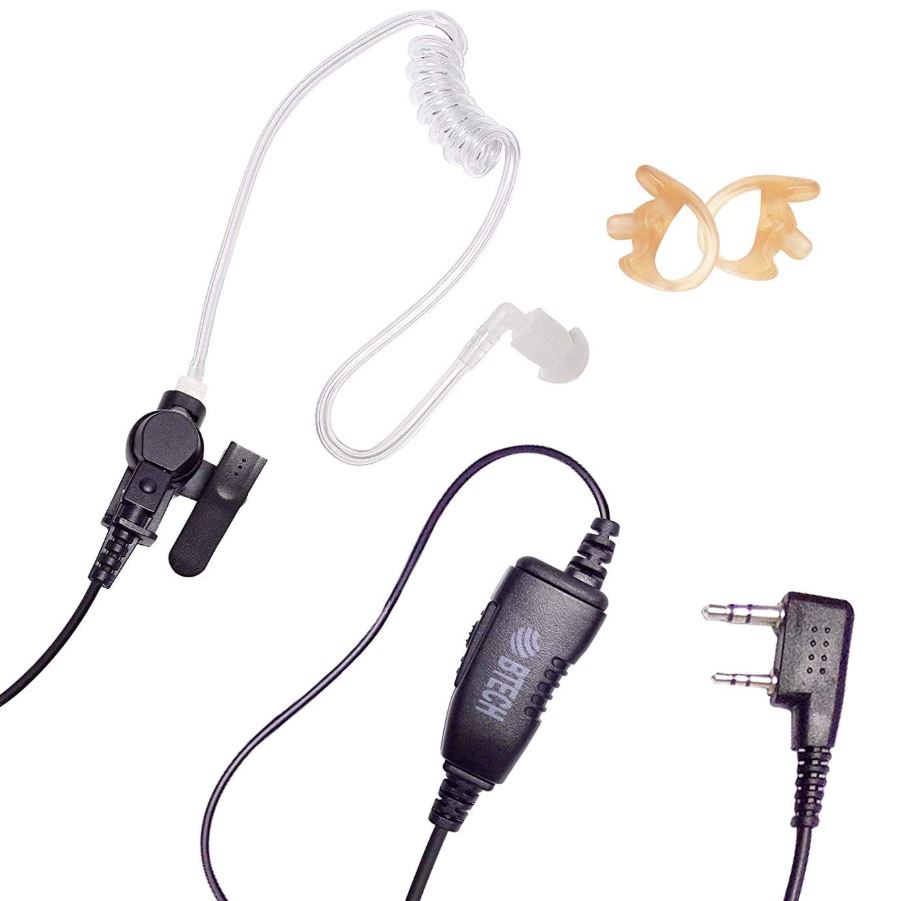 BTECH QHM07 Premium Noise Cancelling Earpiece
The BTECH QHM07 Premium Noise Cancelling Earpiece is designed similarly to the Reyinl. It has a single cable design, with the PTT unit attached partway up the cable. The cable is 3 feet long from the walkie to the PTT unit. And there's an additional 14 inches from the PTT unit to the earpiece. This makes it relatively easy to place, whether you want to wear it on the right or left lapel.
This design is complemented by the earpiece itself. In addition to the earpiece, you get a pair of ear mold inserts. They're shaped for your left and your right ear respectively, which makes the BTECH a great choice for southpaws. Not only that, but the inserts provide an exceptionally secure fit. If your work involves running or other physical activities, you won't have to worry about the earpiece falling out. Even better, there's a clip on the cable where it meets the acoustic tube. You can clip it to your collar, so the earpiece won't fall down to your waist if it does fall off. It also reduces strain on your ear, since the weight of the cable won't be hanging from your earpiece.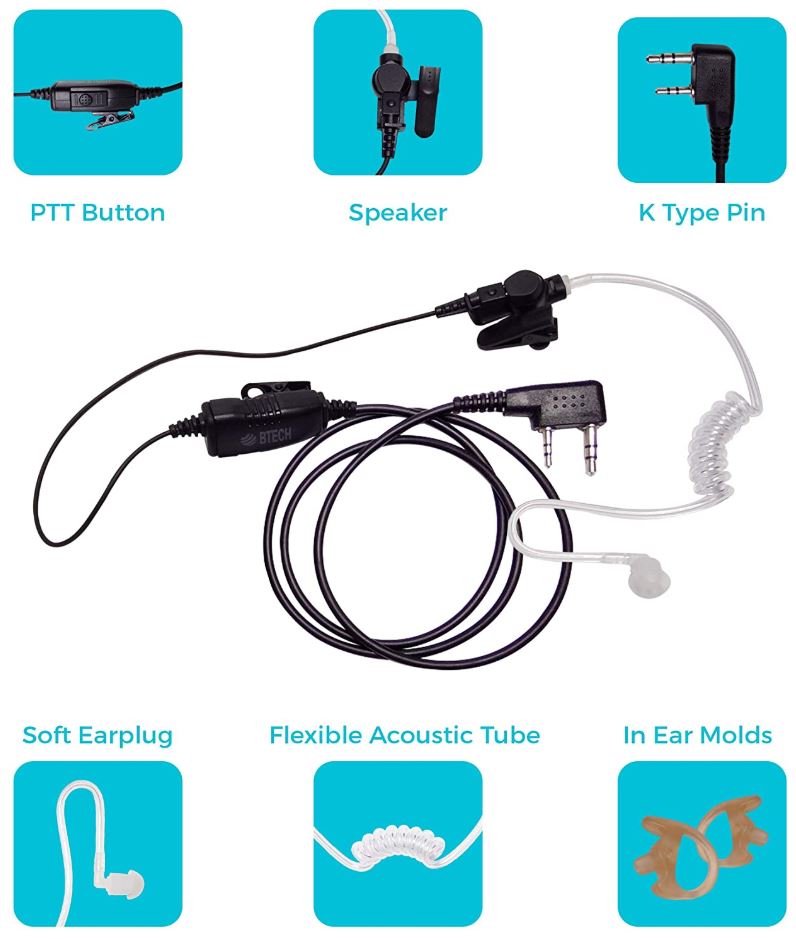 The earpiece itself is comfortable, and provides good sound quality. The acoustic tube is tightly coiled, which makes it flexible and extendable. You can move your head freely, without accidentally yanking the earpiece out. That said, the tip itself fits relatively loosely, and relies on the ear mold for a secure fit. As a result, it doesn't provide much noise isolation.
The PTT unit is relatively compact. This makes it lightweight and unobtrusive. On the other hand, the small button is difficult to operate if you're wearing gloves. It's better suited for warm weather applications, or if you're wearing thin gloves. That said, the clip is fairly robust. Even if the cord snags on something and gets yanked, it's not going to snap off. The ABS plastic shell has a smooth matte finish that won't collect fingerprints. It's also textured on one side, which makes it easy to grip.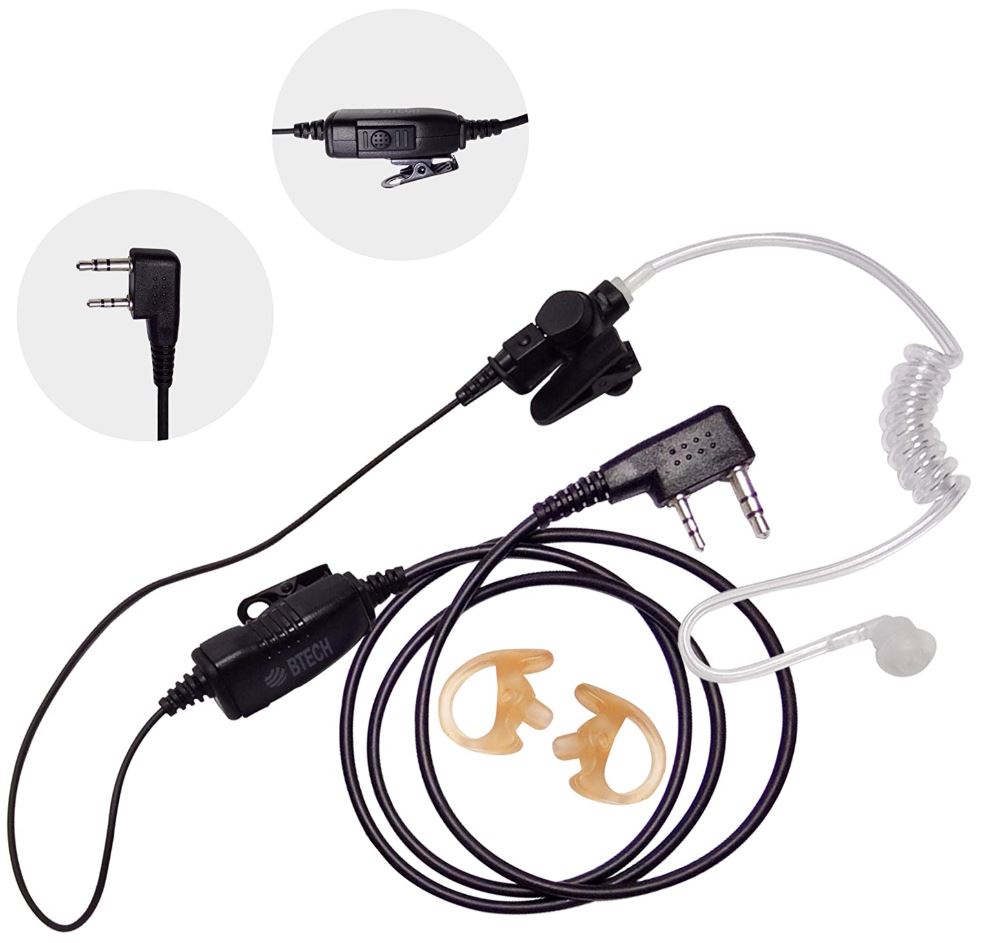 Compatibility and Extras
The BTECH QHM07 Premium Noise Cancelling Earpiece uses the Kenwood K1 connector, which is a 2-pin connector. It's used by several brands, including Kenwood, BTECH, BaoFeng, AnyTone, Alinco, Arcshell, TYT, and Retevis. It also works with some models of Motorola walkie talkie. As always, make sure to check your walkie's specs before you buy. It's easier than dealing with the return process and needing to re-order a new headset.
Final Verdict
So, which one of these earpieces is the best choice? Normally, it would depend on the features it offers. However, in this case, the primary concern is the connector type. If the connector doesn't fit your walkie, it's not going to do you much good. But let's say you also have your choice of walkies to mix and match. Which one would you choose?
To begin with, the Reyinl Two Way Radio Headset offers the best bang for your buck. It's a two for one deal, so you're getting plenty of value. Considering the price, it actually performs fairly well. With a comfortable, ergonomic earpiece and a large PTT switch, it's functional and easy to operate.
The Retevis Walkie Talkies Earpiece is the most robust option on our list. It has a very large PTT unit with a sturdy clip. Moreover, it's a great choice for left-handed users. You can position the PTT switch and the earpiece on opposite sides with no issues.
Finally, the BTECH QHM07 Premium Noise Cancelling Earpiece is the most secure. The PTT switch is relatively small, so it's not ideal for gloved hands. But the ear mold inserts allow for a very secure fit. Moreover, since they come in left and right versions, left-handed users are also covered.
Meet Derek, "TechGuru," a 34-year-old technology enthusiast with a deep passion for tech innovations. With extensive experience, he specializes in gaming hardware and software, and has expertise in gadgets, custom PCs, and audio.
Besides writing about tech and reviewing new products, Derek enjoys traveling, hiking, and photography. Committed to keeping up with the latest industry trends, he aims to guide readers in making informed tech decisions.